For beginner hikers, choosing hiking gear can be exciting and overwhelming. Equipment is expensive, and nobody wants to make a bad decision.
The Hiking Daily guide to the best hiking gear will help you find top-quality and essential items to keep you safe and comfortable in the backcountry.
The gear on this list is regularly used by the Hiking Daily team. The items covered are either considered essential or have a known reputation as being premium and high-performance hiking gear by experienced hikers and backpackers.
When you are in the backcountry having products that work and are dependable is super important.
Hiking Daily recommends high-end, high-performance products that we know very well, or believe are trustworthy.
Each month we update the guide so that all the newest and best products made by the most trusted brands are listed here for you to check out.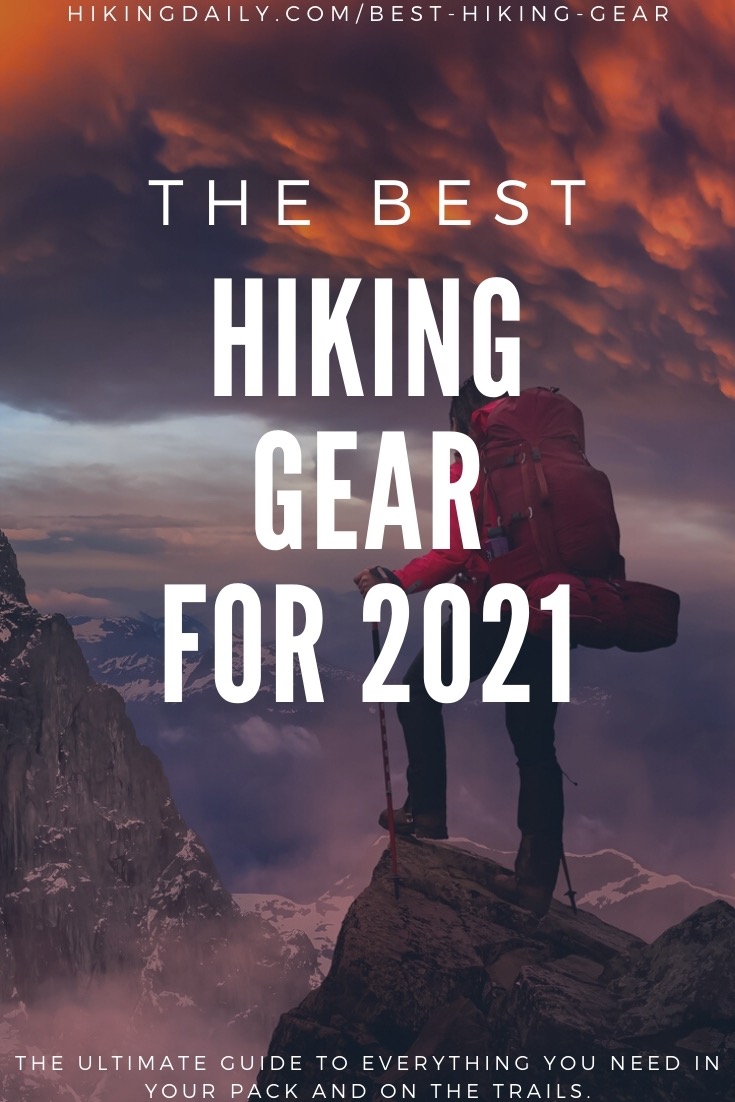 For the most part, this guide to the best hiking gear follows the order of what you need first to get hiking.
Do you have an REI membership? For $20, can get up to 10% savings on everything you buy. Forever.
---
Hiking Footwear: Hiking shoes vs hiking boots
Investing in premium hiking footwear is a really good idea if you want to maintain happy healthy feet.
Here in Boulder, I have seen many people on the trails wearing inadequate footwear. Even flip-flops! Hiking shoes and hiking boots are designed to support and protect your feet. And of course, they provide the grip and traction you need on difficult terrain.
Most of the best brands make footwear that is available in both a shoe and a (mid to high cut) boot version. For example, my current hiking shoes the Vasque Breeze AT Low GTX can be purchased as a boot the Vasque Breeze AT Mid GTX.
Your choice of hiking shoe vs. hiking boot really comes down to personal preference.
I personally do not like the feeling of a higher cut or above the ankle boot. So, I wear hiking shoes or trail running shoes. But, in some conditions (water or snow), boots may be the better choice to keep your feet dry. For example, I do own and use a pair of winter hiking boots in deep snow.
If you are unsure what is best for you, order a shoe and a boot that is essentially the same model. Test them out in the comfort of your own home to see what you prefer. Totally easy.
HD guides to the best hiking footwear
Quick links to the most popular hiking shoes
All of these shoes and boots are incredible. I have tried them all on my feet. Some will fit your foot shape better than others. I encourage you to try them all to discover the best fit. I literally ordered them all to my home, tried them all on, and kept the winners. Super simple to do and you will end up with the bet pair that way.
The Shoe
Why Buy
Where To Buy
Merrell Moab 2 Waterproof Hiking Shoes
Best all-around hiking shoe
Check REI price (men | women)
Vasque Breeze AT Low GTX Hiking Shoes
Best for foot protection, most durable
Check REI price (men)
Check Vasque (women)
Keen Targhee III Waterproof Hiking Shoes
Best for comfort and heel support
Check REI price (men | women)
Salomon X Ultra 4 Low GTX Hiking Shoes
Best for fast-moving power hikers
Check Salomon price (men | women)
Salomon Outline Low GTX Hiking Shoes
Sneaker comfort with rugged tread
Check REI price (men | women)
Danner Trail 2650 Hiking Shoes
Versatile, lightweight, and durable hiker
Check REI price (men | women)
Quick links to the most popular hiking boots
| | | |
| --- | --- | --- |
| The Boot | Why Buy | Where To Buy |
| Merrell Moab 2 Mid Waterproof Hiking Boots | Best all-around hiking boot | Check REI price (men | women) |
| Vasque Breeze AT Low GTX Hiking Boots | Best for foot protection, most durable | Check REI price (men | women) |
| Keen Targhee III Waterproof Hiking Boots | Best for comfort and heel support | Check REI price (men | women) |
| Salomon X Ultra 3 Low GTX Hiking Boots | Best for fast-moving power hikers | Check REI price (men | women) |
| Salomon Outline Mid GTX Hiking Boots | Sneaker comfort with rugged tread | Check REI price (men | women) |
| Danner Mountain 600 Hiking Boots | Lightweight yet durable | Check REI price (men | women) |
To keep your feet even happier on the trails you can get aftermarket insoles. I put Superfeet Trailblazer Comfort Hiking insoles in my hiking shoes and Sole Performance Medium insoles in my trail runners.
The main reason that I purchase aftermarket insoles is that the insoles in most hiking shoes and boots are floppy and flat and do not provide any support whatsoever. The Superfeet Trailblazers and Sole Performance Medium insoles keep my feet securely in place and provide better support for my heel and arch. They are the most robust option next to getting custom orthotics.
---
Hiking backpacks and daypacks
Okay, next on the list is another must-have hiking gear item. A smaller backpack for day hikes. Something to hold your essential items.
If you want the very best in quality go for an Osprey backpack. I tried on every single daypack at REI and for me the best choice was obvious. Both the quality and design of Osprey packs stand out compared to the competition.
I own the Osprey Stratos 24 and have used it for the past year. I totally love it more than any backpack I have owned. The airspeed suspension is incredible. Not only does your back not get sweaty, but it also magically makes a full load seem like you are carrying air. Very impressive. I also appreciate the seamless hip belt with zip pockets, integrated safety whistle, the included rain cover, the many compartments, and the hydration reservoir sleeve. All very fantastic features.
If you want a pack that is a bit smaller, lighter, and cheaper the Talon 22 (for men) and Tempest 20 (for women) are good options.
Check prices for all Osprey daypacks at REI.
Best budget daypack: REI Trail 25 (men | women)
Keep in mind you often get what you pay for. Investing in higher quality will provide more comfort, durability, features, and value for the dollars you spend. Nevertheless, if sticking to a lower budget is important to you then the REI Trail 25 is a solid choice to haul your essential hiking gear.
---
Hiking clothes (extra layers) + accessories
To feel super comfortable and protect yourself, invest in some hiking outfits that can work for a variety of conditions and weather.
Clothing that is designed specifically for hiking and backpacking is made of fabrics that will keep you dry, warm or cool, and will wick sweat away from your skin.
Regular clothes do not cut it because they are often made with cotton fabric. Cotton doesn't wick, it gets damp or wet (with sweat), can become heavy, bunches up, and just ends up feeling uncomfortable. And even worse, cotton can lead to hypothermia which is very dangerous in the backcountry. Avoid cotton.
Hiking clothes are made of synthetic materials that have athletic performance in mind. They keep moisture away from your skin, and the designs are made to help you move easily, quickly, and comfortably.
Check out our complete guide on what to wear hiking and backpacking for more information on hiking clothes strategy, and to help build your ultimate hiking outfit.
Hiking socks
Hiking socks are a dream come true. I wear them all the time now whether I am hiking or not. Why? The quality and feeling of hiking socks are totally incredible. They are so much more comfortable compared to the socks you find at clothing stores. They cost more, but they last for several years since they are so durable. Most hiking socks are made of a blend of merino wool and synthetic fabrics. They wick sweat, never bunch up, and so your risk of blisters is dramatically reduced.
My top pick always is Darn Tough socks. You can different weights for different seasons and temperatures. Try them and you will never wear regular socks again!
Base layers for hiking
When it comes to base layers I keep it real simple.
For underwear, I wear either 32 degrees and Exofficio. These brands differ greatly in price but I have not been able to detect much of a difference in the performance or comfort. I actually prefer the 32 degrees underwear.
For base layers (tops and bottoms), I recommend Smartwool Merino 150 base layers as a wool option and REI Co-op lightweight base layers as a synthetic option.
Hiking shirts
When I first started hiking I wore my favorite T-shirts. This was a mistake because almost all T-shirts are made of cotton. It did not take long before they were soaked with sweat which is uncomfortable and not exactly appealing. Enter synthetic high-performance hiking shirts. Problem solved. Cool and comfortable. Minimal or zero sweating. So much better!
Hiking pants
The best hiking pants can help you avoid a very uncomfortable experience known as skin chafing. Like blisters, you want to avoid this unpleasant sensation. Chafing occurs when your skin rubs together and especially when you are wearing clothes that do not breathe and cause sweating. Chafing makes your skin feel ultra-tender and sensitive in a bad way much like a rash. Common areas where chafing occurs include the inner thighs, groin area, armpits, buttocks, and even your nipples. Chafing is essentially friction burn. To avoid this discomfort, get a pair of hiking pants that are breathable and wick sweat away from sensitive areas.
Let's be honest, many hiking pants are not super cool looking. I can't claim to be a fan of the boxy cargo-like appearance at all that is very common. For a blend of both high-performance and a little style, I recommend either Prana or Kuhl hiking pants. Here are a couple of options to get started:
Hiking shorts
Like pants, hiking shorts are going to help prevent overheating and chafing and keep you comfortable on the trails. There are two common types of hiking shorts. The first is a more athletic style, and the other is more of a leisure-oriented style. Below are the top picks that are available now.
When new styles arrive in Spring you will find fresh top picks right here.
Hiking hats
In the Summer months, at high altitudes, or in very hot climates a hiking hat is a must-have item for sun protection.
The sun will suck the energy right out of you. And quickly.
A hat that provides a good amount of coverage with a wide brim will help you sustain your energy and prevent heat stroke also known as sunstroke.
Look for hats that are made of lightweight synthetic materials (nylon or polyester), that wick sweat, have panels that are mesh and thus breathable, and that have a 30+ UPF rating.
Sunglasses
Like a hat, I never leave home without my sunglasses. The best sunglasses for hiking is the pair that fits your face and head. To maximize sun protection I go for the biggest lens size that fits my face.
I highly recommend polarized sunglasses. Everything just looks way better. Polarized sunglasses eliminate glare from shining directly into your eyes.
I used to wear Persol sunglasses on my hikes. They are great because they fit close to the brow, and have a good-sized lens to keep the sun out of my eyes. Now, I wear Maui Jim prescription sunglasses that have a very similar frame.
Windproof / waterproof jacket (shell) and pants
A windproof and waterproof jacket (and pants) or rain jacket can be a lifesaver. Weather can change quickly and if that involves precipitation and temperature drops you must stay dry and warm to avoid hypothermia.
This year, I purchased a new shell after my old one self-destructed. While doing my research I came to realize just how many jackets (and pants) are implied to be waterproof but are not in heavy precipitation.
If you want a jacket that is truly waterproof get one that has a 3-layer GORE-TEX laminate. A jacket that has less than 3 layers of GORE-TEX laminate may not keep you dry in persistent or heavy rain.
So, what jacket did I get? After doing a lot of research I purchased the REI Co-op Stormbolt GTX jacket. Most 3-layer GORE-TEX laminate jackets such as the Arc'teryx Zeta LT (men | women) are very expensive, typically over $450. The REI Stormbolt GTX jacket is considerably less at $279. So far, I am very happy with my decision.
Key features that I look for in a jacket are underarm zippers (aka pit zips) for ventilation and GORE-TEX Paclite which is the lightest and most packable GORE-TEX laminate.
For more information about jackets, check out this complete guide to the best hiking jackets.
Unfortunately, the Stormbolt GTX pants were not available in my size. So, I am waiting for the new equivalent that will be available soon. Stay tuned, otherwise check out these waterproof rain pants at REI.
---
To find your way and back again these are the navigation and communication tools to keep in your pack.
Satellite communication device
As you get deeper in the backcountry mobile phone service gets spotty. Or simply does not exist. This is when small issues or accidents can become serious problems.
For peace of mind and safety, it is a very good idea to get a satellite communication device.
I carry the Garmin inReach Mini in my pack. I have not had to use it. But, I have seen a person use this device after taking a fall (and probably a broken foot or leg) on a steep section approaching a summit. They had to get airlifted out since they could not walk.
A satellite communication device allows you to send an SOS for help to rescue services. Or, use it to communicate with family and friends via text message.
Mobile phone + hiking apps: Gaia GPS + AllTrails
Plan, navigate and record all of your hikes on your mobile phone using Gaia GPS Premium and AllTrails Pro apps.
I subscribe to and use both because they offer different features, layers, and maps.
Download maps to your phone, engage in flight mode to conserve battery life, and keep track of your surroundings on a variety of maps.
Check out our guide to the best hiking apps to learn about what else you can download to your phone.
Compass and paper maps
For most day hikes, using a fully charged mobile phone in flight mode is going to work just fine for navigation.
However, in unfamiliar or remote territory, I take my compass and a variety of printed maps (in a Ziploc bag) for the area I am hiking in.
Signals and batteries can fail. If you become lost, a compass and map can save your life. Navigation is also a fun and satisfying skill to employ. Not too long ago (the 1990s) it was the only choice.
If you subscribe to Gaia GPS Premium and AllTrails Pro you can print maps to take with you.
This compass has a globally balanced needle and adjustable declination correction. Another great feature is the luminescent markings which are perfect for working in low light.
Check out our guide to the best compasses for more options!
Handheld GPS devices + GPS watches
Mobile phones have limits. The most notable being battery life.
To keep track of your location on extended backpacking trips a handheld GPS device or GPS watch will provide 100+ hours of battery life compared to 10 hours at best with a mobile phone.
These are the best GPS devices that you can get right now.
---
Additional essential gear + accessories
Continuing on we round up our top hiking gear guide with some additional must-have items and super useful items.
Water bottle / hydration reservoirs
I always take more water on my hikes than I think I need. And almost every time, I run out sooner than I wish. Or, as I am walking up to my car at the trailhead I am guzzling down the last drops.
A general guideline is to take at minimum a half liter per hour on the trails. If you are hiking at high altitudes, or in extreme heat, you can increase that to at least one liter for every hour hiking. I usually take this much for any hike.
My go-to hydration system is to bring a couple of hydro flasks and my Osprey hydraulics reservoir. I fill up my hydration reservoir with water, and my hydro flasks up with ice and water. As my hydration reservoir gets depleted, I will fill it up with the cold water in my hydro flasks. I find it is a good system to keep water cold and to track how much you have left. If you were to just go with a hydration reservoir you might run empty earlier than desired since you can't monitor how much is left other than judging the weight of your pack.
For more information, check out our complete guides about the best water bottles and best hydration reservoirs.
Water filters
For day hikes or an overnight trips, I just carry the water I need. For more than an overnight, a water filter is necessary to replenish your supply. These are the best options for water filtration.
The LifeStraw is good to have in your pack for unanticipated extra days in the backcountry.
The Platypus GravityWorks filter is the best and most practical water filter for multiple days of backpacking.
This device allows you to filter 4 liters in 2.5 minutes. It is the best option to process bulk quantities so that you can quickly fill up your requirements for the day or even a couple of days at a time.
Be sure to read our complete guide to the best water filters and purifiers for backpacking trips.
Flashlight / headlamp
Keeping a small flashlight or headlamp in your pack at all times is a good idea. When you start early or return late while hiking you will have light if you need it.
This is the best headlamp for many reasons. At 450 lumens, it is bright and shines 90m ahead on the trails. It is rechargeable (but also operates on AAA batteries) and can last for 130 hours on the low setting. Rechargeable headlamps are more expensive. The extra cost is essentially the cost of the battery. You will see some Petzl headlamps are half the price with similar specifications. This is because the rechargeable battery is sold separately. However, if you were to buy that rechargeable battery it is going to bring up that price to be equal to or more than the Petzl Actik Core. It makes sense to buy one that has the rechargeable battery included. Also, if you do not get a headlamp with a rechargeable battery then you will most certainly pay more in the long run with AAA batteries.
Knife / multi-tool
A knife or multi-tool is on the ten essentials list.
I carry an old, simple, classic Ruko folding knife that I have had for years. It could be handy to create kindling to start a fire, or for self-defense.
Check out this guide to the best hiking knives for more information and the latest top picks!
First aid kit
You can buy first aid kits or you can make one yourself.
I made my own. For more information, read this guide on how to build a first aid kit for hiking and backpacking.
Emergency bivy
Anything that can go wrong, will. Let's face it. Sometimes Murphy's law surfaces in life. When that happens in the backcountry, especially if facing bad weather, things can quickly become dangerous. Hypothermia is a real threat to your wellbeing. To combat this threat, bring extra clothes, your windproof/waterproof shell, and an SOL emergency bivy. This will increase your chances of survival dramatically in not-so-ideal conditions.
Solar charger
If you are relying on a variety of battery-powered devices in the backcountry consider a solar charger. This item is more valuable if you are backpacking for days.
Best for small devices
The Goal Zero Nomad 20 Solar Panel is perfect for charging your phone or a headlamp. This is the solar charger that I own and take with me on long days or multi-day trips.
Best value + greater charging capacity for multiple devices
If you are hiking with a group or have several devices to charge, the Goal Zero Nomad 50 Solar Panel is a better choice. It is only $50 (+50%) more than the Nomad 20, so great value for more than double the charging capacity. The greater solar power collection capacity allows you to pair with a power bank or power station for extra charging power. Now you can charge more demanding devices such as laptops, tablets, lights, smartphones, cameras, or e-readers if you are lugging them with you.
Gaiters for winter hiking or wet hiking
Gaiters are super handy for those occasions that you do not want to wear snow pants or rain pants. I have a pair of MEC gaiters that I acquired years ago. I wear gaiters on snow hikes to prevent snow from getting into my winter hiking boots. Due to the high elevation and hot sun, shell pants or snow pants can feel way too hot in Colorado. A better option for enhanced breathability is to wear fleece pants and gaiters. Of course, it always depends on the weather conditions. Always bring your windproof/waterproof jacket and pants.
For the latest top picks, check out this guide to the best hiking gaiters.
Microspikes for winter hiking
I love winter hiking and so my microspikes are in my backpack all winter long in case I need them.
I own Kahtoola Microspikes. They are awesome. Very durable, and work very well in snow or on ice.
But, there are other options to explore. Learn more in this guide to the best microspikes for hiking.
Learn more about the best winter hiking gear and clothing.
Trekking poles and hiking poles
I am not a user of trekking poles or hiking poles. However, many people love them. Perhaps, this will be one of those items I try on high country hikes and learn that I like them. But, I haven't gotten there yet. For more information and our top picks, check out our guide to the best trekking poles.
Or, check out the bestselling trekking poles at REI.
America the Beautiful Pass
If you live in the United States, or visit often, get the America the Beautiful Pass. It pays for itself very quickly. Perhaps the best $80 I have ever spent!
This concludes our guide to the best hiking gear. I hope that you are excited to bolster your gear for your future hiking and backpacking adventures. I know I am excited to acquire some key new items and upgrades.
For more information on what else to bring on your hikes or backpacking trips, check out this guide to the ten essentials of hiking. Notable items not on this hiking gear list to bring on your hikes include a whistle, unbreakable signal mirror, fire (waterproof matches, windproof lighter), and extra hiking food, and hiking snacks.