In the 1930s, a Seattle-based outdoor organization known as The Mountaineers created the "Ten Essentials" to prepare people for emergency situations in the backcountry. Whether used for a multi-day expedition or a routine day hike, any of these items may become essential for your survival.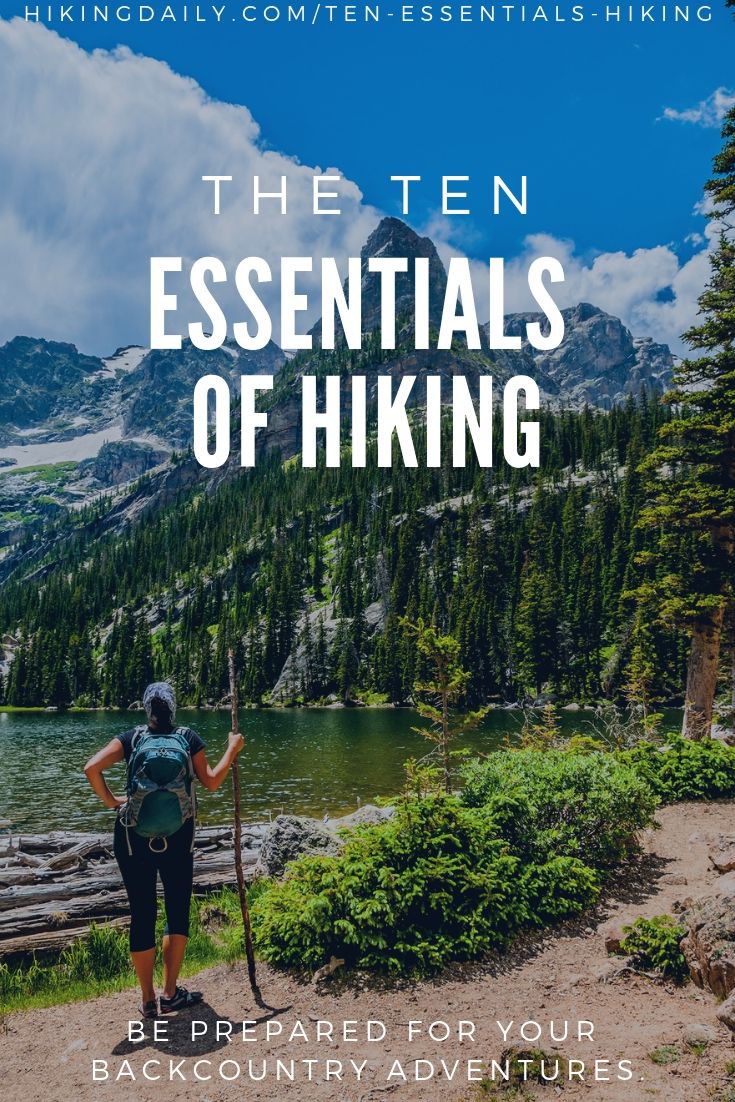 1) First Aid
Safety first! Before you head out on any outdoor adventure, make sure you have a first aid kit. Many major outdoor retailers like REI sell pre-made first aid kits, though we recommend personalizing your own to suit your specific needs. You should, however, always include these items: blister treatment, adhesive tape, and bandages of varying size, numerous gauze pads, disinfecting ointment, over-the-counter pain medication such as Advil, nitrile gloves, and a pen and paper. You can find all of these at a local pharmacy.
Pro Tip #1: Carry a compact outdoor guide on how to treat certain medical emergencies. Check out the Pocket Guide to Emergency First Aid from REI. If you want to be extra prepared and learn how to deal with more serious injuries, take a local wilderness medicine class. You can find one here.
Pro Tip #2: Bring a first aid kit for your gear! A small gear repair kit includes common items like zip ties, duct tape, and repair items for a water filter. You can find specific kits for tents, stoves, sleeping bags, and more at REI.
2) Navigation
Contemporary technology has supplied the outdoor industry with five navigation essentials for backcountry exploration.
Map:
Okay, maps are not modern. However, topographic maps are a key navigational tool to help you plan your route and later orient yourself while on it. The colored map and contoured lines will help you decipher elevation, trail direction, length, and more. You can learn how to read one here.
Compass:
Like maps, compasses are a vital tool to re-orient yourself in the backcountry. Knowing how to read and navigate with a map and compass can tell you where you are, what is around you, and what is the best way to get there. Ultimately, these two timeless gadgets can save your life.
Pro Tip: While most smartphones and GPS devices include electronic compasses, it is safer to carry a standard baseplate compass. As they say, "never trust your life on a battery."
GPS device:
A GPS device, such as the Garmin GPSMAP 66sr helps find your precise location on a digital map. You can use a GPS app on your phone or smartwatch, but backcountry, GPS specific devices are weatherproof, rugged, and built to endure unexpected conditions.
Pro Tip: Unlike compasses or maps, these devices are battery run and can lose power on your trip. Diligently monitor your power and carry extra batteries just in case. I personally use the Goal Zero Nomad 10 Plus Solar Panel. It attaches to the outside of my pack and charges my Garmin inReach Mini all day!
Personal locator beacon (PLB) or satellite messenger:
For any backcountry adventure, preparation is key. A PLB or satellite messenger can be used to alert emergency authorities where you are and if you need help in case of an accident. In areas with little to no signal, these devices can be life-saving. As mentioned earlier, I personally use the Garmin inReach Mini. If you want more features and your budget allows, there are countless dependable beacons for extensive and dangerous trips.
Pro Tip: Before buying your first beacon, read their reviews. Some PLBs, like some from SpotX have notoriously malfunctioned in the backcountry. If you know an avid backcountry skier and/or backpacker, ask what device they use! First-person recommendations are the most reliable.
Altimeter watch:
If you are headed to the towering Rockies or high Sierras, an altimeter watch is a helpful tool that measures air pressure and/or GPS data using a barometric sensor. This instrument measures your elevation, allowing you to track your progress and determine your location. Check out the bestselling, Garmin Instinct Solar.
3) Headlamp
The ability to set up your tent, avoid obstacles, and find your way around at night is essential. Unlike a flashlight, a headlamp will keep your hands free.
Pro Tip: Always carry extra batteries or a spare headlamp.
4) Knife or Multi-Purpose Tool
Hiking knives are an incredibly versatile piece of equipment that can help with food preparation, gear repair, first aid, making kindling, and more. Choose a knife that fits your needs. My go-to is the classic Swiss Army Camper Knife.
5) Fire
Boy Scouts should not be the only ones who know how to make a fire. Bring a reliable fire starter and maintainer to prepare for emergencies. A butane lighter or durable, waterproof matches stored in a waterproof container work just fine (small matchbook lighters are unreliable and flimsy). A Firestarter, such as lint trappings from your clothes dryer, should be carried in case of wet conditions in which a simple lighter won't do the trick.
Pro Tip: If you plan to be above treeline or in snow, in which firewood is unavailable, we recommend a small stove, like the MSR WhisperLite, as an emergency heat source.
6) Emergency Shelter
Unless you decide to carry your tent at all times, an emergency shelter is vital. A space blanket, ultralight tarp, or a large plastic trash bag will keep you safe from unexpected wind and rain, without costing you extra weight. You can find some here.
7) Sun protection
UV rays from the sun are harmful and can cause a slew of problems including sunburn, snow blindness, and potential cataracts and cancer. These are three must-haves to protect yourself:
Sunscreen: The days of trendy, bronze tans from the 60's are over. Even on a cloudy day, harmful UV rays make you prone to sunburn, premature skin aging, and skin cancer. You should wear a formula of at least 30 SPF, but the higher, the better. Always reapply every two hours or more, depending on factors like sweat, time of day, altitude, and more. Additionally, don't forget to protect your lips with SPF-rated lip balm.
Pro Tip: Snow and water reflect UV rays from the sun, so make sure to apply sunscreen under your chin and nose.
Sunglasses: Don't even bother with the $5 pair you bought at the gas station. To guard your eyes against damaging UV rays, invest in a pair of sunglasses that block 100% of ultraviolet light (UVA and UVB). If you plan a long trip on snow or ice, extra-dark glacier glasses like the Julbo Vermont Classic Glacier sunglasses will offer extra protection.
Sun-protection clothing: Most hiking clothes come with an ultraviolet protection factor (UPF) to indicate how much protection it offers against harmful UVA and UVB light. Clothing with a UPF rating of 40 and above provide excellent protection. You can find sun-protective clothing throughout our hiking clothing section.
8) Extra Water
As DJ Khaled once said, "hydration is key." Carrying enough water and a way to treat it is essential for your health and survival. Most people need about a half-liter of water per hour for moderate activities. However, the amount of water you need is largely dependent on factors like temperature, exertion, altitude, and more.
Pro Tip: A spare water filtration system can be lifesaving. For example, I always carry my LifeStraw in case my MSR MiniWorks Water Filter malfunctions or breaks.
Check out our complete guides to the best water bottles, the best hydration reservoirs, and the best water filters and purifiers for backpacking trips.
9) Extra Food
While planning out your trip, always pack at least one day's worth of extra food (consider more if you are going on a multiday or winter trek). Nonperishable food like dried fruit and jerky that don't require cooking are ideal in case of an injury or unexpected conditions.
10) Extra clothes
In the backcountry, especially at high altitudes, weather conditions can change rapidly. Spare clothes (hiking shirts and layers) are necessary for an unplanned injury or extra night out. The type of spare clothes you bring depends on the elements you plan to hike in. In general, your clothing should prepare you for a long and inactive period. An insulating hat, synthetic jacket, extra socks, and extra gloves are common in warm conditions. For a winter excursion, carry an insulating layer for your upper and lower body.