We use affiliate links and may receive a small commission on purchases. Please read our disclosure.
Butt sweat, bug bites, and painful sunburns are just some of nature's vexatious pleasantries. However, there is a simple solution that will protect you against these elements: hiking pants!
Hiking pants heighten comfort and increase performance on any adventure. They are designed to be durable, lightweight, and weather-resistant. Most importantly, these pants are extremely versatile and come in varying forms of thickness and breathability to adapt to all environments in every season.
Here is an ultimate guide to the best hiking pants for men and women.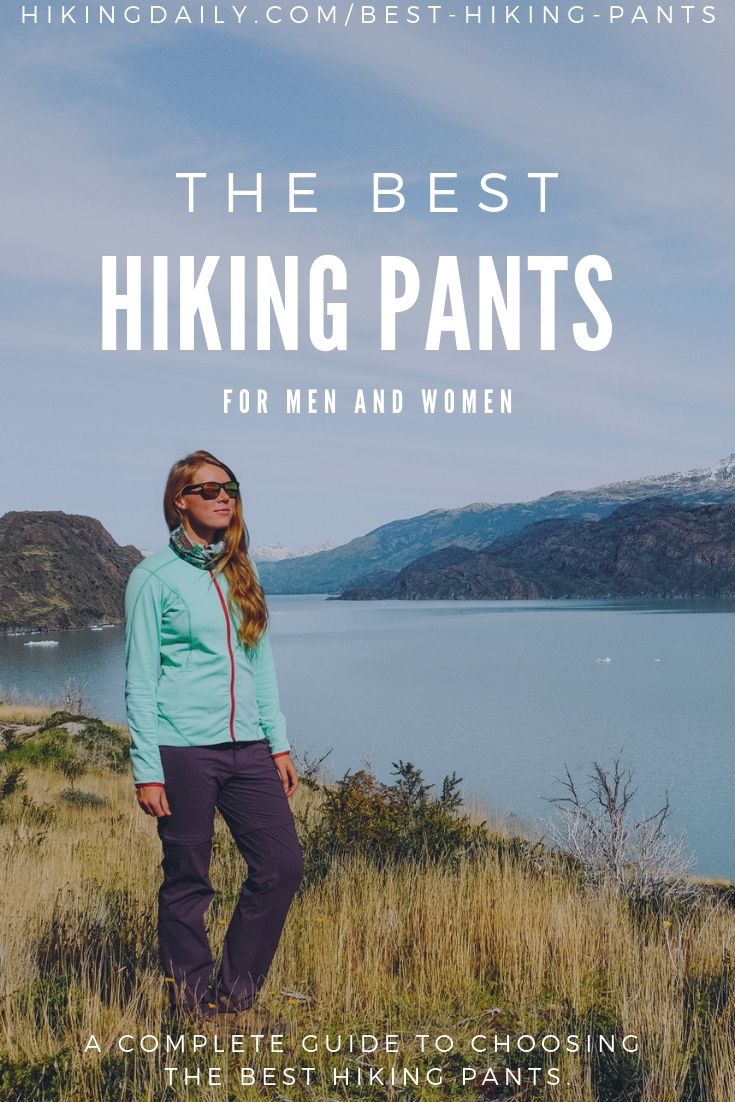 An Overall Pro Tip
When purchasing a pair of hiking pants, a higher quality item will last longer and perform better.
However, if you are on a tight budget, buy used. You can find high-quality, used outdoor gear through sites like Patagonia Worn Wear and REI Used Gear.
---
Features to Consider When Choosing Hiking Pants
The outdoor gear market is riddled with vast amounts of high-performing hiking pants. We get it, it is hard to pick just one! While hiking pants from the popular companies above are similar in durability and performance, they range in features. Here are some to consider:
Protection
Sun protective clothing is ideal for children, if you are sensitive to the sun, hiking at high altitudes, or taking certain medications. Almost all hiking clothing comes with a UPF rating which identifies the level of protection the fabric will give against harmful UV and UVB rays. UPF ratings are simple – the higher the rating, the stronger the protection.
Pro Tip: A wide range of medications, such as acne treatments or some antibiotics can increase your skin sensitivity to the sun. Make sure to double-check your medication in case you need extra sun protection.
If you plan to hike in an especially buggy region, such as the North Cascades in Washington, you may want to invest in pants specially designed for protection against insects. Check out ExOfficio's BugsAway selection of insect repellent clothing. BugsAway blends invisible, odorless insect repellent within its fabric fibers. The repellent lasts through 70 washes and is effective against common insects like ants, flies, ticks, and mosquitoes.
Pro Tip: For extra protection against bugs, you can pair your insect repellent hiking pants with gaiters. Try the Bugout Gaiters from Outdoor Research. Your ankles will thank you!
Fit
When choosing a pair of hiking pants, the right fit will optimize comfort and performance. Hiking pants come in either a slim, athletic, or baggy fit. As you pick between these options, keep in mind your mobility. A pair of pants that are too tight will limit movement, whereas pants that are too baggy or loose may get caught on rocks or branches. To enhance mobility, opt for hiking pants with articulated knees and gussets built around the crotch. The articulated knee and gusset designs add extra fabric and mobility to their respective areas. This enhances comfort and prevents unwanted rips.
Additionally, hiking pants come in different lengths and sizes. Some companies, like PrAna, offer tall, short, regular, and plus-size options. Refer to their size & fit guide to determine which size is best for you.
Pro Tip: For the tall ladies out there, don't shy away from the men's section. As a 5'10 outdoorswoman, there is nothing more annoying than pants that don't reach my ankles. Some men's pants I find are longer and fit equally as well!
Fabric
Hiking pants are designed to be weather-resistant, quick-drying, and breathable. They should be abrasion resistant to enhance durability, without sacrificing air ventilation. Most synthetic performance fibers like nylon and polyester are designed to do just this. However, if you want a warmer and insulating alternative and don't mind the extra mass, choose a midweight fabric like merino wool. All three fibers have moisture-wicking and other high-performing properties. You can read more about common fabric types for hiking pants below, under Common Fabric Types.
Smaller Features
The best hiking pants have many small features that are similarly important. To begin with, some popular hiking pants like the PrAna Stretch Zion Pant come with a streamlined, elastic belt. This feature significantly improves the fit of your hiking pants and ensures that you can still wear them before and after the Thanksgiving holiday. Also, keep in mind how much storage you plan to need on your hikes. If you like to keep a few granola bars and a small notebook handy, opt for pants with a cargo pocket or two. Finally, some pants come with roll-up leg snaps in case you need extra air ventilation for your legs.
Common Fabric Types
Have you ever seen a person hike in jeans? Hopefully not. The problem with denim and other cotton blends is their hefty weight and inability to quickly dry. As they gain moisture, the fiber becomes heavier and loses most of its thermal properties.
Most hiking pants are made of nylon or polyester blends. They are both lightweight, quick-drying, and easy to wash. On one hand, nylon is often more durable and weather-resistant. However, its production costs are high, which makes gear made of nylon often more expensive. On the other hand, polyester is cheaper and provides better UV resistance. These fibers meshed with elastane or spandex which increases the fabric's elasticity and your mobility.
When you research what your gear is made of, make sure it follows the bluesign standard. First adopted by Patagonia, the system ensures your products are sustainably and safely made. In addition to Patagonia, REI, and Marmot are other credible members.
Pro Tip: It is very rare to find hiking pants made of cotton. Some, like the Fjällräven Vidda Pros, are blended with a synthetic fiber like polyester, however, they lack water resistance. To compensate for this, Fjällräven offers its Greenland Wax for waterproofing.
---
Types of Hiking Pants:
Hiking pant designs excel in different environments. The most common design is standard pants. These are non-convertible and meant for full length. They are less versatile but are ideal for cold conditions or extra sun/bug protection. Roll-up models provide a little more ventilation than standard designs. Convertible pants are the most dynamic and help you adapt to turbulent weather.
Almost all hiking pants are coated with durable water repellent (DWR), which makes them water-resistant and quick drying. If you anticipate extremely wet conditions, invest in waterproof hiking pants. These often come as a softshell made of layers of GORE-TEX – a tough, waterproof material that still allows breathability. You can also find a pair of rain pants to put over your hiking pants.
Additionally, different seasons call for different hiking pants. In the summer, opt for lightweight or convertible hiking pants. These will keep you cool but also protected against the sun. In the winter or cold alpine conditions, wear insulated and waterproof hiking pants or warm hiking tights underneath as a base layer. Hiking tights can also be worn on their own if you like the close fit.
---
Top Brands Of Hiking Pants
REI Co-op is the reigning champion of affordable, sustainable, and durable outdoor gear. While REI hiking pants are limited in selection, they compensate with competitive prices, making it a preferred option for those on a budget. Like all REI products, Co-op pants are backed by a 100% satisfaction guaranteed policy.
The major drawback for most Arc'teryx gear is its price. Despite this, Arc'teryx consistently creates extraordinarily durable and high-performance gear. The company is known for leading innovations in outdoor technology. Arc'teryx hiking pants range from $100 to $160.
If you have been to REI, chances are you have tried on or seen gear from Outdoor Research. OR produces high selling, high-quality gear for a great price. They are well known for their bivy sacks and ultralight tents, but Outdoor Research hiking pants will keep you equally dry and prepared.
Since its foundation, Patagonia has consistently supplied sustainable, durable, and high-quality gear. Their pants are no different. Patagonia hiking pants are made with high quality, recycled polyester and nylon fiber. Pro Tip: Check out Patagonia Worn Wear for used clothing! It's better for the Earth and your wallet.
Kühl is an online outdoor clothing company that offers long-lasting and well-designed gear. Its commitment to high quality and durable products is unsurprising, considering the brand is the brainchild of three expert outdoorsmen, including Conrad Anker. Pro Tip: You are likely to find a pair of Kühl pants at your local REI. Call beforehand to ask!
Columbia hiking pants, like REI Co-op, maximize affordability without sacrificing quality. The outdoor sportswear company offers a wide selection of hiking pants from $40 to $70. Additionally, Columbia Sportswear owns smaller, popular brands like Sorel, PrAna, and Mountain Hardwear. If you don't like Columbia's selection, you can find great, high-quality pants at PrAna!
Although PrAna is owned by the major outdoor gear company, Columbia, their activewear easily stands out among its competitors. PrAna hiking pants are defined by their great quality, colorful designs, and commitment to sustainability. In fact, PrAna was the first North American company to produce Fair Trade Certified clothing! For these reasons and more, PrAna remains my personal favorite. I have yet to find a pair of pants more durable than their Stretch Zion Pant. You can read more about their sustainable initiatives here.
For over 50 years, the North Face has stuck by its mantra, Never Stop Exploring. The brand continues to excel in innovation and performance. Since its beginning, they have been a pioneer in the latest outdoor technology. With its extensive collection and modern designs, North Face hiking pants are a great piece for your next adventure.
Marmot began around 50 years ago as a mountaineering club founded by two college students. Since then, it has become a major, well-trusted supplier of performance and environmentally driven outdoor gear. Marmot hiking pants are durable, well fitted, and responsibly made. Most are made with abrasion-resistant nylon to ensure you will have them forever.
Fjällräven is a Swedish outdoor gear company that produces functional and durable products for hiking and camping. Fjällräven hiking pants are on the pricier side – they range from $120 to $400. However, if you are willing to invest the extra bucks, Fjällräven is a great choice. Plus, the Euro brand will easily make you the most stylish person on the trail. Pro Tip: Fjällräven recently came out with their Greenland Wax, a $10 stick of wax to enhance the wind and water resistance of their products. Some stores, like the one in Boulder, will apply a free layer of their wax on any Fjällräven product. Call the store beforehand!
If you are hiking in bug-friendly regions like the Everglades, ExOfficio is the perfect brand for you. ExOfficio's outdoor clothing line, BugsAway blends invisible, odorless insect repellent within its fabric fibers. The repellent lasts through 70 washes and is effective against common insects like ants, flies, ticks, and mosquitoes. Not only does ExOfficio provide hiking pants, but the BugsAway selection offers socks, pants, hats, and underwear!
---
The Best Hiking Pants For Women:
Here are our top picks for women's hiking pants:
Type: Standard Hiking Pant
Price: $80
Material: 86% ripstop nylon, 14% spandex
Belt included: No
Why We Recommend This Product: The Outdoor Research Ferrosi pant is tough, wind resistant, and breathable. The ripstop nylon provides thick protection against sharp twigs and rocks.
Type: Roll-up Hiking Pant
Price: $85
Material: 97% nylon, 3% spandex
Weight: 12.2 oz
Belt included: No
Why We Recommend This Product: The PrAna Halle pants are versatile and comfortable. They are a popular option for day hikes or short backpacking trips. They are coated in a durable water repellent finish to keep you dry. The PrAna Halle Pants come in plus size options, which makes it our number one plus size pick as well!
Type: Convertible Hiking Pant
Price: $80
Material: 94% nylon, 6% elastane
Weight: 9.9 oz
Belt included: No
Why We Recommend This Product: The Marmot Lobo's Hiking Pants are lightweight, versatile, and stretchy. It is designed with a female fit in mind, which makes it a comfort favorite. The breathability and convertible design makes it our top pick for summer hiking pants as well!
Type: Hiking Tights
Price: $79
Material: 85% recycled polyester, 15% spandex
Belt included: No
Why We Recommend This Product: These high performance tights are made with stretchy, recyled polyster to keep you mobile and eco-friendly. They wick moisture, dry quickly, and are built with Polygiene permanent odor control so you don't have to worry about washes.
Type:
Price: $30
Weight: 10 oz
Material: 96% nylon, 4% elastane
Belt included: No
Why We Recommend This Product: The Saturday Trail Stretch pants are a comfortable, lightweight, and breathable option to save your budget.
Type: Waterproof Hiking Pant
Price: $89.50
Material: Polyester, REI Elements waterproof breathable laminate
Belt included: No
Why We Recommend This Product: The Talusphere Pants are simply designed to keep you warm and dry for an unbeatable price.
Type: Winter Hiking Pant
Price: $189
Material: 88% nylon, 12% elastane
Weight: 11 oz
Belt included: No
Why We Recommend This Product: Although the price tag is high, the Arc'teryx Gamma Lt Pants provide unparalleled weather protection, breathable comfort, and excellent mobility. These pants are best for cold and wet conditions.
The Best Hiking Pants For Men:
Here are our top picks for each type of men's hiking pants:
Type: Standard Hiking Pant
Price: $85
Material: 97% nylon, 3% spandex
Weight: 13.6 oz
Belt included: Yes
Why We Recommend This Product: This is not the first time we have mentioned PrAna's Stretch Zion hiking pants – and for good reason. The Stretch Zion hiking pants stay true to their name. The pants are extremely elastic and offer better mobility than any other pant. They are technically designed as climbing pants (hence the flexibility) and can be worn just about anywhere.
Type: Convertible Hiking Pant
Price: $99
Material: 88% nylon, 12% spandex
Weight: 17 oz
Belt included: No
Why We Recommend This Product: The Kuhl Renegade Convertible pants are impressively durable and tough. The pants offer ample storage pockets, which makes them ideal for travelers or those who prefer easy access to small gear on the trail.
Type: Roll-up Hiking Pant
Price: $59.95
Material: 94% nylon, 6% spandex
Belt included: Yes
Why We Recommend This Product: These comfortable and relaxed fit pants are a great, inexpensive option for day hikes and short backpacking trips.
Type: Summer Hiking Pant
Price: $60
Material: 100% nylon, polyester mesh panels
Weight: 12.6oz
Belt included: Yes
Why We Recommend This Product: The Columbia Silver Ridge Convertible pants are our next three top picks. They are breathable and quick-drying but boast an unbeatable price. They also come in bigger sizes, making it our top plus size choice as well.
Type: Waterproof Hiking Pant
Price: $275
Material: Nylon, GORE-TEX
Weight: 12.5 oz
Belt included: Yes
Why We Recommend This Product: The Arc'teryx Beta SL hiking pant is a superlight, packable, waterproof soft-shell to keep you dry. The price tag is hefty, but the 3 layer GORE-TEX system incorporated in these pants will protect you from water for years.
Type: Winter Hiking Pant
Price: $150
Material: 50% nylon, 43% polyester, 7% spandex
Weight: 21.8 oz
Belt included: No
Why We Recommend This Product: The Outdoor Research Cirque II Pant is a super tough and water-resistant and wind-resistant winter hiking pant option. The pants were designed for alpine conditions and are impressively breathable. These may be overkill in warmer weather, but if you anticipate sub-zero temps or snow trekking, the Cirque II Pant is a great choice.
Now that you have your hiking pants, check out our hiking clothes checklist to ensure you have all the pieces to pursue your next adventure!