It's not easy having wide feet. I know, because I have had them my whole life. There are certain brands of shoes that will just never fit my feet. The same is true for hiking boots and hiking shoes. If you do have wide feet there are only so many options that are going to keep your feet happy and free of blisters on your hikes. Hiking Daily is going to make your mission to find the best hiking boots for wide feet super easy.
In this guide, we only showcase hiking boots that are truly a wide fit. These are also the newest and best options you can get right now.
Top 5 picks for the best hiking boots for wide feet (men and women)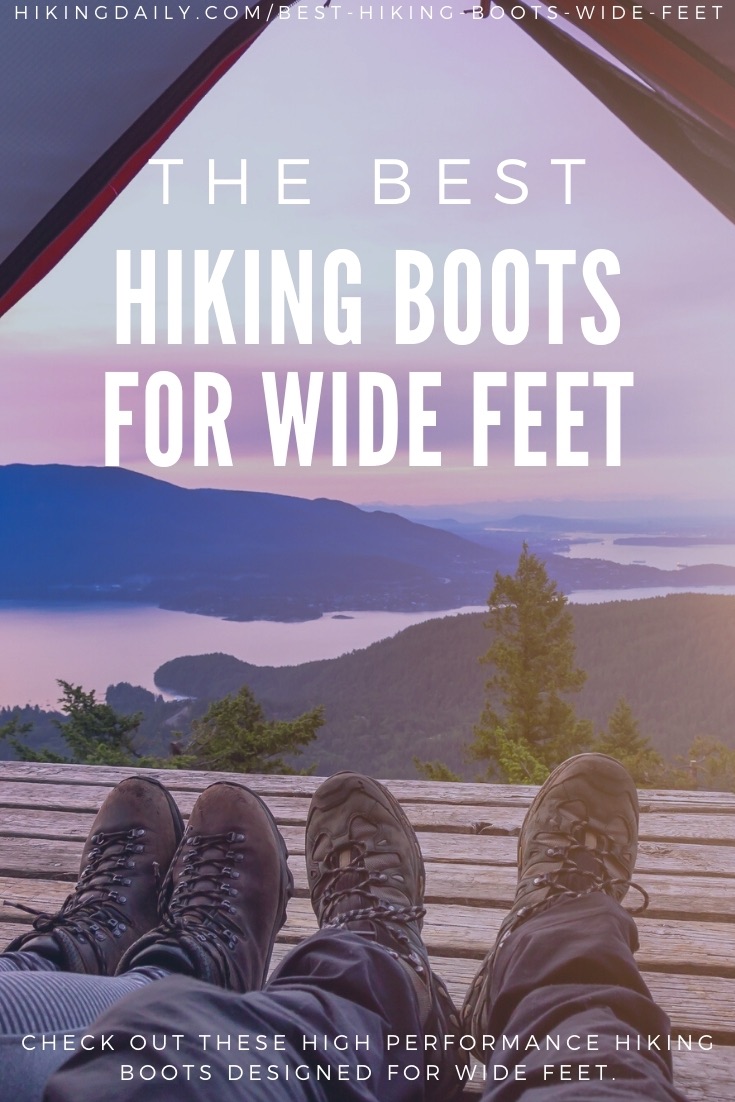 All of the above hiking boots are available for both men and women. Each boot is waterproof. Some are available in a non-waterproof version if you live in a hot or dry climate. Let's get into the details of each hiking boot and what they offer.
1. Merrell Moab 2 Mid Waterproof Wide
If you want a hiking boot that comes in a wide fit and is built with a focus on cushion and comfort, then the Merrell Moab 2 Mid Waterproof Wide is the best option for you. If we had to pick the best all-around hiking boot for most people with wide feet, this would be it. Moab 2 Mid has been one of the most popular hiking boots having been worn by over 20 million people to date. This is the perfect hiking boot for those that like a relaxing and leisurely hike.
Waterproof with M Select Dry (Note, this boot also is available in a GORE-TEX version)
Durable suede leather and mesh upper
Protective rubber toe cap
Bellows tongue keeps debris out
EVA midsole delivers stability and comfort
Nylon arch shank for extra support
5mm lug depth provides excellent traction
Vibram TC5+ outsole
1012 grams
Why we recommend: Best overall hiking boot for wide feet for most hikers that want sustained comfort and cushion.
Vasque Breeze AT GTX Wide
The Vasque Breeze All-Terrain GORE-TEX is a waterproof leather hiking boot that is built for versatility and durability. This hiking boot offers superior foot protection and traction and so is great for rocky and challenging terrain. The boot is available in 3 colors. I do think this is the best hiking boot of the bunch when it comes to foot protection and being very durable. However, some people may not like the stiff and sturdy nature of the midsole and outsole.
Waterproof with GORE-TEX
Super tough and durable outsole – Vibram Contact Grip with Megagrip Compound
2.0mm waterproof nubuck leather (most durable) and part mesh (breathable) upper
Superior foot protection and traction
Midsole with EVA Cushioning Pods
TPU shank (extra support)
1220 grams
I own the identical Vasque Breeze AT GTX hiking shoe for my wide feet. The reason that I picked this option because it appeared way more durable compared to the competition. I happen to be hard on my shoes and boots partly due to an aggressive hiking style and also the rugged rocky terrain encountered in Colorado. So far, I have been wearing them for 6 months and they are awesome. I did upgrade my insoles for more comfort and support and I would do this for any hiking boot or shoe. A pleasant surprise of this shoe/boot is the traction. The rubber is super grippy in wet and snowy conditions.
Why we recommend: Best option for hikers that want a very durable and protective hiking boot for wide feet.
Salomon X Ultra 3 Wide Mid GTX
If you are looking for a lighter more athletic hiking boot that comes in a wide fit, the Salomon X Ultra 3 Wide Mid GTX is a superb option.
Waterpoof with GORE-TEX
Super grippy dual rubber Contagrip TD outsole
Multi-directional deep aggressive lug pattern
Lightweight chassis between midsole and outsole
High performance EVA foam midsole with EnergyCell technology
Polyurethane coated leather for extra protection and durability
Anti-debris mesh and gusseted tongue keeps debris out
Descent Control Technology makes the downhills more stable and in control
Protective toe cap
450 grams
Why we recommend: This is the best lightweight hiking boot for wide feet for hikers that are aggressive and want to move fast over rough terrain.
Keen Targhee III Waterproof Mid Wide -> Comfortable + Supportive Hiker
For years Keen is a brand that is known to comfort troublesome feet. This is true for wider widths as well. The Keen Targhee III has become an iconic hiking boot that works for all types of terrain that you can encounter on your hikes. This is another super durable and protective hiking boot in a wide width.
Waterproof KEEN Dry membrane
Large durable rubber toe protection and mud shield
Premium leather and mesh upper provides durability and breathability
TPU heel-capture system delivers extra stability on the trails
ESS shank offers lightweight support

KEEN All-Terrain rubber outsole

4mm multi-directional lugs
Dual-density compression-molded EVA midsole for support and cushion
Anatomically shaped (removable) footbed for added support
Why we recommend: This hiking boot for wide feet is perfect for those that want a balance of comfort and protection.
Oboz Bridger Vent Mid Waterproof -> Comfortable + Supportive Hiker
The Oboz Bridger is another very good all-around hiking boot for wide feet. This boot provides a great combination of support and ventilation. The Bridger also protects your feet on those extra long rocky hikes in the mountains with a TPU chassis and tough outsole.
Waterproof B-DRY membrane
Nubuck leather and abrasion-resistant synthetic upper is both durable and breathable
TPU forefoot plate for stability and underfoot protection (against rock bruising)
O-Fit insole (or just go for an after-market insole)
Stiff Granite Peak outsole is stiff and protective (rocks and roots)
Aggressive lug tread
Rubber toe cap protection
Why we recommend: Much like the Keen boot, this Oboz Bridger delivers a good blend of comfort and a little bit more foot protection.
Quick summary
You really can't go wrong with any of our top 5 picks. Try to match up the type of hiker that you are with the reasons we recommend each hiking boot. Some options above are better for relaxed leisure hikers. While others are better suited for athletic, aggressive, fast hikers that need extra under foot protection from rocks, roots, and more challenging terrain.
Top features and considerations when buying hiking boots for wide feet
Not all hiking boots are equal. If you were to try on each of the options we recommend, you will experience subtle differences. We encourage you to buy a few top options online and compare them in the comfort of your own home. Get an idea of what feels the best, and then simply keep the pair you like most and return the ones that are not perfect.
Fit
Each brand and each model of hiking boot is going to feel a little different on your feet. This is why we recommend buying 2-3 options and testing them out at home. All of the hiking boots featured in this review are specifically for wide feet, yet one or two of them will definitely feel better on your foot shape. Some boots will have a wider toe box. Others will fit more snugly in the heel area. While others might have a more defined or sculpted arch support. Finally, some boots will have more or less room in the instep area of the boot. Take the time to feel out these subtle differences to make a great choice.
Weight
You will generally find lightweight options and regular weight options. If you are more athletic and move quickly and thus cover greater distance on a day hike you probably will want a lighter weight boot. If you are a leisurely hiker you will want something that has more cushion and support, these types of hiking boots are going to weigh a bit more. None of the boots we recommend are overly heavy to wear.
Tread / grip / traction
The tread is one of the most important features that you should pay attention to when buying hiking boots. Specifically, the depth and pattern of the lugs underneath your feet. We recommend hiking boots with a lug depth of 4-5 mm that have a dispersed multi-directional pattern to maximize grip on the trail. Also, pay attention to the rubber compound. Will it perform in a variety of weather conditions? Outsoles that are made of 2 or more types of rubber will give better grip and traction in dry, wet, or snowy conditions.
Durability
The more leather that your hiking boot has in the upper (top) of the boot, the more durable it will be, and thus last longer. Nubuck is the most durable leather you will find, then suede. Watch out for "synthetic" leather (found in some Merrell hiking boots) which is likely less durable.
The more synthetic materials found in the upper will add more breathability and be less heavy but also less durable in the long run.
Breathability
In general, waterproof hiking boots are less breathable. If you live in a dry and hot climate you are probably better off going with a non-waterproof version. This is an option with some of our top picks above.
The more leather in the upper means less breathability and ventilation for your feet. The more synthetic fabric used in the upper will increase ventilation and breathability. All of our top picks have a fairly equal ratio of leather to synthetic materials.
Waterproof vs. not
Think about where and what season you will be hiking. If rain and snow is something you expect to encounter time to time than get a pair of waterproof hiking boots with either a GORE-TEX lining or something similar. If you live and hike in warm dry climates waterproof hiking boots are not the best option since they are less breathable.
Comfort
Think about the type of terrain you will be hiking. If you hike on softer dirt trails with no rocks or roots you should get a more cushiony yet moderately supportive oriented boot. On the other hand, if you hike in the mountains on rocky terrain, you are going to want a hiking boot that has more underfoot protection against rock bruising. A TPU shank or chassis will accomplish this and thus keep your feet comfortable and protected. A stiffer outsole will also help to protect your feet.
Mid cut vs. high cut
All hiking boots are either a mid cut (around or slightly below the ankle) or a high cut (above the ankle). This compares to hiking shoes which are cut below the ankle. The higher the cut, the more protection and ankle support.
Parts of hiking boots
Upper
This is the top of the hiking boot. It is made of leather, synthetic materials, or a combination of the two.
Midsole
The midsole is the part sandwiched between the upper and the bottom of your hiking boot. Most midsoles are made of two types of compressed EVA foam. This part of the hiking boot provides cushion and foot support.
Outsole aka tread
Finally, the outsole is the bottom of the hiking boot that is a combination of tread and foot or toe protection.
We recommend tough rubber Vibram outsoles if you can find them. Vibram has a long time reputation of durable and grippy treads.
Lacing systems
Examine how the laces are tied up. Some use leather which is more durable, while others use synthetic loops that are lighter but are prone to ripping or tearing. Other boots will have metal or plastic hooks to help keep your laces tightly wrapped around your feet and ankles.
GORE-TEX
This is a lining that you will find in many waterproof hiking boots. This fabric keeps water out but allows moisture (sweat) to escape and is thus breathable. Some manufacturers use their own proprietary version of a waterproof breathable lining.
---
Want more information? Be sure to check out our footwear section. Or, check out our complete guides to the: Best hiking shoes for men, best hiking shoes for women, best hiking boots for men, best hiking boots for women, and best kids hiking shoes.
We use affiliate links and may receive a small commission on purchases. Please read our disclosure.