This is our ultimate guide to choosing the best hiking boots for women. In this article we cover everything that you need to know to make a good choice.
Hiking Shoes vs. Hiking Boots: What's the difference?
When you're looking for outdoor gear, you've probably wondered what the difference is between hiking shoes and hiking boots. While a lot of them look similar, there are a few key differences that you'll need to keep in mind if you plan to buy either one.
What are hiking shoes?
Hiking shoes are generally designed to be closer to athletic shoes, just with some features that keep your feet comfortable and stable when faced with the outdoor elements.
What are hiking boots?
We'll start with the obvious fact: most hiking boots are typically mid to high-cut models that go up the ankle. They're better suited for strenuous day hikes or short backpacking trips. Sometimes hiking boots are more insulated and warmer than hiking shoes, making them a good option for cold weather.
Hiking boots are more durable than most hiking shoes due to extra leather in the uppers and shanks embedded in the midsole. They provide solid foot protection and support which is a good thing if you are carrying a heavy backpack over long distances.
Since hiking boots typically have better ankle support, they can be good for someone who has been off the trails for a certain amount of time or is a beginner to hiking since they can help prevent rolled ankles.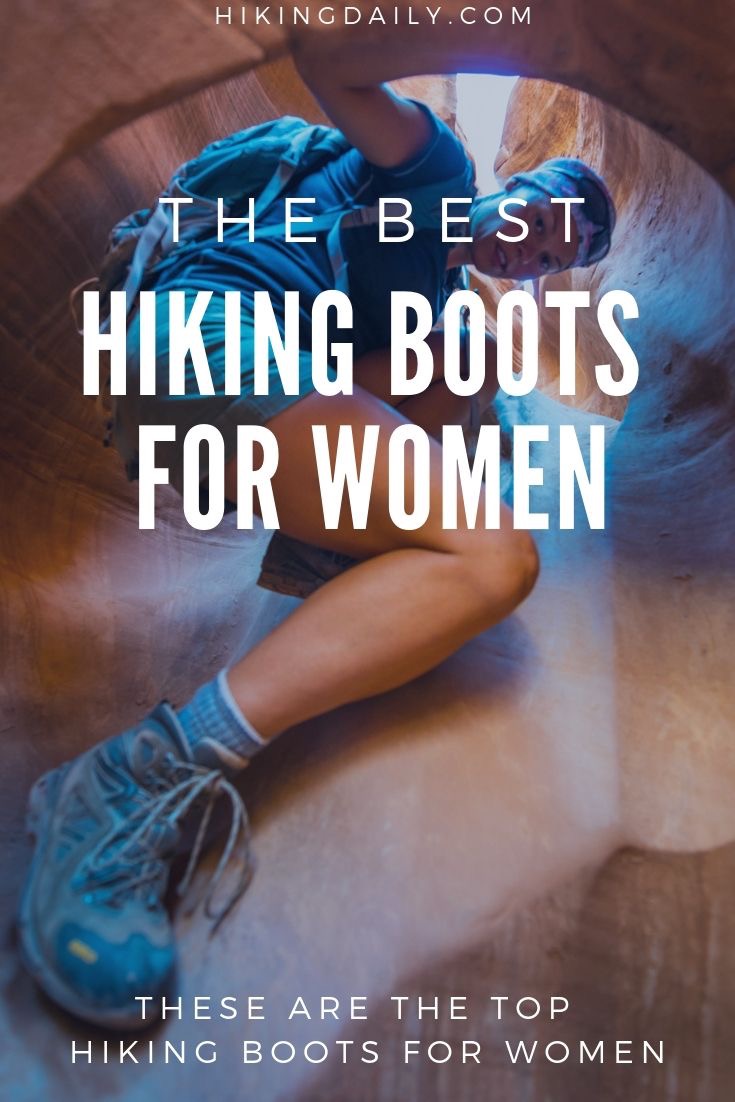 Some features to consider
We've gone in-depth into hiking shoe and boot features you need to consider, but we'll give you a simple overview to keep in mind when isolating the best hiking boots for your needs.
Waterproof / Gore-Tex
Wearing a waterproof hiking boot can help keep your feet dry during any hike. Many hiking boots have Gore-Tex or similar materials built-in for extra waterproofing.
Weight of the boot
Lightweight vs. non-lightweight is a serious consideration. You'll need to figure out if you need more stability or flexibility for your hikes as well as the weather conditions and terrain you'll encounter on hikes.
Ventilation and breathability
If you're hiking in warm, dry climates you'll want to find a boot that has good ventilation so your feet won't sweat too much. For cooler, wet climates ventilation is less critical.
Durability factors
There are quite a few factors that play a role in the durability of a hiking boot. Some of these include the materials on the upper (more leather = more durable), various toe protections, internal shanks, and the type of rubber used in the outsole (Vibram soles are known to be durable). The more synthetic material used in the upper often means the hiking boot is going to be less durable.
Traction: Grip and stability
The traction on your hiking boot should be a huge factor in your decision. Good traction will keep you safe on steep or challenging terrain. Look for hiking boots that have tough, hard, durable rubber used in the outsole. Look for treads that have deep grooves and lugs that will grip rough terrain.
For increased stability look for hiking boots that have internal shanks embedded in the midsole.
Arch support
Finding a hiking boot with good arch support can keep your feet from feeling sore on your hikes.
Injury protection
Hiking boots usually provide more ankle support than hiking shoes, but it's something you should keep in mind with each pair you're considering buying. You'll also want to keep an eye out for good toe protection.
Gusseted tongue
This will keep debris and dirt out from your shoe due to the build.
Rands
This is the piece of rubber that is between the upper and the boot sole. It can come in Gore-Tex along with some type of moisture-wicking linings that are anti-microbial. It often has a padded collar and you'll want to make sure the stitching is high-quality because that will keep your hiking boot in good shape for a long time.
Components, construction, and materials
Generally, on hiking boots the leather extends above the ankles to keep feet dry. Often, you'll see hiking shoes that have more breathable material so they stay light and dry on a hike while boots are built for a variety of conditions. There are generally also more pieces on a hiking boot, such as gusseted tongues and thick collars along the top of the boot, that are designed to keep out dirt, debris, and gravel.
There can be more shanks and plates inside hiking boots to hold up to longer, strenuous hikes. This is often why the midsole is stiffer than hiking boots so you can have adequate support even on long journeys. Sometimes the leather is thicker and more durable on a hiking boot since they are the preferred choice for cold, winter weather.
Hiking boots also have a thicker outsole compared to hiking shoes and trailrunners. The lugs are placed in particular areas to keep a firm grip on the ground, so if you have a thick hiking bag, you'll still have a firm grip on the ground. That is also why hiking boots often have a heel brake as well.
The Fit
Finding the right fit is essential to having a good time on a hike. If you pick the wrong size, shape, or type of boot for your hike you can be in for a lot of pain and discomfort. Thankfully, there are a ton of resources available to make sure you're finding the right boot for your journey. We'll break down some essential tips you need to know.
Tips to getting a good hiking boot fit
Know your size – Get it measured at a hiking store.
Try boots on later in the day since feet swell and you want to have an accurate fit.
Bring orthotics or footbeds if you have them.
Wear hiking socks not regular socks. Hiking socks are much thicker and will provide a different feel than athletic socks.
Spend time in the boots. Walk around for as long as you can to get a good test.
Use the finger test which is where your finger should be able to slide down behind your heel but not have any more wiggle room than that.
Put boot on and wiggle your foot around to detect any feelings of tightness. It shouldn't feel extra tight or uncomfortable in any point. That means in your toes, ankles, the width, etc.
Test out different strides. Do some lunges, go up and down stairs, walk backwards or sideways, do whatever you need to do to test out different angles with your boots.
Your toes should have enough room and should not touch the front of the boot. If your toes are too close, it can cause injury or bruising.
Your heel should feel secure. When you walk around it shouldn't lift up and it shouldn't rub against any of the material around it.
The Best Hiking Boots For Women By Brand:
Now that we know what to look for in a pair of women's hiking boots, let's check out the best brands and their most current styles of hiking boots. These are the best hiking boots for women to get right now to ensure happy feet on your hiking adventures.
Merrell Hiking Boots
The Rove hiking boot from Merrell has built-in heavy-duty protection to keep you going on even the most strenuous hikes. It also has a breathable mesh lining to keep your feet from getting too hot.
Key Features:
Heavy-duty protection
BOA® lacing for secure fit
Cushion in the heel to absorb shock
Why buy this hiking boot? If you're looking for a boot that offers solid support, you can't go wrong with this boot from Merrell. It has easy to tie thumbnails due to the BOA lacing which makes it easy to tie on the go.
The Ontario 85 hiking boot from Merrell has a suede upper that is abrasion and tear-resistant, giving it the ability to last for a long time. It has a compression molded EVA midsole which gives you extra stability and comfort, even after long hours of use.
Key Features:
Metal hooks and d-rings for secure lacing
Bellows tongue
Vibram Megagrip
Why buy this hiking boot? The Ontario 85 will last a long time and keep your feet comfortable on almost any hike due to its foot and heel support.
The Moab 2 from Merrell has durable synthetic leather with an extra supportive footbed and Vibram traction for extra stability. It is considered one of the most popular and best hiking boots for women.
Key Features:
Synthetic leather
Waterproof membrane
Rubber toe cap
Why buy this hiking boot? The Moab 2 provides excellent comfort and stability on a hike. They call it the MOAB because that stands for the "Mother of all boots".
Keen Hiking Boots
The Terradora from Keen is a waterproof boot with a breathable membrane that lets vapor out without letting water in. It has an eco anti-odor probiotic technology that keeps your boots smelling fresh without the use of heavy metals or chemicals.
Key Features:
Eco anti-odor
PFC-free water repellency
Why pick this hiking boot? The Terradora is a sleek but sturdy boot that is also built to be worn anywhere. From the mountains to local towns, this boot will provide all-day comfort.
The Targhee Vent from Keen is a solid boot that provides solid support all around. They call it their "go-to hiking boot for summer".
Key Features:
Excellent breathability
Superior grip
Top-notch arch support
Speed hooks
Why pick this hiking boot? Keen took the award-winning Targhee hiking boot and replaced the upper with mesh panels to create this fresh version. It's ideal for a warmer climate.
The Targhee III from Keen provides much more warmth than the other options above due to its leather upper. This boot also has 4mm multi-directional lugs for excellent traction.
Key Features:
Waterproof
Leather mud shield
Speed hooks for quick lacing
Why pick this hiking boot? If you're looking for a warmer boot that has great support without being too heavy, you'll definitely want to check out the Targhee III.
Salomon Hiking Boots
The Outline Mid GTX W from Salomon has sneaker-like comfort while still holding strong as a hiking boot. It's able to be lightweight without sacrificing protection.
Key Features:
Athletic-style
Sneaker-like comfort
Lightweight
Why pick this hiking boot? If you're looking for a shoe that feels like a running shoe but also has all the features and benefits of a hiking boot, you'll want to check out the Outline Mid GTX W.
The X Ultra 3 Mid GTX W from Salomon has a strong grip and foothold for hiking rocky or wet terrain. This is ideal for if you have a steep descent so you know you won't be sliding down. It also one of the best hiking boots for women that have wide feet.
Key Features:
Strong grip
Cushioning
Excellent for steep hikes
Why pick this hiking boot? The X Ultra 3 Mid GTX W has excellent grip for steep terrains. If you're planning to do intense hikes or descents, this is a great choice.
Vasque Hiking Boots
Is weight an important factor for you? Vasque hiking boots are one of the best hiking boots for women that are near super lightweight.
The Breeze LT is one of the lighter boots on the market, which allows you to cut even more weight out of your hike.
Key Features:
Lightweight
All-day comfort
Why pick this boot? The Breeze LT is a great option for anyone looking to use a lightweight boot. It is one of the most lightweight options available in their entire Breeze line.
The Breeze III from Vasque offers great foot protection and stability for those strenuous, rocky hikes. It has a Vasque Exclusive Vibram Contact Grip to keep your feet sturdy on the ground. Wide width options are available with this boot.
Key Features:
Waterproof
Solid foot protection
Why pick this hiking boot? The Breeze III is a great choice if you're looking for a comfortable boot that gives your foot the support you need on long journeys.
La Sportiva Hiking Boots
La Sportiva makes some of the best hiking boots for women that hike in hot climates and have feet that are prone to sweating. This is due to La Sportiva Nano Cell 2.0 Technology and aeration channels within the footbed and midsole of their hiking boots.
The Stream GTX is a great boot with superior breathability. It's a mid-cut hiking boot with an innovative midsole for great stability and comfort.
Key Features:
Mid-cut hiking boot
Supportive midsole
Why pick this hiking boot? The Stream GTX has Gore-Tex® Surround™ Technology to provide excellent breathability without sacrificing support.
The Pyramid GTX hiking boot from La Sportiva has a great, breathable Gore-Tex surround to provide an excellent feel.
Key Features:
360 degree breathability
Waterproof
Great for moderate loads
Why pick this hiking boot? What makes the Pyramid GTX different is that these are a medium-duty Nubuck leather boot that's ideal for moderate loads.
Ahnu by Teva Hiking Boots
The Sugarpine II WP boot from Teva has a blend of both waterproof leather and lightweight mesh to make sure your foot always has enough airflow to reduce sweat and moisture.
Key Features:
Mix of waterproof leather and mesh
Great stability built-in
Numentum insole
Why pick this hiking boot? The Sugarpine II WP is one of the best sellers in the Ahnu by Teva Collection. It has great stability and a breathable build to keep it comfortable on long journeys.
The Montara III boot is one of the more stable boots on the market due to the Ahnu Numentum Hike technology inserted in the boot. It's made out of pig leather for extra comfortable interior comfort.
Key Features:
Lightweight
Vibram outsole
Waterproof Nubuck leather
Why pick this hiking boot? This boot has incredible stability that can keep your foot stable even on challenging trails.
Oboz Hiking Boots
The Lynx from Oboz is a great option for someone looking for a little more flexibility and breathability in a hiking boot. It has an all-knit upper which makes it a comfortable and form fitting.
Key Features:
Flexible
Waterproof
Toe box
Why pick this hiking boot? The Lynx offers excellent breathability and flexibility without sacrificing performance or style.
The Bridger hiking boot from Oboz offers excellent ankle support, which is great for hikes that are on rocky terrain. It has extra breathability making this a great choice for multiple weather hikes.
Key Features:
Synthetic mesh panels for breathability
Nubuck leather
Granite Peak outsole
Why pick this hiking boot? The Bridger has a combination of nubuck leather and synthetic mesh to keep your foot breathing easy without sacrificing support or comfort.
Columbia Hiking Boots
Columbia may be the best hiking boots for women that have a strict budget. They are a much more affordable option. Most Columbia hiking boots are under $100.
The Newton Ridge from Columbia is a good hiking boot for women that comes in four different color combinations. These have a Techlite lightweight midsole which will keep your feet comfortable over long stretches with a high energy return.
Key Features:
Full-grain leather
Waterproof
Omni-Grip™ non-marking traction rubber
Why pick this hiking boot? This boot provides full-grain leather which will keep your feet dry even in the toughest of conditions.
North Face Hiking Boots
The Hedgehog Fastpack from North Face is a cute women's hiking boot that provides all the support you need on any hike. It has rust proof hardware and a ton of features that make it comfortable. North Face is known for making high-quality hiking and outdoor gear, and this boot is no exception.
Key Features:
Fast-moving and lightweight
Mid-height hikers
Waterproof membrane
TPU CRADLE™ heel-stability technology
Why pick this hiking boot? This boot will keep your feet dry while also providing an ideal level of comfort so your feet don't get sore even on strenuous hikes.
So, there you have it, our top 18 picks of the best hiking boots for women to get this hiking season.
Check out our hiking footwear section for more ideas to keep your feet happy on the trails.