This is our ultimate guide to choosing the best hiking boots for women. In this article, we cover everything that you need to know to make a good choice. You will also find our top picks of what we think are the best hiking boots you can get right now.
Hiking Shoes vs. Hiking Boots: What's the difference?
When you're looking for outdoor gear, you've probably wondered what the difference is between hiking shoes and hiking boots. While a lot of them look similar, there are a few key differences that you'll need to keep in mind if you plan to buy either one.
Hiking shoes are generally designed to be more similar to athletic shoes with added features that keep your feet comfortable and stable when faced with rougher terrain. They are below the ankle footwear.
Hiking boots are either mid or high-cut models that go up to or over the ankle. Hiking boots better suited for strenuous day hikes or short backpacking trips.
Top recommended hiking boots for women
Okay, here is a quick look at the best hiking boots for women that you can get right now. Want the nitty gritty details? Scroll down for the complete review of each hiking boot.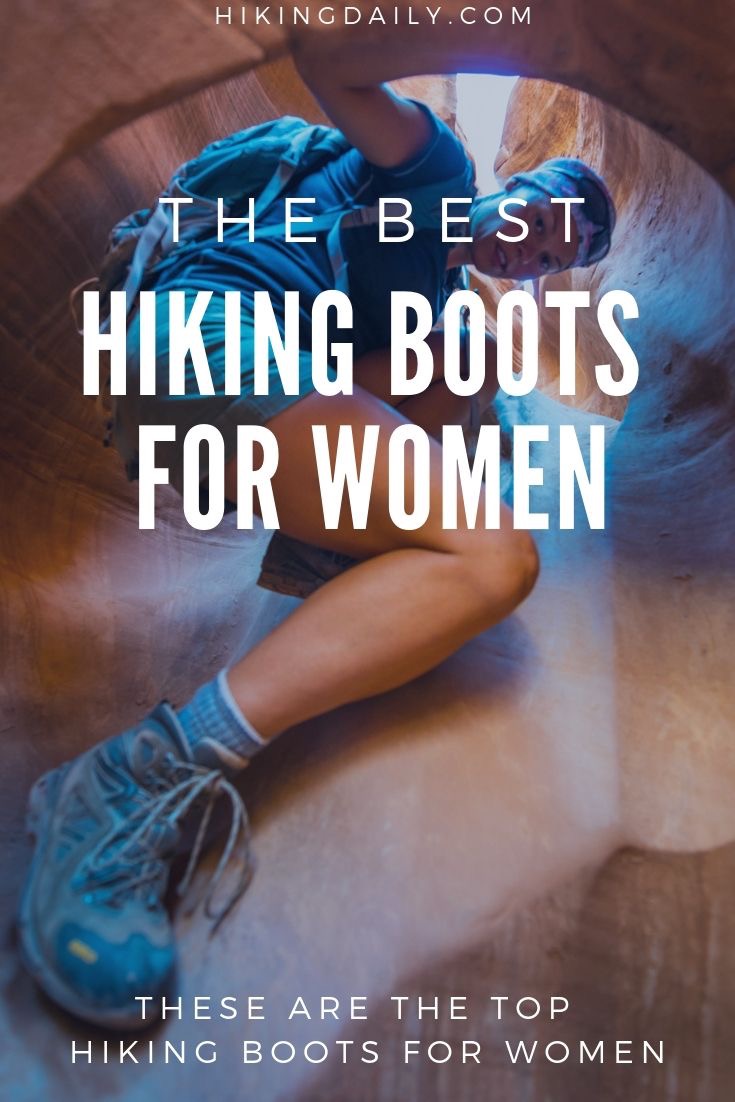 Getting the right fit
Finding the right fit is essential to having happy feet on your hikes. If you pick the wrong size, shape, or type of boot for your hike you can be in for a lot of pain and discomfort. Here are some essential tips you need to know in order to get a great fitting hiking boot.
Know your shoe/foot size – Get it measured at a hiking store.
Try boots on later in the day since feet swell
Bring orthotics or footbeds if you have them
Wear hiking socks, not regular socks
Spend time in the boots, walk around for as long as possible to get a good feel (buy online, try at home)
Use the finger test which is where your finger should be able to slide down behind your heel but not have any more wiggle room than that.
Put the boot on and wiggle your foot around to detect any feelings of tightness or pressure points
Test out different strides, do some lunges, go up and down a set of stairs, walk backward or sideways
Your toes should have some room and should not touch the front of the boot
Your heel should feel secure and it should not lift up
The Best Hiking Boots For Women For All Types Of Hikes
Each of the best brands of hiking boots for women will feel and fit a bit differently. Another thing to keep in mind is that each brand somewhat caters to a type of hiker.
Most popular / best overall hiking boot for women
This isn't necessarily the very best hiking boot but it is definitely our pick that will be best for most hikers. Especially, beginners to intermediate hikers. If you are an aggressive, more experienced hiker doing advanced technical hikes, keep scrolling down to see our other picks.
This is one of the most popular and most comfortable pairs of hiking boots. It is available in both a waterproof and non-waterproof version. We think this hiking boot is the best overall option for most hikers. It is best suited for those that hike for fun and leisure and want a forgiving hiking boot that is all about comfort and cushion. The Moab 2 Mid offers great value at a slightly lower price compared to the competition. 20+ million people have enjoyed the Moab hiking boot by Merrell.
Waterproof – M Select Dry lining
Suede and synthetic upper is durable and breathable
Bellows tongue keeps dirt and debris out
Rubber toe cap for protection
Nylon arch shank
EVA midsole and contoured footbed
Vibram TC5+ outsole with 5mm lugs
904 grams in weight
Want this hiking boot in the non-waterproof version? That would be the Merrell Moab 2 Mid Ventilator Hiking Boots.
Most durable and protective hiking boots for women
If you have sensitive feet or you are hiking in technical rocky mountain terrain you should consider a more protective and durable pair of hiking boots. The first few pairs that I used here in Colorado got shredded pretty quickly, so I progressively moved towards a more durable and more expensive boot.
The Vasque Breeze AT GORE-TEX hiking boot is comfortable yet super durable, supportive, and protective. No other hiking boot compares if you want a hiking boot that will last longer and keep your feet well protected on challenging and technical terrain. I own the shoe version, and I am very happy to be wearing Vasque again after a few years in other footwear brands. This is what we love about this hiking boot.
Waterproof – GORE-TEX lining
2.0 mm thick nubuck leather and abrasion-resistant mesh upper is extra durable
Midsole with EVA cushioning pods and TPU shank for superior support and underfoot protection
A stiff outsole that protects your feet
Vasque Exclusive Vibram Contact Grip with Megagrip Compound gives amazing traction in all conditions (dry, wet, or icy)
1016 grams in weight
Check REI price OR Vasque website.
This is the bestselling hiking boot for women that is made by Keen, a manufacturer known for comfortable, durable, and protective footwear. We rate this boot slightly more forgiving compared to the Vasque Breeze AT, and is thus a better pick for those seeking more comfort. This boot is tough and will take you anywhere you like including rough technical terrain.
Waterproof with Keen.DRY
Leather mud shield adds durability and protection along the sides
Large rubber toe protection
Speed hooks to pull laces tight
Leather loops for laces are more durable
Injected TPU heel capture system for stability
ESS shank for lightweight support and stability
Internal shank for added foot protection and torsional rigidity
4mm multi-directional lugs for incredible grip and traction
Environmental friendly premium oiled nubuck leather uppers
Metatomical Footbed Design delivers awesome foot and arch support
Dual-density compression-molded EVA midsole
Durable Keen all-terrain rubber outsole
805 grams
Live in a dry hot climate? The Keen Targhee Vent Mid Hiking Boots for women might be a better option for extra breathability. They are not waterproof and are more lightweight, which is better suited for dry hot climates. The Targhee Vent certainly could be placed in the best lightweight hiking boot section, but we will just leave it right here. The features are much the same as the Targhee III that we just discussed, only with more ventilation.
Best lightweight hiking boots for women
Want to be quick and light on your feet? A lightweight hiking boot may be best for you.
If you are a fast-moving, aggressive hiker check out the Salomon X Ultra 4s. They are lightweight, provide a snug wrap-around fit, and deliver excellent grip in all conditions.
GORE-TEX lining is waterproof
Unique, women-specific design
SensiFit system provides a wraparound snug fit
Active Support "mobile wings" keep feet locked into the boot
New ADV-C chassis delivers excellent support and stability
Durable Contagrip MA outsoles work in all conditions, wet and dry
771 grams in weight
Check REI | Check Salomon.com
Check out our complete review: Salomon X Ultra 4s vs Salomon X Ultra 3s for more information.
The Vasque Breeze LT GTX is an even lighter version of the previous Breeze III hiking boot that maintains comfort all day long, incredible traction, all in a waterproof package.
Waterproof GORE-TEX with Extended Comfort Technology
Synthetic abrasion-resistant mesh upper is light and breathable
Dual-density compression-molded Enduralast EVA midsole
Vasque exclusive Vibram Ground Control LiteBase with Megagrip Compound superior traction and grip
634 grams is ultralight
These hiking boots for women are the lightest of the bunch. Footwear made by Altra is known to be a more minimal yet comfortable option for the trails.
Lightweight and breathable hiking boot
EGO midsoles provide soft responsivness and cushion
Altra FootShape toe box lets your foot spread out comfortably
DuraTread outsoles deliver excellent grip on dry gritty trail conditions
561 grams in weight
The Salomon Outline Mid GTX hiking boots are a more forgiving option that is built in a more running shoe last but provides great traction.
GORE-TEX lining is waterproof
Synthetic upper is breathable
EVA midsole provides cushion
Protective toe cap
Gusseted tongue keeps out debris'
Midfoot internal shank provides support and stability
Contagrip rubber outsole is tough and durable
5mm lugs offer excellent grip on a wide range of trail conditions
697 grams in weight
The Danner Trail 2650s are the most modern, stylish, cute hiking boots for women. I have tried the men's version and they are very comfortable, lightweight, yet sturdy boots.
GORE-TEX lining is waterproof
Durable leather uppers
Vibram 460 outsole with Megagrip technology works very well in dry and wet conditions
Danner PlyoGo EVA midsoles absorb shock and provide a nice cushiony ride
External heel counters (EXO Heel System) provides support and stability
TPU shank delivers additional support
624 grams in weight
The X Ultra 3 mid has been a popular choice for several years and is still available. Some prefer it over the newer X Ultra 4s. It delivers amazing stability, cushioning, and grip. The design and construction (material, last, design) address specific needs of a women's foot and anatomy.
Waterproof – GORE-TEX
Lightweight polyurethane coated leather and breathable synthetic upper
High performance EVA foam midsole absorbs shock
Asymmetrical chassis between midsole and outsole maximizes stability and cushioning
Outsole uses two types of rubber for amazing grip
Multi-directional chevron lug pattern delivers awesome control on descents
Gusseted tongue keeps out dirt and debris
Protective toecap made of leather, rubber, and synthetic material
Mudguard wraps around the entire boot
SensiFit provides a super secure and snug wraparound fit
833 grams
Most versatile hiking boot for women
We have covered the best overall, most durable and protective, and the best lightweight hiking boots. In this section, we will look at a couple of options that are the most versatile hiking boots.
This hiking boot has a lot of great features. The Oboz Bridger Vent Mid Waterproof hiking boot offers fantastic comfort, amazing ventilation, great support, awesome foot protection, and traction for all conditions.
Waterproof B-Dry membrane
Single-density EVA midsole delivers cushion
TPU chassis in midsole prevents bruises from rocks and adds stability
O-Fit insole for extra support (although we really recommend after market insoles)
Granite Peak outsole is tough, protective, and grippy on rough terrain
Big rubber toe cap for superb protection up front
902 grams
Also available with all leather uppers, the Oboz Bridger Mid Waterproof Hiking Boots for women.
Best above the ankle hiking boots for extra protection and support
If you are looking for extra protection from the elements or extra support around your ankles you might want to go for some above the ankle-high cut hiking boots.
The Vasque Breeze AT GTX definitely qualifies as an above the ankle boot too, but if you want even more protection go for the Vasque Talus XT GTX. This is an all-leather hiking boot that has more features than a traditional all-leather hiking boot but is much lighter in weight. This hiker will keep you dry and comfortable in the most demanding wet weather conditions and on the most demanding terrain.
Waterproof GORE-TEX with Performance Comfort Technology
2.0mm nubuck leather upper with some abrasion resistant mesh
Molded polyurethane midsole
Dual density EVA footbed
Vasque exclusive Vibram Mega Nuasi with Megagrip Compound outsole
Protective toe guard
1052 grams
Check price at REI or Vasque websites.
Lowa prides itself on comfort and durability. They also design their boot last specifically for the shape and contour of a women's foot. This hiking boot is a great combination of a traditional and modern athletic feel.
Waterproof with GORE-TEX lining
Nubuck and split leather upper is durable
Metal lace hooks for secure lacing
Double Injection DynaPU lighter weight midsole
LOWA Multi Trac II tough outsole
830 grams
Best hiking boots for backpacking trips
If you are planning to do many backpacking excursions you will want a boot that is a bit more robust, offers stability while carrying weight, and is also not too heavy or clunky like traditional all-leather trekking boots. These are some great options to get you started that are modern boots for backpacking trips in the backcountry.
The Salomon Quest 4D 3 GTX is designed for comfort, support, and stability to help reduce fatigue over long distances.
Waterproof GORE-TEX membrane
Top quality nubuck leather upper
EnergyCell EVA foam midsole
Contagrip TD outsole is extra durable and delivers awesome traction and grip over varied terrain
Deep aggressive lug pattern
4D chassis in midsole helps keep you stable
Gusseted tongue to keep debris and pebbles out
Protective toe cap that is essential for rocky terrain
SensiFit lacing fit grabs a hold of your foot snugly
Protective wraparound mud guard
OrthoLite insole for extra cushion
Lace locker system
1049 grams
A premium quality, durable, hiking boot for backpacking that is lighter in weight. Also made on a women's-specific last.
Waterproof GORE-TEX
Split leather and synthetic upper is durable and breathable
DynaPU+ midsole with cushioning heel wedge and stabilizer
Vibram Rock Trac with MegaGrip rubber compound outsole for ultimate traction
Climate control insole keeps your feet fresh
980 grams
---
Top features to consider when choosing hiking boots
There are some key features to consider when deciding which hiking boots are best for your needs.
The overall fit
We recommend trying on several different hiking boots to get an idea of how brands fit differently.
Some boots will have a flatter footbed, while others will be more contoured and defined as a foot shape.
Many hiking boots are available in standard, and wide widths, so match your choice to your foot width. If you have wide feet, seek out hiking boots for wide feet to avoid rubbing, discomfort, and blisters.
Comfort
The meaning of comfort is going to depend on your style of hiking and where you hike.
If you hike at a leisurely pace, you will probably want a hiking boot that delivers support and cushiony comfort. This type of hiking boot is also good for less rocky terrain.
On the other hand, if you hike fast and are aggressive, you will want a hiking boot that offers great support and foot protection, such as TPU shanks and a stiff rubber outsole. These types of hiking boots are good for super rocky mountain hikes.
Foot protection
Hiking boots usually provide more ankle support than hiking shoes. You'll also want to keep an eye out for rubber toe protection, as well as side guards that will protect you from rocks. TPU shanks that are sandwiched between the midsole and outsole will also protect your feet from getting bruised by rocks and tree roots. Shanks also give you extra support.
Waterproof vs. not waterproof
Wearing a waterproof hiking boot can help keep your feet dry during any hike. Many hiking boots have Gore-Tex or similar materials built-in for extra waterproofing. If you are hiking in wet weather climates, we recommend a waterproof boot. If you are hiking in hot, dry climates, you probably do not need a waterproof boot since a Gore-Tex lining can decrease breathability.
Mid-cut vs. High-cut
Hiking boots come in mid-cut (around the ankle) or high-cut (above the ankle) styles.
If you are hiking in wet weather or snowy conditions, you may want to go for a higher-cut boot. These offer a bit more protection.
Mid-cut boots are generally lighter in weight and have a more athletic style than hiking boots.
Weight of the boot
Lightweight vs. regular weight of hiking boots is a consideration. Think about your style of hiking. If you are a fast or aggressive hiker, you probably will want a lightweight athletic hiking boot. If you are an easy-going, leisurely-pace kind of hiker, you will probably want to go for a regular-weight hiking boot that will deliver a bit more support and comfort.
Ventilation and breathability
If you're hiking in warm, dry climates, you'll want to find a boot with good ventilation so your feet won't sweat too much. For cooler, wet climates, ventilation is less critical.
As we mentioned, waterproof hiking boots do not breathe as well as non-waterproof boots.
A full leather upper will breathe far less than an upper that is part leather and part synthetic material. A fully synthetic upper will breathe the most.
Durability factors
There are quite a few factors that play a role in the durability of a hiking boot.
Some of these include the materials on the upper (more leather = more durable), various toe protections, internal shanks, and the type of rubber used in the outsole (Vibram soles are known to be durable). The more synthetic material used in the upper often means the hiking boot will be less durable.
Grip, traction, treads
The traction on your hiking boot should be a huge factor in your decision making. Good traction will keep you safe on steep or challenging terrain.
Look for hiking boots that have tough, hard, durable rubber used in the outsole. Also, look for treads that have deep grooves and lugs (4-5mm) that will grip rough terrain.
For increased stability, look for hiking boots with internal shanks embedded in the midsole.
Arch support
Finding a hiking boot with good arch support can keep your feet from feeling sore or tired on your hikes.
Gusseted tongue
This will keep debris and dirt out from your shoe due to the build.
Lacing system
Some lacing loops are made of durable leather, while others are made of a synthetic material that can rip or tear.
Rand
Some hiking boots have a wraparound strip of rubber and/or GORE-TEX that extends up from the outsole to the midsole. This protects your boots (and feet) further from mud and moisture.
Parts and components of hiking boots
Hiking boots are made of three main pieces.
Upper
The upper is the top part of the hiking boot that is made of leather, synthetic materials or a combination of the two. It extends up to or above your ankle.
Midsole
The midsole is what delivers support, cushion, and shock absorption for your foot and is sandwiched between the upper and the outsole. Most midsoles are made of dual-density ethylene vinyl acetate (EVA). The midsole may also contain a TPU shank for lateral stability and foot protection.
Outsole
Outsoles are the bottom part of the hiking boot and are a combination of tread and toe protection. Look for an outsole that is made of durable rubber with an aggressive deep lug tread for extra traction.
Check out our hiking footwear section for more ideas on how to keep your feet happy on the trails.