The most important equipment for any hike is comfortable shoes. In winter that means boots that keep snow out, heat in, and provide traction in wet, snowy, and icy and conditions.
The best winter hiking boot depends on your activities and local winter conditions. A boot for moderate hikes in the rain won't work for longer hikes over snowy rocks and ice.
In this guide, we will cover the important features to look for in a quality pair of winter hiking boots and our top 12 picks for a range of winter conditions and activities.
How To Choose Winter Hiking Boots
To help pick out the ultimate pair of winter hiking boots, first think about where you will hike, the likely weather and conditions, how long you will hike and your style of hiking. This will help you zero in on the best pair of boots and the key features that will be important to you.
1. Insulation + Warmth
Okay, this is kind of obvious. This is the primary feature and main reason to buy hiking boots designed for cold and snowy conditions. Like a jacket, insulation blocks out cold and locks heat in.
The most common footwear insulation is synthetic. It may be Thinsulate, Primaloft, or the manufacturer's formula. Common weights are 200 grams or 400 grams.
Lighter weight winter boots use an insulated lining with heat reflective material instead of thicker insulation. Some also include thermal insoles for added comfort.
When do you need insulated hiking boots? When temperatures drop below 32F/0C and you are planning to be outside for many hours insulation is recommended. Cold can seep up from the ground so hiking at a leisurely pace with breaks will need more insulation than a fast hike with non-stop movement.
2. Boot Height
Think about the conditions you will encounter. Do you get big dumps of powder snow where you live or hike? If so, look for a boot that is mid-shin in height, probably about 8-10 inches.
For a dusting of snow or packed trails, a mid-cut boot that is just above your ankle is adequate.
If your favorite snow boot needs more height, just add gaiters for snow protection all the way up to the knee.
3. Gusseted Tongue
A gusseted tongue, also known as a bellows tongue, is a shoe with the tongue attached to the upper behind the laces.
This feature helps keeps out ice, snow, or other debris. All the winter hiking boots recommended here have a gusseted tongue.
4. Waterproof
Winter hiking boots are waterproof to keep out rain or melting snow. They use a lining that is both waterproof and breathable to keep water away from the feet and vent heat. The outside of the boot and seams should also have a water-resistant or waterproof coating.
The waterproof breathable membrane (WBM) is a thin layer sandwiched between protective liners. It is a sock-like bootie sewn into the lining. The membrane won't extend all the way to the top of the boot. S Visible stitching will show the extent of the waterproof mesh.
Gore-Tex is the most well-known WBM but big brands often make their own proprietary version. The top brands will be on par with Gore-Tex but budget brands may not perform as well.
How Is a Membrane Waterproof + Breathable?
A rubber boot is completely waterproof but traps sweat for a moist feeling I call swamp foot. In contrast, winter boots contain a waterproof and breathable membrane that block out moisture while venting foot heat.
The membrane is a mesh material with microscopic pores that are too small for liquid water to enter but large enough to release water vapor. For example, Gore-Tex is made of thin Teflon with a whopping 9 billion pores per square inch. The pores are 20,000 times smaller than a water droplet. In contrast, the pores are 700 times larger than water vapor so steam can easily get out. That is how the membrane is simultaneously waterproof and breathable.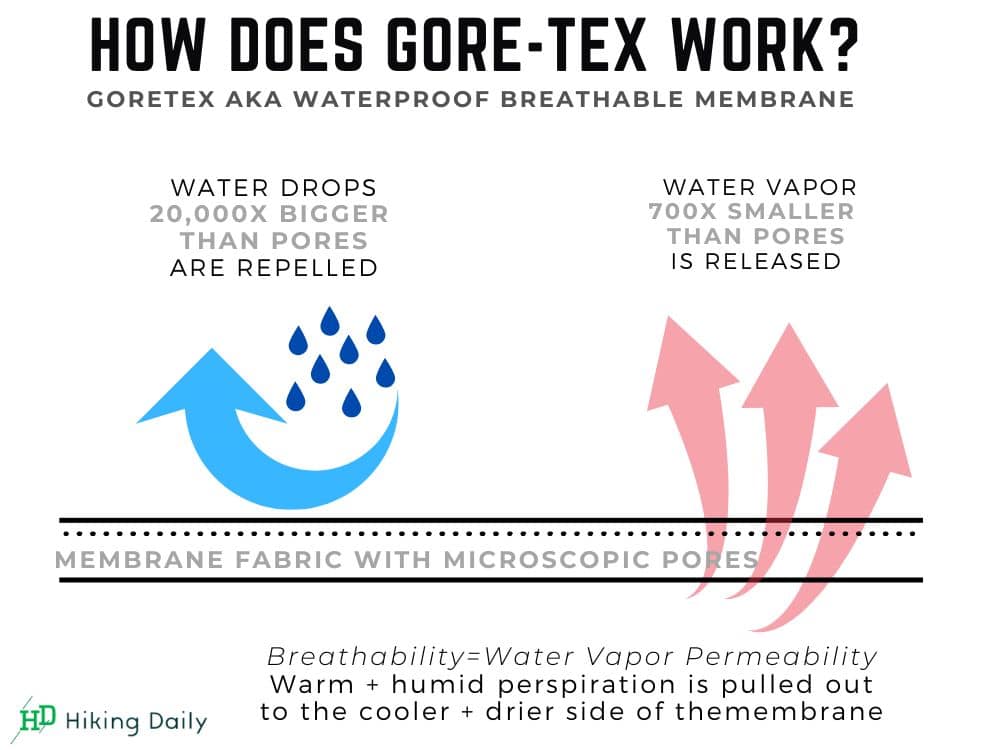 Why Are My Feet Still Sweaty?
Getting hot feet does not mean the membrane isn't working. In fact, the membrane won't work if feet don't get sweaty.
Breathability is not the same as ventilation, although the words are often used interchangeably. Breathability is the ability of a fabric to allow moisture vapor to be transmitted through the material. Ventilation refers to air circulation. Wicking refers to the movement of moisture.
The waterproof mesh works through heat and pressure differentials. Warm, humid air always moves toward cooler, drier air. That means when the foot starts to heat up inside the boot and sweat turns to moisture vapor, the the pressure differential transfers that steam outside where it is colder and drier.
Some people and activities may require added insulation to get this warm and some may not. For higher intensity hikes or feet that don't get cold, winter hiking boots with insulated lining can be warm enough.
5. Tread + Grip (Outsole)
There are two main things to consider when it comes to the outsole. You want to make sure that the outsole is made of a rubber compound that will work on slippery ice and snow. The idea is much the same as winter tires. The rubber is designed to maintain traction in very cold conditions.
Also, take a look at the tread on the bottom of the boot. You want to go for a multi-directional deep (5mm) lug tread pattern so that you can dig into deep or hard-packed snow. This is especially important if you are hiking up steep inclines. However, we highly recommend getting a pair of microspikes for the best traction on ice and in snow.
6. Shanks: TPU or Nylon
A shank is a piece of hard, flexible material sandwiched between the insole and outsole. Shanks can be made of steel but hiking boots use lighter weight materials like TPU or nylon.
The shank provides stability and support on rough terrain while protecting against stone or rock bruising under your feet.
7. Rubber Toe Cap
Most rugged boots have some type of toe cap that keeps toes safe and helps keep out water. A rubber toe cap protects feet in the event that you unintentionally kick roots or rock.
8. Gaiter D-Ring
If you ever wondered what the metal thing at the bottom of boot laces is, this is for you. It is a D-ring to secure gaiters.
While this is not necessary, it can be a useful feature that also protects shoe laces.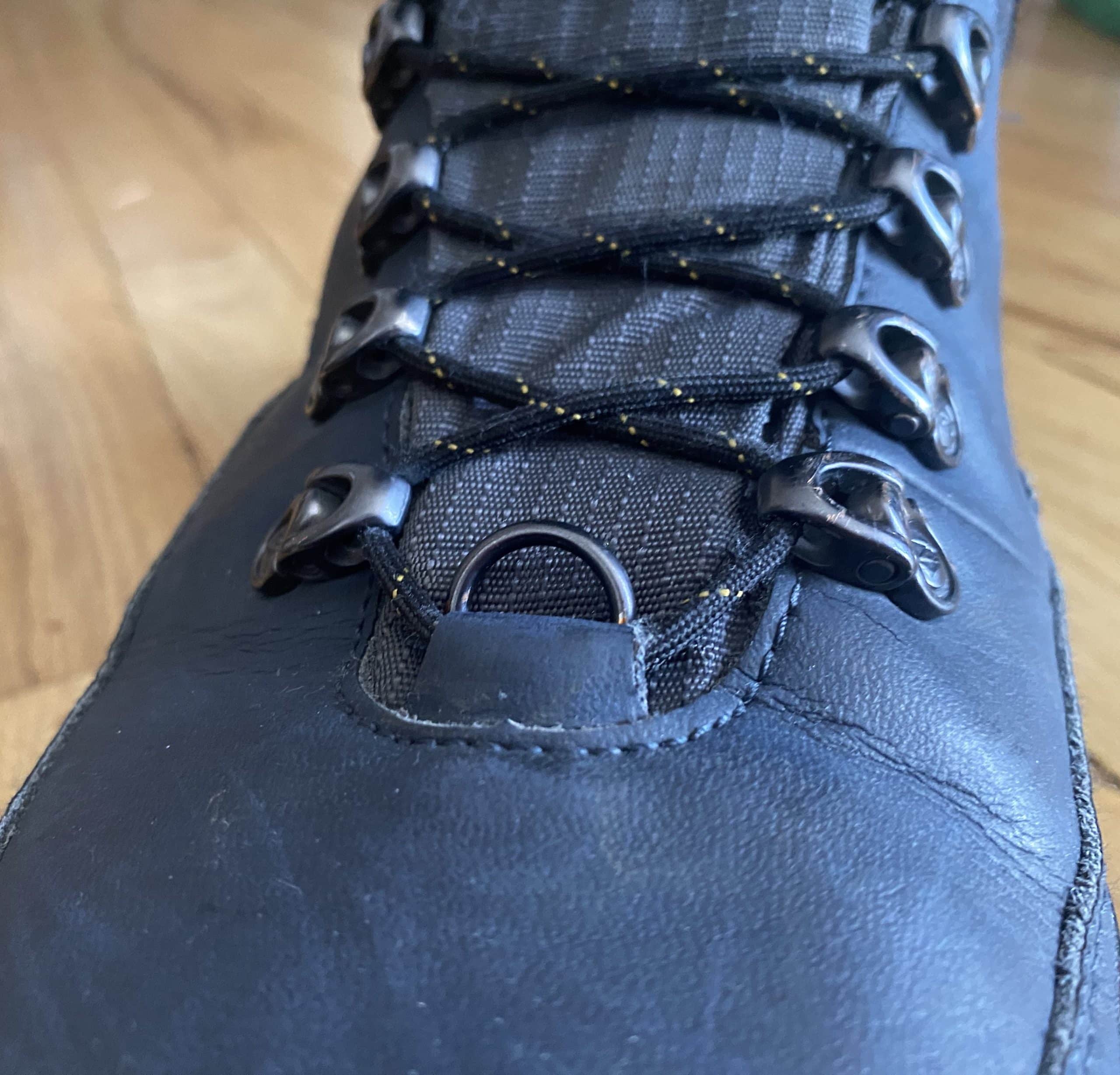 9. Insole
The insole (and socks) are essential to getting the best fit and most comfort out of footwear. Insole quality ranges from paper thin and disposable to thick foam that is part of the shoe design and performance.
The latter is true for many snow boots. Many also feature thermal insoles with materials that hold and/or reflect heat.
If you don't like the insole, change it. Wool and even sheepskin insoles can boost warmth and help maintain foot health.
10. Socks
Wearing quality hiking socks is almost as important as comfortable footwear. The right sock can be the difference between blisters and comfort.
Many people like to wear thick socks when it's cold out but that may not be required with insulated boots. Some are designed with this in mind while others fit better with a thinner sock.
Try on new boots with thin, medium, and thick socks to find the best combination.
Best Men's Winter Hiking Boots
This year there are more winter hiking boots than we have ever seen. This is awesome! More hikers should get out in the snow and hike. It is a fun and rewarding experience to see your regular hikes with a fresh layer of snow. It is a total scenic transformation.
What is best for you depends on your foot shape, the climate (temperature and snow depth), and what type of hiker you consider yourself to be. Okay, let's look at the best winter hiking boots available this year.
These boots are organized from the heaviest weight insulation (warmest) to the lightest weight insulation.
1. Salomon X Ultra 4 Mid Winter
When you need light weight, medium warmth, and maximum performance.
Insulation 200g 3M Thinsulate
Waterproof ClimaSalomon waterproof breathable membrane
Weight 15.4oz
Gaiter Ring +
Shank +
Best For Running shoe feel
The X Ultra 4 may be the most flexible and lightweight winter hiking boot available. It manages to have all the stability, grip, and comfort you need for wintery terrain and weather while feeling as agile as a running shoe.
For men, check out the wide sizes plus all these color options.
MEN'S Salomon X Ultra 4 Mid Winter
WOMEN'S Salomon X Ultra 4 Mid Winter
2. Danner Arctic 600 Side-Zip
Danner has been making boots for almost a century. That history is evident in the quality of this shoe as well as the classic design.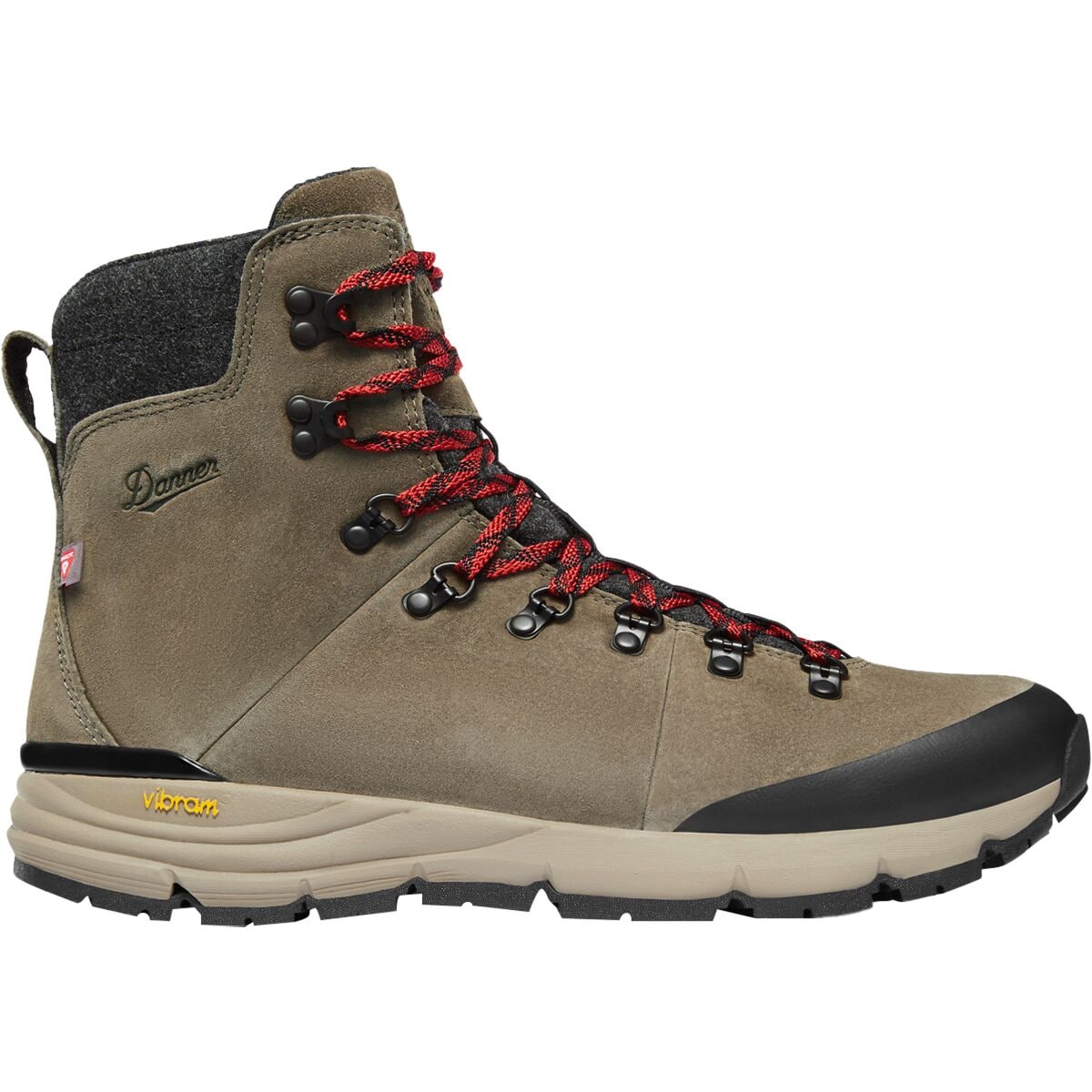 Insulation 200g Primaloft Gold
Waterproof 2-layer Danner Dry waterproof/breathable laminate
Weight 22.5oz
Outsole Vibram Nisqually Arctic Grip
Best For Looking good while feeling comfortable
This vintage-inspired 7″ suede boot doesn't just look great. The fit is roomy, comfortable and warm. The outsole material and lugs provide outstanding traction in cold, snowy, and icy conditions.
You can feel the quality of this boot when you lace it up. With a little care, they will last for a long time. Maintain the leather by brushing off dirt or mud after every hike. Keep up the waterproofing with a water- or silicon-based product like Danner Clear Boot Dressing.
Danner also offers a 365-day warranty on all shoes.
For a similar look minus the size zipper, check out the Danner 600.
MEN'S/WOMEN'S Danner Arctic 600 Side-Zip
3. Merrell Thermo Chill Mid
Merrell makes good, dependable shoes at a reasonable price. The Thermo Chill is no exception while being lighter than most of the competition.
Insulation 200g M-Select WARM insulation + fleece lining
Waterproof Waterproofed leather + waterproof breathable membrane
Weight 20oz
Outsole Merrell sticky rubber

Best For All around winter boot for a great price
Like most of these winter hiking boots, the EVA midsole with arch shank balance cushioned comfort and stability over rough terrain. The sticky rubber outsole with 5mm logs provide ample traction.
What sets these boots apart is fleece lining in addition to the 200g of low-bulk insulation. Most shoes come with paper-thin insoles that need to be replaced but not these. The contoured insoles provide flexible support but can also be removed.
4. Oboz Bridger 7″/8″ Boot
Rugged on the outside and toasty on the inside, the Bridger has got you and your ankles covered.
Insulation 200g Thinsulate
Waterproof B-DRY waterproof breathable membrane
Weight 24.6oz
Out Sole Granite Peak winterized rubber

Best For Durability, lots of time spent outdoors
The Bridger is popular with hikers as well as park rangers, hunters, and outdoor workers. Feet are protected inside and out with heat-reflecting wool insoles, durable leather, and molded heel kick.
These boots are so durable, you may want to replace the insole at some point. Keep up the excellent waterproofing with an annual coating of Nikwax for nubuck and suede.
Speaking of longevity, Oboz plants a tree for every pair of shoes sold.
The men's boot is 8″ tall while the women's is 7″ high. If this boot isn't quite enough for your winter adventures, check out the taller Bridger with 400 grams of insulation. It is a 10″ men's boot and 9″ women's boot.
MEN'S Oboz Bridger 8″ Boot
WOMEN'S Oboz Bridger 7″ Boot
5. Columbia Bugaboot Celcius Plus
The Bugaboot Celcius is even warmer and grippy than the popular Bugaboot III.
Insulation 400g Omni-Heat Infinity
Waterproof Outdry Waterproof Breathable Membrane
Weight 24oz
Out Sole Adapt Trax
Best For Excellent traction + modern style
The Bugaboot keeps out the cold with 400 grams of insulation plus a thermal-reflective lining that keeps your body heat in. The lightweight midsole provides all-day comfort with lightweight cushioning, and high energy return.
A feature unique to this boot, midfoot straps lock the foot down, making it a good choice for snowshoeing. The soles excel in cold as well as wet conditions.
The modern style and colors look great around town too. The Bugaboot Celcius has a simmer look with 200g of insulation.
MEN/WOMEN Columbia Bugaboot Celcius Plus
6. Salomon Quest Unisex Winter Boots
A winterized version of the light and flexible Quest hiking boots.
Insulation 400g 3M Thinsulate + Synthetic Fur Lining
Waterproof ClimaSalomon waterproof breathable membrane
Weight 21oz
Out Sole Winter Contagrip

Best For Warm and rugged boot with lessbulk
The Quest Winter aims to maintain the lightness and flexibility while adding ample weatherproofing.
The fur lining feels warm when putting on the boot so you don't start off with cold toes. The mid-calf is taller than the usual high-cut for deep snow drifts. It also designed to be compatible with snowshoes.
UNISEX Salomon Quest Unisex Winter Boots
7. Keen Revel IV High Polar Boots
When a boot is at its 4th iteration, you know the details are dialed in. With a cold rating -40°F/-40°C and thermal insoles, feet are guaranteed to be toasty warm.
Insulation 400 g KEEN.WARM Recycled P.E.T. insulation
Waterproof KEEN.DRY Waterproof Breathable Membrane
Weight 23oz
Out Sole KEEN Polar

Best For Maximum height, excellent warmth, superior traction
Keen is known for comfortable footwear with plenty of width that don't need a breaking in period. The Revel IV is all that and more. The mid-calf height blocks out weather with quilted padding is an attractive detail.
Inside the boot, the EVA foam midsole and stability shank provide a balance of cushion and support. In addition to 5mm multi-directional lugs, the KEEN Polar outsole contains microscopic shards for enhanced traction.
Last, the boot also contains recycled fibers and is made with Leather Working Group approved leather.
MEN'S Keen Revel IV High Polar Boots
WOMEN'S Keen Revel IV High Polar Boots
8. La Sportiva Trango Tech GTX Mountaineering Boots
Mountaineering boots are designed for snowy summits and icy peaks. Fully insulated mountaineering boots are too limited in use and prices for most hikers. Enter the Tranga Tech GTX, with enough flex and breathability to be worn in spring, fall, and winter.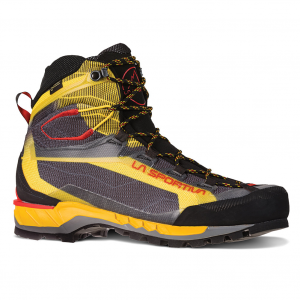 Insulation GORE-TEX Performance Comfort
Waterproof QB3 Waterproof Fabric/Thermo-Tech Injection Coating
Weight 17.4oz
Outsole Vibram La Sportiva "Cube" with Impact Brake System

Best For 3-season mountaineering boots, rough terrain, carrying heavy weight
Not just a mountaineering boot, the Tranga works for alpine hiking, technical approaches, and backpacking. Of course, it also excels in winter and is crampon compatible.
A Gore-Tex layer with embedded insulation keep feet warm and dry. The full shank provides maximum support with plenty of flex. All the way to-the-toe lacing ensures a precise fit and no movement.
Try this boot on to see why it so popular with search-and-rescue and mountain guides.
MEN'S La Sportiva Trango Tech GTX
WOMEN'S La Sportiva Trango Tech GTX
9. Salomon Toundra Pro
The Toundra uses the same insulation as space shuttles.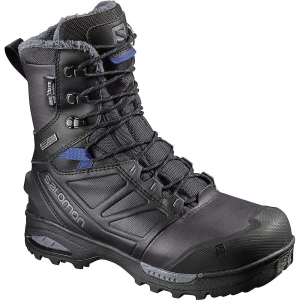 Insulation Aerogel + Synthetic Fur
Waterproof ClimaSalomon waterproof membrane
Weight 15.8oz
Out Sole Winter Contagrip
Best For Looking good while feeling comfortable
This is one of the most robust as well as coziest boot on the list, ready for anything from a day on the trails to a snowmobile tour.
The Aerogel insulation is also used on space ships. The NASA-derived compound has the lowest thermal conductivity of any solid, keeping all the cold out and heat in.
If that's not enough, a quick dry synthetic fur lining adds a plush layer on top of the cushioning EVA sockliner and shock absorbing midsole. Aggressive treads and winterized rubber offer excellent traction while the rubber toe and heel caps protect the boot from the elements and more.
MEN'S Salomon Toundra Pro
WOMEN'S Salomon Toundra Pro
10. Lowa Tibet GTX
Lowa Sportshoes is a 99-year old company from Bavaria, the most mountainous region of Germany. Like most German-made products you can expect the highest quality. At a price.
Insulation 400g Primaloft
Waterproof Gore-Tex Duratherm
Weight 32oz
Outsole Vibram Arctic Grip

Best For A comfortable and durable shoe for extended outdoor adventures in the cold
The Tibet is the most rugged and durable winter boots. If you've never found a winter boot that could keep up with you, now you have.
Meant for all-day wear, the soles and PU midsole are stiffer than most hiking boots. The leather and sole may require some breaking in but the unique locking lace system separates tension between the ankles and the rest of the foot for a custom fit.
The sole and lugs provide excellent grip over rough terrain. Self-cleaning lugs stop snow from building up between grooves to maximize winter traction.
This model is 7″ tall but there is also Hi Tibet for men with one more eyelet. For those prefer leather over Gore-Tex, there is a leather-lined Tibet for men and women.
Before you get sticker shock, let me say these could be the last winter boots you buy. A rubber wall above the sole protects vulnerable areas at the base of the boot while Gore-Tex-lined nubuck leather covers the rest. The boots can also be resoled, a rarity these days. The insole is the first part of any shoe to wear out, so try a new one if anything starts to feel different.
MEN'S LOWA TIBET GTX
WOMEN'S LOWA TIBET GTX
Winter Hiking Boot
Insulation
Ounces
per Shoe
Waterproof
Breathable
Membrane
Gaiter
Ring
What We Like
Salomon X Ultra 4 Mid Winter
200g
15.4
+
+
Ultralight winterized running shoe, wide sizes
Danner Arctic 600 Side-Zip
200g
22.5
+
–
Retro style, size zipper, comfortable
Merrell Thermo Chill Mid
200g
20
+
+
Lightweight shoe at a lightweight cost
Oboz Bridger 8″ Boot
200g
24.6
+
+
Thermal insole, molded heel, wide sizes
Columbia Bugaboot Celcius Plus
400g
24
+
+
Modern style, heat reflective interior, wide sizes
Salomon Quest Unisex Winter Boots
400g
21
+
+
Quick dry synthetic fur lining, flexible
KEEN Revel IV High Polar Boots
400g
23
+
+
Rated to -40°F/-40°C, tall boot
La Sportiva Trango Tech GTX
GORE-TEX
17.4
+
–
Crampon-compatible 3-season mountaineering boots
Salomon Toundra
Aerogel
31.7
+
–
Rated to -40°F/-40°C, Aerogel, fur lining
Lowa Tibet GTX
400g
32
+
–
Stiff yet flexible for rough terrain, durable, can resole