When embarking on an outdoor adventure, it is easy to be overwhelmed by the vast options for gear.
A backpack is a fundamental part of any traverse and one of the first pieces of hiking gear you will need.
This is our updated ultimate guide to the best hiking backpacks to make sure you're prepared for any trip and hone your inner outdoor badass.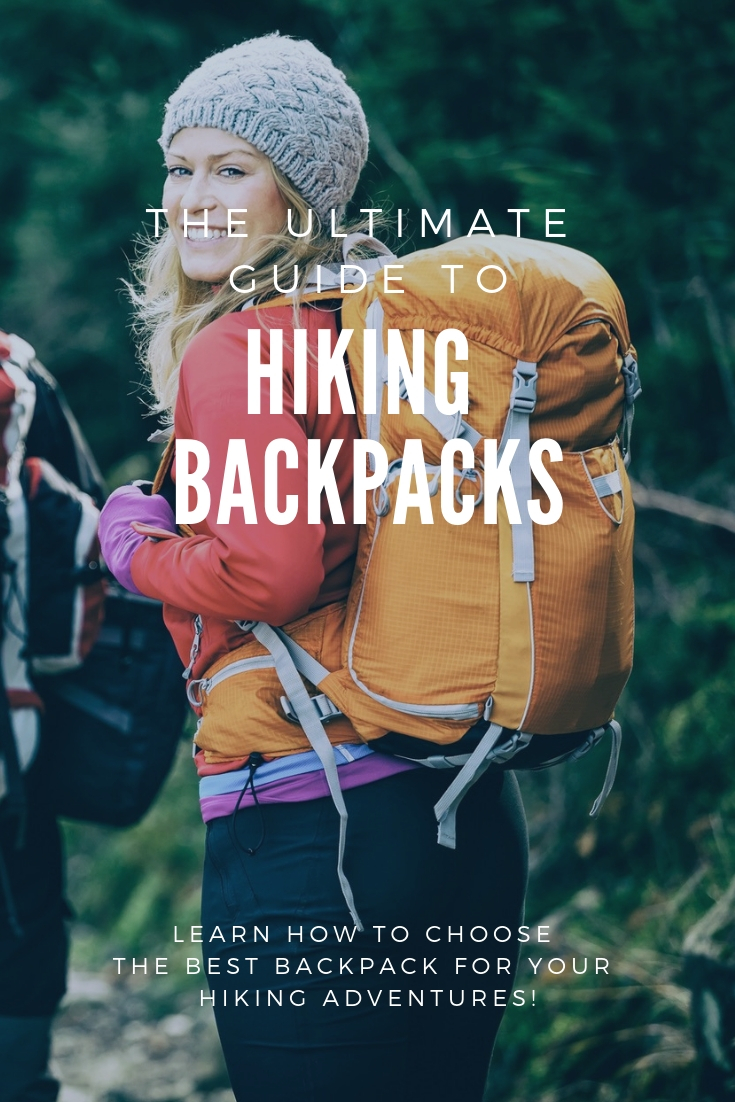 Let's dive in and look at the best backpacks you can get right now for every category, starting lightweight and small, and then working up to the largest packs. You will also find the best hiking backpacks for kids, and dogs!
---
Best Small/Mini Hiking Backpacks (Under 20L)
Mini backpacks are great for short hikes where you want your hands free. These are our favorite small hiking backpacks. They are perfect for short casual easygoing hiking adventures.
Price: $99.95
Weight: 26 oz (women's) / 28 oz (men's)
Gear Capacity: 16L/18L

Why We Recommend This Product: Lightweight, versatile, and unique, this pack stands out because of it has so many features for such a small backpack. The majority of small hiking backpacks are bare bones when it comes to features or degree of comfort. And, the pack is designed specifically for women and men. Features that you just don't find in small backpacks include wraparound hipbelt with pockets, mesh backing and hipbelt to stay cool, sternum strap with whistle, dedicated hydration bladder sleeve, BioSync Suspension technology keeps backpack in comfortable position while moving, front and side stretch pockets, Stowable trekking pole attachment system, and compression straps.
Price: $75
Weight: 17 oz
Gear Capacity: 20L

Why We Recommend This Product: The Deuter Speed Lite 20 maximizes comfort without sacrificing its lightweight design. Its shoulder straps and back padding are lined with breathable foam to increase ventilation and support. Despite its compact size, this pack can fit a 2L hydration reservoir. While the pack loses its comfort with loads around 15 pounds, this should be no problem for short day hikes.
Price: $40
Weight: 9 oz
Gear Capacity: 18L
Why We Recommend This Product: The Co-op Flash 18 pack was built to be versatile. Not only is it an ultralight daypack, but can be used as a stuff sack for your sleeping bag and dirty clothes. The frameless backpack has one main compartment and a hydration sleeve for a water bladder. Included on the exterior are a daisy chain to attach extra gear and an ice axe loop for summit ascents. These lightweight features, along with adjustable hip belt and sternum straps, make this pack an adventurer favorite.
---
Best Day Hiking Backpacks (20-30L) aka Daypacks
Twenty to thirty liter backpacks are great for day or summit hikes. These are ideal for additional gear like a rope, spare clothing, or food for your mountaintop victory picnic.
Price: $140
Weight: 44 oz.
Gear Capacity: 24L
Why We Recommend This Product: Osprey makes top-quality backpacks for hiking and backpacking. If you want a pack that is so comfortable you will forget it is on your back, this is the one. We like this pack because of its "airspeed suspension" that will keep the pack off your back and thus keep you cool and well ventilated. The seamless hip belt is also super comfortable and has handy pockets. This daypack comes with an integrated rain cover. For more information about this pack and a detailed review, check out our article on the best hiking daypacks. And, be sure to check out our complete guide to the best Osprey backpacks for all of their awesome backpacks.
Price: $75
Weight: 18 oz.
Gear Capacity: 25L

Why We Recommend This Product: Like most REI packs, the Co-op Trail 25 is affordable, durable and perfect for any day hike. It is compatible with your hydration reservoir and offers countless features to prepare you for any adventure.
Price: $130
Weight: 2Ibs 20oz
Gear Capacity: 30L
Why We Recommend This Product: This pack is extremely versatile. It is perfect for an outing to your local crag or a hike that requires extra gear. The ACT Trail 30 is a favorite due to its generous shoulder and back padding, which allows for superior comfort.
---
The Best Lightweight Hiking Backpacks
Whether you are an avid thru-hiker or just like to pack light, here are some of the best lightweight hiking backpack brands and packs.
This ultralight brand offers packs ranging from 17L to 85L. Each pack promises durability and enhanced waterproofing fabric. All Hyperlite gear follows a minimalist design and will dramatically improve your outdoor experience. Hyperlite packs are quite pricey, but this is due to their unique DCF fabric – an ultralight, weather-resistant, and enduring alternative to standard backpack fabric. If you are willing to invest the extra bucks for cutting-edge technology, Hyperlite backpacks will not disappoint.
For a weekend hike, try the 2400 Southwest
Price: $310
Weight: 1.88 pounds (30.08oz)
Gear Capacity: 40L
Why We Recommend This Product: The one downside to this pack is its price. However, the 2400 Southwest was built to endure and last you for years. In case it doesn't, Hyperlite offers repairs that will fix any technical need. Additionally, this pack offers perhaps the lowest volume to weight ratio on the market. Its modern, ultralight technology and complete weather resistance make the 2400 Southwest a perfect pick for those with a bigger budget.
Gossamer Gear is a new and small outdoor company that specializes in ultralight equipment. Their backpacks range from 17L to 60L and are higher but reasonably priced. Their fabric is custom-made and custom-designed, which allows Gossamer to cater some of the lightest backpacks on the market.
Our favorite Gossamer pack is the Mariposa 60
Price: $225
Weight: 1.88 pounds (30.08oz)
Gear Capacity: 60L
Why We Recommend This Product: This pack has more features than other lightweight backpacks. The Mariposa 60 is equipped with seven extra external pockets without sacrificing low weight. It is the company's best seller for a good reason. If you don't need this much space, try the Gorilla 40 Ultralight Backpack.
Most popular backpack brands have their own lightweight line of packs. Although they are heavier than their Gossamer and Hyperlite counterparts, these can be more affordable.
For example, the Gregory Optic 48 Pack is a great lightweight and affordable pack.
Price: $190
Weight: 2.5 pounds
Gear Capacity: 48L
Why We Recommend This Product: What makes this pack different is its ability to comfortably carry heavy loads. Most ultralight packs are designed for lighter gear weight, so the Optic 48 is an ideal choice for heavier packers who seek a light backpack.
---
Best Weekend Hiking Backpacks (50-60L)
When choosing a pack for a 2-3 day backpacking trip, most opt for one with a gear capacity of 50-60L. These are some of our top choices.
Price: $190
Weight: 2.5 Ibs
Gear Capacities: 48L

Why We Recommend This Product: Just under 50L, the Optic 48 is ideal for light packers who seek a great fit and to save extra weight. It contains numerous gear attachment points, is hydration reservoir compatible, and a removable top zipper pocket – all for an exceptionally low price.
Price: $270
Weight: 4 Ibs 9 oz (65L)
Gear Capacities: 50L, 65L

Why We Recommend This Product: This pack exceeds in comfort and ventilation. The Atmos AG 65 is designed with a newly innovated suspended mesh panel to maximize breathability. This mesh conforms to your back shape, allowing you to comfortably carry heavier loads. Users praise this pack's durability and tailored fit.
Price: $225
Weight: 2Ibs
Gear Capacity: 60L
Why We Recommend This Product: This pack has more features than other lightweight backpacks. The Mariposa 60 is equipped with seven extra external pockets without sacrificing low weight. It is the company's best seller for a good reason. Adding a hipbelt costs an additional $45, but the heightened comfort is worth the extra cost.
---
Best Thru-Hiking and Multi-day Hiking Backpacks (60-80L)
On extensive backpacking trips, every pound counts. Here are the best 60-80L packs in durability and weight.
Price: $345
Weight: 2.43 pounds
Gear Capacity: 70L
Why We Recommend This Product: Ultralight, 100% weather resistant and durable, Hyperlite's 4400 Windrider is thru hiker's dream pack. Its simple design is highly functional and maximizes space.
Price: $249
Weight: 4Ibs 12oz
Gear Capacity: 70L
Why We Recommend This Product: As usual, this REI Co-op offers a great pack for an affordable price. The durable pack is not quick to tear and is all about simplicity. For entry-level backpackers and those on a budget, this is the best high-capacity hiking backpack under $250.
Price: $360
Weight: 5.6Ibs
Gear Capacity: 60, 70, 85L

Why We Recommend This Product: The Aether Plus 70 was built for heavy loads. The sturdy frame and custom fit hip belt increases comfort and fit. Additionally, the pack includes Osprey's signature suspended mesh back panel, which provides great back ventilation. The primary downside is the pack's weight. However, this creates better support for big hauls.
---
Best Hiking Camera Backpacks
Camera specific hiking backpacks are not versatile, nor do they often include space for extra gear. As a result, hikers may have to trade off space for important gear to fit camera equipment. To save money and space, invest in a standalone divider that fits in any of your favorite packs. This way, you can protect your camera on both day trips and thru-hikes!
For example, invest in the BYOB 7 Camera insert. This can hold a mirrorless camera and 2-3 lenses. Then, place the softshell case in a hiking day pack such as the REI Co-op Trail 25. After that, you're all good to go!
For more on photography accessories and equipment for hiking, check out our guide to the best cameras for hiking.
---
Toddler + Kids Hiking Backpacks
When planning a family hike, preparation is key. Finding the best backpack for your little one will significantly improve your experience. Fortunately, most top pack brands like Osprey and Deuter have pack options for kids. Here are two you can try!
Price: $45
Weight: 17oz
Gear Capacity: 18L
Why We Recommend This Product: The Tarn 18 is a great starter pack to fit extra layers, food, and a hydration reservoir for any day adventure. It is 100% stuffed animal-friendly.
If you want to go a bit smaller this backpack for kids is also available in a 12L size.
Price: $75
Weight: 1Ib 7oz
Gear Capacity: 22L
Why We Recommend This Product: The Deuter Climber Pack is not just for the burgeoning Alex Honnold and Lynn Hill. It is lightweight and big enough to fit a sleeping bag, pad, and snacks for a 2-3 day backpacking trip. Pro tip: visit your local outdoor retail store to make sure this pack fits!
---
The Best Baby Carrier + Hiking Backpacks
Ready to include your wee one on an outdoor adventure? Here are our favorite baby carrier packs:
Price: $300
Weight: 7 Ibs 2 oz
Max Carrying Weight: 48.5 Ibs
Why We Recommend This Product: This pack is built on an external frame with an adjustable seat to lower as your child grows. It contains a large storage compartment for you and your child's day adventure necessities. It also comes with a removable sun-shade for UV ray and heat protection.
Price: $250
Weight: 6 Ibs 4 oz
Max Carrying Weight: 48.5 Ibs

Why We Recommend This Product: As for features, the Poco Plus does not disappoint. The pack features a soft padded deluxe cockpit with double halo harness, dual grab handles, a built-in sunshade/rain cover, accessible pockets, a hydration reservoir in the frame panel, and an extra storage compartment under the child's seat.
---
Best Dog Carrier and Hiking Backpacks For Dogs
Do you love to bring your pup on extensive adventures, but sometimes they get too tired?
Here are the best dog carrier backpacks.
Price: $80
Carrying Capacities: XS – 8Ibs, S – 14Ibs, M – 20Ibs, L – 30Ibs
Why We Recommend This Product: This model is lightweight, flexible, and breathable. It is perfect for short hikes, bike rides, and any other outing. If you're unsure which pack is the best fit, contact K9 Sport with your dog's measurements and they will help!
Pro Tip: For bigger pups up to 40Ibs, try the K9 Sport Sack Air Plus
Price: $138
Carrying Capacities: Up to 25Ibs
Why We Recommend This Product: This pack is versatile for backcountry adventures and comfortable for your daily commute. Its water-resistant fabric helps your gear and companion stay dry. Additionally, there is a separate compartment to hold your gear.
Here are our favorite dog hiking packs to let your furry friend help you carry extra gear.
Price: $18
Why We Recommend This Product: The Hound Dog Daypak is lightweight, water-resistant, breathable, and easily adjustable. It is ideal for the average day hike.
Price: $150
Why We Recommend This Product: This saddlebag provides great load stability and weight distribution for multi-day adventures. It includes a compression system and two, 1L, collapsible hydration bottles.
---
Where to Buy Hiking Backpacks
Where you can buy backpacks is entirely determined on where you live. To help you as much as we can, here's a step by step on where to buy your next pack.
First, search for your Local Outdoor Gear Shop. Buying locally and supporting family-owned businesses is great for your community. To find one, search on Yelp, which provides reviews and locations for shops near you.
Next, when in doubt go to REI . For 80 years, the American outdoor gear retailer has supplied and advised adventure enthusiasts. They offer a wide array of packs from every top company. Make sure to ask a salesperson to help with fit and adjustment.
If you still haven't found a store or pack right for you, all major backpacking brands sell their packs online . Before you buy online, take your measurements to ensure your pack fits.
---
The Best Hiking Backpack Brands
The Godfather of all packs. There's a reason why Erik Weihenmayer wore an Osprey backpack to become the first blind mountaineer to summit Mount Everest. The Colorado-based brand is defined by their packs' comfort, durability, and "All Mighty Guarantee." Not only do these packs come in an array of different sizes, but local Osprey dealers will provide custom molding for superior comfort and support. Finally, for those who choose Osprey, the company promises free repair and replacement for every pack, for any reason – a perfect solution for those of us who want a lifelong pack.
The best bang for your buck. REI Co-op hiking backpacks boast an unmatchable combination of affordability, sustainability, and durability. While the Co-op is limited in selection, it compensates with competitive prices, making it a popular option for those with a budget. Like all REI products, Co-op packs are backed by a 100% satisfaction guaranteed policy.
Fellow treehuggers – these are the packs for you. While many outdoor gear brands pride themselves on social responsibility, Deuter exceeds the norm. The German-based company is partnered with the fair trade, Fair Wear Foundation and the Bluesign standard, which ensures your pack's materials are sustainably sourced. Ultimately, however, it is the durability and technical prowess of their gear that makes Deuter a leading international pack company.
The first Gregory backpack was designed by a boy scout. Since then, the brand continues to introduce pioneering innovations like the adjustable waistbelt. Their consumer-driven designs regularly set new standards in durability and comfort. These backpacks are higher priced but built with the most advanced technology and highest performance.
The North Face revolutionized backpacking. Prior to its creation, people had to buy heavy outdoor gear from military surplus stores. The brand recognized a need for lighter equipment
The North Face, for years, has been committed to innovation and sustainability. The brand stays true to its mantra, Never Stop Exploring – for 50 years, The North Face has been a pioneer in the latest outdoor technology. With its wide variety of technical packs, you are bound to find a perfect fit.
This brand is keeping it old school. Kelty continues to supply the classic, external frame packs – making it a hipster and 70's parent favorite. Additionally, Kelty supplies American-made, military, and tactical backpacks. Finally, the brand supplies sturdy, family-friendly internal frame packs that can carry up to 110L. Perfect for your next family outing!
---
Buying Advice: Common Backpack Features To Consider
When choosing a backpack, its fit and features are the two key factors when making a decision.
1) Backpack Frame Types
Internal-Frame:
Most modern brands supply form-fitting internal-frame packs. These frames have load lifting capabilities to increase stability and comfort on uneven trails and backcountry. Unlike external-frames, internal-frame packs settle most weight on your waist.
External-Frame:
External-frames were the first packs to dominate the market. These frames are designed for heavy loads and wide trails. The rectangular (and often aluminum) frame sits high on your back and provides great ventilation.
Frameless:
Cheaper than their external and internal frame counterparts, frameless packs are ideal for hikers who seek simpler and lighter designs. Some packs offer removable frames.
2) Ventilation
For those with sweaty backs, ventilation is vital. Many internal-frame packs provide suspended mesh back panels that allow airflow between your back and pack. This allows you to stay cool and dry when carrying a heavy load.
Backpacks with tension mesh suspension separate your back and pack with breathable mesh. These packs encourage air flow far better than foam air channels, which provide no separation.
3) Fit Adjustment
Load Lifters
Load lifter straps are common on high volume backpacks. They attach the shoulder straps to the top of the back panel and help shift weight forward. This feature is unnecessary in smaller volume packs with low weight capacity.
Sternum Strap
The sternum strap determines the width of your shoulder straps to allow greater arm movement and prevent excessive pack movement.
Compression Strap
Compression straps are a standard feature found on the side of a pack. They are primarily used to increase balance and comfort by consolidating weight to the frame. These straps provide many other creative uses such as space for fishing rods, ice axes, or dirty laundry.
Adjustable Torso
While packs with fixed torso lengths are lighter, they are limited in size. Adjustable torso systems allow you to optimize comfort by fitting the frame exactly to your torso length. The right torso size will shift most of the weight to your hips, rather than your shoulders. This allows for better balance and less fatigue.
4) Pockets
Side pockets:
Don't drop your backpack to get some water. Elasticized side pockets are useful for holding water bottles and loose objects.
Hipbelt pockets
These compartments allow easy access to smaller items such as granola bars or your phone.
Shovel Pockets
Originally used for snow shovels, these large pockets are attached to the front of a backpack. They are ideal for holding larger, lightweight items.
5) Pack Access
Panel access
A front-loading backpack provides a panel to access the full pack interior. This provides easy and quick access to items within your pack.
Top-loading openings
Top-loading backpacks are the standard. Some have a bottom or side access
point. Both of these features ease access to gear deep in your pack.
6) Weather Resistance
Preparation is key for any outdoor adventure. Many packs have features to ensure you're ready for rain, wind, or snow.
Although many packs are water resistant, not all are waterproof .
A rain cover encompasses the entire pack and prevents water from seeping through zippers and seams. Additionally, a rain cover wicks off extra moisture that the exterior may absorb, causing water weight.
7) Hydration
Most packs include an internal sleeve to insert a hydration reservoir/water bladder. These may be included or sold separately.
8) Removable Daypack
Some high volume backpacks may include a removable daypack for summit hikes or short trips. These may come in the form of detachable top lids that convert into hipbelt pack.
9) Sleeping Bag Compartment
To optimize space, this is a zippered compartment at the bottom of a pack for a sleeping bag.
---
How to Fit a Backpack
Fit is everything. A well-fitted backpack is essential to maximize performance and comfort.
Step 1: Selecting the Right Size
Your torso length is the key measurement when choosing a pack. To determine this height, tilt your head forward and begin the measurement from a bump where your shoulders meet your neck. End the measurement at the top of your hip bones (the iliac crest). Pro Tip: Use a friend and flexible tape measurer!
Another aspect to consider is gender specific packs. While many women use male-specific backpacks and vice versa, there are a few key differences. In general, women's packs are shorter and narrower. They offer a shorter torso range, narrower shoulder straps, and different hip belts. Although this should not be a major determinant when choosing a pack, gender-specific backpacks offer many unique and helpful features.
Step 2: Fit Adjustment
To maximize comfort and efficiency, backpacks have four fundamental adjustment straps: load lifters, sternum strap, shoulder strap, and hipbelt. These are used to adjust the majority of your pack's weight on your hips. First, load lifter straps attach the shoulder straps to the top of the back panel and help shift weight forward. These straps should be tightened to around a 45-degree angle to minimize shoulder tension. Second, the sternum strap determines the width of your shoulder straps. The strap should allow arm movement and be raised to an inch below your collarbones. Third, the shoulder straps should snuggly wrap around your shoulders. However, be careful not to over tighten them – this will quickly fatigue your shoulders, neck, and upper back. Finally, the hip belt should sit on the top of your hip bones and comfortably fit. To raise or lower the hipbelt, adjust the shoulder straps.
---
How To Pack/Organize A Hiking Backpack
Step 1: Bottom Zone
This section is for lightweight, bulky items not needed until the end of the day. This includes camp gear like a sleeping bag and pad.
Step 2: Middle Zone
The heaviest gear is packed in the middle and towards your back. Items like a stove or bear canister go here.
Step 3: Top Zone
Once the heavy items have been packed, place trail essentials in the top of your pack. This enables easy access to important gear like a rain jacket or first-aid kit.
---
How to Wash/Clean A Backpack
If you love your pack, it will get dirty. I have had my fair share of spilled cookie crumbs and mud-caked pockets. Your backpack's brand will likely have instructions, but there are some standard cleaning and care tips you should know.
First, never machine wash or dry your pack. Use a mild soap and soft sponge in lukewarm water. Harsh chemicals, hot water, and heavy scrubbing will degrade the pack fabric quality and water resistance. Next, dry the pack away from direct sunlight where the UV rays may deteriorate the fabric. To remove dust and crumbs from zippers, carefully clean without scrubbing.
Many packs have gone years without cleaning. To get most of the dirt and camp smoke out, remove the hipbelt and shoulder straps if possible. Submerge these and your pack in lukewarm water with mild soap. Lightly sponge the dirty spots, drain the soapy water, then rinse out all soap residue. Pro Tip: Lightly use a vacuum to remove cookie crumbs and loose dirt in pack crevices.
How to Fix a Zipper on a Backpack
Before trying to fix a zipper, check if your pack's brand does repairs! For example, all Ospreys are covered by their All Mighty Guarantee which ensures free repairs and replacements (including for zippers). Seek professional help if you need to replace the entire zipper.
However, if you are gear-repair-savvy or just looking for a quick fix, here are some pro tips for common zipper problems.
The zipper slider is "stuck":
Often, it is a piece of dirt or crumb that prevents a zipper slider from moving. Try using a toothbrush to remove extra grime. If the slider still doesn't move, you may need to replace the zipper.
Zipper teeth pull apart or don't mesh together:
For a quick fix, use needle-nose pliers to squeeze the slider and stopper together. If the zipper continues to malfunction, you will need to replace the slider. To change the slider, remove it with pliers and replace with an identical size (listed on the back). Next, wedge the new slider onto the top zipper teeth and wiggle until it connects to the bottom teeth.
Bent zipper teeth:
This is easily fixed with a pair of needle-nose pliers and careful shaping.
---
Next steps: Learn how to pack a backpack properly!