If you want to hike in the backcountry, you should definitely get a satellite communicator device. If faced with an unexpected emergency it could save a life. The Garmin inReach Mini is one of the best devices you can have in your daypack. This compact device allows you to send and receive text messages, track and share your hike as you go, and send out an SOS alert if you are in serious trouble. And much more. Super handy.
Thankfully, I have not had to use my Garmin inReach Mini. However, I fully understand how important this device is to have at all times in remote areas. This Summer, I did pass a group in the backcountry that had to use their inReach Mini to seek help. A hiker in the group slipped and fell down 10-20 feet in a steep section of talus (large scattered rocks). It appeared the hiker had broken their ankle. The hiker and partner used their InReach Mini to send an SOS message. They were airlifted off the mountain. Accidents happen without notice, so be prepared.
Why is the InReach Mini so awesome?
Peace of mind on your hikes
Small, rugged, and lightweight
Goes where you go – just toss it in your hiking daypack!
Works when your cell phone doesn't
Send and receive text messages
Trigger a 24/7 SOS
Operates on 100% global Iridium satellite network
Pairs with select Garmin GPS handheld devices and GPS watches
Connect to Garmin Earthmate app on your phone
Optional inReach weather forecast service
Friends and family can follow your hikes
Long battery life
Sunlight-readable display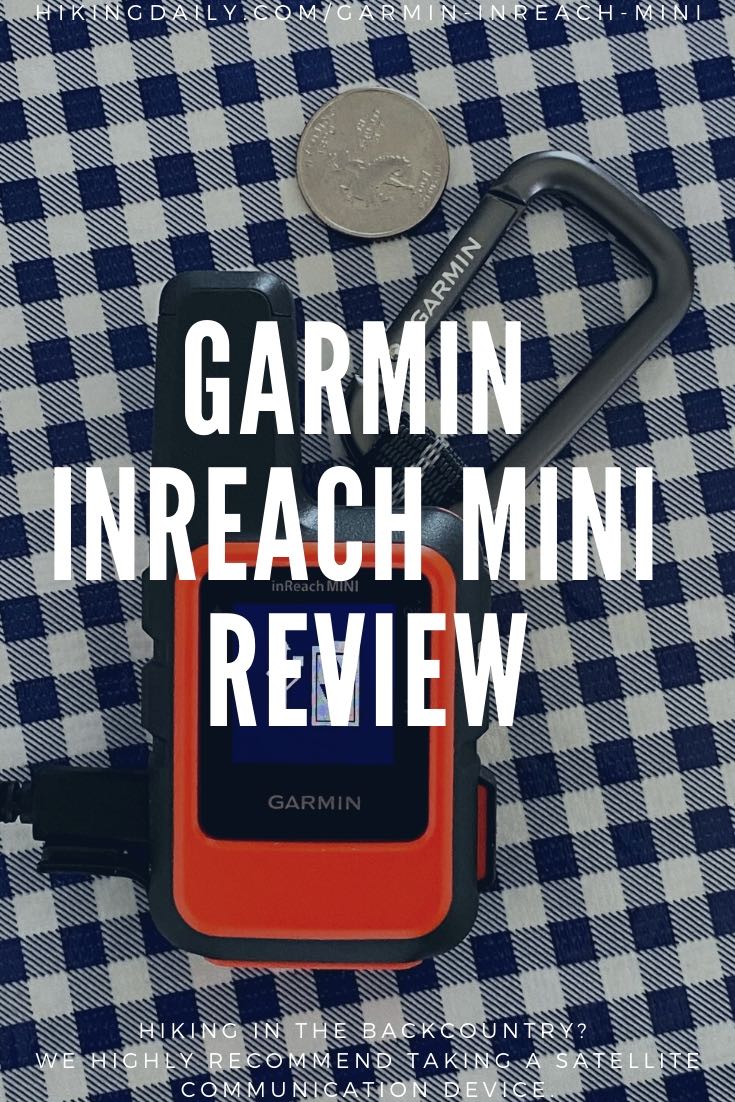 Garmin inReach Mini
The best satellite communicator device. All of us at Hiking Daily own this device, so we know!
Garmin inReach Mini vs Explorer
After thorough research, we found that handheld satellite communicators (such as the Garmin inReach Explorer+) that combine GPS functions, maps, and sensors are much bigger and kind of clunky. Also, the screen resolution and mapping quality are not very good compared to what smartphones (which you can pair to the inReach Mini) offer these days. This is why we give the nod to the Garmin InReach Mini.
Okay, let's get into the details of this amazing little gadget.
Garmin inReach Mini features + benefits explained
Okay, let's get into the details of what this device can do and why you need it.
Peace of mind on your hikes
The power of the backcountry is incredible and beautiful. It is also intense and unforgiving. An accident can occur in an instant. I got the inReach Mini so that when I am hiking in the backcountry I don't have to worry about every step I am taking. If I need help, I can get it. This is particularly comforting when hiking solo. It's like having a buddy right there with you. Carried with a first aid kit, your health and safety are in good shape.
Stay connected 24/7
In Colorado, you don't have to go too far to see your mobile service disappear. This is going to be the case for most hikes that are worth doing. The inReach Mini connects to a 100% global Iridium satellite network so that you can stay connected. To access and use these features you must have a satellite subscription.
Send and receive text messages
With the Garmin inReach Mini, you get two-way messaging capabilities while out in the wild. Just the same as a mobile phone.
Send and receive text messages with your inReach Mini, using Garmin handhelds or GPS watches, or by pairing to your mobile phone using Bluetooth and using the Garmin Earthmate app.
Track and share your current location
If you are going on a day hike or a backpacking adventure you can track and share your location and progress. Details can be sent to private parties or on social media networks by using Garmin MapShare.
Trigger an SOS call
If you or a hiking partner is seriously hurt, simply send out an SOS. GEOS will respond to your call 24 hours a day, 7 days a week. The service works in over 140 countries. After you send an SOS, GEOS tracks your device and will notify the best contacts and emergency responders in your area. You will then receive a confirmation help is on the way as well as status updates of your response team.
Small/lightweight/rugged device
The inReach Mini comes in a compact design. It is 4 inches tall and 2 inches wide and weighs only 3.5 ounces. If you want to keep your pack weight down, this device will help accomplish that.
Not only is this device small but super durable. It is impact resistant to military (MIL-STD-810F) standards. The device is also water-rated to IPX7 or 1ATM (not waterproof but water-resistant to splashes, snow and light rain).
Pair with your mobile phone
Extra power and magic is unleashed when you pair the inReach Mini with your mobile phone. First, download the Garmin Earthmate app. Then connect via Bluetooth.
The Earthmate app gives you access to free and unlimited maps, U.S. NOAA charts, and color aerial imagery.
Another benefit of using the Earthmate app is that you can use all the InReach features on your paired mobile device screen. This offers a much better user experience. Easily send and receive messages to the contact list on your phone. So cool.
Weather updates on the go
This is an optional feature that you can buy. There is a basic and a premium package. When paired with a mobile device and using the Earthmate app you can get live updates on your Garmin inReach Mini device.
Get forecasts for your current location, other waypoints, or destinations. This is a service for weekend hikes or extended backpacking trips. How else would you know when you are in the middle of nowhere?
Long battery life
The InReach Mini has a rechargeable internal lithium ion battery.
Battery life depends on how you use the device.
90 hours at 10-minute tracking
35 hours at 10-minute tracking with 1-second logging
24 days at 30-minute tracking power save mode
Flexible and affordable plans
Whether you are a casual hiker in the Summer months, or a daily hiker all year long, there is a plan for you. You can pay monthly (costs more), or annually (costs less). You can pay for fewer features or more features. Take your pick and optimize according to your budget.
What's in the box?
Your inReach Mini
USB charging cable
Carabiner clip – attach the device to a convenient location
Spine mount adaptor – attach the device to a variety of mounts
Manual (or get online)
This concludes our Garmin inReach Mini review. If you spend time in the wild backcountry, this is a must-have item to put on your hiking packing list and take with you on your adventures.
Garmin inReach Mini
The best satellite communicator device. All of us at Hiking Daily own this device, so we know!