Whether you are in it for the challenge, the views, or the clout, high-altitude hikes offer an experience like no other.
Here are some high-altitude hiking tips to get you ready for your first or next big mountain.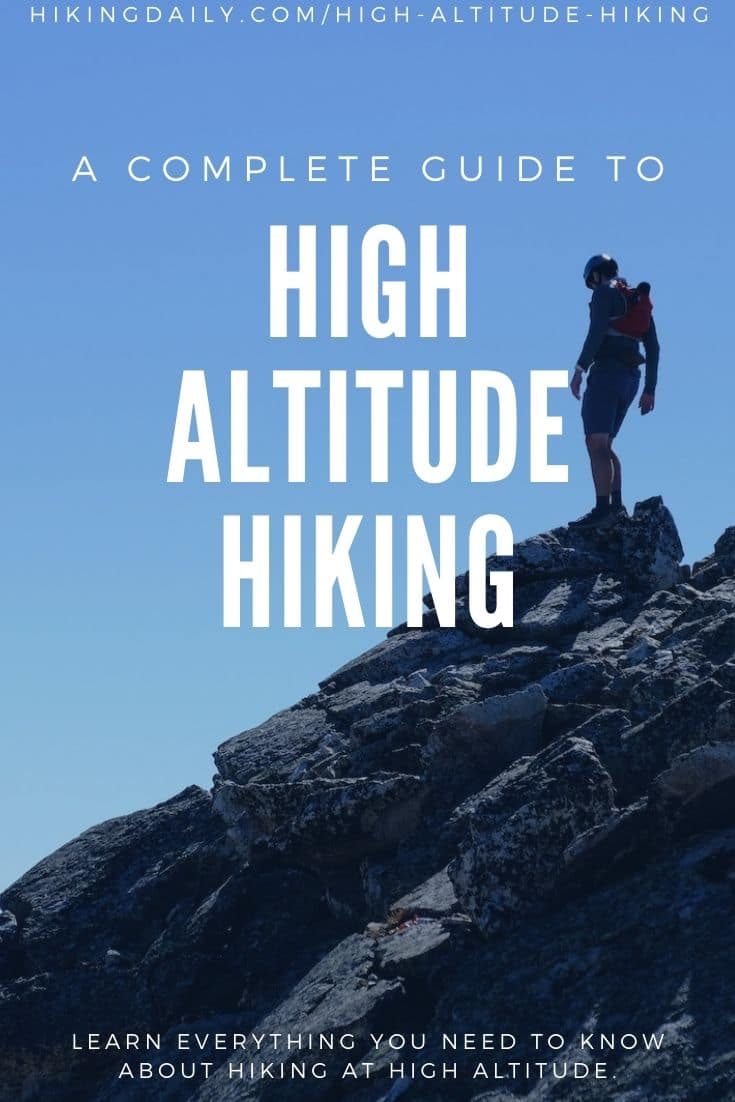 Big mountains are daunting – most offer many challenging variables, from rockfall hazards to steep trails.
That being said, thorough preparation will help divert you from complete disaster and increase the likelihood that your high-altitude hike will be absolutely epic.
How To Prepare For High-Altitude Hiking
Here is a step-by-step guide on how to prepare for high-altitude hiking.
1. Pick a mountain and hiking trail
So you want to hike a high-altitude trail! Now that you have created this goal, it's time to figure out where you will accomplish it. Check out our favorite hikes or AllTrails to discover a route that fits your goals and abilities. If you're feeling social, ask local hiking Facebook Groups or outdoor gear shops for their recommendations! You may find some hidden gems.
2. Pick the right time to hike
For high-altitude hikes, timing matters – a lot. Summits at high elevations, like Colorado's Fourteeners, are often inaccessible until early summer (June, July).
Whether you want a sunny excursion or a bitter mountaineering objective, timing is everything.
Learn more about the seasonality of your trail on a National Forest or Park Service website, national weather service, or Mountain Forecast.
3. Get the right hiking gear
A fleece can make or break your hiking trip. Seriously.
Once you know where and when you are hiking, make a thorough list of what hiking gear you need.
Scroll down to the bottom of this article to learn about special gear for high-altitude hiking.
Refer to our Ultimate Hiking Gear List, and do not forget the Ten Essentials.
4. Find a hiking buddy
Solo hiking challenges your skills and allows valuable space for reflection. If this is your first high-altitude hike, I recommend bringing an experienced buddy. Besides providing an extra safety measure, sharing an epic experience with your family or friends helps strengthen relationships.
If you are a lone hiking wolf searching for an adventure partner, check out REI Conversations, REI Experiences, or Meetup. Social media, like Instagram and Facebook, may have some potential buddies too.
5. Prepare your body
High altitude hikes are characterized by low air pressure, long trails, and less oxygen. Training your body will help you get to the summit and keep you safe. Scroll down to learn more about how to train for a high-altitude hike.
6. Familiarize yourself with navigation systems
Websites and apps like AllTrails provide downloadable maps to help you in case you get off the trail.
Check out our guide to the best hiking apps to find which navigation system is best for you (and how to use it before you go).
In addition to these online systems, we recommend going old school and investing in a compass. Knowing how to use this age-old tool is an integral skill when navigating outside…especially if your phone dies!
7. Understand the hazards
Different trails come with different hazards. Knowing them before you go is paramount to your safety, so check out the local National Forest or Park Service sites to learn about potential risks. If you are in bear, lion, or moose country, check out our piece on Wild Animal Safety.
8. Learn the trail etiquette
Understand the seven principles of Leave No Trace and help maintain the health of our public spaces!
9. Tell someone your plan
Before you head out, share your travel details with a friend or trusted local in case of an emergency.
Include details such as:
The specific dates you intend on leaving and returning
The planned route (try your best to correspond dates and locations, and include possible alternative directions, your car details, and license plate number
An alternative phone number to reach you, such as a GPS/Satellite communicator
The contact information of local authorities (i.e. the county sheriff's department, local ranger station)
How to Train for High-Altitude Hiking
Training for high-altitude hiking is key. Here are some tips on how to get your muscles and your mind prepared.
1. Plan ahead
If you are a chronic procrastinator (like me), try to start training early. When you should start training depends on your fitness, experience, and acclimation. Nevertheless, the earlier you start, the more likely you are to reach your summit (that is, if you follow all of our other tips)!
2. Cardio training
Training for high-altitude hiking, like most sports, requires a blend of cardio and strength training. On high-altitude hikes, your body will work harder to deliver the limited oxygen into your bloodstream. Aerobic workouts, like running and biking, will improve your body's cardiovascular base and prepare you for a successful summit. I recommend frequent, moderate intensity exercise at 70 to 80 percent of your maximum heart rate.
3. Strength training
Along with your cardio, incorporate about three days of strength training into your workout routine (e.g., weights). Here are some exercise and fitness tips from Backpacker magazine to get in shape for hiking.
4. Train with weight
Some high-altitude hikes take multiple days – and a lot of gear. If you plan to carry a heavy pack, practice hiking with extra weight. I like to fill my backpack with jugs filled with water and take them to my local trails.
5. Train at higher elevations
Acclimatizing your body to higher elevations will help prevent altitude sickness. To prepare for your high-altitude hike, take your training to the hills!
6. Know and grow your VO2 Max
Your VO2 max measures the maximum amount of oxygen your body can use during strenuous exercise. It is a great indicator of your aerobic endurance and cardiovascular fitness level.
You can measure this with a fitness tracker or an online VO2 calculator.
Any demanding, aerobic activity will increase your VO2 max. Throw in some short bursts of intense intervals to your workout. For ten to twenty minutes, try to maintain 85 percent of your maximum heart rate. You can learn more about how to measure and improve your VO2 max here.
7. Stay loose
Training can put a big strain on your muscles. To support muscle recovery and growth, rest days and consistent stretching are crucial. Try incorporating mindfulness and meditation in your training routine to support your physical and mental health. Reach out to your local yoga studio for classes! If you prefer to stay home and/or save some cash, Youtube channels like Yoga with Adriene provide in-depth, free classes.
8. Give yourself grace
Accomplishing your goals feels amazing, but getting there is difficult! Remind yourself that training is a process, respect your body and its limits, and drink lots of water!
The Risks of High-Altitude Hiking
Like any hike, it is best to take the "know before you go approach."
Understanding the risks of high-altitude hiking will help you prepare for a safer, more successful summit.
As you likely know, the air pressure decreases at high altitudes, meaning less oxygen is available for breathing.
This may lead to Acute Mountain Sickness (AMS), High Altitude Pulmonary Edema (HAPE), and High Altitude Cerebral Edema (HACE).
Understand what each condition is and the differences between them.
Do some general research (and/or basic medical training) to understand what a "sick person" at altitude looks like, and be prepared to take action if you or your partner experience these symptoms.
Acute Mountain Sickness (AMS):
This is the mildest and most common form of altitude sickness. The symptoms can feel like a hangover; many experience dizziness, headache, nausea, and muscle aches. If you notice any of these symptoms, be cautious as they may infer a greater risk of HAPE or HACE.
High Altitude Pulmonary Edema (HAPE):
HAPE feels like the wind was knocked out of you and occurs when liquid enters your lungs. Those with HAPE may cough up frothy foam. At this time, you must turn around and descend to a lower elevation as quickly as possible.
High Altitude Cerebral Edema (HACE):
HACE causes incoordination and confusion. Be aware of slurring speech and stumbling, as it may mean you are close to death and must descend immediately.
The faster you climb to a high altitude, the more likely you will experience Acute Mountain Sickness.
To prevent this from occurring, ascend gradually, listen to your body, and know your limits.
The National Library of Medicine states that you are at higher risk of Acute Mountain Sickness if:
You have had acute mountain sickness before
You have not acclimatized to the altitude
You live at or near sea level and recently traveled to a high altitude
You ascend to a high altitude quickly
Alcohol or other substances have interfered with acclimatization
You have medical problems relating to the heart, nervous system, or lungs
First Aid Kit For High Altitude Hiking
First aid kits for high-altitude hiking look like your usual collection. Check out our Hiking First Aid Kit Checklist.
If you are prone to altitude sickness, ask your doctor about Acetazolamide. Also known as Diamox, this prescription medication is taken to prevent acute mountain sickness.
Basic medical training will help you overcome the initial shocks of a medical emergency, making you more prepared in case someone needs help.
Check out first aid courses offered by the REI Outdoor School and American Red Cross. Classes through REI will be more outdoor adventure-focused.
Portable Oxygen
For those more likely to experience altitude sickness when hiking, portable oxygen offers an easy solution! Taking recreational oxygen at the beginning, during, or after your high-altitude hike may help you feel like yourself in thin air.
Boost Oxygen is perhaps the most popular option for high-altitude hiking.
Learn more about portable oxygen for hiking that you can use at high altitudes.
Best Food For High-Altitude Hiking
Eating the right food will help you on your high-altitude hikes.
Carbohydrates for Energy
At high altitudes, your body operates less efficiently. Therefore, energy-rich foods are essential for your thin air hike!
Keep track of your carbohydrate intake before and during your adventure to keep you steamrolling along.
Some of my favorite quality carbohydrates include:
Sweet potatoes
Dates
Bananas
Oats
Quinoa
Oranges
Chickpeas
Iron to Help Carry Oxygen
Red blood cells deliver vital oxygen to your tired muscles.
At high altitudes, red blood cell production decreases, creating a need for more iron.
Dark Chocolate
Pumpkin Seeds
Salmon
Eggs
Legumes
Spinach
Turkey
Antioxidants to Protect Your Immune System
High-altitude hiking puts your body under extra stress. Anti-inflammatory, antioxidant foods will help protect your body from post-hike sniffles.
Strawberries
Blueberries
Leafy vegetables
Cauliflower
Mushrooms
Carrots
Hiking Gear To Bring On High-Altitude Hikes
High altitude is all about layers. On a high-altitude hike, the temperature and weather vary widely from heavy snow and strong winds to hail.
Bringing the appropriate gear will help you achieve a successful summit.
Though the gear you will need depends on the season and trail, here is a general checklist to get you started.
Click the links below to learn more about our gear recommendations!
Must-have and essential hiking gear
Water (consider bringing a water filter)
Long underwear
Pack (day and/or overnight)
Headlamp (and extra batteries)
Sunscreen (30+ SPF)
Tape
Whistle
Fire-starting equipment (matches and a lighter)
Toilet Paper (place in Ziploc bag to keep dry)
Cell phone
Climbing helmet
Are you thinking of bringing a furry adventure partner? Here is our ultimate guide to Hiking Gear for Dogs.
Optional hiking gear
Portable Oxygen (in case of altitude sickness)
Satellite Phone/GPS
Rain pants or hard-shell pants
Curious about this hiking gear checklist but want something more detailed? Explore our Hiking Gear Checklist.
Winter hiking gear
Crampons and/or Microspikes
Gaiters (ankle or knee-high)
Mountaineering axe
Avalanche beacons
Avalanche probe
Shovel
Snowshoes
Winter hat
Ski goggles
Balaclava or fleece face mask
In addition to avalanche and snow gear, you will need a different outfit! Here are some Winter Hiking Outfit Ideas.