You're only as happy as your feet is a good motto for hiking and some other parts of life too. Walking long distances, carrying a heavy pack, trail running, and even genetics increase the risk of getting painful blisters. The good news is wearing liner socks can stop blisters and hotspots before they start.
Liner socks are thin, lightweight socks worn underneath hiking socks to prevent blisters and hotspots and keep feet dry. The additional layer allows the outer sock to move independently from your skin, reducing the opportunity for rubbing. Like every good base layer, they also wick away moisture from sweat to reduce friction and keep fee warm in the winter and cool in the summer.
Liner socks worked for me. Although it is always recommended to break in footwear before a multi-day hike, I didn't get a chance to do so before hiking the 5-day West Coast Trail. My feet were the most comfortable part of my body in brand new Keen hiking boots with nylon sock liners under wool socks.
Sock liners aren't just for hiking. They are also popular for outdoor work, hunting, hockey, or just to keep cold toes warm in the winter. Use these thin socks on their own in summer to keep feet warm.
While sock liners can be worn alone, they are not a substitute for wearing quality hiking socks and are best paired with quality hiking socks. Many of these sock liners only come in men's sizes so double check the sizing chart before purchasing.
Here are top picks of liner socks for hiking.
The Best Liner Socks For Hiking + Backpacking
Liner socks are usually made with wool, silk, polyester, polypropylene, and/or Spandex but full or sock-height pantyhose do the same thing.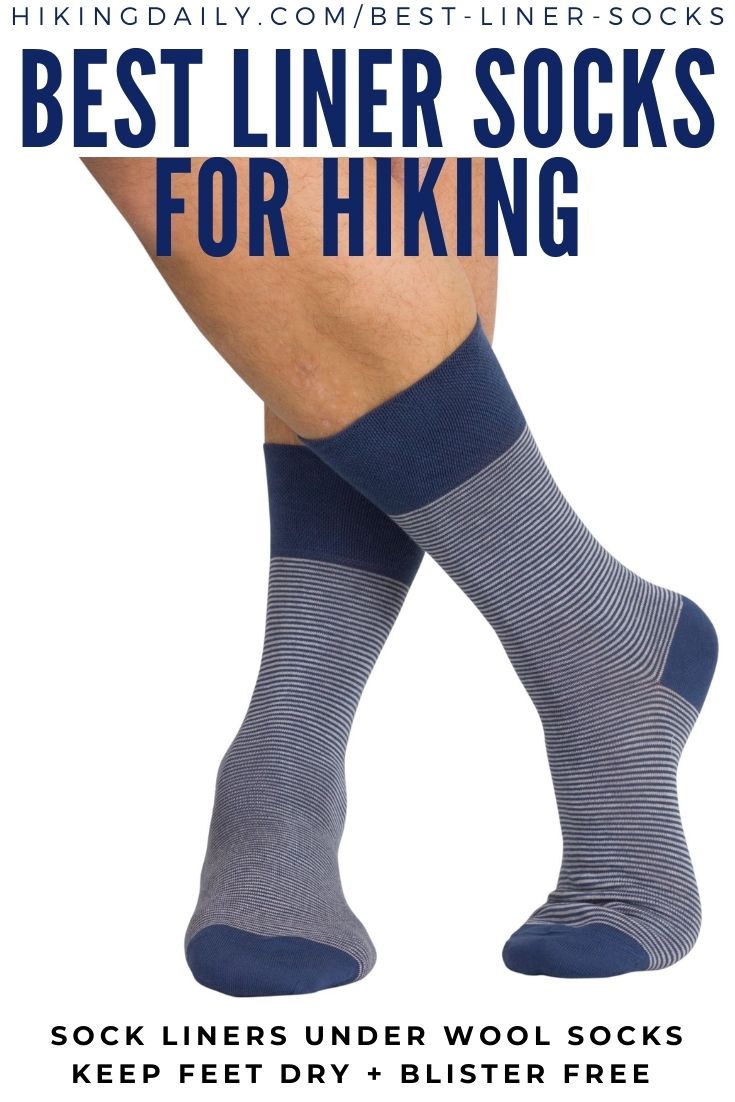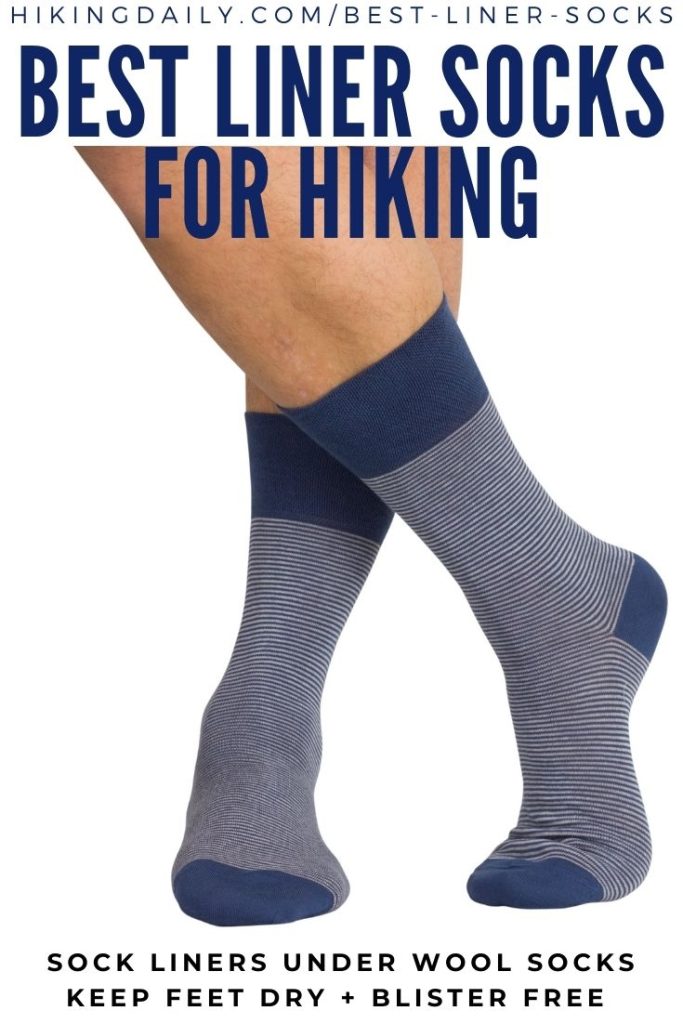 1. Silk Hiking Liner Socks
Silk is an expensive material but totally affordable in socks. Silk wicks away moisture and breathes without any odors and never gets itchy.
80% Silk – 20% Stretch Nylon
2. Thinnest Sock Liners
Polypropylene is ultra-thin and fits under every sock. The thin material can rip like pantyhose so put them on with care and keep those toenails short. These liners keep feet dry so wool socks can keep them warm in winter and cool in summer.
93% Polypropylene – 6% Nylon – 1% Spandex
3. Sock Liners For Hot Feet
CoolMax is a polyester weave with increased surface area that pulls perspiration away from the body and breathes. Some people like to use these socks alone in hot conditions or let wool socks absorb the moisture instead of shoes.
75% CoolMax -15% Nylon – 10% Lycra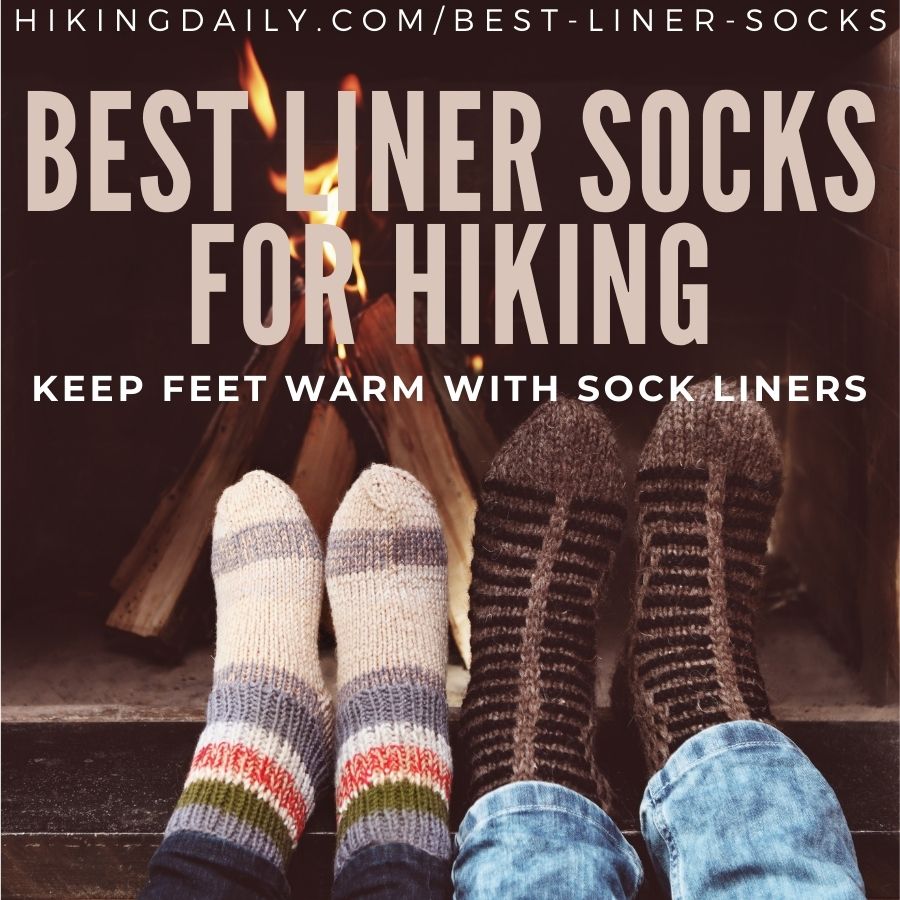 4. Toesock Liners
Injiji takes blister prevention to the next level with toe socks that prevent rubbing between toes. They aren't just for people who wear toe shoes. The separated toes only feel weird for a little while and doubters are quickly converted after wearing these socks.
75% CoolMax – 21% Nylon – 4% Lycra
5-toe design
5. Wool Sock Liners
One reason wool socks are so popular is natural odor resistance that synthetic fabrics don't have. Pair these liners with wool socks and feet will emerge from hiking boots fresh and dry in winter and summer.
59% Merino Wool – 39% Nylon – 2% Elastane
6. Sock With Built-In Liner
Made in the UK, Sealskinz are waterproof socks designed for wet, cold weather. Three layers make these socks warm, breathable, and waterproof. Wear them as a backup in rainy or snowy conditions or to make any footwear waterproof (even sandals). No liner needed.
Outer Layer: 62% Polypropylene – 29% Nylon – 9% Elastane
Middle Layer: Hydrophilic membrane
Inner Layer: 36% Merino Wool – 36% Acrylic – 8% Polyester – 5% Nylon – 5% Elastane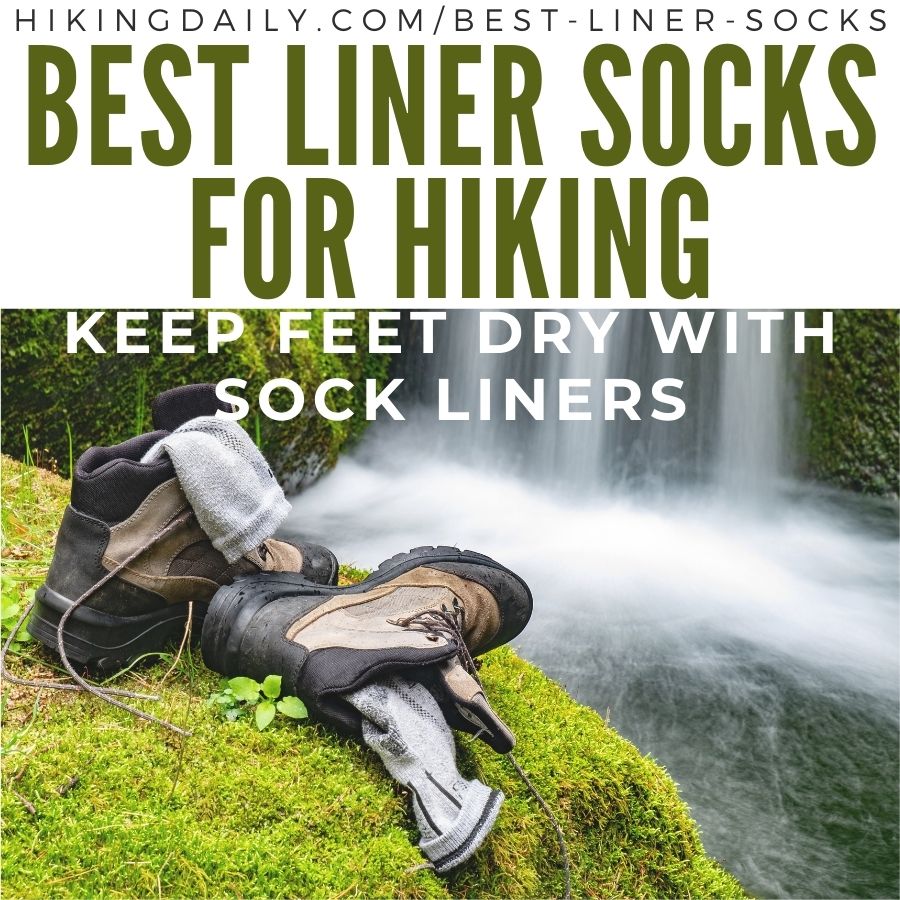 When Not To Wear Liner Socks
An issue that liner socks can create is too much bulk. With plush hiking socks that fill hiking footwear, there may not be additional space. In that case, skip the liner socks if that works for you or wear lightweight hiking socks.
When purchasing hiking footwear, try on shoes with hiking socks to ensure a proper fit.
How To Prevent Blisters
Wearing sock liners is one way to keep feet comfortable while hiking. Here are some more:
• Socks
Hiking socks have plenty of elastic to prevent bunching and minimize blisters. Like all base layers, avoid cotton and opt for wool, silk, or polyester socks.
• Shoes
The fit of a shoe is one of the most important aspects of hiking. If toes should touch the end of shoe, they are too small and if the heel moves around, they are too big. Be sure a new shoe fits by trying it on later in the day, when feet have expanded from use.
Also be sure to wear shoes for an extended period of time at home, even if you're sitting down. An hour of wear tells you a lot more about footwear than a quick try on at a store.
As mentioned before, try on the boots with the hiking socks and liners you will wear and there is no harm in trying out your favorite insoles too.
• Break In Shoes
A breaking-in period can help hiking boots fit the foot and prevent blisters. Lightweight hiking shoes and trail runners usually don't need to be broken but heavier shoes and boots usually do. Start with shorter hikes and increase distance and weight. Trying different insoles and socks can help get the best fit.
• Insoles
Upgrading insoles can transform how a shoe feels. I started getting heel blisters in my hiking boots on long hikes and thought new shoes were the only way to solve the problem. Instead, I changed the insoles and now it's like have a new shoe at a fraction of the price.
• Bandages
One of the most important components of a first aid kit for hiking is moleskin, band-aids, athletic tape, or even duct tape to stop blisters as soon they start, or even before.
• Toe Nails
There is a reason that professional athletes pamper their feet. Foot health is the basis of every sporting activity, especially hiking. Keep those nails trimmed and feet soft, even if that means getting a professional pedicure.