Buying hiking boots might seem like an easy decision, you just go in and buy a pair that fits, right? While sizing is a factor, there's a lot more that goes into hiking boots. The last thing you want to happen is to be stuck on top of a mountain with shoes you realize are not only uncomfortable but are not the right type for your hike. This guide will help you find the best hiking footwear for your feet.
Even some experienced hikers have been in the middle of a hike only to realize too late that they made a bad choice when it comes to their boots. What should have been a fun, adventurous hike quickly becomes painful and in some cases unbearable.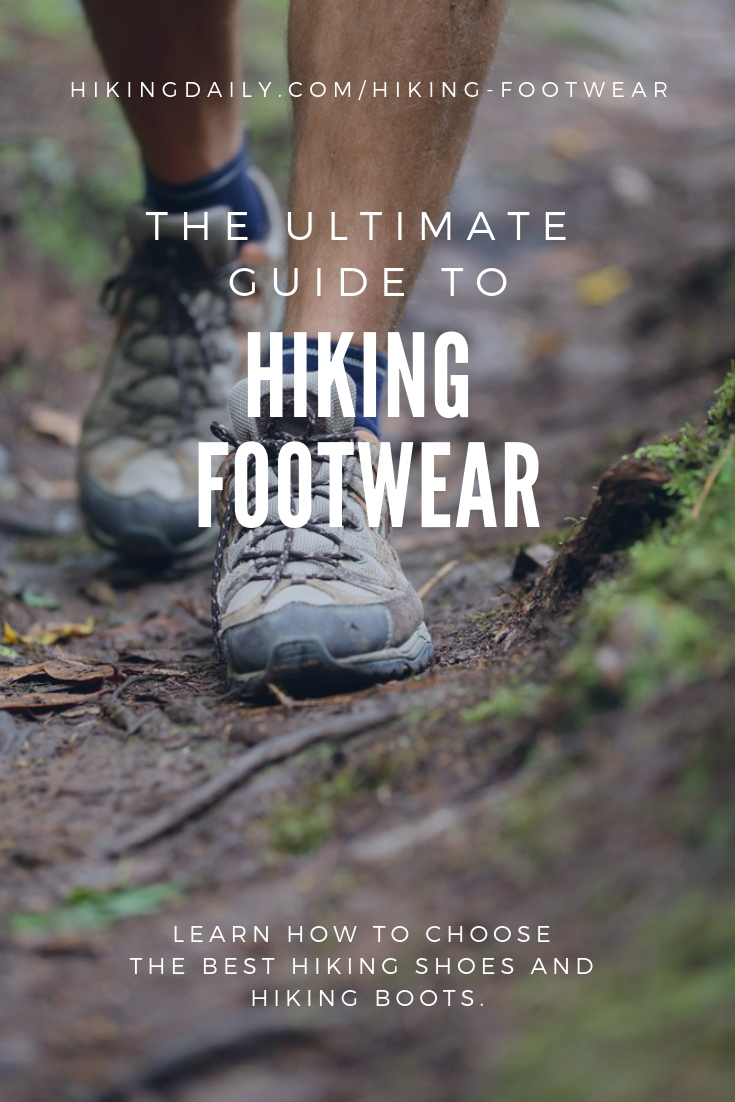 This guide is a step-by-step process that will help you know what you need to look for and also pick the right type of boots for your hike. Whether you're a weekend warrior or a once-in-a-while type of hiker, you'll be able to enjoy your trip without the pain of the wrong boots.
---
Types Of Hiking Boots + Hiking Shoes:
All hiking boots are the same, right? Wrong. Depending on the types of hiking you like to do (long distance, winter hiking, etc), you'll need a shoe that can give you what you need. We'll break down each category so you can narrow down the type of boot you need.
Lightweight hiking boots
Lightweight boots are best for long distance hikes and are usually used in warmer weather. They're often made out of breathable and lighter materials so you don't need to worry about heavy boots as you go through trails.
These are the best men's hiking boots and the best women's hiking boots for this season.
Trail runners
Trail running shoes are exactly the type of hiking shoes you need if you plan to run along hiking trails. Compared to other hiking shoes, these are built more like an athletic shoe instead of a traditional hiking one. They usually have more flexibility compared to traditional hiking boots due to the support your feet need for running.
Hiking shoes
This is a broad category that covers quite a few different categories. We'll dive into the deeper details when it comes to hiking shoes, but know that there are a lot of options. These are usually low-cut with more flexible midsoles and are built for long-distance hikes.
These are the best hiking shoes for men and the best women's hiking shoes for this season.
Day hiking boots
Compared to the other categories, these ones usually have a mid to high cut in the boot for better ankle support. They are usually easier to break-in than other hiking boots available.
Mid-distance and backpacking hiking boots
These hiking boots are perfect for long day hikes, shorter backpacking trips, or weekend hikes. They provide more support and are more durable than day hiking boots, but are not as stiff as long distance boots. These boots usually have stiffer midsoles to provide better support for the long distance.
Long distance and backpacking boots
These boots provide some of the strongest support and have high cuts to make sure your feet and ankles stay safe on the long journey. These are built for long treks and thru-hikes.
Wet weather hiking boots
The number one thing you want to look for if you're going to hike in wet weather is a waterproof boot. This reduces the boots' breathing, but it will keep your feet and socks dry while you hike.
Winter/Snow hiking boots
Winter and snow hiking boots are in a league of their own due to the elements they need to protect your feet from. Full-grain leather with a waterproof build offers your best bet at keeping your feet dry. You want to look for ones that are insulated well to keep your feet warm as well. Read our complete guide to the best winter hiking boots for more information and our top picks.
---
Things To Consider When Choosing Hiking Footwear:
Focus on these factors and features when you try on different boots and shoes.
Comfort
It can be hard to tell if a hiking shoe will be comfortable over long hikes, but you can get a glimpse when you're trying them on in the store. Take your time when you're trying them on. Do some lunges, do some laps around the store, jump up and down. These are boots you'll be wearing for a long time, so the more time you spend trying them out the better.
Support
Support is important because without it, you'll end up needing to ice your feet for days after a hike. We'll get into the various types of support in this article, but the main thing you need to keep in mind is that it should support your feet, ankles, and sole. You'll also need the right type of support for the type of hiking you plan to do.
Traction
Most hiking boots have good traction, but it's still something you should analyze with every type of boot you want. Most will have good traction around the whole sole of the foot but you also want to look out for good traction around your heels. The traction around the heel is what keeps you from slipping when you're descending down a mountain.

Weight
The weight of the boot will change depending on what you need it for. Keep in mind that the colder and wetter the weather you plan to hike in, the thicker and heavier boot you want. This is because they're usually more waterproof and made out of thicker leather. If you want something light and breathable (and usually made out of synthetic materials), those boots will be lighter.
Keep in mind that the heavier your boots are, the faster you'll tire out on your hike.
Materials
Down below we'll get into the specifics of materials but generally, boots will be made out of either leather or synthetic materials.
Price
For a lot of people, this is the main point of concern when it comes to buying boots. The good part is if you know how to hunt around you can find great deals on boots. Most REI's have sales every so often, so once you find a boot you love be sure to check in during those sales times.
Breathability
Depending on the type of material your boots are made out of, there's a wide range of breathability in hiking boots. Some have nylon, polyester, mesh, etc. Sometimes you want breathability, especially if you're going on longer hikes in warmer weather.
Durability
If you buy a high-quality hiking boot, you can expect them to last a long time. Most hiking boots can be repaired, resoled, or anything else you need to keep them ready for your next adventure.
Waterproof or not
Choosing to buy waterproof hiking boots will be a personal preference based on the type of hiking you plan to do the most. A lot of boots come with waterproof layering already on it, and you also have the option of applying some yourself later on if you need it.
Protection
Each boot will have varying degrees of underfoot protection. The more stiff the midsole and outsole are, the more protection your foot will have. However, the more stiff it is the less control you have over your footing which can impact your balance, agility, and your ability to navigate more technical trails.
---
Top Brands Of Hiking Boots:
When it comes to top brands, there are some famous ones to consider when you're shopping for your new hiking boots:
---
Hiking Boot Materials:
Hiking boots and hiking shoes are made of synthetic materials, leather, and a variety of liners.
Synthetics
Most hiking boots and shoes on the market are made out of synthetic materials. Synthetic materials usually provide more breathability and flexibility.
Leather
When it comes to leather in hiking boots, there are 3 kinds that are predominantly used.
Full-grain leather: This is the best leather choice for water resistance. This kind of leather is not common for day hiking boots since it's heavier material. It will usually hold up longer than other types of materials due to its high-quality but it not ideal for hot weather or casual day hikes.
Nubuck leather: This is the type of material that looks like suede. It's created from full-grain leather but it has greater flexibility. Just like full-grain leather, you'll need to wear them for a while before you feel like they're comfortable for long hikes.
Split-grain leather: This leather is used in boots that are lighter than the other two options above, giving them strength but less water resistance.
Waterproof membranes
Many waterproof hiking boots come with a Gore-Tex® membrane to keep water from soaking into the sole of the shoe.
Vegan
If you're in the market for vegan hiking boots or shoes, quite a few of the synthetic boots out there will fit the vegan lifestyle.
Insulation
This mostly is important when it comes to hiking in cold weather, since you want to make sure your feet stay warm through the long hike.
Steel toe
Steel toe hiking boots provide next-level support for serious hiking, snowshoeing, and for anyone who uses hiking boots to work outdoors. There are also brands like Merrell that provide hard-toe boots that aren't steel toe but are still tough. Some tough toe hiking boots are needed for things like bouldering as well.
---
Hiking Boot Components (Parts):
When you are trying on and considering a new pair of hiking boots or shoes, pay close attention to these parts.
Hiking boot uppers
Hiking boot uppers are what covers the top of your foot. The stronger and thicker the material here, the more waterproof and warm the boots will be. This is also where there is mesh-type or synthetic materials if you're picking a boot that is lighter.
Hiking boot midsoles
The midsoles are the back part of the shoe under your heel that absorbs the shock from walking. This part of the boot plays a huge role in the overall stiffness. Depending on what type of hiking you're doing (trails, mountains, rocky), you'll want to take a good look at the midsole. Generally, the more uneven the hiking environment, the stiffer the shoe you want.
They're usually made out of either EVA (ethylene vinyl acetate) or polyurethane. EVA is more flexible and polyurethane is more durable.
Hiking boot internal support
To provide support to your feet during a hike, most hiking boots have shanks and plates that run through the bottom to provide internal support. The plates help balance out the weight in the boot and plates keep your feet from taking too much pressure from sharp rocks.
Hiking boot outsoles
The outsoles are along the bottom of the shoe and make up a lot of the tread that you see. It might seem simple, but the outsole is what can keep you from sliding down a slick rock. Lug patterns are around the whole bottom of the shoe, and they're best used for gripping. Heel breaks are the tread along the heel that keeps you from slipping when you're hiking back down.
Laces
For the most part, hiking boots come with sturdy laces that can last through a ton of adventures and various weather conditions. However, it would be a good idea to bring an extra pair with you during long hikes just in case.
---
Hiking Boot Fit:
A few things to keep in mind to help you get a perfect fit.
Sizing
Hiking boots usually correspond with your typical shoe size, but you might have a preference for a tighter or bigger boot.
Socks
Socks can make or break your hiking boot choice. You'll need to find socks that work for the type of hike you plan to do. For example, if you're doing a winter hike you need warmer socks than you would in the summer. Sometimes for short, quick hikes, you can get away with athletic-type socks, but most times you'll want some with more support and that will keep your boot from rubbing against your skin.
You'll also want to keep the type of sock material in mind as well. If you're planning for longer or wet/cold hikes, you'll want a thicker sock and lighter socks for day hiking. Lighter socks can also help prevent blisters since they aren't so big and bulky.
Most socks are made out of merino wool, which is the best material for keeping your feet warm and insulated during cold hikes.
Polyester socks are also an option for hiking in dry or hot weather, due to their ability to wick sweat away.
If you want socks that last a long time, try to keep an eye out for a percentage of nylon in the overall blend.
Check out our complete guide to the best hiking socks for more information.
Lacing and knots
With regular shoes, there's not too much worry about how you lace up your shoes every day. Hiking boots are a bit different and each type of lace or knot can provide varying levels of support. There are three main ways you can lace your boots to change up the pressure.
Surgeon's knots keep your heels secure. Toe-relief lacing gives your toes some space and takes the boot pressure off. Window lacing takes the pressure off of the top of your foot.
Insoles
Insoles are one of the easiest things to replace, add to, or fix when it comes to hiking boots. While you might think the softest insole is the thing you want to pick, instead you want to find one with the best support. Keep in mind that you'll want to bring your hiking socks to test out insoles because your regular socks might not give you the best idea of how your shoe will fit.
---
Breaking In Your Hiking Boots:
Hiking boots are similar to snowboard boots due to them both needing a period of time where you're breaking them in. As soon as you get a new pair, you should start to wearing them around the house. Wear them around your neighborhood, doing errands, or any other short trips.
Then you'll want to schedule some short hikes. We'd never recommend getting a new pair before a long hike because you never know how they'll feel and you don't want to be stuck walking for miles in shoes that are uncomfortable.
---
Hiking Boot Care:
Follow these tips to extend the life of your hiking boots.
How to clean hiking boots
Every time you go on a hike, you want to come home and let them air dry. Put them upside down, take out the insoles, and put them in front of a fan if you need it. However, be sure to not use a fireplace as your source of heat to dry them off since it can damage the materials on the boot.
You'll want to clean off the mud and dirt every so often and once a year give it a deep scrub and clean.
How to care for leather
Generally, you should take care of your leather once a year, but if you see it starting to lighten up or crack, it's time to immediately apply some silicone or water-based treatment on it right away.
How to waterproof hiking boots
Any new boots you buy almost always come with a water-repellent finish, but with time and more hikes, you'll need to add a new layer. You'll have to pick the right treatment based on what type of materials your boots are made out of. If your boots have a waterproof membrane, you don't need to apply treatment to those areas.
It's a simple process: Give your boots a thorough cleaning, apply the treatment, and store them properly to let the treatment set.
Where To Buy Hiking Boots + Hiking Shoes:
REI is a great option for finding boots, especially because in their stores the staff is always willing to help. Whether you're new to hiking or a seasoned pro, there is someone at their store who can help you find what you need. They also have an online store so you can get things delivered right to your door.
Backcountry.com is an online store that has basically anything you could ever need for outdoor adventure.
Mountain Equipment Co-op is a great option for anyone in Canada who needs to find quality hiking boots.