Drinking water is one of the most important items to carry with you on your hikes and backpacking trips. It is one of the ten essentials. I always carry more water than I know I need. And often I run out before I return to the trailhead. And of course, on a backpacking trip at some point you will definitely need to tap into a local source of water to keep you going. Some hikers choose to do this on long day hikes to in order to cut down backpack weight. Trail runners definitely prefer to carry a water filter and some type of bottle or reservoir.
More critical than water itself is a supply of clean drinking water. If you are traveling into the backcountry for an extended trip you must bring a water filter, a water purifier, a chemical water treatment, or all of the above depending on where you are travelling.
For sure, some water sources, in some locations is drinkable. In Canada, I have done many long canoe trips without using any filtration devices. In the 1990s filtration devices and purifiers simply were not commonplace. However, why take a chance on getting sick nowadays since the technology exists and is super affordable? If you drink water before filtering or purifying it there is a good chance you could suffer from diseases such as giardiasis or cryptosporidiosis that are caused by parasites. Viruses are found in water sources outside of Canada and the USA. Acquiring these diseases is not fun. I have seen (thankfully not felt) the results first hand. The impact of giardia can sideline you for days.
To stay healthy and hydrated you need to filter your water before you drink it. In this guide we cover all the newest and best backpacking water filters and water purifiers. Another method to clean water is to use a form of chlorine dioxide water treatment. You can also boil water but this isn't always practical and takes much longer to get it to a drinking temperature.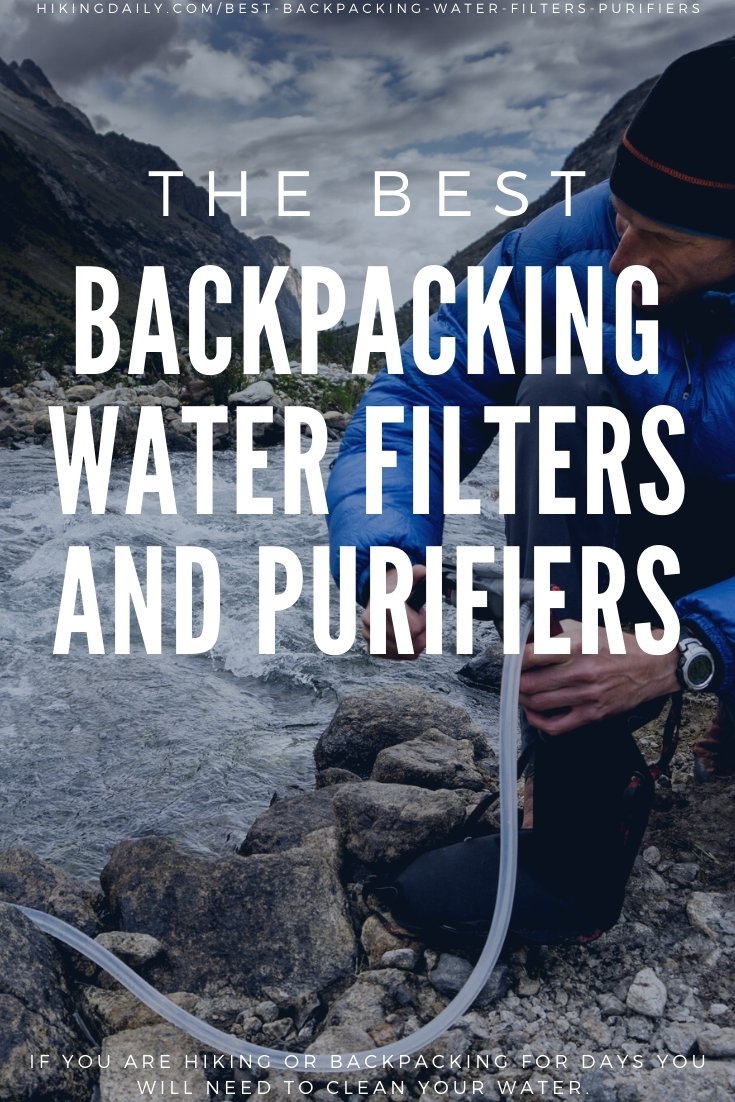 How to choose a backpacking water filter or purifier
There are so many products that will filter or purify water in very different ways.
Some are small and lightweight making them better for use on long day hikes in the event that you run out of water.
Others are designed to be used on backpacking trips where you need to filter or purify water in bulk on a daily basis to keep hydrated.
Another accessory that may be required is a water pre-filter. A pre-filter allows you to remove large particles (glacial sediment, silty water, leaf and other debris) from your water before treating it with other products.
If you want to get right to the best water filters and best water purifiers for hiking and backpacking scroll down!
Water filters vs. water purifiers
When you start to get familiar with the product offering you will notice there are two main groups. Water filters and water purifiers. They sound very similar but do protect your health differently.
So, what's the difference?
Water filters protect you against protozoa (Giardia, Cryptosporidium) and bacteria (such as E. Coli and Salmonella). Water purifiers go further and also protect you against viruses (Hepatitis A and the Norovirus).
If you are hiking or backpacking exclusively in Canada and the United States you should be okay with using a water filter. If you are venturing out internationally, it is recommended to use a water purifier.
Straw water filters
Straw filters are inexpensive, fast and easy to use, small, and lightweight. They work well in locations where there are frequent water sources. Some people prefer to not carry any water, and use this product when necessary.
However, straw water filters are awkward (you must get right down and face the water), and do not allow you to filter and store water in bulk quantities.
For most hikers, straw water filters are best used in for emergency use in the event that you run out of water.
Bottle water filters and purifiers
As the name implies, bottle water filters combine a water bottle and a built in filter that is part of a screw on lid. Bottle purifiers have built in purification devices that are either a press system or a UV light.
Simply fill up the bottle, attach the lid, and drink. Some bottle water filters require suction while using a bite valve. Others are a soft bottle that you can squeeze. They typically hold up to one liter of water.
The advantages to bottle water filters and purifiers are that they are versatile, convenient, packable, lightweight. and relatively inexpensive. Drink on the go, or fill up a regular water bottle for extra water. Great for personal use on long day hikes. Super easy.
Cons: Not suitable for large groups, or cooking on overnights and extended trips.
Squeeze water filters
Squeeze water filters are very similar to bottle filters but are lighter, smaller, and less durable. They are quick and easy to use. The filtration cartridges are replaceable. Squeeze water filters are also a relatively less expensive option.
Gravity water filters and purifiers
Gravity water filters and purifiers are great for backpacking trips. They allow you to filter or purify up to 10 liters of water. Essentially, they are a storage systems much like hydration reservoirs with a filter.
Simply fill up the reservoir, hang it up, and use gravity to filter the water downwards into another receptacle. Now you have enough water for cooking or drinking.
The main benefit of gravity filters is that they provide a bulk supply to satisfy an entire group.
The cons are that sometimes it is difficult to find a hanging spot, or fill the reservoir up in shallow water. This could make it take longer to filter your water.
Pump water filters and purifiers
Pump water filters combine a basic pump, a filtration or purification mechanism, and a collection container.
The internal filter cartridge or purification element is replaceable. Simply pump the amount you require.
A benefit to this type of water filter device is that you can pump water from shallow water sources.
The main disadvantages is that the device is bulky and heavier, requires cleaning, and pumping becomes more difficult as the filtration/purification element lifespan increases. But, if you are carry extra filters and elements, and don't mind extra weight, no big deal.
Ultraviolet (UV) water purifiers
UV water purifiers are super easy to use. Simply press a button and stir your water. Ease of use is the most obvious benefit in addition to purifying water rapidly. No cleaning of elements is required. They work like magic.
However, they are more expensive, they do require batteries, may demand a pre-filter of your water, and require multiple treatments for bulk quantities.
Chemical water purification
The final option on this list of products is not a device but rather a chemical treatment. They are effective against protozoa, bacteria and viruses. They are iodine, or chorine based treatments.
The main advantages are that they are easy to use, inexpensive, and ultra light and small in size.
However, you have to wait 30 minutes to 4 hours for the treatments to work and become effective. Other drawbacks are that iodine products produce a chemical taste, aren't effective against Cryptosporidium, are a concern to pregnant women or those with thyroid conditions.
Boiling water
If you are traveling with a pot and stove you can clean your water by boiling it. Bring the water to a rolling boil and maintain for 1 minute. If you are above 6500 feet boil it longer, about 3 minutes.
The pros of boiling water (sufficiently) is that you will kill off anything in it that can make you sick. And if you are already carrying the equipment, you are cutting down your total weight.
The only real downsides are that you have to wait for the water to cool off and use a little extra fuel than you might if you did not use this method.
---
Our Top Picks
Okay, now that we understand the pros and cons of the different types of water treatment devices, let's take a look at the newest and best products. These are organized roughly from smallest size, weight, and capacity to the largest.
This is a very small (1x 5 inches) and lightweight (2 ounces) water filter that is super versatile in that it functions in a number of ways. It has a hollow-fiber membrane that provides a high flow rate. It is rated to filter up to a mind blowing 100,000 gallons! The 0.1 micron filter removes 99.99999% of all bacteria (salmonella, cholera and E.coli) and removes 99.9999% of all protozoa, such as Giardia and Cryptosporidium. All of this crowns the Sawyer Mini the best water filter straw you can buy.
Get down close to the water source and use it like a straw. Slurp! Or, attach it to the included reusable 16 fl. oz. pouch. It also attaches to the size of water bottles you find at stores. You can also use it as an inline filter if you purchase the required adaptors and hoses.
Flow rate is maintained by using the included syringe to back-flush the filter. All in all an amazing little device.
Another small (1.2×8.8 inches), super lightweight (also 2 ounces) option that uses a hollow-fiber membrane and high flow rate. It has a 0.2 micron filter that removes 99.9999% of all previously mentioned bacteria and 99.9% of all protozoa. You can use this product to filter up to 264 gallons or 1000 liters!
Both the Sawyer Mini and the LifeStraw are great to have in case of emergency or for trail runners and power hikers that don't wish to carry water bottles or other devices. Of course, you must know where and how often you can access a water source, so plan ahead!
Okay, now we are moving on from straws to bottles.
This is a brand new and very popular water filtration system for this year. I own the Platypus QuickDraw and keep it in my backpack at all times so that I can filter mountain water and keep hydrated all day long.
The whole system weighs just 3.3 ounces (95 grams). You get a Platypus QuickDraw water filter, and a collapsable 1-liter water bottle. This system filters the water very quickly (fastest) providing you three liters of water per minute. The Platypus QuickDraw filter removes 99.9999% of bacteria and 99.9% of protozoa.
The QuickDraw water reservoir is taste-free, durable, has a wide mouth, and has a handle that makes it a breeze to fill up at any type of water source. The filter itself has a rugged design with protective flip caps on either end. The caps create a secure seal when closed. Each filter has a lifespan of approximately 1,000 liters. The filter is small and compact (2×5 inches) in dimensions. This water filter adapts to fit smartwater bottles, and other sizes of Platypus bottles and water reservoirs.
To clean the hollow fiber filter, simply shake-to-clean. To maintain fast flow rates you can perform a tool-free back-flush.
The Katadyn BeFree is another awesome lightweight (2.3 ounces) water filtration device in the form of a soft collapsible 20 fl. oz. bottle that is relatively small (9.1 x 2.8 x 2.8 inches) in dimensions.
It can filter 2 liters per minute and holds a total of 0.6 liters to drink on the go. It is super easy to use. Just tilt back and lightly squeeze the bottle.
This water filter bottle can filter a total of 264 gallons or 1000 liters. The BeFree bottle has a 0.1 micron microfilter to remove protozoa (99.99%) and bacteria (99.9999%) to EPA standards. This product has a 43mm wide mouth opening that provides plenty of space to fill it up.
Also available in a larger 33.8 fl. oz. size.
If you want to go bigger for a long day hike or backpacking trip, you can get a 3-liter bag!
Don't forget to replace your filters from time to time. It is a good idea to check your filtration system each Spring to make sure it is in good working order.
Another relatively compact water filter system. The Sawyer Squeeze includes two (11×6 inch) durable Mylar foil water pouches and weighs in at 3 ounces. Another hollow-fiber membrane filter removes 99.99999% of all bacteria and 99.9999% of all protozoa. This product can filter 1.7 liters per minute. It has a built-in push/pull cap for easy dispensing. The Sawyer Squeeze really packs in value. It includes inline Adapters so you can hook up to a hydration pack, and gravity tubing so you can hook up the Squeeze Filter as a gravity filter. Also includes a syringe to back-flush the filter in order to maintain a consistently high flow rate. Super versatile and a great price.
We covered all the best squeeze-style water filter bottles, and now we are going to take at the best water filter bottles for hiking and backpacking. The first is the LifeStraw Go Filter bottle. It holds 34 fl. oz., weighs 8.6 ounces, and is 9.5 by 3.5 inches in size. The 0.2 micron hollow fiber membrane removes 99.999% of all bacteria and 99.9% of all parasites, and 99.99% of micro-plastics and turbidity, including silt, sand, and cloudiness. The filter will clean up to 1000 gallons or 4000 liters before you need to replace it. This bottle is made of BPA-free ABS plastic.
Want to keep your water nice and cold in a more durable container? Then the LifeStraw Go Stainless-Steel Vacuum bottle is the one to get. The double-wall vacuum insulation will keep your water cool for up to 24 hours. This bottle weighs 17 ounces is 9.4 by 3.3 inches in size, and holds 24 fl. oz. of water. The filtration and lifespan specifications are the same as the last water filter bottle on this list.
Do you have a favorite water bottle for hiking? You may be able to turn it into a water filter device with this LifeStraw universal adapter. This package includes 2 cap sizes (standard and wide), plus 2 mouthpieces (standard and sport) so you can make them work with a variety of water bottles. The filtration and lifespan specifications are the same as the previous two bottles.
If you plan on traveling for hiking and backpacking adventures then consider this product. The Grayl Ultralight Purifier bottle weighs in at 10.9 ounces, is 9.5 by 2.7 inches in dimensions. It works like a press and it filters and purifies 16 fl. oz. per 15 seconds and operates at 2 pump strokes per liter. The cartridge lasts for approximately 40 gallons or 150 liters. This bottle removes 99.99% of viruses (such as Hepatitis A, SARS, Rotavirus) and 99.9999 of bacteria (E. coli, Salmonella). In addition, it removes and 99.9% of protozoan cysts. Now you can clean your water wherever you go. Totally awesome.
Want a relatively compact water purifier bottle that is a touch more robust for your travels? This is the one. The Geopress water purifier bottle weighs 15.9 ounces, 10.4 by 3.4 inches in dimensions, and purifies 24 fl. oz. per 8 sec at 1.4 pump strokes per liter. Cartridge lasts for 65 gallons or 250 liters. Purifying specifications are identical to the Grayl Ultralight.
Moving on to pump-style filters. The Katadyn Hiker Pro weighs 11 ounces, is 6.5 x 3 x 2.4 inches in size, and will filter 1 liter of water with 48 pump strokes per minute. It is a versatile water filter that has quick-connect fittings for easy installation and removal of the input and output hoses that connect directly to hydration reservoirs with 0.25 in. drink tubes. This device has a pre-filter that will remove large contaminants and debris before the water flows through the main 0.2 micron water filter that captures 99.9999% of all previously mentioned bacteria and 99.9% of all protozoa.
The MSR MiniWorks EX is the water filter of all water filters that will perform in the most demanding of situations. This product is built for heavier duty and more frequent use compared to some of the lighter-weight products listed above. Not to say the others are not good filters, just that the MSR MiniWorks is really designed for more usage than most hikers are going to deploy. This filter can pump out 1 liter per minute and the flow rate is easily renewed in the field without the use of any tools. The MiniWorks water filter meets NSF protocol P231 and removes 99.9999% of bacteria and 99.9% protozoa (99.9%) and in "worst-case" water. It weighs 14.6 ounces and is 7.5 x 5.5 x 2.5 inches in dimensions. The cartridge will last for up to 2000 liters.
If you would like the added protection against viruses go for the MSR MiniWorks EX Water Purifier.
We just mentioned the MSR MiniWorks EX water purifier, but if you want to step things up a notch to face off against the worst backcountry water imaginable, then check out the MSR Guardian. This purifier was originally designed for military use. So you can imagine how and where it can work. The device pumps 2.5 liters per minute, the filter lasts to 10,000 plus liters, it is very durable (stands up to 6-foot drops), can withstand freezing, and is self-cleaning. What an excellent product. It weighs 17.3 ounces and is 8.25 x 4.5 x 3 inches in dimensions.
Okay, moving on to gravity water filters. These are great devices for your campsite when backpacking, canoe tripping, or car camping for that matter. All you have to do is fill up one bag labeled dirty water, hang it up, and let gravity pull the water into the clean bag. Super easy. Gravity water filters work fast.
The Platypus GravityWorks water filter cleans water at 1.75 liters per minute or all 4 liters in just 2.5 minutes. And there is virtually no work to be done. Bonus. The microfilter will clean up to 1500 liters of water. There is a shutoff hose clamp on the clean water hose that provides on-demand water control to fill up your water bottles, hydration reservoirs, or cooking pots. Cleaning out the system is a snap. Just raise the clean bag above the dirty bag and gravity will back-flush the filter. This product weighs 11.5 ounces, and dimensions are 2 by 8.5 inches for the filter and 17.7 by 9.1 inches for the reservoir. It removes 99.9999% of bacteria and 99.9% of protozoa.
As previously mentioned, the main drawback is that in some areas it may be difficult to find a spot to hang the system up.
This is another option if you are interested in getting a gravity water filter.
The MSR Trail Base is a versatile modular system that can be used as a gravity filtration device or dismantled and used as a pocket-sized water filter on the trails. This kit consists of a dirty water bag and a clean water bag, tubes, and 3-in-1 caps for easy filling, drinking, and pouring. Available in both 2 liter (1 pound) or 4 liter bags (1.2 pounds).
The Trail Base kit is effective against bacteria (99.9999%), protozoa (99.9%), and particulate. You can filter your water at one liter per minute.
The name says it all. The RapidPure Trail Blazer gravity purifier will purify 4.1 liters per minute. The filter will purify 470 liters of water. The Trail Blazer purifier removes up to 99.9999% of pathogens, including bacteria, protozoa, cysts, chemicals, and viruses. The total weight is 18.6 ounces and the dimensions are 13.75 by 13 by 3.25 inches.
UV water purifiers are totally different from every other product we have looked at. The Katadyn Steripen Ultra UV water purifier seems like a magical wand. It operates using an internal rechargeable battery so you should invest in a solar panel charger. Ultraviolet (UV-C) light rays destroy 99.99% of protozoa, bacteria, and viruses. Water must be clear in order for this product to be effective. One click will clean 0.5 liters in 48 seconds, two clicks will clean 1 liter of water in 90 seconds. The lamp life is 8000 activations. The purifier is 7.3 by 1.6 by 1.3 inches in dimensions