A hiking vest is one of the most versatile pieces of outdoors gear the whole year round. Vests keep you warm during spring, fall, and cool summer nights and can also provide an extra layer in winter.
Why a vest and not a jacket? Hiking vests provide most of the warmth of a jacket with less weight and bulk. And vests eliminate the need for pit zips. That being said, vests work best for milder temperatures or activities in colder temperatures.
Vests vs Jackets
+ Vests are smaller and lighter
+ Vests maintain the full range of motion for arms
+ Vests keep the core warm + prevent overheating
+ Vests provide extra pockets
+ Vests are stylish (especially over a plaid shirt)
What To Look For In A Hiking Vest
The best vest for hiking matches the conditions but here are a few things to think about.
Fit – A slimmer cut will fit under a jacket over top while a looser fit will accommodate more layers below the vest.
Waterproof – As a mid-layer, almost all vests offer some water-resistance but are not waterproof.
Pockets – Make sure the vest fits what you want it to fit. That usually means a comfortable fit for hands and phone pocket but you may want more storage.
Weight – Is the vest a mid layer or outer layer? It is for blocking wind, adding warmth, or replacing a jacket?
Drawcord – A drawcord at the waist keeps cold, wet, and wind out
Lightweight Hiking Vests
Sometimes a lightweight vest is all you need. This can be a windbreaker-type gilet with an extra pocket or two. These are ideal for summer hiking on windy peaks or sudden storms. Beyond hiking, a lightweight vest works for running, cross country skiing, or even fishing. And since we strive to recommend functional and attractive pieces, can be worn whenever the weather calls for it.
Merino wool jackets are also in this category as they provide a little bit of warmth. As always, a vest can be worn as outerwear or a mid-layer.
Fleece Vests
Fleece is a lightweight, warm, and windproof mid layer for outdoor activities in a range of weather conditions. While fleece is hydrophobic and will shed some water, it is not waterproof, though it will dry quickly. Lighter weight fleece is breathable but heavier, more tightly woven fleece will not breathe.
Invented in the late 1970s, the peak of polyester apparel, fleece is made from polyethylene terephthalate (PET). Malden Mills, the inventor of PolarTec, spun and brushed polyester yarn in an attempt to replicate the properties of wool. At the same time, Patagonia worked with Malden Mills to develop their own Synchilla fleece and the iconic Snap-T Pullover, still in production today.
Polyester and fleece are petroleum products but today many manufacturers use recycled plastic bottles instead.
Fleece Weight Ratings
The Polartec scale indicates the loft, weight, and warmth of fleece.
100-Weight Fleece Lightweight, highly breathable, and flexible to provide a wide range of movement.
200-Weight Fleece The most common and popular weight because it can be worn on its worn or as a layer.
300-Weight Fleece A loftier and heavier outer layer, designed for cold conditions.
The higher pile and wool-like sherpa fleeces that are trendy right now fall into the heavier fleece category and look great.
Synthetic Insulation
Synthetic insulation is a cheaper alternative to down that is also more breathable and more water resistant. Synthetic insulation keeps getting better at mimicking down – lighter, loftier, and warmer but for the best quality look for the top brand, PrimaLoft, or the in-house versions of the big outdoor names.
Baffles are the sections that holds insulation in place. Most down jackets have horizontal baffles but synthetic insulation can have more creative baffle shapes, like squares, diamonds, and more.
This type of insulation is also polyester, which is a plastic, which is an oil product. Is there more environmentally friendly synthetic insulation? Yes. Some synthetic fills are recycled or semi-recycled while others are designed to break down faster at the end of its lifecycle.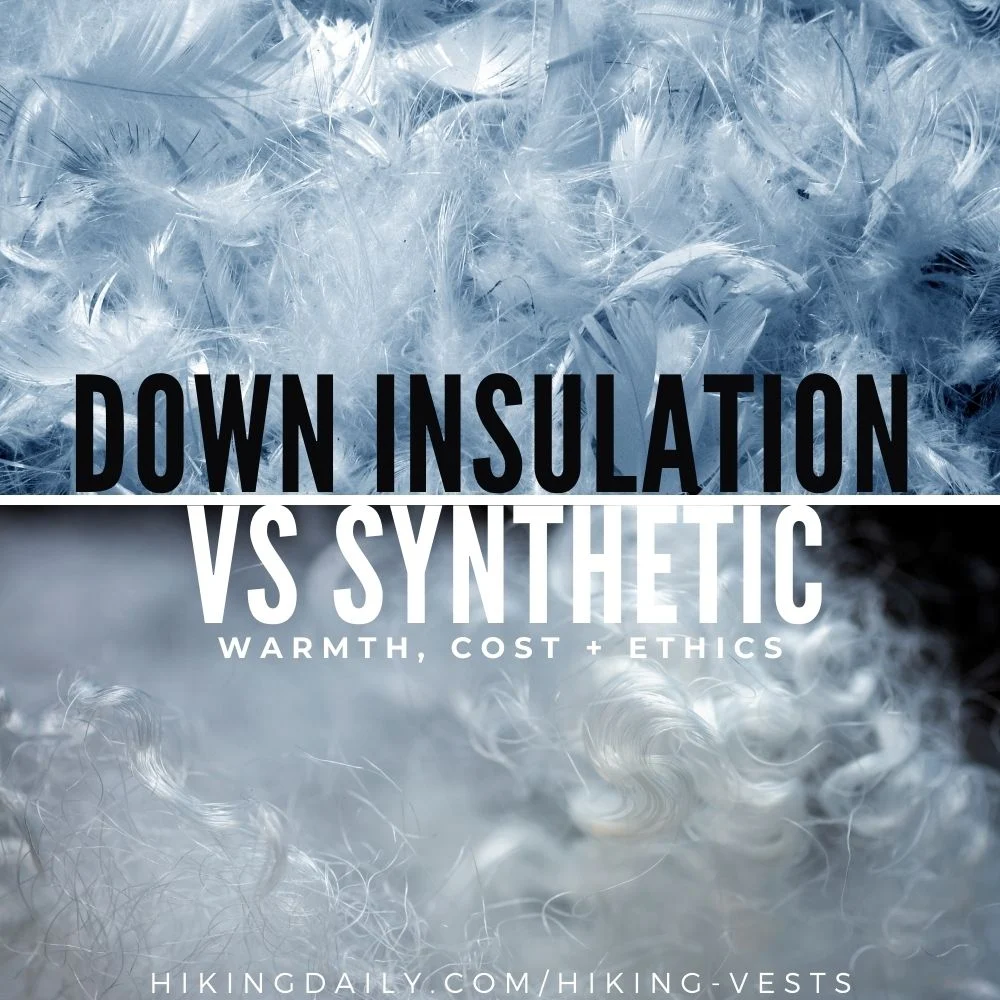 Down Insulation
Down is the best insulator available, with the highest warmth to weight ratio, breathability, and compression, able to pack down small and bounce back. There are drawbacks to down though. If down gets wet, it doesn't insulate as well, although most down products have a waterproof exterior to combat this.
Down Numbers
Down products are described with numbers relating to the quality and volume of down.
Fill Power
Fill power measures loft, or how fluffy it is. Maximum loft means more warmth. The fill power rating value is calculated by measuring how many cubic inches an ounce of down creates at its maximum loft. A down fill rating of 600 means that one ounce of down can cover 600 cubic inches. Down loft ranges from 300 to 900 are most commonly 400 to 500. 550 and up is higher quality.
Fill Weight
Fill power isn't the only number to look for. Fill weight is the total amount of down in a jacket. So a lower loft jacket with more fill can be warmer than a higher loft jacket with less fill.
A jacket with 600 fill power and 10 oz of down will be warmer than a 900 fill power jacket with 5 oz of down
At equal weight and feather ratio, a 900 fill power jacket will be warmer than a 600 fill power jacket
An 900 fill power jacket needs less down to be as warm as 600 fill power jacket
Feather Ratio
The down to feather ratio is the percentage of down to the percentage of feathers in the vest. The numbers are generally 70/30, 80/20, or 90/10. Down is warmer than feathers to a higher feather percentage is better but also more expensive.
This is another number to pay attention to because a 600 fill power down jacket with an 80/20 down to feather ratio will be warmer than a the same jacket with a 70/30 ratio.
Ethical Down
Down is also an animal product, produced in a range of conditions. Down vests and jackets are more cheap and available than ever before but the quality will be lower with questionable harvesting conditions..
If that is a concern, many companies use sources with ethical down from the Responsible Down Standard, Global Traceable Down Standard, or Downpass. These certify that the feathers come from birds that are free from unnecessary harm, including no live plucking, and respect for the Five Freedoms of animal welfare. There are also some recycled down products available, because down lasts forever.
Vests For Hiking
Like jackets, vests come. in a range of weights and warmth levels. The vest should match the weather and activity level. Here are the types of vests for hiking in order from coolest to warmest.
Vests can also be called gilet, which is defined as a light sleeveless padded jacket. This is more common with, but not limited to British brands.
1. Best Budget Lightweight Vest
Little Donkey Andy Lightweight Softshell Vest (Women | Men)
Waterproof Water-repellant
Weight ∼7 ounces
Fabric 95% Polyester, 5% Spandex
Mid-Layer Waterproof and breathable TPU membrane
Lining Polyester
+ Costs less than $50
+ Sleeveless + Spandex = Unrestricted movement
+ Lightweight
– For warmer weather use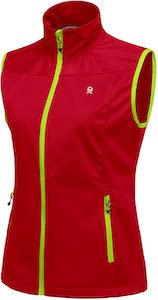 Little Donkey Andy is another one of the Amazon outdoor brands that keep popping up but a good one. This lightweight vest is perfect for unexpected spring showers or fall winds with a windproof, water-resistant, and breathable shell plus a some stretch. It is available in a rainbow of 12 colors, some also with a hood.
2. Budget Fleece Vest
Waterproof Polyester fleece resists moisture
Weight Not available
Fabric 250g fleece
+ 27 Colorways
+ Women's sizes from S through 3X and Petite sizes
+ Men's sizes from S through 6X and Tall sizes
Sometimes priced as low as $30, this medium-weight Columbia fleece does keeps you warm, machine washes easily, and lasts a long time. The looser fit is a pro for some and con for others.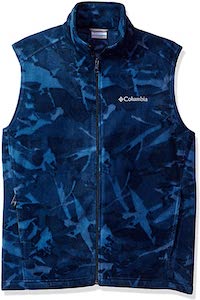 3. Most Stylish Fleece Vest
Patagonia Retro Pile Fleece (Women | Men)
Waterproof Polyester fleece resists moisture
Weight 12.8 ounces
Fabric 100% recycled polyester double-sided shearling fleece
+ Vintage styling
+ 100% Recycled
+ Fair Trade Certified sewn
– Sizing runs big
Patagonia's Synchilla was one of the first fleece fabrics available. This sherpa fleece takes cues from that era with a defined yoke and colorful edging. The Classic Retro-X Fleece Vest is a heavier weight version of this vest with a contrasting color pocket.
4. Lightweight Merino Wool Vest
Waterproof Durable water repellent (DWR) coating
Weight 10.9 ounces
Fabric Nylon, Merino wool
Insulation 88% Recycled wool, 12% polyester
Lining 56% Merino wool, 44% polyester
+ Stretchy side panels
+ Wool breaths and never smells
+ Wool doesn't touch skin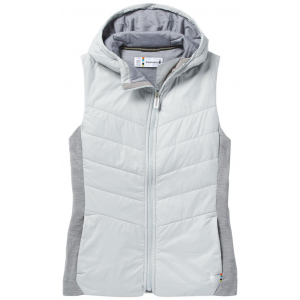 For people who find all wool itchy, this is a way to get the benefits of wool without it touching the skin. For everyone else, pair this vest with a wool base layer for maximum performance. Machine washable
If this is too warm or too heavy, try the 4-ounce Smartwool Merino Sport Ultra Light Vest.
5. Best Merino Wool Vest For Hiking
Ibex Shak Vest (Women | Men)
Waterproof Water-resistant + breathable
Weight Not listed
Fabric 100% Merino Wool Ponti
+ Moisture-wicking
+ Odor resistant
+ Long-lasting
– Price
– Heavier than other mid-layers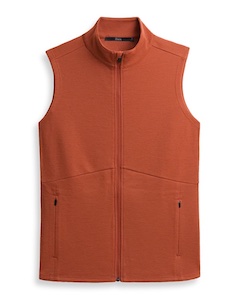 Co-founded by an avid mountain climber, Ibex makes merino wool gear. Named for named for Antarctic explorer Sir Ernest Shackleton, the Shak Vest is made of 100% merino wool ponti, double-knit for maximum insulation. This is one of those high quality, timeless designs that you'll be wearing for years to come.
6. Best Vest For Trail to Town (or vice versa)
Waterproof Water-resistant
Weight 17.6 Ounces
Fabric Dynawax: 62% Cotton, 27% Polyester, 11% Nylon
Lining 300-gsm Italian fleece
+ Outdoors gear that doesn't look like outdoors gear
+ Weather-proof outer layer
— True to size for layering underneath, otherwise size down
This vest is a little different with a waxed exterior for wind and water resistance and a high pile fleece lining for warmth. This vest is an outer layer that stands up to whatever the outdoors has in store for you. The quilted yoke and snap buttons give this stylish vest a retro, western feel.
Waterproof Water-resistant
Weight 13.5 ounces
Fabric Polyester
Insulation Polyamide
Lining Body – Polyamide, Collar – Polarfleece
+ Timeless, classic style
+ Side adjustors for a tailored fit
+ One year manufacturer warranty
– Slim fit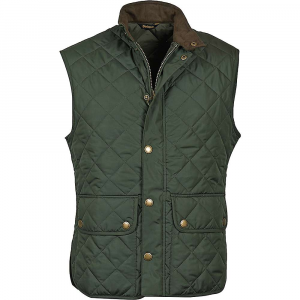 Known for their waxed jackets, Barbour is a renowned outdoor brand that blends comfort, quality, and style. This quilted vest is no exception, with a classic look that is equally at home on the trails as it is in town. If purchasing from Moosejaw, get Rakuten to get a percentage of the price back.
7. Best Hiking Vest in Extended Sizes
Waterproof Water-resistant
Weight Not available
Fabric Storm-Lite DP II polyester
Insulation Polyester synthetic down
Lining Omni-Heat Reflective polyester
+ Flattering diamond baffles
+ Plush collar lining
– Limited colors
Weight Not available
Waterproof Rain Defender Water Repellent
Fabric 1.75 ounce nylon Cordura
Insulation 100 gram polyester insulation
+ Drop tail hem at the back
+ Big and Tall sizes
– Fits big
– May be short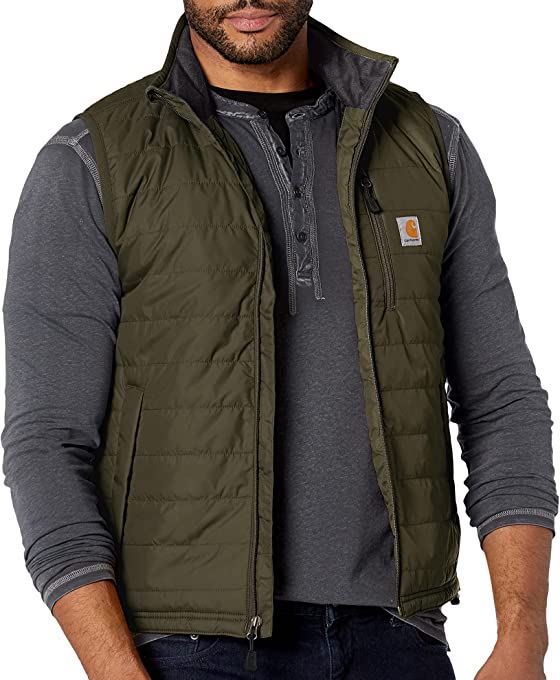 Carhartt is known for making durable workwear. Well a lot of that work is outside so put your Carhartt to work on and off the clock. This lightweight vest works well on its own or as a mid layer. If you don't like the horizontal baffles, check out the Shop Vest has the same specifications with a smooth exterior.
8. Best Lightweight Synthetic Vest
Arc'teryx Atom LT Vest (Women | Men)
Waterproof
Weight 8.47 ounces
Fabric Tyono 20-denier nylon
Insulation 60 grams Coreloft Compact polyester
Lining Dope Permeair 20 nylon
+ Breathable, fleece stretch side panels for fit and mobility
+ Hem drops down at the back
+ Thin and slim fit for layering
– Limited sizes available
– May need to size up
This lightweight vest may not be warm enough for all but it does pack down into its own pocket. Stretchy side panels ensure a comfortable fit and full range of motion.
9. Lightweight Down Vest
Rab Microlight Down Vest (Women | Men)
Waterproof DWR Finish
Weight 11.2 ounces
Fabric 30-denier recycled Pertex Quantum nylon
Insulation Recycled 700-fill-power down treated with Nikwax hydrophobic finish
Lining 20-denier recycled
+ Exterior fabric traps air to improve the efficiency of insulation
+ Treated down repels water and retains loft and warmth when wet
+ Micro and nano baffles keep down in place and prevent cold spots
+ Competitive pricing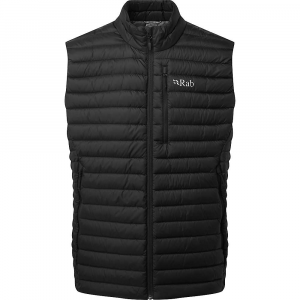 The Rab brand is new to me but isn't new. It was started in 1981 by British climber Rab Carrington, who started out sewing sleeping bags during a climbing expedition to Patagonia in 1973. The designs account for every detail without adding anything unneeded. This vest uses recycled materials and Rab is working towards being Net Zero by 2030.
10. Best Cold Weather Down Vest
Waterproof Water-resistant coating
Weight 10 Ounces
Fabric Pertex Endurance LT
Insulation 900+ Responsibly sourced goose down, 4.8 oz fill weight
+ Warmth for the price
+ Made in the USA and Canada (with imported materials)
+ Long-lasting fabric
– Wait time
For the coldest days (and people), this is the vest. At this insulation weight, a jacket can begin to restrict movement in a way that a vest won't. In addition to an impressive warmth-to-weight ratio, at under $300, the warmth-to-cost ratio is also excellent. Feathered Friends gear is known for its longevity and the Helios Vest will keep you warm for years and years to come.