Hiking at higher altitudes is more challenging. This is because there is less oxygen in the air to breathe. When you hike at high altitudes you may experience a shortness of breath, sluggishness, dizziness, headaches, nausea, and other symptoms of altitude sickness. Enter, oxygen for hiking!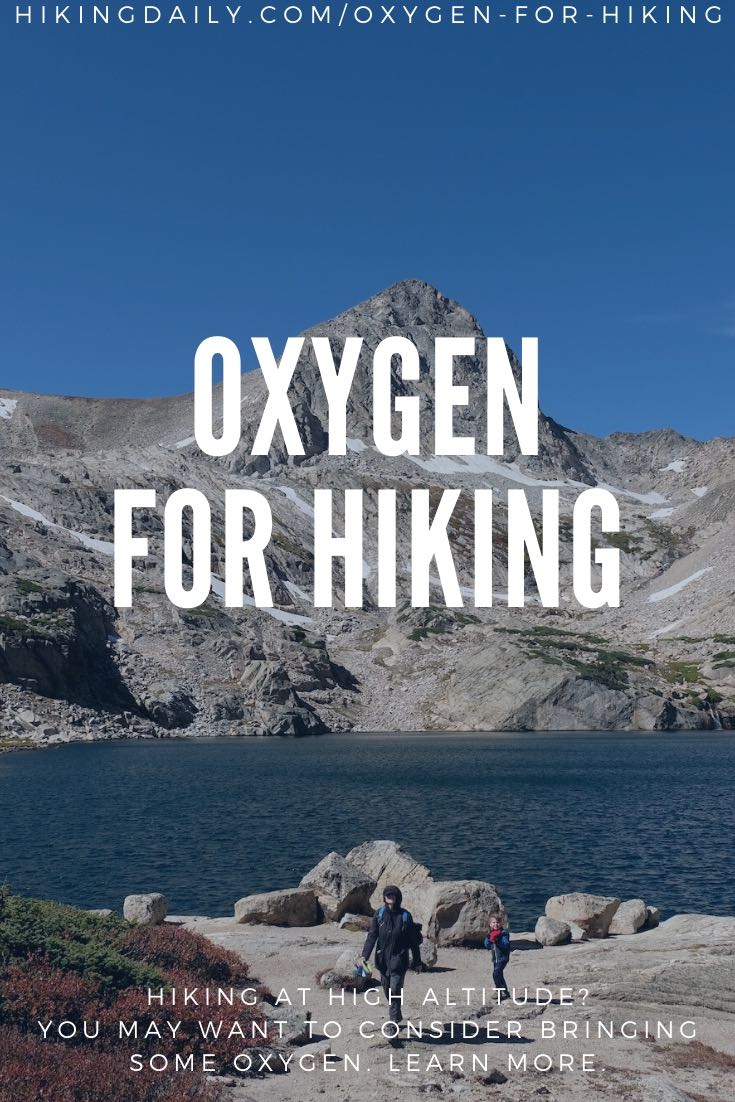 So, what exactly is oxygen for hiking?
You can now buy portable lightweight canisters of compressed oxygen to take on your high altitude hikes. No prescription required.
What's inside the canister? 95% pure aviators' breathing oxygen (ABO).
The most popular brand is Boost Oxygen. The company sells three different sizes: 10-liter, 5-liter, and a small pocket-size 2-liter canister. You can even buy flavored oxygen if you wish. Otherwise, the oxygen in these tanks is tasteless and odorless.
Throw a couple of cans in your hiking daypack. They are super light, almost like air (haha), and do not take up too much space.
Oxygen is intended to help hikers manage or avoid altitude sickness. So, if you are planning to travel to popular hiking destinations such as Rocky Mountain National Park in Colorado, Patagonia, Machu Picchu in Peru, or anywhere else at a high altitude you may want to consider having some oxygen on hand.
Here is what Boost has to say about their product.
Is oxygen for hiking effective?
Is oxygen an essential hiking gear item to get?
Boost oxygen is most effective for hikers that are traveling from sea level or low altitude locations to higher altitude locations.
It is also going to work best for those who are particularly sensitive to high altitudes. Some people are others are not.
At what altitude do you need oxygen when hiking? The impact of higher altitude is most noticeable when hiking above 7000 feet in elevation.
However, if you take the time to acclimatize you may not even need a supplemental oxygen supply.
If you currently live above 5000 feet in altitude, you may or may not find inhaling oxygen helpful or noticeable.
Does inhaling oxygen really work?
We tested the Boost Oxygen product to see if it was effective.
The test
Drive from Boulder Colorado (5,328 feet above sea level) to Nederland Colorado (8,228 feet above sea level)
The distance between the two locations is short (17 miles) and so the 3000+ foot gain is rapid (prime testing conditions)
Oxygen was inhaled before (in Boulder), during and after the hike (in Nederland)
Shortly after arriving in Nederland we went hiking
The test was conducted after spending a considerable time near sea level
Observations
Shortness of breath and occasional dizziness and slight sluggishness kicked in at a higher altitude for each person participating in the test. Pretty much right away.
One person in the group developed headaches and occasional feelings of nausea.
Inhaling Boost Oxygen definitely helped to eliminate the minor symptoms of altitude sickness (shortness of breath, dizziness, sluggishness). The relief was noticeable right away after taking a good breath of the oxygen. The oxygen was rejuvenating and energizing.
For the more severe symptoms of altitude sickness (bad headaches, nausea) Boost Oxygen was considered to have a positive impact. However, it was more difficult to measure the impact because the oxygen did not completely eliminate these symptoms. The recommended treatment for severe symptoms of altitude sickness is to return to a lower altitude immediately.
Conclusion
The Boost Oxygen product is totally helpful for hiking adventures at higher altitudes.
The oxygen was particularly effective in relieving the minor symptoms of altitude sickness while hiking.
The benefits of inhaling the oxygen were noticeable at 5000 feet in Boulder and even more so above 8000 feet.
We totally think these oxygen canisters are useful for hiking and are well worth the money spent.
In addition to relieving the minor symptoms of altitude sickness, we also found that inhaling the oxygen was energizing.
However, we highly recommend spending the time to go through the process of acclimatization! In other words, take your time to adjust to higher altitudes.
If you are traveling from a low altitude region to a high altitude location, consider spending a day or two at the base elevation of your destination.
Do a couple of easy hikes, and delay the more rigorous hikes at higher elevations that you have planned.
If you move to higher elevations immediately you run the risk of experiencing more severe altitude sickness symptoms.
Altitude sickness can totally ruin a vacation and render you completely useless for days. Totally, not fun. Nobody wants to see photos of that on Insta. Right?
Final notes on using oxygen for hiking at high altitude
A 10-liter canister of oxygen is supposed to hold 200 (1-second breath) servings.
We found that the supply seemingly empties quicker than you think.
Our recommendation is that each person in your group gets their own canister of oxygen.
How to use the oxygen canisters
Focus on getting a good solid breath
Slowly exhale to empty your lungs
Inhale a full breath of the oxygen
Pro tip: buy 12-packs of the 10-liter and 5-liter canisters to bring the cost down. This is a good idea if you are spending an extended time at high elevation. Simply buy online and get it delivered to your hotel or condo. Super easy.