This is our brand new guide updated November 17th, 2021. These are the newest and best hiking shoes for men that you can get right now as we head into the holiday sale season.
We have isolated the highest quality hiking shoes and we encourage you to buy the best pair that you can afford. Better quality, more expensive hiking shoes typically last longer (thus cost you less over time), and will provide much better foot protection.
Men's hiking shoes are better than ever. It is truly remarkable how much hiking footwear is improving each season and year. The newest hiking shoes of this current season are more comfortable, durable, supportive, and protective. At the same time, they are lighter than ever which helps to be nimble on the trails and conserve energy.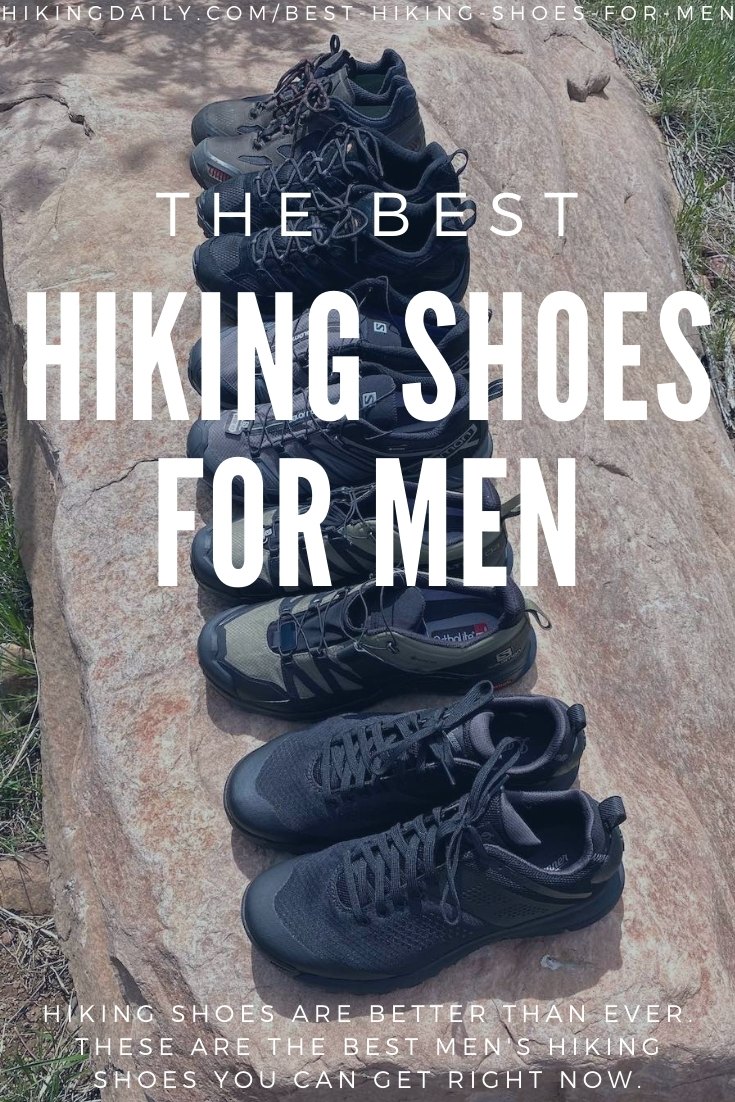 Hiking shoes can be divided into two main groups.
The first group of hiking shoes is durable, supportive, and protective and are suited for a wide variety of terrain. These hiking shoes are a bit heavier in weight. They are essential if you are hiking in mountainous rocky technical terrain. If you do long rigorous day hikes or weekend backpacking trips, these are the shoes you will want to check out.
And, the second group of hiking shoes is built with the cushiony comfort of trail running shoes in mind but offers the most common hiking shoe features. They are much lighter in weight and are more suitable for less demanding, less technical, easier, and shorter day hikes.
It is recommended to invest in both a sturdy and rugged pair of hiking shoes and a cushiony lightweight pair of hiking shoes. Not all hikes are equal, so it is a good idea to be prepared for a wide variety of terrains and conditions. You might also consider investing in waterproof hiking shoes, and also a pair of non-waterproof hiking shoes that are more breathable. This year I also started to wear robust trail running shoes on certain hikes. Specifically, I got the Speedgoat 4s by Hoka One One which are supportive and cushiony. The more options you have for your feet translate into happy healthy comfortable feet.
Our top picks listed below are the best men's hiking shoes you can get right now. All of them are made by the most trusted brands. I have tried them all on (and many more) to determine what is the best of today. None are a bad choice. Focus on what fits your foot best and feels good.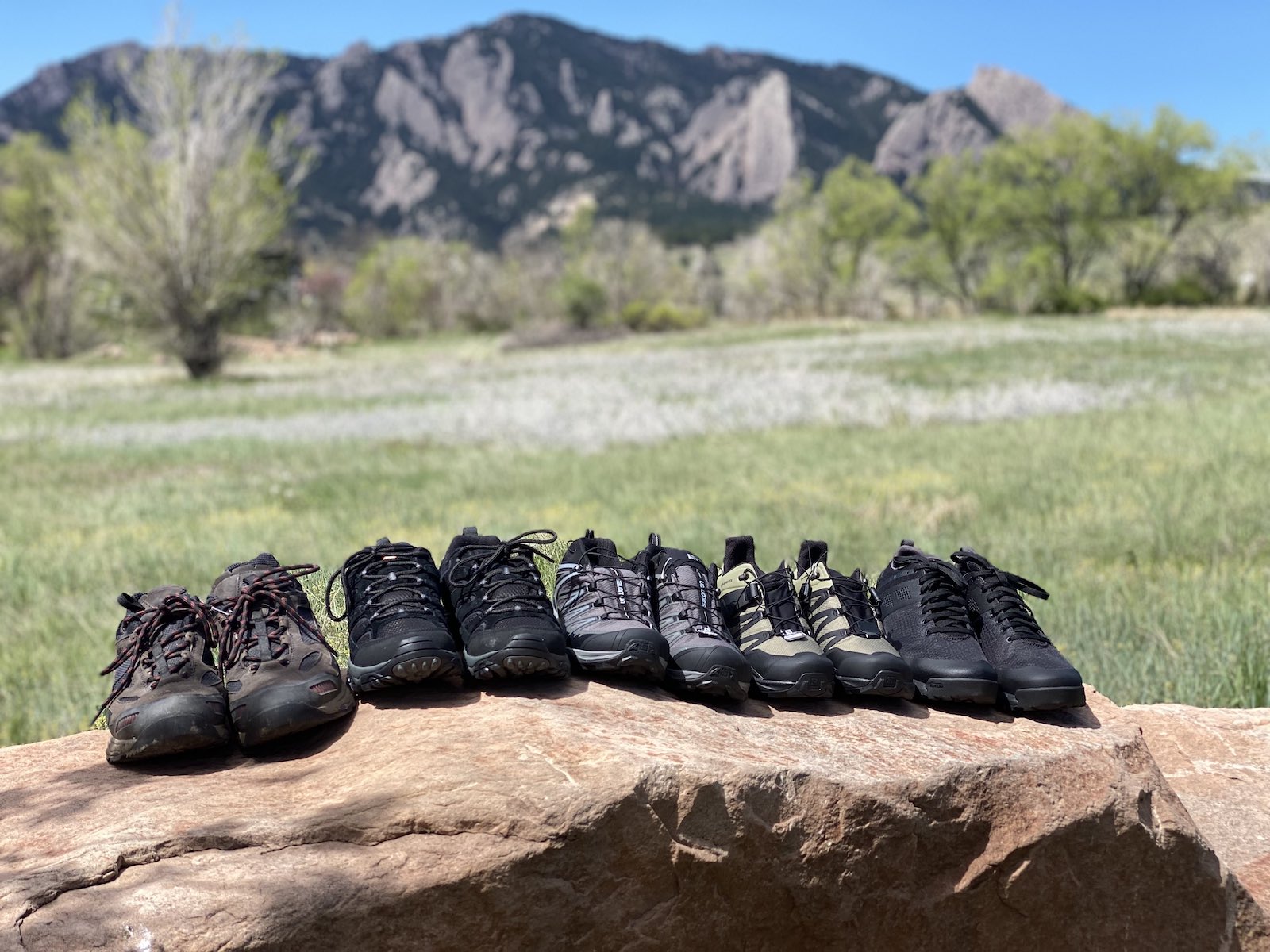 They have been organized from heaviest to lightest for the total weight of a pair as quoted by the manufacturer.
The Talus XT GTX is the most durable, stable, and supportive hiking shoe made by Vasque that you can use on any terrain. This shoe is suitable for long day hikes or weekend backpacking trips.
GORE-TEX with Performance Comfort Technology is waterproof and breathable
1.8-2mm durable nubuck leather upper
Molded polyurethane (PU) midsole
Dual-density EVA footbed
Vasque Exclusive Vibram Mega Nuasi outsole
Megagrip Compound aggressive tread grips any terrain
1082 grams
Check REI | Check Backcountry | Check Amazon
This is a tough and versatile hiking shoe that works for a wide variety of terrain. The Vasque Breeze AT Low GTX is one of the most durable yet comfortable hiking shoes you can get. The standard width fits a wider foot and also is available in a wide width as well.
I wear these hiking shoes often, and I picked them because they have a tough and grippy tread. They also provide incredible foot protection for rocky technical terrain.
Waterproof GORE-TEX membrane
Nubuck leather and abrasion-resistant mesh upper is durable and breathable
All-Terrain midsole with EVA Cushioning Pods is supportive and cushiony
TPU shank adds stability and foot protection
Protective rubber toe cap
Vibram Contact Grip with Megagrip rubber compound outsole
1021 grams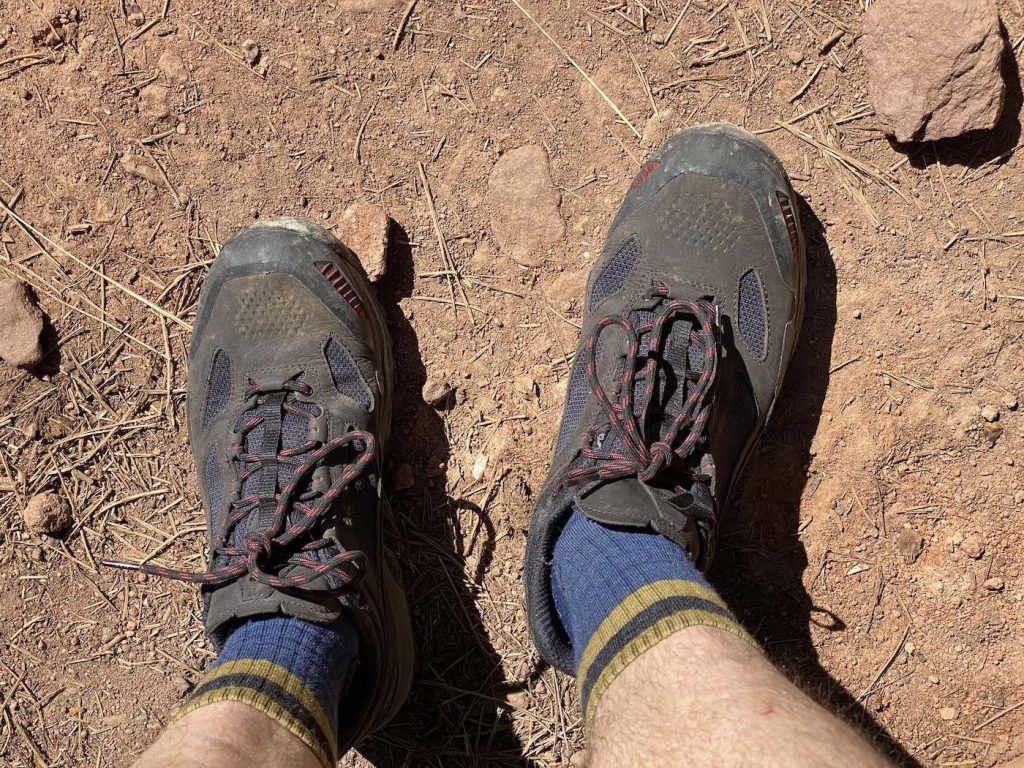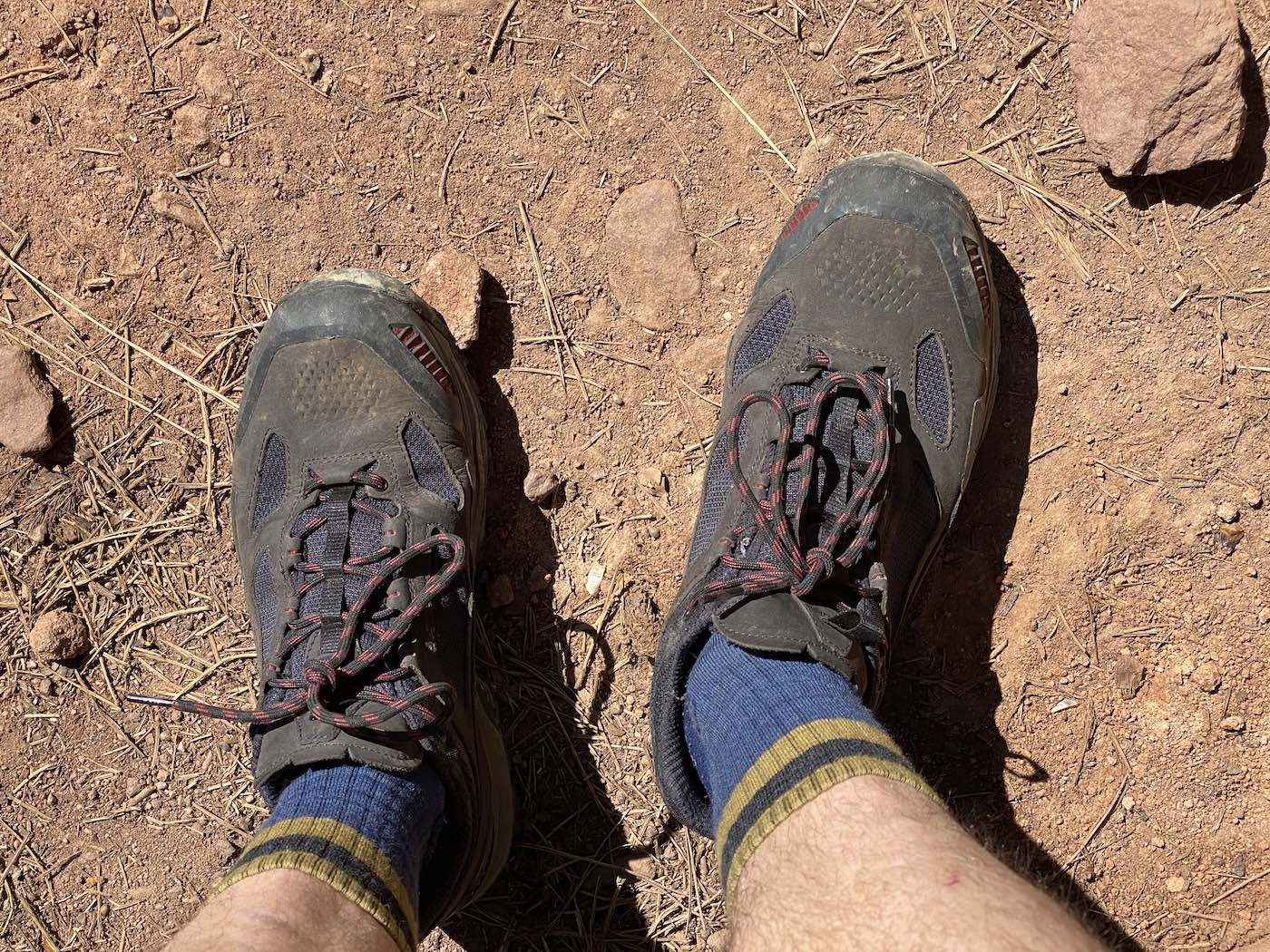 The Oboz Bridger is a great all-around hiking shoe that is built for comfort, support, and foot protection. The mostly leather upper is durable and tough.
B-DRY waterproof and breathable membrane keeps your feet dry
Nubuck leather and abrasion-resistant mesh upper
Single density EVA midsole
TPU chassis helps prevent bruising and adds stability
Tough, supportive outsole with rugged multi-directional tread
Rubber heel counter keeps your foot in place over tough terrain
Extra protection with rubber toe cap
1004 grams
A lighter weight, more breathable, and versatile hiking shoe by Oboz. This shoe is also available in a non-waterproof version.
B-DRY waterproof and breathable membrane
Wide forefoot and toe box
Nubuck leather upper with breathable mesh vents
Dual-density EVA midsole cushions foot
Nylon shank adds stability and support
Rubber heel counter keeps heel and foot securely in place
A rugged outsole with multi-directional tread
986 grams
Keen has been known for quality and comfort. With the Keen Venture Low waterproof hiking shoe, you get that, but in a lightweight package. This shoe is designed for aggressive fast-moving hikers. It features a light synthetic upper, a locked-in feel, and incredible traction for rocky and technical terrain.
KEEN.Dry waterproof and breathable membrane keeps feet dry
Lightweight high-performance synthetic mesh upper
KEEN.ALL-TERRAIN rubber outsole is tough
4mm multi-directional lug tread pattern
Stability shank for support
The heel-capture system delivers a locked-in feel
EVA midsole provides lightweight yet effective cushioning
964 grams
The Spire GTX by La Sportiva is a lightweight hiking shoe for day hikes in variable or rugged terrain. If you have hot feet this hiking shoe may be for you. The GORE-TEX Surround lining grants and La Sportiva Nano Cells combine for a super-breathable men's hiking shoe.
Waterproof with GORE-TEX Surround lining
Abrasion-resistant mesh upper with ultra-breathable Nano Cells
Compressed EVA midsole with unique ventilation channels
Ortholite mountain hiking footbed is supportive
Anti-torsion stabilization system provides stability on varied terrain
Vibram XS Trek with Impact Brake System outsole delivers traction and grip
Protective toe cap
880 grams
This is the most popular and iconic hiking shoe made by Keen Footwear. This hiking shoe delivers comfort, is durable, protective, and is suitable for a diverse variety of terrain. The Targhee III is one of the most dependable and supportive hiking shoes on this list. You can't go wrong with this shoe if you are looking for something that fits the "best overall" or most versatile category.
KEEN.Dry waterproof and breathable membrane
Full leather (durable) and mesh (breathable) upper
Compression-molded dual-density EVA midsole provides support and cushion
Rubber toe cap
TPU heel capture system adds stability
ESS shank for support
Internal shank increases stability and protection
4mm multi-directional lugs for excellent grip
Leather mud shield delivers extra durability and protection from the elements
873 grams
The Moab 2 hiking shoe is the most popular shoe (and boot) made by Merrell. This GORE-TEX version is going to be a great pick for most hikers and one of the best hiking shoes for beginners. Much like the Keen Targhee III, the Moab 2 hiking shoe is considered one of the best all-around and versatile options that offer a perfect balance of comfort, protection, and durability. Merrell aims for out-of-the-box comfort right away with the Moab 2 hiking shoes.
GORE-TEX waterproof membrane
Synthetic leather (durable) and mesh (breathable) upper
Bellows tongue keeps debris out of the shoe
EVA midsole delivers stability and comfort
Protective toe cap
Nylon arch shank adds stability
Merrell air cushion heel support
Vibram TC5+ outsole with 5mm lugs
844 grams
The Merrell Men's Moab 2 is available in another waterproof style (Moab 2 Waterproof). It is also available in a non-waterproof style (Moab 2 Ventilator) that is best suited for hot dry climates or for hikers that have feet that run hot and sweat.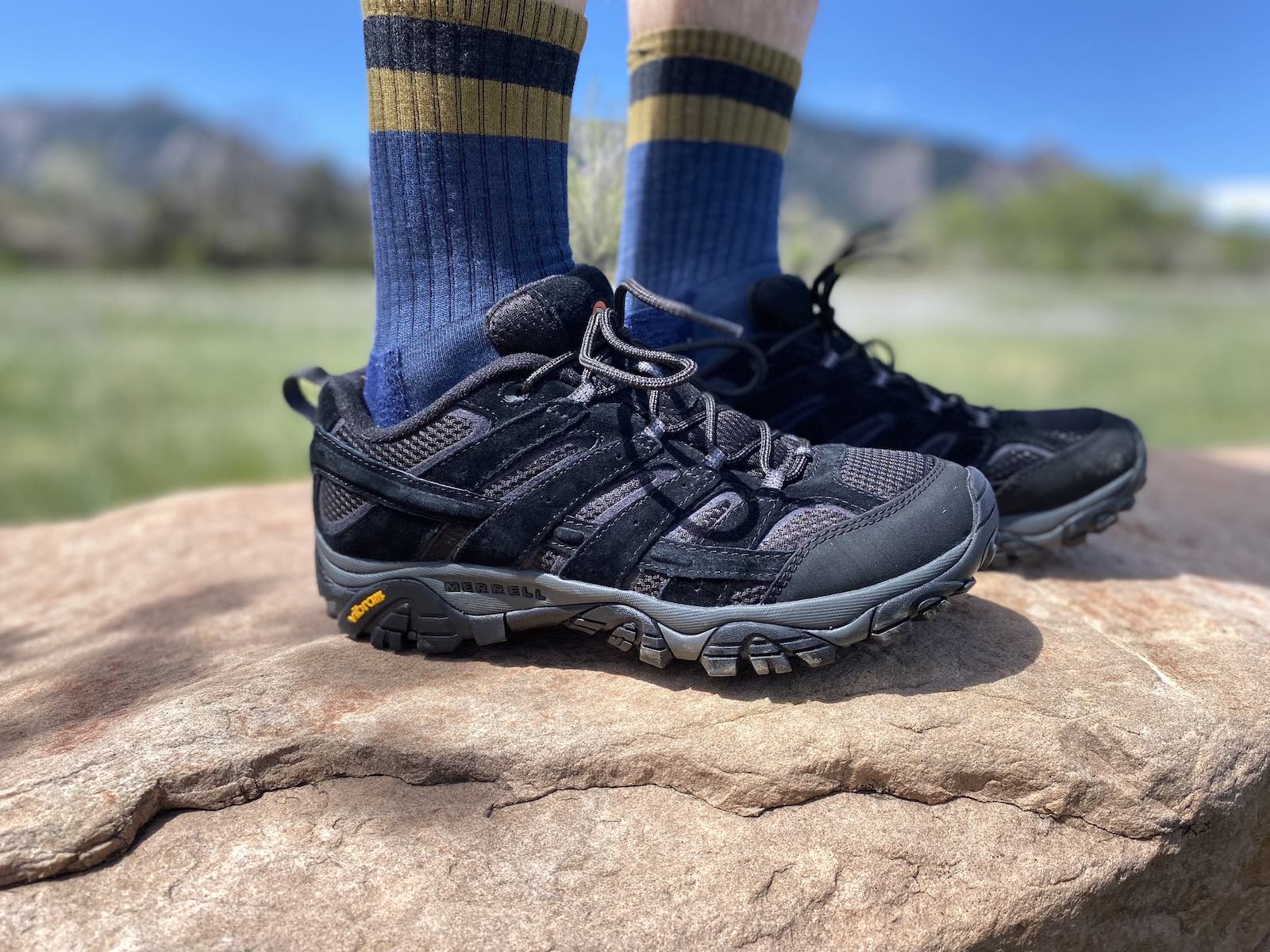 This is a new concept made by Keen that is built upon the iconic Targhee III hiker that features what they call the KEEN.BELLOWS FLEX. Keen claims that this feature allows you to flex or bend the toe box area of the hiking shoe with 60 percent less energy. Keen also claims that this new feature is more durable than a full leather upper.
KEEN.DRY waterproof and breathable membrane keeps your feet dry
Lightweight stability shank for support
Leather and mesh upper with KEEN.BELLOWS FLEX feature
KEEN.ALL-TERRAIN rubber outsole provides excellent grip
5mm multi-directional lugs
Compression-molded EVA midsole for support
The heel capture system keeps the foot securely in place
Treated with PFC-free DWR
Rubber toe cap provides foot protection
Weight not available
This hiking shoe is awesome. I really like how it is geared towards the fast, aggressive, power hiker. The Salomon X Ultra 4 Low hiking shoe is designed for grip, stability, and protection along with the comfort of a trail running shoe. It is built for stability on uneven and challenging terrain.
Waterproof with GORE-TEX
Synthetic upper is durable yet breathable
EnergyCell EVA midsole
Gusseted tongue keeps debris out of the shoe
Protective toe cap
Quicklace system keeps your feet snug
New ADV-C Chassis by Salomon provides extra stability
Sensifit by Salomon holds your foot snugly in place
Contagrip MA rubber outsole delivers grip on wet, dry, and loose rocky surfaces
Deep, aggressive multi-directional lug pattern
780 grams
Check REI Price: Salomon X Ultra 4 Low GTX
Check Backcountry: Salomon X Ultra 4 Low GTX | Wide
The Salomon X Ultra 4 Low is also available in a wide width, and a non-waterproof version.
You can also now get the brand new, more durable, and protective shoe style, the Salomon X Ultra 4 LTR GTX that has a full leather upper.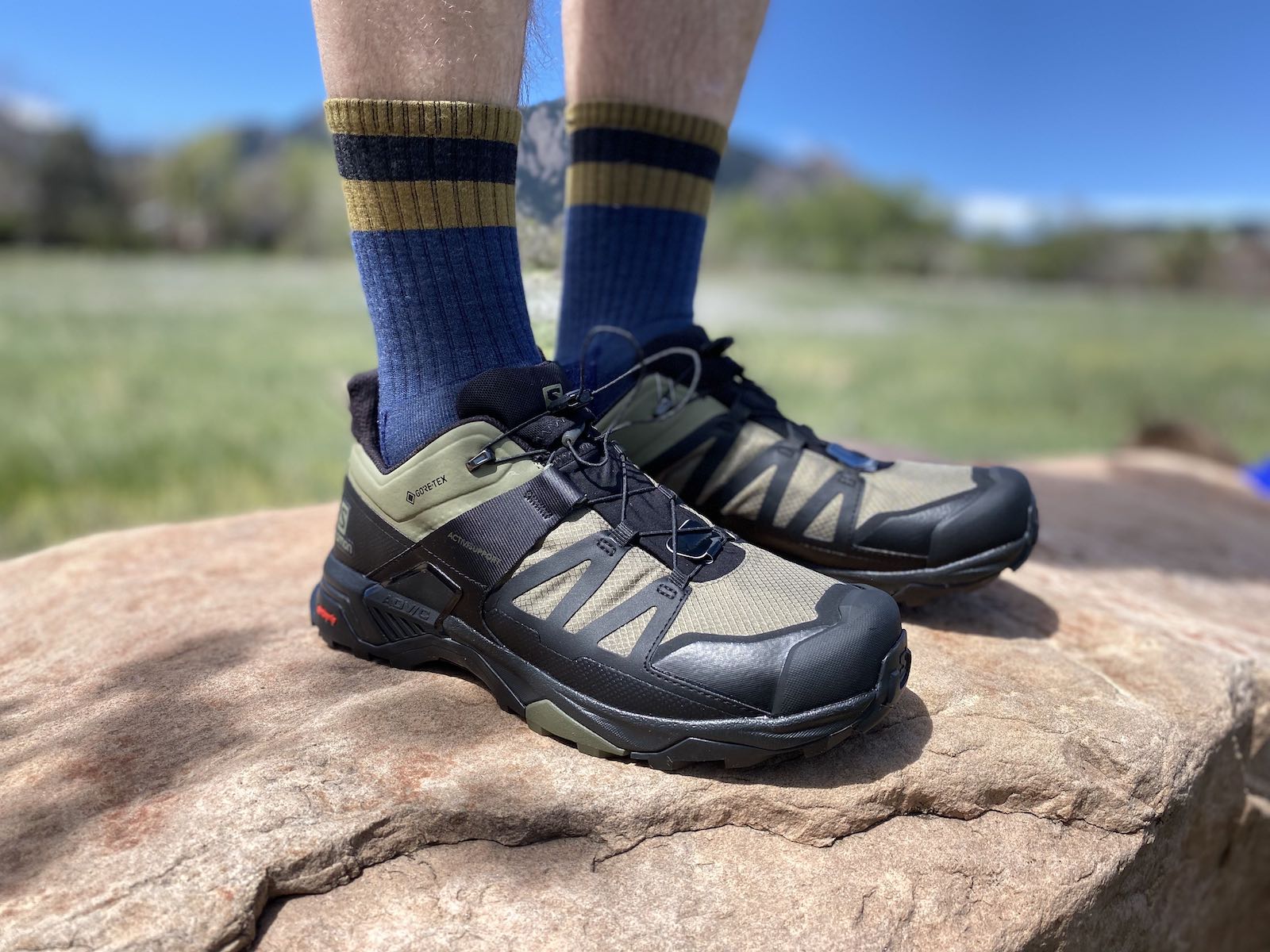 If you are an aggressive hiker that likes to move fast on the trails, consider the Obox Arete Low hiking shoe. This is a lightweight hiking shoe for men that offers really good support, foot protection and is suitable for wider feet.
Very breathable synthetic mesh upper
Multi-directional lug tread pattern delivers solid grip
TPU stabilizers and shank provide torsional flex and support
ESS forefoot plate provides foot protection
TPU toe cap for additional protection
Wide forefoot and toe box
768 grams
The Salomon X Ultra 3 Low GTX has been a very popular and top-rated hiking shoe. Despite the launch of the X Ultra 4, you can still buy the X Ultra 3 GTX hiking shoe. In fact, it appears that REI received a brand new shipment for this season. The X Ultra 3 Low GTX has received better reviews than the new update, so perhaps this is why both are available. The X Ultra 3 Low is a very supportive, protective, semi-lightweight hiking shoe that is built with the aggressive power hiker in mind. Salomon hiking shoes generally fit a regular to narrow foot, and so this shoe is available in a wide width and a non-waterproof version that offers greater breathability if you live in a hot dry climate.
Gore-Tex waterproof bootie liner keeps your feet dry
Descent Control technology helps navigate tough descents
Advanced Chassis stabilizes
EnergyCell foam cushioning
Contagrip TD rubber (two types) outsole provides excellent grip in all conditions (wet or dry)
Multi-directional lug tread pattern
Stitch-free synthetic upper provides a locked-in glove-like fit
Easy on, easy off quick-lace system
Gusseted tongue keeps debris out
760 grams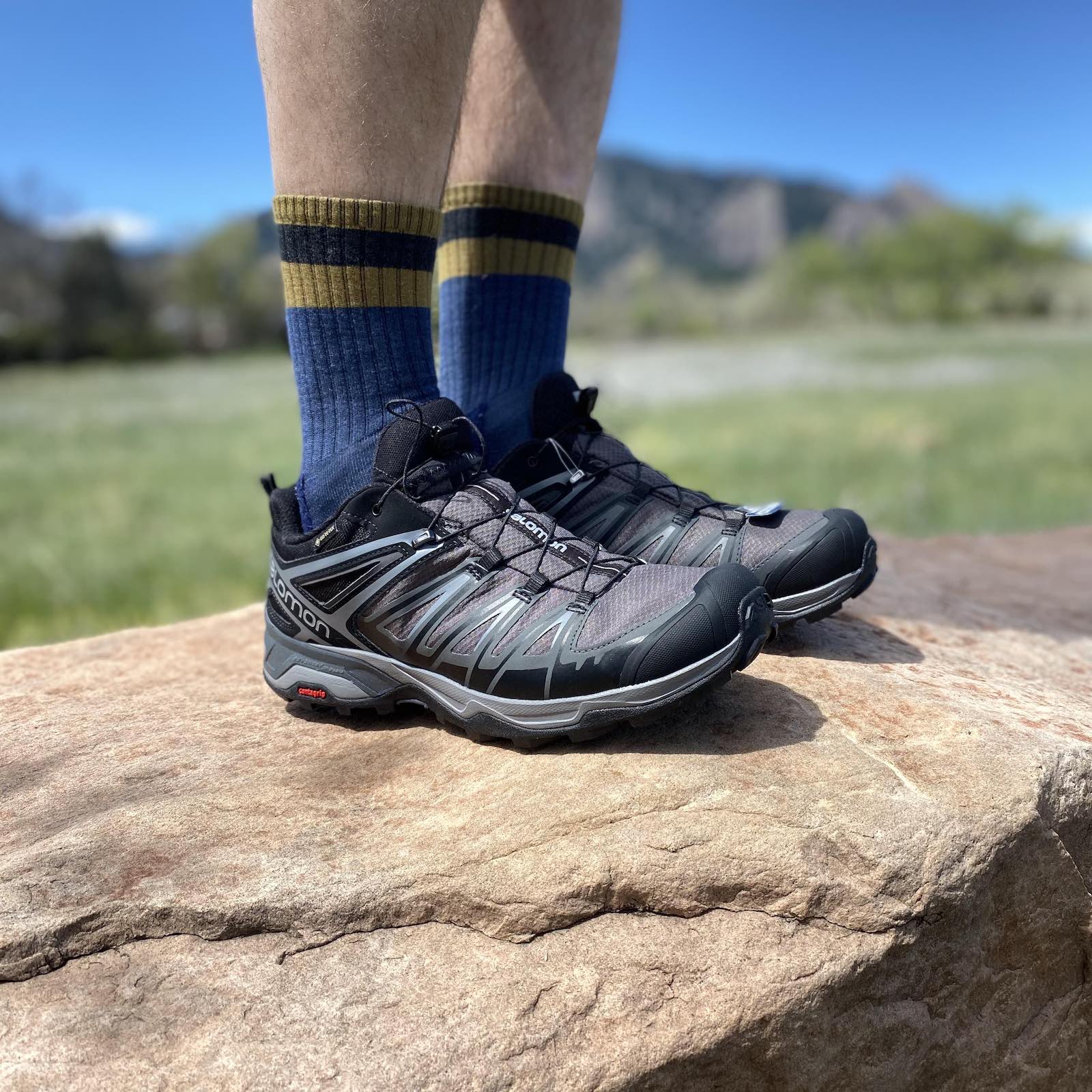 Looking for a comfortable lightweight and waterproof hiking shoe with some extra flex? Check out the brand new Keen Tempo Flex. This hiking shoe features the new feature KEEN.BELLOWS FLEX that is designed to make every step much easier on your feet.
KEEN.DRY waterproof and breathable membrane
Ripstop mesh upper with TPU overlays is durable yet light
Treated with PFC-free DWR
KEEN.ALL-TERRAIN rubber outsole delivers grip on all surfaces
4mm multi-directional lugs for traction
Shank for lightweight support
Weight not available
Check REI | Check Backcountry
A new fast-moving hiker by Merrell that harnesses inspiration from trail running shoes, but is more rugged, durable, and protective.
Waterproof (PFC-Free) GORE-TEX membrane
Tear-resistant mesh upper
Tongue-integrated lacing system keeps your feet snug and secure
Bellows tongue keeps out trail debris
Merrell Air Cushion heel delivers support and stability
Rock plate for underfoot protection
TPU toe cap delivers some foot protection
Merrell Quantum Grip rubber outsole offers grip on rocky terrain
5mm lug treads
709 grams
If you like Salomon hiking shoes and are looking for something that is comfortable as a running shoe or sneaker but has the grip and protection of a hiking shoe, then check out the Outline. And if you live in a hot and dry climate and do not need a waterproof shoe, you can also get the Outline without the GORE-TEX lining. The Outline is a fantastic lightweight hiking shoe that is perfect for hikers that like to run on the trails.
Waterproof with GORE-TEX lining
Synthetic mesh upper is breathable
Water-resistant treatment applied to uppers for extra weather protection
Protective mudguard protects feet and increases durability
Contragrip MD rubber outsole is durable
Protective toe cap
Gusseted tongue
5mm lug treads
700 grams
A minimalist, lightweight, fast-moving, high-performance hiking shoe. The Aerios FL Low GTX is another great shoe that was inspired by trail runners but adds more durability and grip for a variety of terrains. This hiking shoe is perfect for light day hikes.
Waterproof and breathable GORE-TEX lining
Cordura mesh upper
Compressed EVA midsole for cushion
TPU shank for extra support
Vibram Megagrip outsole
690 grams
Get out of the box comfort that Merrell Moab promises in a lightweight fast-moving hiking shoe. For a lightweight hiking shoe, the Moab Speed Low provides impressive durability and foot protection,
Mesh and TPU upper is lightweight and breathable
Grippy Vibram EcoDura rubber outsole with 4mm lug treads
FloatPro Foam midsole is cushiony
Underfoot rock plate protects feet against rock bruising
Protective toe cap
652 grams
If you are a fan of Vasque hiking shoes and want a lightweight shoe, check out the Vasque Breeze LT Low GTX hiking shoe for men. This hiking shoe draws inspiration from faster-moving trail running shoes but offers more tread and stable cushioning underfoot. The Breeze LT Low shoes shed weight (25% less than the Breeze III Low shoes) from the outsole with the Vasque exclusive Vibram LiteBase outsoles. These shoes are best suited for easy less technical hikes.
Waterproof Gore-Tex membrane
Durable abrasion-resistant synthetic mesh upper is light and breathable
Dual-density Enduralast EVA midsole
Tough Vibram Ground Control LiteBase outsole with Megagrip Compound
626 grams
The Danner Trail 2650 is a really good-looking hiking shoe. Super stylish and super comfortable. I own the Danner Trail 2650 Mesh Black Shadow in EE wide width. It is very breathable and is my go-to Summer hiking shoe.
Made in America, this hiking shoe draws inspiration from the 2650 miles of the Pacific Coast Trail. It is built for moving quickly over a variety of terrain. This hiking shoe is also available in a non-waterproof style for those hikers that live in a hot dry climate. This is the lightest men's hiking shoe of the bunch.
GORE-TEX lining is waterproof and breathable
Durable leather and lightweight textile upper
Ultra-lightweight EVA midsole
3-layer Ortholite footbed for support and cushion
Vibram 460 Outsole with Megagrip performs in wet and dry conditions
Danner Trailguard TPU shank delivers stability and underfoot protection over tough uneven and rocky terrain
365-day warranty
595 grams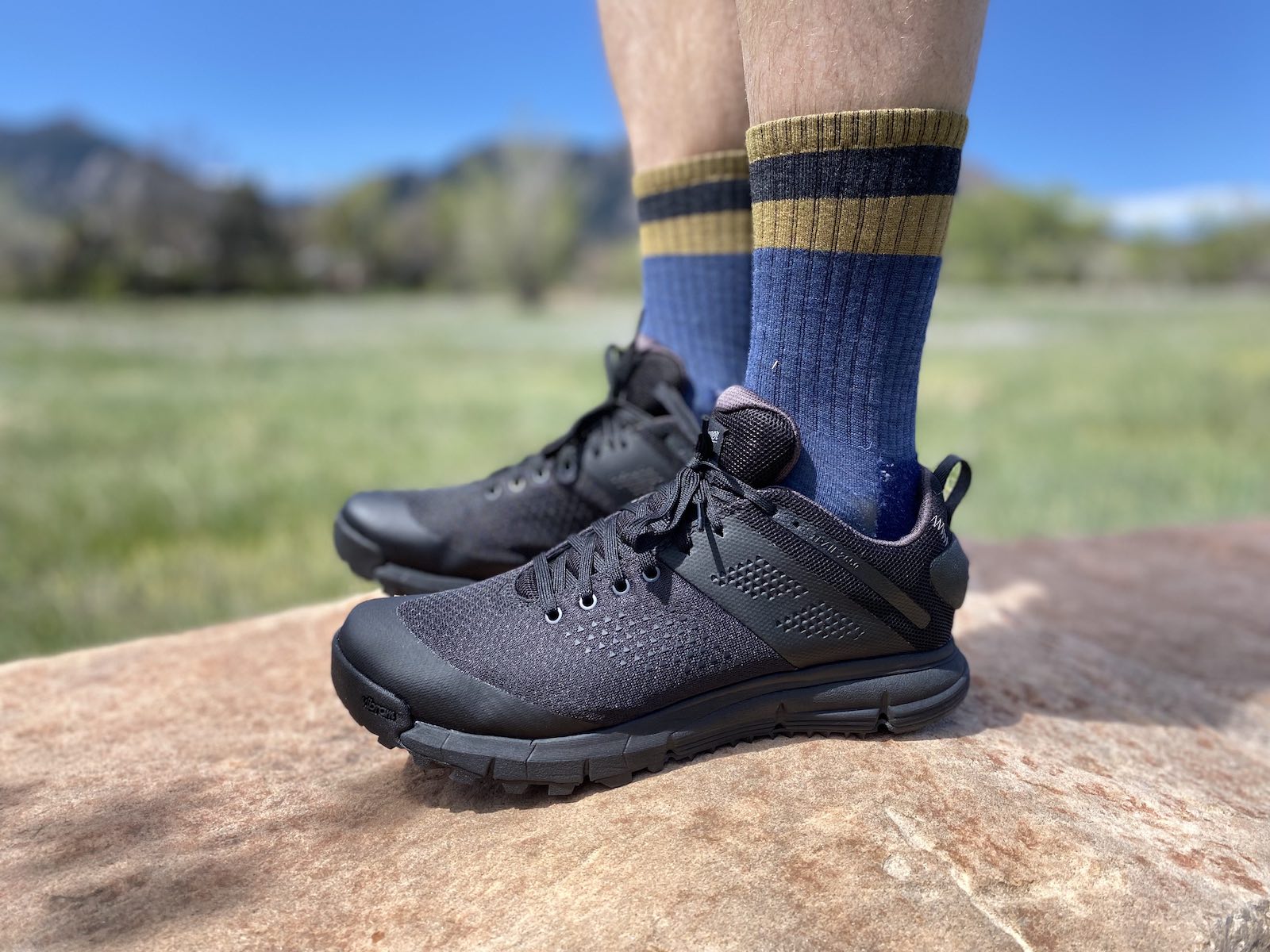 The Vasque Satoru Trail LT is a brand new super lightweight hiking shoe.
One piece super light TPU yarn mesh upper is breathable
Dual-density, Enduralast EVA midsoles provide cushion and support
Ethereal outsoles provide excellent grip and multi-directional traction

LiteBase technology
Megagrip compound

Synthetic textile liner wicks away moisture
New Biotic last promotes the natural movement of your foot biomechanics
Made of vegan friendly materials
567 grams in weight
Go even lighter with the Danner Trailcomber. This very breathable hiking shoe is perfect for easygoing, casual, fun hikes in hot dry climates. And it looks good around town too.
Abrasion-resistant Cordura upper
Quick-drying (drainable) and ultra-breathable
Vibram Litebase outsole with Megagrip delivers traction on wet and dry surfaces
Ultra-lightweight EVA midsole for cushion and comfort
EXO Lite Heel System helps maintain a secure fit
507 grams
The lightest hiking shoe of the bunch. HOKA ONE ONE leverages its expertise in trail running shoes to develop a waterproof and very lightweight hiking shoe for men that can tackle a wide range of terrain.
eVent Waterproof bootie
Breathable and durable synthetic upper
The rubberized midsole foam is cushiony and responsive
Vibram Megagrip outsole provides fantastic grip
Multi-directional lugs
425 grams
---
How to choose the best hiking shoes
What should you absolutely look for in your new pair of men's hiking shoes?
The simple answer is comfort.
Comfortable feet are happy feet that can hike for longer periods of time and distances.
Okay, let's cover what you need to know in order to stay comfortable in your hiking shoes.
Hiking shoe fit
First, buy some quality hiking socks. They are essential to sustaining comfort on hikes. Wear them when you try on new hiking shoes (in-store or at home).
The best fit for hiking shoes is snug, but not tight. The goal is to reduce any chance of your foot slipping around in the shoe. Try on several of our recommendations and determine what shoe best suits the shape of your foot. Pick out a shoe that has that wraparound feel to it. Do not buy a hiking shoe that has any feeling of tightness or has a pressure point. If the shoe is too tight, you will end up getting blisters. You should be able to wiggle your toes.
If you have wide feet look for a model that offers wider widths and compare to the regular width.
Pro tip: For the most accurate fit test out hiking shoes later in the day. Feet swell as the day (or your hike) goes on, and you want to take that into account. Also, spend time in each pair of hiking shoes that you do try on. At least 5 minutes. Move around. Go up and downstairs if you can. Walk and jog. Take the time to see how each different option performs and feels on your feet. If you wear orthotics, bring them. For extra comfort, consider buying insoles (footbeds) that are sold separately and are of better quality.
Waterproof hiking shoes
We highly recommend buying a pair of men's waterproof hiking shoes.
Why? Much better value, and comfort.
Most waterproof hiking shoes are not that much more expensive, if at all.
Plus, you are bound to encounter wet or snowy conditions at some point. You want to keep your feet dry to avoid getting blisters. Comfort is key when it comes to a fun time out on the trails.
Get a pair of hiking shoes that has Gore-Tex lining or an equivalent type of fabric that is both waterproof and breathable. Almost all the top brands offer waterproof hiking shoes these days. And, they are cheaper than ever.
If you live in a very dry and hot climate, then we do not recommend getting a waterproof hiking shoe. There is no need, and your feet will breathe better.
Ventilation and breathability
The materials used in hiking shoes impact ventilation and breathability.
The goal is to avoid getting sweaty, damp, or wet feet that will cause blisters.
Look for a hiking shoe that is a blend of leather (a small amount is often used to make the shoe more durable) and synthetic materials.
Or go for a lightweight hiking shoe that is entirely made of synthetic materials. This will maximize foot ventilation and breathability, keep your feet dry, and give you the best chance of avoiding blisters. Also, if they do get wet they will dry faster than leather shoes.
We recommend avoiding shoes that are constructed entirely of leather. They do not breathe adequately, are much heavier, and take a long time to dry.
Cushioning
Most people love the idea of shoes that offer the most cushioning. People often think more cushion equals more comfort.
However, this is not always the case when it comes to hiking shoes. Sometimes, a stiffer shoe with great traction is better and more comfortable. Particularly, when it comes to rocky uneven terrain and longer hikes. A stiffer, more durable hiking shoe will prevent bruising and discomfort caused by rocky trails.
If you know you are going to be hiking only very easy, flat, buttery soft trails, then perhaps a hiking shoe that offers more cushioning could be the better choice.
For most hikers, you want to get a shoe that strikes a balance between cushioning and stiffness. The midsole (space between the upper/top and the outsole/bottom/tread) construction is what determines the degree of cushion vs stiffness. EVA (ethylene vinyl acetate) is a material used to provide more cushioning. While polyurethane is used to provide a more firm, stiff, and durable feel to a shoe.
Stability and traction
Stability and traction are linked together to provide grip on the trails. The more grip you have, and the less time spend sliding or skidding around will drastically reduce the chances of developing blisters, or worse falling down and hurting yourself.
Look for outsoles that are made of durable materials and have treads that will grip a variety of terrain.
Vibram is a popular brand of outsoles that are known to be very durable and provide excellent traction and stability on a number of types of surfaces (wet or dry).
Treads with multi-direction lug patterns across the whole outsole and that have a significant depth (5mm) will give you superior traction.
Durable construction
Full nubuck leather or suede uppers are going to deliver the most foot protection and long-term durability. However, this decreases breathability. They may not be an option if you are hiking in hotter climates.
Look for a hiking shoe that is a blend of leather and synthetic materials in the upper if you want a more versatile shoe.
If you live in particularly hot climates go for a synthetic abrasion-resistant mesh upper.
Hiking shoes that have TPU shanks in the midsole will be more stable and durable and help to reduce bruising from rocks.
For durable outsoles and tread, you can't go wrong with Vibram.