Hiking boots are different than hiking shoes. If you plan to do long day hikes or weekend backpacking trips that cover a variety of terrain you should get a pair of hiking boots. The best hiking boots for men are durable, provide greater foot protection and stability, and have more rugged outsoles (treads) that deliver a better grip on the trails.
With so many features and brands picking the best hiking boot can be a daunting task. There is a lot to consider when choosing a new hiking boot. This guide simplifies the process for you and is going to make your decision super easy.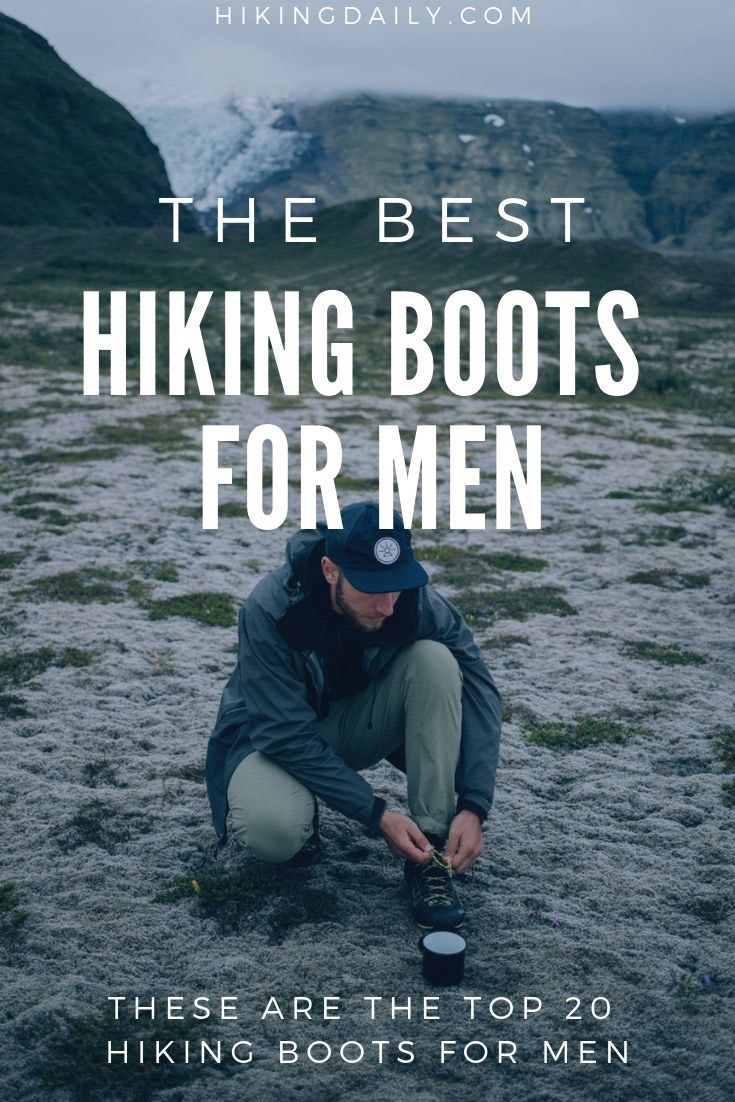 Do I really need hiking boots?
Yes, you do. Hiking boots are one of the most essential hiking gear items. Comfortable, and well-protected feet are going to improve the quality of your hikes dramatically. You do not want to spend your time thinking about uncomfortable hiking boots. Sore, bruised, blistered feet are no fun. If you are hiking across challenging, technical, rocky mountain terrain you certainly need hiking boots.
Hiking boots will also significantly decrease the chance of injury.
How do I choose a hiking boot?
To choose the best hiking boot you must think about a number of factors and circumstances of your future hikes.
Terrain (rocky vs. smooth trails)
Weather and trail conditions (wet vs. dry)
Your ability (strength and fitness level)
Fit and foot shape (wide vs. narrow)
Components and materials

Uppers
Midsoles
Outsoles/treads
Internal support

Features of hiking boots that may be helpful (or not)

Waterproof or water resistance
Ventilation and breathability
Durability

Protection
Cushioning
Stability and traction
Weight (lightweight vs. mid-weight)
Terrain
Ask yourself where you will be hiking, the types of terrain you will encounter, and what will be the duration of your hikes.
Lightweight or mid-weight hiking boots are a better choice if you plan on hiking longer days or multi-day hiking trips across rocky or root-filled hiking trails. If you are making big gains and descents in elevation the extra support and stability that hiking boots provide will be beneficial.
If you know that you will only hike soft, buttery, flat hiking trails, then a trail running shoe or a hiking shoe might be the better choice.
Weather and trail conditions
Weather is an important consideration and will impact the trail conditions and therefore your feet.
Ask yourself, where are you likely to hike and what are the types of weather you could encounter in that location.
Locations like the Pacific North West can be persistently wet. Destinations like this definitely require a waterproof hiking boot to keep your feet dry and to prevent blisters. Look for hiking boots that have a full leather upper that is treated, or Gore-Tex lining.
Other areas like Colorado or Utah are very hot and dry for much of the year. A hiking boot with leather uppers is likely too hot and will not breathe adequately. Gore-Tex may or may not be necessary. If you plan on hiking at higher elevations you may encounter rainstorms or even snow depending on the month. In these situations, you should probably go for a hiking boot that has a Gore-Tex lining.
In other hiking destinations such as Canada or Europe, weather can vary quite a bit season to season. So, a versatile hiking boot is likely your best bet.
Ability: Strength + Fitness
If you are a more active person or a frequent hiker (you hike several days per week) you are going to have a few more options. Lightweight or mid-weight hiking boots can work since your foot and ankle muscles will be stronger and more developed due to your experience.
If you are a beginner or intermediate hiker, or do not follow a regimented strength or fitness routine, look for a hiking boot that offers greater support and torsional rigidity.
Fit and foot shape
When you try on hiking boots make sure you wear real hiking socks. If you do not have any buy some. They are amazing. You will start wearing your hiking socks as everyday socks.
Get to know your feet. Go somewhere and get your feet measured. You want to know your foot length and width (normal, wide or narrow).
Most brands of hiking boots fit slightly differently. When you try on different brands and pairs of hiking boots take note of how each one feels. Some brands are simply not going to fit your foot. Others are going to feel amazing. Zero in on what fits your foot the best.
What to look out for and how to fit:
The foot should feel snug (but not tight)
No pressure points or slipping (whatsoever)
Finger width of space down the back
Toes should not touch the front
The heel should not slip up/down or side to side
Get the appropriate width
For the best results try on hiking boots later in the day. Feet swell between the morning and the afternoon. If you try on hiking boots in the morning they may feel tight on afternoon hikes and not fit properly.
Components And Materials
There are four main components that make up a hiking boot.
Uppers
The uppers are the top area of hiking boots that holds the laces and connects to the outsole or tread.
Uppers are made out of leather, synthetic materials, or a combination of the two.
Full leather uppers are found on hiking boots designed for long distance trekking adventures. They are very durable and often waterproof if treated and in good condition.
Lightweight hiking boots have uppers that are made of synthetic materials. They are more athletic.
Mid-weight hiking boots have uppers that are part leather and part synthetic materials. They are more versatile and the best option for most people. The leather is durable. The synthetic material is breathable and helps to decrease overall weight.
Midsoles
The midsole is found between the uppers and the outsoles.
The materials used in the midsoles provide both cushioning and support. What is used will determine the stiffness of the hiking boot.
The most common materials used in the midsole are EVA (ethylene vinyl acetate) and polyurethane.
EVA is softer, lighter, and more cushiony. EVA comes in different densities to provide more support or cushion where needed.
Polyurethane is stiffer and more durable than EVA. Polyurethane is more common in trekking and mountaineering boots.
Internal support
Some hiking boots have internal support that is sandwiched between the midsole and the outsole.
Some hiking boots have shanks that provide extra stiffness and torsional rigidity. This support is helpful when you are carrying a heavy pack.
Hiking boots may also have plates that protect your feet from rocks and roots and prevent bruising.
Outsoles and treads
The outsole is attached to the midsole and is the outer rubber surface found on the bottom of your hiking boots. This is essentially the tread of your hiking boot. The main features of outsoles are the lug tread pattern and the heel break that helps reduce sliding.
Key Features Of Modern Hiking Boots
The next task is to decide what features you will need in a hiking boot.
Waterproof hiking boots
In the past waterproof hiking boots were expensive. This is not the case today.
I recommend getting waterproof hiking boots because wet feet are uncomfortable and can lead to blisters.
There are two options.
The first option is to get hiking boots that have a full leather upper that is treated. Full leather hiking boots are heavy and will tire you out sooner. You also have to "break in" leather hiking boots.
The second option is to go for hiking boots that have a Gore-Tex lining. Hiking boots with Gore-Tex lining are lighter and generally more athletic. For most people, a waterproof hiking boot with a Gore-Tex lining is the best option.
Ventilation and breathability
If you hike in warmer climates or months of the year you will require a breathable hiking boot that has good ventilation.
Hot, sweaty, slimy feet are not an enjoyable experience.
Look for hiking boots with uppers that are partly leather (more durable) and partly made of synthetic materials that will let your feet breathe.
Durability
Hiking is hard on footwear.
Rocks, tree roots, water, snow and other debris damage hiking boots over time. Eventually, your hiking boots will fall apart.
Hiking boots that have the most leather in the upper are going to be the most durable hiking boots. However, more leather used decreases ventilation. Synthetic materials in the upper improve breathability and ventilation.
Look for a hiking boot that has a good blend of leather and synthetic materials in the upper. These are the most versatile hiking boots you can get. Most hiking boot manufacturers attach a leather exoskeleton on top of the breathable synthetic material. The leather exoskeleton wraps the foot in areas that are most prone to abrasion.
A durable outsole is also hugely important if you want your hiking boots to last longer. Vibram soles are known to be tough and durable and are a great option. Many top brands have Vibram soles or their own proprietary equivalent. Get hiking boots that have deeper lug tread patterns.
Protection
Protection is a key feature in a hiking boot. Unless you only hike on soft buttery trails, grass, or roads you need to protect your feet from bruising and injury.
Hiking over rugged or rocky terrain demands foot protection.
A partly leather upper (in key spots) will protect your feet from rocks, sticks, roots and other trail debris.
Some hiking boots have tough rubber protection up front to protect your toes.
Other hiking boots have plates in the midsole to prevent bruising from the pressure of rocks and roots under your feet.
Shanks provide torsional rigidity that helps keep your feet stable and secure when you are carrying a heavier load across more technical terrain.
Cushioning
Cushioning is provided by the EVA midsole. However, you don't really want a super spongy cushiony midsole in a hiking boot. Some cushioning is important. But it is actually stiffness that is important and what will deliver more comfort over variable terrain and longer hikes. A stiffer midsole will protect your feet and prevent bruising from rocks.
Stability and traction
Maintaining a firm grip on the trails is critical to preventing blisters, muscle strain, and conserving your energy. Slipping around on inadequate soles is slow, not fun, and can be dangerous.
Look for treads that have widely spaced, multi-directional, and deeper (5mm) lug patterns.
Some hiking boots have heel brakes. Heel brakes are clearly defined heel areas of the outsole that will help prevent slipping on steep descents.
Opting for a hiking boot with internal shanks is a good idea if you intend to do multi-day (2-3 days) hikes. The extra stiffness from the shank will give extra support when carrying a heavier backpack.
Weight
The weight of your hiking boots is an important consideration. The heavier the boot, the more quickly you will tire out on the trails or your backpacking adventures. Lighter weight hiking boots are more maneuverable, nimble, and will help to conserve energy so you can go further each hiking day. In this guide, we focus on lightweight hiking boots and mid-weight hiking boots. All of our top picks below are perfect for any day hike or shorter (weekend) backpacking trips.
Okay, now that we know what to consider when picking a hiking boot, let's take a look at the best hiking boots that are available for this hiking season.
For most of the top brands, we will provide a choice of the best lightweight men's hiking boot and the best mid-weight hiking boot for men. These two weights of hiking boots are best for most hikers and the majority of trails. Heavier weight boots are for long-distance hiking and trekking and we will examine these types of hiking boots in a separate article.
If you hike often, are strong and in great shape, a lightweight hiking boot is probably better.
If you are a beginner or intermediate hiker, hike occasionally, or don't do intense physical activity very often, a mid-weight hiking boot that offers more protection and support is probably best for you.
Okay, let's take a look at the best hiking boots for men to get right now.
The Best Men's Hiking Boots (2020 Models Only)
These are all the top brands and only the newest hiking boots available.
Merrell Hiking Boots
The Pulsate 2 is a durable, waterproof hiking boot that offers great protection on a wide variety of terrain.
Waterproof (M Select DRY) membrane
Full grain leather upper (durable)
Bellows tongue keeps trail debris out
Breathable mesh lining
Protective rubber toe cap
Merrell air cushion heel
Compression molded EVA midsole
Nylon arch shank
M Select GRIP outsole with 5mm lug depth
1 lb or 468g in weight
The Moab 2 is the highest rated men's hiking boot by Merrell. They call it the mother of all boots. The Moab 2 is a versatile hiking boot that will work hard on all terrain.
Waterproof (Gore-Tex membrane)
Very breathable
Synthetic leather and mesh upper
Rugged Vibram TC5+ sole with 5mm lug depth
Rubber toe cap
Breathable mesh lining
Nylon arch shank
1.1 lbs or 494g in weight
Salomon Hiking Boots
The Salomon Outline Mid GTX is a sleek, stylish, lightweight men's hiking boot that is suitable for most day hiking adventures and trails.
Waterproof (Gore-Tex)
Synthetic mesh upper
High performance EVA midsole
Protective mud guard
Gusseted tongue keeps trail debris out
Durable rubber compound Contagrip outsole
Slim fit (narrow feet)
0.9 lbs or 415g in weight
This is a high-performance lightweight hiking boot and weights just one pound. The X Ultra 3 is waterproof, designed for tremendous control on steep descents, has awesome grip, and is built for those that have wider feet.
Waterproof (Gore-Tex lining)
PU coated leather and anti-debris mesh upper
High performance EVA midsole
Breathable mesh lining
Gusseted tongue
Multi-directional lug tread pattern
Durable rubber Contagrip TD outsole
Wide fit
1lb or 450g in weight
Vasque Hiking Boots
A brand new lightweight hiking boot. The Vasque Breeze LT GTX is for athletic, fast-moving hikers. This is a sleek great looking men's hiking boot. This is the lightest hiking boot on the list.
Waterproof (Gore-Tex lining)
Abrasion-resistant mesh upper
Vibram Ground Control LiteBase outsole technology
Vibram Megagrip traction
0.83 lbs or 377g
The Vasque Breeze III is a top choice for many hikers around the world. It is a light to mid-weight hiking boot for men that is waterproof, durable, and offers great foot protection. The Breeze III hiking boot is perfect for hikers that require comfort and durability for higher mileage hiking adventures. A great boot for long day hikes or weekend hikes.
Waterproof (GORE-TEX with Extended Comfort Technology)
Uppers combine durable nubuck leather and breathable mesh
Midsole with EVA cushioning pods and TPU shank
Vibram Contact Grip with Megagrip Compound outsole
1.3 lbs or 599g in weight
Keen Hiking Boots
This is a brand new high-performance lightweight hiking boot by Keen. The boot is waterproof, has a light synthetic upper, laces up in a locked in feel, and treads that deliver insane grip.
Waterproof (Keen Dry breathable membrane)
Lightweight mesh upper
Keen All-Terrain rubber outsole
Multi-directional lugs (4mm) for traction
KonnectFit heel-stability system
Stability shank for lightweight support
Weight not disclosed
The Targhee III is the most popular Keen hiking boot for men. It is a waterproof, durable hiking boot with a new updated look for this hiking season. Take these hiking boots further.
Waterproof (Keen Dry breathable membrane)
Mostly leather upper (durable) with some mesh windows for breathability
Leather mud shield offers extra durability
Protective toe cap
Compression-molded dual density EVA midsole
ESS shank delivers support and foot protection on long hikes
Multi-directional lugs (4mm) for traction
Injected TPU heel-capture system for extra stability
Weight not disclosed
North Face Hiking Boots
North Face has a great looking lineup of men's hiking boots. North Face seems to have a knack for creating durable, protective, yet lightweight hiking boots. We had a tough time narrowing it down to just two pairs so we picked out four of their latest hiking boots.
This is a great looking lightweight men's hiking boot. The North Face Hedgehog Fastpack is a mid-cut, waterproof, durable, supportive hiking boot for fast moving hikers.
Waterproof (Gore-Tex)
Abrasion-resistant and breathable mesh upper
Polyurethane (PU) coated leather upper in key locations (more durable)
TPU Cradle heel support
Dual-density, compression-molded EVA midsole
TPU shank for better arch support (helps you go further)
Durable Vibram outsole
1.1 lbs or 527g in weight
Another awesome lightweight hiking boot for men by North Face. The Ultra Fastpack III is for the fast nimble hiker that needs support and foot protection while covering miles of rugged terrain. This lightweight hiking boot is packed with very cool technologies to keep you moving in comfort.
Waterproof (Gore-Tex) breathable membrane
TPU-coated (durable yet light) woven mesh upper
TPU-coated toe cap for protection
TPU heel overlay delivers extra stability
Dual density FastFoam midsole (responsiveness + stability)
ESS midfoot shank protects from stone bruising
Vibram Megagrip outsole
0.96 lbs or 436g in weight
The North Face Endurus hiking boot for men is still very light in weight but is more durable and protective like a mid-weight hiking boot that allows you to hike longer distances. North Face claims this boot stands up for section hikes or thru-hikes.
Waterproof (Gore-Tex) breathable lining
Super comfortable and durable
Rugged toe protection (TPU toe cap)
TPU coated side panels are breathable and supportive
Vibram XS Trek outsole (4mm lugs)
Forefoot-to-midfoot ESS Snake Plate protects feet from bruising
XtraFoam midsole is a softer density underfoot for cushioning and a firmer density around the edges for stability
0.95 lbs and 435g in weight
The North Face Storm III is another lightweight men's hiking boot that performs like a mid-weight boot.
Waterproof
Gusseted tongue keeps debris out
Suede and breathable mesh upper
ESS Snake Plate protects forefoot from bruising
Compression-molded EVA midsole
1.07 lbs or 486 g in weight
Ahnu (by Teva) Hiking Boots
Arrowood Riva Mid Waterproof
The Arrowood Riva by Ahnu is a mid-weight hiking boot for men. You can take this hiking boot over the most rugged technical terrain.
Waterproof leather upper
eVent waterproof breathable membrane
Protective rubber toe cap
EVA midsole and PU heel pad for cushiony support
Vibram outsole
Nylon shank for extra stability and support
1.1 lbs or 498g in weight
Oboz Hiking Boots
The Oboz Sawtooth II is a waterproof hiking boot that works for day hikes or weekend backpacking adventures.
Waterproof B-Dry membrane
Large vents deliver superb breathability
Nubuck and abrasion resistant fabric upper
Supportive heel cup
Dual-density EVA midsole provides cushioning and stability
Nylon shank for extra support
Sawtooth outsole
1.18 lbs or 539g in weight
This is the flagship hiking boot for men made by Oboz. This boot leans toward a mid-weight style that aims to be very durable and breathable at the same time. It is waterproof and protective.
Waterproof and breathable membrane (Oboz B-DRY)
Rubber toe cap delivers protection and durability
Nubuck and abrasion resistant fabric upper
Tough Granite Peak outsole protects feet from rocks and roots
Single density cushiony midsole
TPU chassis in midsole protects feet and improves stability
Heel cup locks in your foot
Standard and wide widths
Weight not disclosed
La Sportiva Hiking Boots
The Stream GTX is a waterproof, lightweight, super breathable hiking boot for men by La Sportiva.
Waterproof Gore-Tex Surround lining
Vibram XS Trek outsole with impact brake system
Durable abrasion resistant mesh upper
Nano Cell 2.0 Technology in midsole and footbed maximizes breathability
0.9 lbs or 409g in weight
The Blade GTX is a versatile lightweight hiking boot that can be used for aggressive fast hiking, trail running.
Waterproof Gore-Tex AirMesh upper
Abrasion-resistant upper
TPU Microlite skeleton provides extra support and durability
All-terrain Frixion outsole
Impact brake system in sole
0.95 lbs or 432g in weight
This is the most durable lightweight hiking boot by La Sportiva that is perfect for more rugged terrain and backpacking trips where you are carrying moderate loads. You can't find a more breathable hiking boot that has a leather upper.
Waterproof (Gore-Tex)
Durable nubuck leather upper
Incredible breathability (Nano Cell 2.0 structure)
Gore-Tex Surround aeration channels in the footbed and midsole
Vibram XS Trek outsole
Impact brake system in the heel area
1 lb or 470g in weight
Technica Hiking Boots
Technica divides their offering into two camps: trekking (boots) and hiking (shoes). In this article, we focus on hiking boots. Check out our guide to the best hiking shoes for men if you really want a Technica product.
Hoka Hiking Boots
Men's Toa
The Toa by Hoka is a lightweight hiking boot for the speed hiker.
Waterproof (eVent waterproof bootie)
Breathable synthetic upper
Durable and responsive midsole
Vibram Megagrip outsole
Multi-directional lugs
0.94 lbs or 425g in weight
Columbia Hiking Boots
If you are on a strict budget and are looking for a more affordable men's hiking boot one of these Columbia hiking boots could be a great option for you. They are significantly less in cost. If you do not have budget constraints we think there are better options above.
This is an athletic lightweight hiking boot that is waterproof and best suited for easier, shorter hikes.
Key Features:
Waterproof (OutDry) breathable construction
Durable closed mesh upper
Techlite EVA midsole
Non-marking rubber outsole
0.89 lbs or 402g in weight
This concludes our guide to the best hiking boots for men. Now you have 20 hiking boot options that will make your decision super easy!