Hiking socks are very different than other types of socks. They are designed specifically for performance and are meant to prevent slipping or bunching while hiking. They are more comfortable and durable. Hiking socks definitely help to prevent blisters. Read on to discover why you should absolutely invest in the best hiking socks money can buy. I own seven pairs of hiking socks in different weights and lengths. One for each day. I wear them more often than any other socks. Getting the right hiking footwear is super important if you want to maintain a big smile while out on the trails.
Compared to regular socks, hiking socks are built to handle wear and tear in different ways and have extra features that regular socks do not offer. Some of these features include wicking to keep your feet dry, heel support, cushioning, different lengths, and a better fit for hiking boots.
There are options for both the summer months and winter months to keep your feet at the right temperatures for all of your exploring.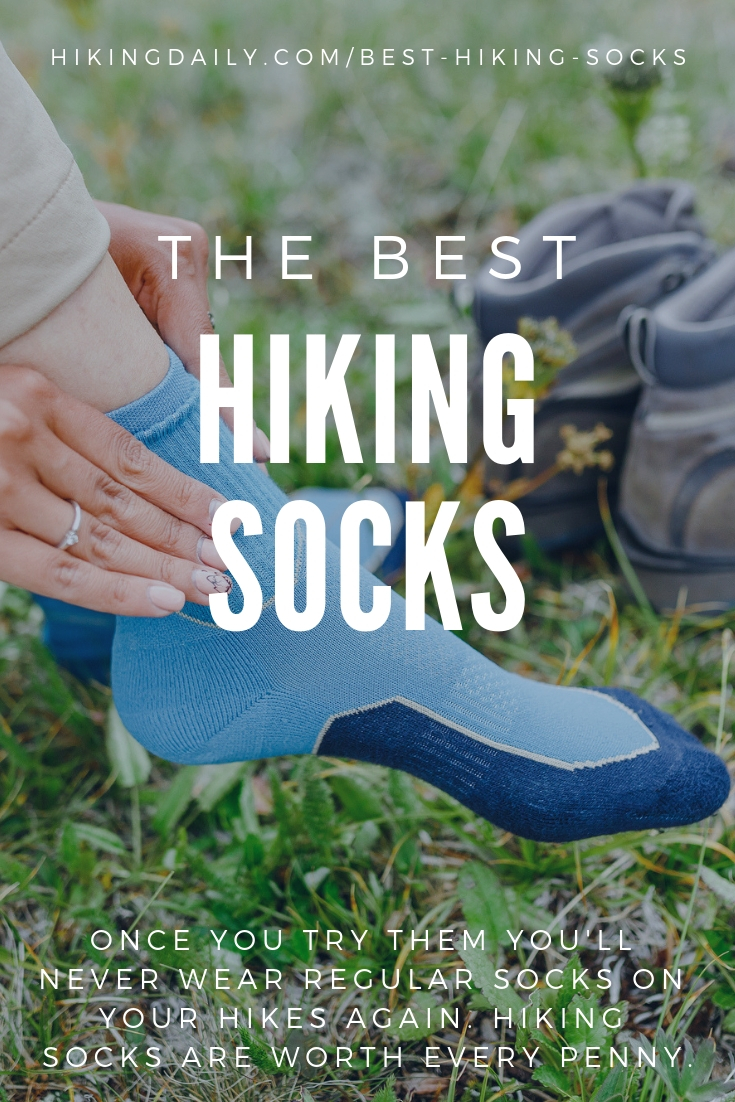 This guide breaks down the different types of hiking socks, what you need to keep an eye out for when you're buying a pair, and how to find the right ones for the types of hikes you like to do.
The Best Socks For Hiking + Backpacking
Few socks are as great as Darn Tough hiking socks. These merino wool hiking socks are super comfortable, durable, and breathable. I wear them all the time, even when not hiking. Some of my Darn Tough socks have now lasted over six years! They are more expensive but the value of longevity is priceless. Also, they are without a doubt the best hiking socks to prevent blisters. All Darn Tough socks have a lifetime warranty so how can you go wrong?
Let's take a look at our top pick for most hikers.
1. Darn Tough Hiker Micro Crew Cushion (MEN | WOMEN)
I own several pairs of these and they are my favorite hiking sock. Each year, I buy a new pair.
I just picked up 3 new pairs at 25% off the regular price of this sock during the 2021 Labor Day Sale at REI.
These socks are totally the best hiking socks ever. There's no doubt about it.
The micro crew cushion sock is a great all-around and super versatile hiking sock that you can wear in almost all conditions. It is considered a mid-weight hiking sock.
These socks will keep your feet cool in the Summer and warm in the Winter. For me, these are the best hiking socks to prevent blisters.
They have a decent amount of cushioning, wick sweat away very well, and are breathable so your feet will stay dry and comfortable.
Sock sits between just above boot to mid-shin
Performance Fit: No slipping, no bunching, and no blisters
Durable: Will last for countless hikes
Super comfortable: you will forget you have socks on your feet!
Mid-level cushion density
Fast wicking and drying
Truly seamless design is very comfortable
61% Merino wool, 36% Nylon, 3% Lycra/Spandex
Guaranteed for life
Check REI Price: MEN | WOMEN
Check Backcountry Price: MEN | WOMEN
Check out all other styles of Darn Tough hiking socks.
The Hiker Micro Crew socks are often my go-to Summer hiking socks, but I also wear them in colder weather. They truly work for all seasons of hiking.
2. Darn Tough Light Hiker Micro Crew Socks (MEN | WOMEN)
Do you generally run hot? Or, do you often get sweaty feet?
If so, a lightweight more breathable sock is a good option. These socks are lightweight but do not sacrifice durability by adding extra nylon into the fabric. I wear them on very hot days for my Summer hikes here in Colorado.
This sock has mesh panels over the tops of your feet to let the heat out. Sock uppers stay firmly in place. Overall the cushioning of these socks is lighter in weight. The socks feature seamless construction, sot there is less chance of bunching. This will help to reduce the chance of blistering.
The length of these socks is a bit shorter than our top pick, but still well above the ankles.
I wear my light hiker micro crew socks most often as summer hiking socks when my hiking shoes get a bit hot inside on long hikes.
Sock sits just above the average hiking boot
Mesh panels for maximum breathability
Extra cushion over the Achilles
No slipping, bunching, blisters
Seamless design
All season performance
High performance wicking
54% nylon, 43% Merino Wool, 3% Lycra Spandex
Check REI Price: MEN | WOMEN
Check Backcountry Price: MEN | WOMEN
3. Darn Tough Hiker Boot Full-Cushion Socks (MEN | WOMEN)
Do you have super sensitive feet that are prone to blistering? Want a long-lasting and ultra-durable sock?
Then the hiker boot full-cushion socks may be your calling. These are high-performance hiking socks that will keep your feet happy on long days. No slipping, no bunching, no blisters.
Due to the extra cushioning of this heavier weight hiking sock, you get efficient fast action wicking so your feet will stay dry and comfortable against the inside of your hiking shoes or hiking boots. You can wear these socks all year round. For my feet, they are the best winter hiking socks. My winter hiking boots are a bit roomier, so I like a thicker sock to fill the gaps.
Socks sit mid-calf in length
Full cushion = full comfort
Provide additional warmth and protection
Wick sweat away really well (super high-performance)
All weather performance (work well in Summer and Winter)

66% merino wool, 32% nylon (provides durability), 2% Lycra Spandex

Guaranteed for life
Check REI Price: MEN | WOMEN
Check Backcountry Price: MEN | WOMEN
All three styles that we featured are great picks. Each deserves the crown of being the best hiking socks. I have them all and wear them for different reasons in different conditions. You can't go wrong owning each, or any of the other styles offered by Darn Tough.
---
How to choose the best hiking socks
Not all socks are equal. When you are reviewing the options, keep these features and factors in mind.
Price
What turns a lot of people away from buying the best hiking socks is that they're usually more expensive than other types of socks. However, the thing you need to keep in mind is that they're built to last longer and you won't regret buying them.
If you've ever had to suffer through a blister on a hike, we'd bet that you'd pay almost any price to not have to experience that again.
Hiking socks also offer moisture-wicking, ventilation, quick-drying, and compression features unlike regular socks, which can make them worth the price alone.
Most hiking socks cost about $18-25 per pair. However, you get what you pay for. Cheaper regular socks wear out and get holes fairly quickly. Almost always, within a year or less. Currently, I have three pairs of hiking socks. Each pair has lasted for over 2 years and has seen a lot of hiking miles. They don't even appear half worn out to date. I've considered only buying hiking socks for all my needs because they provide such huge value.
Okay, let's move on and understand what you need to know for all the options out there so you can find the right pair for your hikes.
Sock height
You have a few options when it comes to height:
No-show – These are the lowest height option and are usually best for low-cut shoes.
Ankle or 1/4 sock – These will cover your ankles but not much higher than that.
Crew (medium and mid) – Crew cut is the most common hiking style, and you'll see that it goes about mid-way up your shin.
Knee-high – These are great for colder days and any time you're wearing big mountain boots.
You'll want to pick the right height for the types of boots and weather conditions that you'll be hiking in. Generally, you want your sock to at least go above your boot so it doesn't rub against your skin. You'll want to also pick higher ones in colder weather.
Sock weight or thickness
When you pick thinner socks, you'll get fewer blisters. However, thicker socks are better for cold weather. While sock weight doesn't vary by too much, if you're planning a long trek, it's something you might want to consider so you don't get stuck with heavy socks in lighter weather.
Cushioning
There are quite a few options when it comes to cushioning in your hiking socks:
No cushioning – These are ideal for quick trips or any hiking trips that are short. Hiking socks without cushioning are usually called liners and are great for wicking sweat off of your feet. Sometimes you can wear these in combination with other types of socks or choose to wear them on their own.
Light cushioning – Similar to no cushion socks, ones with light cushioning are ideal for trail running or hot weather. These mostly have a slight cushion around your heel and the ball of your foot.
Medium cushioning – Medium cushioning and above is best for colder weather and longer hikes where you need the most support possible for your feet.
Heavy cushioning – These are the ones you want to choose for cold weather and long hikes. You'll feel uncomfortable in these in warm weather, but they provide the most support and comfort for those cold days.
Fabric
While most hiking socks are a blend of multiple fabrics, there are still benefits from choosing ones with a dominating fabric:
Wool – You really can't go wrong with picking wool hiking socks. It helps regulate the temperature in your shoes, no matter what kind of climate you're in. Wool tends to avoid smells due to it being naturally antimicrobial. When you're shopping you'll see both ragg wool and Merino wool, and the main difference is that merino itches less.
Polyester – This helps pull moisture off your feet while also drying quickly (unlike materials such as cotton). It's not often the primary material and is instead combined with others to create an ideal hiking sock.
Nylon – Next to wool, nylon is the next primary option for materials in hiking socks. It is a synthetic fiber that holds up over time.
Silk – Due to how light silk is, it's often put in no-show socks or liners to pull moisture off your foot without adding extra weight.
Spandex – Having spandex in your hiking socks will help prevent them from bunching up and giving your feet blisters. That's why you'll often see a small percentage of it in most hiking socks.
While cotton is extremely common in non-hiking socks, you want to avoid it in your hiking socks. It is known for bunching a lot which causes blisters. Cotton can get wet from sweating and stay that way during a whole hike which not only feels uncomfortable but can also cause blisters too. Just say no to cotton anything when it comes to hiking clothes.
Fit
The last thing you want to experience when you're hiking is to realize you picked the wrong size and end up with an uncomfortable experience. Thankfully, it's pretty easy to pick the right size:
Know your foot size – Most hiking socks will be based on what shoe size you currently wear. If you're shopping in a store, you can also use a foot measuring device to get the exact size.
Go for a snug fit (but not too tight or small) to avoid blisters. If you're right on the middle between two sizes, it's not always a bad idea to lean toward the smaller size so they're snug while you hike.
For socks above your shin (such as crew or knee-high socks), you'll need to keep the size of your calves in mind as well. If you have big calves, you'll need to get socks that fit, or else you'll have to deal with it cutting off circulation.
Top Brands Of Hiking Socks
That concludes our guide to the best hiking socks.
Have you tried the best insoles for hiking? This is another type of footwear accessory that we highly recommend to keep your feet happy.