In cooler climates and seasons, layers are essential for comfort. It's not just about insulation. Moisture-wicking fabrics help keep skin dry, which is as important to staying warm as wearing a thick jacket. Fleece jackets provide that balance of warmth and breathability for hiking and backpacking.
Invented in the late 70s, fleece was the first synthetic technical fabric. Fleece jackets are versatile hiking gear because they can be worn on the outside or as a mid layer. In many cold conditions, a base layer, fleece jacket, and a hardshell jacket are all you need.
Fleece fabrics are not all created equal. Some brands include spandex for a closer fit and full mobility. Others use some nylon to provide extra durability. Fleece is a petroleum product but instead of using virgin oil, most modern fleece uses some or all recycled plastic.
The number and type of fleece jackets and hoodies available can be overwhelming. So, where does one begin? Here are our top picks and a quick guide to features to consider when buying a fleece jacket. Keep reading if you're looking for kids' fleece too.
1. Most Versatile Fleece – Patagonia R1 Daily Jacket
2. All-Around Best Fleece Jacket – Arc'teryx AR Kyanite Hoodie
3. Most Breathable Fleece – Patagonia R1 Air Full-Zip Hoodie
4. Best Lightweight Fleece Jacket – adidas Terrex Tech Flooce Light
5. Best Fleece For Warmth + Breathability – Outdoor Research Vigor Plus Hoodie
6. Best Technical Fleece With A Regular Fit – REI Co-op Hyperaxis Fleece Jacket 2.0
7. Best Fleece Jacket For Trail + Town – Patagonia Better Sweater
8. Best Value Fleece Jacket – Columbia Benton Springs/Steens Mountain
9. Best Fleece Jacket With DWR – Jack Wolfskin Hydro Grid Fleece
10. Best Wool Fleece – Icebreaker Descender Long-Sleeve Zip Fleece Jacket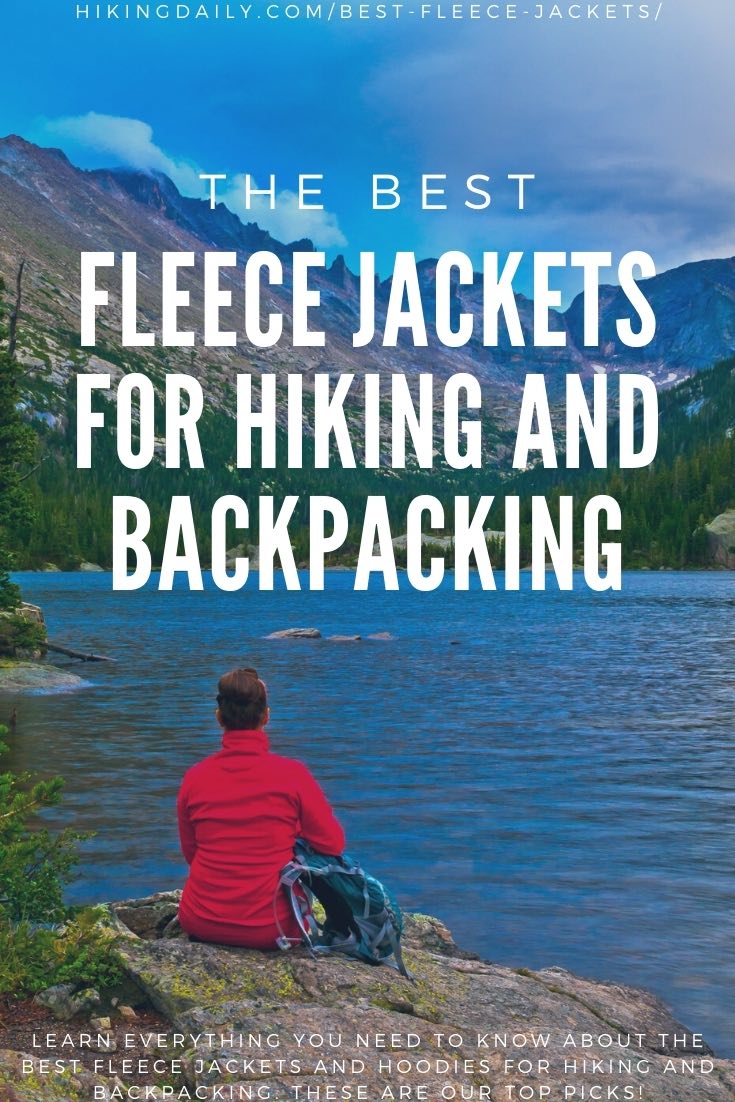 1. Insulation, Warmth + Heat Retention
Many fleece jackets do not provide as much warmth as you may be led to think. It is very important to examine the technical specifications of a jacket. Some jackets advertise grams/m² which indicates the general weight (heavy vs lightweight) of the fleece. A windproof or wind-resistant fleece jacket will be warmer.
The Polartec scale refers to the weight, loft, and and warmth of the fabric.
<100 Ultralight – Thinnest, most breathable
100 Lightweight – Thin, highly breathable
200 Medium Weight – Balance of warmth and breathability
300 Heavy Weight – Thick and high loft, warmest, somewhat windproof and breathable.
Grid Fleece
Technical fleece is designed to balance heat retention and breathability. Breathability refers to the transfer of moisture from inside the fabric to the outside.
On the outside, the fleece is smooth. All the magic happens on the inside.
An inner checkerboard pattern of fabric creates air pockets that trap warm air and wick away moisture. The thinner fabric in between the squares allows sweat to evaporate and vent to the outside.
This is what you want to wear for aerobic activities in the cold. The breathability is essential to maintaining warmth. That breathability works both ways, meaning it is the opposite of windproof so keep another layer on hand.
2. Breathability + Moisture Wicking + Thermal Efficiency
Generally speaking, thicker heavier fleece will not breathe as well as lighter fleece layers. Conversely, heavier fleece retains more heat and can be an outer layer in colder conditions than thinner fleece.
A breathable fabric prevents overheating as well as getting cold from a damp jacket.
Lightweight fleece is highly breathable, wicks moisture quickly, and has some stretch for a close fit and full range of movement. They work best for physical activities in moderate weather or as a mid-layer for colder conditions.
Mid-weight fleece is the most versatile. It works well as a jacket for a range of cool temperatures but can also be worn with additional layers above or below. Some mid-weight fleece is more breathable for high energy activities while others have a denser knit to be worn as an outer layer.
Heavyweight fleece jackets do one thing best – keep you warm. The thicker fabric keeps in heat and block most wind, working best as a stand-alone piece for cool weather. Thick fleece doesn't breathe very well so is better for low impact activities.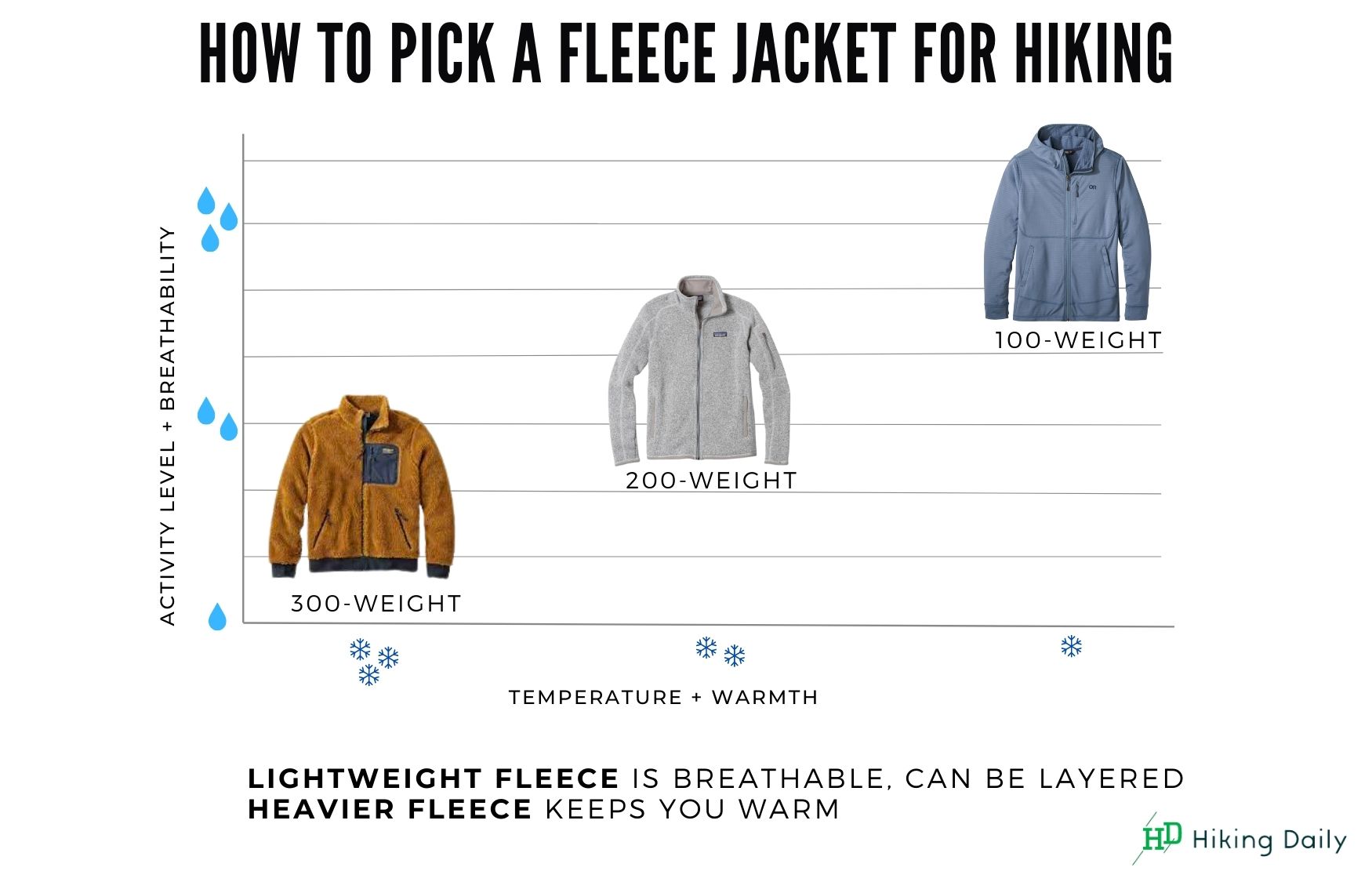 3. Zipper Length
Zippers provide another way to manage heat and breathability in a jacket. Fleece jackets are usually available with 1/4, 1/2, or full length zippers. Full length zippers provide the most functionality and are recommended here.
High winds can find their way through zipper areas. Look for a fleece jacket that has wind flaps to keep the wind out and to stay warm
4. Fit
The best fit for a fleece jacket depends on the use. Performance fleece jackets are usually slim cut to be worn with multiple layers on top. Heavier fleece jackets may be too bulky to add anything over but can be worn with more layers below. Mid-weight fleeces can do both.
5. Mobility
Mobility is a very important feature for hikers or backpackers that are carrying a backpack or who move quickly on the trails. Look for articulated patterning and gusseted underarms for extra mobility. A gusset is a diamond- or triangle–shaped insert in a seam. When placed in the armpit, it adds some room to the upper arm and chest and relieves strain on those areas.
Another factor is the overall fit. Fleeces that are a wider fit or heavier in weight can reduce overall mobility when worn under a hardshell jacket. We recommend a trim fit that falls at the hip in length. You might want to order a couple of options and compare how they feel and just return what is less comfortable. A small percentage of spandex will also increase mobility.
6. Collar vs Hoodie
A collared fleece jacket is a bit more comfortable and easier to layer underneath other jackets. A hooded fleece jacket (aka fleece hoodie) is a good option for extra warmth, especially for those times you forget a warm hat. Some of our top picks are available in both styles.
7. Pockets
Most jackets will have hand pockets to keep warm. Others will include chest or arm pockets which are handy to stash things like phones or keys. Most pockets will have zippers but not all.
Lightweight fleece often have mesh pockets for a flat fit without extra weight. Heavier fleece often have fleece-lined pockets for extra warmth and comfort.
8. Thumbholes
Some people like thumbholes or thumb loops to keep sleeves from bunching up and to keep the wrists fully covered. Thumbholes are handy when taking off or putting on layers.
9. Water Resistance
Fleece is hydrophobic, meaning it will shed water. This is not the same as being waterproof but it does dry quickly.
More breathable fleece is less resistant to wind and water than thicker, denser knits. Some fleece jackets add a coating of Durable Water-Repellant for additional water protection but a fleece will not replace a rain jacket or hard shell.
10. Windproof or Wind-Resistance
Fleece jackets are not really known to be windproof, and perhaps quite the opposite in most cases. This is why you should always carry a lightweight windproof and waterproof jacket in your hiking daypack. However, some do offer wind resistance or windproofing.
Elastic hem and cuffs to keep warmth in and elements out. Some boxier styles may have a drawstring cord.
Top 10 Fleece Jackets
Okay, now that we know all about the features, let's now take a look at our top picks! Each jacket is awesome for its own reason or purpose. The fleece weight goes from warm to warmest but not exactly. Orange links are to men's jackets and yellow are to women's.
1. Most Versatile Fleece
Patagonia R1 Daily Jacket
The Regular 1 (R1) fleece was released in 1990 and continues to be a leader in warmth and breathability for high-intensity cold-weather activities. There are aslo R1 Air and R2 fabrics but this is our top pick.
MSRP $139
Warmth Warm
Weight 9.7-11.7 ounces
Fabric 93% recycled polyester/7% spandex
Fit Fitted
What We Like Stretchy, lightweight, very breathable, some wind resistance
What We Don't Like Nothing but this level of breathability may not be required for all hikers
A lightweight fleece is more versatile than heavier versions. R1 fleece is thin enough to be a base layer but warm enough to function as a mid or outer layer too. I reach for mine on misty mornings, cool summer nights, and to keep warm when snow is on the ground. I prefer a collar to a hood for layering.
The outer layer is fairly abrasion resistant while the inside is soft enough to wear over a t-shirt. Minimal loft is cozy while providing excellent moisture wicking. The structured cut and fit is comfortable for a range of activities and looks great everywhere.
2. All-Around Best Fleece Jacket
Arc'teryx AR Kyanite Hoodie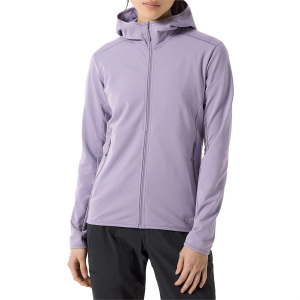 Arc'teryx has a reputation for high quality and high prices. The Kyanite offers the former without the latter.
MSRP $179.00
Warmth Warmer
Weight 12.1-14.6ounces
Fabric Polartec Power Stretch Pro polyester (53% polyester/38% nylon/9% elastane)
Fit Fitted
What We Like Seam placement adds structure and provides full mobility, cozy softness
What We Don't Like Nothing.
The best way to describe this fleece is luxurious, with an ultra soft interior that feels much warmer than the weight. The nylon content helps resist abrasion and blocks some wind.
I was also impressed with the articulated patterning that adds structure to the jacket instead of the usual box shape. The hem is also lower than many of the boxy cut styles.
Although this fleece uses the same fabric as the REI Co-op Hyperaxis, this design looks and feels better. The price is comparable with similar products but the quality is superior. Get it with an REI 20% off coupon and you come out ahead.
3. Most Breathable Fleece Jacket
Patagonia R1 Air Full-Zip Hoodie
The R1 Air fleece has a zig-zag texture to wick moisture and dry faster.
MSRP $169
Warmth Warm
Weight 10.9-12.9 ounces
Fabric 100% recycled polyester jacquard fleece with hollow-core yarns
Fit Fitted
What We Like Excellent for high output activities
What We Don't Like Textured exterior can snag,
Depending on who you ask, the R1 Air is either much better or worse than the original R1. We'll let you decide.
The fabric may be more technical with texture designed to dump heat faster. On the flip side, there are less features like thumbholes or an adjustable collar.
This is a great choice for challenging routes, fast hikes, and people who run hot.
4. Best Lightweight Fleece Jacket
adidas Terrex Tech Flooce Light
Lightweight, stylish, and easy on the wallet.
MSRP $54-$90
Warmth Warm
Weight 11-14 ounces
Fabric 57% polyester/38% recycled polyester/5% elastane fleece
Fit Fitted
What We Like Lightweight, color block styles, under $100
What We Don't Like Awkward pockets
Adidas has expanded from athletics to the outdoors niche and done so very well. This fleece is light and breathable enough for high output activities while feeling warmer and more wind resistant than you'd expect from the thin material.
Adidas is also taking steps to minimize the environmental impacts of fleece. The Flooce interior is non-brushed to reduce microfiber shedding and part of the polyester content is recycled.
If you're uncertain about trying this brand, adidas offers a lifetime guarantee.

5. Best Fleece Jacket for Warmth + Breathability
Outdoor Research Vigor Plus Hoodie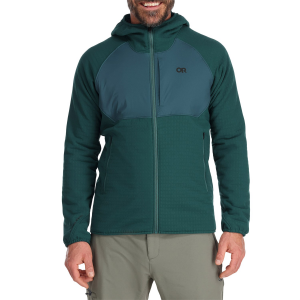 Get all the performance with some more warmth.
MSRP $110-$169
Warmth Warmer (200)
Weight 13.8-18.6 ounces
Fabric 93% recycled polyester/7% elastane
Fit Fitted

What We Like Breathable, Durable, Good Size/Fit, Versatile, Windproof
What We Don't Like Too warm for some people
Most really breathable fleece jackets fall into the warm category. The Outdoor Research (OR) Vigor is one of those. The Vigor Plus adds more warmth to that breathability.
Some wind and water resistance makes this an excellent outer layer. Seven percent elastane provides ample stretch for a full range of motion and close fit below a shell.
The nylon chest overlay isn't just for looks. It prevents rubbing from backpack straps to extend the life of the jacket. This fleece is also available in a collared jacket for men and women and
6. Best Technical Fleece With A Regular Fit
REI Co-op Hyperaxis Fleece Jacket 2.0
Technical clothing is often technically tight. The Hyperaxis adds a little bit of room to the otherwise fitted fleece.
MSRP $139-$149
Warmth Warmer
Weight 14.2 ounces
Fabric Polartec Power Stretch Pro polyester (bluesign approved)
Fit Fitted with some room to spare
What We Like Roomy fit, thumbholes, plus sizes
What We Don't Like Pricy for REI Co-op Brand
You have to touch this fabric to appreciate the combination of soft and stretchy. In fact, it is the same material as the pricer Arc'teryx Kyanite fleece. The pattern design is very different between the two so try them both to see which one fits you better. This cut is looser than most technical fleece so size down if you're going to use this as a mid layer.
REI's technical fleece quality is on par with other outdoor brands but so is the price tag. Keep an eye out for 25% off Co-op brand sales to get a sweet deal. The original Hyperaxis is deeply discounted while supplies last.
7. Best Fleece Jacket For Trail + Town
Patagonia Better Sweater
The performance feels good while the tailored fit looks good.
MSRP $149
Warmth Warmer
Weight 15.8 – 22.5 ounces
Fabric 100% recycled polyester knit fleece
Fit Regular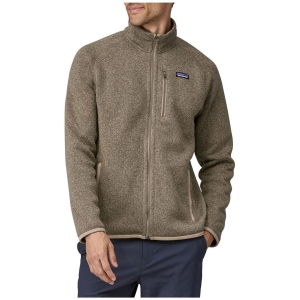 What We Like Designed to last, available in many sizes + versions
What We Don't Like High price
The only way to improve on Patagonia's Synchilla fleece jackets was to use recycled material and the Better Sweather has done so since 1993. This fleece also minimizes environmental impacts from dyeing and is Fair Trade Certified. The performance is the same.
The knit face feels similar to knitted wool with softer fleece backing on the inside that is comfortable over bare arms.
The details set the Better Sweater apart from cheaper versions. The collar and pockets are lined with soft jersey fabric and the zipper blocks out wind and won't scratch the chin when zipped all the way up.
The men's version has a vertical chest pocket with enough space for a phone. For women there is a handy zipper pocket up high on the left sleeve and dropped hem at the back.
The popularity of the Better Sweater is evident in the range of available styles – shirt, hoodie, vest, kid sizes, gloves, and a beanie.
8. Best Value Fleece Jacket
Columbia Benton Springs/Steens Mountain
We talk a lot about the warmth-to-weight ratio but this fleece has the best warmth-to-cost ration.
MSRP $45-$58
Warmth Warmer (250)
Weight Not available
Fabric 100% polyester MTR filament fleece
Fit Regular
What We Like Price, selection: sizes, colors, zippers + hoods
What We Don't Like Minimal features? Not recycled? No elastic at cuffs, hem
At around $50, this is by far the cheapest fleece on the list. Just like expensive doesn't mean high quality, affordable doesn't mean low quality.
The fleece is nothing fancy but gets the job done. Two zipper side pockets keep the hands warm. The fit is loose but some versions have a waist draw cord to keep out wind.
There is a huge range of color choices for the popular fleece from a variety of stores so shop around to find one you love. It is also available in petite and plus sizes.
9. Best Fleece Jacket With DWR
Jack Wolfskin Hydro Grid Fleece
MSRP $105-$150
Warmth Warmer
Weight 12.5-15.2 ounces
Fabric 96% polyester/4% elastane (bluesign certified)
Fit Fitted
Fleece has some inherent water resistance but a Durable Water-Repellant (DWR) finish makes it a great outer layer in misty weather and wetter climates.
What We Like PFC-free DWR Coating, very breathable, soft
What We Don't Like Hit or miss colors
From a German brand, Jack Wolfskin jackets have a slim-cut Euro fit but it isn't too fitted for North Americans. The Euro-style brings plenty of color options, some with a contrasting zipper.
Breathability is not impacted by the DWR-coating and it still dries quickly.
I have this jacket and appreciate the soft lining and clean fit every time I wear it. It performs equally as well as a mid and outer layer.
10. Best Wool Fleece
Icebreaker Descender Long-Sleeve Zip Fleece Jacket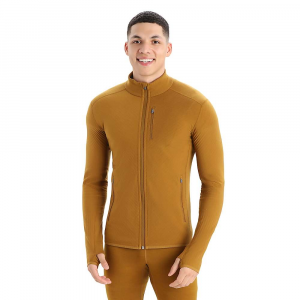 Fleece was created to mimic the properties of wool but this wool fleece doesn't have to imitate.
MSRP $220-$240
Warmth Warmer (240)
Weight 11.5-16 ounces
Fabric 84% Merino wool/9% nylon/7% spandex
Fit Fitted
What We Like Breathability, odor resistance, longer length, thumb loops
What We Don't Like Pricey, wool feeling
The two concerns about wool are usually scratchiness and washing. The Descender is a brushed wool blend that eliminates that wool feeling. Even better, it can be machine washed in warm water. Like all wool, keep keep it out of the dryer.
Wool is already breathable and the addition of nylon and spandex create a tighter weave that doesn't stretch out. The Descender also cuts some weight and enhances breathability with thinner side panels.
The details make this fleece even better with merino lined zipper pockets and thumb loops that disappear into the extended cuff. It is also available with a hood.
This is the most expensive pick on the list but it will provide years and years of warmth. Check Amazon for a discount on the men's long sleeve.
Best Fleece Jackets for Kids
If you have kids then you should definitely get a fleece jacket to keep them cozy on cool days. Fleece is cheaper, more durable, and more packable than many other jackets. You can also pick the fleece weight for your climate or that kid who always fights a jacket.
Many fleece jackets are available with a quarter-zipper but we do not recommend that for kids. They are more challenging to put on and take off. Plus, kids are generally warm and so a full zip allows for better and more controlled ventilation.
Here are some of the best fleece jackets available for kids. No surprise, some of these have already been mentioned above.
1. Patagonia Better Sweater Jacket For Kids
Patagonia products come with a bigger price tag but they are also guaranteed forever, last through multiple kids, and have a good resale value. Plus, it can be fun to match the kids.
MSRP $99
Warmth Warmer
Fabric 100% Recycled Polyester Fleece
What We Like Soft fabric inside collar, cuffs and pockets
What We Don't Like Pricey but some colors are discounted
2. Columbia Steens Mt II/Benton Springs Fleece Jacket
Like the adult version, this is the best fleece you can get for the money. It is available in so many different version so check out all these options for boys and girls.
MSRP $20-$35
Warmth Warmer (250g)
Fabric 100% polyester fleece
What We Like Great price, zipper pockets
What We Don't Like Boxy cut
3. North Face Glacier Full-Zip Fleece Hoodie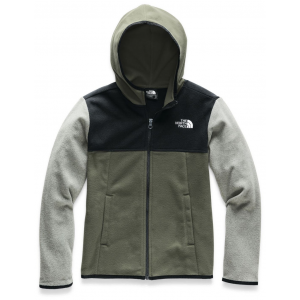 A heavy fleece isn't always required. This lightweight hoodie has an excellent warmth-to-weight ratio. The panels are similar to the iconic Denali 2.
MSRP $35-$65
Warmth Warm (155)
Fabric 100% polyester fleece
What We Like Hood, pill-resistant fabric
What We Don't Like Price varies by color
Also available in infant and toddler sizes.
4. Patagonia Kids' Micro D Snap-T Fleece Jacket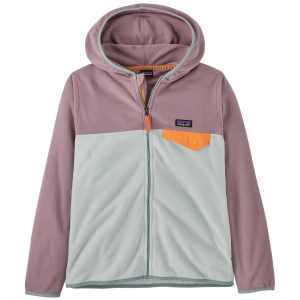 For the really active kids, this is a lightweight performance fleece that is breathable and dries quickly.
MSRP $41-$69
Warmth Warm
Fabric 100% recycled polyester microdenier fleece
What We Like Color combinations, hood
What We Don't Like Too light for cold weather
The Micro D fabric also comes in a best selling baby bunting and baby/toddler sizes.
FAQ
Which brand has the best fleece?
There is no one best fleece jacket – it depends on what you're looking for and whether warmth or breathability is more important.
That being said, Patagonia was at the forefront of the fabric and continues to innovate today with more breathable and sustainable fleece. Another fleece jacket that has weathered the trends is the North Face Denali 2, which was released in 1986 and updated in the 90s. Designed for use on Mount Everest, it is an ultra warm fleece. The nylon panels are an iconic design that is popular again.
There are plenty newer entries to the fleece game, mostly focusing on types of grid fleece. Find the one that fits your body and budget.
What is the warmest fleece to buy?
The heavier the fleece, the warmer it will be. Some are listed as 300-weight or heavyweight. Other than that, just give it a feel. Some fleece, especially with a high pile like sherpa fleece, can be as thick as 1/4".
The aforementioned Denali 2 is one of the warmest fleeces out there, at above 300-weight.
Which is warmer fleece or puffer?
This is more of a question of seasons. Down is ideal in winter while down excels in the shoulder seasons. They can also be used together.
No doubt, down will keep you warmer, especially with heavy fill like 400 and up. However, down jackets are pricey, delicate, and ineffective when wet.
Fleece is available at a wide range of price points, durable, and naturally repels water. Fleece is also soft to the touch, breathable, and machine washable.
Is fleece windproof?
Fleece is not completely windproof. A thicker jacket will block some wind but not all.
It is possible to make fleece windproof but that also makes it less breathable A breathable fleece backed up by a wind jacket offers superior performance to a windproof fleece. Wind jackets are very light and packable.
Does fleece pill?
All knit garments are prone to pilling, although some fleece fabrics claim to resist pills. It's is an easy fix with a lint remover or fabric shaver.
Does fleece shed microplastics?
Microplastics are tiny pieces of plastic, finer than a strand of hair. There is still a lot that is not know about microplastics but it is known that they contribute to global plastic pollution and could harm both marine organisms and people who eat them.
Fleece is one of the top domestic sources of microplastics, moving from laundry into water.
Does this mean you shouldn't wear fleece?
I say no, with a but.
First, fleece is not the only fabric that sheds plastic. All synthetic fabrics, including polyester, nylon, acrylic, rayon, and spandex all contribute to the issue.
Second, the majority of microplastics, an estimated 65%, are produced by industry. Corporations often try to push environmental responsibility on consumers when they are the vast majority of the problem. This issue needs to be addressed from the production side as well as consumer use. Microplastics could also be managed along with the water supply.
When I first learned of microfibers, I thought Patagonia would stop making fleece if it was that big of a problem. That was many years ago and that hasn't happened.
However, Patagonia, and others, are committed to making changes. A study commissioned by Patagonia found that higher quality synthetics shed less micro plastic than low-quality products and recycled polyester sheds less than new polyester.
Learning this, Patagonia makes 91% of synthetics with recycled plastic as well as making durable, long-lasting products. They do offer a lifetime warranty after all.
Textile producers are also looking for more ways to make fleece to minimize this issue, like the non-brushed fabric and recycled Adidas Flooce, which sheds fewer microfibers.
What can I do about micropastics?
Obviously you can do nothing but if you want to do something, here are 3 ways to reduce micro plastics.
1. Buy a good quality fleece made with/of recycled plastic. Good quality doesn't have to be expensive.
2. Use a front-load washing machine. Top loaders release higher levels of micro plastics.
3. Add a microfiber filter or bag to laundry.