When you hit the trails for several hours (or days) at a time, comfort is essential. Hiking shirts are designed with that in mind. Performance shirts are made of material that helps regulate temperature and are constructed to prevent chafing or discomfort when wearing a pack.
Once you try a hiking shirt you won't go back to wearing your regular clothing on hikes and maybe at home too.
Most hiking shirts are available as tank tops, t-shirt, long-sleeve, and hoodies. The best choice is really about preference for fabric and shirt style.
Going sleeveless is the easiest way to stay cool but leaves arms exposed to the sun. Button-up shirts with collars are popular because they can shade the neck and opened up for airflow. Lightweight long sleeve and hooded shirts provide excellent sun protection. Just add a hiking hat for full UV coverage.
Hiking shirts can be worn in the water for a swim, paddle, or stand up paddle boarding. Choosing light colors also helps protect against bugs.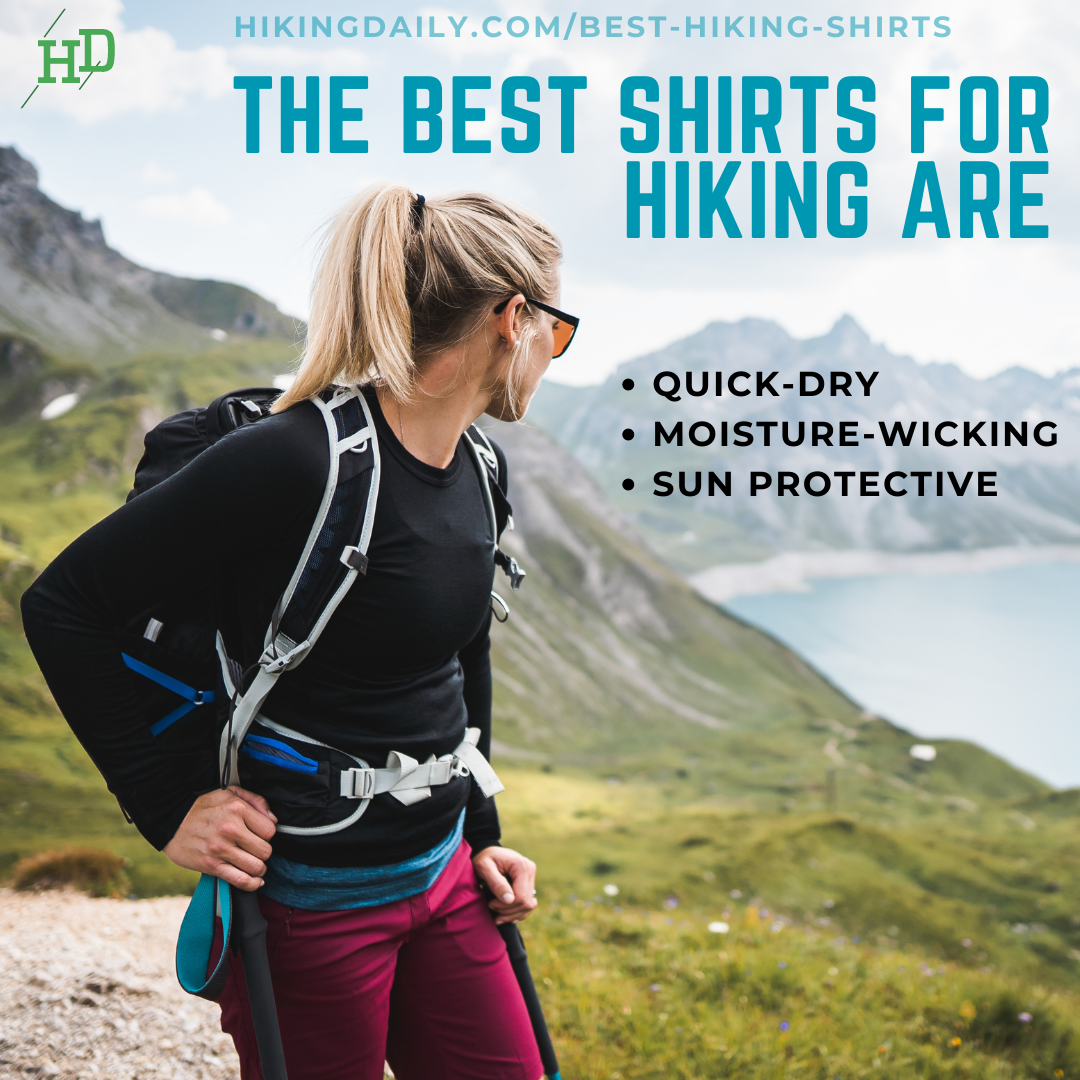 Check out our recently updated list of the best hiking shirts for men, women, and kids.
What Is a Hiking Shirt?
The best hiking shirts are made of fabric that is designed to wick moisture away from your skin. In warm temperatures, the moisture will evaporate, keeping you cool and dry. In colder temperatures, this will decrease heat loss. Finally, hiking shirt fabric should improve overall airflow to dry faster.
Most hiking shirts are made with synthetic fibers but Merino wool and bamboo are other options.
Shirts made for hiking are also cut and sewn to provide a full range of motion and to minimize the seams that can cause discomfort.
Ordinary shirts are not recommended since they often contain a high percentage of cotton. Cotton is not a moisture-wicking fiber and will lead to discomfort on the hiking trails. Avoid cotton hiking clothes. Stay comfy.
In this guide, we show you the different styles of hiking shirts that you can get including base layers, T-shirts, short sleeve hiking shirts with collars, long sleeve hiking shirts, and hiking shirts for hot and cold weather. We recommend investing in a variety of styles for different seasons and climates.
What To Look For In a Hiking Shirt
There are many things to consider before you buy a top-quality hiking shirt. Let's explore the features that you should look for in a shirt to wear hiking.
1. Materials
What your hiking shirt is made of is the single most important factor. So, what are the best hiking shirt materials? Let's review the options.
Cotton – As previously stated, avoid cotton clothing.

Bamboo – Bamboo hiking shirts are a great option if you want a natural material. Bamboo is a form of rayon that wicks moisture, which helps keeps you warm in cool weather. It is also breathable to keep you cool and dry in summer.

Synthetic Materials – Most hiking shirts are a blend of polyester (for moisture management), nylon (for durability), other synthetic materials such as lycra/spandex (for stretch/fit), and merino wool (for odor resistance). Combined, they provide excellent performance. These types of hiking shirts are also known as technical shirts and work for all activities as well as comfort in heat and humidity. Hiking shirts that are a blend of synthetic materials are the best shirts for hot weather and desert hiking.

Merino Wool – Wool provides insulation, is antimicrobial and odor-resistant, and has good moisture management qualities. Merino is the softest wool and is comfortable in all seasons. Natural fibers keep you cool in the summer and warm in the winter. Some added stretch improves the fit and drape of wool shirts.
2. Comfort, Fit + Design
Weather + Climate – For warm weather, a loose fit improves air flow and breathability while for cooler weather, a more fitted size and shape of a shirt keeps in body heat. There is a place for both hot weather hiking shirts and cool weather hiking shirts for your hiking wardrobe.

Ventilation – Most weather conditions require ventilation to stay comfortable. Buttons, vents, and mesh n the front, back, or armpit areas increase air flow.

Fabric Weight – Polyester and merino wool shirts are available in different weights and thicknesses. Be sure to check the weight per square area of various shirts to get a good idea of thickness. The thicker the fabric, the more insulation. Lighter weight fabric will be more breathable.

Sleeve Length – It's a good idea to have a couple of short sleeve hiking shirts, and long sleeve shirts to be prepared for all conditions.I wear or carry both in my daypack in summer, spring, and fall. In winter, I make sure to have a variety of hiking shirts and fabric weights for layering. Long sleeve shirts aren't only for cooler weather. They offer sun protection for sensitive skin, kids who shun suncreen, and long days in strong sun.

Collars – A collar offers additional sun protection and is a good idea in high-altitude locations or near the equator. A collar is higher on the neck than a crew cut. Get even more coverage by popping it up. If polos and collared shirts are not your thing, a buff or bandana can also cover the neck.

Hoods – Hiking shirts with a hood offer additional sun protection or warmth in cooler temperatures.
3. Sun Protection (UV Protection + UPF Rating)
Harmful ultraviolet rays can penetrate the fabric of any shirt. Look for a hiking shirt that has a UPF rating that falls in the range of 0-50. This is a great feature if you happen to be extra sensitive to the sun.
All fabrics provide some degree of protection. For more protection, look for darker colors, denser weaves and polyester and nylon. Of course, the first two of these may make a shirt feel hotter.
4. Moisture-Wicking
Moisture (i.e. sweat) is uncomfortable in all climates and temperatures. In hot climates, perspiration can cause chafing. In the cold, damp clothing can become dangerous and cause hypothermia. This is why a high-performance shirt should be mandatory for hiking.
5. Quick-Dry
A second element to moisture management is quick-drying fabric. Some fabric is designed to disperse moisture across the garment so that it will evaporate more quickly, thus keeping you dry and comfortable.
6. Antimicrobial Properties + Odor Resistance
Nobody likes stinky moldy clothing. Right? When considering your options look for antimicrobial properties or treatment.
Merino wool is naturally antimicrobial. This fiber performs the best.
Polyester can smell bad and nylon is not much better. Look for shirts that have an antimicrobial treatments applied to minimize odors. Using deodorant diligently can also help.
How To Remove Odors from Activewear
Odors and stains tend to linger in synthetic fabrics. Remove them with a detergent designed for athletic wear. The key is ozone and/or enzymes that break down the fats that cause these problems. Covering the smell isn't an ideal so solution so try these fragrance-free detergents that will get the job done. Powder formulas can also work better than liquid. Throw it in at the bottom of the machine for best results.
Refresh all your athletic clothes by soaking them in a tub with one of these detergents for an hour or two. The color the water turns is both surprising and satisfying. I have renewed old leggings this way and it is much cheaper and sustainable than replacing clothing.
Rockin' Green Platinum Active Wear Detergent Rocking' Green was one of the first active wear-specific detergents and still leads the pack. The plant-based enzymes remove dirt and stink without leaving anything behind. The sensitive skin formula is safe for babies and is also biodegradable. The barely-there tea tree oil scent helps block future odors. Use with hot water to remove built-up odors or cold to preserve elastic and technical fabrics.
Active Wear Laundry Detergent This formula is designed for athletic clothes with plant-based enzymes. For those with concerns/and or sensitive skin, it is also SLS-free, phosphate-free, gluten-free, and septic safe. This detergent is a top pick because it works with warm as well as cold water, which is the washing instruction for most athletic wear.
Defunkify Free & Clear Laundry Detergent Powder An enzyme-based detergent, Defunkify meets EPA Safer Choice standards and is safe to use for babies and young children as well as sensitive skin. Try this formula if you need stain removal as well as odor reduction. It also includes a water softener for hard water areas.
Oxiclean Versatile Stain Remover Add Oxiclean to your favorite detergent to boost its effectiveness. The oxygen formula breaks down the oils and proteins in odors and stains. This powder has 100 more cleaning uses in and around the home.
7. Durability
Everyone appreciates products that are long-lasting. That's just good value. The most durable synthetic material is nylon. Polyester is also close behind. Lightweight merino can be prone to tearing and holes from moths but is more robust with added polyester and/or spandex.
Okay, now you know what you should look for to make a good decision. Let's take a look at the top-rated hiking shirts.
Pro tip: Stock up on hiking shirts during the off-season (winter for most people) to get a huge discount. REI has some big discounts (up to 50%) in January-February since they want to clear out the previous year's stock ahead of the Spring hiking season.
Best Hiking Shirts
All of these hiking shirts:
Have added anti-bacterial coating to minize odor
Can be worn alone or as a base layer
Wick moisture and dry quickly
Keep reading to see how these hiking shirts are different.
1. The Wear-It-Everyday Hiking Shirt
2. Best Women's Hiking Shirt
3. Best Men's Hiking Shirt
4. Best Button-Up Hiking Shirt
5. Lightest Weight Shirts For Hiking
6. Best Long-Sleeve Women's Hiking Shirt
7. Best Hot Weather + High Activity Shirt
8. Best Budget Hiking Shirts
9. Best Wool Shirt For Hiking
10. Best Hiking Shirt For Trail + Town
Honorable Mention
---
The Best Hiking Shirts For Kids
Keeping kids comfortable and happy on the trails is paramount to ensure a good time for all. A hiking hat, hiking shoes, and kids gear will help little ones keep moving on the trail.
Kids' smaller size makes them more susceptible to overheating or getting cold so a moisture-wicking base layer is a must. In summer, long sleeves minimize the sunscreen battle.
Here are some great hiking shirts for kids: