When you hit the trails for several hours (or days) at a time you want to feel super comfortable in your clothing. The best hiking shirts help you stay comfy in a way that regular shirts do not. Once you try a hiking shirt you won't go back to wearing your regular clothing on hikes.
In this guide, we first cover everything you need to know about the best hiking shirts. The top features, styles, fabrics and materials used, etc.
Further down you will find a list of the best hiking shirts for men, women, and kids. If you want to just see the prodcuts that we recommend, scroll down. Otherwise, read on to learn more about hiking shirts.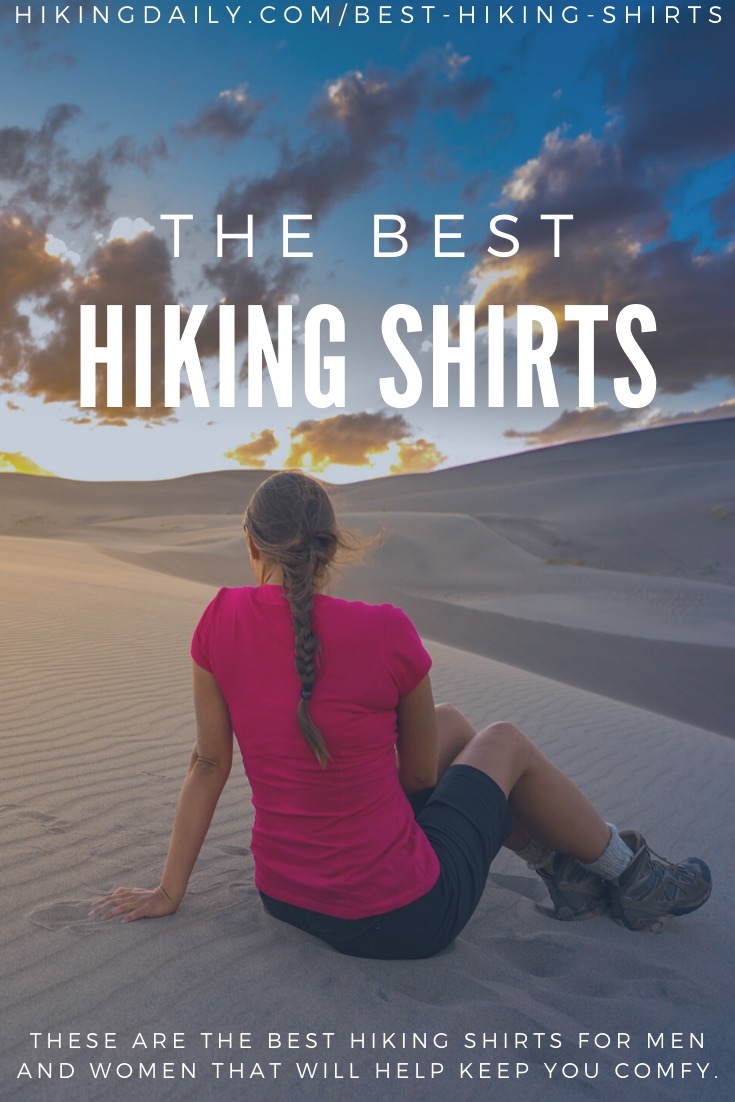 What exactly is a hiking shirt?
We use affiliate links and may receive a small commission on purchases. Please read our disclosure.
Hiking shirts are designed with a purpose. They are made of fibers that manage moisture and are constructed in a way to prevent chafing or discomfort over long days of hiking.
The best hiking shirts contain a blend of synthetic fibers and sometimes merino wool. Bamboo is also used for some shirts.
These synthetic fibers wick moisture away from your skin. They also disperse moisture across the fabric. In warm temperatures, the moisture will evaporate keeping you cool and dry. In colder temperatures, this will decrease heat loss. Finally, hiking shirt fabric should improve overall airflow to accelerate the evaporation of moisture.
Ordinary shirts are not recommended since they often contain a high percentage of cotton. Cotton is not a moisture-wicking fiber and will lead to discomfort on the hiking trails. Avoid cotton hiking clothes. Stay comfy.
The purpose of hiking shirts is moisture management by wicking, dispersal, improving airflow.
In this guide, we show you the different styles of hiking shirts that you can get including base layers, T-shirts, short sleeve hiking shirts with collars, long sleeve hiking shirts, and hiking shirts for hot and cold weather. We recommend investing in a variety of styles for different seasons and climates.
Top brands of hiking shirts
Zero in on these brands. They offer the best quality products.
REI Co-op
Patagonia
Columbia
ExOfficio
Outdoor Research
North Face
Marmot
Kuhl
Craghoppers
Arc'teryx
Key features of a great hiking shirt
There are many things to consider before you buy a top-quality hiking shirt.
Let's explore the features that you should look for in a shirt to wear hiking.
Materials
What your hiking shirt is made of is the single most important factor. So, what are the best hiking shirt materials? Let's review the options.
Cotton – As previously stated, avoid cotton clothing.
Bamboo – Bamboo hiking shirts are a great option if you want a natural material. Bamboo is a form of rayon that will wick moisture in the Winter which keeps you warm. It is breathable so it will keep you cool and dry in the Summer.
Synthetic materials – Most hiking shirts are a blend of polyester (for moisture management), nylon (for durability), other synthetic materials such as lycra/spandex (for stretch/fit), and merino wool. Go for these options. Combined, they provide excellent performance. These types of hiking shirts are called technical hiking shirts. Hiking shirts that are a blend of synthetic materials are the best shirts for hot weather hiking, and also the best shirts for desert hiking.
Merino wool – Provides insulation, is antimicrobial thus odor-resistant, and has decent moisture management qualities. Merino wool hiking shirts are great to have for Fall, Winter, and Spring hikes since they will also keep you warm and insulated.
Comfort + Fit + Design
Weather/climate – For warm weather a loose fit is optimal, and for cooler weather look for a more fitted size and shape of a shirt. You should get both hot weather hiking shirts and cool weather hiking shirts for your hiking clothing wardrobe.
Ventilation – Most weather conditions require ventilation to stay comfortable. Buttons and zippers located in the front or armpit areas help to ventilate your body. A breathable hiking shirt is a good idea if you are hiking in hot and humid climates. Button up hiking shirts will keep you cool and well ventilated.
Fabric weights – Polyester and merino wool shirts are available in different thicknesses such as lightweight or midweight. Be sure to check the weight per square area of various shirts to get a good idea of thickness. The thicker the fabric, the more insulation. Also, a thicker fabric will wick more moisture away from your skin keeping your skin dry and comfortable. A lightweight hiking shirt is ideal for hot weather.
Sleeve length – It's a good idea to have a couple of short sleeve hiking shirts, and long sleeve shirts in your hiking wardrobe. Then you are covered for all conditions. In Spring, Summer, and Fall, I wear or carry both in my daypack. In Winter, I will carry a variety of hiking shirts and fabric weights for layering purposes. That's how you stay comfortable.
Collars – A collared hiking shirt offers additional sun protection and is a good idea in high altitude locations or near the equator. If collars are not your thing you can also get hiking t-shirts or long sleeve hiking shirts with a crew neck.
Hooded – You can get hooded hiking shirts that offer excellent sun protection or keep your head warm in cooler temperatures.
Sun protection (UV protection + UPF Rating)
Harmful ultraviolet rays can penetrate the fabric of any shirt. Look for a hiking shirt that has a UPF rating that falls in the range of 0-50. This is a great feature if you happen to be extra sensitive to the sun.
Moisture-wicking
Moisture is uncomfortable in all climates and temperatures. In hot climates, perspiration can cause chafing. If it is cold out and you are sweating the moisture can become dangerous and cause hypothermia. This is why a high-performance hiking shirt should be mandatory. As discussed, synthetic fibers, and particularly polyester, will wick moisture away from your skin. This promotes comfort to the maximum.
Quick dry
A second element to moisture management is quick-drying fabric. Some fabric is designed to disperse moisture across the garment so that it will evaporate more quickly, thus keeping you dry and comfortable.
Antimicrobial properties + odor resistance
Nobody likes stinky moldy clothing. Right? When considering your options look for antimicrobial properties or treatment.
Merino wool is naturally antimicrobial. This fiber performs the best.
Polyester can be very stinky. Nylon is not much better. Thus, seek out a shirt that has antimicrobial treatments applied if made out of either material. It will help prevent terrible odors.
Durability
Everyone appreciates products that are long-lasting. That's just good value. The most durable synthetic material is nylon. Polyester is also pretty good. Lightweight merino can be prone to tearing and holes from moths.
Okay, now you know what you should look for to make a good decision. Let's take a look at the top-rated hiking shirts for 2020.
Pro tip: Stock up on hiking shirts during the off-season (Winter for most people) to get a huge discount! REI has some big discounts (up to 50%) in January-February since they want to clear out the previous year's stock ahead of the Spring hiking season.
The Best Hiking Shirts For Men
These are our top picks for a variety of conditions and uses, and also the best options for both long sleeves and short sleeves. They are primarily polyester hiking shirts, some are blends.
Short sleeve men's hiking shirts
These are the best hiking shirts for men that have short sleeves, including crew necks and polo shirts with collars. In hot weather, you want to stay cool, dry, and thus comfortable. All are lightweight, quick-dry, moisture-wicking hot weather hiking shirts that also provide some sun protection.
Best affordable hiking T-shirt
Quick-drying 92% Polyester, 8% Spandex fabric
Antimicrobial treated
Great for multi-day hikes
UPF 30 sun protection
Another great affordable hiking shirt
100% recycled polyester (Capilene) that is soft and feels like cotton
Underarm gussets provides added mobility and reduces chafing
Moisture wicking and quick drying is comfortable
HeiQ Fresh odor control
Most comfortable hiking T-shirt
Lightweight, perfect for hot climates
Airy, quick-drying, moisture-wicking, Ostria stretch-knit fabric (100% polyester)
UPF 50 sun protection
Seams that reduce chafing
Check REI price | Check Arc'teryx
Quick-dry, moisture-wicking 100% polyester
A Collared shirt that protects the neck from UV rays
UPF 30 sun protection
Buttons offer extra ventilation
A great option for traveling that involves hiking or backpacking adventures
Long sleeve hiking shirts for men
A long-sleeve hiking shirt is more useful than you might think. Even in the Summer, it is a good idea to throw a long-sleeve shirt in your pack. The weather might change quickly. Or, it may be mandatory for sun protection in very hot climates. Otherwise, you will need a long-sleeve shirt as an extra layer to keep warm in cooler seasons, cold weather climates, or on snowy Winter hikes.
Lightweight button-up long-sleeve with collar (extra sun protection)
100% polyester (best for wicking moisture)
Antimicrobial treated fabric
Back vent for ventilation
UPF 40
Convert to short-sleeve with roll-up button tabs
One of the best lightweight long sleeve hiking shirts for men
Thalden polyester fabric wicks moisture
Hood with structured brim provides sun protection
Gusseted underarms gives extra freedom of movement
UPF 50+ fabric
Ripstop (tear-resistant) polyester fabric is durable
UPF 40 sun protection
Antimicrobial treatment reduces unpleasant odors
Hidden back vents keep you cool
Sunglass cleaning patch
This is an affordable, lightweight, moisture wicking, basic long sleeve hiking shirt.
Crew neck long-sleeve hiking shirt
92% polyester, 8% spandex moisture-wicking, quick-drying fabric
Simple yet effective, good for layering
UPF 30
If you want a little more sun protection check out this hiking shirt that keeps sun off your neck.
3-panel hood offers shade when the sun is too hot
92% polyester, 8% spandex
Thumbholes keep shirt in place
Wicks moisture and dries quickly
Anti-microbial treatment helps reduce odors
UPF 50+ fabric provides incredible sun protection
Smoother Polyester 2.0

92% polyester, 8% spandex

Anti-microbial treatment
Super stretchy comfortable fit
Breathable yet warm for cooler days
Partial zip offers extra ventilation
Sleeve thumbholes keep the shirt in place – great for an aggressive hiker or trail runner
A seam-free shoulder provides long-lasting comfort when carrying a backpack
UPF 50 – top sun protection
Zip up collar offers extra sun protection
Mid-layer long-sleeve hiking shirt is perfect for cooler temperatures
Ultra-breathable if you get warm, wicks moisture effectively
Ripstop nylon with durable water repellent (DWR) finish in front
Thumbholes keeps the shirt in place
Underarm gussets
Zip pocket for ID, cash, keys
Odor resistant
Seam-free shoulders are comfy
92% polyester, 8% spandex back and sides
UPF 50
---
The Best Hiking Shirts For Women
Some of the best hiking shirts that we recommend for women are the exact same shirt as we recommended for men. Let's call them the hiking shirt staples! The technical specifications and features are identical, just a different size and shape. However, you will also find some shirts below that are uniquely designed for women. Let's take a look!
Short sleeve hiking shirts for women
These are the best options for hot weather and climates.
Classic hiking T-shirt
UPF 30 sun protection
92% polyester, 8% spandex
Antimicrobial treatment prevents odors
Shoulder seam design helps prevent pack chafing
Most affordable short sleeve hiking T-shirt
Soft Capilene polyester

50% polyester, 50% polyester jersey

Wicks moisture and dries quickly

miDori bioSoft finish is soft and wicks faster
UPF 50+ fabric
A great affordable hiking shirt
86% polyester, 14% spandex blend
The lower back vent can hang loose or be tied
Lightweight, breathable
Odor resistance treatment
UPF 50 sun protection
52% merino wool, 35% TENCEL lyocell, 13% nylon
This fabric blend is soft, breathable and durable
Offset shoulder seams prevents backpack rubbing
UPF 35 fabric
Hiking in insect territory?

Permethrin treatment helps keep bugs off

53% polyester, 38% nylon, 9% elastane blend
Moisture-wicking, breathable, stretchy fabric
Handy chest pocket
UPF 50
Long sleeve hiking shirts for women
Sometimes, long sleeves are mandatory. For sun protection, bug protection, or simply to stay warm.
One of the best lightweight long sleeve hiking shirts for women
Button up long sleeve hiking shirt
Durable ripstop polyester
Omni-wick keeps moisture away from the skin
Quick-dry fabric
Antimicrobial treated
UPF 40 + collar for sun protection
Venting in back shoulder area
Roll-up sleeves
Zipper pocket
Great for hot climate hikes
Button up long sleeve shirt
95% nylon, 5% spandex lightweight, moisture-wicking, quick-dry fabric
Packs up small and light
UPF 35 + collar for sun protection
Snap chest pockets
Treated for odor resistance
Roll-up sleeves convert to short-sleeves
80% recycled polyester
Versatile lightweight long sleeve hiking shirt
Top-notch moisture management (great choice for those that perspire greatly)
Comfortable in a wide range of temperatures

Gusseted underarms for freedom of movement

UPF 50 sun protection
Check REI price | Check Arc'teryx
Lightweight, breathable
88% recycled polyester, 12% merino wool
Merino wool naturally resists odor
Great for colder temperatures as a base next to skin layer
Cute, soft, warm pullover top for hiking
93% polyester, 7% spandex wicks moisture
Zip pocket
Shrink and wrinkle resistant
Wicks moisture and dries quickly
68% Sorona polyester, 32% merino wool
Naturally odor resistant
V-neck with 3 buttons to help with ventilation
---
The Best Hiking Shirts For Kids
Keeping kids comfortable and happy on the trails is paramount to ensure a good time for all. Because kids are smaller they are more susceptible to overheating or getting cold. Be sure to invest in a hiking outfit for your children. A hiking hat, hiking socks, and a hiking shirt is a good starting point. Here are some great options for kids.
Comfortable lightweight polyester fabric
Moisture wicking T-shirt for kids
Quick-dry
UPF 15+ sun protection
Lightweight stretch ripstop nylon fabric
Wicks moisture breathes and dries quickly
UPF 50+ sun protection
Collar for extra sun protection
Roll-up sleeves
Easy snap buttons in front
Lightweight soft polyester fabric
Thumbholes keep sleeves in place and hands covered
Comfortable flatlock seems
Wicks moisture
Quick dry
UPF 15+ sun protection