Down jackets are an integral part of hiking in cold weather conditions. Down insulation, unlike synthetic material is commonly warmer than synthetic material. The feathers from birds, mainly geese, and ducks, provide for a plush feel that is incredibly insulated, and traps in heat. Down jackets normally have a bracketed look from baffles. These pockets keep the down separated, and comfortable for usage.
While down jackets can be worn alone over a t-shirt, or baselayer, often times a layering system always works the best. This layer is not breathable like others, and is best used when taking a break, or while hiking with low output. Down jackets also act as the final layer of protection from the brutal cold. It's the one layer that can go over everything else in the case of extreme temperatures!
Down jackets are best used in cold and dry weather conditions. Down jackets are the ultimate cold weather later for hiking. This is the layer that you should always bring with you in your pack, you never know when a cold spell can come through.
It is important to understand where and when down jackets should be used. A major pro of down is that it compresses down well, and has impressive insulation for its weight. That being said, if down gets wet, it clumps up and does not retain its warmth. That's why down jackets are ideal for more stationary activities, or when hiking is severely cold, and the output from the hiker is not much. If you exert sweat while hiking in down apparel, it will again clump up and not retain its warmth and insulation. Some down jackets on the market now have a bit of water repellency, which may be useful for some hikers. A durable nylon outer layer makes for the best possible down jacket with some water repellency.
Something else to consider with down jackets is that they are normally not as durable as synthetic jackets. This is why again, active hiking is normally not the best usage of a down jacket.
The goal of a down jacket is for functional warmth. Other than a durable waterproof shell, this is arguably the most important layer to keep in your pack while hiking. This is what stays in the bottom of your pack until your warmth depends on it.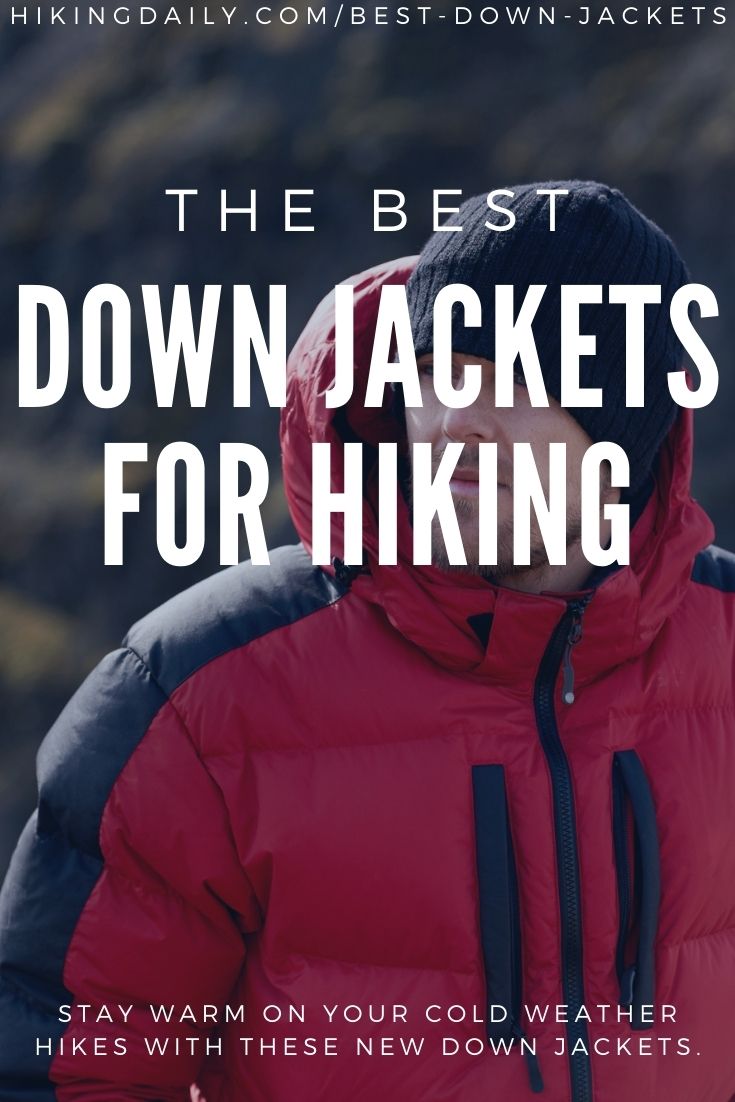 Fill Power and Fill Weight
One of the trickiest parts of purchasing a down jacket is understanding what the heck fill power and fill weight means. While down is sourced from both geese and ducks, geese down is generally considered to be of much higher quality. There are many ethical questions associated with using down, which will be addressed in a later section of the article. Production of down jackets is done with a ratio of down and feathers. Down is actually the layer of insulation on geese and ducks that is under the outer layer of feathers.
Fill power
Fill power is the rating that you see on a jacket. This usually ranges somewhere between 350-900 fill power. Fill power is part of a standardized test that measures the volume of down. When taking a look at the same weight of down in different fill powers, the higher the fill, the more space the down will take up. Hence, it allows less air to penetrate the jacket and is overall better insulation. The higher the rating of the down fill, the less mass of down is needed to retain and capture warmth. While jackets in the 700-900 fill contain the highest quality down and will often be warmer than lesser fills, this is not always the case. The higher fill power is also lighter, and more easily compressible.
Fill Weight
As you guessed it, fill weight refers to the actual weight of the down in the jacket. This is very important to take a look at when purchasing a down jacket, as this too is related to warmth. Bottom line, a jacket with a high fill weight and fill power will be the warmest jacket on the market. Theoretically, a 350 fill-down jacket with a fill weight of 10 ounces would have the same warmth as a 700 fill jacket with a fill weight of 5 ounces. Many different aspects of each jacket would dispel this theoretical comparison, but as a rule of thumb, it is critical to take a look at both fill weight and fill power.
The bottom line is the higher fill power and fill weight = the warmest jacket possible. The higher the fill power, the lighter, more quality, and higher compressibility the jacket has.
Understanding Responsible and Ethical Down Products
As down products come from animals, it is critical to understand how to look for ethically sourced down. The most popular label one might find when shopping for a down jacket is an RDS label or Responsible Down Standard. The main tenant of an RDS label ensures that "down and feathers come from animals that have not been subjected to any unnecessary harm." This mainly refers to the act that live-plucking or force-feeding of birds for the use of down products is strictly prohibited. RDS is the main label one might find when shopping, big brands like Arc'teryx and Mountain Hardwear also have RDS products available.
Another popular down label with similar standards to RDS is the Global Traceable Down Standard, a popular standard among brands like Patagonia.
While RDS is the most popular standard in the outdoor industry, there are other ways to learn more about your down products. Trackmydown.com now supports several different companies in the outdoor industry and can give you a good idea of the ethics of your down products!
Now, for what you have been waiting for! A non-exhaustive list of some of the best down hiking jackets on the market. The below list includes heavyweight, midweight, and lightweight/causal around-town down jackets. While these three categories are subjective, think of the medium weight for jackets that are useful to carry in 3 season weather, the heavyweight for winter conditions, and the lightweight for around town and lighter hiking!
---
Best Heavyweight Down Jackets
1. Arc'teryx Alpha Parka Men's (MEN | WOMEN)
Price $999
Fill 850
Weight 1 lb 12.4 oz
What We Like This RDS-certified jacket is perhaps the warmest on the market. This new jacket from Arc'teryx has an impressive mix of 850 fill down with added synthetic insulation for great breathability and moisture-wicking qualities. While the price tag is not very inviting, the warmth is.
Consider this jacket if you participate in serious cold weather hiking where the temperature can hover around or below 0 degrees Fahrenheit (-17 Celcius).
2. Patagonia Fitz Roy Down Hoodie (MEN | WOMEN)
Price $399
Fill 800
Weight 1lb 1.1 oz
What We Like This Advanced Global Traceable Down jacket made with goose down is an incredible warm heavier down jacket. This jacket is quite packable and is lined with a nice outer nylon protection layer, ensuring a decent amount of durability.
Check Men's: Patagonia | Backcountry
Check Women's: Patagonia | Backcountry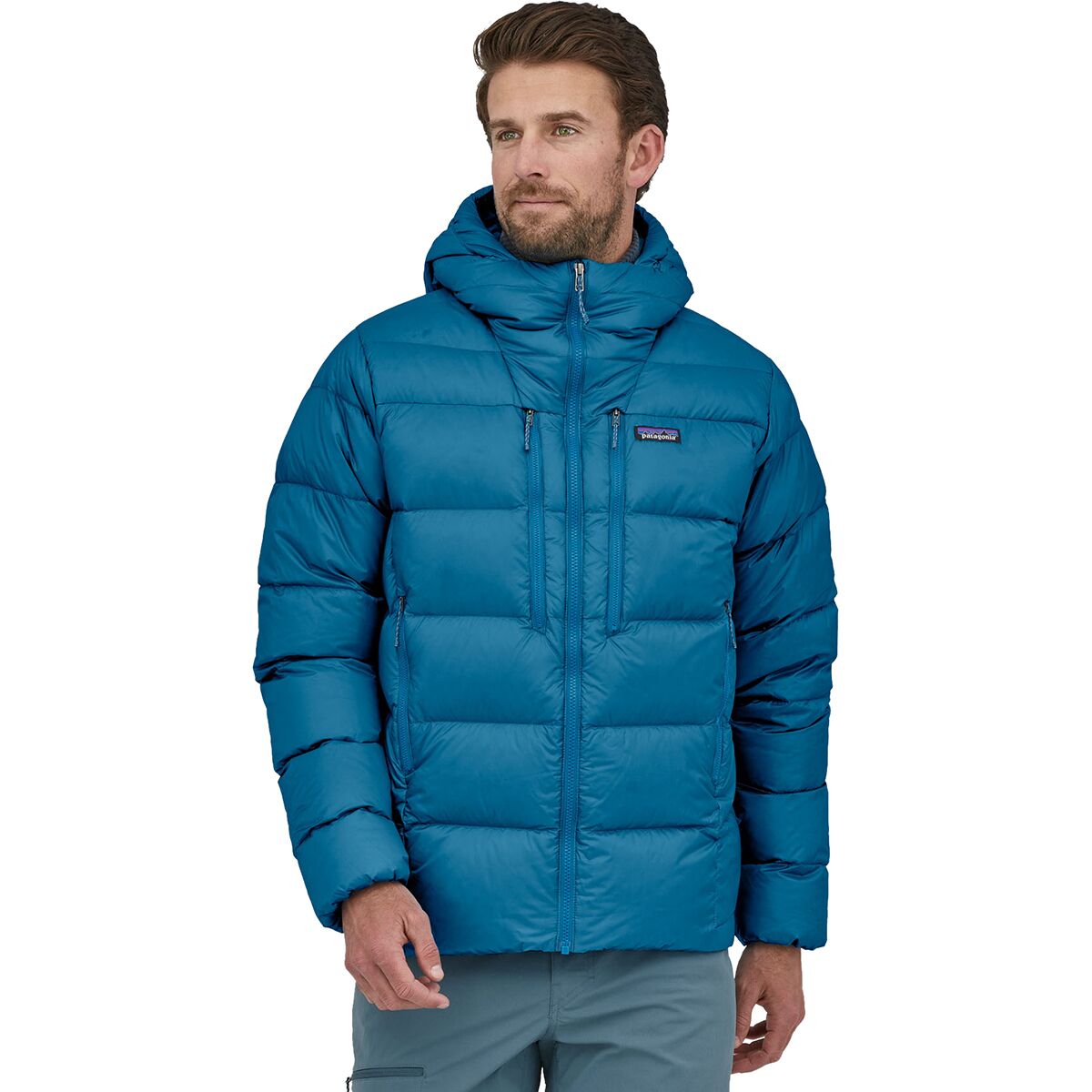 3. Mountain Hardwear Nilas Jacket (MEN | WOMEN)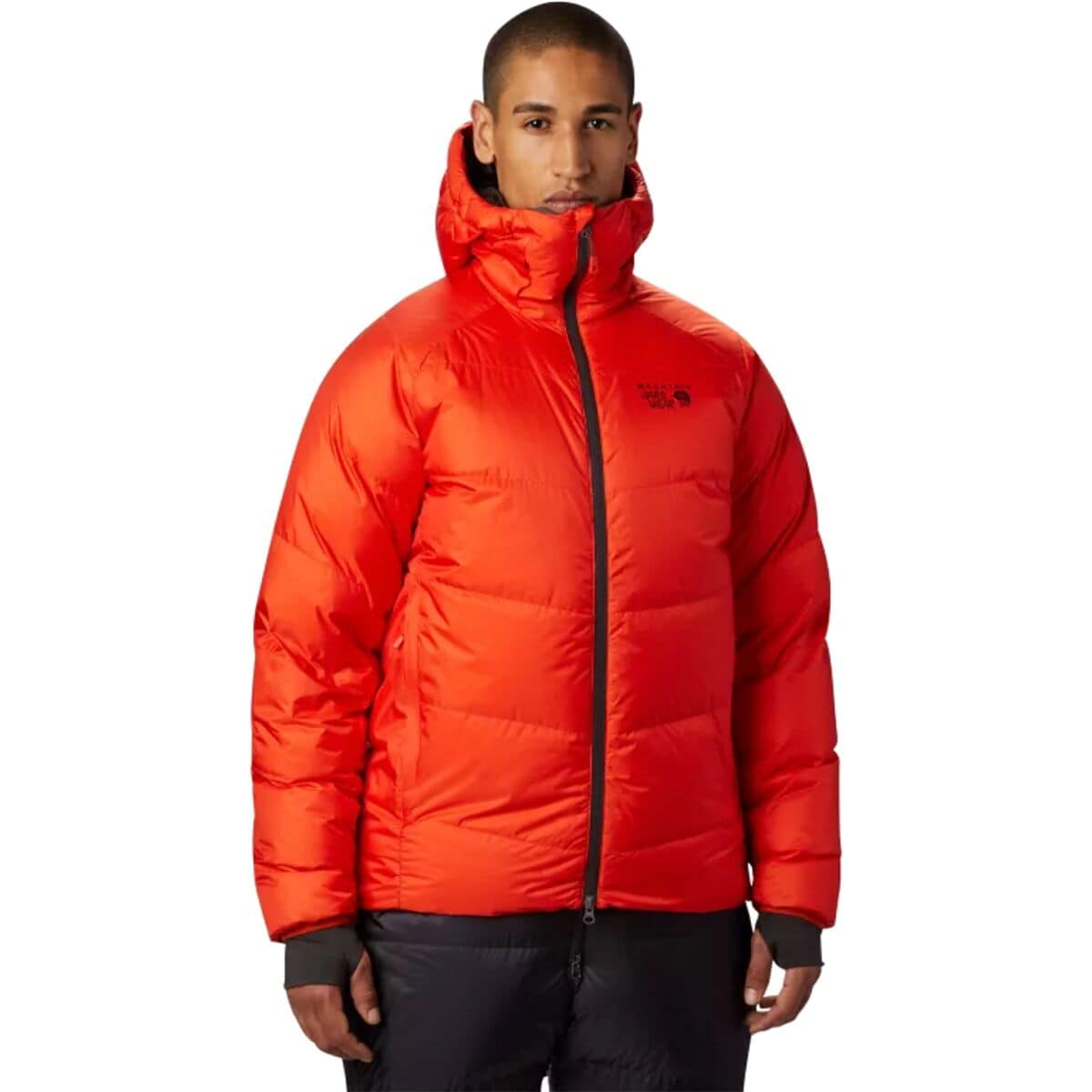 Price $550
Fill 800
Weight 1 lb 16 oz
What We Like This RDS-certified down jacket is also certified to keep you warm in the toughest conditions. With a wind-resistant baffling structure, it will help to trap in warmth with its fill power and fill weight. Consider this for an emergency layer for extreme winter hiking conditions.
Best Midweight Down Hiking Jackets
4. Arc'teryx Cerium Hoody (MEN | WOMEN)
Price $400
Fill 850
Weight 11 ounces
What We Like Starting off for our midweight category, this weight to warmth ratio is a spectacular choice for a down hiking jacket all year round. The weight and compressibility make it quite easy to fit at the bottom of your pack. However, this jacket has a slimmer fit, so make sure to try it on before purchasing.
The Cerium is available without the hood in a men's or women's jacket for a slight discount. This Cerium is an update of the Cerium LT, which may also be available at a lower cost.
Check Men's: Arc'teryx | REI | Amazon
Check Women's: Arc'teryx | REI | Amazon
5. Mountain Hardwear Ghost Whisperer 2 Down Hoody (MEN | WOMEN)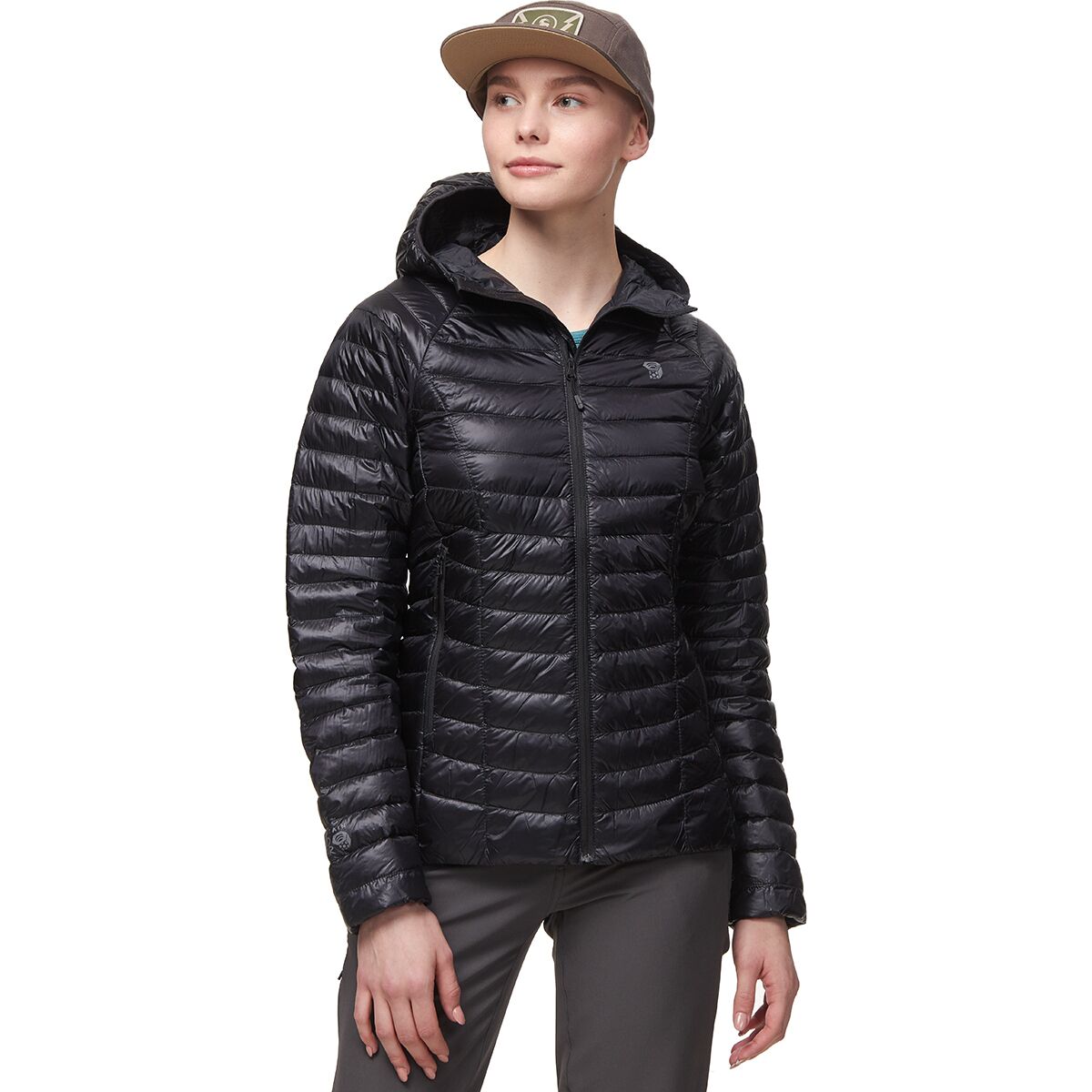 Price $350
Fill 800
Weight 8.8 ounces
What We Like This might be the top choice for an ultralight down jacket. It is so light that you'll forget you even have it. 800 fill RDS certified down with a water repellent finish makes for a great 4 season down hiking jacket. It packs into its own pocket and can even be used as a pillow.
Spend less money and get more color options with the Ghost Whisperer Down Jacket. There is also a snap front jacket for men and women.
Check Men's: REI | Amazon | Moosejaw | Backcountry Jacket: Amazon | Moosejaw | Backcountry
Check Women's: REI | Amazon | Moosejaw | Backcountry Jacket: REI | Amazon | Moosejaw | Backcountry
6. REI Co-op 650 Down Jacket 2.0 (MEN | WOMEN)
Price $99.95
Fill 650
Weight 11 ounces
What We Like This fantastic budget-friendly jacket is a great layer to add to your hiking arsenal. A DWR coating adds some water resistance and the jacket can be stuffed into the left hand pocket. Fair trade-certified production and RDS mean no people or ducks were harmed in the making of this clothing. This jacket also comes as a men's hoodie and in women's plus sizes.
7. Outdoor Research Helium Down Hoodie (MEN | WOMEN)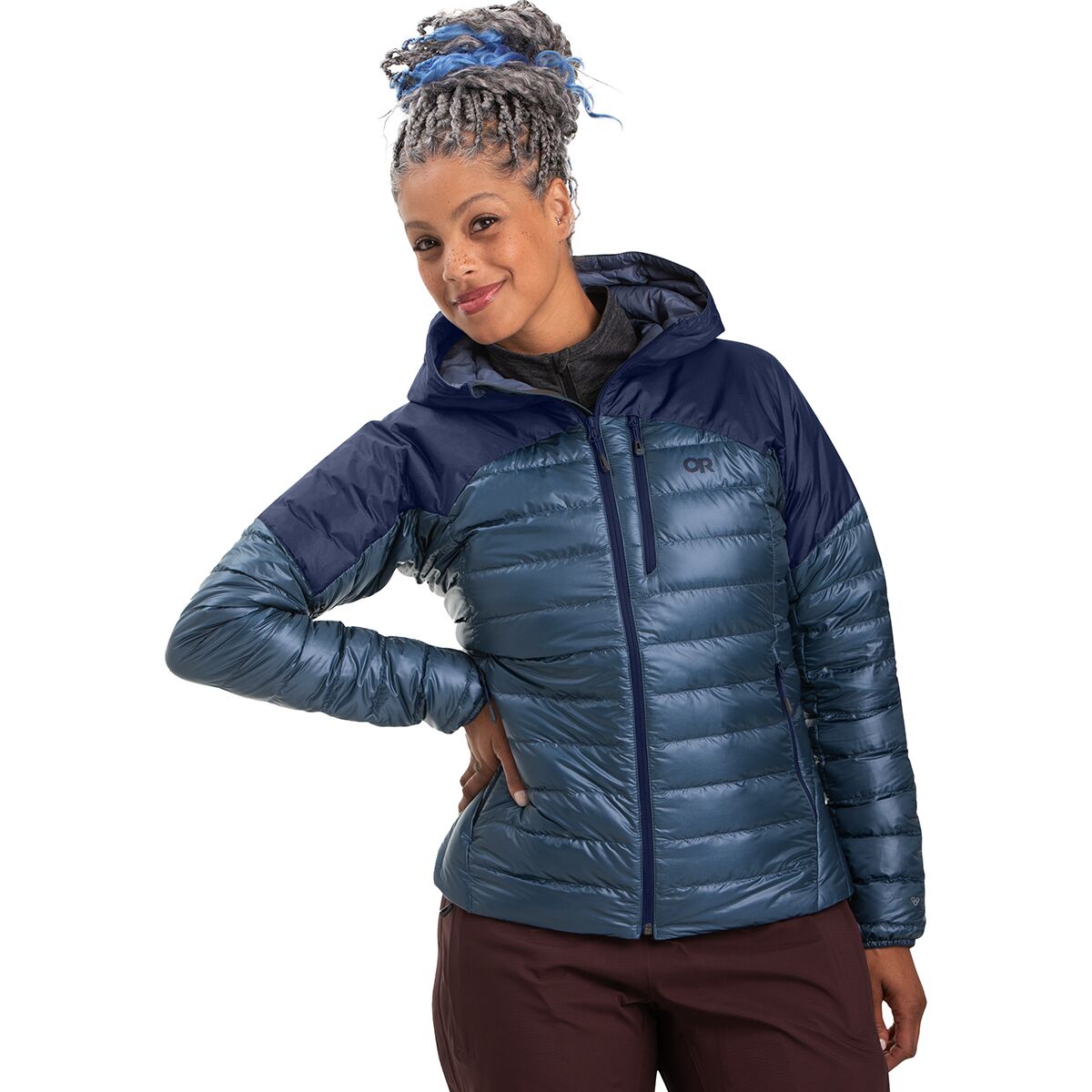 Price $279
Fill 800
Weight 15.4 ounces
What We Like This RDS certified down hiking jacket is another favorite, due to its high-quality fill, and a durable outer nylon material to help with moisture and wind. The contrasting vertical baffles at the yoke is a unique and attractive feature of this jacket. Some colorways emphasize this detail with contrasting colors.
The left pocket also doubles as a smaller stuff sack, making the jacket easy to store in a pack. Sizes go up to XXXL for men and 4X for women.
Check Men's: Outdoor Research | REI | Moosejaw | Amazon | Backcountry
Check Women's: Outdoor Research | REI | Moosejaw | Amazon | Backcountry
8. Rab Microlight Alpine Down Jacket (MEN | WOMEN)
Price $280
Fill 700
Weight 1 lb 1 ounce
What We Like As the title suggests, this jacket is a great choice if you are wanting to cut down on weight. Treated with a durable water repellent (DWR), this jacket does have some repellency to light rain and snow. One of the coolest aspects of this jacket is that down and outer materials are all made with recycled materials.
Check Men's: REI | Backcountry | Amazon
Check Women's: REI | Backcountry | Amazon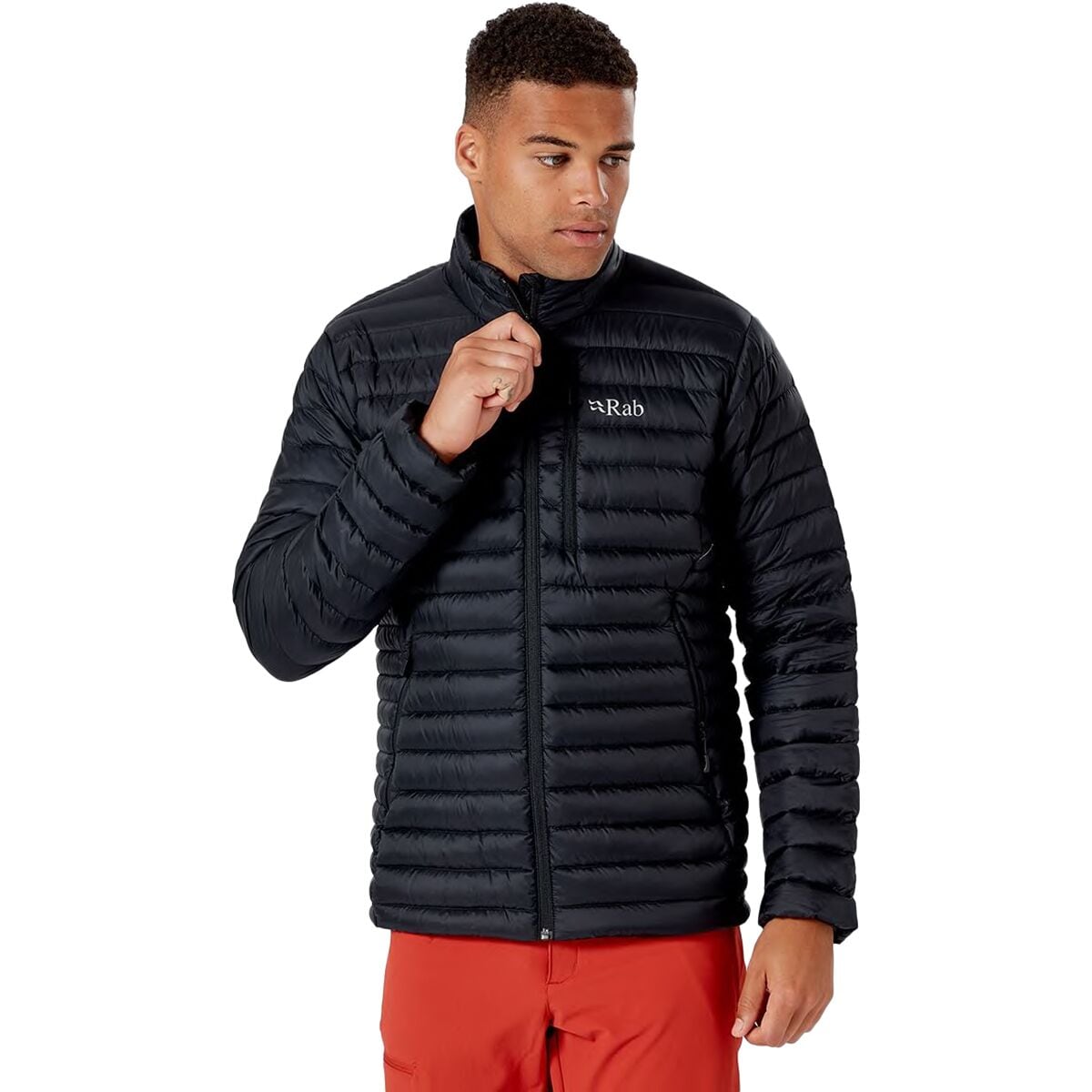 Lightweight stylish down jackets
9. Patagonia Down Sweater Hoodie (MEN | WOMEN)
Price $329
Fill 800
Weight 15 ounces
What We Like Looking for a lightweight down hiking layer that also works as a great around town layer, look no further! This jacket features Advanced Global Traceable Down with a recycled outer polyester finish. While the fill weight of the jacket won't make this the warmest jacket on our list, it is a great weight for those shoulder season hikes.
Check Men's: REI | Patagonia | Backcountry
Check Women's: REI | Patagonia | Backcountry
10. Cotopaxi Fuego Hooded Down Jacket
Price $275
Fill 800
Weight 14 ounces
What We Like If you've been wondering who makes the cool retro down jackets with colorful stripes, it is Cotopaxi. While the entire jacket comes in at a mere 14 ounces this jacket is known to be surprisingly warm. This down hoodie also has a DWR coating, 20-denier ripstop nylon, and RDS certified down.
Check out the vest and pullover styles for men. For women, there is also a longer parka, vest, and even brighter colorblock stripes.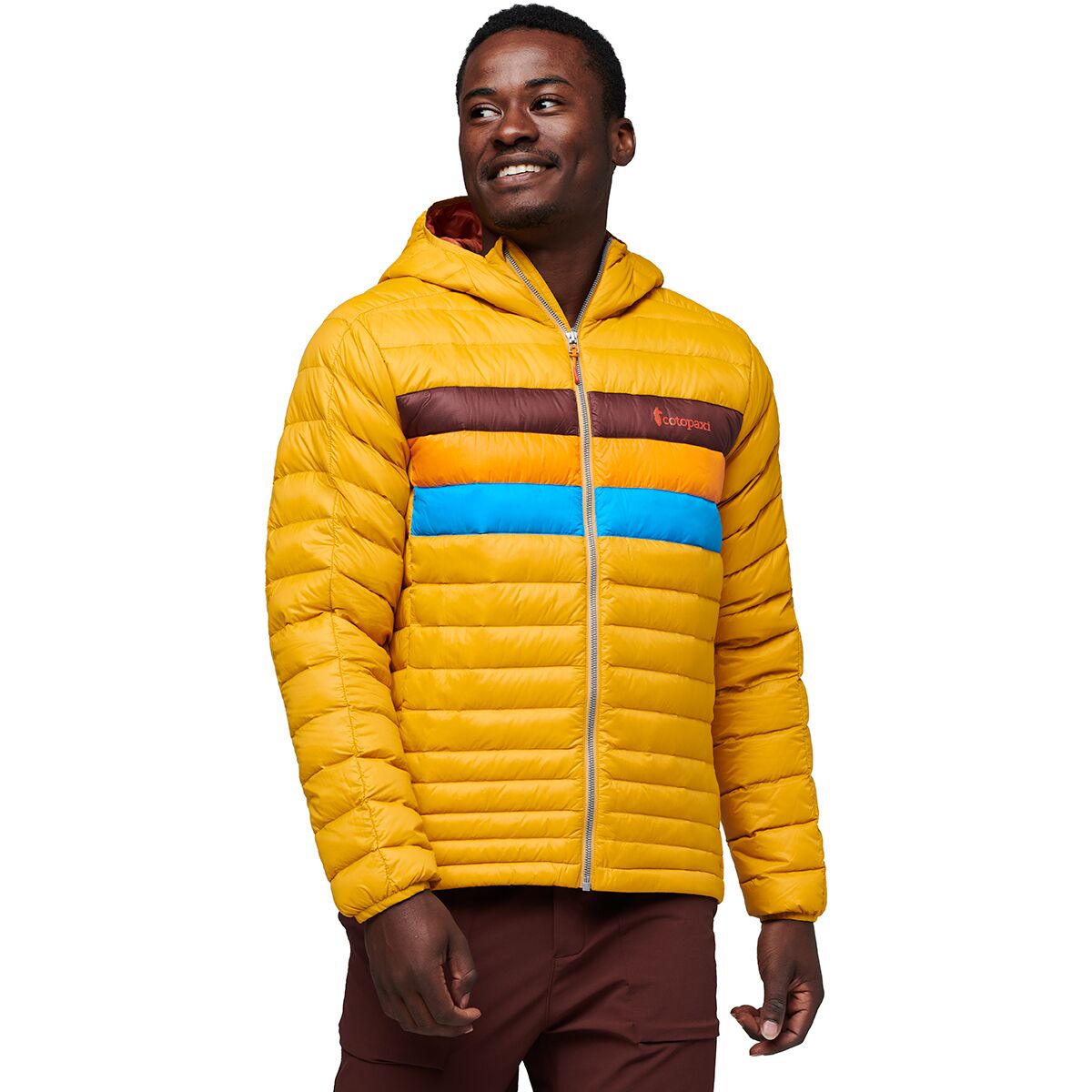 Check Men's: REI | Moosejaw | Amazon
Check Women's: REI | Moosejaw | Amazon
Conclusion
While finding a down jacket for hiking is no easy task, we hope this article will better prepare you to make this big purchase! Happy hiking!