As you chug up switchbacks and scrambles, your muscles are constantly exerting energy. A constant supply of calories is essential to keep you moving. Here is an ultimate guide to the best hiking snacks that will help prevent fatigue and hanger, so you can fully enjoy your hiking adventure.
Day Hike Snacks
A major benefit for most day hikes is that you don't have to worry too much about weight and bulk. That being said, feel free to bring heavy, but tastier items to make your hike extra enjoyable. Remember to still opt for nutrient-rich hiking foods and bring plenty of water. Some popular day hike snack ideas include:
Trail Mix
Fresh and/or Dried Fruit
Jerky
Chocolate
Cheese
Protein bars (CLIF, RxBars, etc)
Sandwiches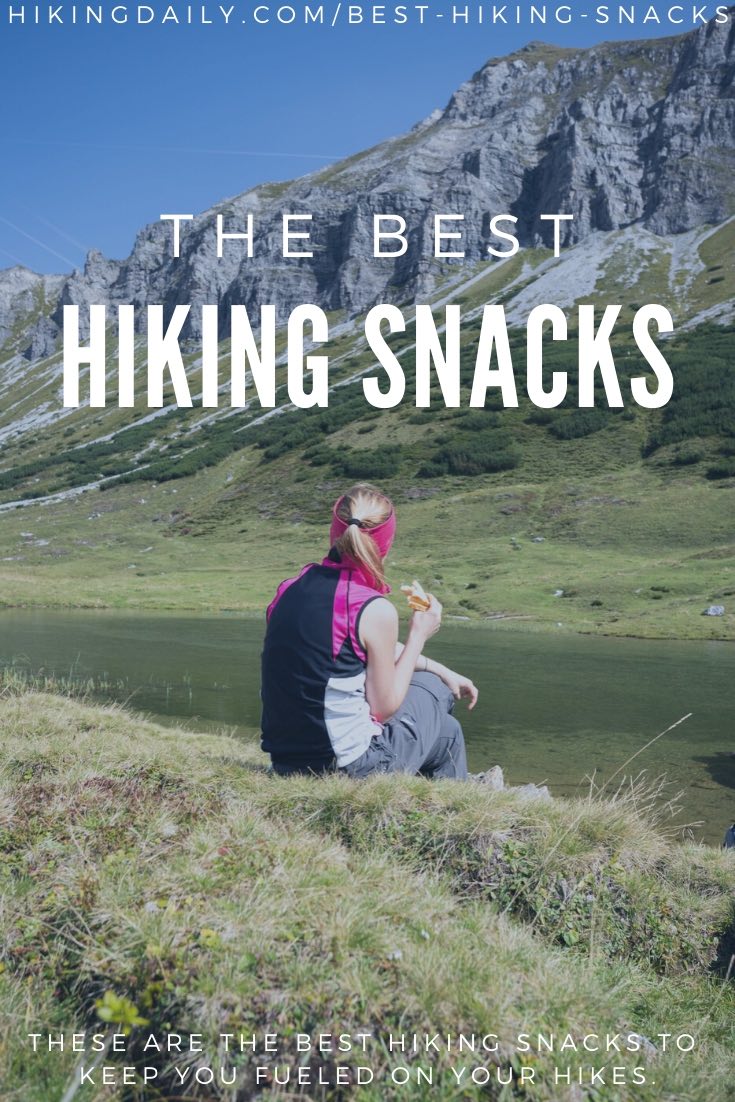 Homemade DIY hiking snacks vs. Store Bought
While store-bought bars are convenient, they can come at a hefty price – especially when added all up. DIY hiking snacks can help your budget and reduce waste. When done right, it can be a cheaper, more sustainable, and healthier to make your own hiking snack.
Here are some trail-proof ideas:
DIY Trail Mix
If I want to stock up on trail mix, I always make my own. All you have to do is buy your favorite nuts in bulk, add some dried fruits, seeds, and (preferably dark) chocolate, and you are good to go!
Peanut Butter Fat Bombs
This is a great Keto DIY hiking snack. All you need is to melt real peanut butter, coconut oil, butter, cinnamon, and dark chocolate together. Roll them into little balls and freeze for about 30 minutes.
Pro Tip: If you plan to hike in hot weather, this snack can get a little messy. To prepare, pack the peanut butter fat bombs in a bag and bring a spoon!
Keto Hiking Snacks
If you are on a Ketogenic diet, you'll want snacks high in protein and fats, but low in carbohydrates. Here are some ideas:
1) Dried Meats
Dried meats like jerky and salami are high in fat, low in carbs, and moderate in protein. They are a tasty addition to other snacks like hard cheese or tuna packets. Some other options include summer sausage, pepperoni, and bacon bits.
2) Hard Cheese
These are the best cheeses for a Keto diet:
Sharp cheddar
Asiago
Romano
Parmigiano
Gouda
Grana Padano
Swiss Gruyere
Pro Tip: For backpacking, cheeses that are older, dryer, and harder will last longer.
3) Avocado
Exceptionally tasty and high in fat. Need we say more?
Pro Tip: For 3-4 backpacking trips, bring avocados at different stages of green. The more firm/greener avocados will ripen by the later days of your trip.
4) Nuts and Seeds
Nuts are packable, last a long time, and nutrient-dense. They are rich in calories, healthy fats, and store a good amount of protein. Pecans, macadamia nuts, and Brazilian nuts are all popular high fat and low carb nuts. However, if you are on a budget, fill up a bag with peanuts and they'll serve you well.
To spice up your Keto collection, throw in a handful of pumpkin and/or sunflower seeds with your nuts. They are high in calories, high in fat, and are more nutrient-dense than nuts.
5) Nut Butters
Nut Butters don't require any preparation, are easily packable, and have super nutritional benefits to power you through any trail.
Pecan butter is very high in fat with negligible amounts of carbohydrates and sugar. This makes it the most popular for Keto hikers. Almond and peanut butter are good options as well.
Pro Tip: Make sure to use nut butter with only nuts and salt. Heavily processed nut butter with hydrogenated and palm oils are not only bad for the environment, but they slow you down and hurt your health.
6) Oil Packets
Coconut, ghee, and olive oils contain healthy fats that help make your meals tastier and more nutritious. They are especially great for backpacking trips, as oil does not spoil.
7) Tuna Packets
Tuna is cheap and packed with protein.
8) Low Carb Protein Bars
There are plenty of great Keto-designed bars available. Epic Provisions creates high protein meat bars that cater to a Keto diet. For a vegan option, try Keto Bars.
Best Snack Bars for Hiking
Our #1 Pick: Kate's Real Food
Kate's Real Food is an all organic, non-processed meal replacement bar. While each bar packs 260 calories, it is still light and extremely popular for its great taste. The Kate's Real Food bar may seem pricey, but at $30 per dozen ($2.5 per bar) and dense in nutrient-rich calories, they are a great deal. Try their most popular flavor, Dark Chocolate Cherry Almond here.
Calories: 260
Fat: 9g
Protein: 6g
Carbohydrates: 40g
Our #2 Pick: KIND Protein Bar
Most protein bars are notorious for their tasteless and powdery consistency. KIND's protein bar completely avoids this, as most of the protein is carried in the bar's nuts. The KIND protein bar is gluten-free and rich in fat. As they are wonderfully dipped in chocolate, KIND bars melt easily and should be stored in a cool place.

Calories: 250
Fat: 17g
Protein: 12g
Carbohydrates: 18g
Honorable Mentions:
RXBARs are made with simple ingredients (shown on their front packaging) and high in protein. You can buy a dozen for $26 or thirty for $60. They are tasty, popular, and found in almost every grocery store. The blueberry is one of my all-time favorites!
CLIF creates high performance, sustainably sourced energy bars. Their prices are in the same range as other energy bar competitors. Like RXBars, they can be found in almost every grocery store and gas station.
Hiking Snacks for Dogs
Does your furry friend love to accompany you on your outdoor adventures? Here are some of my personal favorite snacks to bring for my favorite hiking pup:
1) Jerky Treats
Dehydrated meat treats are not only great hiking snacks for humans but a healthy snack for your dog as well. Pick a jerky treat free of artificial preservatives or additives and make sure your pup is done chewing before walking!
2) Training Treats
Small training treats, like Zuke's Mini Naturals, are a great booster snack to praise your pooch and maintain their nutrient balance.
3) Doggie Biscuits
Some dog biscuits, like the Carnivore Cookies are packed with hearty nutrients like protein, to help your dog on long hikes. Always opt for treats made of all-natural ingredients. It will help your dog last and live longer.
Pro Tip: If you feel thirsty, hungry, or tired, odds are your dog is as well. Make sure to take a snack break so your pup can eat and rehydrate. Make sure to check if your dog has had enough water – especially on a hot day. If their nose is dry, they are likely dehydrated.
Best High Energy Snacks for Hiking
In the age of cardio kings and queens, endurance sports can be daunting. One of the primary training factors for these athletes, however, is food. Certain energy-boosting foods – built with a combination of high carbohydrates, moderate protein, and low fats – stabilize your blood sugar and produces higher energy levels. These are some foods that will help you eat your way to better endurance.
1) Oatmeal
Oats are slow-burning calories that make you full longer and stabilize blood sugar. Combine it with our #2 and #3 best high energy hiking snacks, dried fruit and nuts.
Pro Tip: Although tasty, avoid sugar-loaded packets – they will take away any prior nutritional benefits from oatmeal. Opt for rolled or steel-cut oats.
2) Dried Fruit
Dried fruit contains natural sugars that serve as fast-acting carbs. These are great for a pre-hill, morning boost. To maintain high energy when hiking, combine these carb-rich fruits with protein and fat, such as sunflower seeds and/or certain nuts.
3) Nuts
Nuts are hiking superfoods that are calories and protein-dense. Additionally, nuts like almonds and walnuts provide much-needed doses of healthy fats. Combine your nuts with carbohydrates like pasta, raisins or pretzels.
4) Pasta
Whole grain noodles contain fiber and some essential fatty acids. Their long-lasting supply of glycogen provides consistent fueling for long-distance hikes. Make sure to combine your whole grain pasta with nuts or hard sausage to up your supply of fat and protein.
5) Jerky
Beef, turkey, and salmon jerky are lightweight, non-perishable, and loaded with protein. On strenuous hikes in hot weather, high sodium jerky will help replenish your body's salt content after sweating. We recommend combining your jerky with high-carb, fatty foods like cheese.
Best Hiking Snacks for Long Hikes
Whether you are planning for the PCT or just a longer variation of your normal day hike, there are a few important things to consider.
Hiking snacks for long hikes should provide a lot of energy without sacrificing weight and space. Some of the best high calorie, low bulk options include:
1) Nuts & Seeds
Pro Tip: Macadamias and pecans lead the pack in calories, although brazil nuts and walnuts trail close behind.
2) Olive oil
Olive oil is a great high-calorie, healthy fat addition to every meal.
Pro Tip: To incorporate more olive oil in your diet, use it as salad dressing, a butter alternative, or over your pasta.
3) Dark Chocolate
Dense in flavor, calories, and nutrients like iron, dark chocolate is a great long-distance hiking snack.
4) Energy Bars
Energy bars like the ones mentioned above are designed to be packable, tasty, and rich in calorie-dense nutrients.
Best High-Calorie Snacks for Hiking
Long, hard hikes require a constant resupply of energy. High-calorie snacks are important to keep you pushing and fueled. To save weight, opt for snacks with a high calorie per ounce ratio. As fat has the densest concentration of calories, nuts (especially macadamias and pecans) are your snack champion. Salami, energy, and candy bars are also great, high-calorie options.
Best High Protein Snacks for Hiking
Switchbacks and scrambling take quite a toll on your muscles. Trust us, we know. After a grueling day, your muscles need time to recover. High protein snacks like hard sausage and jerky will help aid in a speedy recovery. If you are a vegetarian, try a high protein energy bar. We love the Blueberry flavor from RXBars.
Best Hiking Snacks from Trader Joes
We love everything about Trader Joes – the Hawaiian shirts, fresh fruit, and most importantly, their hiking snacks! Next time you are at your local Trader Joes, try these healthy snacks:
Trader Joe's Instant Oatmeal
Trader Joe's Organic Peanut Butter
Trader Joe's Natural Turkey Jerky
Go Raw Trek Mix / Rainbow's End Trail Mix / Organic Trek Mix
Babybel Cheese Circles
KIND Bars
RX Bars
Chocolate Covered Almonds
All/Any Fresh and Dried Fruit!
Best Vegan Hiking Snacks
Lucky for us, most hiking snacks, such as nuts and dried fruit are vegan! If you want vegan snacks that are high in protein but tired of eating bars, try vegan jerky. Primal Strips make a high energy, high protein plant-based jerky. They're tasty and easily packable. Here are some other options if you would like to spice things up:
Yum Snacks Protein Shots
Yum Snacks Protein/Energy Balls
Dried Seaweed
Nut Butters
Apple and Banana Crisps
Veggie Chips
Gluten-Free Hiking Snacks
As the outdoor industry continues to grow and hiking gains popularity, there are more and more gluten-free snack options!
Jerky
Dried Fruit
Nuts
Trail Mix
Gluten-Free Granola (try the Peanut Butter Whole Grain Clusters from KIND)
Gluten-Free Granola Bars like RxBar
Best Nut-Free Hiking Snacks
Although guides to hiking snacks are filled with different types of trail mix and PB & Js, nut-free hiking snacks are actually easy to find and make! Here are some other allergy-safe hiking snacks:
Make your own trail mix without the nuts! Combine your favorite dried fruits, chocolate, and coconut shards into a delicious, high energy snack to energize you for any switchback or scramble.
Instant oatmeal
Jerky
Nut-free Quaker granola bars
Best Snacks For Winter Hiking
For winter hikers, walking around snow-topped trees and red, desert sand, is the closest we can get to heaven. To experience the full trail magic of a winter hike, it is important to plan ahead. The cold weather on a winter hike demands a hearty set of snacks dense with extra calories and energy to keep you warm. Here are some winter hiking snacks that will keep you nourished and won't freeze:
Fig Bars
Heavy-Duty Trail Mix (Nuts, Coconut Chips, Dried Fruit, etc.)
Jerky
Peanut Butter
Crackers
Pro Tip: Avoid (or give special, warm treatment to) chocolate, cheese, and most energy bars. In cold weather, these foods freeze and become really, really hard. In fact, I almost lost a tooth after trying to eat a CLIF bar on a cold, alpine summit in Rocky Mountain National Park.
Fun Hiking Snacks for Kids
Growing up, my Dad and I went on long hikes in the mountains behind Buena Vista. They were challenging for an elementary school student with short legs, so my Dad was adamant about "feeding the meter" – making sure I consumed enough calories to keep pushing. This meant a step away from uber-healthy "adult" snacks to yummy, kid treats. It helped me reach my goals and foster a love for hiking.
Here are some kid-tested, kid-approved hiking snacks to bring on the next adventure with your little one:
Trail Mix
Mini PB&J Sandwiches
Mini Muffins
Cheese Sticks
Chocolate or Candy (for bribes)
Quaker Chewy Granola Bars (my personal favorite growing up)
Squeeze Pouches (try the healthy fruit/veggie variety from GoGo SqueeZ)