Extra water is one of the ten essentials to hiking and backpacking. Always take more water with you than you think you will need. Too much water is really better than too little. If you run out, and do not have a water filter/purifier, you may confront some serious health issues. Particularly when hiking at high elevation or in very hot and dry climates. Dehydration can be a serious threat to your wellbeing. The best way to stay hydrated is to use a hydration bladder aka hydration reservoirs.
Hydration bladders are a great option because they allow you to take small sips of water continuously over the course of your hike. This will keep you hydrated, and prevent large volumes of water from sloshing around in your stomach.
For high altitude hikes it is really important to maintain constant hydration to prevent altitude illness from settling in. I find if I rely on water bottles only, I don't end up drinking enough water if it is stored away in my pack. Or, it is slightly annoying to carry a water bottle in one hand the entire hike. I like to keep my hands free for balance and climbing. A hydration reservoir solves these issues because it allows you to drink all the time. If you run dry, refill it with a water source which could be from a water bottle in your backpack, or use a water filter/purifier to pull fresh water from a lake, river, or stream. Then carry on with you hike.
In this guide, we cover the newest and best hydration bladders that you can get to put in your backpack.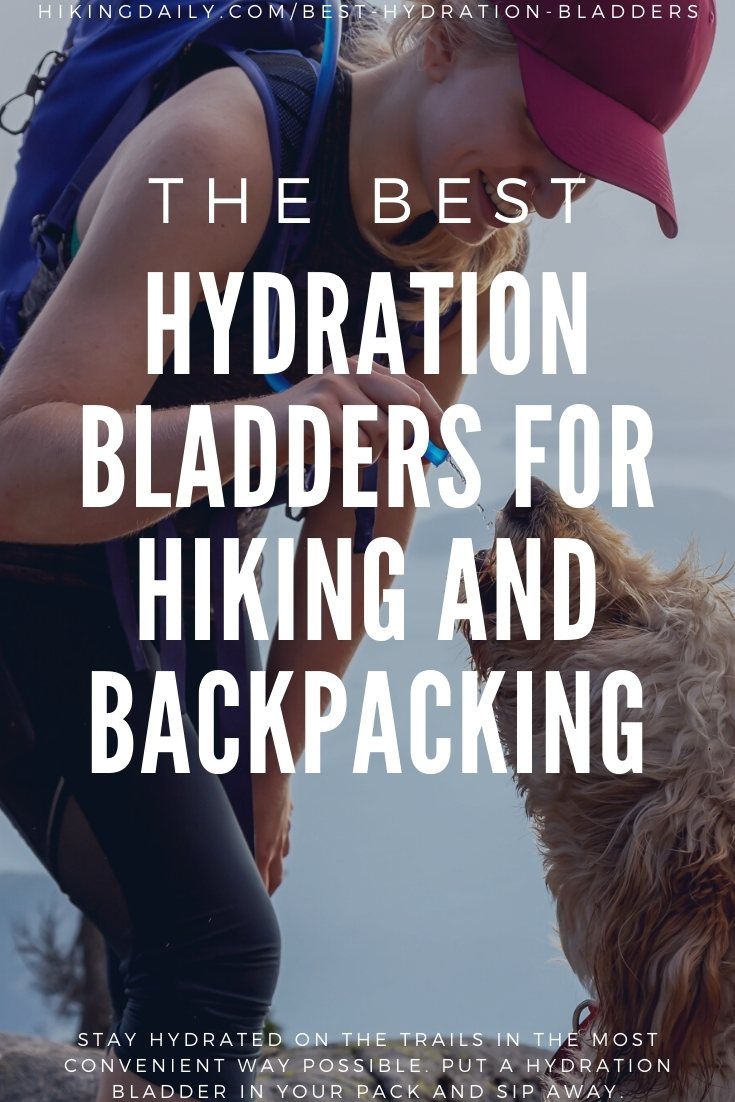 ---
First let's take a look at the best hydration bladders for hiking. These are all lighter in weight, smaller in volume, and are best suited for day hikes short or long.
Since, I own an Osprey backpack, I own and use this three liter hydration bladder. I will fill it up with about 2 liters for my hikes, and also take along another 2 liters in a water bottle. This is a great system since I can sip on the go (handy on high elevation hikes), and I have some ice cold water in a bottle to replenish the reservoir when it is emptied. Even though this is the largest size at 3 liters, this water bladder easily fits in my daypack. Perfect.
Magnetic sternum strap secures to your (Osprey) pack
Full plastic backer plate keeps the reservoir flat and comfortable in your backpack
Pour shield is handy for pouring and filling in shallow sinks
Bite valve delivers fast and smooth water flow
Twist on and off switch
Dimensions: 15 x 7 x 3 in. inches
7.8 ounces
Check Osprey price: 3 liters | 2 liters
Check REI price: 3 liters | 2 liters
Check Backcountry price: All sizes
This is a unique offering that comes in two pieces: The bags that are available in 2 liter, 4 liter, and 6 liter sizes, plus the hydration kit. When empty, the DromLite bags are super packable making them great for backpacking adventures. They essentially collapse to the size of the caps. These bags are also very light in weight.
Hands free bite valve and shutoff valve
Taste-free polyethylene-lined drinking tube (40 inches in length, resists freezing)
Top loop for easy hanging and carrying
BPA-free food-grade lining

Better tasting
Can handle freezing

4.6 ounces (2L), 5.1 ounces (4L), 5.7 ounces (6L)
8.5 x 15.6 inches (2L), 10 x 18.3 inches (4L), 11.3 x 20.6 inches (6L)
Check Backcountry price: MSR DromLite Bags | Hydration Kit
This hydration bladder made by Gregory is unique in its 3D design. When empty, the top and bottom layers don't touch, so it the reservoir dries out much like a water bottle. This design also helps keep it flat in your backpack sleeve.
Rubberized fill port opening with screw cap
3D design speeds up drying time
QuickDry hanger makes drying and storage easy
Full-length baffle

Distributes the weight for stability
Keeps bladder flat in your pack

Soft molded handle for easy bladder removal
Inline hose quick-disconnect makes refill quick and easy
Push-button on/off for leak-free storage
Bite valve makes drinking easy
Dimensions: 17 x 7 x 3 inches
7 ounces
Check Backcountry price: 3D Hydro 3L
Also available in a 2 liter size.
Want to hike light and move fast on your feet? Then check out this lightweight hydration bladder by Osprey. This is also a good option for hikers that are also climbing since it is lighter and will thus keep you better balanced.
Twin-welded diagonal baffles

Stabilizes the water
Keeps bladder flat in your pack
Lighter in weight vs. full plastic backer

Easy loading streamlined design slips into internal sleeve
Pour shield for easy pouring and filling up
Magnetic sternum strap
Bite valve for fast and smooth water flow
Twist on and off switch
Dimensions: 15 x 8 x 2 in. inches
5.9 ounces
Check Osprey price: 2.5 liters | 1.5 liters
Check REI price: 2.5 liters | 1.5 liters
The Hydrapak Shape-Shift is a durable yet lightweight hydration bladder with an innovative center baffle design that is adjustable.
TPU construction is durable, BPA and PVC-free
Self-sealing bite valve prevents leakage
Plug-N-Play hose connection
Center baffle is adjustable

Locks to keep reservoir slim on your back
Unlocks to give you added water capacity

Reversible for easy drying and cleaning
Wide slide and seal top makes filling up quick and easy
Dimensions: 13 x 6.5in (2L), 17 x 6.5in (3L)
4.7 ounces (2L), 5.3 ounces (3L)
This is another simple and lightweight option made by Platypus. Includes and embedded silver ion that helps protect your clean water from mold and bacteria.
Self-sealing HyFLOW bite valve
Leakproof shutoff valve
High-mount drink tube with quick-disconnect

Allows for easy refill and handling

Semi-rigid baffle helps keep bladder open for drying and cleaning
Dimensions: 19 x 9.25 x 1.25 inches
6 ounces
---
We covered the best hydration reservoirs for hiking. Now, let's take a look at what we consider the best hydration bladders for backpacking.
When you are out on the trails for days at a time, we recommend the MSR Dromedary Bags. They are more durable and come in larger volume sizes. They are also super collapsable and packable.
Rugged 1000-Denier exterior
BPA-free food-grade lining

Better tasting
Can handle freezing or boiling temperatures

3-in-1 cap to fill, drink, and pour
Attach previously mentioned hydration kit for on the go drinking
Available in 4 liter, 6 liter, and 10 liter sizes
4L (10 x 18.3 inches), 6L (11.3 x 20.6 inches), 10L (12.5 x 23 inches)
4L (6.9 ounces), 6L (8.7 ounces), 10L (10 ounces)
You can also hook up the MSR Thru-Link inline water filter to clean your water.
Check REI price.
Check Backcountry price.
Be sure to check out our guide to the best water filters and purifiers for all the water filtering and purifying options.
This is another good hydration bladder for backpacking because it is much more durable and is insulated which will help to keep your water cold over the day.
210 denier ripstop nylon fabric is durable, abrasion-resistant, and waterproof (keeps your pack dry)
Insulating foam layer with thermal reflective liner keeps water cool
Roll-top closure for easy hanging or carrying
Plug-N-Play connect system
Low-profile Shape-Shift hydration reservoir is inside
Dimensions: 7.8 x 19.5 inches
10.8 ounces
---
This four season insulation kit made by Osprey will keep your water cooler in the summer and will help to prevent your water from freezing in cold temperatures. The kit insulates your reservoir, hose and bite valve. Bite valve sleeve is removable for easy access in warm weather. Fits up to a 3 liter reservoir.
---
Hydration bladder/reservoir features and buying advice
When you take a glance at a hydration bladder they seem pretty basic. However, there are some things to keep in mind that will help you make a good decision in what you get. Nobody likes purchasing a bad product. So read on to discover what you should consider so that you get the best hydration bladder aka reservoir for your particular needs.
Size (volume) and backpack compatibility
If you own a backpack or two you want to be sure that you get a hydration bladder that fits. Take a good look at your packs, and the shape of the bladders listed above. Do some measurements. You want to make sure that what you buy will fit in the internal sleeve of your backpack.
Most hydration bladders are two liter or three liter sizes in total volume. There are some one-liter options but they are not a versatile choice because you will slurp up that volume of water too quickly on most day hikes.
If compatible with your backpack, a three liter hydration bladder is going to be most versatile choice. This is what I opted for because I can fill it with two liters and it will be flatter on my back, or I can fill it up to the maximum three liters for long day hikes or backpacking adventures.
Needless to say, a two liter size is going to work for most day hikes. Plus, you can carry an insulated water bottle in your backpack for an extra supply. As I mentioned, I carry both for the ultimate water toting combination.
Profile and shape
Take some extra time to measure and examine your backpack and the internal sleeve that will hold your hydration bladder.
Some bladders are wider, some are narrower. When filled, some bladders will lie flat, while others may balloon out which can feel less comfortable (and stable) when you put your backpack on.
Weight
If weight is important to you check out the differences listed above. Most hydration bladders fall into the range of 5-7 ounces. The more durable backpacking options get heavier.
Durability
In general, the heavier weight bladders are going to be more durable.
In most cases it is the joints (mouthpiece to tube, tube to bladder) that break or start to leak not the bladders themselves. Examine these locations. Hydration bladders that have detachable tubes, connectors, and mouthpieces are good because they are replaceable. Then you do not have to buy a whole new bladder. Simply buy a part.
Type of closure
There are three main types of closures: Fold top, zip top, screw top.
Fold top bladders work by folding over the top opening flap and then sliding a plastic closure over the fold. Simple to use and totally leak free from my experience. The benefit is that they have a very wide opening which makes it easy to fill up in a variety of shapes and depths of water sources.
Zip top bladders are similar to fold top bladders in terms of the opening at the top, but close like a zip-loc bag. The opening is slightly smaller on average compared to fold top bladders. They are not as easy and quick to open compared to fold top bladders. However, they are pretty easy to fill up.
Screw top bladders take longer to open and close but the real benefit is that they are easier to fill up in the sense that the opening is stiffer and not floppy. However, cleaning is more difficult due to a tighter and smaller closure.
Flow
Water flow is determined by the diameter of the hose, and the size of the bite valve.
A larger tube diameter allows greater flow.
For bite valves, a larger bite valve makes it more difficult to suck water through. Small sizes can be challenging too. There is definitely a sweet spot with a medium sized bite valve.
Mouthpiece / bite valve
When it comes to bite valves, the things to consider are size (determines flow), and mechanism.
There are three types of locking mechanisms. There are turn valves, switch valves, and push/pull valves. The push/pull valves can seem a bit awkward at first, but you will quickly get used to them.
Some valves are self-sealing, others are not. Those that are not tend to spray a touch of water after sipping. Self-sealing do not do this.
Baffle / backer
Most of the hydration bladders and reservoirs have a baffle or backer of some type.
A backer is much more substantial (and heavier) and will keep the bladder flat.
Other bladders have some type of baffle. Essentially they add stiffness, keep the bladders flat, and prevent the bladder from ballooning out in shape. They can vary in thickness, length and thus weight. Some will have a single baffle. Others are double angled baffles. The point is to keep the shape flat and add stability.
Packability
Hydration bladders that do not have a backer or baffle will be the most foldable and packable.
Accessory compatibility
This really comes down to insulation sleeves, and connectors.
A nice feature of the MSR products are that they are modular. Meaning, you can connect hydration bladders to their water filters and water purifiers.
---
Conclusion
A hydration bladder is a key item to get for your hiking and backpacking adventures. Highly recommended for such a small price. I would not go hiking without one in my backpack simply because they are so convenient! And a great hydration bladder will ensure that you will stay hydrated which is super important to your health and wellbeing. Water and food are arguably the most important items to take on a hike.
Do take the time to properly measure your backpack dimensions. And, think about profile and shape. And finally do consider how much water you typically need to stay hydrated.
If your backpack sleeve fits a three liter hydration bladder/reservoir, and you typically do longer day hikes, this may be the best choice. If you are more of a casual shorter day hike hiker, than a two liter should suffice. From experience, the fold top seem to work best. I would definitely recommend a bladder with a decent baffle for a more comfortable backpack.