There hundreds of backpacks available online and in stores for all different sorts of hiking. It can often be hard to sort through and figure out what backpack is best for your excursion. Hiking backpacks can also be expensive. It doesn't mean they always are, but often times the construction and fabric used can be very costly. Sorting through all the options can be difficult. This article will serve as a guide to help you find the best budget hiking backpacks for your hikes.
When searching for a hiking backpack, there are many factors to consider. Obviously price is a huge factor. This article will focus on backpacks under $100.
It is also important to consider the size, durability of the fabric, the weight of the pack, and the comfort of the pack.
Weight and comfort often (not always) have a correlated relationship. A heavier pack often means more padding and comfort.
A size of 11-30 liters is a suitable day hiking backpack. If hiking in winter or if you are carrying additional layers, a 20-30 liter pack is advised.
Remember to always try your backpack on with weight before the first hike. Water is a great way to weigh down your pack and get a sense of what it might feel like on the trail.
Listed below are several different budget hiking backpack options, all under $100. These are all great options for day hikes. Most backpacks under $100 will be suitable for day hiking. Multi-day backpacks tend to be in the $200-300 range. The packs on this list retail for $100 or less. However, there are often sales that will put more expensive bags in the $100 or less category.
To start, REI and Backcountry.com are both fantastic websites to begin your budget backpack search. Most outdoor websites offer a filter when sorting through a website stock. You can filter to a budget of $100 or less.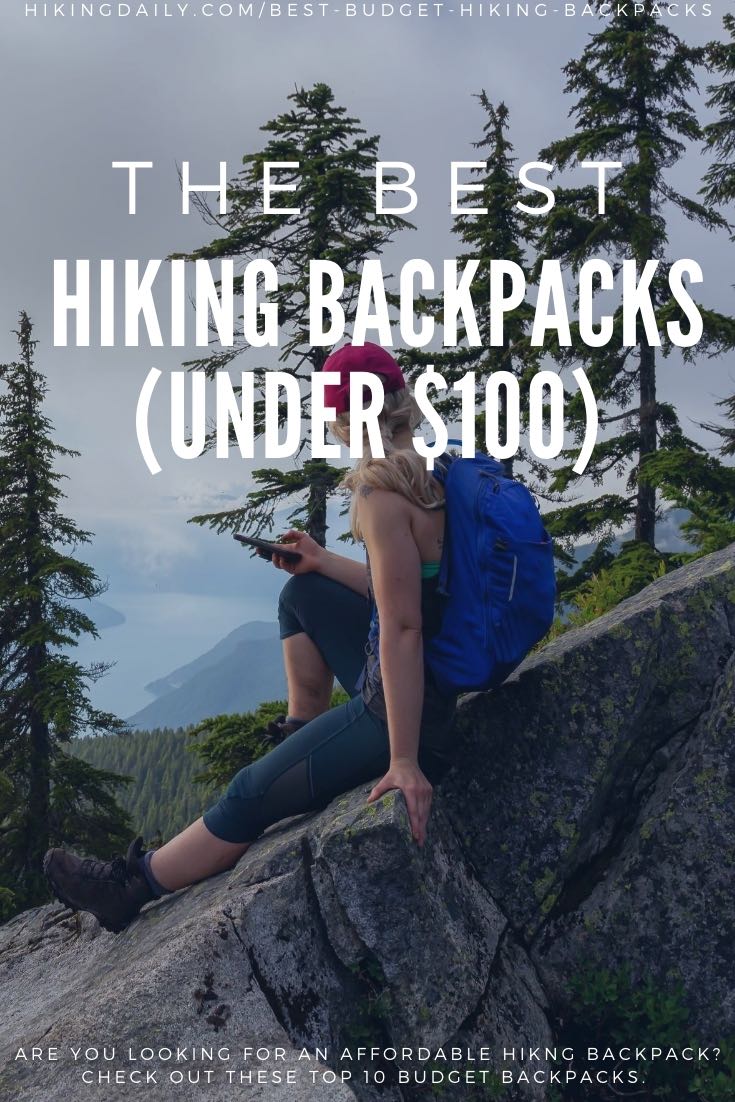 Top 10 Picks For Budget Hiking Backpacks
Below are our top budget hiking backpack picks. These backpacks are in no particular order. We hope this narrows down your search!
Price: $54.95
Size: 22 Liters
This is one of our favorite budget hiking backpacks. This is a fantastic option for an all-around hiking backpack. 22 liters is perfect for most day hiking excursions. This backpack is quite durable and has a small brain for easy access, and a mesh pocket for a 32 oz water bottle. At $55 this is hard to beat. This backpack has been a mainstay product of REI for years, but this recent upgrade has made it an even better product. This backpack comes in many different colors and is also available in an 18 liter size. It is important to note that this pack should not be weighted down significantly, as the padding will not be comfortable with around 25lbs+.
Price: $79.95
Size: 25 Liters
This backpack serves as an upgrade to the flashback 22. While not as pack-able as the flash 22, this backpack does have some more structure to it. This allows for more comfort when carrying heavier loads. This is a great option for day hiking, and it could also serve as a backpack for around town.
Price: $69.95
Size: 18 Liters
This is a fantastic lightweight and comfortable pack that will work great for a day hike. The best part about this pack is the 3 liter water hydration bladder that is integrated into the pack. Hydration packs are not for everyone, but for hikers that like this feature, be sure to check out this pack! 3 liters of water is the perfect amount for a long day hike. The bite valve for the hydration pack has a magnetic clamp so it'll never leave your side. This pack also has many different pockets that allow for plenty of easy access storage on a hike.
Price: $65.00
Size: 20 Liters
This day hiking pack also doubles as an around-town pack, or a carry on while traveling. Osprey is one of the best backpack companies in the business. Their backpacks are durable and comfortable. This particular pack has a great mesh backing with a foam insert for added comfort. This pack also has tight straps on the side to ensure nothing falls out of your pack. It is important to note that the hip belt on this pack is quite minimal. If you are looking for a pack with more support on the hip, this may not be the pack for you.
Price: $75.00
Size: 20 Liters
Deuter is a German outdoor company that makes many different outdoor gear products. This backpack is a great option for a solid day pack. It is rather lightweight and quite comfortable. This pack has space for a hydration pack and also has 4 pockets in addition to the main compartment.
Price: $99.95
Size: 25 Liters
This is an upgrade of a pack from the earlier Gregory pack listed above. This pack has more space and more structure to the pack. What you sacrifice in the increase in weight, you gain in comfort. This pack is more suitable to take a heavier load. Cool features of this pack include the 3 liter hydration pack and the magnetic sternum strap. The mesh back will keep your back cool and dry.
Price: $100
Size: 11 Liters
The Talon backpack series is a very popular collection from Osprey. Although this pack is quite small (especially for the price), this the most comfortable pack we have on the list. Not to mention the Talon has many different options for storing little items in pockets and strapping items to the outside of your pack. This is the essential lightweight day pack for hiking. The Talon series is also a great place to start looking for a multi-day backpack. It is hard to beat the Talon on comfort and durability. The 20 liter option comes in at $120.
Price: $39.95
Size: 20 Liters
If you are an ultralight gear fan, this pack is for you. Coming in at a shocking 2.5 ounces, this is quite literally a minimalist pack. This is a great pack to bring traveling or if you are looking to store an extra layer while hiking. However, do not weigh down this pack. This pack is meant to be ultra-light and should not be relied on as a durable backpack. Consider this if you do not need to carry much, and do not mind sacrificing weight for comfort.
Price: $79.95
Size: 30 Liters
This class pack from REI gets extra style points. This is a retro bag styled after REI's oldest and most classic hiking backpack. With 30 liters, this is the largest pack we have on our list. Other great features of this bag come in the design. The rip-stop nylon is recycled and is treated to be highly water-resistant. Another great feature of this pack is that you can zip off the pockets on the side of the pack. This allows for a smaller or larger pack depending on what sort of hiking adventure you are going on. This pack is both functional and stylish!
Price: $100
Size: 22 Liters
This is another great option from Osprey. This pack is more streamlined than the other Osprey options. There are minimal pockets and zippers on the outside of the pack, there is really just one main compartment. This pack is made from highly durable nylon and includes a 2.5 liter hydration bladder. Consider this pack if you don't like many outside pockets, and appreciate having a hydration bladder.
Conclusion
We hope this list will help you to narrow down your hiking backpack search! These budget-friendly options are a fantastic place to start with day hiking backpacks. Be sure to try on the pack with some weight in it before heading out on your inaugural hiking adventure. Happy hiking!
For more backpack ideas, check out our guide to the best Osprey backpacks. Also, be sure to read our guide on how to pack a backpack properly!