We use affiliate links and may receive a small commission on purchases. Please read our disclosure.
The insoles that come in most hiking shoes and hiking boots are often flat, floppy, and slippery. They really do not offer much comfort or value at all compared to hiking insoles.
If you want to improve your comfort level and foot support on long and rigorous hikes you should definitely acquire some insoles that are constructed specifically for hiking. Insoles are often overlooked. But they are a worthwhile piece of hiking gear for a relatively low price. Read on to learn more about the best insoles for hiking footwear. Upgrade your insoles today for super happy feet on the hiking trails!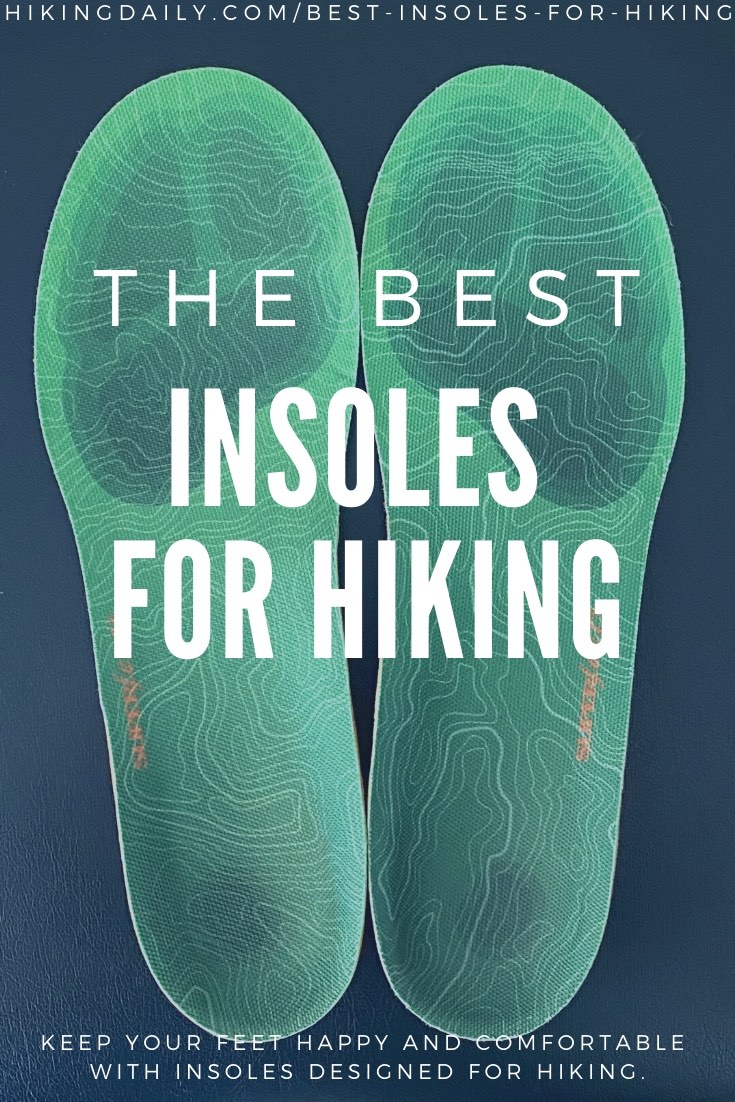 Who should get insoles for their hiking boots or shoes?
Everyone should! Very few "out of the hiking shoe-box" insoles provide any benefits to your feet.
Seriously, if you want to be more comfortable and reduce your risk of injury (heel pain, underfoot bruising, blisters), get yourself some insoles for hiking.
If you consider yourself a serious hiker, you should invest in your feet and to keep them happy and healthy. Once you have tried them, you won't use stock insoles again. The difference is instantly noticeable.
Common reasons to get hiking insoles
If you run into any of these issues, consider getting aftermarket insoles for your hiking shoes, hiking boots, or trail runners.
Plantar fasciitis
Knee or back pain
Joint or foot pain
Shin splints
Supination (foot rolling out)
Over-pronation (foot rolling inwards)
Foot or heel slipping
Hot spots or pressure points
Benefits of insoles
Insoles are going to provide support and cushioning and thus more comfort.
This is what you can expect from an upgrade.
Minimize fatigue
Less shifting and rubbing (reduces the chance of blisters or hot spots)
Shock absorption
Moisture-wicking
Support and stability
Prevents heel slip
Bacterial growth reduction
Our picks: The best insoles for hiking
We took an in-depth look at what is available at REI and other online stores.
The three main brands you will find are Superfeet, Oboz, and Sole.
In our opinion, the Oboz offering isn't a worthy option. Although significantly cheaper at about half the price, the quality doesn't appear much better than the stock insoles that come in any hiking shoes or boots. They seem just as floppy and flimsy, so we do not recommend them.
This is the hiking insole that I purchased to put into my new Vasque Breeze AT Low GTX Hiking Shoes. Although I love these new hiking shoes, I found my feet were slipping a bit, and they also can get a touch hot in the Colorado Summer heat. I also was experiencing minor shin splints from steep rocky descents.
The quality, materials, and sturdiness of this insole looked way better than the other options aside from our runner up that we reviewed further below. Sold!
Key features
Deep heel cup to prevent slipping
Heel impact technology pod disperses impact on rough terrain
Aerospring Ascent dual-comfort foam absorbs shock, increases comfort, reduces fatigue
EVOLyte carbon fiber stabilizer caps increase support and stability
Moisturewick helps to reduce bacterial growth and odors
Good for 12 months or 500 miles
After inserting my brand new Superfeet Trailblazers the difference was noticeable immediately. You can just feel the additional support under the foot. It is absolutely amazing what better materials and a few extra millimeters of thickness can accomplish. I feel like they easily enable me to hike several hours further per outing. They are awesome!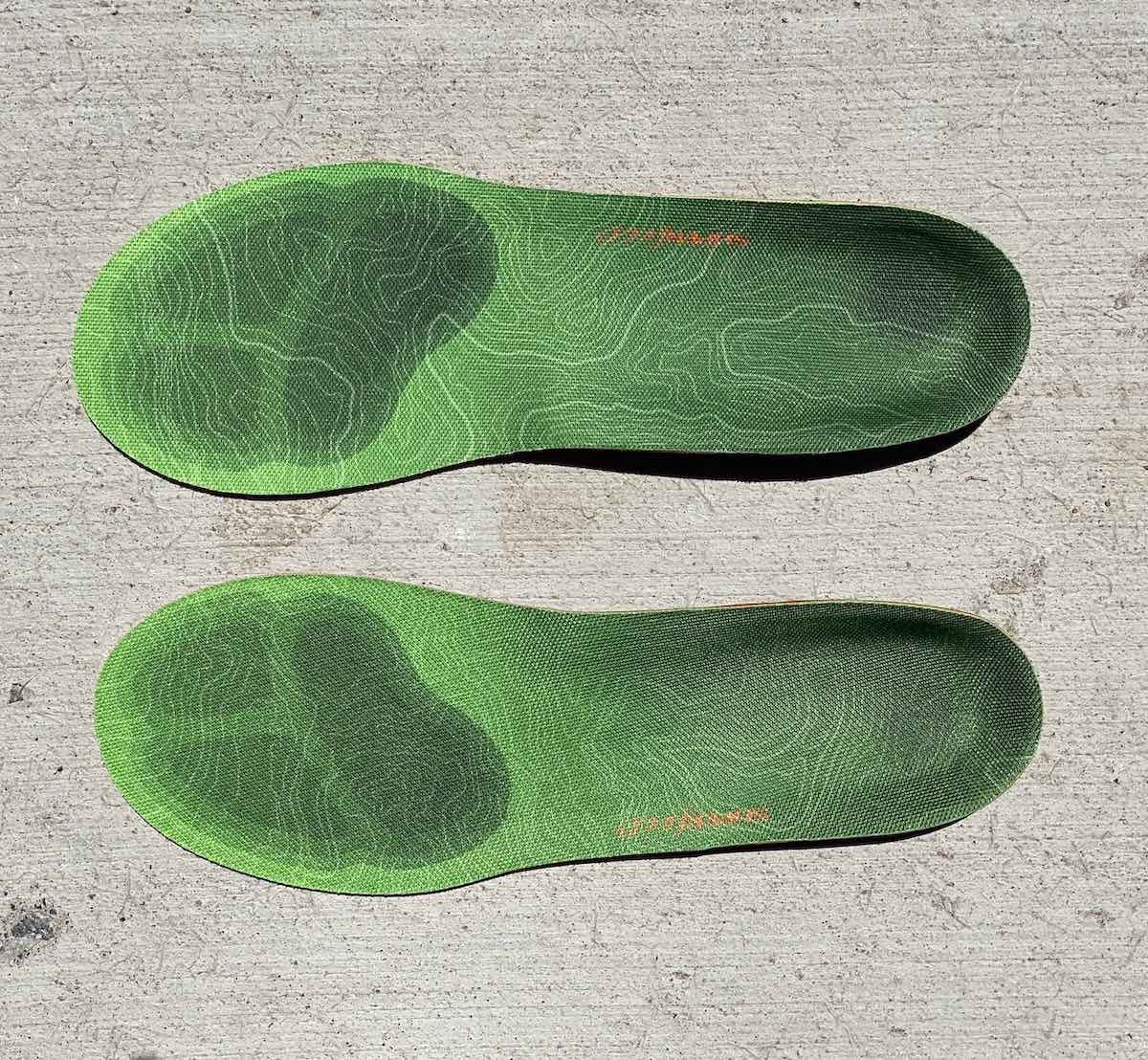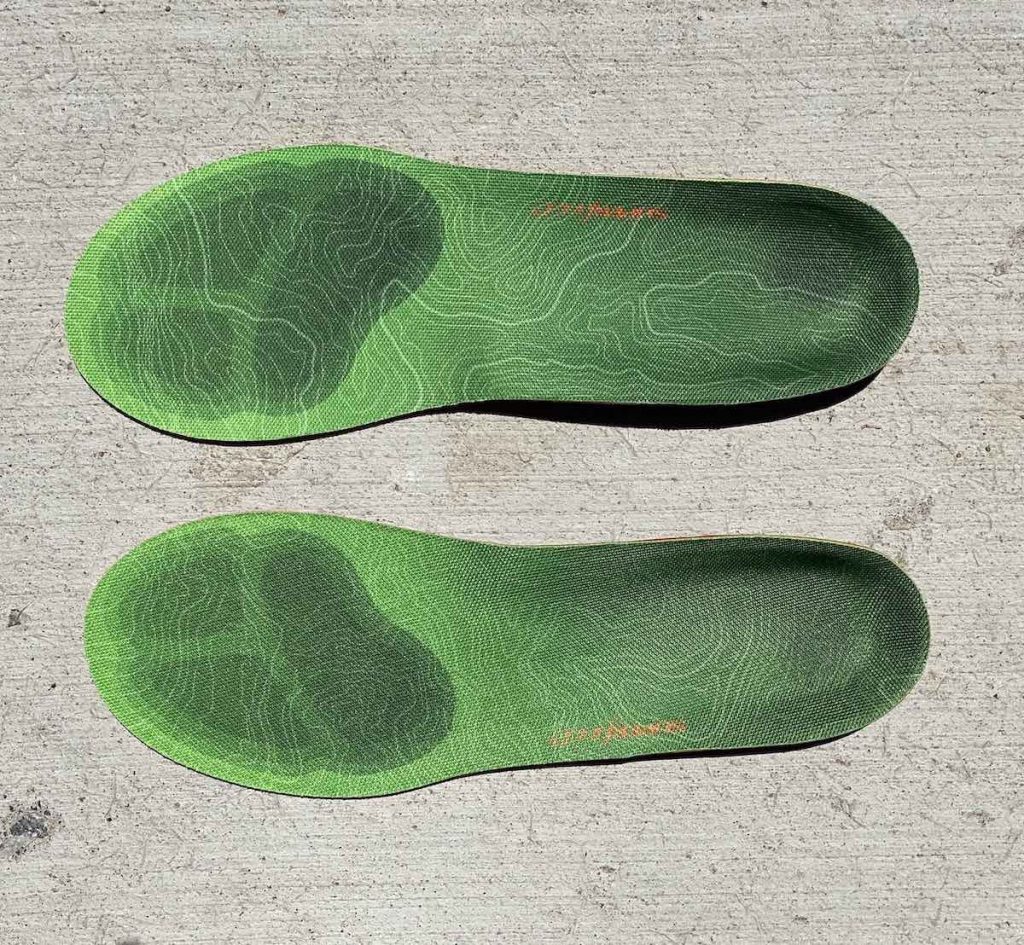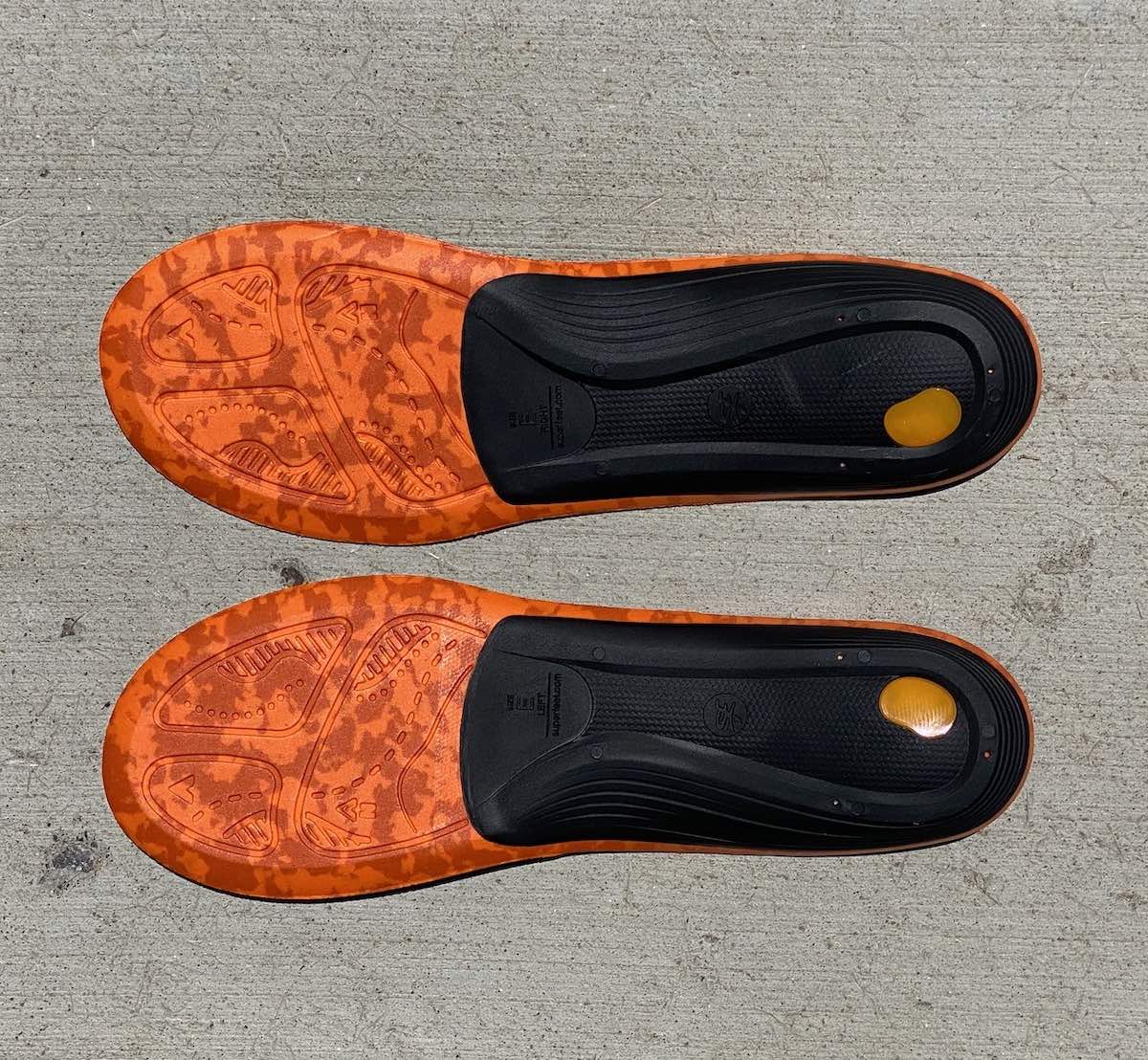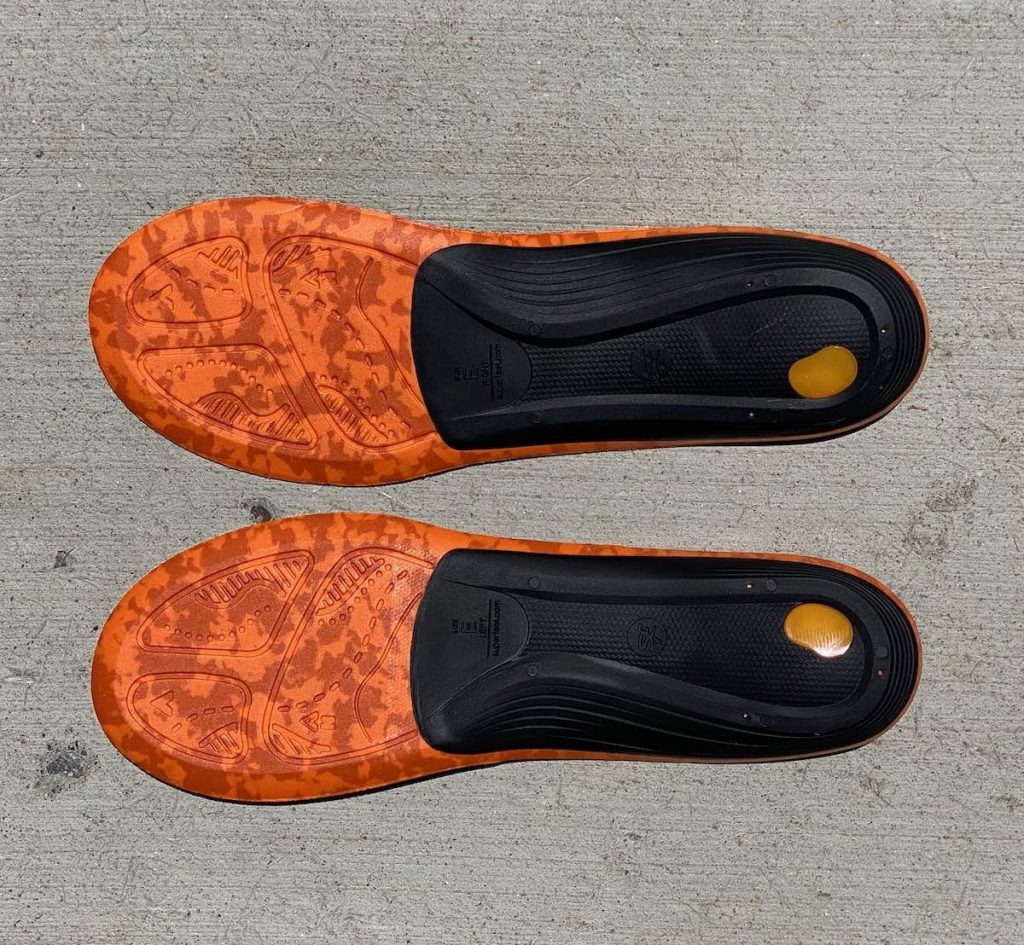 These insoles are an interesting option because they are primarily made of recycled wine corks. Cork is a natural material that has some very positive benefits and qualities. I may consider trying them out in the near future in my other hiking footwear.
Natural cork qualities
Eco-friendly, 100% natural
Cork provides natural cushioning and shock absorption
Naturally dry material for powerful moisture-wicking and odor reduction
Cork is supportive and does not compress over time
Key features
Softec cushioning polyurethane layer delivers extra comfort and durability
Polyester moisture-wicking Polygiene antimicrobial top sheet
Deep heel cup prevents slipping and lateral movement
Modable cork base adapts to your foot
Promotes equal pressure distribution in the footbed
Heat moldable (in a conventional oven) cork for a more customized fit
Best insoles for plantar fasciitis
Plantar fasciitis is no fun. The bottom foot pain is nagging and persistent. I have suffered plantar fasciitis for the past 4 months. In my experience the key to recovery has been icing regularly, and wearing proper footwear. I threw all my older shoes in the trash, purchased 4 new pairs of shoes, and a couple sets of insoles. I have found that a supportive yet very cushiony shoe has sped up my recovery. You can increase foot support and cushion with aftermarket insoles. I have found supportive cushioning (not super firm or hard) in the heel delivers the best results. This can be found with our top pick:
Sof Sole Full-Length Plantar Fascia Insoles (MEN | WOMEN)
Gel in the heels helps relieve pain
Nylon plate supports arches
Hiking insole care tips
These aftermarket insoles for hiking generally last about 12 months.
However, if you care for them you might be able to extend their lifespan.
Here is what you can do.
Air them out to dry after hikes if you have sweaty feet
Remove and shake out debris
Wash them every couple months by hand using a mild detergent
Inspect for any damage
Want more footwear ideas? Check out our top picks for the newest and best hiking shoes and boots: