As the seasons change, it is time to reassess your hiking gear and hiking clothes! Winter hikes require some extra thought and planning compared to the other seasons. Severe weather can be more of a threat to your wellbeing. To be prepared you will need some additional items and clothing in your backpack. A good pair of winter hiking pants are essential to staying warm, dry, and comfortable on snow hikes.
In this guide, we cover the most important features to look for in winter hiking pants. Then, we will present our top picks of the newest (2021) and best winter hiking pants for men and women.
There are a lot of very average pants for sale out there. None of these below are that. We have done the research so you can be confident these are all high performance and good quality pants.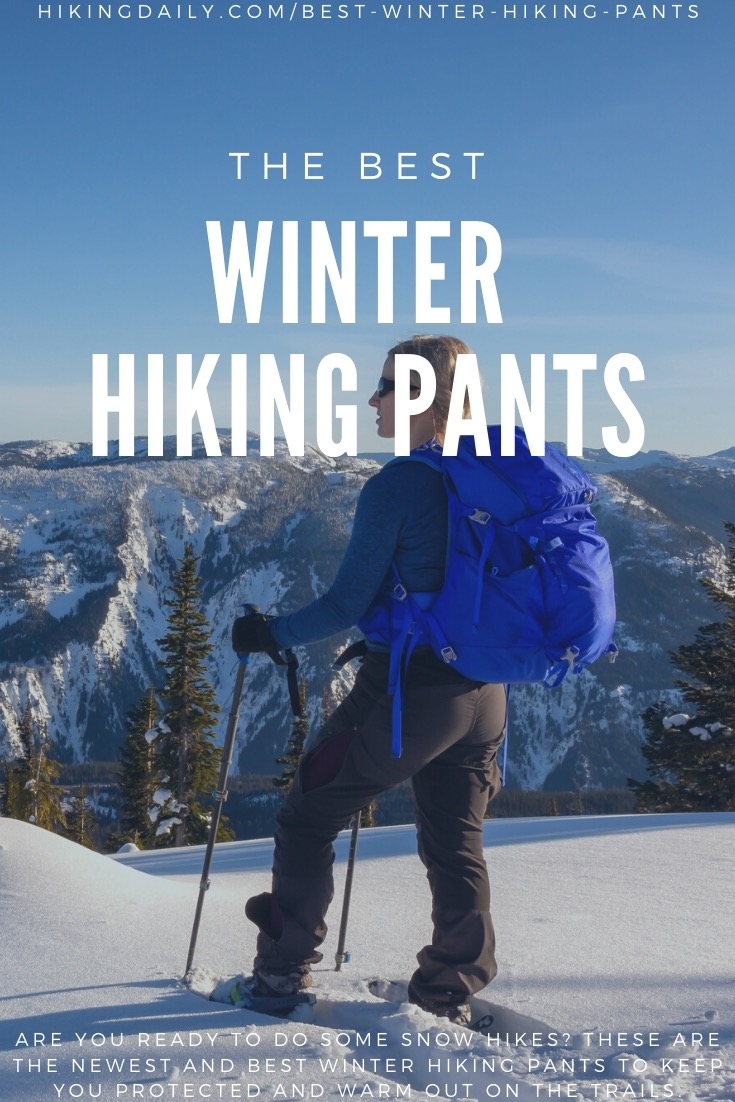 What to consider when choosing a winter hiking pant
First, think about where you will be doing winter hikes, the climate, and the possible weather conditions you will encounter. Will you hike up steep terrain or in deep snow that will make you work harder? Is the snow quality wet or dry? Will the temperature be extremely cold (below -10C/14F) or moderately cold (around 0C/32F) when you hike?
Also, think about how you hike. Do you move fast or at a leisurely pace? If you move fast, you will sweat more than you will at a slower pace.
These factors are going to help you determine what type of hiking pants to buy.
Top features of winter hiking pants
Now that you have thought about what your winter hikes will look like let's review the top features of winter hiking pants that may or may not make sense for you.
Weather resistance
When it comes to weather resistance there are several terms to know about.
Wind-resistant – Offers some protection against wind but does not block the wind.
Windproof – Material that blocks wind from penetrating your core.
Water-resistant – Will keep you dry in very light rain or wet snow, but not for extended periods of time at which point the fabric will start to absorb and hold moisture.
Water repellant – Some garments are treated with durable water repellent (DWR) which is a surface coating applied to the fabric. DWR repels water and is water-resistant to light rain or wet snow.
Waterproof – This is a fabric that will stand up to heavier exposure to moisture in the form of wet snow or rain for extended periods of time. This is typically a waterproof breathable membrane like GORE-TEX that is sandwiched between other material layers. Some companies use their own proprietary version of a waterproof breathable membrane.
Insulation (or not!)
There are definitely winter pants that have insulation. These are best suited for cold weather activities where you spend some time sitting still which can cause you to become cold.
We don't recommend pants with insulation for winter hiking. Why? Because you are most often moving and also because you will often encounter a variety of terrain and weather conditions over the course of the day. Insulation that you find in many ski and snowboarding pants or jackets often leads to overheating, sweating, and becoming wet. This can make you very cold and lead to the danger of hypothermia.
The best solution is to follow a layering system with your hiking clothes consisting of a base layer, a mid-layer like a fleece jacket, and out layers such as a hiking jacket and winter hiking pants in the form of an outer shell. If you get warm, simply take off a layer. If you get cold, put the layer back on. Super simple and way more comfortable!
Fit, style and comfort
This may just come down to personal preference and body type. But you should keep a couple of things in mind. Choose a pant that allows for enough freedom of movement, and has enough room to layer clothing underneath comfortably. Your winter hiking pants shouldn't be too tight or too baggy. An athletic, trim fit to your body is best. Look for features such as articulated knees or a gusseted crotch that will improve your ability to move in deep snow.
Breathable
We recommend winter hiking pants that are made of breathable fabric so that you do not overheat and sweat too much.
Side zippers
To further improve breathability of pants look for a pair that has side zippers that will allow for rapid ventilation and allow you to add or remove layers more easily.
Pockets
Pockets are a very important feature. Pay attention to the total number of pockets, the location, the size, the size and quality of the zippers, and if the zippers are sealed or not, or if the pockets are secured by velcro.
D (for Denier) rating for nylon fabric
Products that are made of nylon fabric may show a D for Denier rating that describes the linear mass density. A lower D number relates to a lightweight nylon material and a higher D number indicates a heavier weight and more durable material.
Best hardshell winter hiking pants for men and women
To stay safe, we think that it is super important to be wearing top quality hiking pants on your winter hikes and in extremely cold weather. We spent hours reviewing all the best winter hiking pants sold at REI, Backcountry, and the websites of the most popular brands.
These are our top picks for hardshell winter hiking pants. They provide superior weather protection and are meant to be worn as a layer over your base layer and/or mid layer depending on how extreme the winter conditions and temperatures you will face.
Arc'Teryx Beta AR Pant (Men | Women)
The Arc'teryx Beta AR is a super versatile GORE-TEX PRO pant. These winter hiking pants are durable, breathable, and provide the ultimate weather protection.
GORE-TEX PRO material is waterproof, windproof, and super durable
WaterTight side zippers for quick and easy ventilation
Articulated patterning for superb mobility
465 grams
Black Diamond Highline Stretch Pants (Men | Women)
A premium lightweight, stretchy, packable, 3-layer, waterproof shell pant that you can wear over a base layer and/or midlayer.
100% nylon face is durable
BD.dry laminated waterproof, windproof, and breathable fabric
Empel Breathable Water Protection Technology water-repellent finish (PFC-free DWR finish)

DWR (durable water repellent) YKK zippers

Two hand zippered pockets
Snap-adjustable hem
DWR ¾-length side zips for quick ventilation
279 grams
Outdoor Research Trailbreaker II Pants (Men | Women)
The Trailbreaker II Pants by Outdoor Research provide great weather protection for snowy hikes and cold temperatures.
Waterproof lower legs (knees down)
Water-resistant from upper legs to the waist
Wind-resistant, abrasion-resistant, breathable fabric

Upper pant is made a 50% nylon, 43% polyester, 7% spandex blend, 90D rating

Lower pant is made of Pertex Shield 3L 100% nylon, 200D rating
100% nylon scuff guards, 420D rating

ActiveTemp thermo-regulating technology helps manage body temperature and moisture
Avalanche beacon pocket
Zippered outer side vents
Hand and thigh zip pockets
Belt loops

Dual snap zipper fly

Articulated knees
Ankle zippers
707 grams
Patagonia Calcite Pants (Men | Women)
These pants are very light, durable, and packable shell pants that are waterproof.
100% recycled polyester face with DWR (durable water repellent) finish

2.5-layer waterproof and breathable GORE-TEX Paclite Plus fabric

Adjustable belt
Zippered fly
Articulated knees
Full length side zippers for ventilation
Reinforced scuff guards
312 grams
REI Co-op XeroDry GTX Pants (Men | Women)
The REI Co-op XeroDry GTX pants are a versatile, lightweight, durable, and packable shell that you can wear all year in a variety of conditions.
Polyester face with durable water repellent (DWR) finish
2-layer GORE-TEX Paclite waterproof breathable fabric
Gusseted under-leg and articulated knees increase mobility
Elastic waistband and drawcord allow for a custom fit
Zippered hand pockets
Pants pack away into the left-hand pocket
Ankle zips and snaps for easy on easy off boots
Boot hook keeps pants in place
284 grams
Arc'Teryx Zeta SL Pant (Men | Women)
The Arc'teryx Zeta SL pant is a super light, packable, and waterproof GORE-TEX hiking emergency shell pant. These are perfect for wearing in cold weather over a base layer and a mid-layer if necessary depending on the temperature. You can wear these pants all year as a protective layer.
GORE-TEX Paclite Plus Technology is waterproof, windproof, and breathable
Fast, lightweight, and durable pants
Trim athletic fit
Packs very small in your backpack
Fully articulated design for easy and efficient movement
Zippered fly and snap closure
3/4 length WaterTight lower leg zippers for ventilation

245 grams
Best softshell winter hiking pants for men and women
This next set of winter hiking pants are softshell pants and are meant to be worn on winter days that are moderate in temperature (around 0C/32F) and when snowfall is not expected to be heavy.
Patagonia Simul Alpine Pants (Men | Women)
The Simul Alpine Pants by Patagonia are lightweight soft-shell pants that provide great protection in moderately cool to cold temperatures. These are perfect for a fast-moving hike in after the storm, snowy conditions.
Lightweight protective soft-shell pants
100% polyester fabric with DWR finish is durable, stretchy, breathable
Zippered hand and thigh pockets
Zippered fly
Adjustable waist for a custom snug fit
Articulated design and gusseted crotch
366 grams
Outdoor Research Cirque II Pants (Men | Women)
These are the most popular durable softshell pants made by Outdoor Research that are best suited for power hikers that like to get out in cool to cold weather (not a snowstorm) hikes.
Breathable, abrasion-resistant, stretchy fabric

50% nylon, 43% polyester, 7% spandex, 90D lightweight rating

ActiveTemp thermo-regulating technology helps manage body temperature
Water-resistant
Wind-resistant
DWR-treated zippers
Hand and thigh zip pockets
Gusseted crotch and articulated knees to improve mobility
Belt loops
617 grams
Patagonia Nano-Air Pants (Men | Women)
Do you like to move quickly or even run on the trails in the wintertime? Then, these may be a good pant for you. The Nano-Air pants by Patagonia are soft, breathable, and stretchy pants built for excellent mobility on cold days.
100% polyester fabric (87% is recycled)
Spandex snag-resistant stretchy knit
PFC-free DWR finish keeps you dry in light rain or snow
60 gram FullRange insulation (40% recycled) keeps you warm on colder days
Articulated patterning for superb movement
Alpine boot compatible
278 grams
Arc'teryx Creston AR Pant (Men | Women)
This is a great multi-purpose hiking pant for hiking on cooler days.
Durable weather-resistant synthetic fabric
Two zippered hand pockets
One zippered back pocket
Zippered fly
Stretch waistband with belt loops for a custom fit
365 grams
This concludes our review of the best winter hiking pants for this season.
What else do you need for snow hikes and winter hiking adventures?
Take a look at our winter hiking gear checklist. You will definitely require some top-quality footwear (including socks, gaiters, and microspikes) to keep your feet warm and comfy. So, check out our guide to the best winter hiking boots. To stay comfortable and cozy underneath your winter jacket and pants, be sure to stock up on base layers, and consider a fleece jacket. Finally, protect your eyes with some sunglasses since snow can be super bright and blinding on a sunny day.
This post may contain affiliate links. Please read our disclosure for more info.