Hardshell jackets keep out water and wind while letting out heat and sweat. They do that with a waterproof breathable membrane, commonly known as Gore-Tex. There are 2-layer and 3-layer membranes, plus the third choice, 2.5 layer. Here's what that means and how to decide which one is the best for you.
The invention of the waterproof breathable membrane revolutionized waterproof gear. The only drawback is durability – this membrane is delicate and can easily be scratched, torn or contaminated with dirt and oils. That's where the layers come in. Not surprisingly, 2-layer jackets add an outer layer while 3-layer jackets also have a built-in lining. In the middle is the 2.5L, with a spray-on lining. Generally, 2L will be the lightest, most comfortable and most packable while 3L is more durable, breathable and waterproof.
Some 2L and 3L jackets have insulation but for hiking, a hardshell without lining is preferred. It will be the last layer, usually be worn over a moisture-wicking base layer and warm mid-layer like a fleece, soft shell, insulated jacket, or down jacket. That means you can adjust the lower layers to warm up or cool down.
Here's the difference, between 2L, 2.5L, and 3L plus the role ventilation and zippers in waterproof clothes.
What is Gore-Tex aka a Waterproof Breathable Membrane
Before polyester performance fabrics, most athletic clothes were made of wool because it dries from the inside out and sheds moisture. Developments with polyester have replicated these qualities.
Wool fibers have a complex structure that keep water out while transmitting water vapor away from the surface. Modern fabrics manage this by adding microscopic pores to the fabric. This is called a waterproof breathable membrane.
The material contains pores that are much smaller than water molecules but larger than water vapor. For example, Gore-Tex is a fine Teflon with 9 billion pores per square inch. The pores are 20,000 times smaller than a water droplet and 700 times larger than water vapor. The difference between the warm, moist interior creates pressure that forces water vapor out into cooler, drier air.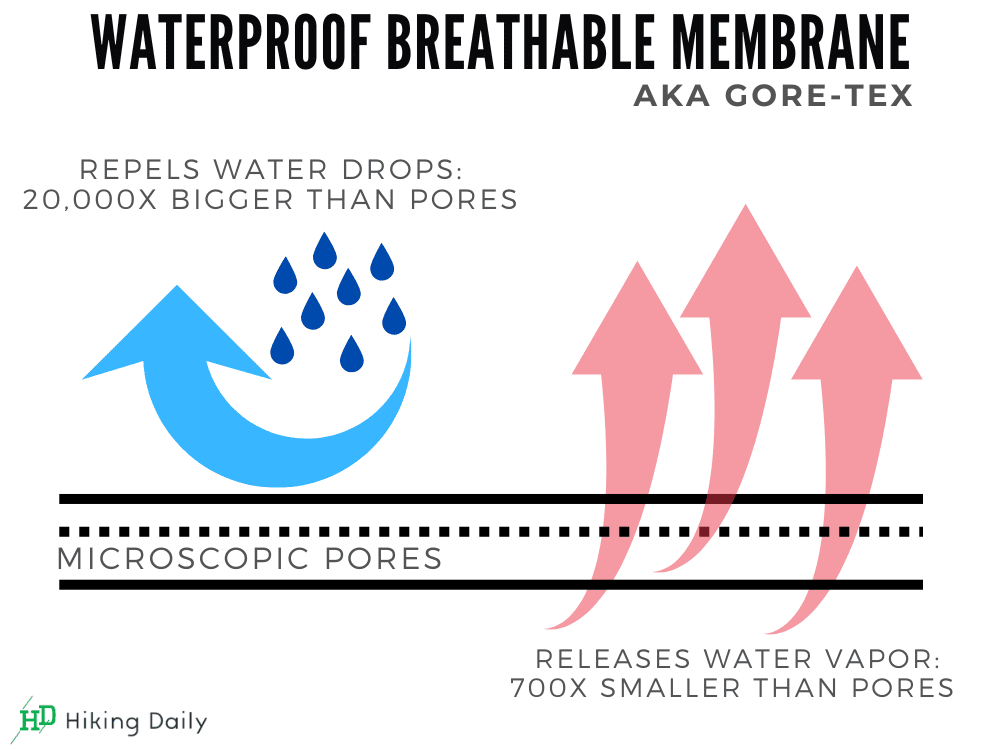 The only drawback of this miracle fabric is durability – waterproof breathable membranes are fragile. The solution is adding more durable layers for rain jackets and hard shells. 
That leads us to the original question, what is the difference between 2-layer, 2.5-layer, and 3-layer jackets? The numbers refer to the construction of the waterproof fabric. The layers are bonded together to form one fabric.
2-Layer External Shell + Inner Membrane (Sometimes with a lining)
2.5-L External Shell + Inner membrane + Polyurethane Laminate Coating
3-Layer External Shell + Inner membrane + Tricot Lining
2-Layer Jackets
The two layers are the waterproof membrane and a more durable outer layer. The outer shell is usually a tightly woven nylon or polyester, sometimes also saturated with Durable Water Repellent. The two layers are bonded together with heat and pressure and get the best properties of both fabrics.
If the membrane is worn against bare skin, it can feel sticky and clammy. Wearing a long-sleeve shirt makes it less of an issue as does adding a liner.
Some 2L jackets will have a mesh or thin liner to block direct contact between the membrane and skin. This protects the membrane from the oils, dirt, and sunscreen that reduce performance. It can help a coat feel softer and more quiet. Depending on what the lining is made of, a jacket may become heavier and bulkier.
A 2L jacket with lining is becoming less common due to continuing innovation. For example, Gore-Tex Paclite uses an anti-oil durable protective layer that eliminates the need for a liner.
PROS
+ Comfortable + flexible fabric
+ Lowest price point
+ Lightweight + packable
CONS
– Less durable
– Can be noisy
A 2-layer shell is usually the best price and gets the job done. These jackets are very lightweight and also available in the widest range of styles and colors.
2.5 Layer
That extra half layer is a protective coating applied to the waterproof membrane of a 2L fabric. The interior has a half layer printed lining that separates the membrane from the wearer. The coating can feel sticky against bare skin compared to a fabric liner but that is easily remedied by wearing a long sleeve shirt.
Without a lining, 2.5L jackets are very lightweight and packable and ideal for an emergency jacket kept on hand. They feel much like 2L jackets but provide some more waterproof protection.
The lack of lining that makes the jacket so light also decreases durability. The membrane is less protected from the elements that reduce waterproof performance. This may not the best option for frequent use in wet climates or winter weather.
For some jackets, the inner coating decreases the breathability of the fabric but ventilation like side and pit zippers can remedy that.
PROS
+ More waterproof than 2L
+ Lightweight
+ Packable
+ Affordable
CONS
– Less durable
– Lining can feel sticky
– Can be less breathable than 2L or 3L
In-between 2L and 3L for cost, durability, and effectiveness, this might be just right for you. It's an excellent choice for an emergency packable jacket or rain pants as well as for regular wear.
3-Layer
A 3-layer fabric sandwiches the waterproof membrane in-between an outer shell and inner lining. This is a common technique in waterproof products, including waterproof socks and waterproof hiking boots. The three layers are bonded together and feel like one fabric.
The lining adds a few benefits:
Enhances breathability
Decreases noise
Feels softer to the skin
Increases durability and performance
The lining is a tricot, a tightly woven and durable fabric. The tricot protects the membrane from contamination and feels better against skin but not soft like a fleece. Even better, the hydrophilic lining absorbs sweat and vents it out faster.
Some 3L hardshells feel a little stiff, especially with the water-resistant zippers. The seam sealing that completes the waterproofing also makes the design somewhat more boxy. Those are minor drawbacks for complete protection from the worst weather. And again, the technology is always getting better so some 3L fabrics are almost as light as 2L these days.
PROS
+ Most breathable
+ Most waterproof
+ Most durable
CONS
– Most expensive
– Fabric can feel stiff
Now you're thinking, yes it's only 3-layer for me. However, making 3-L fabric is a detailed process, which ends up costing more. Garments made with 3-layer fabric can cause some sticker shock but there are also well-priced options out there, notably the Patagonia TorrentShell 3L at $179, a price comparable to some 2.5L options.
Seams + Zippers
A truly waterproof garment is about more than just what it's made of. Water and wind can still work their way into into every seam and zipper.
Higher quality jackets will have taped or sealed seams that keep water out and zippers that are water-resistant or covered with storm flaps.
Ventilation
Even though it sounds like it's about air, breathability is the ability of a fabric to transmit moisture vapor through the material. Ventilation refers to air circulation. Ventilation comes from breaks in the membrane in the form of side vents and pit zips. As mentioned above, these vents should also have storm flaps or water-resistant zippers.
For me, this is absolutely essential to maintaining a comfortable temperature. It also makes a jacket more useful in changeable weather ands warmer seasons.
Taking Care of Hardshell Jackets
Believe it or not, waterproof breathable membranes are washable and even benefit from it. The general rule is, "wash it lots, dry it hot". Here's a summary of how to do that. Gore-Tex and other waterproof breathable membranes all have similar maintenance procedures but refer to the particular instructions for your garment.
Close all zippers, flaps, and straps.
Machine wash warm (105°F/40°C) with a small amount of liquid detergent. Patagonia recommend using Granger's Performance Wash designed for waterproof gear. (No powder detergent, fabric softeners, conditioners, or bleach.)
Rinse twice with lowest spin speed.
Dry first time on a warm gentle cycle or air dry.
Dry again for 20 minutes on a warm gentle cycle. This reactivates the DWR. As an alternative to a dryer, iron on a warm setting with a towel in-between the garment and iron.
How Often Should I Wash Gore-Tex?
Short answer, probably more than you think. The frequency depends on usage, but once a year is the minimum but with high usage, it could be required as much as once a month. Wash it when it seems like impurities like oils, dirt, and campfire smoke need to be removed.