This is the most current guide that reviews the newest and best hiking watches that you can buy right now.
In this guide, we break down all the important features of the newest hiking watches made by the top brands. Then we rank the newest GPS hiking watches in order.
Long story short? The best GPS watch for hiking is one of the three Garmin Fenix 6 Pro/Sapphire/Pro-Solar watches. These Garmin hiking watches are expensive, but they also have the most advanced and diverse features.
Hiking watches range in price and are available with or without GPS features. The data these devices provide can help you navigate your hikes and keep a pulse on the weather patterns. A hiking watch can be very handy on longer trekking adventures.
Scroll down for our top picks: The best GPS watches for hiking with maps, the best GPS hiking watches (no maps), and the best non-GPS hiking watch options that are more affordable.
Before we get into the watches, let's review the main features that are available in most hiking watches.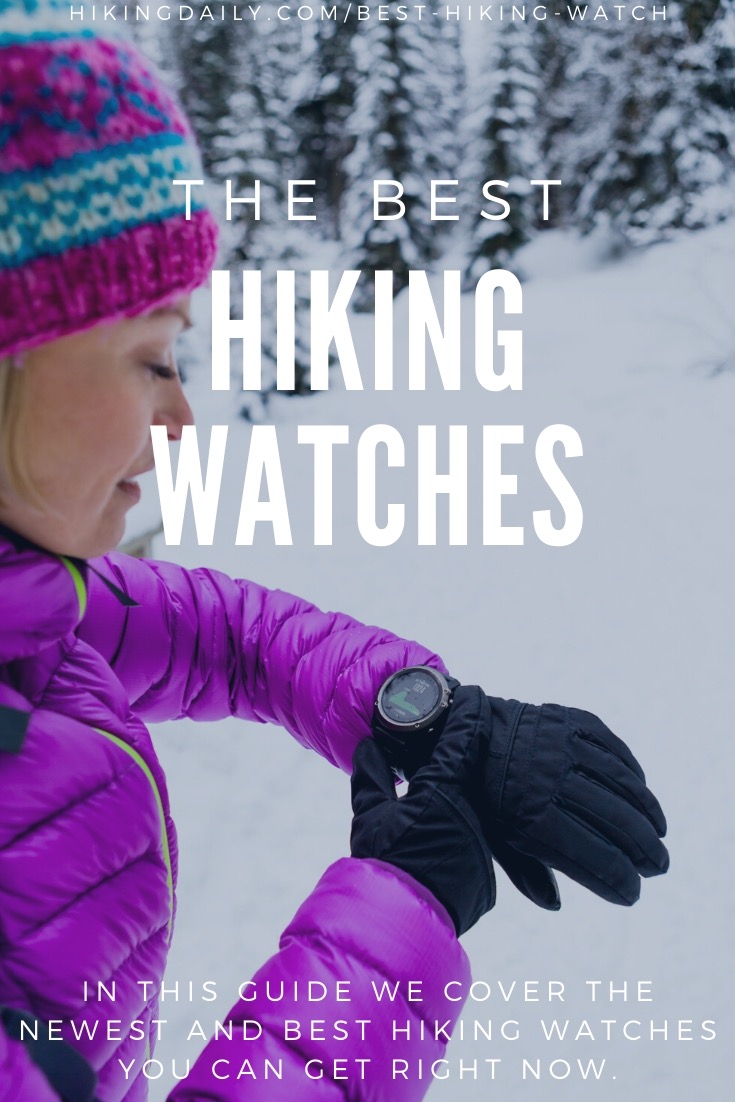 Choosing The Best Hiking Watch: The Important Features For Your Hikes
Most hiking watches have a barometer, altimeter, and digital compass. These three tools can help you navigate and also keep track of shifting weather patterns on your hikes.
If you want more detailed tracking or mapping features look for a hiking watch that has GPS capability.
Okay, let's cover all the common features one can get in a hiking watch.
Barometer
A barometer detects changes in the atmospheric pressure. A rise in pressure indicates improving weather. When the atmospheric pressure falls weather worsens (clouds, precipitation). A rapid decline in pressure indicates more severe weather (a storm) is developing. Therefore, the barometer reading is very useful to predict the weather in your area. Look for a watch that has a storm alarm.
Altimeter
The altimeter shows you how high you are above sea level. This data is acquired by GPS or is determined by the atmospheric pressure. GPS is more accurate and does not require calibration. Knowing your altitude can help you find your location on a topographic map more easily.
Digital Compass
A compass shows you which direction (your bearing) you are headed and the four cardinal directions (East, West, North, South). This is an essential hiking tool to use in combination with a topographic map.
Let's discuss the other features that you should consider when choosing the best hiking watch for you and your hiking adventures.
GPS
A GPS provides you the current coordinates of your location instantly. A GPS is the best way to navigate trails and track your hike. The GPS shows you your hike duration, travel speed (current and average), distance covered, ascent/descent data, and more. You can track, record, and export data into other apps. In general, GPS watches have a shorter battery life. However, some newer models are making gains. If you are hiking or trekking long distances over many days you might consider purchasing a solar charger. If you want a GPS watch look for one that offers multinetwork tracking, or multiple satellite networks. GLONASS or Galileo are additional European based GPS networks. These networks can come in handy when you travel.
Color Topographic Maps
Topographic maps help you understand the land around you in greater detail. Find and follow your favorite hiking trails on the watch face.
Battery Performance
This is one of the most important features to consider when buying a hiking watch.
I get frustrated at the very mediocre battery life of my iPhone. It is very difficult to record a hike longer than 6 hours in duration using the GPS of the iPhone and an app like Hiking Project or AllTrails. The battery drains much more quickly when you use your GPS, and even more rapidly in cold temperatures.
Look for a hiking watch with long battery life. In regular watch mode (no GPS) battery life should last 10 days or better.
We also recommend a hiking watch that has different battery performance modes. This feature allows you to reduce the demand that the GPS has on battery life so you can record full day hikes.
Buy a solar charger if you are going on multi-day hikes so you can keep your watch working, tracking and recording data.
Breadcrumb Trail
Some (GPS) watches will let you set a breadcrumb trail as you hike. A useful feature for those that have a tendency to get off track. Hit record at the start of your hike, and follow a live breadcrumb view of your progress. Simply follow your footsteps back to your starting point. Track your hiking speed, distance, and altitude.
Save Points Of Interest
A feature on many GPS hiking watches. As you track your hike, save points of interests such as
Sunrise / Sunset Alarm
Tune in to your local sunrise or sunset data to help out plan your day.
Thermometer
A thermometer can be handy on weekend or longer hikes. Knowing the air temperature can help you make decisions on what hiking clothes to wear and how to layer them.
Water Resistance
Pretty much all hiking watches are water resistant. Look for a watch that has the greatest depth rating.
Durability
Most of the best watches have durable casing and straps.
The main thing that you may invest in for extra durability is a sapphire glass lens. They scratch less than the more common mineral lenses on most watches. If you opt for a sapphire glass lens you will have to pay a much higher price tag. Depending on your habits it may or may not be necessary.
Some of the newer hiking watches market their durability based on a standard military testing that is known as U.S. Military Standard 810G.
Other Features Found On Hiking Watches:
These features are not absolutely critical for hiking but could be nice to have on your watch.
Mobile Notifications
Receive text messages, emails and other alerts on your watch when paired with a smartphone or compatible device. Keep up to date while you are on the go!
Music (On The Watch)
If you like to listen to music on the trails you might want to look for a watch that allows you to store music on it or listen to music from Spotify. One of the watches on our list allows you to listen to music phone free. Simply connect with bluetooth headphones.
Moonrise / Moonset Alarm
This feature is handy if you are also a fisherman. A moonrise/moonset alarm can help you determine the optimal fishing times of the day.
Steps + Calorie Counter
Keep track of your daily fitness habits just like using a Fitbit watch.
Heart Rate Monitor
Keeping track of your heart rate will help you set a steady pace on your hikes. This will help you maintain your energy on longer hikes.
New hiking watches have a wrist-based heart rate monitor built into the watch, while older models require attaching a chest or wrist strap transmitter.
Sleep Tracking
This health-related feature is available on some watches. Keep track of your sleeping habits and data.
Okay, let's take a look at the best hiking watches available today.
The Best GPS Hiking Watches With Topographic Maps
Very few GPS hiking watches have topographic maps that you can view and follow your positioning on the watch face itself. We studied all the newest hiking watches that offer this feature. These are the best GPS watches for hiking right now.
1) Garmin Fenix 6 Series
The Garmin Fenix 6 Series is a brand new multisport GPS watch that is our top pick for hiking adventures.
This new hiking watch was just released by Garmin.
Like the Garmin Fenix 5X Plus, the Fenix 6 series hiking watches are also expensive. However, if it fits with your budget the feature list is tough to beat. The Garmin Fenix 6 combines many of the best features found on the Garmin Fenix 5X Plus and the Garmin Marq Expedition.
There are three models you can buy in this new Fenix 6 series.
The main difference between these three models is the type of lens used on the watch. The Fenix 6 Pro has a Corning Gorilla Glass 3 lens. The Fenix 6 Sapphire offers a scratch-resistant sapphire lens. And The Fenix 6X Pro Solar has a special Power Glass lens that will recharge your battery on the go.
The color topographic maps look great on this hiking watch. Garmin, as you might expect, is the clear leader when it comes to color maps on hiking watches. The Fenix 6 also has a great turn by turn navigation feature that will keep you on track and announce your upcoming turns on the trails.
If you happen to also be a skier you will love this watch that is pre-loaded with over 2000 ski resort maps. Very cool.
The big upgrades that the Fenix 6 offers compared to the Fenix 5X Plus (our previous top pick) are: improved battery life (up to 28 days in Expedition GPS mode!), more internal memory/storage (32GB vs. 16GB), larger display size and improved resolution, Pulse Ox Sensor is included to monitor how well you are absorbing oxygen at higher altitudes, the Pro Solar Edition that delivers even longer battery life.
As mentioned, the Garmin Fenix 6 is available in a special upgrade version called the Garmin Fenix 6X Pro Solar Edition. This model greatly extends your battery life because of its Power Glass lens that harvests solar energy as you hike. The Solar Edition increases battery life to 15 hours (GPS + music mode), 60 hours (GPS, no music), 120 hours (Max battery GPS mode), and up to 46 days (in Expedition GPS mode).
Thus, the Garmin Fenix 6X Pro Solar Edition delivers the best battery life of all hiking watches.
A bonus of the Fenix 6X Pro Solar Edition is that it comes with a slightly bigger screen size (1.4 inches) and resolution (280×280 pixels) than the base Fenix 6 Pro model.
Pros
Cons
Full-Color Topographic Maps
Expensive (but delivers big value)
Color Touch Screen
Built-in Sensors (Barometer, Altimeter, Compass)
Store Or Stream (Spotify) Music On The Watch
Very Long GPS Battery Life
(28+ Days) When Using Expedition Mode
Wrist-Based Heart Rate
Dynamic PacePro (intelligent pace planning)
Altimeter, Barometer, 3-Axis
Electronic Compass
Multiple global navigation satellite systems (GPS, GLONASS, and
Galileo)
Pulse Ox Sensor monitors how
well your body is absorbing
oxygen
Check out our full review of the Garmin Fenix 6 hiking watch.
Garmin Fenix 6X Pro
The #1 hiking watch (with full color topographic maps)
2) Garmin Fenix 5X Plus
The Fenix 5X Plus is a great watch made by Garmin and was the predecessor to the Fenix 6. It is packed with features that make it an incredible hiking watch including full-color topographic maps to help you navigate your hikes. Very few watches offer this feature. And after the release of the Garmin Fenix 6 you can find some incredible deals for the Fenix 5X Plus right now.
The Garmin Fenix 5X Plus is our number two pick out of all the newest watches available heading into 2020.
Pros
Cons
Topographic Maps
Expensive (but great value)
Color Touch Screen
Built-in Sensors (Barometer, Altimeter,
Compass)
Music On The Watch
Long GPS Battery Life
Wrist-Based Heart Rate (No Straps)
Extra Durable Casing Options
Garmin Fenix 5X Plus
The #2 hiking watch (with topographic maps)
3) Casio ProTrek WSD-F30
The Casio ProTrek WSD-F30 is our third pick overall. It has many of the features of the Garmin Fenix 6 and Fenix 5X Plus watches but costs quite a bit less.
If you do not need music, heart rate or sleep tracking on your watch than this may be the best option.
The Casio WSD-F30 is the cheapest watch that offers full-color topographic maps on the watch. The maps may be accessed with or without an Internet connection. Simply download the maps to the watch before you hike.
The resolution of the display is the best (390×390 pixels) of the watches we reviewed. It is a dual-layer display that allows you to easily switch between full-color (for topographic map view) to monochrome display to conserve battery life. The Casio Protrek WSD-F30 has a touch display making it easy to access all features.
This watch is proudly very durable and compliant to Military Standard MIL-STD-810G testing.
Pros
Cons
Topographic Maps
No Music
Color Touch Screen
No Heart Rate Monitor
Built-in Sensors (Barometer, Altimeter,
Compass)
No Sleep Tracking
Largest Screen Resolution
GPS Battery Life
Lower Price (For Features)
Durable – U.S. Military Standard 810G
Casio ProTrek WSD-F30
Tied for the #2 hiking watch (with topographic maps)
Check out our full review of the Casio WSD-F30.
4) Garmin MARQ Expedition
The Garmin Marq Expedition watch is packed with sports apps and hiking features. The watch has a more stylish and less sporty look to it compared to the other watches on this list.
However, the Marq Expedition is also the most expensive hiking watch and could be considered a luxury watch. It is almost double the price of the Fenix 5X Plus.
The Marq Expedition has features that no other watch on this list has such as Pulse Ox (allows you to check and estimate your oxygen levels as you make gains in altitude), ski hill maps, and golf courses. Cool features? Definitely. Necessary for hiking? Maybe not. However, if you are an active multi-sport or fitness fanatic you just might appreciate the extra features.
| | |
| --- | --- |
| Pros | Cons |
| Topographic Maps | Very High Price |
| Color Touch Screen | |
| Music On The Watch | |
| Pulse Ox Sensor | |
| Large Storage Capacity (For Maps + Music) | |
The Best GPS Hiking Watches (No Maps)
The majority of GPS hiking watches allow you to import hiking routes and then follow a single line track on the display. These are the best GPS hiking watches that operate like that.
1) Suunto 9 BARO
The Suunto 9 Baro is an excellent choice for hikers that do not need access to full color and detailed topographic maps on the watch face to navigate.
So, if you know where you are going, and are most interested in capturing the data of your hikes, this watch may be the best option.
Suunto watches leverage GPS data but they work differently than the Garmin and Casio watches.
Using the Suunto Movescount app, you can isolate common routes and hiking trails using topographic maps. Then, simply transfer the routes to your Suunto watch. While you hike, the watch will track all your data and progress. And, you can follow any of the routes that you loaded onto your watch. They are displayed as a simple line along with your progress marker.
The lack of topographic maps comes with an advantage. Following color maps (compared to a monochrome line) on the screen of a GPS watch consumes a lot more battery power.
The Suunto 9 Baro has the longest battery life of all the watches that we reviewed. Depending on the battery power mode (aka GPS accuracy) that you choose you can get up to 25, 50, or 120 hours of battery life from a full charge. This is incredible because it allows you to track and follow your progress over a very long hike or even a multi-day hike.
If battery life is important to you, this is the best hiking watch to buy.
| | |
| --- | --- |
| Pros | Cons |
| Longest GPS Battery Life | No Topographic Maps (Just A Line) |
| Built-in Barometric Pressure Sensor | No Music |
| Color Touch Screen | More Expensive |
| Large Screen Resolution | |
| Estimated Heart Rate | |
| 80+ Sport Modes | |
Suunto 9 BARO
The #1 hiking watch (no topographic maps).
2) Garmin Instinct Solar
This is a brand new version of the Garmin Instinct. We rate it the best affordable GPS hiking watch and it does come in at under $400.
The main advantage over the first edition which is listed next is that the battery power is virtually endless when you are hiking for long periods of time in sunshine.
3) Garmin Instinct
If you do not need maps on the watch, but do want accurate navigation sensors, the Garmin Instinct is a fantastic choice at a very good priceof under $300.
The Garmin Instinct GPS watch works exactly like the Suunto hiking watches. Load your favorite hiking trails and routes on to the watch using the Garmin Explore website and app. Discover routes, and transfer data to the watch.
This hiking watch has built-in sensors (3-axis compass and barometric altimeter) for the most accurate navigation when combined with the multi-network GPS.
The watch also has a built-in wrist based heart monitor.
Like the Casio Protrek WSD-F30, this watch is super durable and adheres to U.S. Military Standard 810G testing.
If you do not need topographic maps, and your budget is limited, this is the best hiking watch to get.
Pros
Cons
Lowest Price (By Far)
No Maps
Load Hiking Routes From Explore App
Monochrome Screen
Touch Screen
Low Screen Resolution
Built-in Sensors (Barometer, Altimeter,
Compass)
Durable – U.S. Military Standard 810G
Wrist Heart Rate Monitor
Garmin Instinct
The #2 hiking watch (no topographic maps)
4) Suunto Traverse
The Suunto Traverse is not a new watch. It has been around for a few years. Nevertheless, it is still super popular and Suunto positions the watch specifically for hiking. For that reason, we are including it on our list of hiking watches. If Suunto calls it a hiking watch it should be considered an option.
After great scrutiny, we do not recommend buying this watch. Compared to the Garmin Instinct, the price is high and the features are less advanced. The value is not there. The Suunto Traverse is due for an update. Is it a bad watch? No. It has some great features. However, we decided this watch is overpriced.
| | |
| --- | --- |
| Pros | Cons |
| Lower Price | No Maps |
| Durable – U.S. Military Standard 810G | No-Touch, Monochrome Screen |
| Load Hiking Routes From Movescount App | Low Screen Resolution |
The Best Hiking Watch Without GPS – Budget Pick
Casio Protrek PRG330
If you want a great hiking watch that has a barometer, altimeter, and digital compass the Casio Protrek PRG330 is a great option. This watch features the newest sensor technology by Casio that delivers the highest accuracy and improved battery life.
Perhaps the greatest feature of this watch is that it is a solar-powered watch. So you never need to worry about losing battery power. Simply expose the watch to direct sunlight and your battery will recharge in a few hours.
The $200 price tag is also much easier on your wallet.
Conclusion: The Best Hiking Watch
Okay, we covered all the latest watches that you can buy. So, what do we think is the best hiking watch money can buy?
If budget is not an issue, we recommend the brand new Garmin Fenix 6X Pro Solar Edition. This watch has the most features that would benefit a hiker out of all the watches that we examined. It is a hardcore hiking watch. Pricey? Certainly. However, we think it is worth every penny. If the Fenix 6X Pro Solar Edition seems too pricey then consider the Garmin Fenix 6 Pro option from this new Garmin Fenix 6 Series. Or, take a look at its predecessor the Garmin Fenix 5X Plus.
If the above Garmin hiking watches are too expensive, the next best option is the Casio ProTrek WSD-F30. You save about $150 while retaining many of the features offered by the Fenix 5X Plus. If the Casio WSD-F30 is still out of your price range, consider its predecessor the Casio Pro Trek Smart WSD-F20 Outdoor Watch. It has many of the same features but is $150 cheaper. Still to expensive for you? Then go for the Garmin Instinct GPS watch.
We do like the Suunto 9 Baro however we feel that this watch is more suited for trail runners vs. hikers.
This concludes our in-depth analysis of the best hiking watches that are brand new and now available to buy. As more watches are released we will update the list. Bookmark now to stay up to date! Did you find this review and analysis helpful? Please share it with your friends!
This post may contain affiliate links. Please read our disclosure for more info.