There are so many hiking footwear options these days. So, how do you choose the best option for your particular needs? What's better for hiking? Trail running shoes or hiking shoes? It depends on several factors. In this guide, we will steer you in the right direction to help you make the right decision.
When I started hiking, I exclusively wore hiking shoes. This just made perfect sense. Going hiking? Wear hiking shoes.
Over the years, the way I hike and where I hike have evolved. So has my footwear.
In this guide, we cover the differences between trail running shoes and hiking shoes and when you might want to wear one option over the other.
These are the shoes that I am currently wearing on my hikes and running adventures.
Last year, I went through three pairs of Hoka Speedgoats, one being waterproof with GORE-TEX. They are pretty good but not as durable as I had hoped. So, now I am a Brooks guy for my trail running shoes.
The Brooks Catamount 2 update was just released this January 2023. You can get them at REI. Read our Brooks Catamount 2 review for the details. Also, be sure to check out our full Brooks Cascadia 16 review.
Learn more about the Brooks Catamount trail runners
As you can guess, sometimes I wear hiking shoes, and sometimes I wear my trail running shoes.
What I choose to wear depends on my hiking (or trail running) plans, the weather forecast, and to a certain extent, my feet.
What are trail running shoes?
Trail running shoes, aka trail runners, are lightweight, flexible, and have loads of cushion to absorb shock. They are designed for running on forest or mountain trails. They are not intended for use on pavement.
Are trail running shoes good for hiking?
Yes, they are! Especially if they have a rock plate. They are less durable and won't last as long as hiking shoes. But, they work. I started using trail runners for hiking to cover more ground. I generally hike up and run down. If I know I am hiking for a very long day, I may opt for my lightweight hiking shoes.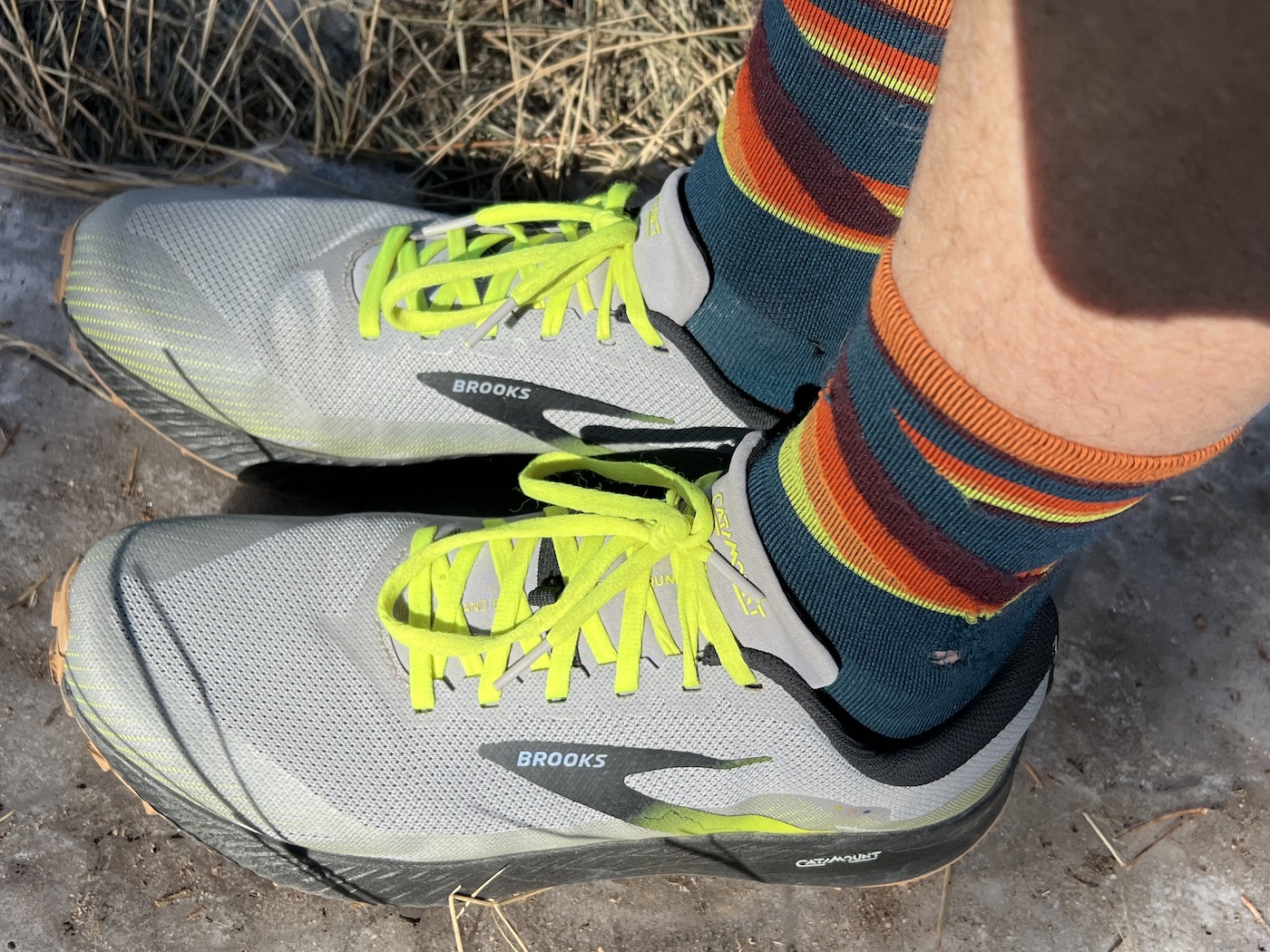 What are hiking shoes?
Hiking shoes are the traditional choice of footwear for hiking and backpacking. They are more durable, provide more support and stability, and offer more foot and toe protection. Most hiking shoes also are available in a waterproof version.
You can get very lightweight hiking shoes these days. They have improved tremendously over the past two years. The upper is much like a running shoe, but the midsole (cushioning and support) and outsole (lugs, treads) are more rugged, like a traditional hiking shoe. They are about double the weight of trail runners.
And there are also sturdier, more robust hiking shoes. They are heavier and more protective. Think Merrel Moab.
I prefer lightweight hiking shoes. They are less clunky and more nimble.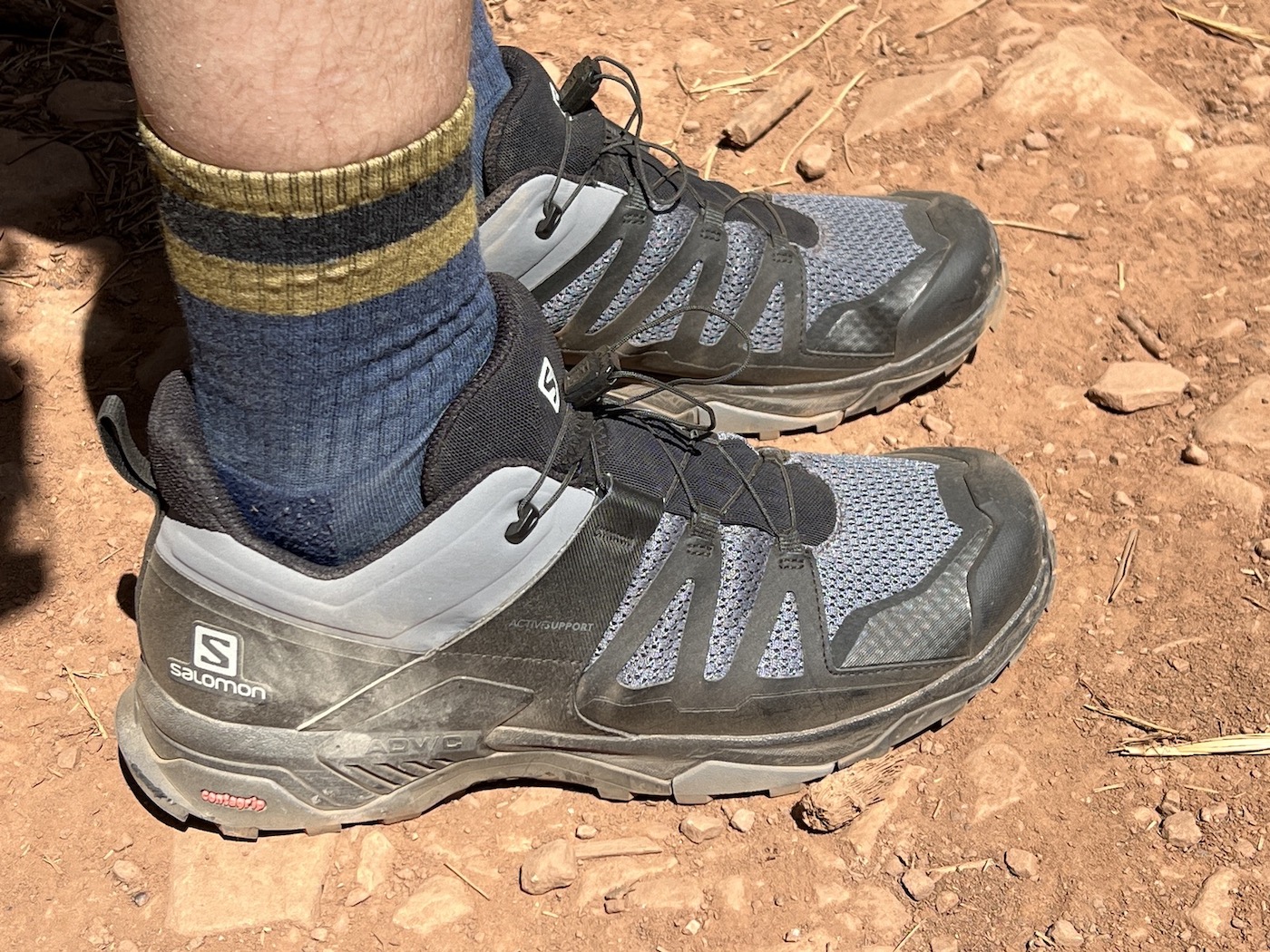 Trail running shoes vs hiking shoes: What is the difference?
Let's get into the details of how these two types of shoes differ when you look at the most common features and use cases.
| Feature or use case | Trail running shoes | Hiking shoes |
| --- | --- | --- |
| Weight | Lighter in weight (roughly half the weight) | Heavier in weight, although lightweight hiking shoes are available (like my Salomon X-Ultra 4s) |
| Cushioning | More cushion (feels springy, bouncy) | Less cushion |
| Support | Varies from shoe to shoe, but generally less support (more cushion) | More upward support for your feet |
| Flexibility | More flexible toe to heel, side to side | Stiffer from toe to heel, side to side |
| Stability | Less stability due to more flexibility | More stability on technical terrain due to stiffness |
| Breathability/ventilation | Most trail running shoes are much lighter and more breathable | Waterproof hiking shoes are less breathable, although non-waterproof versions are becoming much more breathable (My Salomon X-Ultra 4s have a super breezy feel to them) |
| Waterproofness | Fewer options; not all trail runners have a waterproof version | More options – most shoes have a GORE-TEX or waterproof version |
| Durability | Less durable, shorter lifespan | More durable, longer lifespan |
| Foot protection | I have found that the rock shields in Brooks, Saucony, and La Sportiva work well | Hiking shoes offer much more underfoot protection and toe protection |
| Running | Made for running | Not for running, except maybe soft-packed powder (snow) |
| Day hikes | Work for day hikes just fine | Designed for day hikes, best for long day hikes |
| Multi-day hikes/backpacking | Doable for an overnight or weekend trip | Better for longer backpacking trips due to the extra support, stability, and durability |
| Rocky/technical terrain | They can work if you get trail runners with a rock plate | Offer much more foot protection |
| Easy, smooth trails | Probably the better option for comfort | Could be more shoe weight and protection than you need |
When to buy and wear trail running shoes?
Up until the past year, I wore hiking shoes only on my hikes. But then, I decided I wanted to run at times to cover more distance in a day on the trails. Running on flat ground and downhill has increased my average speed by about 30-40 percent. I can go much further in a day. I also wanted to run so that I could get in better shape.
So, if you want to run all the time or part-time, get a pair of trail running shoes! You will not regret having trail runners as an option to wear on your hikes. They are more durable and better performing than ever.
When to buy and wear hiking shoes?
If you have sensitive feet (to rocks, roots, etc) and require the best foot protection, injured ankles or feet, or want to feel more stable and secure with your footing, hiking shoes are a better option.
Hiking shoes are also the best choice for long or consecutive trail days. Or if you carry extra weight that you would not on a regular day hike.
The great news is that you can now get lightweight hiking shoes. These have somewhat of a running shoe feel and fit but provide the best protection for your feet. A win-win scenario. Lightweight hiking shoes have light and breathable uppers, the midsoles offer cushioning and top-notch foot support, and the outsoles and treads provide excellent protection, grip, and stability.
If you have no intention of running, get hiking shoes.
Where to buy trail running shoes and hiking shoes?
If you are less experienced in choosing trail runners or hiking shoes, we recommend visiting your nearest REI store or MEC in Canada. The staff at these stores can help you make a good decision.
If you know what you need, pick three to four shoes online and compare them at home. Wear them around your house for a week. Choose a winner, and return the rest. REI has a no questions asked return policy, so it is a great place to buy your new shoes.
You can also buy most shoes directly from the shoe manufacturer, Backcountry, or Amazon.
Check out our guide on saving money on hiking and backpacking gear for more buying tips.
Frequently asked questions (FAQ)
Frequently asked questions (FAQ)
Are trail running shoes good for hiking?
Absolutely! I wear trail running shoes more often on my hikes than hiking shoes.
Are trail running shoes good for walking?
But, of course. I love wearing my trail runners everywhere.
Can you use trail running shoes on the road?
You can, but they are not designed for road running and may wear out sooner.
How should trail running shoes fit?
They should fit snugly but not too tight. You do not want your foot or heel sliding around.
What are the best trail running shoes?
First and foremost, the shoes that fit your feet best and feel the most comfortable. I have tested many brands and have found Brooks and Hoka to be the best. However, it depends on the needs of each individual hiker or runner.
What does drop mean in trail running shoes?
The difference in height or thickness of the midsole under your heel compared to the toe box area.
Can I use trail running shoes in the gym or on the treadmill?
You could, but there are better shoes for the gym.
How to clean trail running shoes?
If covered in mud, let them dry, then kick the dry dirt off. To clean them further, use a damp towel and wipe them clean.
Are trail running shoes good for snow?
Yes. But it would help if you got microspikes and gaiters for a complete outfit to hike or run on ice, snow, or slush.
Can you run in hiking shoes?
Hiking shoes are not designed for running. There isn't enough cushioning in most hiking shoes. I only run in my hiking shoes if there is plenty of soft snow covering up rocks and roots.
What are the best hiking shoes?
The best hiking shoes are the pair that fit your feet best and feel most comfortable. I have tried many brands, and I prefer Salomon. They seem more modern compared to other brands. I also like Vasque because they are well made and durable. I have had Merrell hiking shoes, but I stopped buying them because they didn't last long.
How do you clean hiking shoes?
Let them dry, smack them on the ground to loosen dirt, and wipe them clean with a damp cloth. Wearing lightweight gaiters can help keep them clean while you are hiking.
Should hiking shoes be tight or loose?
Neither. They should feel comfortable when you slip your foot in them. Pro tip: Make sure you are wearing hiking socks when you try on your hiking shoes. Once you try hiking socks, you will wear them all the time.
How should hiking shoes fit?
Your hiking shoes should feel comfortable right away. Modern hiking shoes do not need to be broken in because they are more comfortable than ever. Only the old all-leather clunky hiking shoes and boots required being broken in. There should be no pressure points. Your toes should have a little room up front, they should not touch the end/front of the shoe. Your heel should not slip. I highly recommend getting aftermarket insoles for hiking. I have them in all of my shoes.
Should hiking shoes be a size bigger?
No. They should be your shoe size in most cases. Or, perhaps, a half-size smaller or bigger, depending on the shoe.
Are hiking shoes good for walking?
Ha, yes, they are perfect for walking on hiking trails! Some lightweight hiking shoes may work for everyday use.
How long do hiking shoes last?
This depends on the shoe. I like to get at least 300 miles out of my hiking shoes. My Vasque hiking shoes have lasted much longer. But they are very durable.
How to break in hiking shoes?
Start by wearing them around your house for a few days before you wear them outside. See how they feel. Make sure they fit properly. If you wear them outside first, you can't return them. If your shoes feel good break them in further on the hiking trails. Most modern hiking shoes don't require much "breaking in".
Should I get waterproof hiking shoes?
If you live in a cooler or wet climate, you might want them. If you live in a hot, dry climate, you don't need them. Keep in mind that waterproof hiking shoes are less breathable. So your feet might get sweaty.
Does Merrell make a good hiking shoe?
They are good for most hikers. Pretty decent. I have had a really good pair of Merrell hiking shoes and one not so great. I tried on their popular MOAB hiking shoe, and it wasn't for me. They are positioned as a great all-around hiking shoe.
What shoes to wear for hiking in summer?
I recommend hiking shoes that are lighter in weight and have great breathability.
Are hiking shoes good for snow?
Yes. They have great traction. But consider microspikes for traction and gaiters to keep the snow out of your shoes.
Are Salomon shoes good for hiking?
Yes, I love hiking shoes made by Salomon.
Can I wear running shoes for hiking?
Regular running shoes don't have adequate support, cushion, or grip. Get yourself some trail running shoes or hiking shoes.