GPS devices are super handy and can be a lifesaver when you are hiking in remote areas. In this guide, we review all the newest and best hiking GPS devices that you can buy right now. And, we break down all the latest features and specific benefits to help you make a decision on a GPS device that meets your hiking needs.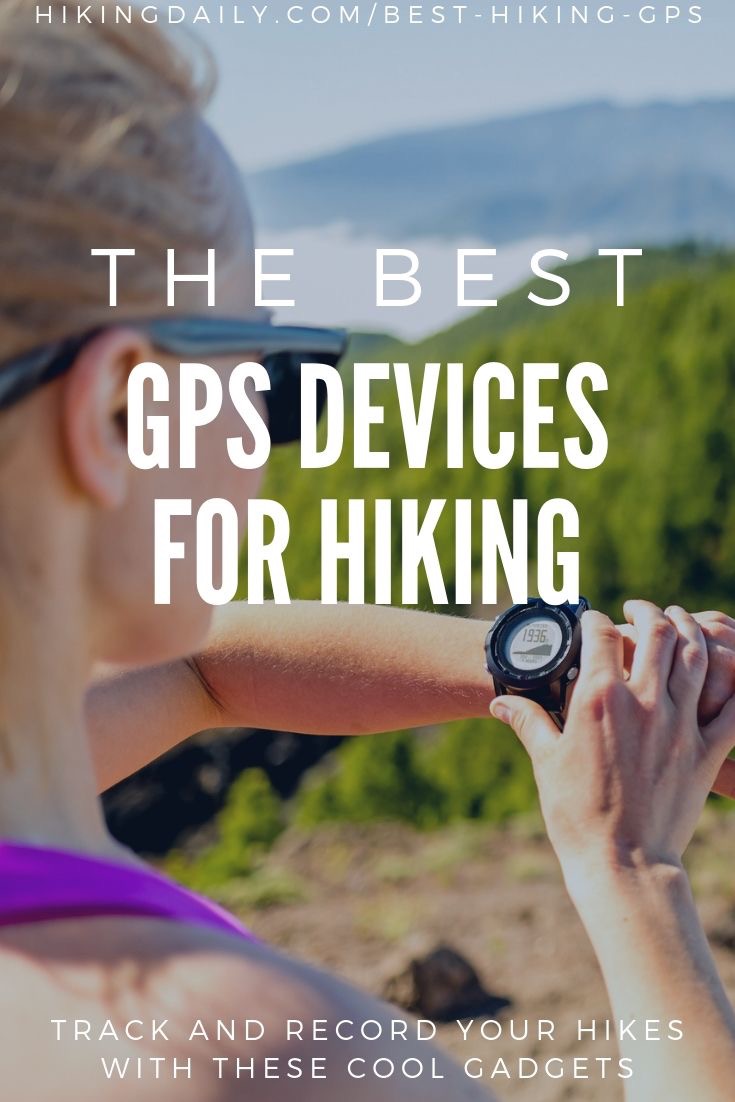 Types of hiking GPS devices
There are three main categories of GPS devices that you can take on your day hikes or backpacking trips.
GPS handheld devices

GPS-enabled satellite receivers
GPS-enabled satellite messengers

GPS apps (smartphones)
What does GPS stand for?
GPS is short for Global Positioning System.
What is GPS?
GPS is a global navigation satellite system.
GPS allows you to access your geolocation and time information using a GPS receiver.
How does GPS work?
Your GPS receiver communicates with satellites above you in space.
For GPS to work there must be an unobstructed line of sight to four or more GPS satellites. If nothing is blocking your view directly above then you should be able to access and hold a signal.
Quick overview: features and benefits of GPS devices
Today, there are more GPS devices for hiking than ever.
Each type of device is quite different in design and features.
GPS-enabled satellite receivers + satellite messengers
Large screen size and superior resolution
Preloaded topographic maps and satellite imagery
Compass, altimeter, barometer
Weather forecasts
Extra long battery life
SOS signals and two-way satellite messaging
Durable casing
GPS hiking watches
Compact yet usable screen size
Compass, altimeter, barometer
Topographic maps
Route tracking and retracing
Fitness and training features
Long battery life
Solar charging capability to extend battery life
Multi-satellite network capability
Ability to pair to satellite messengers and mobile phones
GPS apps for hiking
Large screen size (your smartphone)
Variety of detailed maps to use offline
Free (or paid for to get extra features)
Access to popular hiking routes and ratings
Average battery life
---
Best handheld GPS devices for hiking
There are two handheld devices that stand out from the pack. Both are made by Garmin and offer GPS navigation and satellite two-way messaging.
The Garmin GPSMAP 66i is the newest handheld GPS device. It offers on-device maps for navigation, inReach two-way messaging, a large screen, generous internal memory, an SD card slot, and it is super durable. The GPSMAP 66i is our top pick.
A large 3-inch color screen (works in strong sunlight)
Preloaded Garmin TOPO maps
BirdsEye Satellite Imagery downloads (no subscription necessary)
Long battery life

35 hours (10-minute tracking)
200 hours (30-minute tracking)

Pairs with your smartphone

Plan routes with Garmin Explore app

Altimeter, barometer and compass navigation sensors
Water resistant (IPX7 rating)
16 GB internal memory
microSD card slot for expandable memory
Military tested (MIL-STD-810G) ruggedness
SOS and two-way messaging (subscription required) via global Iridium satellite network
The GPSMAP 66i is the definitely best GPS device for hiking that you can get right now. If you don't require the inReach messaging, you can decrease the cost of this unit by $150. That's right, you can buy it with just the GPS functions. Keep that in mind.
The Garmin inReach Explorer+ is also an incredible GPS device for hiking and backpacking. It has been on the market for a couple of years. This model still offers incredible value and performance. The best feature of the inReach Explorer+ is battery life. Up to 100 hours!
A 2.3-inch color screen
Preloaded DeLorme TOPO maps
Extra long battery life

100 hours (10-minute tracking)
30 days (30-minute tracking)

Pairs with your smartphone

Use the Earthmate app to access downloadable maps, U.S. NOAA charts, color aerial imagery

Altimeter, barometer and compass navigation sensors
Water resistant (IPX7 rating)
2 GB internal memory
SOS and two-way messaging (subscription required) via global Iridium satellite network
Pro tip: An alternative to the Garmin inReach Explorer+ that will give you topographic maps and satellite messaging is to pair a GPS watch like the Garmin Fenix 6 to a Garmin inReach Mini.
The GPSMAP 64csx is the best handheld GPS device that has a built-in camera. If you don't want the camera this exact device can be purchased for $100 less. Take your pick. This GPS device is best for shorter hikes due to battery life limitations.
A 2.6-inch color screen (works in strong sunlight)
Preloaded with TopoActive maps
Multi-GNSS support (GPS, GLONASS, and Galileo)
Water resistant
16-hour battery life
8 GB internal memory
microSD card slot for expandable memory
8 MP camera (optional)
Barometric altimeter and 3-axis compass
Quick summary
The Garmin inReach Explorer+ has the best battery life
Garmin GPSMAP 66i has the most internal memory (16 GB) and is the most rugged (military tested)
The camera in the Garmin GPSMAP 64csx is optional
Navigation sensors and TOPO maps are optional Garmin inReach Explorer+ (then it is simply a satellite communicator)
The inReach technology is optional for the Garmin GPSMAP 66i (then it is just a GPS device)
The GPSMAP 66i and GPSMAP 64csx have microSD slots
---
Best GPS watches for hiking and backpacking
Okay, we covered the newest and best handheld GPS devices for hiking.
For the most up to date information on watches, check out our complete guide to the best hiking watches. There you will find all the newest and best GPS hiking watches. We update this review regularly.
In this guide, we are going to focus only on the top four hiking watches that are brand new this year.
Top Pick: Garmin Fenix 6 Pro Series
The best GPS watch for hiking is the brand new Garmin Fenix 6 that is available in a Pro, Sapphire, or Solar Pro model.
Be sure to check out our complete review of the Garmin Fenix 6 hiking watch for more details.
Runner-Up: Casio ProTrek WSD-F30
The Casio ProTrek WSD-F30 is a great hiking watch that has many of the top features but is less expensive than our top pick.
Full-color map GPS navigation
Download maps for offline GPS use
Altitude, barometric pressure, and compass sensors
Durable – U.S. Military Standard 810G
4 GB internal storage
1.2 inch, 390 × 390 pixels resolution color screen
Sunrise/Sunset times
50m water-resistant
Activity Apps: Trekking, Fishing, Cycling, Paddle, Snow
Best Budget Pick: Garmin Instinct Solar
The Garmin Instinct Solar is the best hiking watch you can get for around $300. It is a very cool and affordable GPS hiking watch.
If you do not need topographic maps on your watch than this is the best and cheapest GPS hiking watch you can get this year.
Multi-satellite networks: GPS, GLONASS, and Galileo
Incredible battery life with on the go solar charging

Receive smartphone notifications via Bluetooth

Wrist-based heart rate monitor
Drop a bread crumb trail of your route and follow back using the TracBack feature
Durable: U.S. military standard 810G
Pair with Garmin inReach Mini (two-way messaging satellite communicator)
100m water-resistant
The Best GPS hiking watch (no maps)
Our first pick for the best GPS hiking watch that does not display on watch maps would be our best budget pick, the Garmin Instinct Solar watch. Another very similar (but slightly more expensive) watch that deserves a look is the Sunnto 9 Baro.
The Suunto 9 Baro is another hiking watch that is a basic grid navigation watch. It doesn't have topographic maps or satellite imagery on the watch. Instead, you can track/record your hike, drop waypoints, mark locations, and follow a breadcrumb trail back to where you started. So, if you know where you are, where you are going, and therefore do not need maps, this is a great hiking watch. It is pretty awesome and packed with so many cool features.
Multi-satellite system GPS navigation (GPS, GLONASS, QZSS)
80+ sport modes to track your progress
100m water-resistant
Wrist-based heart monitor
25, 50 and 120 hours battery life (multiple battery modes)
Color touch screen
Sapphire crystal lens
Altimeter, barometer, and digital compass
Sleep tracking
Activity training (steps, calories)
Storm alarm
Sunrise/sunset times
Temperature readings
Pair with your smartphone
---
Best GPS apps for hiking
If I am doing a day hike and I have mobile service, I'll use my iPhone and a couple apps to track and record my hike. Or, I will download some maps to use offline if I am heading out of mobile service.
The main drawback to this GPS option for hiking is that the battery life can be problematic in certain conditions. To get more than 6-10 hours of battery life one must put the phone in flight mode, or use the smartphone and hiking app only. So no camera/photos, music or any other smartphone app at the same time. This is somewhat limiting. Battery life can also suffer in temperatures are near or below freezing. Cold temperatures eliminate battery life in seconds or minutes depending on what phone you have. Keep this in mind, and to maintain battery life in cold temperatures, keep your phone in an insulated pocket as much as possible.
The GPS hiking apps that I use are AllTrails, Hiking Project, Gaia GPS, and Caltopo.
---
Buying advice: How to choose the best hiking GPS device
Whether you want a handheld GPS device, a GPS watch for hiking, or a premium hiking app that is GPS enabled, there are some common features to understand and consider.
Below we review the most important features that the best hiking GPS devices offer today. Keep in mind, it is unlikely that you will find all the features on a single device. So read on and decide what is most important to you.
Screen size and resolution
Bigger screen size and higher resolution will deliver very detailed maps and satellite imagery. Pretty straight forward.
Hiking watches and mobile phone screens offer the best resolution. This makes it is easier to read maps and observe greater details of your surroundings.
Display type and interface
The main types are either touch screen, buttons or both. Also, the option of a color screen is a consideration.
Case construction and durability
GPS handheld devices and GPS hiking watches are built to be durable using a variety of rugged plastics and metals. Some are compliant to military standard (MIL-STD-810G) testing.
Battery life
Battery life is super important in the backcountry. Handheld devices and watches deliver long battery life while smartphones struggle when in GPS mode and in low temperatures. Mobile phone battery life can be extended by using flight mode.
The Garmin Fenix 6 Pro Solar and the Garmin Instinct Solar are two new GPS hiking watches that offer solar charging to extend battery life in the backcountry.
Of course, you can also invest in a solar charger to keep your devices charged in the field.
GPS coverage and positioning technology
GPS coverage and technology vary. This impacts your signal and the accuracy of tracking and navigation.
The most common networks are GPS, GLONASS and Galileo. Some devices work on all of these networks which is an advantage if you plan on traveling to different countries and continents.
There are two main types of GPS navigation that you will find on the best GPS hiking devices.
Some GPS devices and hiking watches offer true navigation. You can see exactly where you are on the screen looking at a variety of maps or satellite imagery. This is obviously most helpful.
Other devices are less advanced and differ in that they allow you to track your progress, drop waypoints, mark key locations and follow a breadcrumb trail back to where you started your adventure. This is known as basic grid navigation.
Third-party maps and software
Whether you go for a handheld device, a watch, or an app check out what maps and software they offer to help you plan and follow your hikes.
Most devices allow you to download and store different maps (or routes) directly on the device.
Some GPS devices will track and share your coordinates and progress automatically. This allows your friends and family to follow along with your adventures as you go.
Weather forecasts
Keep track of the weather forecast while you are on the go. Some devices allow you to check the current weather forecast and also for waypoints or your final destination.
Barometer
A barometer detects changes in the atmospheric pressure and is super useful for predicting changes in your local weather. A rise in pressure indicates improving weather. A steady drop in pressure means that the weather is worsening (clouds and precipitation). A sudden drop in atmospheric pressure means that a storm is developing. Some devices offer a storm alarm which is handy.
Altimeter
An altimeter tells you how high above sea level you are at a given point. The data is acquired by GPS. This information can help you pinpoint your location on a topographic map.
Digital Compass
Use a compass to determine which direction (your bearing) you are headed. This is an essential tool for navigation to use with a topographic map. If you are headed into the backcountry for multiple days be sure to take a physical compass and a paper map.
Built-in memory or cloud storage
The amount of built-in memory or cloud storage determines how much map data you can access at any given time. The more the better. Super simple.
Smartphone connectivity + notifcations
The best GPS hiking devices allow you to connect to your smartphone.
Simply pair devices via Bluetooth.
Then you can access stored data such as maps and receive notifications such as text messages, emails, and other alerts.
Built-in camera
Some GPS handheld devices also take photos. This may or may not be necessary depending on if you carry a smartphone or real camera to capture your hiking memories.
SOS and two-way messaging
This feature enables you to send and receive text messages or send out an SOS if you are in big trouble.
Two-way messaging offers peace of mind for solo hikers and for those that hike in very remote locations.
Water Resistance
This is pretty much a mandatory feature when you are exploring the great outdoors. Almost all GPS devices for hiking are water resistant or waterproof.
Sunrise / Sunset Alarm
Plan out your day with this handy feature found on many GPS hiking watches.
Steps + Calorie Counter
Want to know how productive your hikes are from a health and fitness perspective? You can. This is a feature that is found primarily on hiking watches and apps.
Heart Rate Monitor
Hold a steady hiking pace by keeping track of your heart rate. This can help you conserve energy on a long demanding hike.