I look down from nearly seven thousand feet above the slickrock canyonlands of Utah's southeast desert. Just 45 minutes outside Moab, Utah, I'm taking Ridge Merino's Solstice Sun Hoodie for a testing day out on the skin track in the La Sal mountains. From the snow-covered access road to the boot pack up to the pyramidal summit block of Mount Tukunikivatz, I'm shielded from the desert sun's intensity underneath the massive hood of my Solstice Sun Hoodie. My sweat from the climb has dried, thanks to the quick-drying, sweat-wicking power of Merino wool. I transition my backcountry snowboard from "walk mode" to "ride mode" and wiggle my way through powder and sticky surface conditions. Snowboarding down the white-capped mountain, high above the slickrock desert below, I'm kept cozy in the Solstice.
Ridge Merino is at it again with their summer line-up of Merino wool gear made for the mountains. They've released the new-and-improved Solstice Sun Hoodie in a bright palette of colors for the summer season. I tested the Women's Solstice hoodie to see how it held up to the elements, from skiing in the winter chill to soaking up the spring sunshine.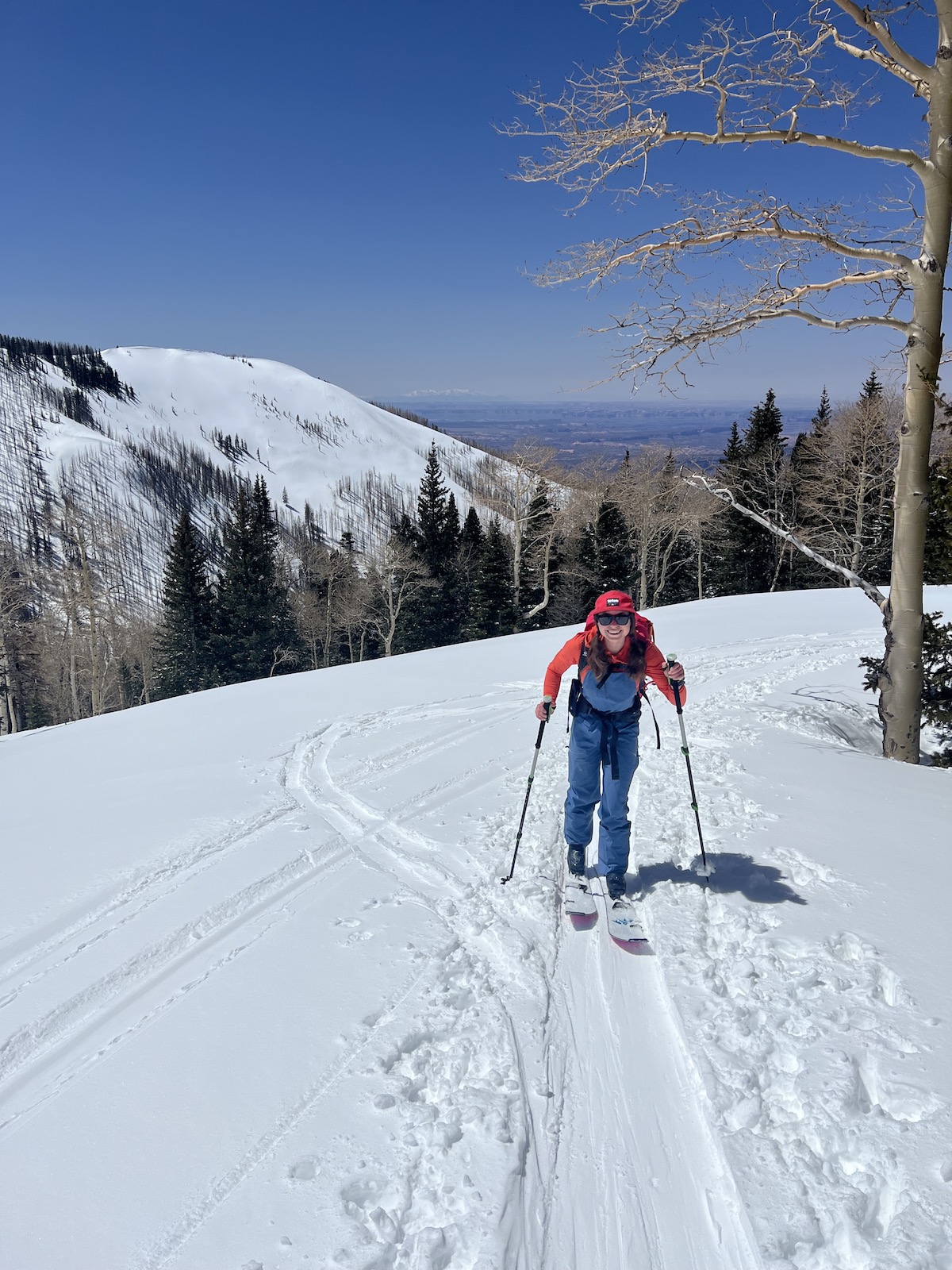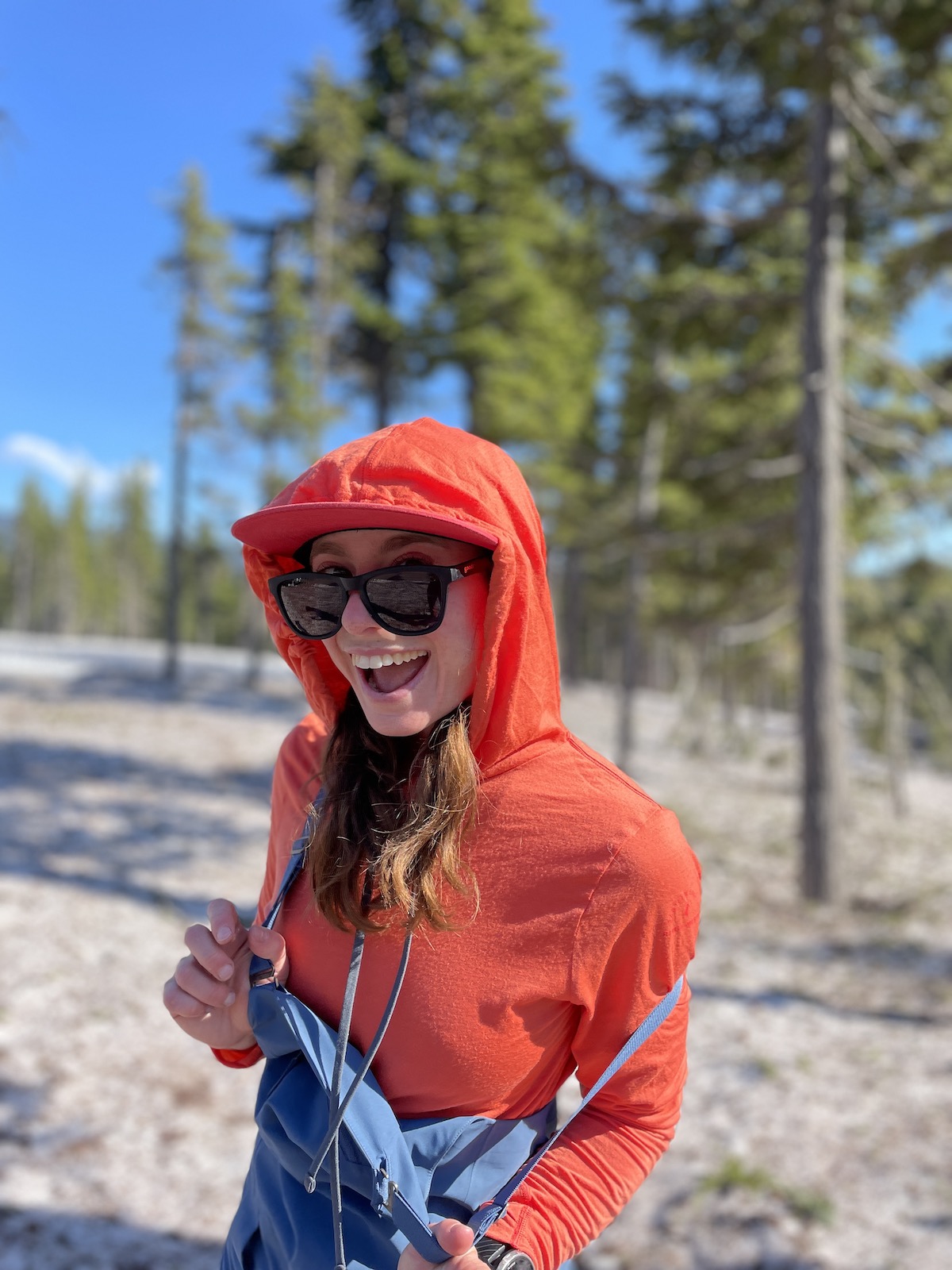 The Basics
Price: $84.95
Color: Summer Spice
Size: XS
Where To Buy
Product Summary:
The Solstice Lightweight Wool Sun Hoodie is a merino wool sun protection shirt made for long days in high places. If you paused at merino wool sun hoodie, trust me— it rocks. And no, it's (usually) not too warm for balmy days out. The hoodie has a relaxed fit, an oversized hood, and thumb loops for keeping it secure while out on the trail or the skin track. And seriously, this is the coziest sun hoodie I have ever worn thanks to the 17.5 micron merino wool fabric. While it wouldn't be my first choice for the hottest of days, it is an excellent layer for most climates. Designed in Mammoth Lakes, CA—a Pacific Crest Trail Town— this sun hoodie has become a popular staple for long-distance hikers passing through town. After testing it out, I see why.
Features
UPF 30
Integrated thumb holes
Loose fitting hood with drawstrings
17.5 micron Merino Wool from McKenzie Basin, New Zealand
(m)Force Technology: 87% Merino wool, 13% Nylon
Pros
Midweight fabric is excellent for cold to warm temperatures
Quick drying
Doesn't stick to skin during sweaty days out
Crazy soft and cozy
Limited smell with multiple days of use due to antimicrobial fabric
Oversized hood keeps sun off the face and neck
Cons
Large hood does not stay put in windy conditions, and I found it awkward to wear with a helmet
Too hot for the warmest days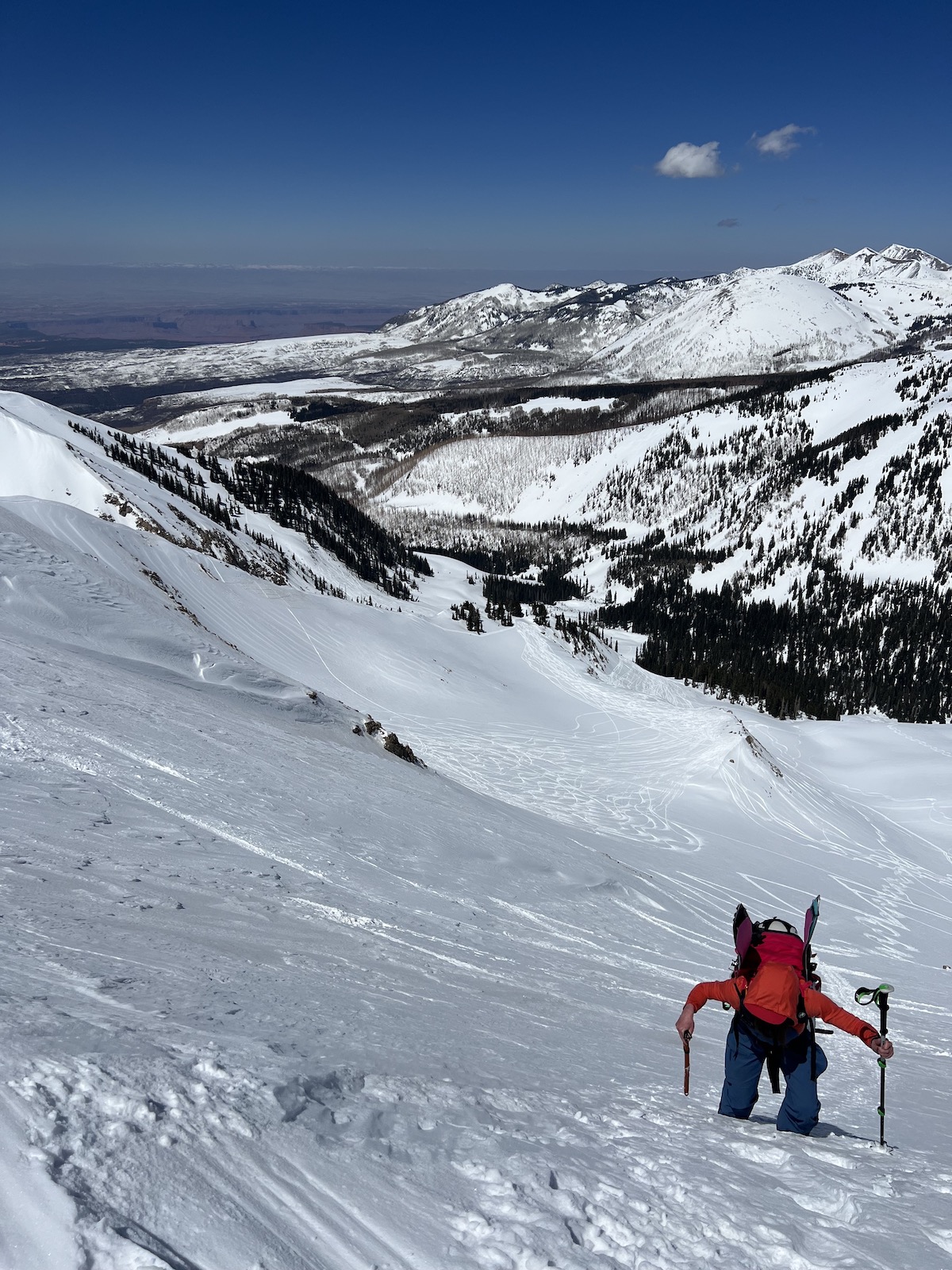 Booting up Mount Tukuhnikivatz. Credit: Forrest Smith
Analysis of the Ridge Merino Solstice Sun Hoodie
Sun Protection — 10
Rated to 30 UPF, the Solstice Sun Hoodie kept my skin from getting burned by the harsh UV rays at 12,000 feet in the La Sal mountains. UPF, or ultraviolet protection factor, is a measure of how effective a fabric is at filtering out ultraviolet A and B light. A UPF rating of 30 means that the fabric will allow 1/30th (about 3%) of UV light through, blocking your skin from 97% of UV rays. I found that the huge hood on the Solstice kept my neck and face blissfully unburnt without feeling tight, sweaty, and constricting. I felt that this was a major benefit of the Solstice— my neck and upper back never felt sweaty or sticky when the mercury rose.
A key component of a good sun hoodie is a a high level of comfort, so you want to keep on while out on the trails. Your sun hoodie isn't going to keep your skin from getting sunburned if you shed it in favor of a tank top or sports bra. The easy-breezy, relaxed fit and soft, comfortable fabric of the Solstice made it comfortable to keep wearing when temperatures increased. I found this surprising for a wool hoodie, but the sweat-wicking and temperature regulation properties of merino wool truly worked their magic.
Versatility: 9
The Solstice sun hoodie is a highly versatile piece of technical apparel. It's made for the day hiker, backcountry skier, thru-hiker, or river rat. I love the high versatility of this piece, and would select it for long days out in the mountains over a wide array of conditions. It would also top my list for lounging by a lake with a fishing rod. That said, it's not my lightest weight sun hoodie, and in truly toasty temperatures I might opt for something else. For the majority of cases, however, it is an awesome and versatile layer—unlike lighter weight sun hoodies, this sun hoodie will also keep you warm when you need it to.
Breathability and Temperature Regulation: 9
Despite its heavier-weight fabric than most synthetic sun hoodies I have tested, I found the Solstice to be more breathable than all but the lightest weight synthetic hoodies. Merino wool is excellent at regulating temperature due to its sweat-wicking and quick-drying properties. To read more about merino wool, check out this page. The Solstice excels on days when the temperatures swing. This is because it does an excellent job of regulating body temperature across conditions that make me shiver or sweat. The natural fibers are more breathable than synthetics. They also do an excellent job of keeping me warm when the wind picks up or the sun dips behind the mountains.
Comfort and Fit: 8
This sun hoodie has a breezy, relaxed fit that looks attractive out on the skin track or the trail. I loved the soft, cozy Merino wool-blend fabric. And for everyone wondering — no, it's not itchy at all. Merino wool fabric uses much smaller-diameter wool than the wool in your holiday sweater. The Solstice sun hoodie uses 17.5 micron wool that feels smooth against my skin, keeping me cozy all day long.
I loved the festive, new Solstice colors that Ridge released this season. I chose the Summer Spice colorway, a bright pink-orange perfect for the long, warm days to come. Other colors included in their summer line include Blue Sky and Wild Sage, which I would love to add to my collection.
Even when I was working hard in this sun hoodie, the relaxed fit and merino wool fabric felt awesome. As much as I liked the oversized hood fit for sun-protection without feeling sticky and sweaty, I felt it looked less sleek than smaller-hooded sun hoodies I've used, and was less compatible with a climbing helmet than other hoods. That said, because it's cozy enough to keep on my head no matter the temperatures, I liked the design for hiking and ski touring.
Durability: 10
Thanks to the (m)Force technology merino-nylon blend of this sun hoodie, it is highly durable. It held up extremely well in comparison to ultralight-style sun hoodies or pure merino wool. Thus far, I haven't experienced any durability issues with this hoodie—no snagging, pilling, or issues with the seams. This is a high quality piece made to last.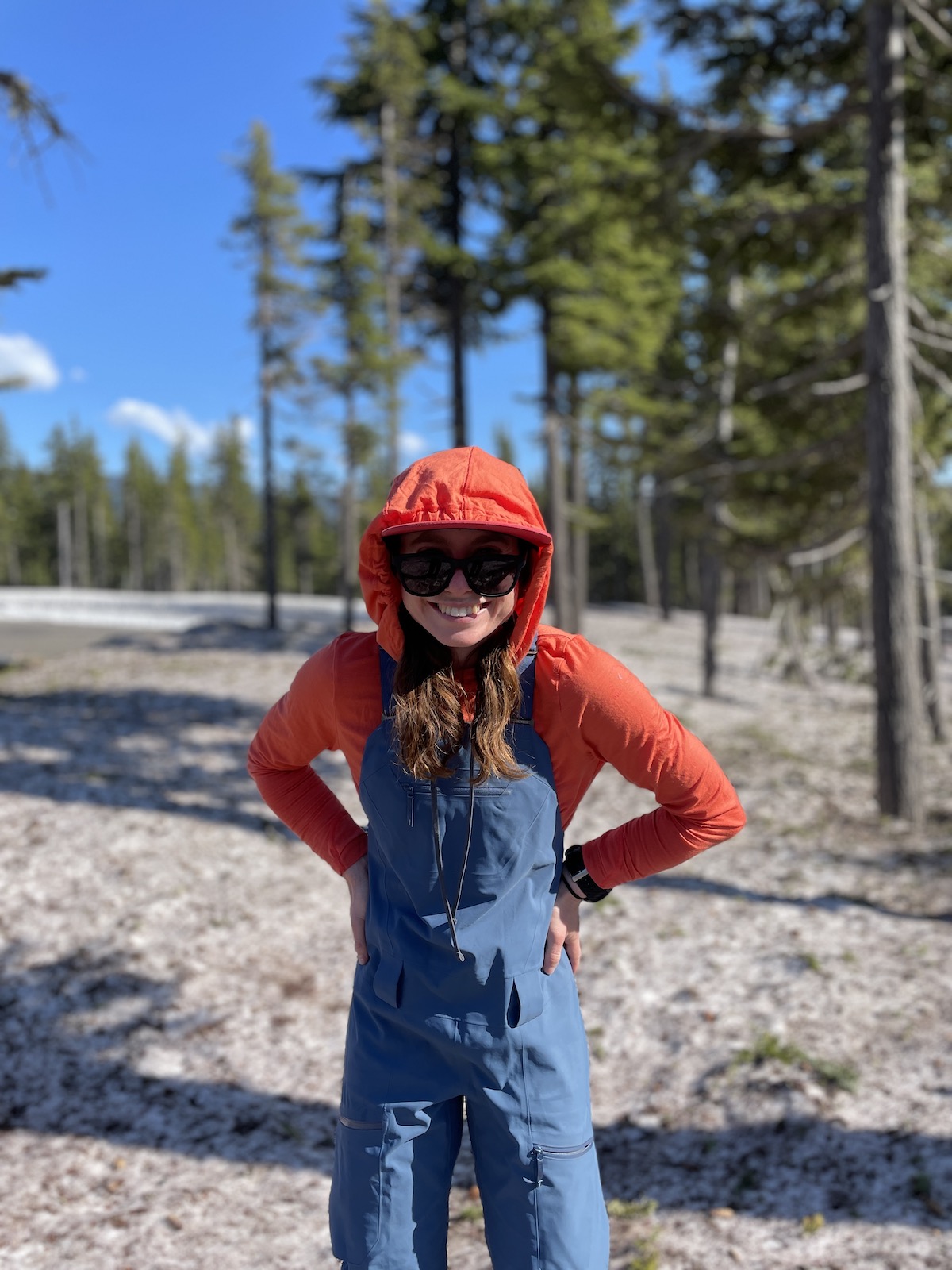 Solstice Lightweight Wool Sun Hoodie Scorecard
Sun Protection: 10
Breathability and Temperature Regulation: 9
Comfort and Fit: 9
Versatility: 9
Durability: 10
Overall Score: 9.4
Best for:
Hiking, backpacking, backcountry skiing and snowboarding, paddling. I loved the comfort factor on this sun hoodie, and would absolutely recommend it for the highest mountains to hanging around the campfire.
Why Buy
This sun hoodie is comfy-cozy, and you will absolutely want to keep it on all day when out in the mountains. Thanks to merino wool's antimicrobial properties, it takes a long time to start smelling, making it an excellent option for extended use. Few companies make truly excellent merino wool sun hoodies like this one. The Solstice does an excellent job of wicking sweat, and the oversized hood keeps UV rays away. Also, you're supporting a local business owned by shredders in Mammoth Lakes, and the price point is reasonable for a merino wool hoodie of this quality.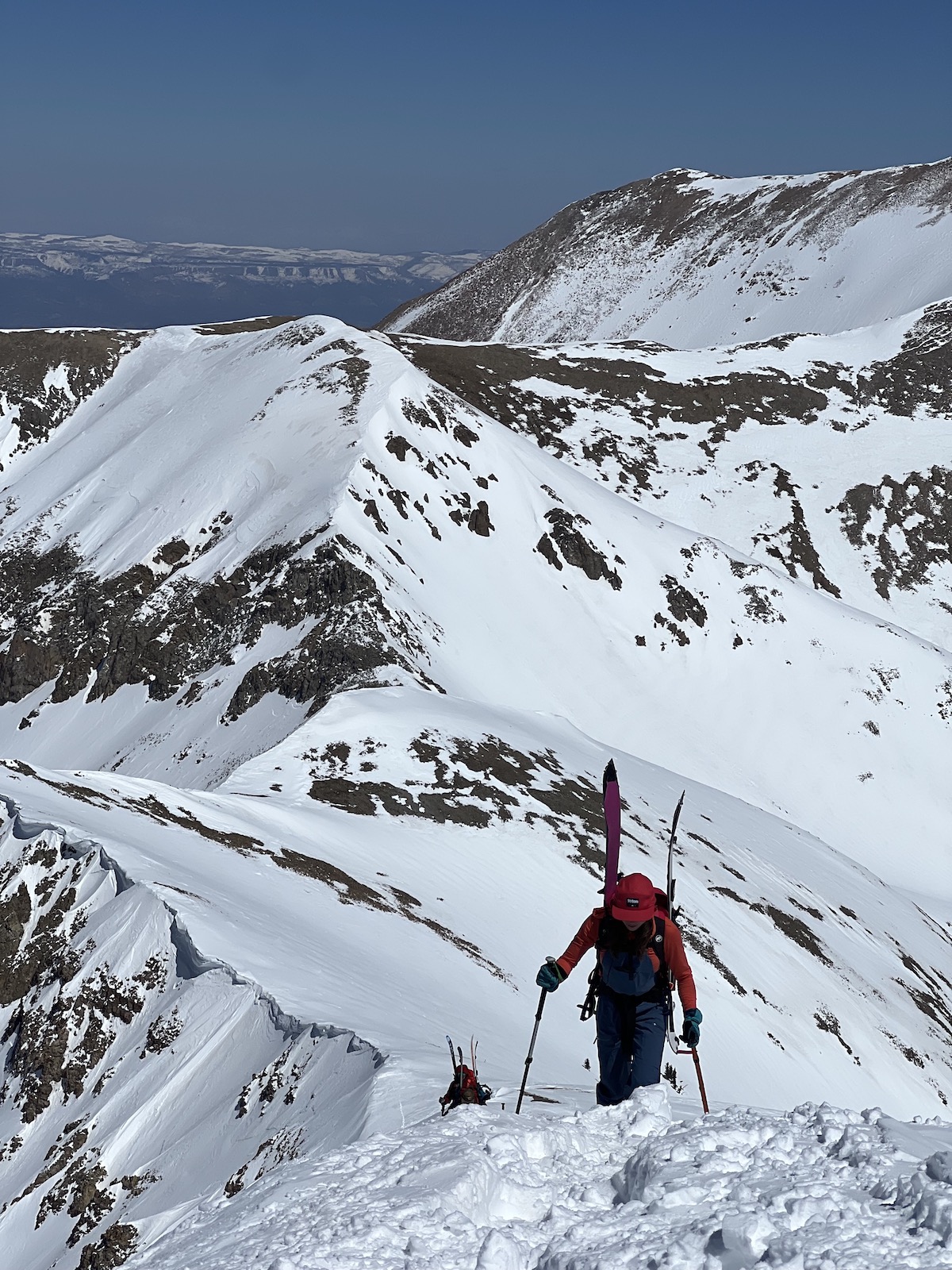 My Testing Process
I tested this sun hoodie from the skin track in the La Sal mountains to the red-rock canyonlands of Moab, Utah. This provided an excellent testing ground for the hoodie's versatility in an alpine and desert environment. Temperatures ranged from 30 F to 80 F during my testing process. I enjoyed wearing this hoodie while out all day, and then would let my sweat dry and put it back on before curling up into my sleeping bag. It's that comfortable.
The categories for which I reviewed this product are as follows: sun protection, comfort and fit, breathability and temperature regulation, durability, and versatility. Each of the above categories was given a score on a scale of 1-10, with 1 being the worst possible score, and 10 being the best possible score. To arrive at the overall score, I took the average of the 5 scoring categories.
The Bottom Line
The Solstice Sun Hoodie rocks. I was pleasantly surprised by how comfortable I was wearing this merino wool sun hoodie all day long when out backcountry snowboarding and running around the desert. If you're looking for a durable, all-around awesome sun hoodie that will keep you comfortable no matter the temperature, look no further. As skeptical as I was about a wool sun hoodie, the Solstice is an incredible piece that has become my go-to for long days out on the trail.
For more information on Ridge Merino's product line and ideas for what to pair your sun hoodie with, check out this 2023 Ridge Merino Gear Round Up and Review.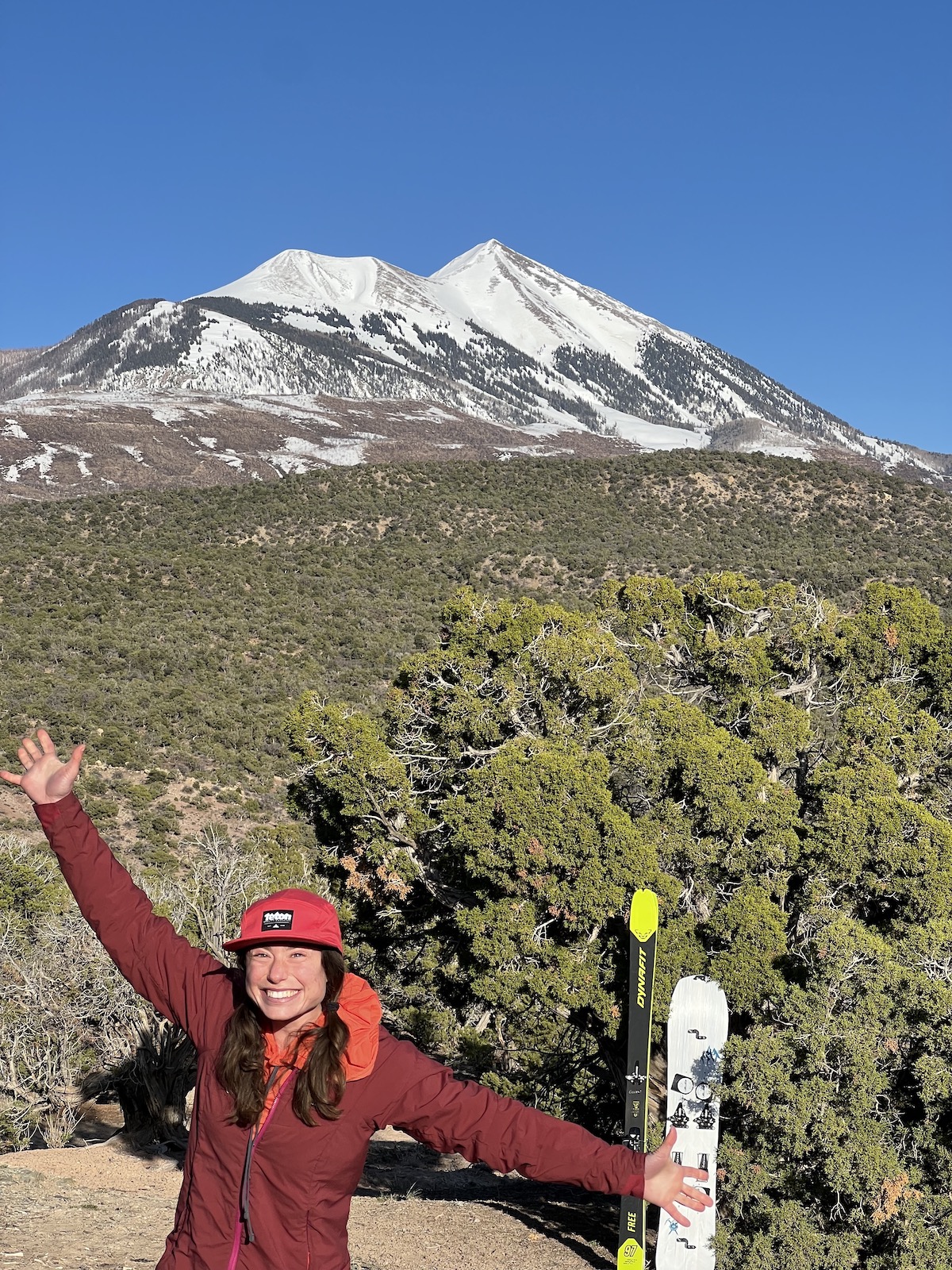 Frequently Asked Questions
Q: Why wear a sun hoodie?
A: Sun hoodies are the best way to protect your skin from the harsh sun exposure of the high alpine. Using a fabric layer of protection from the sun is much more effective than sunscreen, which must be reapplied frequently in order to avoid a nasty sunburn. Sun hoodies are the best way to keep your skin healthy when out hiking in the mountains or getting out on the water, blocking out the majority of harmful UV rays.
Q: What should I look for in a sun hoodie?
A: The number one quality I look for in a sun hoodie is lightweight, breathable construction. This is because I know that I will take my sun hoodie off if I get too hot and sweaty, undermining the sun protection I'm looking for. Comfort is essential to keeping the hoodie on all day. I also look for sweat-wicking materials, great hood design, and light colors to reflect UV rays in sunny conditions.
Q. What does Ridge Merino do to employ sustainable business practices and give back to the community?
A. Ridge Merino goes above and beyond to employ sustainable business practices and give back to their community and environment. They earned the California Green Business Certification, and are the first company in Mammoth Lakes, CA to do so. Read more about Ridge's sustainability practices here. They also participate in 1% for the Planet. Their 1% for the Planet funds go to Protect Our Winters, Breast Cancer Prevention Partners, Eastern Sierra Avalanche Center, the Waterkeeper Alliance, the Access Fund, and Earth Guardians. Read more about giving back at Ridge Merino here.