The saying "there is no such thing as bad weather, only bad clothing" isn't specifically refering to hardshell jackets but it could be. A hardshell jacket blocks out the harshest weather – pouring rain, gusting wind and even surprise snow.
Even if you only hike in warm weather, summer conditions often include thunder showers and wind. Keeping a windproof, waterproof jacket in your pack highly recommended for comfort and safety.
These jackets are called a hardshell because they are just that – an outer protective layer. Outer shells are windproof, waterproof and breathable too. Keeping weather out is only part of maintaining a comfortable core temperature. Without breathability, trapped body heat and sweat cool you down, which can lead to hypothermia in a worst case scenario. Hardshell jackets also have zippers at the sides or armpits to vent heat.
Hardshell's don't provide any additional warmth or insulation. That is the job of a mid layer, usually a vest, soft-shell, or synthetic or down jacket. A moisture-wicking base layer is also part of the equation, pulling sweat away from the skin.
When looking for a new hardshell jacket, think about the activities that you will use it for, and the weather conditions you will encounter. As with everything in life, there are trade-offs. More durability reduces packability and more waterproofing can reduce breathability. What is most important depends on what and where you hike. Here in Colorado, it almost guaranteed to be windy but it also easy to overheat so ventilation and breathability are the features I look for. In rainier areas, the priorities will be different.
Further down we will cover all the key features of a hardshell jacket as well as buying advice. But first, let's take a look our favorite hardshell jackets starting with the highest level of protection. Half of these picks are tried-and-true jackets carried over from older versions of this list and there are some new releases too.
1. The Last Hardshell Jacket You'll Ever Buy
We've already sung the praises of this almost perfect hardshell and here's some more.
Arc'tyerx worked with Gore-Tex to develop a fabric that is as lightweight, breathable and waterproof as it is durable. This jacket also features 80D abrasion-resistant fabric in areas that get the most abuse, further extending the lifespan of an already rugged jacket.
THE BUY-IT-FOR-LIFE HARDSHELL
MRSP $600
Waterproofing Gore-Tex Pro + Most Rugged Technology
Ventilation Pit zips
PROS
+ Most lightweight, breathable, waterproof + durable Gore-Tex available
+ Updated with more room for mid-layers
+ StormHood doesn't impede sight lines
CONS
– Women's color selection is disappointing
– This brand is never cheap but this rugged jacket will last a lifetime
The brand is known for making clothes with the best fit and the Beta AR is no exception. The patterning and articulation are designed to move with your body. The fit was recently revised with more space in the chest and waist for warm layers.
2. Best Hardshell For All Weather
Helly Hansen rates this shell as 6/6 of their scale of windproof, waterproof, breathable, lightweight, and durable. We agree on all counts. Check out our more in depth review. It also comes with RECCO Rescue system, which can help expedite search and rescue efforts.
MRSP $450
Waterproofing 3L LIFA Infinity
Ventilation Pit zips
PROS
+ Made without DWR
+ Seam-sealed + water-resistant zippers
+ Excels in all weather from light rain to dumping snow
+ Built-in Recco Rescue reflector
CONS
– Feels a little bit stiff but the thicker fabric is also more durable
Right now you get up to 30% off this outstanding jacket at REI, Amazon, and Backcountry. Don't miss out!
3. Most Durable Gore-Tex Jacket
Choose a color you like because you'll be able to wear this jacket for a long time.
LONGEST LASTING HARDSHELL JACKET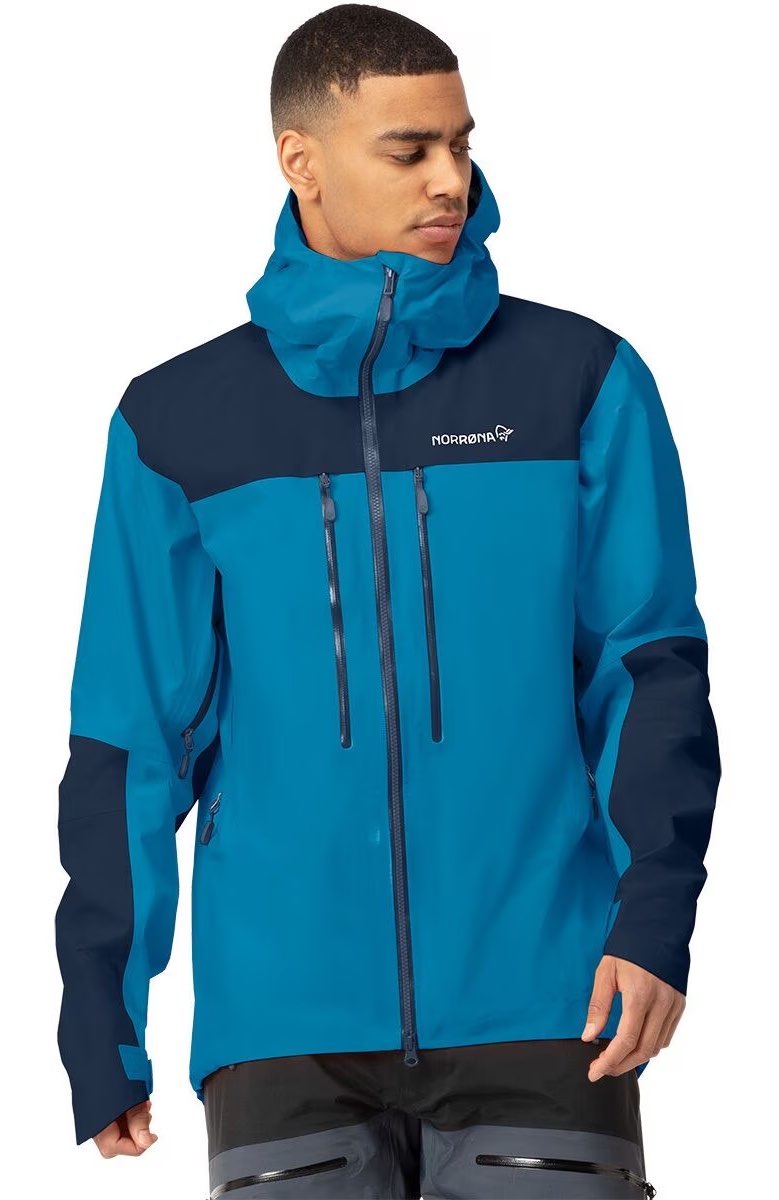 MRSP $649
Waterproofing 3L Gore-Tex Pro
Ventilation Pit zips with water-resistant zippers
PROS
+ Maximum weather protection
+ High denier fabric where rubbing can occur – shoulders + forearms
+ Droptail hem for more coverage at the back
CONS
– Pro Gore-Tex comes at a pro price
– Not seam taped but uses water-resistant zippers
– Noronna rates this jacket as a 4/6 for breathability
4. Best Hardshell For High Output Hiking
It can be a challenge to find just the right balance of stay warm without overheating. The Beta LT address that issue with a trimmer fit that maximizes breathability by keeping 3-layer Gore-Tex closer to the body. The fitted fit is even more pronounced for women and also includes a longer hem for more protection so it is also a contender for the best women's hardshell jacket.
Cut to stay close to the body through the chest and waist. It's not about being tight but cutting out any bulk so the shell moves with the body while fitting over midlayers.
+ BEST HARDSHELL JACKET FOR WOMEN
MRSP $450
Waterproofing 3L Gore-Tex
Ventilation Pit zips
PROS
+ Fitted cut to enhance breathability
+ Full protection with less weight
+ Seam-taped
+ Lightweight + durable
CONS
– May not work with too many + thick mid-layers
5. Best 3-Layer Hardshell Jacket Under $200
Questionable puns aside, this is a great jacket at a great price, ringing in at closer to $100 than $1000. The TorrentShell 3L challenges the idea that Patagonia is too expensive and is only $10 more than REI Co-op's 2L jacket with a much better fit and fabric.
3-L Hardshell For 2 C-Notes
MRSP $179
Waterproofing H2No
Ventilation Pit zips
PROS
+ 3L for under $200
+ Microfleece lined neck
+ 100% recycled fabric + Fair Trade Sewn
CONS
– No breathability score but feels to be on the lower end
– Fabric feels very thin
Patagonia has its own waterproof laminate – H2No. They don't provide a waterproofing or breathability rating but the fabric passes rigorous testing and is backed by their Ironclad Guarantee, an even more generous return policy than REI's one-year return policy.
6. Most Comfortable Hardshell Jacket
A little bit of added stretch makes all clothing more comfortable. A few percent of Spandex changed how jeans fit and feel and finally the same is happening for rain jackets. While design with gusseted armpits or articulated elbows provide more room to move, a fabric with some give to it does even more.
HARDSHELL JACKET WITH STRETCH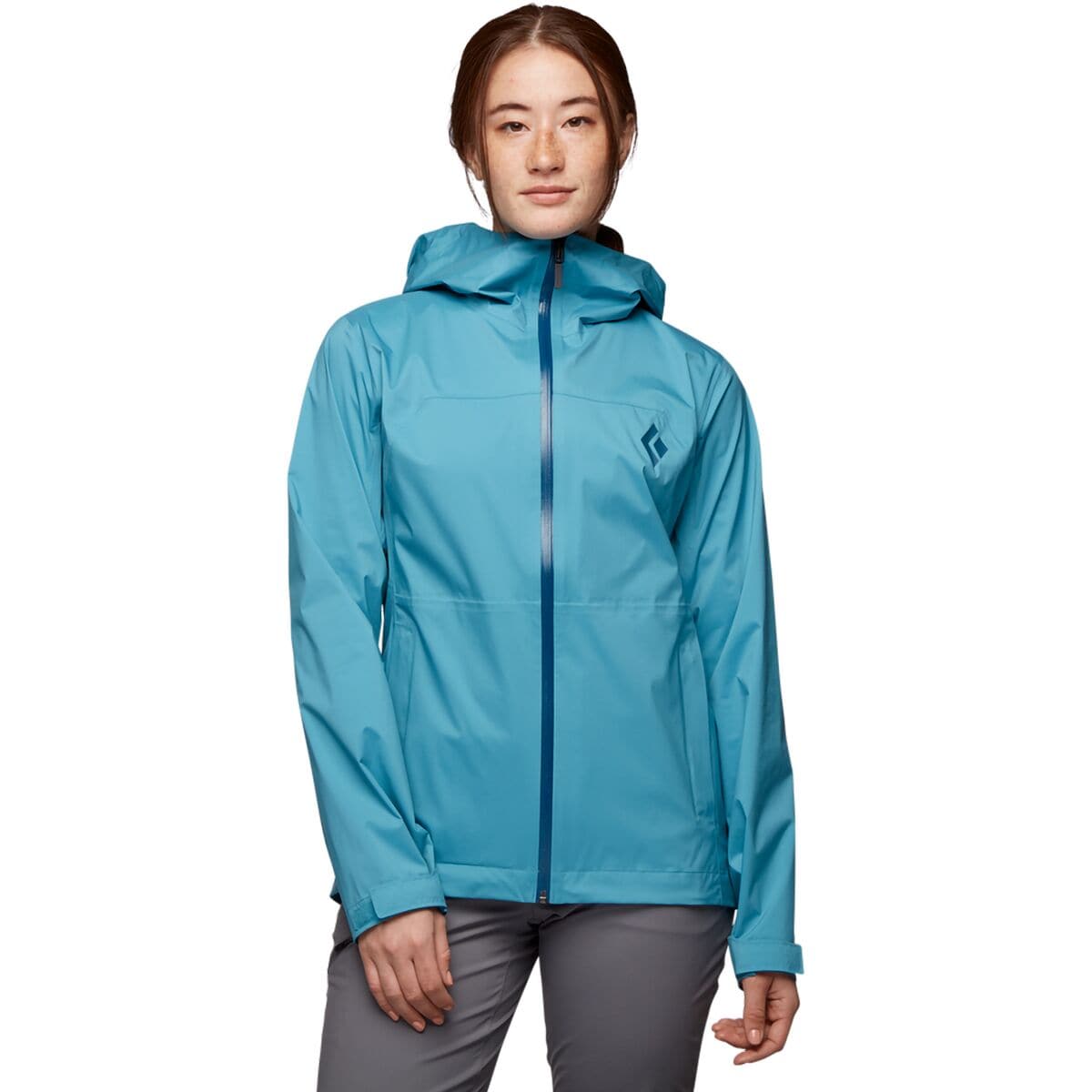 MRSP $190
Waterproofing 2.5L BD.dry
Ventilation DWR sealed pit zips
PROS
+ Face fabric has two-way stretch
+ Slight droptail hem at the back
+ 8 bright colors for safety + sizes up to 3X
+ Packs into own pocket + carabiner to clip to pack
CONS
– Not seam taped but uses PU-coated waterproof zippers
This jacket is so popular it also comes as an anorak. If you like the stretch, check out the matching bottoms.
7. Hardshell Jacket With The Most Ventilation
Instead of pit zips or side vents, this jacket combines the two with one long zipper from the bicep down to the hem. Two 2-way zipper pulls provide endless combinations of air flow. If you've never found a jacket that is breathable enough, this jacket should do the trick.
In addition to letting air out, this is the only 2-layer seam-taped jacket. No wonder was named the 2023 Best Everyday Rain Jacket by Forbes and is Outdoor Research's #1 best-selling women's rain jacket.
HARDSHELL WITH THE LONGEST ZIPPER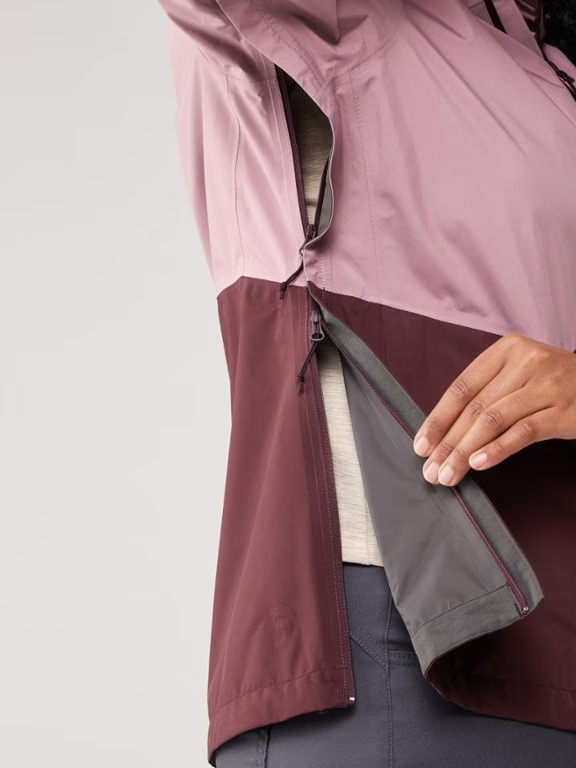 MRSP $225
Waterproofing 2L Gore-Tex Paclite
Ventilation Hem-to-bicep core vents
PROS
+ Recently updated with an improved fit + new features
+ Seam taped, water-resistant zippers, inner storm flap
+ Colors + color combinations, plus sizes up to 4X
CONS
– Zipper make sides feel structured
It's clear out the winter gear season so look for deals on the men's Foray II and women's Aspire II.
8. Best Lightweight Hardshell
Hardshell jackets can be expensive. But they don't have to be. This jacket has excellent protection and breathability for around 10 ounces and a reasonable price.
LIGHT ON THE WALLET + IN THE PACK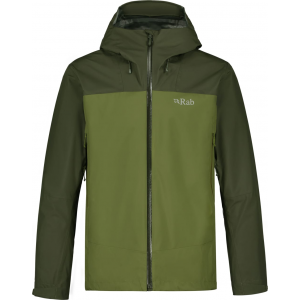 MRSP $140
Waterproofing 2.5-L Pertex Shield Recycled Polyester
Ventilation Pit zips
PROS
+ Excellent waterproofing + breathability for the money
+ 100% recycled jacket can be recycled at the end of its life span
+ Packs into its own pocket
CONS
– Less durable but that is the downside to lighter, more packable coats
Lighter weight jackets just aren't as durable as heavier ones but this is a quality hardshell for when you need wind and rain protection some of the time. When it does finally give out, it can be recycled.
Best Hardshell Jackets By The Numbers
Here's a detailed look and comparison at these jackets, this time in order of price. Keep reading for more information on some of these categories.
Best Hardshell Jackets
Rab Downpour Eco 2.0
Patagonia TorrentShell 3L
Black Diamond StormLine Stretch
Outdoor Research Gore-Tex Aspire II/Foray II Shell

Helly Hansen Verglas Infinity Shell

Arc'teryx Beta LT Jacket

Arc'teryx Beta AR Jacket
Noronna trollveggen Gore-Tex Pro Light Jacket
MSRP
$140
$179
$190
$225
$450
$450

$600
$649
Sizes: Women | Men
XXXS-2X|S-2X
XS-2X
XXS-2X|XS-3X
XS-4X|S-3X
XS-XL|S-2X
XXS-2X|XS-2X
XXS-2X|S-2X
XS-XL|S-2X
Weight: W | M
9.9oz/280g| 11.3oz/320g
12.4oz/352g| 14.1oz/400g
9.52oz/270g| 11.3oz/320g
11.7oz/332g| 11.85oz/336g
15.5oz/440g| 17.6oz/500g
12.3oz/350g| 13.9oz/395g
13.8oz/390g| 16.2oz/459g
15.6oz/442g| 17.2oz/490g
Waterproofing
2.5L Pertex Shield
Patagonia
H2nNo
2.5L BD.dry
2L Gore-Tex Paclite
3L LIFA Infinity
3L Gore-Tex
3L Gore-Tex Pro
3L Gore-Tex Pro
Fabric
50-D recycled polyester
50D recycled ripstop nylon
2-way stretch nylon
50D polyester
100% polyester
N40p Gore-Tex
N40p-X + N80p-X Gore-Tex Pro
40D + 200D Gore-Tex Pro
Breathability Rating*
20,000
Not listed
10,000
15,000
32,000
25,000
25,000
20,000
Waterproof
Rating**
20,000
10,000-20,000
10,000
28,000
28,000
28,000
28,000
28,000
DWR
PFC-free
PFC-free
PFC-free
DWR finish
No DWR
PFC-free
PFC-free
PFC-free
Ventilation
Pit zips
Pit zips
Pit zips
Bicep-to-hem side zippers
Pit zips
Pit zips
Pit zips
Pit zips
Seam Taped
No
No
No
Seam-taped
Seam-taped
Seam-taped
Seam-taped
No
Windproofing
Windproof
Windproof
Windproof
Windproof
Windproof
Windproof
Windproof
Windproof
Hood: Helmet-Compatible
Yes
No
Yes
No
No
Yes
Yes
Yes
Why Buy
Best lightweight hardshell
Best price for 3L protection
Comfortable stretch fabric
Hem-to-bicep zippers + seam-taped
Comfortable in all weather, Recco reflector
High breathability, best cut for women
Extremely durable + articulated fit
Reinforced shoulders + forearms
*Breathability Rating
Breathability measures how much water vapor moves through fabric over a 24-hour period. Measured in grams, 10,000g works well for moderate activity. Higher levels are better for more intense hiking.
The breathability measure doesn't directly translate to how a jacket feels. In addition to heat and humidity, zipper ventilation, lower layers and personal perspiration also impact breathability. A more breathable jacket can also feel cooler so the highest number isn't always the best.
So, it's good to know the number but it shouldn't be the deciding factor for a hardshell.
**Waterproof Rating
Waterproofing is measured in millimeters in a lab. Fabric is covered with a 1"x1" tube of water increasing in height until it leaks.
10,000mm is the lowest rating you want for a hardshell jacket – it can handle an extended period of average rain. Higher ratings can handle heavier, more intense rain for prolonged periods of time.
When you see 28,000mm ratings, 10,000mm seems small but it means that it takes a 10 meter (almost 33 foot) high water column to get through the fabric. That's plenty for most situations.
---
Hardshell Jacket Features + Buying Advice
Here's what you need to know about buying a hardshell jacket that will keep you comfortable in the toughest weather you're willing to hike in.
What is a hardshell jacket?
A hardshell jacket is a non-insulated protective outer layer that should be 100 percent waterproof and windproof. A hardshell jacket should also be breathable to allow water vapor (aka sweat) from your body heat to escape. GORE-TEX is the most well-known waterproof and breathable membrane fabric, but there are other version that work just as well.
When extreme weather strikes, staying warm and dry is the name of the game. If you don't carry a real hardshell jacket (and pants) with you the risk is getting wet and cold which can lead to serious health complications or death caused by hypothermia.
Hardshell jackets are 4-season gear – just add or subtract layers according to the temperature. They can protect you when hiking in cold snowy conditions layered on top of an insulating mid-layer such as a fleece jacket or vest. In summer, keep one in your pack for windy peaks or afternoon thundershowers.
Hardshell Jackets vs. Rain Jackets vs. Softshell Jackets
What's the difference? A hardshell jacket provides the ultimate protection in extreme cold and wintery weather conditions in the high alpine. A rain jacket is typically lighter, more packable, less durable, less breathable, cheaper (under $200), and may not be adequate protection for heavy precipitation.
A softshell jacket is mid layer that provides some insulation and protection from light precipitation. Often made of fleece, they are water resistant and perform for a light drizzle or surprise weather but are not adequate for heavy rain over extended periods of time. Softshells are also not windproof.
Hard and softshell jackets are both essential hiking gear that do different things. Worn independently or together provides comfort and protection for most weather conditions.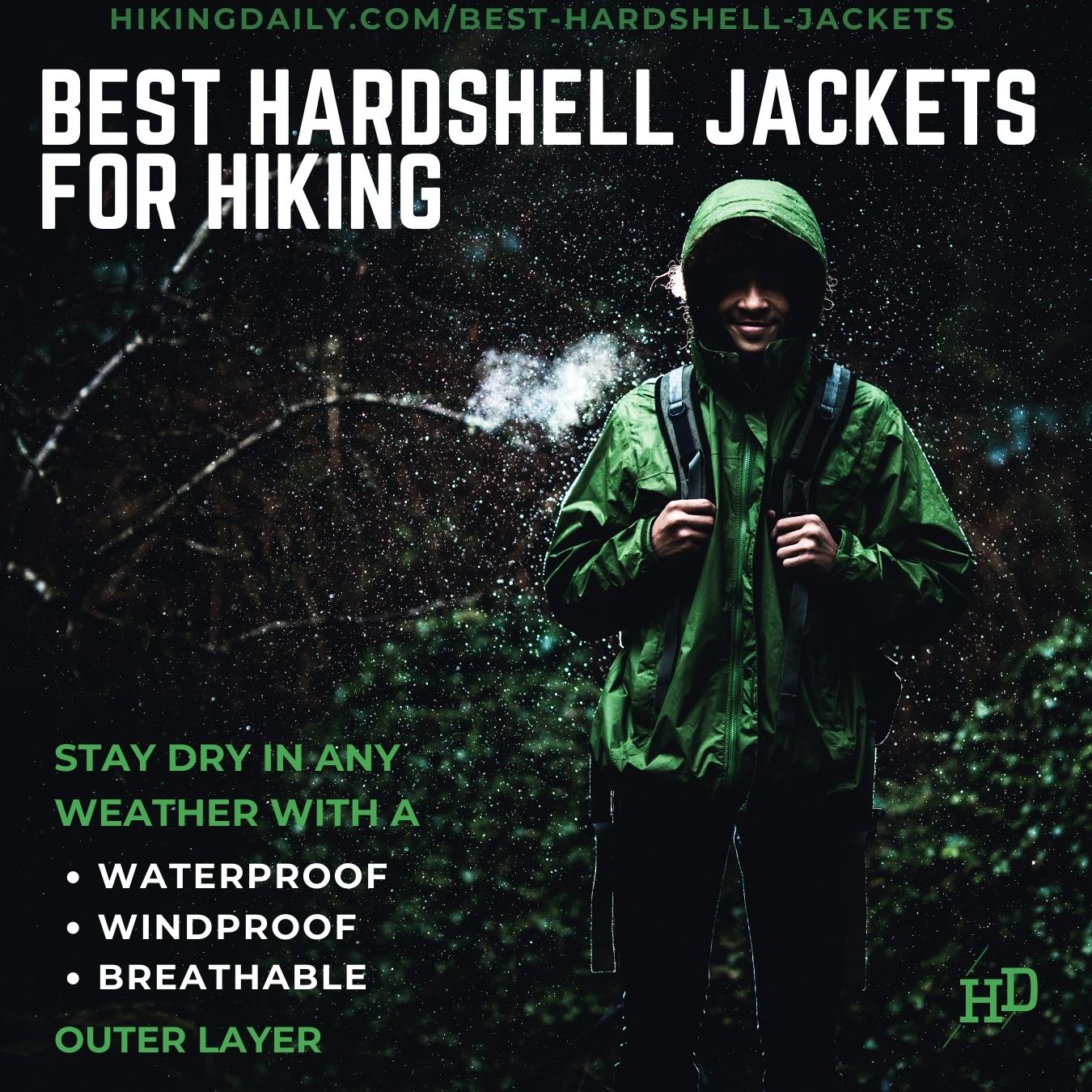 Durable Water Repellent Finish (DWR)
Durable water repellent or DWR is a coating that is applied to make clothing water resistant, but not waterproof. It is used on soft shells, rain jackets, and to enhance the waterproofing of hard shell jackets.
DWR is a hydrophobic coating that helps precipitation bead up and run off your garment. Originally DWR was made out of long-chain perfluorocarbons (PFCs) that contained perfluorooctanoic acid (PFOA). Without acronyms, the waterproof coating leaves behind forever chemicals.
Harming the environment that we're out there hiking to appreciate doesn't make sense so most companies are moving toward more responsible options. Some are eliminating DWR altogether while others use PFC-free DWR that can be wax, silicon or plant-based.
The performance of DWR degrades with usage and exposure to dirt and oils but can easily be restored. All it takes is 20 minutes in a warm dryer. When that no longer works, add a new DWR layer with a product like with water-based PFC-free NikWax TX.Direct Spray-On Waterproofing.
Waterproof Breathable Membrane + 2-Layers vs 3-Layers
The waterproof laminate used is the most important feature of a hardshell jacket and what you should focus on the most when choosing a jacket. When you need your jacket, you want it to perform as expected.
We are using laminate and water-proof breathable membrane interchangeably. The layers are laminated together.
There 2-layer, 2.5-layer, and 3-layer options. Not surprisingly, both the protection and price go up with the layers.
Two-layer jackets protect the delicate laminate with a durable outer-layer, often enhanced with DWR. The waterproofing is sensitive to oil and dirt so some 2-L jackets add a thin inner liner while others feature an oleophobic membrane that extends the life of the waterproofing.
2.5-layer jackets add a spray-on lining that covers half the laminate. It will often look like dots or some type of pattern. This results in a more durable, lightweight hardshell that packs up small.
Three-layer jackets add an inner layer that wicks moisture more quickly and makes the waterproofing last a lot longer. These are often paired with a more durable outer layer. 3-L is the ultimate weather protection but comes at a higher price and the fabric tends to be somewhat stiffer and sometimes louder.
While 2-layer or 2.5 layers may not stand up to persistent heavy rain, wet snow, or intense wind conditions, that is not always required. If you will encounter extreme weather, 3-layer hard-shells are more expensive but offer way more value. It all depends on your particular needs.
Fabric Thickness + Durability (Denier)
The durability of your jacket is another important feature to consider before you buy a hardshell jacket.
Specifically, you want to look at the denier of the fabric. Denier refers to the thickness of the fibers used in the jacket fabric. The higher the number, the more durable the fabric. The lower the number means that the fabric is lighter and therefore less durable. For most hikers, a denier that falls into the range of 30-80 is good. 50D is common.
Weight + Packability
A heavier weight jacket is going to be more durable, will offer more protection against intense weather, but takes up more space in your pack.
A lighter weight jacket is going to be more packable, less durable, and lighter, which can be better suited for warmer climates or multi-day backpacking trips.
Think about where and how your jacket will be used and what conditions you are likely to encounter.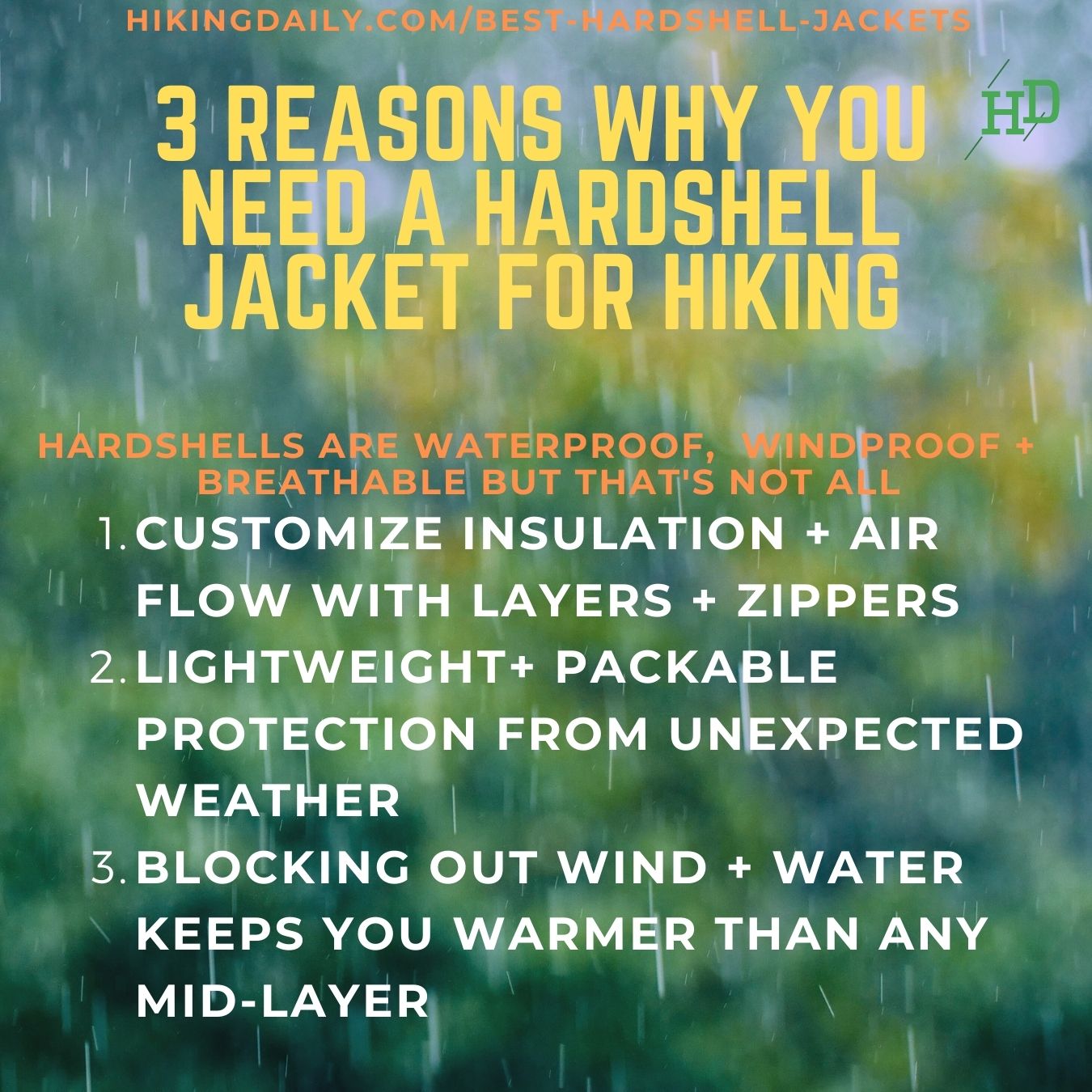 Fit + Comfort
Hardshell jackets tend to be bigger and boxier than most coats. As the final layer, a hardshell jacket needs to fit over an insulating mid-layer like a fleece or puffy jacket plus a base layer or two.
In general, the lowest layers should be the most fitted and get roomier from there. Be sure to try on hard-shells over your favorite mid-layers so you get the right fit for the coldest conditions. Putting on a backpack is also a good idea.
The fit should not be too tight or restrictive, or too loose and baggy. Move around your arms and try on the hood to make sure they work for you. The zipper pockets and ventilation are also a consideration.
Ventilation + Pit Zips
Breathable fabrics can still run hot. Physical ventilation like pit zips or side vents help keep you cool and dry.
Pit zips are highly recommended. If you are a high-exertion, super active, fast-moving hiker, or generally run hot you will benefit from the extra and rapid ventilation that pit zips offer. I know I am! I get hot and sweaty pretty quickly on the trails.
Seams + Zippers
Speaking of zippers, any connection or opening is a way for wind and water to get into a hardshell. At a minimum, zippers should be covered with storm flap. Water-resistant zippers are even better. Seams are sometimes sealed with glue-like sealant. The best jackets are seam-taped. That means all seams are backed with tape to keep water out.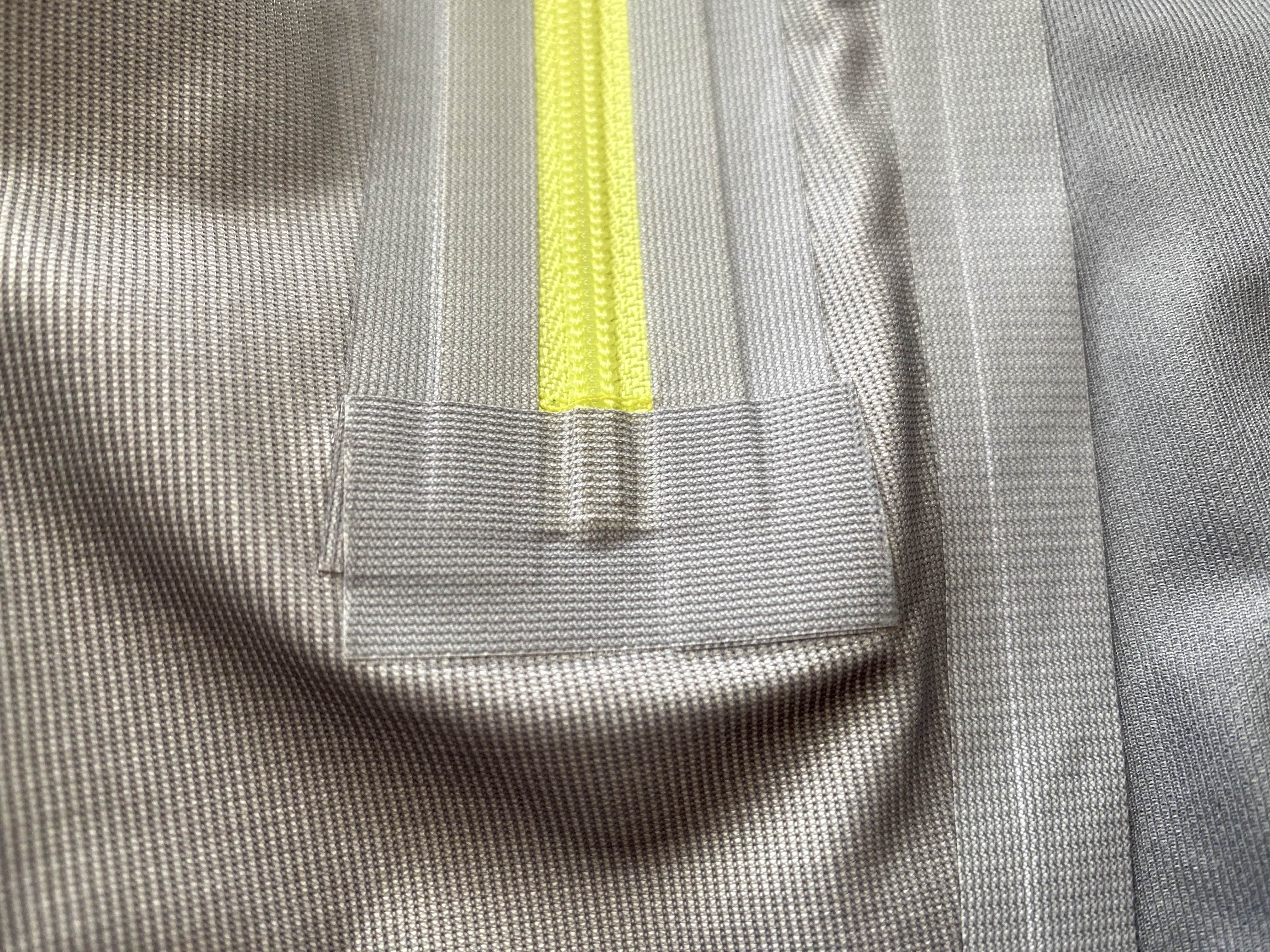 Helmet-Compatible Hoods
Helmets aren't only for climbers. A climbing helmet is recommended for protection from falling rocks in extreme and rugged terrain in the high alpine (13ers, 14ers, etc.). You may also want to use the jacket for cycling, skiing or snowboarding.
Helmet-compatible hoods are bigger but they are adjustable to fit without a helmet too. Most hoods have some type of built-in visor to maintain shape and keep rain off the face. Try it on to make sure a hood fits and is comfortable.