I seem to attract questions from other people while hiking. I'm not sure why, but almost every time I go hiking, people approach me and ask me questions. It was pretty clear that most questions were being asked by beginner hikers. This is why I decided to create this hiking for beginners guide and the Hiking Daily website!
Hiking and backpacking are becoming more popular every single year. If you are just getting started with hiking, there are certain things you should know before hitting the trails. To be safe and comfortable in the outdoors, you need to acquire some important knowledge, skills, and gear.
You will find everything you need to know right here in this complete guide to hiking for beginners. Read on for all the most important hiking tips for beginners to keep top of mind while out on the trails.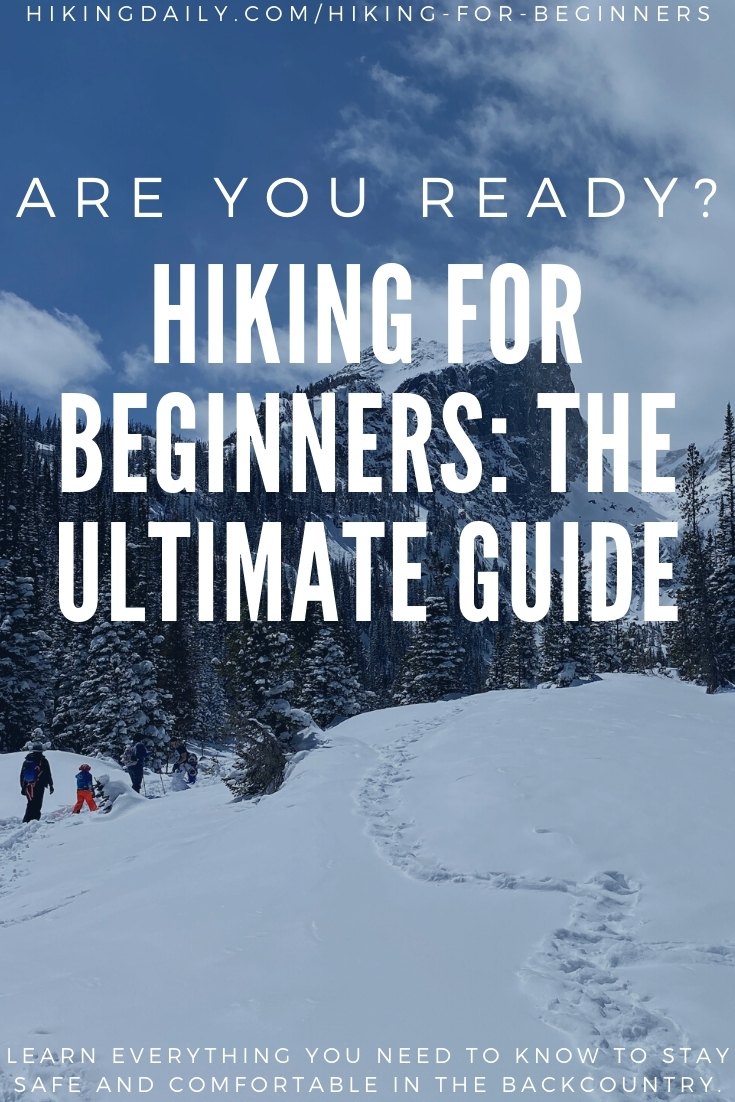 Going hiking is not as simple and straightforward as you might think. Sure, in some cases, beginner hiking trails may not require a lot of preparation if they are close to civilization or short in length. However, as you progress, and head deeper into the backcountry and wilderness, preparation is super important. In fact, being prepared is critical to your health and safety. Personally, I really enjoy getting ready for adventure. It really adds to the excitement of an outing.
---
Physical preparations for the beginner hiker
Hiking isn't a walk through the park. It is a demanding and very physical activity. In fact, power hikers move uphill as quickly as trail runners, so many seasoned hikers may consider hiking a sport.
Doing hikes with significant elevation change, or hiking at high altitude is even more challenging.
Be prepared for the hikes that you choose to do.
If you are not in shape, get in shape. The less weight you carry (body or backpack) is going to make your hike much easier. Do sports, walk, hit the gym equipment, or do some weight training to get your muscles toned.
Or, get in shape by hiking. Start by doing easier hikes that are shorter in length, have fewer obstacles on the trail, and present less elevation gain. Then, work your way up to more challenging hikes when you feel ready.
When your muscles are strong, hiking is way more fun.
---
Hiking clothes for beginners and pro hikers
Hiking is like a sport. You can't wear regular clothes. First, many regular clothes are made of cotton which soaks up moisture and can cause hypothermia. Plus, regular clothes are pretty much designed to look good standing still. Hiking clothing is designed with athletics and comfort in mind. The fabrics allow for easy movement, are breathable, dry quickly, and wick sweat away from your skin. Do get some proper hiking clothes and you will be happy and comfortable on the trails.
For a complete list, check out our guide on what to wear hiking. For a quick summary, read on!
Hiking socks
Yes, hiking socks are a thing. In fact, they are the best socks money can buy. Hiking socks are so awesome, they are all I wear now. They are much more expensive but totally worth it. Super durable, and super comfortable. And, they have so many different great-looking styles.
The best hiking socks are made by Darn Tough. A pair costs about $20, but they have a lifetime warranty. However, you probably will not have to cash in on that warranty. I have pairs that are five years old, and they still look almost new. No signs of being worn out, they are super comfortable and durable.
Hiking socks will help you avoid developing blisters because they wick moisture away from your skin. Try them, you will love them, guaranteed.
Hiking hat
Hats are one of the most important items to take on your hikes. The sun protection a hiking hat provides will help you avoid sunburn, sunstroke, and dehydration. Always take a hat. They come in a variety of shapes and sizes and are made of materials that are breathable, will dry quickly, and wick sweat away from your skin. When you are hiking in hot climates, get a hat with a decent-sized brim to provide extra shade. For winter, get a lightweight and a medium to heavier weight insulated hat.
Base layers
Base layers are very lightweight shirts and bottoms that wick sweat away from your skin, and keep you warm. You can get T-shirts for the Summer and warm weather, and long sleeves for cooler seasons.
Hiking shirts
Hiking shirts are made of synthetic fabric or bamboo. They can be collared, crew neck, short-sleeved, or long-sleeved.
The best hiking shirts are athletic in style, keep you dry, wick sweat, and offer sun protection.
Hiking pants
Hiking pants offer features that regular pants do not. First, they dry quickly, offer freedom of movement, and have many pockets, and built-in belt systems. Some convert into shorts. The best hiking pants are Kuhl hiking pants.
Hiking shorts
The features of hiking shorts are basically the same as hiking pants, but shorts, so you can be comfortable in warm climates or summertime.
Fleece jacket or merino wool sweater
If you are hiking early in the morning before sunrise, or during cooler months, both fleece jackets and merino wool sweaters are important items of hiking clothing to own. They are a necessary layer to wear over your base layer or underneath a protective shell. You can get merino sweaters that are very lightweight. Fleece jackets are available in different weights and fabric thicknesses. Sweaters and fleece jackets both offer incredible insulation for their weight.
Hardshell jacket or rain jacket
This is one of the most important items you must buy for protection against sudden severe weather.
Take your time to pick out the highest quality hardshell jacket or rain jacket that you can afford. It must be windproof and waterproof. Otherwise, you risk exposing yourself to hypothermia which can be very dangerous.
---
Essential hiking gear for beginners
Before you hit the trails, you need to acquire some essential hiking gear.
The objective is to ensure that you will be safe and comfortable in the outdoors.
For easy, short, close to home hikes you can often get out there with minimal gear.
If you are heading into the backcountry further away from civilization, do become familiar with and acquire the ten essentials.
Let's start with the must-haves.
Hiking shoes or hiking boots for beginners
Hiking trails can be rough. Rocks, tree roots, slippery dirt, water, snow, ice. Don't wear your flip-flops.
Hiking shoes, hiking boots, and trail runners all provide exceptional support, foot protection and grip. All are designed with durability and function in mind that regular footwear is not going to provide you.
Check out our hiking footwear section for the newest and best kicks made by the most trusted brands. Or check out our complete guides to the: Best hiking shoes for men, best hiking shoes for women, best hiking boots for men, best hiking boots for women, and best kids hiking shoes.
Pro tip: Avoid cheap (under $100) footwear. Cheap footwear won't last as long as top-quality footwear, so you end up paying more in the long run by going cheap.
Daypack or hiking backpack
As we are discussing, you need stuff when you are out on the trails. Every hiker should get a daypack or a more substantial backpack. Sizing will depend on how long you are hiking, or your particular needs.
I own an Osprey backpack and I strongly encourage you to get one too. Their products are a step above all other manufacturers in both design features and quality.
Pro skill: Learn how to pack a backpack properly.
Water bottle or hydration reservoir
Take plenty of water on your hikes. I always take a liter more than I think I need and most often, I drink it. Dehydration is a real danger.
You can carry your liquids in a water bottle, a hydration reservoir, or both.
I carry both. Bottles for extra water, are stored in my backpack. And I use the hydration reservoir to allow me to drink whenever I wish while I am on the move.
First aid kit
You can either build your own first-aid hit for hiking and backpacking or buy a pre-assembled kit. Learn more about all of this in our complete guide to first aid kits.
Navigation devices
When it comes to navigation, you have several options. They include a mobile phone with downloaded maps, GPS hiking watches, handheld GPS devices, a compass, and a paper map of the area that you are hiking in.
Many people heavily rely on technology. Be careful. If your batteries run out (take a solar charger!), or the device stops working, or is broken, you can get into trouble quickly.
I always take a compass and a paper map, and I recommend that you do too. These simple lightweight devices can save your life.
Satellite communicator device
At a certain point, your mobile phone will stop working. To stay connected, get a satellite communicator device like the Garmin inReach Mini. This handy little device allows you to send an SOS for help, and your coordinates. Or, communicate via satellite by sending text messages to friends, family, or someone that can help you.
Fire
Carry waterproof matches and a lighter in your backpack. They are light and don't take up much space. If you get caught outdoors overnight a fire will keep you warm and safe. Or, if you plan to be out on the trails for days then you will need a fire to cook food.
If you are hiking above the treeline, or in snow, we recommend taking a small lightweight stove. You can use it to cook or stay warm.
Knife
Get a hiking knife and store it in your pack. I knife can be used for a number of tasks or for your protection.
Check out our guide to the best hiking knives for more information.
Headlamp or flashlight
Part of the thrill of exploring the backcountry is not knowing what is going to happen or what you will encounter on your adventures. Of course, this excitement comes with risk. You need to be prepared to hike (and see) in the dark when your day does not go as planned. Or, if you are backpacking for days or weeks at a time, you will need a light source to do tasks around your campsite. I recommend getting a headlamp and a flashlight. They work very differently and have distinct advantages. These days they are small yet very powerful. Get one, stash it in your pack, and use it when required. Easy.
I carry the Fenix PD36R rechargeable flashlight. I like it because it is super bright, and I can scan ahead, behind, and side to side without turning my head all the time. I also have a Petzl Actik Core headlamp. But, as mentioned, it requires pointing your head where you want a bright view which I personally find annoying while hiking. It is really not as effective as a flashlight. However, it can be useful around the campsite if you want to have both hands free.
Emergency shelter
If you are backpacking take a tent.
Otherwise, take a space blanket, ultralight tarp, or a large durable plastic trash bag in your backpack that you can use in an emergency.
Sun protection
We mentioned hats but look for other ways to protect yourself from the sun. Some clothing provides sun-blocking protection and will be marked with an ultraviolet protection factor (UPF) rating. Do take enough sunscreen. And, take your sunglasses to protect your eyes. I like to use a simple bandana to protect my neck area from the harsh sun rays, especially when hiking at high altitudes.
Take extra food, water, and clothing
Finally, be sure to take extra hiking food, hiking snacks, water, and clothing (socks, base layers) with you.
Just a little bit extra could save your life if you get lost or stuck on the trails.
---
Find a hiking buddy (or group, or go solo if you choose)
Over the years, I have done most of my hiking solo. I like to hike on weekdays when trails are less crowded. Most people are not available. Hiking alone adds some adventurous excitement, and a sense of freedom, and allows you to better tune into the wilderness that surrounds you. And, you can move at your own pace. At the same time, hiking solo does require some extra attention to your safety and wellbeing. It is important to have a plan, stick to the plan, and let someone know about your plan. More on that later.
Although solo hiking can be very satisfying, I do enjoy having a hiking buddy when friends or family are available. It is fun and exciting to share an incredible experience. A real benefit of hiking with people is safety. When you have a hiking buddy you will have someone who can help you, administer first aid, or go for help if necessary. Ask your friends that are hikers to take you along on their next adventure. If you do not know any hikers, check out REI Conversations, REI Experiences, or Meetup. Or, find hikers on Instagram in your area that seem like-minded and connect.
---
How to choose a hike or hiking trail for beginners
Okay, time to do some research and find some amazing hikes.
So, where can you find more information on the best hiking trails to do?
Books – check Amazon, your local bookstores, or local thrift shops
Apps – AllTrails or Hiking Project
Talk to family and friends that hike
Ask locals (where you hike)
Also, check out our guide to the best hiking apps.
Before you pick a trail and head out there are a number of factors to consider.
Your fitness level
The first thing you should think about is your current fitness level. Are you in good shape? Have you been working out consistently? Or, has it been a while since you have done some demanding exercise?
Be brutally honest with yourself so that you pick a hike that is suitable. Kicking things off on a hike that is too difficult won't be fun. Ease on in. There will be many more hikes in your future. Start with a hike that is manageable.
Time (available)
Next, will you have a few hours, a half-day, or a full day of time for your hike?
When you are looking at potential hikes, match up the estimated time for completion to the amount of time you have available. Your first few hikes will probably take longer than you think.
Distance
Pay close attention to how long each hike is that you are considering. It takes approximately 20 minutes per mile of distance (give or take) depending on how demanding the terrain is of the hike you choose and your fitness level.
Elevation gain
Both the local elevation and the total gain on the trails play an important role in how to choose a hike.
Hikes located at higher elevations are generally more difficult due to less oxygen in the air that you breathe. Hiking trails that have significant ups and downs, and thus elevation gain, will slow you down, and work your muscles harder.
Flat hikes at lower elevations closer to sea level are much easier to do.
So, take elevation gain into account when picking your hikes. If you are hiking at higher elevations with more elevation gain, you might want to give yourself some extra time.
Weather + climate + time of year
The weather, climate, and time of year will all have an impact on your hiking experience.
Hot temperatures make hikes slow going in the Summer, and in hot climates (stay hydrated, deploy sun protection)
Rain and snow can slow you down in the Winter and Spring (slippery, may have to take shelter, get microspikes, trekking poles)
Days are shorter in Fall and Winter (start early to avoid being caught out in the dark)
---
Timing and when to go hiking
I highly recommend that you hit the trails as early as you possibly can. The earlier the better. Trails are less crowded in the morning. If you like wildlife, this will increase your odds of seeing some. And, there is something special and exciting about arriving in the dark, and hiking as the sun rises around you. Such a cool experience.
If you are hitting the trails solo, but enjoy some people around you, then time your arrival at the trailhead just before things get really busy. That way you can get a parking spot, get prepared for your hike, have a snack, and then hit the trails and not feel totally alone.
Hike when the weather is good! Before you head out be sure to thoroughly check the weather report for where you are hiking. I use Mountain-Forecast.com to get an idea of what is happening in the exact area that I will hike. You can find out the expected temperature, wind, and precipitation forecasts by the hour. If you are going to a park, or wilderness area, check their websites and Twitter profile for current information as well.
If you are thinking about doing some winter hiking, check out our guide to hiking in the snow.
---
Water + how to hydrate yourself adequately
Water is the most essential item to have an abundance of while hiking.
Dehydration is a serious health issue and can lead to death. Dehydration can accelerate altitude sickness. Always take more water than you think you need.
A good general recommendation is to take at least a half liter per hour on the trails. Personally, I think even more is better. I typically take one liter of water per hour on the trails because I am usually hiking fast, on strenuous hikes.
As previously mentioned, taking both water bottles (storage) and a hydration reservoir (easy access) to stay hydrated on the go is a good setup.
Pro tip: Take extra water and sports drinks (more than you need on your hike) and leave them in your car for your return. More often than not you will be thankful to have it. Leave them in a waterproof cooler with ice packs if you want a cold drink after your hike.
---
Hiking food and snacks
Similar to water, take more food and snacks than you think you will want or need. You will need the fuel if you are doing strenuous hikes. Hiking burns a lot of calories and quickly. A good general recommendation is to take 200-300 calories of food and snacks with you per hour of hiking. Taking more than this won't hurt!
For more information, check out our complete guides to the best food for hiking and the best hiking snacks.
---
Adopt the layering system (your clothing)
We discussed all the different items of clothing that you should have available in your hiking and backpacking closet. At first thought, it seems like a lot. However, there is a logical system that requires owning all these items to wear in different weather and climates. This is the layering system.
Layering your clothes allows you to regulate your body temperature, and avoid excessive sweating, or getting too cold. You want to wear a base layer (underwear to stay comfy), a mid-layer (or two) for insulation, and an outer layer to protect you from severe weather. Your base layer and mid-layer will help to wick sweat away from your skin and keep you dry, warm, and comfortable. The outer layer will block wind and precipitation from penetrating your mid-layer. The layers work together with purpose.
If you get too hot, simply open some zippers or completely remove your outer layer. You can unzip or remove your mid-layer too for further cooling. If you start to get cold, simply add layers on again. Super easy. Avoiding excessive sweating is key. You do not want to be wearing wet clothing because that can lead to hypothermia which can quickly become dangerous to your health and well-being.
---
Understand maps and navigation
It wasn't too long ago that the use of paper maps and a compass was the only method to navigate and avoid getting lost. Today, it should still be considered your primary means of navigation.
Even though technology and battery power is better than ever, a handheld GPS device, mobile phone, or GPS watch will likely fail you if you are caught out on the trails longer than anticipated. This is even more true when the temperatures fall below 0C/32F. Most batteries die quickly in very cold temperatures.
Do buy a compass and learn how to use it with paper topographical maps. You can download and print a variety of maps using AllTrails or Gaia GPS. When you go hiking, first print a map, take it with you, and practice using it in the backcountry. Make sure one of the maps you print is a topographical map. This is what you want to use with your compass.
Pro tip: Keep your map in a waterproof map case. You can buy them at REI, Backcountry, and Amazon. Alternatively, if you want to save some money, simply use a heavy-duty Ziploc bag. They work. Double bag your map if you want to be sure it stays dry, and to add durability. To make reading maps easy on the go, add a thin piece of cardboard in the case or bag so that your printed map stays flat.
If you are also using your mobile phone and apps to navigate make sure you download your required maps to your phone in advance. Then you can use the maps without a mobile connection. Put your phone in airplane mode while you hike to save hours of battery life.
Another means of navigation of course is using handheld GPS devices. It's hard to justify these devices nowadays since mobile phone screens have way better resolution and bigger screen sizes. I prefer to pair my iPhone 11 Pro with my Garmin inReach Mini as my go-to digital system. I am tempted to add a Garmin Fenix 6 Solar or Garmin Instinct Solar to this setup to gather additional data of my hikes. For more information on watches, check out our guide to the best GPS watches for hiking.
---
Hiking Safety and emergency plan
As they say, the mountains are unforgiving. When you are traveling in the backcountry your day can go from glorious to super scary in the blink of an eye.
For this reason, it is highly recommended to either take a first aid course or do some research at home to better understand first aid. Also, do get or make a first aid kit, and keep it in your backpack at all times.
The other task you should do in advance of each hike is create a detailed itinerary of your plans. Give this to family and friends before you leave. Also, print a copy and leave it in your car (not in plain view) so that any search and rescue personnel could potentially find it.
If you are heading out to remote locations take a personal locator beacon (PLB). Or, get a satellite messenger such as the inReach Mini (shop at Backcountry or REI). Both allow you to send an SOS if you get into trouble.
For more information on safety in the backcountry, check out our guide to creating a solid hiking emergency plan.
---
Hazards to understand
Being aware of your surroundings is an important skill to practice. Of course, have fun, enjoy the scenery, but also keep a pulse on potential hazards around you. These are the most obvious. Depending on your location these hazards may or may not be present.
Water and flooding
In Spring, snow melts and causes streams and rivers to become powerful forces of nature. Never underestimate the power of moving water. Running water can break your body into pieces. Its force can trap you underwater causing you to drown. If you can, avoid crossing streams and rivers.
Lightning
Lightning can quickly become a threat when you are hiking above the treeline. If you hear thunder or see dark clouds forming, quickly descend below the tree line. In Colorado, it is a general recommendation to start hiking before sunrise and descend before noon to avoid Summer thunderstorms and lightning.
Snowfields
To some, snowfields seem like a fun slide in hot summer weather. However, if you do not have an ice axe stay away from large snowfields. Once you get moving fast, you may not be able to stop, until you crash into rocks. Every year in Colorado, hikers get badly injured or die from sliding on snowfields.
Rock climbing
If you encounter steep rocky terrain on a hike, only climb up what you know you can climb down. Because it is easier to climb up than it is down, less experienced hikers often find themselves stuck. As you go, keep a pulse on your ability to turn around and descend. If you turn around and look downwards and it feels sketchy, go no further.
If you are planning to tackle more advanced hikes that have degrees of climbing and very rocky terrain, do get a climbing helmet. And, as you climb, be conscious of who else is around you. Be careful not to dislodge rocks on others that may be below you.
Avalanche
If you are hiking in Fall, Winter, or Spring, you should be aware of avalanche danger. Do your research, and check your local conditions.
Hypothermia
If you get wet and cold, hypothermia can quickly become a serious health problem. It is typically caused by a combination of exertion (sweating), wet precipitation (rain, sleet, freezing rain, snow), and wind. The result is that the body temperature falls too low, leading to uncontrollable shivering, cold extremities, and confusion.
You can decrease the odds of hypothermia in a number of ways.
Do not wear cotton clothing
Wear moisture-wicking synthetic fabric clothing
Layer your clothes
Always take a windproof and waterproof shell in your backpack
The best treatment of hypothermia is warm dry clothing, consumption of warm fluids, get into a sleeping bag (even better with someone else).
Hypoxia aka altitude sickness
If you are coming from a lower altitude to a higher altitude (over 8000 feet), take time (at least a day) to acclimate to your new location. Start with lower elevation hikes, and work your way up.
When you are hiking at a high altitude stay well hydrated at all times and eat enough food and snacks. Drink more water and eat more food than you normally would. This is key. Take breaks often and avoid overexertion.
If you are feeling a bad headache, weak, dizzy, have no appetite, are disoriented, or impaired, descend immediately to relieve symptoms.
Keep a close eye on each person in your hiking group and periodically ask how everyone is feeling.
Heart failure
Hiking is a strenuous activity, and if you are out of shape, you are more at risk of heart failure.
If you feel unusual discomfort, pain, numbness, or tingling in your chest neck, or arms, descend immediately and seek medical attention.
Sunburn
Sun protection is super important. The sun will drain your energy and can make you sick.
Always wear a hiking hat, and apply (and re-apply) sunscreen to your face and exposed skin.
Contaminated drinking water (bacteria + viruses)
Do not drink unfiltered water in the backcountry. You could get sick from bacteria or viruses that are in the water source. In some countries, you will need to filter and purify your water.
Check out our guide to the best water filters and purifiers for more information.
Animals
Observe and appreciate animals from a distance. Do not feed wild animals.
If you are in bear country it is recommended to carry bear spray. Never approach bear cubs, the mother is always nearby. Bear spray should also work against other large predators.
Becoming lost
If you stay on the trail, you are unlikely to become lost. It is good practice to periodically verify your location on your map.
However, if you do get off the trail, and suddenly feel lost, stop, stay calm, think for a moment, study your maps, observe any landmarks, and listen (streams, roads, people) for clues to where you may be located. Attempt to use the sun or moon (both rise in the East and set in the West), and the time of day to get an idea of direction.
Always carry emergency gear that you would want if you had to spend an unexpected night in the backcountry. Emergency gear will depend on the time of year, and the potential weather. An extra warm layer and a windproof and waterproof hardshell jacket or rain jacket are must-take items. An emergency blanket is a good idea too because they are light and take up little space.
---
Trail etiquette
Just like there are rules to the road, there are rules to the trails. Learn them, respect them, follow them.
Right of way
Uphill hikers have the right of way. If you are hiking downhill, step aside to allow the uphill hiker past.
If mountain bikers and hikers are sharing the trails, it is generally expected that the biker yields to the hiker. In reality, it is probably easier for hikers to step aside and just let the biker pass by quickly.
If you encounter horses on the trail, the horse has the right of way. Give it and its master plenty of room so that you do not startle the horse. Super straightforward, do not tangle with a large animal.
Leave no trace
This is mandatory. Do not ruin or destroy your surroundings. Show respect. Think about how you can be careful to preserve the outdoors in its current state. This may be difficult for beginner hikers to understand, especially if they are used to city life.
Each day, there are fewer places in the world that are still in their original state and form. For those that are, it is important to preserve this state so that future generations can enjoy the natural outdoors.
Here are some basic guidelines to "Leave No Trace" that you can follow:
Plan ahead and be fully prepared
Hike and camp on durable surfaces

Do not step off the trail
Camp in designated spots

Dispose of waste properly

Bury (deep) or carry out your poop
Observe and follow local regulations

Leave what you discover while hiking (rocks, sticks, flowers, plants, etc)
Minimize campfire impacts

Use a stove if you can
Or, use designated fire pits
Never leave a fire unattended

Respect wildlife

Do not approach wild animals
And, never feed wild animals

Be considerate of other hikers and backpackers

Don't play loud music (most hikers hike to find peace and quiet)
Take care of your dog
---
This concludes our ultimate guide to hiking for beginners. If you found this information helpful, please share it with your friends. Have a great time out on the trails!
We use affiliate links and may receive a small commission on purchases. Please read our disclosure.