As your primary shelter, choosing a backpacking tent is a big decision. Tents play a big part in the cost of your trip, the weight of your pack, and your general comfort. Due to the expansive variety of backpacking tents to choose from, picking the right one can be daunting! Fear not, though, because we have created an ultimate guide to choosing the best tent for your backpacking adventure. Happy hunting!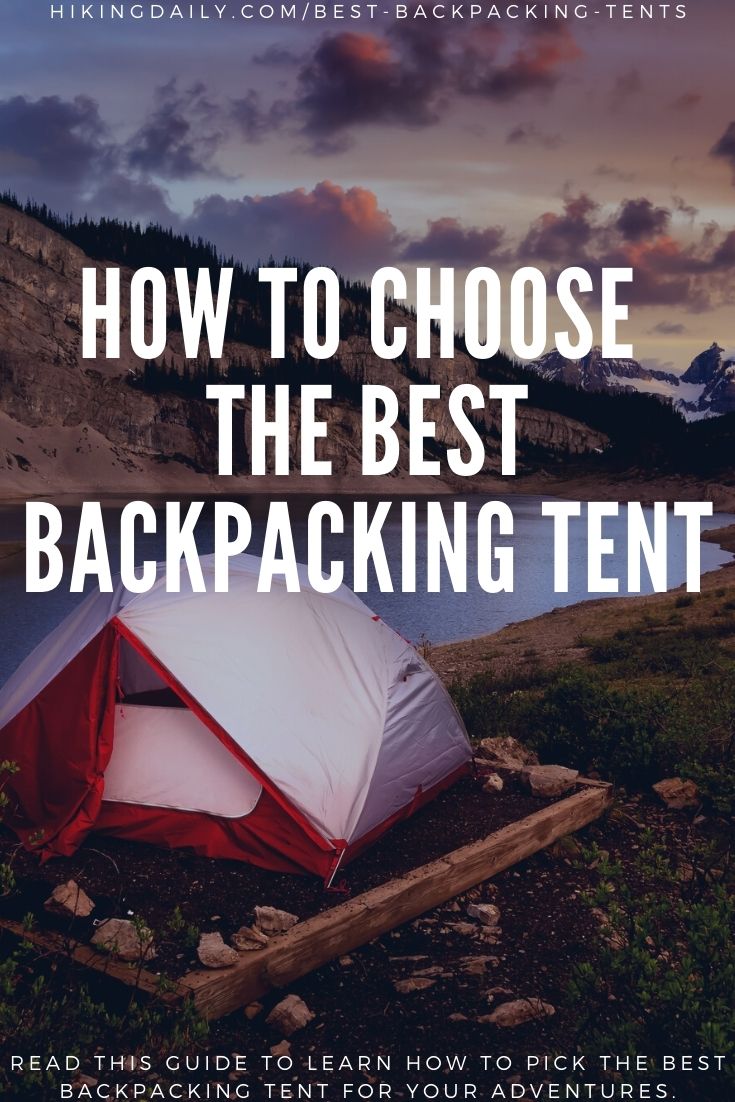 How to Choose A Backpacking Tent
Backpacking Tent Weights
When backpacking, your tent will make up a significant part of the total weight you carry. That being said, every year, outdoor companies work to make lightweight backpacking tents. To reduce weight, some tents may be built with lighter but less durable materials, fewer features, and less overall space. Well-built ultralight backpacking tents, though, can still be comfortable and durable. You can check out our recommendations below.
The main backpacking tent specs, regarding weight, that you will find on store websites are:
The packaged weight, which is the weight of every component of the tent. This includes the poles, body, rainfly, stakes, and more.
The minimum trail weight is the weight of the bare essentials of the tent. This only includes the tent body, rainfly, and poles. When deciding between tents, it is best to compare the minimum trail weight, as you may decide to not use some components included in the packaged weight.
The packed size refers to the packability of the tent (how easy and well it fits in your hiking backpack) and the amount of space it occupies.
Pro Tip: This spec is easily changed if you split up the tent components with your partner. For example, have them carry the tent body and rainfly while you bring the poles!
Backpacking Tent Capacities
Backpacking tent capacities refer to how many people can comfortably fit in the tent.
Each backpacking company has a different standard of comfort, so a 2 person REI backpacking tent may fit more people than a lightweight 2 person backpacking tent from The North Face.
Pro Tip: If you are buying a backpacking tent online and not sure how much space it offers, look at the floor space dimensions and compare it to tents that you can find in-store at outdoor retailers like REI.
Types of Backpacking Tent Shelters
Backpacking tents come in a variety of shapes, sizes, and styles. Choosing which is best for you depends on your environmental conditions, duration, and preferred comfort standards for backpacking. To help make your decision easier, we zeroed in on all of the types of backpacking tents you can choose from – and which one may suit you the best.
Ultralight and Minimalist Backpacking Tents
Ultralight and minimalist backpacking tents are popular for thru-hikers and those wanting to save as much weight as possible. Most backpacking tents come with a full tent body and a rainfly. For those looking for more space and less weight in their pack, minimalist shelters are the way to go. Fortunately, there are many options on the market for lightweight backpacking shelters, including tarp shelters, hammock tents, bug shelters, and bivy sacks.
Backpacking Tent Seasonalities
When purchasing gear for your backpacking adventure, you will choose between a 3-season backpacking tent and an extended-season backpacking tent.
The most common (and often cheapest) options are 3-season backpacking tents. 3-season backpacking tents are built for fall, spring, and summer conditions. Most can sustain some light snow and heavy rain.
However, if you are looking for a tent to brave harsher storms, stronger winds, and bigger snow dumps, an extended-season backpacking tent (also known as a 3-4 or 4+ season backpacking tent) may be the right choice for you. Compared to an average 3-season backpacking tent, extended-season backpacking tents come with one or two more poles for extra strength Additionally, 4-season backpacking tents have fabric panels to cover the tent's mesh areas, helping you keep the snow and wind out.
Where to Buy Backpacking Tents
To find the best place to buy backpacking tents or shelters, first, search for your local outdoor gear shop. Your local shop will have the best gear and knowledge for local adventures, and purchasing from these small businesses is a great way to support your community! To find one, search on Google or Yelp, which both provide reviews and locations for outdoor gear stores near you.
If there are no local outdoor gear stores, REI is your best bet. The outdoor retailer has supplied and advised backpacking enthusiasts for over 80 years. They offer a wide variety of packs from some of the best backpacking tent brands. If you are not sure which tent is right for you, don't be afraid to ask a salesperson for some advice!
Sometimes, there is not a local outdoor gear store or REI located near you. If that is the case, all major backpacking tent brands and outdoor retailers sell their tents online (backcountry.com and rei.com are my go-to's).
Additionally, if you are on a budget, you can find great deals and save money on used tents via websites like Craigslist, eBay, and local gear swap Facebook Groups.
The Best Backpacking Tent Brands
Big Agnes backpacking tents have a massive following – and for good reason. They offer a wide selection of easy-to-pitch, comfortable, and lightweight backpacking tents. They are a top-rated brand that offers a great warranty and repair program. If you are looking for a wide variety of high-quality, popular backpacking tents, Big Agnes is the brand for you. The biggest drawback to Big Agnes backpacking tents, though, is their heftier price. If you are a backpacker on a budget, brands like REI Co-op and Marmot provide less innovative, but cheaper alternatives.
REI Co-op tents are the best bang for your buck. Their backpacking tents offer a competitive combo of affordability, sustainability, and durability. Like all REI products, Co-op backpacking tents are backed by a 100% satisfaction guaranteed policy. So, if you are not satisfied with your REI backpacking tent, you can return it for a replacement or a refund within one year of the original purchase.
Compared to its top competitors, MSR tents are built with a hardier, weatherproof design. They offer durable backpacking tents for aggressive endeavors, like winter backpacking and mountaineering. The Hubba series offers backpacking tents with weather braving features like a full-coverage rain rainfly. MSR stands by its products and will fix backpacking tent defects like broken zippers and stitching tears at their repair shop.
NEMO backpacking tents are known for being highly detailed, durable, and lightweight. Their ultralight two-person backpacking tent, the Dagger, is among the most popular tents on the market. NEMO offers a great selection of backpacking tents across multiple categories. These include Field, Overland, and Ultralight backpacking tents, along with privacy shelters and sunshades. If you are willing to pay a higher price for a great tent, NEMO is a fantastic option. Additionally, NEMO comes with a lifetime warranty, full repair services, and spare parts for your new and old models.
Though Marmot backpacking tents are less competitive than other top brands, they offer roomy, affordable backpacking tents made with high-quality materials. Compared to Big Agnes and Nemo, Marmot offers a smaller selection of lightweight or ultralight backpacking tents. Marmot provides product repair for defects like broken zippers, torn stitching, and velcro issues.
The Best 1 Person Backpacking Tents
Price: $360
Weight: 2.65 Ibs
Floor Area: 20.3 sq ft
Packed Size: 19.5 x 4 in
Why we recommend this product: A great balance of weight and features, this lightweight backpacking tent provides space without the extra pounds. The NEMO Dragonfly is a 3 season, 1 person, backpacking tent made of waterproof and durable Nylon. This also comes in a two-person model.
Price: $380
Weight: 2 Ibs 6 oz
Floor Area: 20 sq feet
Packed Size: 17.5 x 5.5 in
Why we recommend this product: This best-selling, ultralight backpacking tent from Big Agnes is easy to set up and will endure harsher weather. The Copper Spur HV comes with two awning-style vestibules for extra protection from rain or sun. The Big Agnes 1 person backpacking tent is made with breathable nylon and polyester mesh, making it fit for three seasons. This also comes in a two and three-person model.
Price: $128.95
Weight: 55 oz
Floor Area: 18.1 sq feet
Packed Size: 6 x 22 in
Why we recommend this product: This one-person backpacking tent from The North Face is known for its packability, ease of setup, and most of all, its bang for your buck. At a little under $130, this three-season backpacking tent promises great ventilation, solid durability, and a simple shelter for your solo adventures. This also comes in a two and three-person model.
Best 2 Person Backpacking Tents
Price: $429.95
Weight: 3 Ibs 5 oz
Floor Area: 31.3 sq ft
Packed Size: 6.5 x 19.5 in
Why we recommend this product: This 3-season backpacking tent offers space without sacrificing weight on your backpacking adventures. It has an intuitive setup with plenty of interior pockets to organize small gear, like sunglasses and headlamps, that is easily lost under your sleeping bags and pads. This backpacking tent also comes in a three-person model.
Price: $214
Weight: 4 Ibs 13 oz
Floor Area: 32 sq ft
Packed Size: 7 x 21 in
Why we recommend this product: The breathable, easy to pitch, Marmot Tungsten is a great three-season backpacking tent for its price. It includes extra gear storage and interior pockets for organizing your small gear. It is known to be a little airy, so this is a great option for summer trips. If you are expecting colder weather, pair this tent with a warmer sleeping bag. This backpacking tent also comes in a three-person model.
Price: $199
Weight: 5 Ibs 15 oz
Floor Area: 31.7 sq feet
Packed Size: 8 x 18 in
Why we recommend this product: This REI backpacking tent will keep the rain outside, set up easily, and fit you plus your adventure buddy – all for just under $200. Many REI customers purchase this as their first backpacking tent, making it one of REI's best sellers.
Best 3 Person Backpacking Tents
Price: $329
Weight: 5 Ibs 12 oz
Floor Area: 48.75 sq ft
Packed Size: 7 x 23 in
Why we recommend this product: The REI Co-op Half Dome is ideal for three adventure buddies looking for some extra room, an easy setup, and ample storage. Customers who reviewed the product loved the available small pockets for organization and claimed the tent withstood some pretty harsh weather.
Price: $300
Weight: 6 Ibs 8 oz
Floor Area: 44 sq ft
Packed Size: 23 x 7.5 in
Why we recommend this product: The NEMO Aurora 3P is built for car camping, but light enough for backpacking. The versatile tent offers great ventilation, extra space, and a sturdy build. Best of all, this three-person backpacking tent can fit you and your furry friend.
Price: $246
Weight: 5 Ibs 9 oz
Floor Area: 40 sq ft
Packed Size: 22 x 8 in
Why we recommend this product: Like the NEMO Aurora 3P Tent, the Marmot Catalyst is spacious enough for car camping, yet light enough to take on multiday backpacking adventures. For just under $250, this well-built, easy-to-set-up tent is a great deal.