More than ever hikers are leveraging new technology when they head out into the backcountry. There are so many incredible devices for hiking and backpacking such as mobile phones, GPS hiking watches, handheld GPS devices, satellite communicators, cameras, and headlamps. But, of course, they all require batteries! Without a continuous flow of battery power these devices are totally useless. But guess what? You can now purchase powerful and efficient solar chargers, power banks, and power stations to keep your gadgets running 24/7. The capabilities are mind blowing.
If you are heading out on a weekend hiking adventure or longer backpacking trip take along a lightweight and portable solar charger and some power banks and you will be set. In this guide we cover all the newest and best solar chargers for hiking, backpacking, and camping.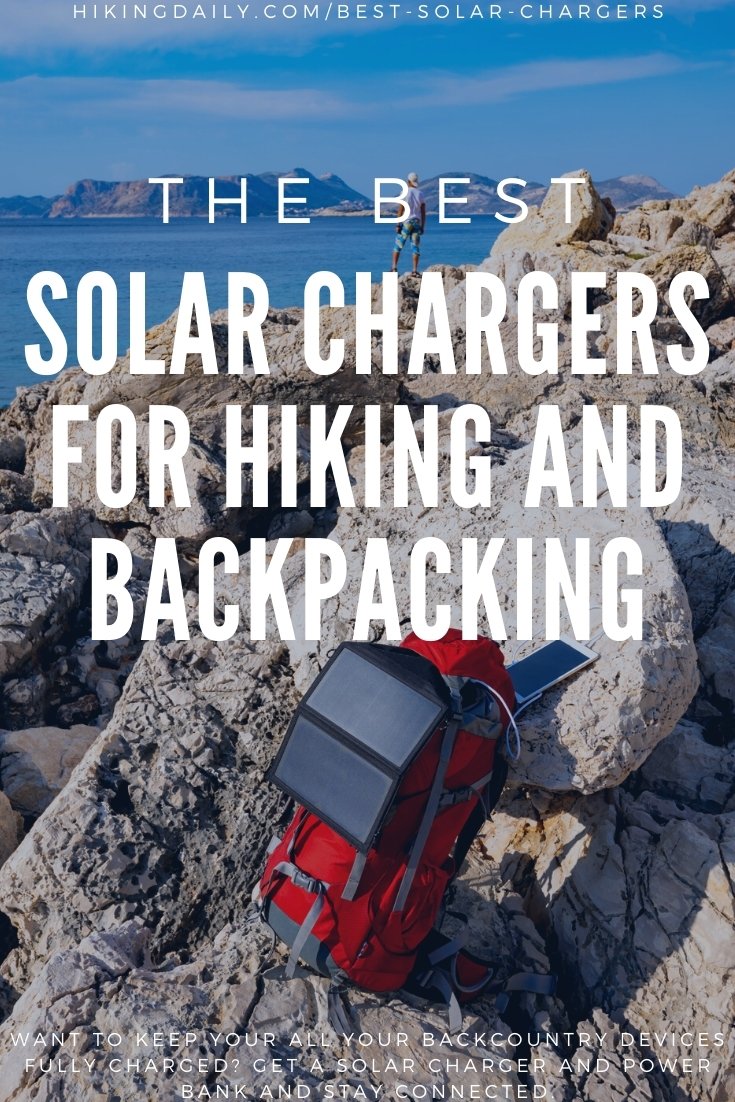 ---
Best solar chargers for hiking
For long day hikes or an overnight the best solar charger is one that is light, and doesn't take up too much space. Then, it won't really be noticed as you move.
These are the two best options for hiking.
The Nomad 5 is the lightest (12.7 ounces), smallest (9.5 x 7 x 1.1 inches), and most compact solar charger by Goal Zero. It has an output capacity of 5 watts.
The Nomad 5 can take of your basic charging needs on the go. Perfect for day hikes.
If you want to keep a device charged (or a power bank) while you are out on a hike, simply slap this panel on the back of your daypack for sun exposure and start harnessing power. Totally easy.
The Goal Zero Nomad 5 is great for charging:
Mobile phones
Headlamps
Small USB devices
Small Goal Zero power banks
Pair it with the Flip 12 power bank for some extra charging capacity.
The Falcon 7 is a 7 watt soon to be available solar charger. You will be able to charge smartphones, GoPros, and other 5V devices.
For under $100, the Nomad 10 delivers much more value than the Nomad 5 if you ask me. This is exactly why I purchased this solar panel. Pay 67 percent more for double the power! If I am heading out on very long days or overnight adventures I will take it with me.
The Nomad 10 solar charger provides an output capacity of 10 watts, and weighs just 1 lb. 1.6 oz., so not too much heavier than the Nomad 5.
This portable solar charger is perfect for solo overnight trips, or to keep small groups powered up on weekend backpacking trips.
The Goal Zero Nomad 10 is great for charging:
Phones

Headlamps

Fitness trackers
Lighthouse lanterns

Small USB devices
Thinking about getting a power bank too? You can buy a kit that includes a Nomad 10 solar charger and the Venture 30 power bank. This combination is called the: Goal Zero Venture 30 Solar Kit V3.
---
Best solar chargers for backpacking
If you are on the go for longer periods of time whether that be for weekend or extended trips, than you might want a more powerful solar charger.
A power bank is also highly recommended. Then you can charge all your devices at the end of your day, or overnight.
Connect your device (phone, satellite communicator, handheld GPS device) directly by cable. Or, attach a power bank to the solar charger to collect and store energy. So cool.
The Nomad 20 is perfect for typical backpacking trips. At just over two pounds it isn't crazy heavy to carry with you.
This portable solar charger is more versatile and provides more power output. It also will pair nicely with bigger power banks or small power stations so your entire group can stay powered up.
Double the output capacity of the Nomad 10, for just 50 percent more cost. Scale up, get more value, charge more devices and bigger power banks.
This solar panel has an integrated 8mm cable and USB port. This allows you to charge a wider range of small to medium size devices. Using the cable, you can also chain together additional solar panels for even greater charging capacity and faster charge times.
The Goal Zero Nomad 20 is great for charging:
The Falcon 21 is a solar charger that allows you to charge a wide variety of devices. It is possible to charge by connecting the panel to a DC car output.
This solar charger weighs just over one pound, and folds up to a size of 11 x 6.2 x 0.6 inches. The kit includes a variety of cables, and adaptors. The solar panel comes with carabiners and metal eyelets for easy attachment to your pack.
The Falcon 21 is waterproof and dustproof to the IPX4 rating.
The Powertraveller Falcon 21 is great for charging:
Smartphones
Tablets
Laptops and netbooks (under 40W)

GoPros

Handheld GPS devices
Other 5V and 20V devices
---
Best solar charger for camping
Planning to sit tight on a campsite or basecamp for some extended time with a larger group, or a plethora of devices?
Then you will likely want to increase your solar charging capacity.
Enter the Nomad 50 solar panel by Goal Zero.
This solar charger is heavy duty, packable (folded: 17 x 11.25 x 2.5 inches), and not too heavy at 6 pounds. Some casual backpacking enthusiasts might be okay with taking this along on a weekend backpacking trip. Would you take this on an extended backpacking trip? Perhaps, perhaps not.
The Nomad 50 is probably best used for camping excursions where you drive right up to your campsite, park, and hang out for a vacation.
Add a robust power station and you are set!
The Goal Zero Nomad 50 is great for charging or running:
All previously mentioned devices
Laptops
Portable refrigerators
Other essential or non-essential electronics
Larger power banks (Sherpa 100)
Larger power stations (Yeti 200X, Yeti 500X)
Take your solar energy harvesting up yet another notch. At ten pounds in weight, and a folded up size of 20.5 x 15.5 x 2 inches, this is definitely a solar charger that is going to stay at basecamp.
---
Power banks and power stations
The Goal Zero solar chargers allow you to connect portable power banks and power stations.
The benefit is that you can expand your output capacity greatly while in the backcountry. This is more beneficial for backpacking trips where you will need to continuously charge your devices as you go.
Here is a brief primer on the newest and best power banks and power stations.
USB power banks
Connect a USB power bank to a solar charger while you hike. Then, when you stop for the day you can charge your devices more quickly. Pretty straight forward. Here are our top picks for the outdoors since they are weatherproof and rugged.
There are many more options: Check REI
Power stations
Get a larger solar panel and connect it to a power station, and you will be totally prepared to keep your devices charged. The primary benefit of a power station is more power output, plus you can connect a wide variety of more demanding devices.
These are the two most suitable for backpacking or camping.
---
Buying advice + tips for the best solar chargers
To help you make an informed buying decision, we cover all the top features of the best solar chargers.
Types of solar chargers
There are three types of portable solar chargers that you can buy.
Panels only (semi-flexible or rigid)
Panels with integrated power banks
Panels with detachable power banks
Features to consider
Here's what to keep in mind when choosing your solar panel.
Group size
In some cases, you might want to get a larger solar panel if you have a large group of people.
In other scenarios, you might want to get several smaller panels so each person can take care of themselves and charge on the go.
Size and weight
First, consider space in your various packs. Also, think about the types of hikes you do with respect to distance and difficulty. What is your tolerance for carrying extra weight?
Surface area
The larger the solar panel, the faster it will charge power banks and devices. A larger surface area will also allow you to charge bigger power banks and batteries, and also charge more demanding devices.
The benefit of smaller surface area solar panels is that they are lighter and more packable.
Output capacity
Solar panels are rated in watts. The higher the number, the more electricity you can generate in a given amount of time.
A larger surface area and thus greater output capacity will also let you connect larger power banks and power stations.
Semi-flexible vs. rigid panels
Semi-flexible solar panels are more packable because they fold or roll up. They also provide greater surface areas for the total size compared to many rigid panels.
Attachment options
Take a good look at how the solar panels may be attached to your backpack. Ideally, you want your solar panel securely attached to your pack and not flopping around. Another related feature is how the solar panel will stand up. Many have "kickstands".
Expansion
A feature to consider is power expansion. This can be accomplished by attaching additional panels in a daisy chain, or by connecting power banks.
Power banks and battery packs
As mentioned, solar panels either have integrated battery packs or a means to connect a variety of detachable power bank sizes or capacities. The latter option provides versatility and a greater ability to expand and charge more devices.