In the last decade, smartphones have transformed our world. Among other things, smartphones have fantastic tools that can assist with hiking trips. This article will cover some of the best hiking apps on the market that can help you find the perfect hike, or help you navigate on the trail. The main tools that smartphones provide for hiking are most importantly the GPS capability, along with the ability to store and organize information pertaining to different hikes. Even without cell service, a smartphone will be able to use GPS services, given that the data for the maps were downloaded beforehand. Remember to not entirely depend on a smartphone for navigational purposes. Always bring a backup paper map and compass!
There are hiking GPS apps and just general hiking apps available that have great descriptions for your next great hike!
There are so many different apps to choose from, so let's dive right into it. Unlike other gear or skills, there's not much to say for an introduction here. The following apps listed will be focused on IOS devices and Android. Some are paid, but most are available to download for free.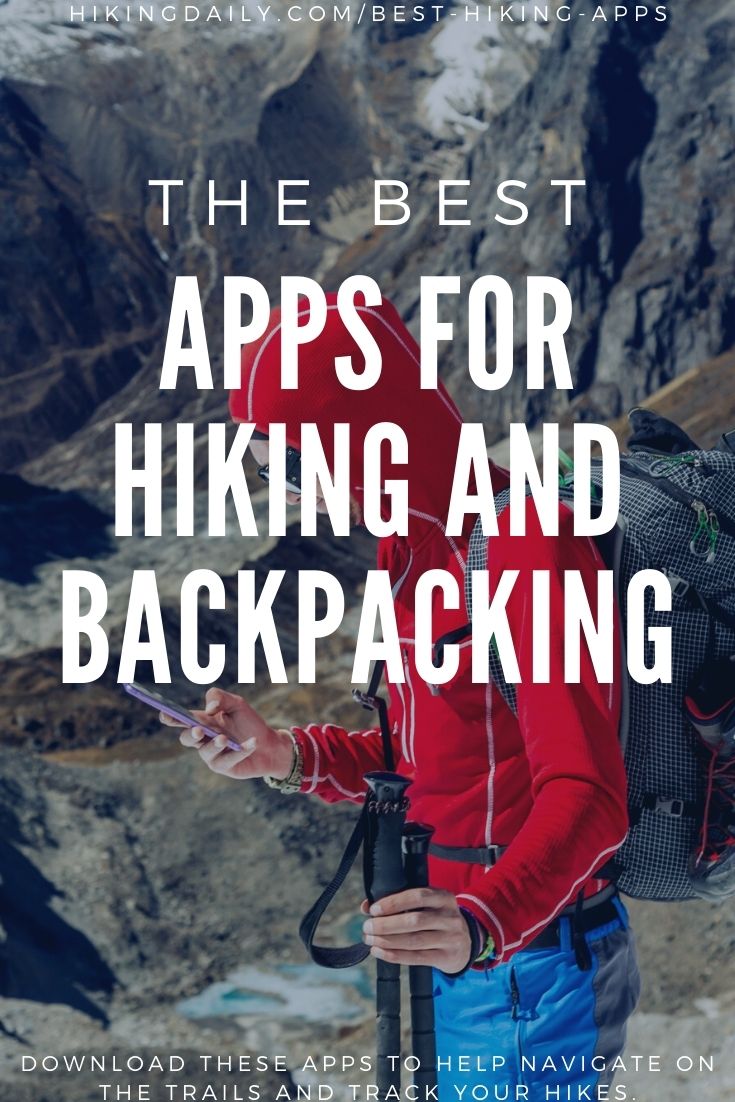 Navigational Apps
Google maps
https://apps.apple.com/us/app/google-maps-transit-food/id585027354
Price: Free
This might not seem like the first app that comes to mind when thinking of a hiking app, but google maps can be a very useful tool. This can help with general navigation while hiking, and it can navigate to the trailhead parking lot. It can also be useful in identifying other landmarks while hiking. In order to use Google Maps offline, the easiest way to take advantage of the app is to download offline maps. This enables you to view the map without cell service and use basic navigational services. While it won't allow you to use walking navigation functions, having google maps can be a great way to get oriented while hiking.
To download offline maps first go to the upper right-hand corner of the app. Next, click on the icon of your account, and a drop-down menu will have offline maps as an option. From here you have the option to "select your own map" to download offline. Be sure to keep the app open while the maps are downloading offline for use.
All Trails
https://apps.apple.com/us/app/alltrails-hike-bike-run/id405075943
Price: Free, pro version is $30 a year.
All Trails is most likely the most useful app on this list. This app is an informational as well as a navigational app. All Trails contains thousands of different hiking trails and allows for navigation within each hike listed, making an excellent hiking app. One unique part of this app is that it allows you to look for different hikes based on your current location via a user-friendly map. This is a great way to find hikes in your area.
The app also includes user comments about the hike and hike conditions. One of the best features of this app is the ability to navigate within the app with a map for that specific hike. However, only the pro version allows for navigation without cell service on offline maps. The pro version also allows the user to print out hiking maps, and record their hiking activity. Overall this is a fantastic hiking app that is useful in both the free and pro version. This is a must-have on a smartphone for any avid hiker.
GAIA
https://apps.apple.com/us/app/gaia-gps-hiking-offroad-maps/id1201979492
Price: Free, Premium version is $40 a year.
GAIA has similar functions as All Trails, but they each have their unique strengths. Both apps have different trails to search, but GAIA's GPS maps are far more detailed and useful than the maps available on All Trails. GAIA allows the user to download several offline maps to use to navigate with the phone as a GPS on the free version. GAIA has some of the most detailed maps available and has great GPS data such as elevation, coordinates, and other informational data if the user uses the record function. The offline pro version includes dozens of different types of maps and allows for multiple downloads of offline maps for navigation.
Avenza
https://apps.apple.com/us/app/avenza-maps-offline-mapping/id388424049
Price: Free, pro version is $29.99 a year.
Avenza is another navigational app that is similar to GAIA but uses a different set of topographic maps. This app is slightly different than the other apps we've have listed so far. Avenza has a store on their app with hundreds of different apps for download. While Avenza does not have specific maps for different hikes, but rather more general geographic maps for navigation. Another usual function on Avenza is that Avenza allows one to scan the QR code of a topographic map and import it into a phone for use with GPS location. The free version allows for up to 3 free maps downloaded from other websites. One great website to create maps to import into Avenza is Cal-Topo, which we will cover next.
In order to create a topographic map of a hike on Cal-Topo's website, select the area of a map you'd like to import to your phone and press print PDF. Then open the Avenza app, select the plus icon on the "my maps" tab, and use the QR code scanner import on the app to scan the QR code on the lower left-hand corner of the map created on Cal-Topo. This is a quick, easy, and free way to import your own maps into Avenza.
Cal-Topo
https://apps.apple.com/us/app/caltopo/id1460038458?mt=8
Price: Free
Cal-Topo is a more advanced app to create your own mapping program that can be useful for less traveled hikes, or if you are interested in learning more about mapping or creating your own route. This app and desktop web version can allow one to create and label different topographic maps. Cal-Topo contains dozens of different overlays to view different map layers and mapping information. This is a really fantastic way to learn more about navigation in an easily navigable app. Cap-Topo also allows for GPS location without service, if the map has been downloaded offline. This has some of the most detailed maps available, and some of the most options, for a mobile app device.
Topo Maps +
https://apps.apple.com/us/app/topo-maps/id672246353
Price: Free, Pro version at $49.99/year
Topo Maps + is also a fantastic navigational map that has multiple different basic base maps for topographic navigation. This hiking app includes several different base maps with hundreds of mapped trails. These base maps will include nearly all marked hikes in the United States using mainly U.S. Forest Service Maps from the United States Geological Survey. The free version of the app also allows for a user to record their hikes as well. The free version also includes the ability to upload GPX and KML files. The pro version of the app allows for other base maps with even more hiking trail options, and the ability to create and trace routes using the app. This is another great option to have in your arsenal of hiking apps.
Informational Apps
The Outbound
Price: Free
https://apps.apple.com/us/app/the-outbound/id1019328159
The Outbound Collective features many different outdoor activities suggestions based on location and sortable by activity. It includes many different fantastic hiking options. The Outbound also includes other articles and blogs about popular outdoor destinations. The descriptions for hikes in the app are fantastic, but they don't always include a topographic map for use. The Outbound often includes hikes that are somewhat off the beaten path and is always an excellent app to consult when planning your next hike. This free app also includes reviews from hikers and also includes information about lodging. The interface is very user friendly and makes it incredibly easy for users to upload photos, making the app filled with beautiful photos that will inspire your next hike!
Hiking Project
Price: Free
https://apps.apple.com/us/app/hiking-project/id964351449
Hiking Project is another hiking app with great options to find trails to hike near you. Hiking project is part of a series of the "project" apps, which includes a series of other apps detailing other outdoor activities. This hiking app includes a user-friendly map to search hikes in the area. While this app is rather similar to All Trails, it lacks in the navigational capabilities and the number of trails that All Trails include. It seems like Hiking Project is expanding rapidly and is already a very useful app to use in order to find hiking trail information.
Safety
This additional category includes one safety app that would be very helpful to ensure that friends and family know your location while hiking.
Cairn
Price: $26.99 a year.
https://apps.apple.com/us/app/cairn-hiking-outdoor-trails/id964300002
Cairn is one of the best hiking safety apps available for a smartphone. This app allows one to easily share their plans with friends and family and identify areas with cell service. It also allows for the download of offline maps and the ability to record a track. Another great function of this app is that close contacts are able to view GPS locations during hikes. This is the only hiking app on our list that does not have a free version. This is a fantastic hiking app to use in order to ensure that loved ones are aware of your location while hiking.
Conclusion
We hope these hiking apps will be useful to plan and safely navigate for your next hiking trip. Smartphones are an incredible asset for hiking. Be sure to always carry a paper map and consider carrying an extra battery for your phone.
Happy hiking!