Sometimes it is nice to feel free and light on a hike and not be weighed down by a heavier daypack. A hiking fanny pack is the perfect lightweight bag to carry your essentials. When I do close-to-home hikes where I know I don't need too much or am unlikely to get into trouble, I will just grab my fanny pack and go.
Fanny packs aka bum bags/packs, lumbar packs, or waist packs have come along way since they became quite popular back in the 1980s. They now have many cool features that make these bags a totally viable and lightweight hiking bag for your day hikes.
In this guide, we will show you the newest and best hiking fanny packs that you can buy right now. Here is a quick look at the winners. Scroll down for the complete details.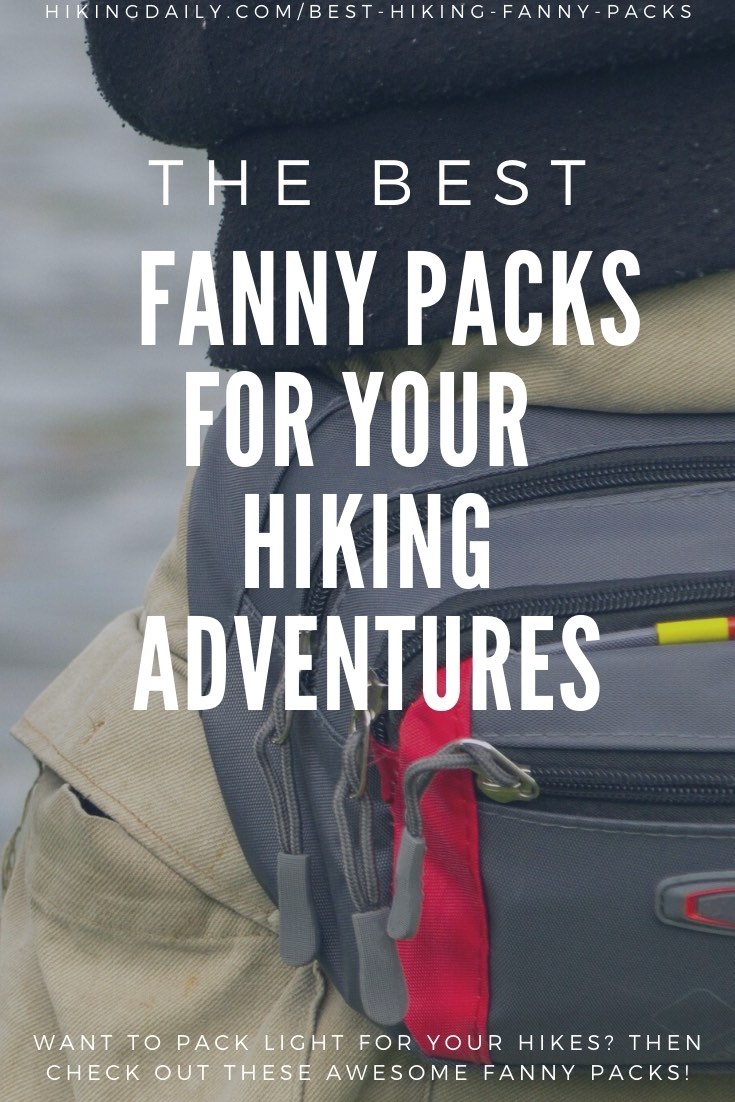 Okay, let's quickly review a few of the main features to think about.
Top features of hiking fanny packs
Fanny packs are intended to be a simple and lightweight way to carry your essentials on day hikes. So you won't need to scrutinize as many features as you would for a backpack. However, there are some features that you should consider important or not.
Capacity in liters
Most fanny packs fall into the range of between 2-12 liters of volume. Think about where you hike and how long you hike. More intense longer hikes will require extra items and more space. If you are doing easy local hikes, maybe a small pack to carry your keys, wallet, phone and a snack will do.
Fabric
Most fanny packs are made of nylon but vary in weight and durability factor. You will likely see a number that falls between 200D and 1600D. The higher the number, the more sturdy and durable the nylon fabric will be.
Back panel area
This is a key are of fanny packs that you should think about. Look for a mesh covered and ridged back panel area that will help keep you from sweating too much.
Pockets + internal organization
Some fanny packs are going to be very lightweight and simple. You will find just 1 outer pocket and 1 main compartment. Others will have secret back panel pockets, extra interior pockets, hipbelt pockets, or padded dividers to protect electronic devices. Think about what you will be carrying with you and how you would like to store and organize.
Zippers
Some zippers are large and thus easier to open and close. Some fanny packs have dual (direction) zippers that make it easier to gain access.
Main compartment opening style
There are really just two opening styles. A straight zipper across. Or, a wider bucket style opening that makes it easier to find your stuff.
Hip belt style
Most hip belts are simple nylon straps. A wider belt will be more comfortable and dig into your sides less. Some manufacturers make a seamless wraparound style hip belt that is most comfortable. If you like extra pockets look for a fanny pack that has pockets on the hip belt itself so that you can easily access your goods on the go.
Compression straps or d-rings
These features make it super simple to attach gear or layers too.
Extra handles and straps
Want to take off your fanny pack and carry it like a gym bag? Look for one that has extra side or top handles and straps.
Weather resistance
Some fanny packs are treated with durable water repellent (DWR) finish that will keep a light rain or snow from seeping into the pack.
Water bottle pockets
Do you like to stay well hydrated? Look for a fanny pack that allows you to carry water bottles along.
Our Top Picks: Best Fanny Packs For Hiking
Alright, let's check out the winners. We think these are the best hiking fanny packs you can get for this hiking season.
Mountainsmith is known as the creator of the "lumbar pack" and they offer the best all-around fanny pack for day hikes with the most features. This is the largest fanny pack of the bunch that allows you to take most items you would carry in a daypack.
9-liter capacity
Durable nylon fabric
EVA ridged back-panel padding
Interior foam padded sleeve
Compression system to attach and carry layers
Comfortable (tuck away) waist belt with pockets
Back-panel stash pocket
Top side carrying handles
Shoulder strap
Adjustable side pocket fits 32 ounce water bottles
Weight: 708 grams
Dimensions: 11.5 x 10 x 5 inches
If you are interested in a large fanny pack that is quite similar, check out the 13-liter Mountainsmith Day Lumbar Pack.
If you want a fanny pack that has most of the top features and is priced a little lower, check out the REI Trail 5 Waistpack. This is the best fanny pack for under $50.
5.25 liters capacity
4 total (interior/exterior) zippered pockets plus the main compartment
Easy access bucket style opening to the main compartment
Exterior daisy chains to attach extra gear
Secret passport pocket on back
Dual water bottle pockets hold 1 liter bottles
Mesh back panel is breathable
Made of recycled nylon and polyester
Durable water repellent (DWR) finish for weather resistance

Weight: 255 grams

Dimensions: 11.5 x 7 x 4 inches
Osprey is a company that excels at making comfortable breathable packs, and they do exactly that with their fanny packs too. The Osprey Talon/Tempest fanny pack has some deluxe features to keep you moving on the hiking trails while also keeping you hydrated with accompanying water bottles.
6-liter capacity
BioStretch hipbelt

Keeps your load stable
Soft seamless contact surfaces
Easy access zippered side pockets

Dual zipper access to the main compartment
Front panel zippered slash pocket
Padded bottle sleeves with bungee straps to keep bottles secure
Compression straps to carry a layer of clothing
Mesh covered foam padding keeps you ventilated
Two 570 ml BPA-free PackBottles
Lightweight construction

Weight: 335 grams

Dimensions: 7.9 x 11.8 x 8.3 inches
Check REI price: Talon 6 | Tempest 6
Best fanny pack for hiking with dedicated hydration compartment and reservoir – Osprey Seral
This lumbar pack is specified for mountain biking, however, we do not see why anyone can't use it for hiking. So, we have added it to the list for a second option that caters to those that like to stay well hydrated.
7 liter capacity
1.5 liter hydration reservoir included
Magnetic bite valve attaches to the hipbelt for easy access
Comfortable contoured AirScape back panel is breathable
Dual zippered hipbelt pockets
Weight: 372 grams
Dimensions: 7.9 x 13 x 5.9 inches
We think this is the best overall fanny pack for kids because the bag itself isn't too wide. However, it is also a super versatile bag that is perfect for adults as well. Note, it isn't officially a kids size. This pack offers all the best features and is made of durable nylon. It is available in 5 different color schemes and the overall design looks really cool.
2.3 liters capacity
Quick-access top pocket
Main compartment
Dual adjust waist strap
Large durable zippers
D-ring accessory attachments
Shock cord locking bungee system stash layers
Adjustable compression straps to carry gear
Ridged back panel is breathable
Dimensions: 9 x 5.5 x 3 inches
Best stylish/modern/cool classic style fanny pack – Cotopaxi Bataan
The Bataan fanny pack by Cotopaxi is a modern take on the classic bum bag that is super simple and very colorful. These bags are made out of scrap fabric used for other products to save from being dumped in a landfill. So, you can look good, and feel good about giving back some to the environment. Bonus. Also, a good option for kids since it is very light and not too wide across the back.
I own the Cotopaxi Bataan and use it on my local hikes all the time.
3-liter capacity
Durable lightweight ripstop nylon shell fabric
Two zippers
Weight: 113 grams
Dimensions: 9 x 5 x 4 inches
This is the smallest fanny pack for hiking that we could find. It is perfect to store your mobile phone, wallet, keys, and other essentials for short day hikes.
2 liter capacity
Rugged recycled nylon shell
Durable water repellent (DWR) finish provides water resistance
Bucket-style top-loading main compartment
Front stash pocket and secret back pocket
Breathable mesh back panel
Weight: 122 grams
Dimensions: 11.5 x 5 x 2 inches
A brand new waist pack made by Osprey that looks fantastic in Colorado colors.
2-liter capacity
Durable ripstop 210D nylon
Zippered main compartment
Interior mesh organizer with key clip
Adjustable 38mm wide hip belt
Check REI price – Osprey Daylite
Be sure to check out our guide to the best hiking daypacks for under $100 for additional small hiking bag options.