Hiking in the snow is a very tranquil experience. The trails are coated in white, and the air smells crisp.
This additional dimension of snow makes hiking more adventurous. Snow hikes can also be more dangerous. There are more factors to consider when preparing for a hike in the snow.
These factors include hiking in cold conditions, navigating snow-covered terrain, and being prepared for more dangerous conditions than three-season hiking.
Hypothermia and frostbite are real concerns for hiking in the snow. Be sure to bring plenty of extra layers, and bring plenty of food and water! It will be easier for your body to stay warm if you drink and eat enough.
The following article outlines how to prepare for a hike in the snow.
The most important part of hiking in the snow is to be prepared for the elements and to have fun!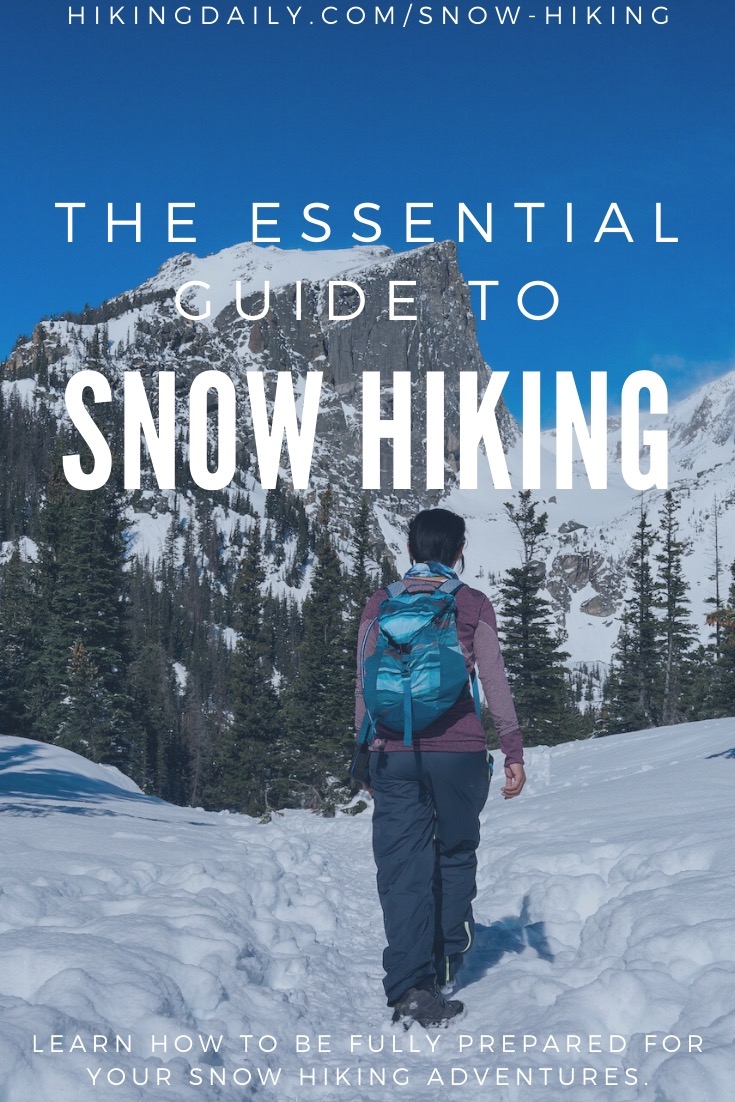 Snow Hiking: Do's and Don'ts
DO – Check the weather
DO – Bring extra layers, extra food, and water
DO – Have an emergency plan
DO – Let someone know where you are hiking
DON'T – Hike alone without a GPS or emergency communication device
DON'T – Go off the main trail
DON'T – Wear cotton pants. You will get cold and wet!
How to check winter trail conditions
When preparing for a snow hike, the first thing to do is to find out about the trail conditions.
Are they completely covered in snow? If so, how deep? Are there icy sections of the trail?
These questions give you an idea of how treacherous trail conditions might be and what gear might be needed.
You might not have a clear idea of what these conditions are, but there are online tools one can use to help!
Instagram Beta
Yes, you heard right. Instagram can be a great tool to find out trail conditions.
Using Instagram, you can see recent posts of hiking trails and have an idea of what sort of snow conditions they may include.
Go to the search function on Instagram, and search for your hike by trail name, location, or destination.
You can see the most recent posts, often of which will show the trail conditions.
All Trails
All Trails.com is another great resource for learning snow hiking conditions.
If you find your trail, you can see recent photos and comments users have entered about the hike.
Snowtel Maps
Curious about snow depths around the country?
The National Water and Climate Center produce an interactive map each year with information about snow depths at numerous locations around the country.
Weather forecasting for snow hikes
Weather forecasts can also give you a great idea of what conditions will be like.
Many people have different opinions on the best weather forecasts, but here are a few to use.
It is always important to check more than one forecast.
Hiking in extreme cold and snow conditions is a self-tolerance decision, but it is important to be aware of the dangers of frostbite when outside in these extremely cold conditions.
These are the weather forecasting tools I recommended using.
The National Weather Service provides detailed weather forecasts using the GFS model. Weather. gov provides great forecasts, especially 24-72 hours from the day you are hiking.
This is a great tool if you want to hike exposed, higher elevation hiking. It will give you elevation-based forecasts for higher peaks in your hiking area. This is a great resource for looking at the worst possible weather in the area. Generally, a good rule of thumb is to not hike high on exposed terrain when the sustained gusts are more than 35 mph.
This Swiss-based forecasting team provides forecasts for coordinate-based locations and displays the probability for each forecast. A great part of this tool is that you can compare different models and get an idea of the confidence interval of a specific forecast.
Avalanche forecasting for snow hikes
Snow hiking can sometimes involve crossing avalanche terrain or hiking underneath avalanche terrain.
Avalanche terrain is commonly referred to as terrain that has a pitch of 30 degrees or more, leaving the potential to slide naturally or to be triggered by a human.
Please do not hike near or in avalanche terrain without the proper equipment or training.
Please refer to the American Institute for Avalanche Research and Education website for information on training and equipment for traveling in avalanche terrain.
For forecasting and information, please refer to your local avalanche forecasting centers, such as Colorado's CAIC or the Pacific Northwest's NWAC.
A mapping tool that can be used to see if you are crossing avalanche terrain is a website called CalTopo. By using the slope angle shading tool, you can see the angle of terrain you may be crossing. With the right training, you can make an educated choice about how to navigate or avoid that terrain.
Besides avalanche shading, CalTopo can be a great tool for mapping your planned hiking route. Using the platform online, it is easy to create your hiking map. CalTopo also now has a mobile app that you can use on a smartphone. This allows you to use the phone as a GPS when hiking in the backcountry.
What to bring on a snow hike: Clothes and gear
Packing for snow hiking is different than packing for 3 season conditions. Your pack will be heavier with the extra layers you carry. While you should always be prepared while hiking, one should especially be prepared for hiking in snowy conditions.
First, we cover the different articles of clothing you need when hiking in winter and deep snow.
You can also check out our guide to the best winter hiking outfits.
A layering system is a smart way to stay comfortable in cold conditions. One of the most challenging skills to develop while hiking in colder conditions is maintaining a good body temperature without overheating or being too cold. Understand that all of these layers are not always needed. The following system is a model for hiking in the snow, where layers can be subtracted if it is warm outside.
Face protection
Having any part of your body exposed to heavy winds in the cold can be very dangerous. Be sure to have a face mask and a warm hat with you. Even if it is warm outside, it is important to have these items in your pack. Conditions are always changing in the backcountry.
Upper body clothing
Be prepared with a variety of layers and hiking jackets.
Hardshell jacket
A waterproof hardshell jacket is essential for blocking snow and wind. This piece should be lightweight and should be the outermost jacket that you use.
Parka
This is another outermost jacket that one should carry while hiking in the snow. This should be a large synthetic or down coat that will normally stay in your pack. This jacket should be big enough to cover all of your other layers. Use it for extreme cold or emergencies. Even if it is not that cold outside, it is a good idea to keep an extra warm jacket in your pack.
Mid-layer
Choose a medium-weight jacket that will be used as one of your main jackets. If it is not too cold or too windy, this will be your outermost jacket. Consider a jacket made of synthetic material, as sweat and moisture will make a down jacket clump up and reduce warmth.
Fleece jacket
Choose a lightweight to medium weight fleece jacket that will wick moisture well. Depending on the temperature, one can decide on the weight of the fleece.
Base layer
Use a moisture-wicking material for your base layer. Cotton is not ideal because it will retain moisture, making it rather uncomfortable on a long hike. Check out our guide to the best base layers.
Winter gloves for snow hikes
While snow hiking, it is recommended to carry three different types of gloves and mittens. For information on which type of glove to purchase, please view our hiking gloves article.
First, carry a pair of waterproof or water-resistant lightweight liners. Because of the cold and the dampness of the snow, it is always recommended to wear gloves while hiking.
Second, carry a pair of medium weight waterproof gloves. These will be the main pair for a colder hiking day. They should be able to fit over your base layer liner gloves.
Lastly, carry a pair of heavy waterproof gloves or mittens. This will be for extreme cold and stored in your backpack for emergencies.
Lower body clothing
Outer pants layer
A pair of waterproof or water-resistant pants are recommended. A hardshell, waterproof pair of pants would be great for snowy and windy conditions. Soft-shell pants are often more comfortable and are easier to walk around in. In drier conditions, soft-shell pants would be a good option.
Inner pants layer
Depending on how cold it is, long underwear can be a great option to layer underneath.
Daypack for snow hikes
There is not much of a difference between a daypack in the summer as opposed to a daypack in the winter other than the size of the pack.
Remember that you will be carrying many more layers in the winter. It is recommended to use a 25L-35L pack that can fit many more layers that you will carry.
It is also recommended to use a pack with more straps on the outside of the pack. This way, you can attach crampons, snowshoes, microspikes, or trekking poles as needed on the outside of the pack.
Special equipment for snow hiking
Unlike hiking in 3 season conditions, snow hiking involves more gear than usual. Here are a few different types of gear that may be needed for hiking in snowy or icy conditions.
Flotation devices and gripping tools
Depending on how packed the snow on the trail is, it could be advantageous to use flotation such as snowshoes. Snowshoes are very helpful in allowing you to float on the surface of the snow and not sink into the deep snow that can be hard to walk through.
If the trail is packed and icy, microspikes or crampons can be very helpful. Microspikes are traction devices that you place underneath your boot to have more grip on a slippery surface. Microspikes are like chains on a car tire. They prevent slipping and falling down a trail.
For navigation on slopped icy trails, consider using a pair of crampons. Most of the time, crampons are unnecessary, but steep slopes or venturing above the treeline could require them. Crampons are attachments for the bottom of hiking boots that have large spikes on them. This provides a good grip on steeper terrain.
Gaiters
Gaiters are an item of clothing that prevents snow from getting into your pants or your winter hiking boots.
They can attach to the bottom of your boots and right below the knee. Gaiters can also act as a protective layer from the sharp ends of crampons or microspikes. Gaiters are especially recommended for deep snow hiking.
Emergency Communication Devices
When hiking in the backcountry, especially in the winter, it is important to bring along an emergency communication device. In an emergency, there is a way to contact a loved one or emergency services.
Check out the Garmin Inreach mini. This device allows you to text via iridium satellite. It can be paired with a smartphone for instant messaging, even without cell phone service. Using this device, you can update someone on your hike in the front country. This is a great option to have, especially if your hike is running late, so you can let someone know that you are safe.
In addition to bringing an emergency device, let someone in the front country know about your plans. Tell them where you will be hiking, what vehicle you are driving, and what time you plan to get back from your hike. An emergency plan is a critical part of preparing for a hike in the winter.
Always have a paper map, or bring a smartphone with GPS capabilities. Many different apps function as hiking maps. Even having offline google maps is a great idea to have for your hike.
Now plan that snow hike!
This article is meant to act as a guideline for preparing for a winter hike in the snow.
Here is a quick checklist to follow for planning the hike.
Choose the location and hike.
Check the weather. If it looks good, then proceed. If not, go back to step 1 and choose a different location.
Check trail conditions via the internet or word of mouth. Based on the conditions, think about bringing extra equipment such as microspikes, crampons, or snowshoes. If the conditions do not look ideal, go back to step 1 and choose a new location.
Start packing. Bring all emergency layers and plenty of water and snacks. Don't forget face protection and warm gloves.
Create an emergency plan, and let someone else know of your hiking plans.
Go hiking! Have fun and be safe. Take pictures and upload your trail conditions for the next hiker to see.
Good luck!