Hats do much more than protect facial skin from sun damage – they make being outside more comfortable. Air temperature is only a few degrees different between sun and shade but the shade can feel up to 20 degrees cooler.
Many people just wear their favorite baseball or sun hat hiking. However, there are strong benefits to wearing a hat that is specifically designed for activity in the outdoors.
Modern hiking hats are designed to keep you cool. The synthetic materials are lightweight and wick moisture. Many have an interior sweatband to quickly evaporate perspiration. Some also have mesh sections for air flow.
Hiking hats can protect from the sun while providing warmth or act as a wearable umbrella to keep off the rain.
Benefits Of A Hiking Hat
Compared to a conventional hat, hats designed for hiking have:
UPF 20-50+ sun protection
Lightweight material
Breathable material
Moisture-wicking interior + exterior
Ventilation mesh or panels
Keeps sweat, rain + snow out of your eyes
Water-resistant or waterproof fabrics keep your head dry
What To Look For In A Hiking Hat
There are a number of factors that you should consider before buying a new hiking hat.
The main focus should be on protection and comfort but there are other important features and components to look for.
A. Protection
The point of a top-quality hiking hat is to provide protection from the sun and weather.
Sun Protection
The first line of protection comes from the materials or fabric used in the hat. The Ultraviolet Protection Factor (UPF) rating is a measurement of how much UV radiation can go through the fabric. Sun protection comes from a combination of fabric material, color, weight, and weave.
A fabric rated at UPF 30+ blocks about 96% of UV radiation. For 99% protection, look for UPF 50+.
Color is only one factor for UPF. Fabric type, weave tightness, and broad brims all provide additional protection from the sun. Technical synthetic fabrics are breathable and reflect radiation.
Rain Protection
Hat coverage protects from the rain as well as the sun. Polyester and nylon are inherently water-resistant. Some hats increase that with a Durable Waterproof Coating (DWR).
There are also hats designed for the rain first, made of a waterproof breathable membrane like Gore-Tex. Rain hats also work for the sun, they will just feel a little warmer than hats designed exclusively for the sun.
Cold Protection
Here in Colorado, almost daily sun means hats are worn year-round. Not knit beanies but hats with brims for some shade for the eyes and face. We have rounded up some caps with warm fleece plus a bill.
B. Brim Size, Shape + Style
This is pretty straightforward. A bigger, wider brim provides more shade and protection for the body and skin. A broad brim hiking hat is essential when the sun is out in full force in hot climates, at high elevation, or during the summer months.
An all around-brim hat provides 360-degree shade that covers the ears and neck. The wider the brim, the more shade you get. A baseball cap-style hat with a bill in the front protect only the face.
Keep in mind that larger brims can impede your vision or be uncomfortable if you are carrying a large backpack. More hat also means more weight. There is a time and a place for caps as well as hats.
Legionnaire hats with an attached or removable cape offers the most protection.
C. Sizing + Fit
Like all clothing, a hat that fits is a comfortable hat. The degree of comfort is determined by the sizing, how the hat fits, and the materials used.
One size fits all is most often one size fits many. It is a good idea to measure and know your head size. Most hats provide the measurement instead of a size. Wrap a flexible measuring tape or a string around your head. Be sure to cross the middle of your forehead, across your temples, and around the back of your skull that sticks out the most.
Another option is to look for a hiking hat that is adjustable in size. Many have velcro, a buckle, or toggle to adjust the size and customize the fit.
Avoid wearing hats that are too small or feel tight on your head. This feeling will only worsen over the course of a long hike.
Also, be sure that the hat isn't too loose. That will just get irritating. A hat that is too loose will flop around, get in your eyes, and could blow away if it is windy. If you plan on hiking in windy conditions you may want a hiking hat with a chin cord.
D. Hat Materials
Synthetic Fabrics
Most hiking hats are made of synthetic fabrics so they wick moisture, dry quickly, and resist water. The fabric contents vary but they are all polyester or nylon, a version of polyester. Nylon is somewhat softer, stretchier, and stronger than polyester but polyester is more water- and abrasion-resistant. Some hats are all nylon, all polyester, a mix of the two. Some hats add elastane or spandex for stretch.
Many hiking hats add an inner synthetic layer to absorb and wick away sweat so look for that as a feature. Some hats have aquatic adventures in mind and have a foam-reinforced brim that floats in water.
Natural Fabrics
Natural fibers like cotton, hemp, and wool have their benefits but not as hiking hats.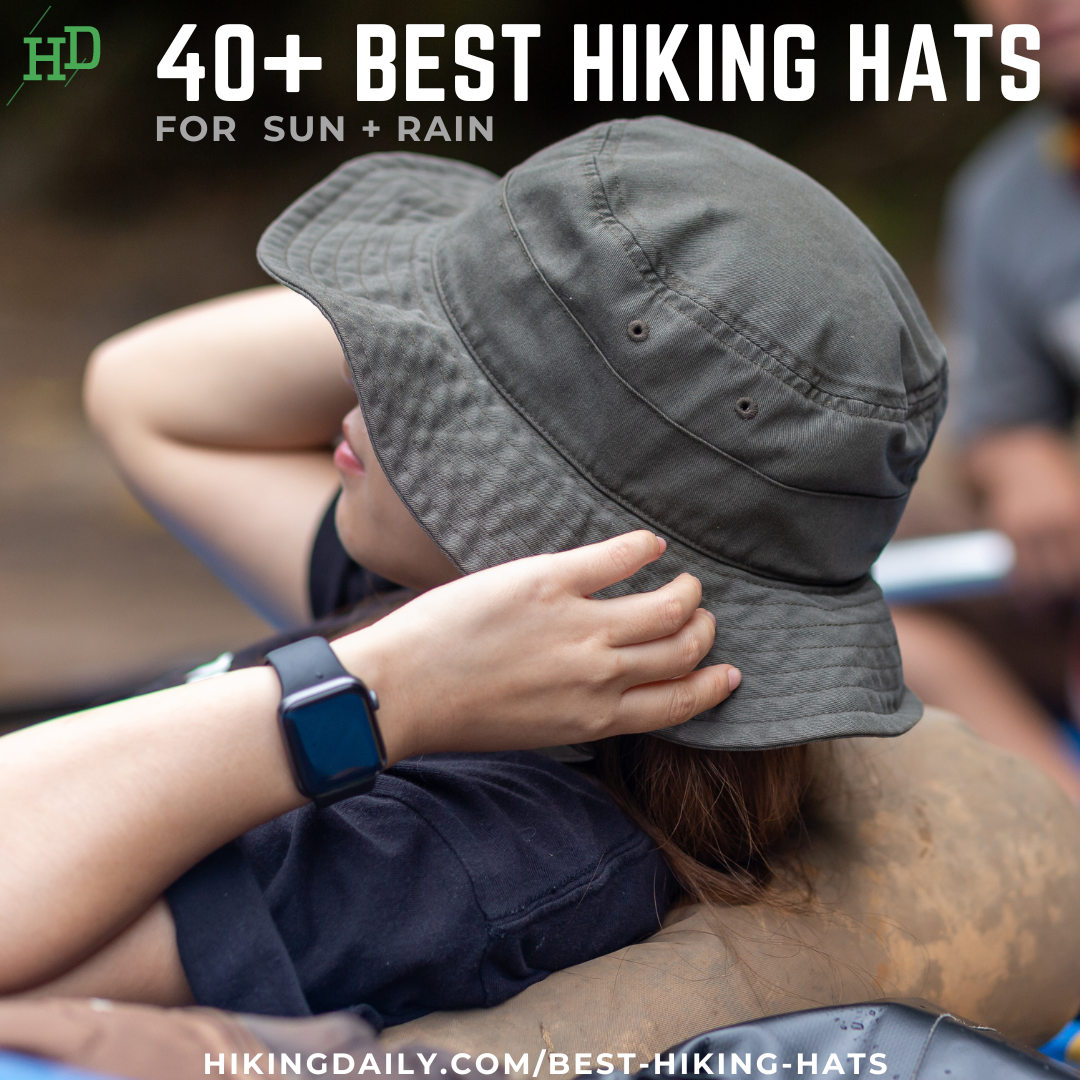 Are straw hats good for hiking?
They can be. Straw hats look great and provide plenty of sun protection. On the other hand, they weigh more than synthetic hats, are less durable, and should never get wet – straw hats absorb water and lose their shape.
Sunday Afternoons Islander Hat made of 100% natural tripilla straw. Like many of the recommended hats it has a UPF 50+ sun rating, 3″ brim, and elasticized inner sweatband. However, it weighs twice as much at 5.2 ounces/147.4 grams.
If the pros outweigh the cons for you, get a straw hiking hat. It's all about comfort first.
E. Durability
For any hiking gear, hiking footwear, or hiking clothing, durability should be important to you and guide your decisions. Hiking equipment is expensive, so seek value.
A durable hiking hat will provide hours of service. Perhaps years. Why buy, wear, and destroy multiple hats per season if you can find one that will have a longer lifespan?
So, what factors make a hat durable and last longer?
Durable fabric (Nylon is the strongest)
Quality thread and stitching
A tight weave
Crushable fabric that can maintain hat shape
Color

Light colors get dirty faster (cleaning can age the hat)
Dark colors get bleached by the sun (ruins fabric)

Washable fabric (most baseballs do not wash well)
Inner sweatbands help extend the life of hats because the salt can damage the outer fabric.
Spot cleaning the inside and outside of the hat will help keep it looking and feeling fresh longer.
F. Breathability + Ventilation
A well ventilated and breathable hat is going to be more comfortable. If you are hiking in fair weather, hot climates, or warmer months of the year it is important to have a hat that breathes and delivers airflow.
A hot, sweaty hat that doesn't breathe is not comfortable. Sweating can cause sunblock and insect repellent to get in your eyes which is not pleasant and could be a health hazard.
Synthetic hats are lightweight, dry quickly, and breathe. Mesh panels add air flow and cut weight but keep in mind that mesh provides minimal sun protection.
G. Does Hat Color Matter?
Common knowledge states that light colors are more comfortable in the heat. The reasoning behind that is actually why dark colors provide more sun protection. Dark and bright colors absorb UV rays while lighter shades reflect them.
However, mosquitos and bugs are another consideration. They are attracted to dark and bright colors. Light, subdued shades like white, beige, khaki, light gray, and even pastel yellow are less attractive to those biting bugs. Other than black, these hues are the most common for hiking hats.
So colors does matter but not that much. Where color is essential is under the brim. Dark fabric under the brim reduces glare and makes it easier to see.
H. Style
Looking good and feeling good are important. Not all hiking hats are stylish. At the end of the day, protection is more important than style. If you can have both, perfect.
In this selection best hiking hats, we attempted to zero in on as many hats that we could find that approach a semi-cool rating at a minimum.
When you buy a hiking hat take a good long look in the mirror before you hit the trails. Be honest, and ask yourself, "is this a hat I am okay with wearing over the long term"?
Protection and comfort should definitely be the number one priority. But it is also important to find a hat that you can feel okay with wearing on your hikes. The last thing you want to do is change your mind and waste your money. Or worse, not wearing the hat and suffering health consequences.
Alright, we have covered everything you should look for in a hiking hat. These are the best hiking hats to take out on the trails. Not only does our list of hats offer excellent performance, but they also look like cool hiking hats.
I. Packability
It is uncommon to travel with a hat box these days but maybe it shouldn't be. Many hats claim to crushable and packable but in my experience that just means the brim is floppy, the fabric gets wrinkled, and durability is compromised. Even for packable hats, I prefer to clip all hats to the outside of my pack rather than stow it away inside. Seem cap-style hats can be folded into the brim and placed at the top of a hip or backpack.
Best Sun Hats For Hiking
All of the hats listed here:
Provide UPF protection
Wick away moisture
Are lightweight
Dry quickly
Resist water
These features are not mentioned in the recommendations because every single hat has them. The UPF, weight, and brim length are posted when the information is available. Otherwise marked as n/l for not listed.
In this first section, we are going to take a look at the best hiking hats with the traditional round brim that protects the ears and neck as well the face. These hats work for men and women, but keep reading for some women-specific hats. There are also hiking hats for kids way at the bottom of the page.
Best Women's Hats For Hiking
Most hats are unisex but a few are designed for smaller heads and with bigger brims. The color choices also tend to differ. Here are some women-specific hats to consider.
Bucket Hats For Hiking
Want a hat with a shorter brim that still provides coverage from the sun? A bucket hat fits the bill. The brim isn't as long as some sun hats but the downward slope creates extra shade. They are also packable and crushable. Many bucket hats are cotton or canvas but these are the best for hiking.
Best Baseball Caps For Hiking
Regular baseball hats can get hot and sweaty. If you like the style of a baseball hat there are many options that are designed for hiking. They are made of materials that will keep you cool and wick sweat and moisture away from your skin. These are the best baseball hats for hiking.
The Best Trucker Hats For Hiking
Trucker hats were designed to be cool in the hot sun with a polyester front and mesh back. The style and fit can be hit-or-miss but give one a try for a hat that looks good everywhere. Keep in mind that mesh lets the sun through.
Best 5-Panel Hiking Hats
5-panel hats are the modern style of baseball hats. Most have a flat brim but there are some curved options too.
Baseball Caps for Cold Weather
Cold weather isn't always gray. These caps are made with warm breathable fleece plus a brim to block the sun. Some have ear flaps that can be pulled down to use or up and away.
The Best Hiking Hats For Rain
Hats aren't just for the sun. They block the rain too, helping you get out there on drizzly days and stay comfortable in a sudden downpour. These hats also work for sun but the waterproofing means they won't be as breathable as a sun hat.
All of these picks are made with a waterproof/breathable membrane with microscopic pores that repel water and let out moisture vapor. All Gore-Tex fabrics are waterproof and breathable membranes but not all waterproof/breathable membranes are Gore-Tex – many companies have their own version.
Best Legionnaire Hats (Caps With Capes)
Extreme hot weather demands superior protection and comfort. These desert hiking hats are great for hot climates, with additional coverage for the ears and neck. Some legionnaire hats come with an attached cae while others are removable.
All of these desert hats are made out of lightweight, breathable, moisture-wicking, quick-drying, and water-resistant nylon.
The Best Hiking Hats For Kids
Hiking hats are probably even more critical for kids. Younger children can overheat more quickly than adults and are generally sensitive to the sun.
The best hiking hat for kids is the one that they will wear. Cinching up the chin strip only works for a few years. Fortunately, there are plenty of fun colors, patterns, and styles that make sun hats more appealing.
There are a few different features to look for when it comes to hats for babies, toddlers, and children. The odds are small but a chin strap that gets stuck on something can do damage. Most of these hats feature breakaway chin straps that release under pressure. If that feature is not available, the strap can be removed.
If the sun hat is going to worn in a stroller or hiking backpack, look for a soft cape at the back instead of brim that sticks out. For water play, a hat with a floating brim will last longer than one that sinks.
Here are some great hats for kids from baseball cap-style to hats with wide brims and long neck capes.
1. Best Kids' Sun Hat
This is the most popular kids' sun hat. The full brim and long neck make the parents happy while the colors and prints appeal to kids. Sunday Afternoons guarantees their materials and workmanship for life so the Play Hat should last through couple of children.
Check REI | Check Amazon | Check Backcountry
For an even longer neck veil, check out the Outdoor Research Sun Go Away Hat.
2. The Go-Anywhere Hiking Hat For Boys + Girls
Military-inspired booney hats provide ample coverage with a classic style.
3. Budget Sun Hat For Kids
4. Kids' Bucket Hat for Hiking
5. Best Full Coverage Sun Hat For Kids
6. Best Lightweight Baseball Cap for Kids
7. Trucker Hat
8. Best Rain Hat for Sun
9. Sun Hat vs Rain Hat
This concludes our guide to the best hiking hats. We hope that one of these suits your fancy. It is important to stay protected out on the hiking trails so get a quality hat. If you are not sure about the cool factor, then clip a second hat to your backpack for your photo sessions. Problem solved. Easy.