Always take a hat when you go for a hike. Hiking hats are an essential piece of hiking gear. They are key to staying cool, comfortable, and maintaining good health on the trails. Hats are definitely an important item of clothing to wear on your hikes.
Many people just take their favorite baseball or sun hat. However, there are strong benefits to wearing a hat that is specifically designed for the outdoors. A hiking hat.
We spent hours looking over what the top manufacturers currently offer to uncover the best hiking hats that you can get in 2022. Not only does our list of hats offer excellent performance, but they also look like cool hiking hats.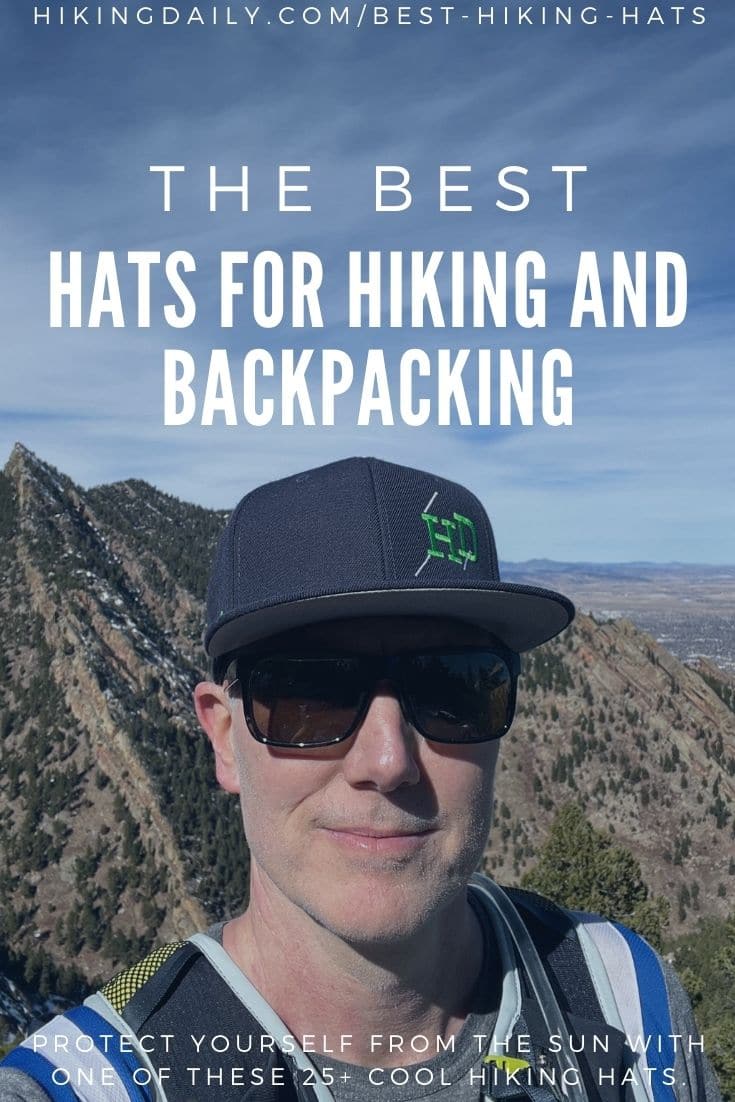 So, why should you have a go-to hiking hat? Primarily for sun protection and comfort but there are additional benefits. Check out the best hiking hats available at REI this year. Or read on for our top picks of the newest and best hats for hiking.
Top brands for hiking hats
These are our favorite brands that make functional and good-looking hats for hikers. Start browsing the newest hats by clicking the links below.
Benefits of a hiking hat
Protects your face and neck from the sun
Made of comfortable lightweight materials
Keeps rain snow and sweat out of your eyes
Props up jacket hoods away from your face
Keeps bug netting away from your skin (better insect protection)
Provides a surface to clip on lights or other tools
Better ventilation (than regular hats)
Waterproof or water-resistant fabrics keep your head dry
How to choose the best hiking hat?
There are a number of factors that you should consider before buying a new hiking hat.
The main focus should be on protection and comfort.
However, there are other important features and components to look for and think about.
Protection
The point of a top-quality hiking hat is to provide protection from the sun and weather.
Sun protection
The first line of protection comes from the materials or fabric used in the hat. Look for a hiking hat that has the highest rating to combat the ultraviolet rays (UVR) of the sun. You want to shield yourself from UVA and UVB radiation. The best hiking hats block 98% of UVA/UVB radiation. The higher the ultraviolet protection factor (UPF) the better. Look for a hat that has least 30UPF, but ideally greater than 50UPF. The fabrics used in hats will have different UPF ratings. The fabric material, color, weight, and weave determine how high the UPF rating will be in a hat. Dark colors, heavier weight fabric, and a tighter weave will allow less UVR to penetrate the hat. Of course, lighter colors and fabrics are typically cooler and more comfortable.
The other way to protect yourself from the sun is to get a hat with a wide brim, larger brim, or neck cape. They may not look so cool but these features are effective at keeping the sun off your skin.
Rain protection
Another consideration is how a hiking hat can protect you from the rain.
Synthetic materials such as nylon or polyester can make a hat more water-resistant compared to cotton.
Hats that have Gore-Tex lining will be waterproof and breathable.
Brim width/shape/style
This is pretty straightforward. A bigger or wider brim will provide more shade and thus protect more of your body and skin. A wide brim hiking hat is essential in hot climates, at high elevations, or during the Summer months.
A full brim that goes around the entire hat will shade your ears and neck better than a hat that only has a brim in the front like a baseball hat. A 3-4 inch brim will provide great protection from the sun. Full brim hiking hats are a great option for those that are sensitive to the sun.
Keep in mind that larger brims can impede your vision or be uncomfortable if you are carrying a large backpack.
Some hats offer flaps (neck capes) or detachable flaps to complement the hat brim. This provides additional ear and neck protection.
Comfort and sizing (fit)
Comfort is very important and should guide your decision. The degree of comfort is going to be determined by the sizing, how the hat fits, and the materials used.
One size fits all is most often one size fits many. It is a good idea to measure and know your head size. Then you can match it up to the size specifications of hats. Wrap a flexible measuring tape or a string around your head. Be sure to cross the middle of your forehead, across your temples, and around the back of your skull that sticks out the most.
Another option is to look for a hiking hat that is adjustable in size.
Avoid wearing hats that are too small or feel tight on your head. This feeling will only worsen over the course of a long hike.
Also, be sure that the hat isn't too loose. That will just get irritating. A hat that is too loose will flop around, get in your eyes, and could blow away if it is windy. If you plan on hiking in windy conditions you may want a hiking hat with a chin strap.
Hat Materials
Synthetic Fabrics
Most hiking hats are made of synthetic fabrics. The most common fibers used are nylon and polyester. Polyester is great because it doesn't absorb water, wicks away any moisture, dries fast, and is durable. Nylon is very durable and does an okay job with moisture management.
Natural fabrics
The most common natural fabrics are cotton and hemp.
Cotton is not ideal for any article of hiking clothing in the majority of weather conditions. Cotton has benefits in very hot dry climates but that is about it.
Hemp is different and offers some clear benefits. This fiber is durable, comfortable, wicks away moisture, has natural anti-microbial properties, and can block up to 95% of ultraviolet rays. Hemp is environmentally friendly and chemical-free.
Wool is a fiber that can be found in hats. It is okay at moisture management, is very breathable, and is fairly durable.
Durability
For any hiking gear, hiking footwear, or hiking clothing, durability should be important to you and guide your decisions. Hiking equipment is expensive, so seek value.
A durable hiking hat will provide hours of service. Perhaps years. Why buy, wear, and destroy multiple hats per season if you can find one that will have a longer lifespan?
So, what factors make a hat durable and last longer?
Durable fabric (Nylon is the strongest)
Quality thread and stitching
A tight weave
Crushable fabric that can maintain hat shape
Mildew and mold resistant fabric (hemp)
Color

Light colors get dirty faster (cleaning can age the hat)
Dark colors get bleached by the sun (ruins fabric)

Washable fabric (most baseballs do not wash well)
Breathability and ventilation
A well ventilated and breathable hat is going to be more comfortable. If you are hiking in fair weather, hot climates, or warmer months of the year it is important to have a hat that breathes and delivers airflow. A hot, sweaty hat that doesn't breathe is not comfortable. Sweating can cause sunblock and insect repellent to get in your eyes which is not pleasant and could be a health hazard.
Many hiking hats have mesh panels to help with ventilation. Mesh hiking hats that have vents are definitely going to keep you the coolest and are the best option.
Nylon hats are lightweight, dry quickly, and breathe.
The best hiking hats will keep you cool and comfortable. A bad hiking hat that doesn't breathe properly can heat you up and cause heat exhaustion or heat stroke.
Color
Most hiking hats are lighter in color. Light color fabric will reflect heat. Look for a hat that is a lighter shade on top.
Dark colors absorb more UVR. However, they can be much hotter on the trails. A darker underside to the hat brim can be beneficial.
Style
Looking good and feeling good are important. Not all hiking hats are stylish. Many look downright nerdy/geeky/dorky.
In our selection of the best hiking hats, we attempted to zero in on as many hats that we could find that approach a semi-cool rating at a minimum.
When you buy a hiking hat take a good long look in the mirror before you hit the trails. Be honest, and ask yourself, "is this a hat I am okay with wearing over the long term"?
Protection and comfort should definitely be the number one priority. But it is also important to find a hat that you can feel okay with wearing on your hikes. The last thing you want to do is change your mind and waste your money. Or worse, not wearing the hat and suffering health consequences.
Alright, we have covered everything you should look for in a hiking hat. These are the best hiking hats to take out on the trails.
Best Hiking Hats For Men (Sun Hats)
In this first section, we are going to take a look at the best hiking hats for men that are of a traditional hiking hat shape. The cool hiking hats are further down. However, these picks are still pretty awesome and are not super nerdy by any means. We isolated the best options out of hundreds of hiking sun hats that you could possibly get. Let's check them out.
This is the most popular hiking sun hat by Outdoor Research.
UPF 50 sun protection
Water-resistant
Breathable
Lightweight (65 grams)
Quick-drying fabric (89% nylon, 11% polyester)
Moisture-wicking headband
Foam-stiff brim make it a floating hat
Dark fabric under brim reduces sun glare
Adjustable drawcord
Check out the same hat in a cool printed version.
This is the ultimate hiking hat made by Tilley. Out of all their options, we rate this one as the best Tilley hat for hiking and one of the very best sun hats for hiking. Definitely a top-quality hat.
Maximum sun protection (UPF 50+)
Hydrofil band wicks away perspiration
Broad stiff brim protects against sun and rain
Mesh insert around the top provides superior ventilation
Floats in water
Water-repellent finish
Chinstrap keeps the hat on in windy conditions
98% organic cotton; 2% spandex
Brim size: Front & back: 3.5 inches, and Sides: 2.5 inches
Guaranteed for life
Want to buy a Tilley hat at REI? Try the Tilley LTM6 Airflo Hat. It is almost the same hat.
Want a hat with a shorter brim that still provides coverage from the sun? This is the best bucket hat for hiking and is suitable for men or women since it is a unisex hat.
UPF 50 sun protection
Removable chin cord
86% nylon, 14% polyester
Moisture-wicking headband
Lightweight (65 grams)
Water-resistant
Breathable
The Bora Bora Booney II hat by Columbia is a performance hiking hat. It is built to keep the sun out of your eyes. A very good Columbia hiking hat that is going to keep you cool.
Omni-Shade UPF 50 sun protection
Omni-Wick ultra-sweat-wicking headband
3-inch brim
Adjustable chin strap
Packable cape
Multiple sizes
100% nylon
A new hat for a new hiking season. This hiking hat is unique in that it packs away in its own pouch. It's a good looking high coverage hat.
FlashDry sweatband wicks moisture
UPF 40+ fabric for sun protection
Adjustable chin strap
Twists and packs away in pouch
94% nylon, 6% elastane
Best Hiking Hats For Women (Sun Hats)
The first thing to know is that many hats are actually unisex. So whether you are a man or woman keep that in mind. Almost all the hats in this list are appropriate for women too. If you want a cool looking hat scroll down to the best baseball hiking hats, and the best trucker hiking hats.
However, there are some women-specific hats to consider. So, let's take a look.
This is a cute hiking hat. A hiking bucket hat that is also a fashionable hiking hat. We rate it as the best pick for female hikers that want to maintain some style points. Yet at the same time, it is still a practical hat for hiking.
This is a lightweight, polyester sun hat with that has a soft, pliable brim that easily compresses to fit in pockets.
The Sinsola bucket hat will protect you for hours on the trails. It is the best bucket hat for hiking you can get.
UPF 50+ rating for sun
Stretches for the ultimate fit and comfort
Lightweight and air-permeable fabric
Laminated brim holds its shape
Comes in two sizes
Weight: 55 g / 1.9 oz
Check REI price | Check Amazon price | Check Arc'teryx
For a hiking sun hat this one is pretty good looking. We give it a semi-stylish rating!
UPF 50+ rating for sun
Broad brim hat
TransAction moisture-wicking headband
100% Supplex nylon
Water-resistant
Breathable
Lightweight (65 grams)
Foam floating brim
An adjustable drawstring keeps your hat on in the wind
Removable chin cord
Packable
This is the same hat by Tilley that we recommended for men. The Tilley Hiker's Hat is designed especially for hiking. This is a unisex hat that comes in 8 different sizes. So get out a measuring tape and pick your size out.
A similar hat, the Tilley LTM6 Airflo is available at REI.
There is a unisex hiking hat, so all the notable features are the same as discussed above.
Not necessarily a super cute hiking hat for women. But it is a great budget pick if you want great sun protection.
UPF 50+ protection
Cape provides extra neck sun protection
Foam brim makes hat float
Mesh panels
Adjustable chin strap
Polyester headband wicks sweat
Best Training Style Hats
This is a really good hat for hiking because it is lightweight (compared to a regular baseball hat), it wicks sweat, has vents for excellent breathability and venting, and it has a UPF 50 sun protection rating. And, it comes in a variety of super cool colors.
Check prices: REI | Backcountry | Outdoor Research
Best Baseball Hiking Hats
Regular baseball hats can get hot and sweaty. If you like the style of a baseball hat there are many options that are designed for hiking. That's right, you can get a hiking baseball hat. They are made of materials that will keep you cool and wick sweat and moisture away from your skin. These are the best baseball hats for hiking.
This is a great baseball shaped hat for that is designed to be worn on the hiking trails. This hat is an advanced sweat control, ultra-wicking ball cap that will keep you cool.
Omni-Shade UPF 50 sun protection
Omni-Freeze ZERO sweat-activated super cooling sweatband
Hook and loop back adjustment
92% polyester / 8% elastane
Best Hiking Trucker Hats
These are the newest trucker-style hats that are perfect for hiking.
This is a very unique, modern trucker hat for women. It boasts incredible breathability. So, if you are a hothead, and want some cool style, this is a great hiking hat for women. It's almost like a visor with a mesh top for some sun protection. This hiking hat is super lightweight, ultra-breathable, moisture-wicking, and quick-drying. The perfect hat for hotter climates.
Headsweats offers a tonne of different styles and graphics to the trucker hat. Check them all out here. Our favorite is the Mountains TruckAir hat.
Perforated back and side panels provide incredible ventilation
6-panel style hat
Moisture-wicking
Black under-visor reduces sun glare
Adjustable snapback
The Sun Runner is our top pick for the best hiking trucker hats. Hands down. It looks cool and provides the best sun protection.
UPF 50+ sun protection
Comes with full coverage sun cape with removable chin strap
Breathable mesh in the back
Moisture-wicking
Quick-drying fabric
Adjustable snapback
100% Supplex nylon
This is a high-performance lightweight trucker hat built for moving fast on the trails. This hat will protect you from the sun but does not have a UPF rating.
Moisture-wicking
Cool & dry headband
Very breathable back mesh
Quick-drying fabric
Elastic back adjustment

Packable
This hat by Patagonia will keep you cool on the trails with excellent moisture wicking and ventilation. This hat will obviously keep the sun off your head and face but does not have a UPF rating.
Open mesh in the back delivers great ventilation
CoolMax fabric headband wicks moisture
DWR (durable water repellent) finish
The dark underside of the bill reduces glare
Foam brim bends and retains original shape if folded
Adjustable with rear buckle
This baseball shaped hat for hiking has two benefits: sun and bug protection.
Insect Shield repels a variety of pesky bugs
Mesh back maximizes breathability
Adjustable clip back strap
Semi-curved bill keeps the sun out of your eyes
Best 5-Panel Hiking Hats
5-panel hats are the modern style of baseball hats. They are great for hiking too. These are some great options if you want a 5-panel hiking hat.
Another cool and innovative hat made by Outdoor Research. This classic 5-panel lid has large mesh side panels that make it super breathable, perfect for those hot summer days. It is a snapback and so is adjustable for all head sizes.
Soft foam brim that won't distort if packed
Stretch polyester fabric
50+ UPF rating
Mesh panels for ventilation
Durable water repellent (DWR) finish on fabric resists moisture and stains
Polyester
Elastic sweatband for moisture management
50 UPF rating
Adjustable strap for a snug fit
Sweatband wicks sweat
Foldable brim
30 UPF rating
Sunglass loop
Side vents for excellent ventilation
Floating brim
Best Hiking Hat For Hot Weather (aka Desert Hiking Hats)
Extreme hot weather demands superior protection and comfort. These desert hiking hats are great for hot climates. These options are also great if you are looking for a Summer hiking hat.
For a near-geeky hat shape, this hiking hat looks okay to me. The tight-knit fabric somehow makes this hat seem cooler than it should appear. Perhaps, elegant compared to similarly shaped hats.
UPF 50+ sun protection
Wide varied brim width
Lightweight
Super breathable with strategically placed vents
External breathable mesh panels
Wicking fabric in the crown
Brim piping provides wind resistance
Dark fabric under brim
Adjustable drawcord
Removable chin strap
Packable
Check REI price | Check Outdoor Research | Check Amazon price
This is a cool hat with some interesting technology. It seems space like which for me makes it kind of cool. No other hats look like this hiking hat! And it also appears to deliver sun protection like no other hat.
Radiant barrier technology (reflects 80% sun's heat waves)
Blocks 99.8% UV rays (UPF 800+)
Super lightweight
Incredible ventilation
Moisture-wicking sweatband
Adjustable sizing
Chin strap
This is a cool two in one hat. Essentially, this is a baseball hat with a detachable sun cape that gives you maximum sun protection for your neck and ears.
UPF 50+ sun protection
Removable cape
Lightweight
Breathable
Water-resistant
Dark fabric under brim
Moisture-wicking headband
Removable chin cord
Packable
Best Kids Hiking Hats
Hiking hats are probably even more critical for kids. Younger children can overheat more quickly than adults and are generally sensitive to the sun. These are the best kids hiking hats.
50+ UPF sun protection
Foam stiffened brim make this hat float
Water-resistant
Lightweight and breathable
Quick-drying, moisture-wicking fabric (100% nylon)
50+ UPF sun protection
Offers full coverage (face, head, and neck)
Sun skirt protects the neck from sunburns
Moisture-managing headband wicks sweat away from the skin
Water-resistant
Lightweight and breathable
Quick-drying, moisture-wicking fabric (100% nylon)
Lifetime guarantee
50+ UPF sun protection
Crown ventilation
Comfort wicking headband
PFC-free durable water repellent finish
Foldable brim packs into pockets
Reflective panels
3¼ inch brim and 5½ inch neck cape
Adjustable sizing
Multiple sizes
This concludes our guide to the best hiking hats. We hope that one of these suits your fancy. It is important to stay protected out on the hiking trails so get a quality hat. If you are not sure about the cool factor, than clip a second hat to your backpack for your photo sessions. Problem solved. Easy.
We use affiliate links and may receive a small commission on purchases. Please read our disclosure.