An effective pair of hiking sunglasses is essential.
Often while hiking we find ourselves in wide-open areas where the sun is bearing down on us. Sun protection is important for our skin and our eyes. Sunglasses protect our eyes from the dangerous ultra-violet rays of the sun. Ultra-violet rays (UV rays) are non-visible rays from the sun that can sunburn us and cause discomfort or damage our eyes. In general, sunglasses help us see in bright areas. They make our surrounding terrain easier to view in bright conditions.
In addition, it is especially important to have sunglasses when hiking in a snow covered area. Snow has a very high albedo. The albedo effect is the percentage of sunlight that is reflected away from the ground. Not wearing sunglasses in snowy areas can actually lead to a temporary condition called snow blindness. This can be incredibly dangerous, essentially causing temporary blindness and sharp pain to our eyes.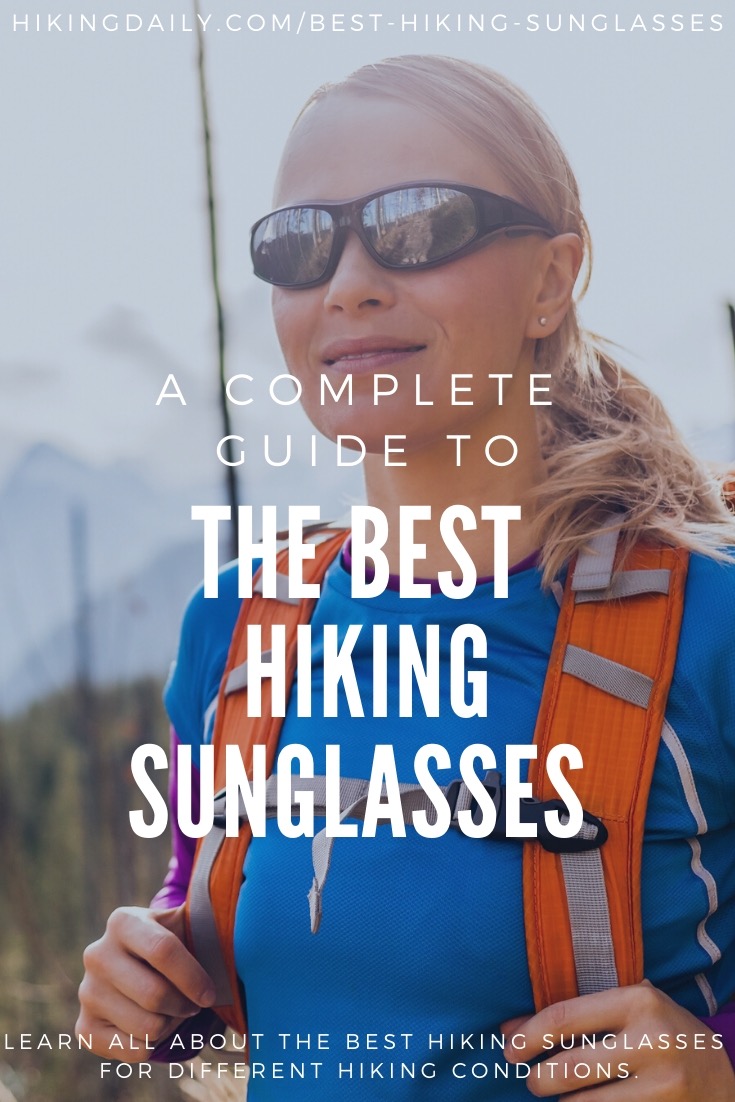 When looking for sunglasses, we want to take the type of frame and lens into consideration. Of course, price is always another consideration!
Top features to consider when choosing a pair of hiking sunglasses
Frame Type
Most hiking sunglasses frames will be made of nylon or metal.
Metal tends to be easier to bend to your face but often ends up being less durable than nylon. They aren't the best if you are hard on your gear. You will tend to find metal frames on more expensive brand sunglasses, and for prescription sunglasses.
Nylon based frames tend to be less expensive, and are overall more durable. If you want a hardy pair of hiking glasses that will last in the elements, a nylon based frame is highly recommended.
Lens types
Different lens type have allow varying levels of visible light to reach your eyes. As we wrote about before, UV protection is key. Any pair of sunglasses used for hiking should have 100% UV protection in order to keep our eyes safe from the suns harmful rays
Visible light transmission (VLT)
The next category to consider with lens types is the amount of visible light transmission. VLT is known as the amount of sunlight that will reach our eyes, essentially how dark our sunglasses should be. VLT is listed as a percentage and is affected by the type of lens material as well as the color of the lens. Here are are the VLT categories to take into account.
1-20% VLT. Very bright conditions. Considering using a pair of sunglasses with this tint if you are going to be in open terrain or hiking in the snow. Generally, the best sunglasses for hiking will be in this category.
20-40% VLT. This is your all around tint for hiking sunglasses. If you want a pair of glasses for all year round and one to do it all, choose a pair in this category.
40%-80% VLT. Better for cloudy and flat light conditions. Not recommended for a general pair of sunglasses, but potentially consider these for overcast 3 season conditions.
80%-100% VLT. Little to no tint, nearly clear glasses. Not recommended to use while hiking. A pair with this VLT would do very little to reduce sun glare.
Darker colored glasses will have a lower VLT and will be great for all conditions use. A lighter tinted pair will be better for flat light conditions and will have a higher VLT.
Polarization vs non-polarized
A popular feature on hiking sunglasses is polarized lenses. Polarized lenses reduce glare and will overall have a darker tint, and protect your eyes from extremely bright conditions.
Other options may include photochromic lenses, which will change the tint depending on how bright your surroundings are. Photochromic lenses will be more popular when used for prescription sunglasses. Highly consider getting polarized glasses for a quality, all around pair of hiking sunglasses. However, some of the glacier glasses that work extremely well with snowy conditions are not polarized but are still safe to use in those specific conditions.
Lens materials
Polyurethane and polycarbonate are the two lens materials you will commonly come across with hiking sunglasses. Both materials will be flexible, durable and lightweight. However, polycarbonate will be more scratch resistant than polyurethane.
Best brands of hiking sunglasses
Oakley
This California based brand is known for its durable sunglasses in a wide variety of styles. The company has a background in ski goggles and all sorts of sunglasses. This experience has made them a front runner when it comes to hiking glasses. You might break the bank purchasing a pair from Oakley, but it is sure to be durable.
Native Eyewear
Native Eyewear is a Florida based company with a heavy emphasize on outdoor activity sunglasses. They have great polarized options that work great on the trail, and for around town as well. The company also has a great warranty and repair program.
Julbo
If you are looking for a pair of sunglasses to use while winter hiking, look no further.
Julbo is well known for their mountaineering sunglasses for high altitude use. While they may be overkill for a low-altitude hike in the woods, this French company creates some of the darkest lenses in the business.
Peppers
Peppers is also a popular hiking sunglasses brand. This brand is more budget-friendly than other top brands. Something great about Pepper's sunglasses is that they are all polarized and have 100% UV protection.
Sunglasses for hiking: Our top picks
For around town and on the trail
Oakley prides themselves with their patented lens material known as plutonite. Plutonite filters out UV rays quite well and provides a high standard of clarity. This stylish pair will fit your needs on the trail, and around town.
For on the trail
Lightweight, durable, and sharp optical viewing. These polarized sunglasses are great for all around conditions while hiking. Don't worry about throwing these in the top of your hiking daypack, the durability is perfect for some tough trails.
For multi-sport use
A budget-friendly pick for hiking, and your other multi-sport needs. These sunglasses wrap around your face and prevent sunlight from reaching your eyes. A 12% VLT provides that these polarized glasses will be perfect for bright conditions. The nylon frame will provide a long-lasting pair of glasses.
For high altitude and snow hiking
For these conditions, glacier glasses are your best bet. These glasses have a very low VLT and will protect you from stronger sun rays at altitude, and the high albedo effect of the snow. Julbo makes dozens of different glacier glasses designed for extremely bright conditions, often with full coverage around your eyes. The plastic siders on the glasses prevent any sunlight from reaching your eyes, even more so than some other glasses that wrap around your face.
For aggressive trail use
If you are looking for an aggressive pair of glasses that will do well with dirt and sweat, look no further. With an 11% VLT, these glasses work well in bright conditions. The design of the glasses allows for the pair to wrap around one's face and stay tightly on with ergonomic rubber nose pieces. Price: $206.
For trail style points
A rather different design than some of our other top choices, this pair is definitely the most stylish. These polycarbonate lenses only allow 15% VLT, providing they would do well even in sunny conditions.
For a durable pick for around town and on the trail
Another great lightweight pair of glasses, these are polarized and have 12% VLT. This pair features shatterproof lenses and 100 percent UV protection.
For full coverage trail glasses
Like having full coverage with your sunglasses? Something that covers your eyes completely and then some? Look no further. These polarized glasses from Smith have a 15% VLT and use a patented lens technology to increase clarity and color performance.