In this guide, you will learn how to choose the best hiking clothes and put together your go-to hiking outfits for different situations and weather conditions. Find out exactly what to wear hiking so you can take on the most challenging conditions and terrain.
If you are a beginner you may wonder why not just wear regular clothes hiking. While you can, it is not advised. Hiking clothes (and gear) are designed for performance, comfort, and safety. This is what you want when you are out on the trails all day long, or for extended backpacking trips.
Before getting into the best hiking clothes to wear on your hikes, let's quickly review some key dressing strategies and tips.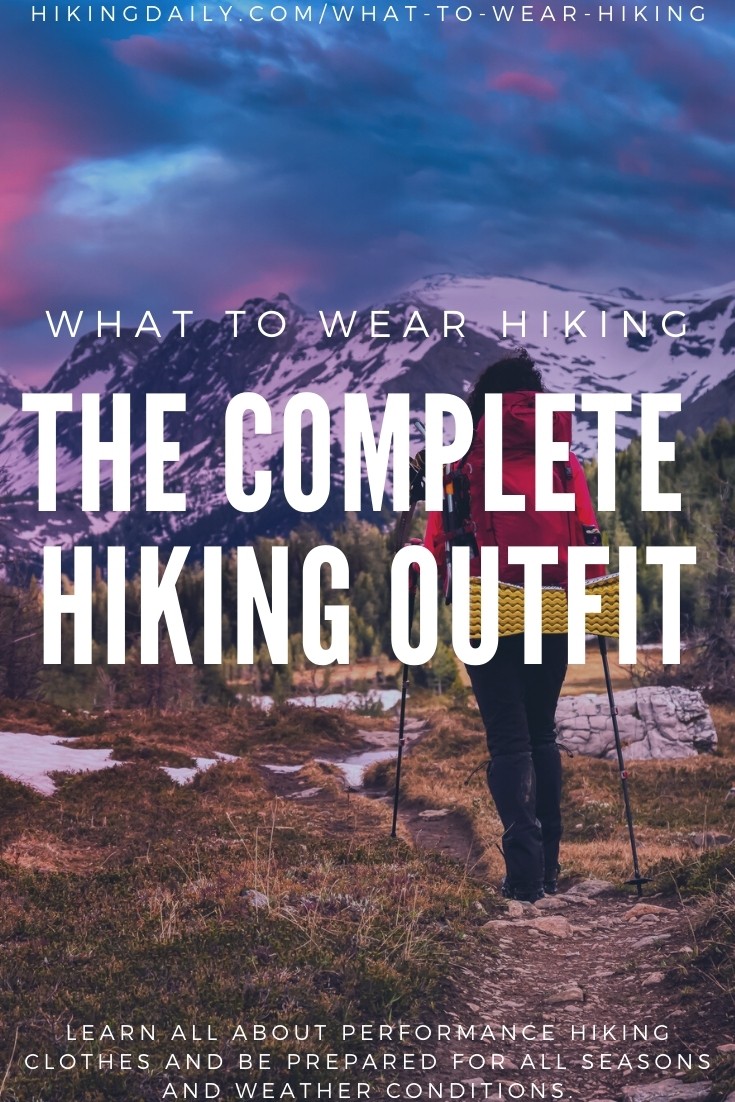 The Ultimate Hiking Outfit 2021
To learn about how to layer clothes, the best fabrics, and important features to look for, scroll down to the last section of this guide. Otherwise, read on, it is time to get you covered from head to toe in the best hiking clothes made by the most trusted brands. These are the newest and best hiking clothes and what to wear hiking in 2021.
Do you have an REI membership? For $20, can get up to 10% savings on everything you buy. Forever.
Base layers
Base layers are all about moisture management. They should be made of a fabric that will wick sweat away from the surface of your skin. Base layers may or may not have additional insulating properties with the inclusion of merino wool in the fabric blend. If you generally run cold, consider base layers with merino. If you run hot, a synthetic blend may be all you need. I am in the latter camp.
Hiking socks
If you do not have a pair of hiking socks I urge you to get some. Hiking socks are so comfortable and durable, they are all I wear now. Start with one lightweight pair and a mid-weight pair. Darn Tough makes the best socks. I have found they are most durable and will last for years. These are the specific socks I wear.
Quick-dry underwear
Once you try synthetic fabric, moisture-wicking, quick-dry underwear, for hiking you will never go back to regular underwear. Definitely, avoid cotton underwear because it is hot, damp, and bunches which can cause chafing and discomfort all day long.
All of my underwear is either ExOfficio, or 32 Degrees. I found performance to be relatively equal, yet 32 Degrees underwear is significantly cheaper, and perhaps more breathable and durable.
Moisture-wicking T-shirt
In summer months and warmer weather, I wear T-shirts that wick moisture and dry quickly. These are most often made of polyester or bamboo. I do not wear regular cotton T-shirts for the reasons mentioned, and especially due to excessive sweating. There is nothing cool about a "cool T-shirt" that is soaked in back and chest sweat all day. Right? These are some great basic T-shirts that will keep you cool and dry on the trails.
Long-sleeve base layers
In cooler weather I will wear a long-sleeve base layer next to my skin or on top of a moisture-wicking T-shirt. I carry one in my pack at all times, even in the summer, in case weather changes. It is amazing how warm a simple long-sleeve base layer shirt can be. I don't care much for style, just function and so the synthetic REI base layers work for me. You can get these base layers in a lightweight or midweight style. If you want a touch of insulation to your base layer, you can get one with merino wool.
Long underwear
During the winter I pull out my long underwear to wear as a base layer underneath a softshell or hardshell pant. My personal preference is long underwear made of synthetic materials because my legs tend to get hot. If you experience cold legs you may want to get a pair of long underwear that is a blend of synthetic material and merino wool for added insulation. Again, I like the REI offering, they work for me.
Check out our guide to the best base layers for hiking and backpacking for more top picks and information.
---
Mid-layers
Your mid-layers can be worn as a stand-alone item of clothing, or worn underneath your outer layer. The primary purpose of your mid-layer is insulation, and to keep you warm.
Hiking shorts
In summer months and warm weather, I will wear a pair of athletic style shorts with simple pockets that are made of synthetic fabric. I am a fast-moving, power hiker, so this makes sense for me. These are the top picks for an athletic-style pair of hiking shorts.
If a cargo short, with more pockets, and longer inseams is more your style, these are the most popular picks.
The other most common type of hiking shorts are those that have a lot of pockets such as cargo shorts. These are not my style, but they may be better for you if you are an easy-going type of hiker, or if you like to carry stuff in your pockets.
Check out our updated guide to the best hiking shorts for many more options.
Hiking skirts and hiking kilts
Want to have superior ventilation on the trails? Then a hiking skirt aka skort, hiking kilt is a great option. Check out our guide to the best hiking skirts for more details and the top picks.
Hiking pants
Hiking pants differ from regular pants because they are very durable. They are made of a nylon and polyester blend that won't tear if they snag on branches or other obstacles. These are the top picks:
Convertible pants are a thing that many men like to wear. I do not, it is just a personal preference. If you do like them, these are the most popular and bestselling pants at REI.
Long-sleeve hiking shirts
Long sleeve hiking shirts can be used in a couple of ways. Some long-sleeved shirts with collars can be worn as sun protection (arms and neck) in very hot sunny climates. Others can be worn as a lightweight layer over a base layer in cooler seasons.
Read our guide to the best hiking shirts to learn everything you need to know and to see the top picks.
Fleece jackets and pants
Fleece jackets and fleece pants are excellent for insulation. They are made of polyester. Fleece that is heavier in weight can even cut out some wind. Sometimes, I wear a fleece jacket as a top layer in cool weather. In the winter months, I wear them as an insulating layer under a hard shell. I prefer them over softshell jackets because they cost less, dry very quickly, and are nice and breathable.
When it comes to fleece jackets, I am not super picky. I own an REI fleece jacket that is very similar to the REI Co-op Groundbreaker 2.0 Fleece Jacket but was purchased a couple of years previous. It is also available for women.
Patagonia fleece jackets are the most popular and well known. I get the appeal. They are a touch more stylish compared to my REI fleece. I have owned Patagonia fleece jackets in the past. For now, I am good with my REI fleece. These are the most popular fleece jackets by Patagonia.
Fleece pants are cooler looking than they used to be and look pretty much like track pants these days. They are less boxy than in the past and more of a slim, streamlined, athletic cut. Fleece pants can be worn on their own, or underneath a hard shell pant for insulation in cold weather. This is the top picks for fleece pants.
Softshell jackets
Softshell jackets work much the same as fleece jackets. They can be worn as an outer layer on hikes during some seasons to stay warm. The weave is typically tighter compared to fleece. This means air flow and breathability is not quite as good as fleece jackets, and that they will not dry out as fast if they get wet. They are best worn as a standalone jacket in cool temperatures that you see in the Spring or Fall. Most can stand up to very light precipitation. Some softshell jackets have DWR finish to make them more weather-resistant. These are the top picks for softshell jackets.
Down sweaters and vests
Just like a fleece jacket, down sweaters or vests can work really well as an outer layer in cool weather, or as an insulating layer under a shell.
Patagonia is known for the most popular and best down sweaters and vests to use for insulation.
---
Outer layers and accessories
Your outer layer provides the protection you need in extreme weather. It keeps you dry and warm. Your health, safety, and even your life can depend on your out layer. Do not go cheap on hard shell jackets and pants. Like footwear, your outer layer is super important in determining your overall comfort level in the backcountry.
Hats
In hot and sunny climates or weather, always take a sun hat with you to protect you from the sun. Check out our guide to the best hiking hats for ideas.
In cold weather, I will take several different hats with me. A baseball-style hat, a lightweight winter hat, and a mid to heavy weight winter hat. Depending on weather conditions, I switch them up as I go.
Gloves
When the temperature drops bring a couple pairs of gloves in your pack in case there is precipitation. Sometimes, you need your hands to navigate steep terrain. Gloves will protect your hands and feel much better than without them on cold-weather hikes. I have a couple pairs of fleece gloves that I wear most often. In winter, you may require more protection than fleece provides. Enter windproof and waterproof GORE-TEX gloves. For more information, check out our guide to the best hiking gloves.
Buffs
A buff can be a good hiking accessory to have for sun protection and wind protection.
Sunglasses
I live in Colorado. It's sunny. I wear a baseball hat and sunglasses almost every day. If you are hiking in a similar climate or time of year, always take sunglasses and a sun hat for sun protection. I wear a pair of polarized Persol sunglasses on my hikes. I highly recommend getting some polarized sunglasses. Polarized sunglasses eliminate glare from shining directly into your eyes. Everything looks amazing which is a good thing when hiking and looking at beautiful scenery.
Windproof/waterproof hardshell jacket (aka rain jacket)
A rain jacket or hardshell jacket is one of those items that you should carry in your backpack. Always. It could be a lifesaver.
I just purchased a new one recently. I ended up getting the REI Co-op Stormbolt GTX jacket. It is the most affordable waterproof breathable packable 3-layer GORE-TEX Paclite laminate jacket that you can buy. So far, I love it and have worn it on summer, fall, and winter hiking days. Superb value.
Another top quality choice would be the Arc'teryx Beta LT that is available for men and women. More expensive than the REI Co-op Stormbolt but very effective.
Windproof/waterproof hardshell pants (aka rain pants)
Also, a key item to take with you if there is any chance at extended precipitation in cool weather. If you live in a wet climate like the Pacific North West (PNW), or British Columbia Canada, it is a good idea to keep these pants in your backpack all the time. Look for pants that have a 3-layer GORE-TEX Paclite laminate.
Packable insulated jacket
If you plan to hike in wintertime or in very cold climates a packable insulated jacket may be necessary to protect you from fierce wind and cold temperatures. This jacket should be windproof and waterproof.
The warmest option is a down-filled jacket. It has superior insulation qualities (when dry) compared to synthetic (polyester) insulation. However, when wet, down is inferior to synthetic insulation. This means that if you live in a climate that is cold and wet (PNW), you should probably opt for a synthetic insulated jacket. If you live in a dry climate (such as Colorado), a down-insulated jacket may be the better choice for you. Down insulation is much more expensive compared to synthetic insulation. Thus, if you are on a strict budget, a synthetic insulated jacket is going to work for you.
These are the most premium insulated and packable jackets:
Hiking shoes or hiking boots
Getting your hiking footwear right is super important. Nobody wants to be thinking about sore, uncomfortable feet on a hike.
When buying new hiking shoes or hiking boots, take the time to pick footwear that feels amazing on your feet. Try on and compare at least three different (but similar) pairs to determine what feels the best on your feet. Every brand has a slightly different feel to them.
The best hiking shoes and hiking boots are the ones that specifically fit your feet properly. I usually order three or more pairs at the same time, wear each of them around my house for a couple hours, and pick what feels best. If anything feels off (even just slightly) about a pair of shoes, it probably won't get better, and likely worse once you are on the trails. Be honest with yourself.
Top features you should look for and consider in hiking footwear:
Waterproof (GORE-TEX) breathable membranes if you hike in wet climates
Non-waterproof versions if you live in dry climates (they breathe better)
Leather, or half leather upper for durability and longer lifespan
Synthetic, abrasion-resistant upper for breathability (if you have hot feet)
EVA midsole for cushion and support
TPU or nylon shanks for added stability and underfoot protection
Rubber toe caps for foot protection
Multi-directional lug tread patterns for superior grip on ascents/descents
Deep (5mm) lug treads
Go for fit and function. Not fashion or what you think looks cool.
My current hiking shoes are Vasque Breeze AT Low GTX. I bought them because durability is important to me. I am hard on my shoes, and hike most often over very rocky terrain. These shoes are made with a 5mm thick nubuck leather upper, and the Vibram outsole is super tough. They also fit well for my wide feet.
Check out our up-to-date footwear guides for the latest styles:
Hiking Backpack
Another key item that you pretty much need to wear hiking to carry your supplies and gear.
I have had many different backpacks made by different brands over the years. My favorite backpacks are made by Osprey.
My current daypack is the Osprey Stratos 24 (check Osprey price). This backpack is sensational. Even when I stuff it completely full of gear, it feels like I am carrying air. This is due to the airspeed suspension, and the seamless hip belt. The airspeed suspension also keeps the pack off my back so I am always feeling cool and comfortable. Osprey packs are more expensive than others, but for good reason. I feel that this company puts way more time and money into their design process. The quality and features are just better. I have tried on pretty much every daypack, and the Stratos 24 was a clear winner. And, the All Mighty Guarantee warranty is unbeatable. They will repair any damage or defect, or replace the product, free of charge.
This concludes our guide on what to wear hiking. You may have some of this gear already. If not, slowly pick away at this checklist, so that you are fully prepared in the backcountry. Read on for some general tips about how to choose the best hiking clothes for the ultimate hiking outfits.
---
Hiking clothes: Strategies and other things to consider
Every hike is different whether that be the actual trail and terrain, or the weather and conditions that you encounter. For example, what to wear hiking in summer is very different to what you will wear hiking in winter. Or, what you will wear as a hiking outfit in a wet climate will be very different from what you will wear in a hot dry climate. Before heading out, take some time to consider the following.
Layering clothes
Layering clothes is an excellent strategy to embrace for your hikes. It will help you deal with changing conditions, regulate your body temperature, and remain comfortable.
How to layer clothes
There are three categories of layers to think about. The first is your base layer that helps to wick sweat away from your skin. The second layer is your mid-layer for insulation. And the final layer is the outer layer that will protect you from extreme conditions when required. All you have to do is add or subtract a layer depending on what you encounter. Totally easy.
Anticipate weather conditions
Check the forecast before you go. But also prepare for the worst conditions. Your health and safety rely on being ready for weather that can change quickly. You may be faced with sunnier, hotter, colder, wetter, snowier conditions than expected.
Focus on function and performance
It is most important to invest in clothing and gear that is functional and performs as expected. When it comes to a great hiking outfit, style points may have to be sacrificed. However, I would say that hiking clothes are cooler than ever and not as nerdy as they once were.
Price and quality
In most cases, you get what you pay for. Higher priced goods can cost you less over the long run. Typically more expensive hiking clothes (or gear) are more comfortable, durable, perform better, last longer, and weigh less.
Footwear
One of the most important things you will wear hiking is your hiking shoes or hiking boots. Invest in premium hiking footwear. Cheap, poor quality footwear does not last long and may cause blisters or even worse foot injuries.
Fabrics and fibers
Fabrics used is where hiking clothes greatly differ from regular clothing.
Key features and properties of fabrics
Hiking clothes are created for performance and these are the features that fabrics used can offer.
Moisture-wicking
This is important mostly for base layers but also mid-layers. Wicking is the ability to pull moisture aka sweat away from your skin so that you feel dry and comfortable.
Insulating
This is most important for mid-layers, and sometimes outer layers. Insulating fibers hold your body heat in the garment keeping you warm.
Waterproof and windproof
This is most important for your outer layer. A truly waterproof and windproof fabric will keep you protected and warm in consistently bad weather.
Breathable
Breathable fabric is important to have for all layers to keep moisture from building up and off your skin.
Waterproof and breathable
GORE-TEX fabric is the most popular and well known waterproof and breathable fabric. It is a membrane that allows moisture to escape while blocking wind and rain from penetrating your outer layer. Keep in mind many waterproof and breathable fabrics are not perfect and can struggle during persistent precipitation. Go for packable, 3-layer GORE-TEX for the best protection. 2-layer GORE-TEX may soak through in heavy rain.
Sun protection
Some clothing and hats will have an ultraviolet protection factor (UPF) rating. The higher the UPF the better. Look for fabrics that have at least 30 UPF, but ideally greater than 50 UPF.
Best types of fabrics for hiking clothes
These are the fabrics that work best for hiking. Many clothes are a blend of all three, and also with spandex or equivalent to add stretchiness.
Polyester
Polyester is durable, excellent moisture-wicking, dries quick but can be stinky. It is often used in base layers and mid-layers
Nylon
Nylon is most durable, good moisture-wicking, dries faster than merino wool but may produce odor. It is mostly used in outer layers that require extra durability.
Merino wool
Merino wool is soft, breathable, okay for moisture-wicking and durability, reasonably quick to dry, and naturally odor-resistant. It is typically used in a fabric blend with polyester or nylon for socks, base layers, and mid-layers such as sweaters.
Cotton
Most day-to-day clothes are made of cotton. Avoid cotton clothing. It doesn't wick sweat efficiently, can remain damp and cold or even freeze, and can potentially cause hypothermia.
---
If you are looking for additional women-specific clothing options be sure to also check out our complete guide to hiking outfits for women.
Also, check out our brand new guide on Fall hiking outfits.