Whether you are on a local day hike or multi-day backcountry expedition, food is essential to replenish your energy. Here is an ultimate guide to the best hiking food to help you prepare for your next adventure. These hiking food ideas will keep you moving all day long.
P.S. Whatever hiking food you choose to take hiking, there are two important things to remember. First, make sure to pack out all trash and organic waste. Not only is it just basic leave no trace ethics, but frequently visited and alpine environments have a much harder time decomposing organic matter. Second, don't feed wild animals! This disrupts their natural diet and makes them habituated to humans, affecting the safety of both the animals and other hikers.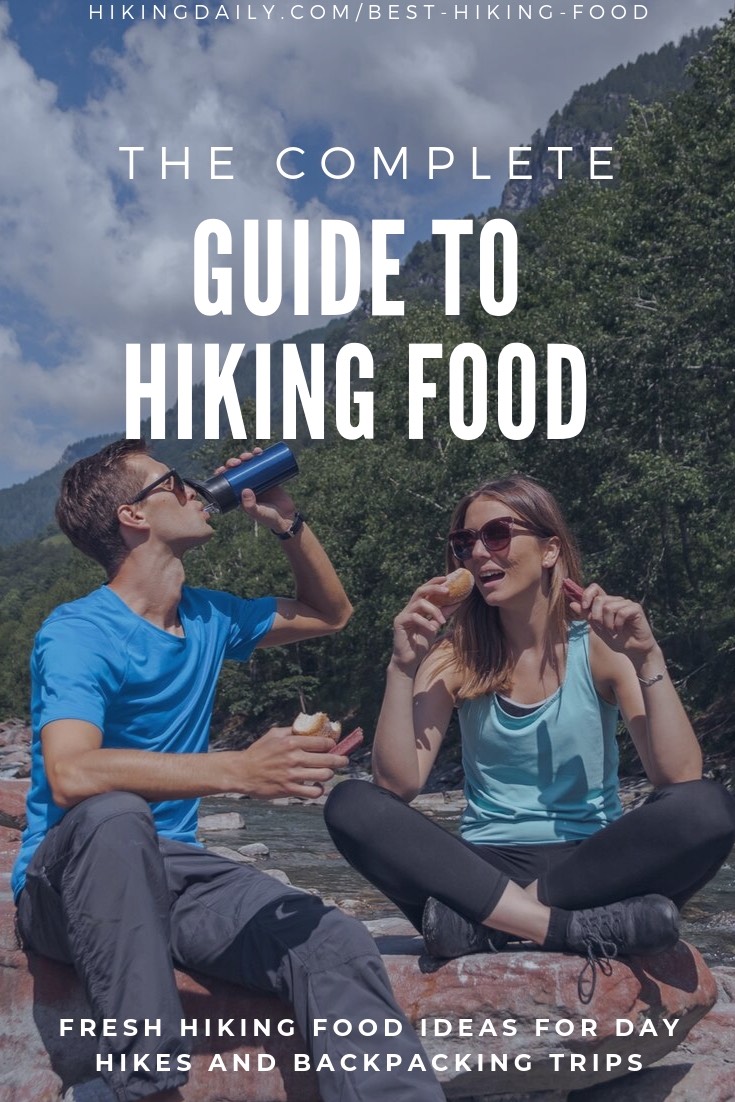 Food to eat before, during, and after a hike
Before a hike, carbs are key. Light breakfasts that consist of whole grain oatmeal, fruits, veggies, and eggs will break down easily and help you power through. Here are some of my favorites:
Greek yogurt parfait

Throw some granola and fruit on top of your favorite protein rich greek yogurt. Granola is a light and healthy carbohydrate that helps to maintain your glycogen stores and keep you fueled while hiking.

Peanut butter, banana, and honey bagel

As you sweat on a hike, your body loses potassium. Top a peanut butter lathered bagel with a banana to compensate!
During your hike, replenish your body with light, portable snacks. The nuts and pretzels in trail mix are rich in carbs and sodium, which comes in handy on hot, sweaty hikes. Other nutrient dense day hike snacks include granola bars, dried fruit, peanut butter, and whole grain tortillas.
After your hike, opt for protein and complex sugars. Anything from a spare Clif bar to last night's leftovers will help your body recover. No matter what, however, it is best to eat within one hour of your hike.
Hiking recovery food
After a full day of switchbacks and scrambling, your muscles will need time to recover. On this day, stick to light movement, like yoga or a long walk, to loosen tight muscles and keep the blood pumping. To aid in a speedy recovery, opt for protein, nutrient rich, and anti-inflammatory foods. If you're feeling fancy, salmon is rich in omega-3 fatty acids that reduce inflammation and protein to repair and grow tired muscles. If you want something quick and easy, throw in some chicken and your favorite veggies in a bowl to make a protein and carbohydrate rich loaded pasta.
Day hiking food ideas
On day hikes, you often don't have to worry as much about food weight. Due to this luxury, feel free to splurge on your next summit snack. Here are some of my favorite food items for day trips:
Bagel PB & J
I never fail to bring a few PB & Js on every day hike. The peanut butter is high in sodium, the jelly gives a quick sugary boost, and the whole grain bagel is packed with carbohydrates to help me refuel.
Trail Mix
Okay, this may seem obvious, but trail mix (especially when paired with dried fruit and seeds) is a hiking superfood. You will never regret bringing it.
Granola Bars
Granola bars are packable, lightweight, and not as bulky as other hiking foods. Before buying, check the ingredients – some cereal bars are ridden with processed sugars and won't sustain your energy. You can never go wrong with a Clif bar or Rxbar.
Hiking food recipes for long backcountry hikes (overnight) and backpacking trips
When planning meals for a backpacking trip, keep in mind the difficulty, altitude, and length. This will dictate what nutrients and how many calories you will need. Nonetheless, here are some general ideas:
Breakfast
Oatmeal – Instant oatmeal + dried fruit + nuts
Egg scramble – Powdered eggs + dehydrated veggies + eggs
Cereal – Granola + powdered milk + dried fruit
Lunch
Trail Mix Butter – Trail Mix + Peanut Butter + Honey
Cheese and Crackers – Cheese + crackers + hard sausage?
Nutella Wrap – Tortilla + Nutella + Banana chips
Dinner
Thanksgiving Dinner – Instant mashed potatoes + beans + instant stuffing
Burrito – Tortillas + instant cook rice + taco mix + beans
Loaded Chili Mac – Macaroni Noodle + Cheese + Beans + Chili Mix
Pro Tip: As part of the Hiking Essentials, always bring an extra day's worth of food. You can also use an online meal planner like this to make sure you are prepared.
Best dehydrated (freeze dried) hiking food brands
With the growth in popularity of backpacking, outdoor retailers like REI have seemingly limitless varieties of food to take in the backcountry. Although freeze-dried/dehydrated foods tend to be pricey, they are lightweight, packable, and extremely convenient. There are countless brands on the market: Mountain House, Backpacker's Pantry, Good-To-Go, and Patagonia Provisions to name a few. You will find at least one of these brands at any REI or local outdoor retailer. Choosing between them is up to personal preference! When purchasing freeze dried meals, you can mix up brands or buy a package from one. Check out The Weekender, one breakfast + two entrée, package from Good-To-Go.
Pro Tip #1: Many of these brands, especially Good-To-Go have great vegetarian, vegan, and gluten free options.
DIY hiking food vs store-bought
No worries if dehydrated, packaged foods are not in your budget. If you are feeling crafty or just looking to save, there are plenty of DIY options. Here is a step by step on how to make your own dehydrated meals:
1. Buy dehydrated food in bulk
Harmony House is a small, sustainable brand that sells dehydrated veggies, fruits, soup, and sauce in bulk. Rather than spend $12 on one dehydrated meal, you can spend $40 on a bulk order with 72+ servings – like the soup & chili sampler.
2. Pick a meal
Brands like Harmony House offers countless varieties of dried fruit, veggies, and sauces. All of these can be combined into a delicious summit breakfast or dinner at camp.
If you are unsure what to eat, check out our backpacking meal idea section or just look at packages from brands like Mountain House for inspiration!
What to include in the meal:
1. Carbohydrates
At your local supermarket, shop for quick cooking foods like couscous, instant rice/mashed potatoes, and thin pasta (like spaghetti).
2. Protein
Choose dry proteins like hard sausage, jerky, beans, and/or lentils. Harmony House provides an extensive variety of dried beans that are high in fiber and great sources of protein.
Pro Tip: TVP (textured vegetable protein) is a great vegetarian and budget substitute for meat. It is commonly derived from soybeans, which makes it an inexpensive, yet strong source of protein. Check them out here.
3. Healthy Fat
Almost 50% of your calories come from fat, so make sure you bulk up! Healthy fats can be found in cheese, dark chocolate, avocados, and nuts. Freeze dried cheese can be easily bought in bulk and remains a great addition to backcountry meals.
Pro Tip: Olive oil is a great addition to every trail meal, as they are almost pure fat. Pour some in a squeeze bottle like these from humangear.
4. Flavor!
Ever wonder why airplane food tastes so bad? The pressure change and dry air at high altitudes alters our sense of taste. As a result, on your trip in the backcountry, you will probably want more salt and flavoring than usual. Bring along a collection of your favorite salts and spices to fire things up.
Another option for DIY hiking meals is to invest in a dehydrator machine and learn how to freeze dry your own food.
Best food for high altitude hiking
At high altitude, hiking is a whole other ballgame. You breathe more, fatigue easier, and are easily dehydrated. As you travel higher, your body needs more liquids and more carbs. Due to the cold, dry air, your body requires more fluids and is at higher risk of frostbite and fatigue. Make sure you consume at least 1 liter of water every three hours. As for food, replenish your body with energy bars, whole wheat pancakes, pasta, oatmeal, and rice. A high carbohydrate diet will keep you fueled and can help prevent altitude sickness.
Pro Tip #1: At high altitude, high-fat and protein rich foods can worsen symptoms of altitude sickness. Although they are packed with energy, these foods, like eggs and avocados, require more oxygen to break down.
Pro Tip #2: As you venture higher in the mountains, your body needs far more calories. Avoid big meals, but make sure you are constantly replenishing with low-fat granola bars, nuts, and raisins throughout the day.
Thru-hiking food ideas
Backpacking foods have three requirements. They should be lightweight, ready-to-eat, and contain high levels of nutrition. The following sections provide ideas to help you push forward through the countless miles.
Best food for endurance hiking
Mountains are the land of cardio kings and queens. If you wish to catch up or are already one of them, eating foods with high carbs, moderate protein, and low fats will help stabilize your blood sugar and help you push forward. Pasta, jerky, oats, and dried foot are all energy boosting foods. Together, they will help maximize endurance. Here are some ideas:
Whole grain pasta and hard sausage (or nuts!)
Oatmeal and dried strawberries
Cheese, jerky, and crackers
Best lightweight / ultralight hiking foods
Do you want to go light and fast? When ultralight backpacking, every ounce counts. The best lightweight hiking foods are non-perishable, lightweight, and high in calories. These foods equate at least 100 calories per ounce.
Nuts & Trail Mix
Pasta, Rice, Instant Mashed Potatoes
Jerky, Pouch Tuna
Powdered milk, Breakfast cereal, Oatmeal
Energy/Granola Bars
Dried Fruit
Nut Butter
Freeze Dried Backpacking Meals
No-cook hiking food ideas
If you seek more freedom and flexibility, it may be time to ditch the camping pot and stove. First and foremost, however, only use this approach if you plan to hike for a few days and the weather is warm. On a longer trip and/or in a colder climate, the extra weight of a camping pot and stove is worth it and will help prevent unpleasant consequences.
Wraps and Burritos
Jerky, Pouch Tuna, and Hard Sausage
Breakfast cereal, Oatmeal, Granola
Energy/Granola Bars
Dried Fruit, Nuts, and Berries
Bagel Sandwiches
Crackers
Vegetable Salad
Cheese
If you are willing to invest the extra bucks, check out the ready-to-go, ultralight, nutrition packed greenbelly meals. They are faster and lighter than an add-hot-water meal, while still packing 33% of your Daily Nutrition of calories, carbs, protein, sodium, fats, and fiber. Even better, is each package weighs approximately 5.5 oz, making it a perfect solution for ultralight thru-hiking. You can buy them in packages of 4, 12, and 32 here.
Hiking Foods for Special Diets
Gluten-Free backpacking food
DIY Trail mix
Cheese sticks
Quest bars
Beef jerky
Rolled oats and dried fruit
Pro Tip: Almost every major backpacking meal company provides gluten free dehydrated meals. Check out Mountain House and/or Good To-Go.
Keto hiking food
Salami or hard sausage
Hard cheese
Avocado
Low Carb Protein Bars
Mayo/Olive Oil/Coconut Oil Packets
Nuts or Nut Butter
Tuna Packets
Jerky
Whole Egg Powder
Kale Chips
Paleo hiking food ideas
Grass-fed Beef Jerky
No-Bake Coconut Bars
Dried fruit
Nuts and Seeds
Olive oil
Dehydrated yams
Salami
Tuna Packets
Roasted Seaweed Packs
Kale Chips
Hiking food storage containers
I have yet to remove every dollop of spilled jelly in my Osprey backpack. Unfortunately, this incident occurred before I knew the secrets of food storage for backpacking. Not only are these tips and tricks helpful to prevent the occasional spillage, but important to prevent critters and bears from gnawing into your beloved pack and stealing your snacks.
If you plan to backpack in a national park or national forest, first check their regulations and recommendations for food storage. Many, especially in bear-inhabited areas like Rocky Mountain National Park, require bear-resistant containers and do not permit other methods of food storage. If you are found without one, prepare to pay a hefty fine.
In general, food storage methods depend on your environment, the length of your hiking/backpacking trip, and the weight you are willing to carry. Here are some options:
Bear-Proof Storage:
Bear Canisters
A bear canister is made of a hard shell with a lid that may require a coin or screwdriver to come off. While they are designed to fit in a backpack, they can be bulky and heavy (most weigh between 2-3 pounds). If you are a solo backpacker or just going out for the weekend, try the 7.2 liter BearVault BV450. For longer objectives or bigger parties, the BV500 maintains a low weight while providing 11.5 liters of storage.
Bear Bags
Bear bags are made of a tough polyethylene material that a bear can not open. They are lighter and more compact than bear canisters, so in areas in which a canister is not required, these make for a more packable option. They can be used individually or together with a canister – designate the bear bag for trash and non-essential items. You can separately purchase odor-proof plastic bags to deter bears and an aluminum liner to protect your food from crushing. For extra protection from bears and rodents, tie the bag to a high tree limb.
Pro Tip: If you don't plan to be in bear country, other bags like the Ursack Minor Critter Bag can keep your food protected from marmots and other mountain critters.
Metal Food Lockers
At some campsites or parks, you may find a metal bear proof storage locker. Here, you can store your food, trash, and toiletries. These lockers are often communal and sometimes won't have enough space for all your goodies.
Pro Tip: Protect your precious snacks and ensure the latch is closed! If not, the bears will absolutely take advantage of your mistake.
Other methods:
These methods can be used for day hikes, adventures in non-bear country, or paired with bear-proof storage.
Ziplock bags – Freezer bags, small zip lock bags
Travel-size leak-proof bottles – Reuse your empty and old travel shampoo bottles
Squeezable tubes
Tupperware
Pro Tip #1: Wash and reuse your zip lock bags. It will save you money and prevent needless waste. Additionally, many packaged foods already come in easily reusable plastic bags – some already have a zip lock.
Pro Tip #2: Put all your food in one food bag. This way it is easier to keep track of and you can hang it to protect it from being eaten by critters