Plain and simple – knives are cool. A sturdy knife or multi-tool are some of the most useful items to bring on any outdoor adventure. They can be used to prepare food, repair gear, widdle a perfect stick for s'mores, and even save your life in a backcountry emergency.
Due to their popularity and versatility, outdoor retailers sell a wide variety of designs, styles, and materials.
To help you find the best match, we have created an ultimate guide to multi-tools and knives for hiking.
Knives are definitely essential gear.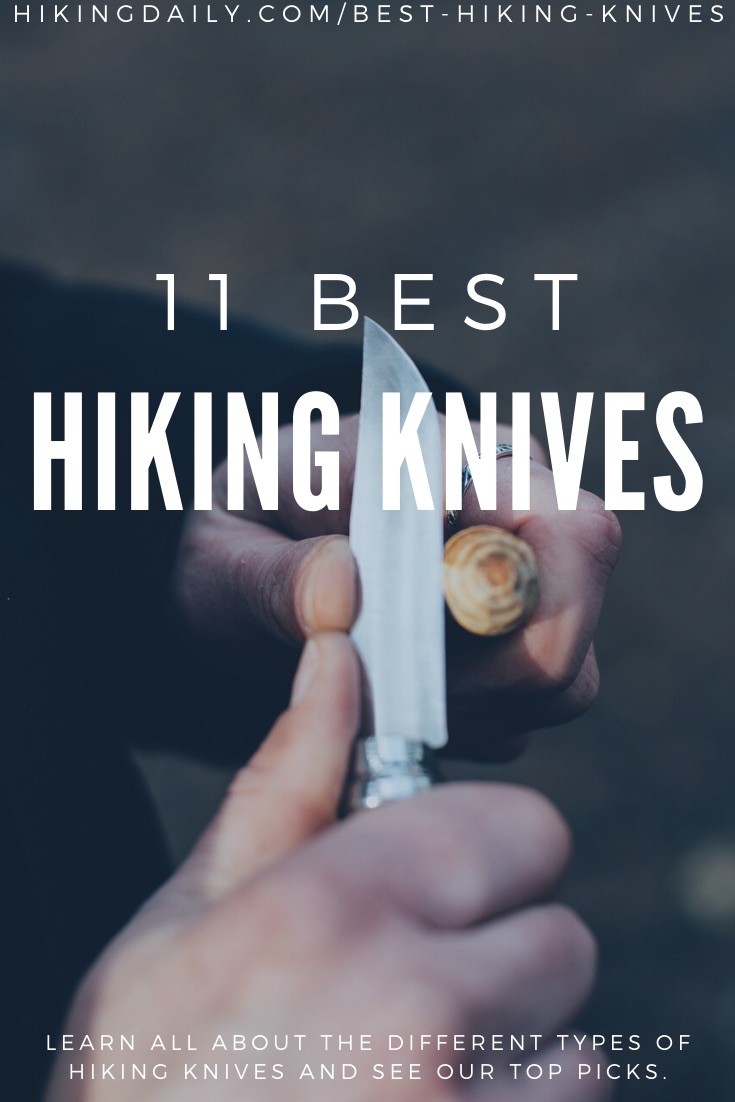 Types of Knives
There are three predominant types of outdoor knives: fixed blades, pocket knives, and specialized knives. Each knife has its specific strengths and weaknesses, so we have listed them out to help you find the perfect fit!
Further down our ultimate guide to hiking knives, you will find the top picks for each type.
Fixed-Blade Knives
No nonsense fixed blade knives boast more strength and heft than folding pocket knives. Fixed blades are the easy to clean choice of most soldiers, outdoorsman, and survivalists. It is a versatile tool for any adventure into the wild and a critical self-defense tool if the wild comes to you. Their primary drawbacks (though considered a strength to some), is their weight and size. To carry a fixed-blade knife safely when hiking, you will need a sheath to protect yourself and your blade.
Pocket Knives
Pocket knives contain packable, folding blades that make them a popular choice for hikers and backpackers. When folded, the sharp edge of the knife is protected by the handle so you won't need a sheath.
Switchblade or Automatic Knives
Not to be confused with an assisted opening pocket knife, switchblades/automatic knives have an automatic opener that allows for a quick release of a knife's blade.
Knife Features
Locking Blade
If you are having trouble choosing between a fixed-blade and pocket knife, a knife with a locking blade is your best bet. In a locking blade knife, the blade folds down for protected carrying but still locks when opened. This feature blends the packability of a pocket knife and the strength of a fixed blade.
One-Handed Opening
For quick access, some folding blades are equipped with a stud, notch, or cutout that allows you to open the knife with one hand.
Assisted Opening
Some hiking knives are designed with an assisted-opening that helps engage and fully open the knife. They are equipped with a safety lock to prevent the blade from opening accidentally.
Knife Tang
Knives are broken up by the blade, handle, and what connects the two. The connector is known as a knife "tang." A full tang knife, generally speaking, is much higher quality and much less likely to fail. A stick tang knife is often lighter, but are built for less demanding objectives.
Knife Blade Materials
Knife blades can be made from a number of different materials, most commonly steel – a combination of iron and carbon. When steel is melted, certain metal alloys may be added to change the steel blade's properties.
Carbon
Carbon is not an alloy since it is present in all plain carbon steel. Therefore, increasing the amount of carbon in steel increases the blade's hardness.
Nickel
Nickel improves corrosion resistance, toughness, and hardness.
Chromium
Chromium improves corrosion resistance, wear resistance, and hardness of steel.
Molybdenum
Molybdenum improves the hardness, tensile strength, and corrosion resistance, especially pitting caused by chemicals in the environment like chloride.
Vanadium
Vanadium improves the hardness, wear resistance, and strength of a steel blade by creating a grain structure. Most often, steel blades with a grain structure are preferred.
Steel Specifications
Additionally, there are different types of steel known as 'Specifications.' These specifications signify the amount of each alloy described above. Since most blades are made of stainless steel, here are three of the most popular types of stainless steel for your hiking knife blade:

420HC: 420HC is the most affordable type of stainless steel. It sharpens easily, resists corrosion, and provides adequate edge retention.
154CM: 154CM contains a higher amount of carbon than 420HC, which enhances a blade's hardness and edge retention.
S30V: S30V contains a high amount of vanadium and is considered a premium type of stainless steel. The vanadium improves the blade's wear resistance and hardness, allowing for the best edge retention out of all three types.
Rather than stainless steel, some knife blades are made with non-stainless, high-carbon steel. Though the carbon significantly improves a blades' hardness and edge retention, high-carbon steel blades are far more vulnerable to corrosion.
Knife Handle Materials
Knife handles are made of different materials designed based on your environment and personal taste.
Stainless-steel and aluminum handles are durable, but may feel slippery and sometimes cold in your hand.
Wood handles offer good grip and aesthetic designs but are liable to water damage.
Plastic handles are affordable and resistant to water damage but may be slippery.
Rubber handles provide great grip and are highly resistant to water damage, but fall short in durability.
Hiking Knives for Self-Defense
As a woman in the backcountry, self-defense is an important topic that always lingers in the back of my mind. While carrying pepper or bear spray is an effective substance to keep you safe, a hiking knife can double as a useful tool and a form of protection. The best knives for self-defense are longer, full tang blades like the Ka-Bar Becker BK22 Campanion we recommend below. Full tang blades are stronger than their pocket knife counterparts and will not let you down on the day you need it the most.

Ultimately, the greatest threats to your safety on a backcountry hike are animals, not people. However, it never hurts to know basic self-defense! Look for self-defense classes taught at your local YMCA, gym, or martial arts studio. In the time of social distancing, there are plenty of resources online. Check out some moves on Youtube!
Best Multi-Tools for Hiking
Price: $154.95
Weight: 8.89 oz
Number of Tools: 19
Materials: 420HC Stainless Steel, S30V, Titanium
Why We Recommend This Product: Every Dad and outdoor enthusiast will tell you the same thing: you can't go wrong with a Leatherman. Made in Portland, Oregon, each Leatherman knife comes with a 25-year warranty to repair or replace a broken tool. The Charge+ TTI is one of Leatherman's best sellers. Made of premium materials, this knife is sophisticated, comprehensive, and includes 19+ bits. It is the supreme knife that all multi-tools are compared to. The primary downside is its hefty price and weight. That being said, this multi-tool is great for a backcountry hike or multiday trek, but a bit overkill for a day stroll on your local trail.
Price: $82.41
Weight: 8.5 oz
Number of Tools: 18
Materials: 420HC Stainless Steel, Black Oxide
Why We Recommend This Product: Like the Leatherman Charge+ TTi, the Wave+ is a best seller. The Wave+ is a dependable hiking multi-tool with similar features as the Charge+ TTi, but less flashy materials.
Price: $69.95
Weight: 5 oz
Number of Tools: 7
Materials: 154CM Stainless Steel, Carbon-fiber, DLC Coating
Why We Recommend This Product: The Skeletool provides everything you need in a hiking multi-tool, with a better price and lower weight. With a low profile design, the Skeletool CX is easy to carry without sacrificing reliability.
Best Fixed-Blade Knives for Hiking
Price: $87.49
Weight: 16 oz
Knife Blade Type: Drop Blade
Blade Length: 5.25 inches
Overall Length: 10.5 inches
Blade Material: 1095 CroVan Carbon Steel
Handle Material: Zytel
Why We Recommend This Product: The Ka-Bar Becker BK22 Campanion is the perfect fixed blade survival knife. If you are looking for a reliable blade to keep you alive in the outdoors, this is it. It's bombproof materials keeps the blade sharp and allows you to chop and carve wood, but slice and dice your food in the camp kitchen right after. This hiking knife is sold with a heavy-duty polyester or a plastic sheath. At only $87.46, the Ka-Bar is our best budget pick as well!
Price: $189
Weight: 12 oz
Knife Blade Type: Drop Blade
Blade Length: 6.3 inches
Overall Length: 11.0 inches
Blade Material: VG-10
Handle Material: Kraton
Why We Recommend This Product: The Swedish made Fallkniven A1 is made of high-end stainless steel (hence the higher price). The VG-10 core retains the sharpness of this fixed blade's edge and is great at carving, skinning, and/or slicing. Easily sharpened and relatively light, the Fallkniven A1 is a great fixed blade for any survival, hiking, or camping adventure.
Best Pocket Knives for Hiking
Price: $130
Weight: 3.4 oz
Knife Blade Type: Straight Edge
Blade Length: 2.91 inches
Closed Length: 4 inches
Blade Material: 154CM stainless steel
Handle Material: Valox
Why We Recommend This Product: The Benchmade Mini-Barrage 585 is light, compact, yet incredibly durable. The 154CM stainless steel allows for smooth cutting and easy sharpening. It is built with an assisted opening mechanism, a smooth blade lock, and a helpful pocket clip. What makes this knife even better is that it comes with Benchmade's attractive warranty. Benchmade provides lifetime service for their knives and will sharpen your well-used blade for just a small fee.
Price: $160
Weight: 3.2 oz
Knife Blade Type: Straight Edge
Blade Length: 2.97 inches
Closed Length: 3.9 inches
Blade Material: CPM-S30V stainless steel
Handle Material: Wood
Why We Recommend This Product: Paired with a classy wood handle and an Axis locking mechanism, the Benchmade 15031-2 North Fork is an easy best seller. Its high-quality stainless steel will allow you to cut smoothly for countless adventures. It is only our number 2 pick because it lacks an assisted opening mechanism, which some may find very helpful.
Price: $78
Weight: 2.5 oz
Knife Blade Type: Clip Point
Blade Length: 2.75 inches
Closed Length: 4.5 inches
Blade Material: VG-10 stainless steel
Handle Material: Nylon
Why We Recommend This Product: The competitive price, big blade, and high-quality steel of this pocket hiking knife makes the Spyderco Delica 4 an enduring classic. At a closed 4.5 inches, however, it may feel bulkier than its compact competitors.
Best Ultralight Hiking Knives
Price: $66.50
Weight: 1.2 oz
Blade Length: 2.25 inches
Closed Length: 5.56 inches
Blade Material: VG-10 stainless steel
Handle Material: Fiberglass Reinforced Nylon
Why We Recommend This Product: This pocket knife provides all the reliable features you need for hiking without the extra weight. The fiberglass reinforced nylon handle provides an aggressive, multi-textured hold for great traction even with gloves or in wet conditions. The blade length is just enough to suit your camp kitchen and wood carving needs.
Price: $52.79
Weight: 0.7 oz (1oz with sheath)
Knife Blade Type: Straight Edge
Blade Length: 2.7 inches
Closed Length: 5.4 inches
Blade Material: Titanium alloy
Handle Material: Titanium alloy
Why We Recommend This Product: This is the ultra-ultralight hiking knife. This fixed blade is like a feather, but less ergonomic than the Spyderco Drangonfly 2 or other hiking knives with textured handles. However, if you are a minimalist looking for a large blade at a minimum weight, this knife is for you!
Price: $27.78
Weight: 1.6 oz
Knife Blade Type: (Multiple blade shapes offered including wharncliffe, tanto, and drop point)
Blade Length: 2.125 inches
Closed Length: 5.13 inches
Blade Material: 5Cr15MoV
Handle Material: Polished Resin Infused Fiber
Why We Recommend This Product: At just under $30, the CRKT Minimalist easily wins our best budget pick ranking. Equipped with a lanyard to help with retrieval and handle texturing to prevent your sweaty hands from slipping, this hiking knife is a lightweight, durable leader. If you purchase this blade, make sure to keep it dry and clean, as the blade material is more prone to rust than other types of stainless steel. Other than that one drawback, the CRKT Minimalist is a popular, cheap, and easy to handle knife for those who want stability and control.