Often times while hiking, our boots and hiking pants are just not enough to protect us from the elements.
Snow, mud, branches, and rocks can be a nuisance while hiking. This debris can get into our boots or shoes making the hiking experience quite uncomfortable. Hiking for hours with cold, wet, and muddy legs is just not that pleasant!
A great way to protect your legs from the elements while hiking is to use gaiters over your hiking pants and hiking boots. Hiking gaiters are one of my favorite items of hiking gear that I own along with microspikes.
Scroll down to learn more about gaiters, and to see our top picks (updated November 22nd) of the best hiking gaiters you can buy.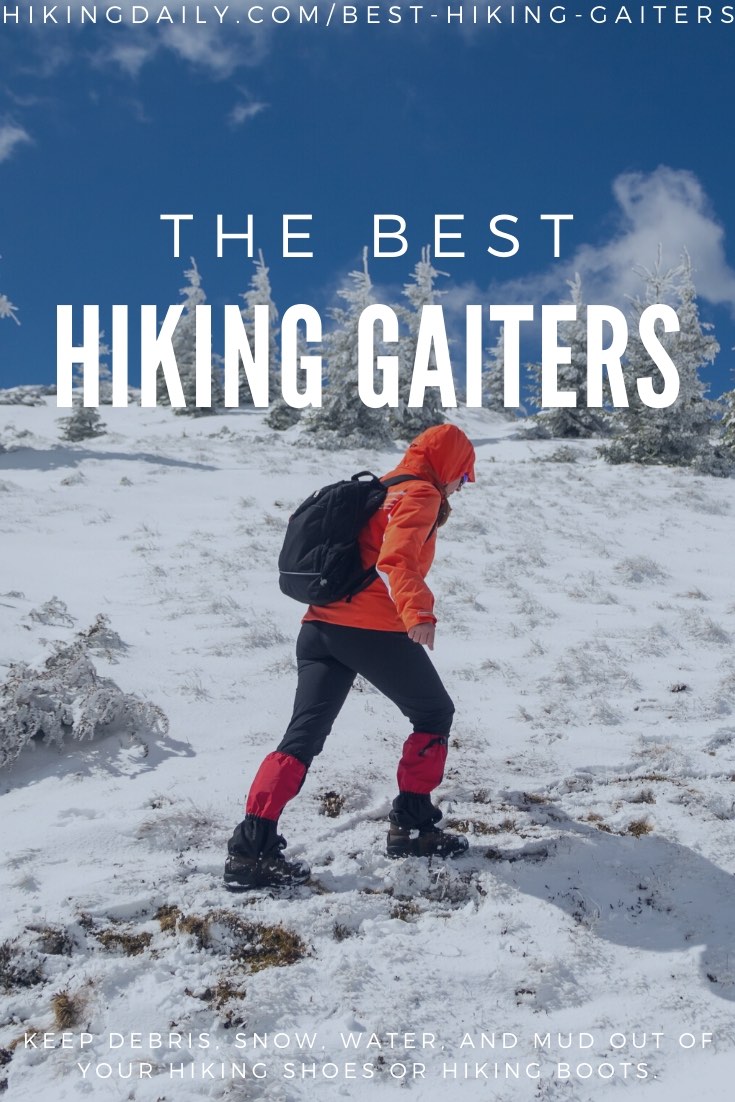 What are gaiters?
Gaiters are a layer of fabric that is put over your winter hiking boots and hiking pants in order to protect your legs and feet from the elements. They include a strap that goes under the boot, and then some sort of adhesive to keep the gaiter on while hiking. Gaiters are often made from waterproof or water-resistant material in order to keep you dry. They are most commonly made with nylon with some sort of weather-resistant coating.
The difference between water-resistant and waterproof gaiters is that the water-resistant gaiters will only repel small amounts of water. Water-resistant gaiters are best used for drier trail conditions. Waterproof gaiters would be recommended for snowy and wet trail conditions. Waterproof gaiters do tend to be more expensive and happen to be paired with more durable material.
Are gaiters effective?
Hiking gaiters can be incredibly effective at keeping your feet dry and comfortable. My experience is mostly using gaiters while hiking in deep snow. Last Spring while hiking on deep snow I wore my gaiters along with hiking shoes. My hiking buddy wore hiking boots with no gaiters. At the end of the day, my hiking buddy had very wet socks and feet due to snow getting into the boots. Because I had gaiters on, the snow barely made it into my hiking shoes. I experienced very minimal dampness right around the ankle.
So, yes, gaiters can be super effective!
When to use gaiters?
Gaiters are great for snow hiking and muddy and wet trails. They can also be a good idea for hiking off-trail where one might be hiking through branches and vegetation that comes up past the ankles. Gaiters are great at protecting the skin from abrasion.
Another time to use gaiters is when wearing microspikes or crampons. Gaiters are made with more durable material than hiking pants are made of. It is very easy to rip up hiking pants while hiking with micro-spikes or crampons. Gaiters can protect you from ripping your pants, and accidentally cutting your legs.
Gaiters can even be used to protect from biting insects while hiking in the summer.
What kind of gaiters should I buy?
Unlike other hiking gear, purchasing gaiters is relatively simple. The best way to categorize gaiters is into different styles. These different styles are meant for different trail conditions.
Low cut gaiters: Low cut gaiters are great for trail running and drier conditions. If you enjoy trail running as well as drier hiking trail conditions, pick these! These will be the lightest gaiters and will sacrifice some durability.
Mid-calf gaiters: These are great for all-around gaiters. Best for hiking in spring and fall when the trails are muddy and wet. Look for durability and waterproofness in mid-calf gaiters.
Knee height gaiters: Mid-knee gaiters are best for potentially very wet conditions such as winter hiking. These gaiters will protect your legs from deep snow. Durability and waterproofing are very important considerations for these gaiters. They will tend to be heavier and more expensive, but it will be worth the weight! These are the best gaiters for snow.
How to wear gaiters
To put on your hiking gaiters, first, adjust the buckle on the bottom of the gaiter. This is the size adjustment for the hiking boot. It should fit tightly on the bottom of the boot.
When putting them on, first take the bottom of the gaiter with the buckle and secure it to the bottom of your boot. On the lower cut gaiters, this could also be an elastic band. Just make sure to adjust the bottom of the gaiter first
Next, adjust the tab at the top of the gaiter. This can be a pull tab, velcro, or adjusted by an elastic band. Just make sure the gaiter is on there nice and tight!
Sizing for hiking gaiters
Sizing for gaiters is quite simple, it will be under a range for your boot size. It is recommended that you try on the gaiters before using them outside. Like socks, sometimes the size ranges are not perfect! Gaiters should fit snuggly over your boot and should not fall off while hiking.
---
Best hiking gaiters for men and women: Our top picks
These are our top picks of the best gaiters that you can wear hiking.
Low-cut gaiters aka ankle gaiters
Low-cut gaiters are perfect to use as trail running gaiters with your trail running shoes and microspikes in snow. Ankle gaiters can also be worn with hiking shoes or hiking boots. Keep out debris in dry conditions with some summer gaiters. Or, add some extra weather resistance during seasons when rain or snow is a factor.
These are the gaiters that I own and use with my Speedgoat 4 trail runners. They work great in snow or wet conditions. Or wear them to keep out dust, small rocks, and other debris on the trails. They are made of durable stretchy Kill Twill Cordura. These gaiters have an adjustable (and replaceable) strap that works for different types of shoes.
Check Price: Moosejaw | Amazon | Outdoor Gear Exchange
A budget-friendly choice, this gaiter is best when you want something light for drier trail conditions. Note these gaiters are not waterproof, although they will do well with light wet conditions.
Another budget-friendly choice, and this time even lighter. Best for attaching over hiking shoes and for low-commitment hikes, or even trail running. Best for keeping dirt out in very dry trail conditions.
These gaiters are made of lightweight stretchy lycra fabric. Best for trails with small puddles. These can fit over hiking shoes or trail runners.
These are interesting low to mid gaiters because they connect directly to your microspikes by Kahtoola. They allow you to create the ultimate trail running snow machines. They are constructed of lightweight, water-resistant, breathable stretch-woven nylon fabric. The front zipper allows for easy on and off.
Check Price: Moosejaw (Free shipping) | Amazon | Backcountry
Simple, lightweight gaiters to keep dirt, debris, rocks, sticks, and weather out of your shoes. A mix of nylon/spandex and polyester/elastane, the hybrid materials maximize overall durability, breathability, and weather resistance. These gaiters offer UPF 50+ sun protection. Perfect for fast-moving hikers and trail runners.
Mid-calf gaiters
These gaiters are great to fend off bugs, or if you need a bit more coverage and protection against persistently bad weather.
This pair of gaiters is designed to be an insect repellent option for hiking in the summer. Coated with insect repellent, this is a great use for a gaiter. Great for dry trail conditions. These are also available as a high gaiter.
Check Price: Outdoor Research | Backcountry | REI
The adjustment options on these gaiters will make for a tight fit. The zipper on the side of the gaiter makes for an easy way to take these gaiters on and off. These very lightweight gaiters are great for a little mud and drizzle, but not for extremely wet conditions.
These are a great waterproof option for a mid-calf gaiter. This is the most durable of the gaiters in the mid-calf category.
Knee height gaiters aka snow gaiters
These longer knee height gaiters are best for very wet weather or deep snow.
This pair of waterproof gaiters is our top pick for durability and waterproofness. One of the few gaiters with gore-tex on the market, this is the best choice for extremely rough trail conditions or hiking in the snow.
Another waterproof option, consider these for muddy and wet trail hiking. While not made with gore-tex, these gaiters will still be quite waterproof and durable. These gaiters are also available for women.
REI's knee-high gaiter comes with a great buckle to secure the gaiter while hiking. This is another great option for a durable, waterproof gaiter for winter conditions or rough terrain.
The REI Backpacker gaiters are also available in a mid-shin height.
More rugged, heavy-duty gaiters for the most extreme conditions. They will protect you from wet muddy trails, deep snow, and debris. These gaiters have GORE-TEX waterproof and breathable fabric to keep you dry. Adjustable webbing straps keep gaiters snug on your shins and calves.
Just like the low version mentioned above. This is a simple lightweight pair of gaiters that will help you drive through deep snow.
Outdoor Research Helium Gaiters (MEN | WOMEN)
Waterproof, lightweight, packable, knee-height gaiters for men and women. Waterproofing is Pertex Shield waterproof/breathable laminate with Diamond Fuse Technology that is also abrasion-resistant fabric. Features a drawcord in top hem, hook and loop front closures, and replaceable instep straps.
Looking for a pair of backpacking gaiters? These are a good pick. These gaiters offer 3-layer GORE-TEX protection for 4-season use in wet or snowy conditions. They are lightweight and pack down small for the days you do not need them. The Asymmetrical Aquaguard zippers won't rub your ankle bones when you move.
We use affiliate links and may receive a small commission on purchases. Please read our disclosure.