Hiking in the wintertime is a special experience – if you're comfortable. If not, it can be miserable. Here's how to put together a winter hiking outfit to stay warm and dry in all conditions.
In addition to the outfit, think about what winter hiking gear you may need. Hiking in winter is more dangerous for many. reasons – inclement weather can come on quickly, snow can obscure trails, and there are fewer people around, to name a few. Stay safe out there with these tips for snow hiking.
For any hike, the most important items are for comfort are boots and socks so keep reading because we saved the best for last. In winter, gaiters to keep out water and now and crampons for traction are also essential.
Here are some winter hiking tips plus what to wear.
1. Cover All Skin
Whether the winter conditions are cold, wind, and/or rain, be prepared to cover every inch of exposed skin – the hands, ears, face, and neck.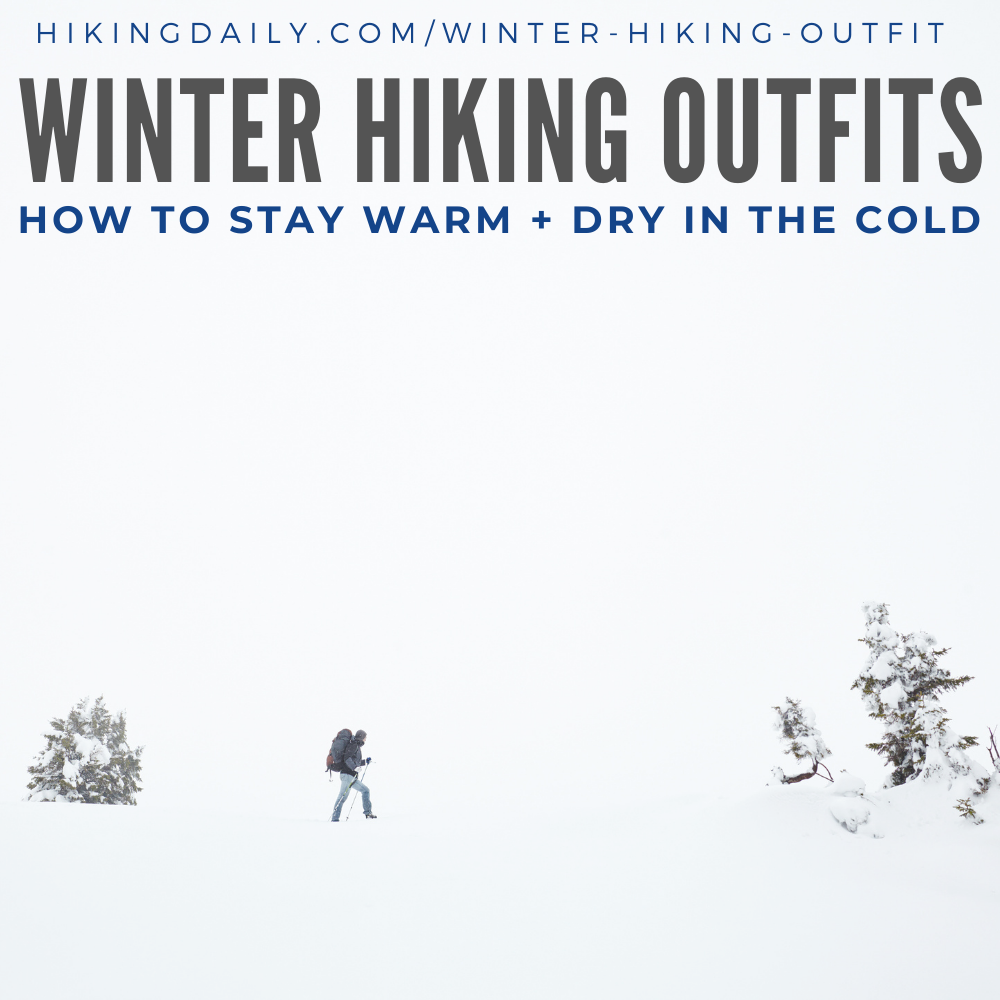 Hands
Pockets aren't enough to keep hands warm and relying on them can increase the chance of falls. The right winter hiking gloves or mittens are based on the conditions. Depending on the day or location, gloves may need to be waterproof, insulated, and/or windproof. I prefer mittens when it comes to staying warm. A pair of glove liners inside mittens or a glove shell can add an extra layer of warmth.
Ears + Head
While it is no longer thought that most body heat is lost through the head, ears get cold quickly and are one of the first body parts to get frostbite. Of course, a hood works to keep the head warm but I find that I lose some of my peripheral vision. Beanies cover the whole head but be sure to find one that isn't itchy along the forehead.
For higher activity levels, ear muffs or headband that covers the ears balances keeping ears warm and cooling you off.
Originally designed for railroad workers, this is a baseball-cap style hat with an earband that slides down when required. As much as I like ear flaps, this just looks cooler. There is also the Millie Kromer for women with a space to pull out a ponytail.
A fleece version of the trendy fisherman-style beanie, this cool cap keeps ears warm in style.
Smartwool Merino 250 Reversible Headband
This all-wool headband keeps ears warm without overheating plus it has an 80s aerobics vibe and a choice of 2 colors.
Neck + Face
Most jackets offer some neck protection but I find that keeping my neck covered makes me feel cozier. Keep the neck warm with a turtleneck layer, scarf, or gaiter.
Some weather can be so bad that the face needs coverage too. Closing up a hood can minimize facial exposure but for extreme conditions, there are balaclavas, and gaiters that protect the nose, cheeks, and face from the cold, wind, and sun.
Eyes
Reflections on the snow and ice can make wintertime even brighter than the summer. I like to wear my ski goggles on winter hikes because they cover more surface area and keep out the wind but sunglasses works as well. Make sure that they are at least UV400 to block 99.99% of the sun's rays. Polarized lenses are even better – they block glare for clearer, more accurate vision and less eye strain.
2. Knee-High Gaiters
Even with waterproof boots and pants, moisture can sneak in at the ankles and ruin the day. Stay warm and dry with tall gaiters that keep water and snow out all the way up to the knee. They are so effective that in some weather, you can get away with only heavy tights with shorts or a skirt and gaiters.
Outdoor Research Crocodile GORE-TEX Gaiters
Thanks to Gore-Tex, these gaiters are waterproof and breathable. Gaiters sizes correspond to shoe sizes and these are adjustable to fit all boots and work with crampons. They are so good that they made the Backpacker magazine Gear Hall of Fame in 2017.
Outdoor Research Women's Helium Gaiters
This version is waterproof instead of Gore-Tex but they are lightweight and sized for women. They can even be stuffed into a small pocket when not in use.
3. Microspikes
Winter can be slippery and that is dangerous. Adding traction devices is the equivalent of putting studded winter tires on your car. They are easy to take off and put on so bring them even if you only need them to walk on icy patches or a frozen lake.
Kahtoola Microspikes (best option / most popular)
These are the best available but far from the cheapest.
Hillsound FreeSteps6 Traction System
With 21 spikes on each foot, the FreeSteps keep you in control at a slightly lower price. They also are available in XS for women's. size 5 feet.
4. Comfortable Fit
The holidays can be a time of indulgence but keep an eye on how hiking clothes fit. Socks, cuffs, waists, or gaiters that are too tight can reduce circulation, making you feel cold.
5. Headlamp
With shorter days and generally darker conditions, a headlamp is a good idea even if you think you won't need it.
6. Keep Batteries Warm
Speaking of headlamps, batteries die faster in colder temperatures. Make sure all your devices – phone, GPS watch, headlamp – keep working by keeping them in an insides pocket or well covered.
7. Extra Food
Hiking through the ice, snow, or muck can be harder work, especially while expending energy to stay warm. Carry an extra snack or two just in case.
8. Layers For Winter Hiking
Winter hiking outfit layers are the same as for fall. The layers may be thicker or warmer but the concept of a wicking base layer, warm layer, and shell that blocks the elements is the same.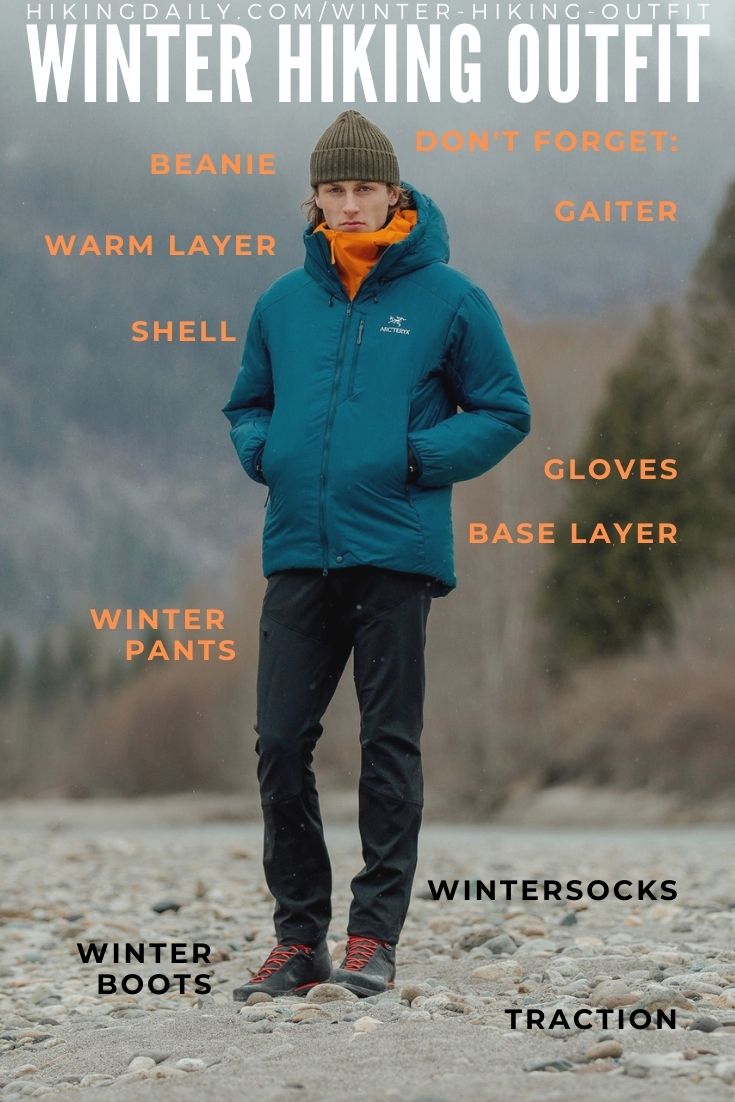 Base
As always, opt for synthetic, wool, or silk base layers in the winter. They wick away moisture and dry quickly, keeping you warm while engaging in activities. I feel like wool keeps me warmer than polyester but that's a personal preference.
These base layers work for any winter activity or just to stay warm.
Insulation
A warm layer adds padding to keep body heat in. That can be a heavy fleece or jacket insulated with synthetic or down filling. If the coat is also waterproof and windproof, you may not even need a shell.
Shell
You can't be warm if you don't stay dry. A shell blocks wind and water. Insulated jackets combine a shell and insulation so may be enough.
9. Bottoms
Winter Hiking Pants
Winter hiking pants need to block out wind and maybe also water. They can have a lining but for more control over your layers, opt for a shell and add a base layer. When I started winter hiking, my insulated ski pants were adequate for shorter adventures.
Bottom Base Layer
Whether or not an additional layer below the pants is required depends on the hiking pants, weather conditions, and sense of warmth. I like to add a pair of knee socks, thin long johns, or fleece-lined leggings, depending on the conditions.
Warmest Base Layer Bottoms For Men
They're called leggings but these are traditional men's long johns with a fly made completely out of wool. For even more worth, Icebreaker also makes 260 weight wool bottoms.
Base Layer Leggings For Men
Arc'teryx Rho AR Base Layer Bottoms
Arc'teryx may be known for their shells but their base layers are also excellent. Polartec Power Stretch keeps warmth in while wicking away sweat. They can be worn alone for winter runs, nordic skiing, or as a base layer.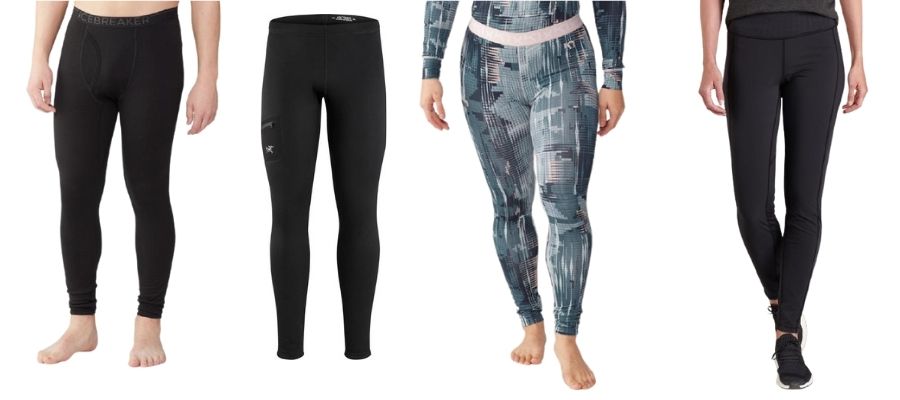 Base Layer Bottoms For Women
These patterned leggings are cute enough to wear on their own and wick away moisture. They also make matching tops.
Windproof Leggings For Women
Kuhl Toasty Transcendr Leggings
I have bought and worn a number of leggings that claimed to be windproof but weren't. These can be warm enough for winter hikes even without anything on top.
10. Socks For Winter Hiking
Wool socks are always the best hiking socks. They keep feet cool in the summer and warm in the winter. Regular hiking socks may be warm enough when worn with insulated footwear. If not, sock liners can also keep feet warmer and tend to be cheaper than new socks.
Keep in mind that with thicker socks, hiking boots may need to be a half size larger.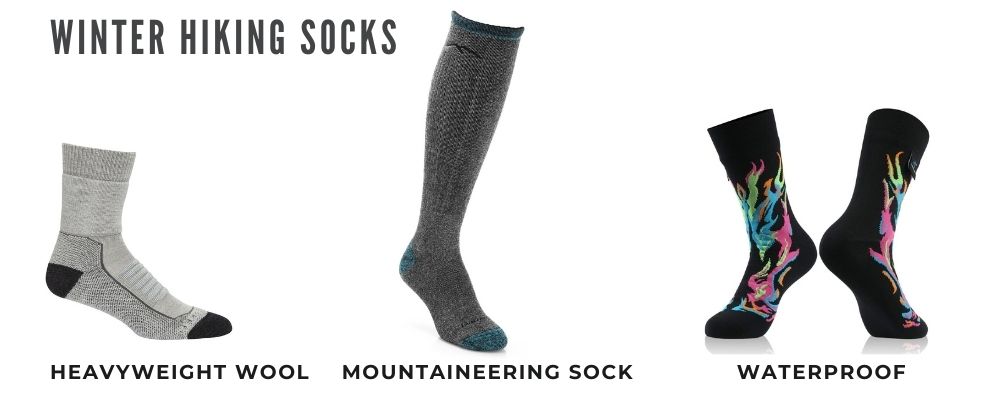 Winter Hiking Socks
Heavyweight socks with full-cushioning keep feet comfortable in cold weather and for extended hikes.
Mountaineering Socks
Darn Tough Mountaineering Socks (MEN | WOMEN)
In addition to the heavyweight wool blend and full cushion, these over-the-calf mountaineering socks add an extra layer of warmth up to the knee. This can act as the only base layer below pants or an additional one.
Waterproof Hiking Socks
The outer layers keep water out while the inner layer breathes. These socks are on the thicker side.
11. Hiking Boots For Winter
First off, boots are the best choice for winter. There is everything from low-cut to mid-shin boots. Gaiters help keep out snow but the higher the boot, the easier it is to keep out snow as well as cold.
Other than that, winter hiking boots should be waterproof and insulated. Waterproof because snow melts and insulated because warm socks aren't enough.
That's everything you need for a winter hike. As always, it is better to be over-prepared than under.