Hiking preparation and planning for day hiking, backcountry hiking or thruway hiking is super important. This comprehensive hiking gear list will help you prepare for your hiking adventures.
These items will definitely make your time out on the hiking trails much safer and more enjoyable. This hiking gear list is a very comprehensive list. Scale it up or down depending on the type of hike that you have planned.
Think about where and when you will be hiking. Consider the time of year, weather, terrain, altitude, and environment. Then pick and choose what you need to take on your next hiking trip.
No hike is the same. The collection of hiking gear that you bring with you should reflect this fact.
Before you head out, make sure you have what you need.
This hiking gear checklist covers every type of hike and scenario that you can imagine.
Whether you are a beginner hiker or a more experienced hiker there is probably something you have overlooked. So read on and get prepared!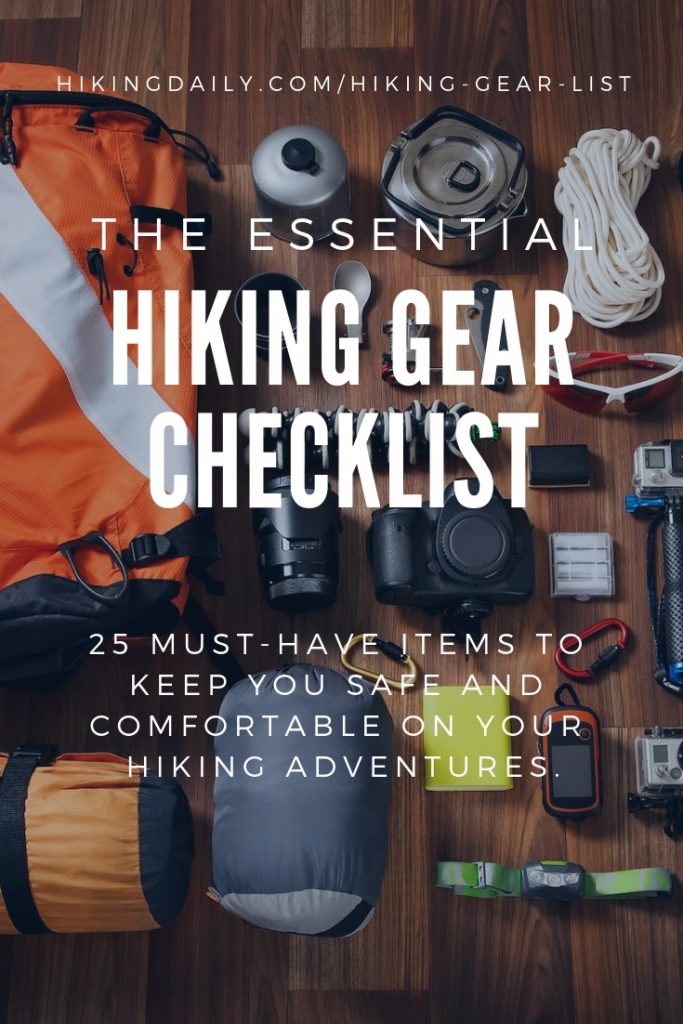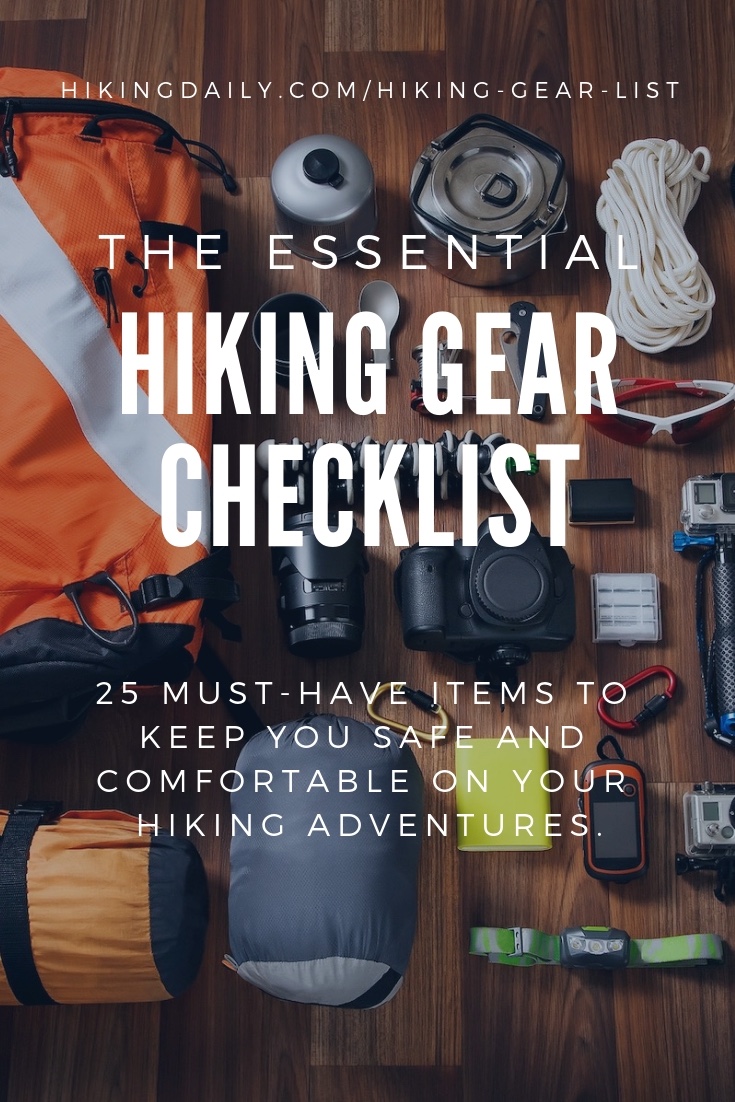 The Essential Hiking Gear Checklist (25 Must-Have Items)
Let's start with the must-have hiking gear essentials.
This hiking gear list is an expansion or extension of the well known "10 Essentials" list.
This list is perfect for beginners and for the most experienced of hikers. These essential items can help you stay safe and be comfortable on your hikes. Everything on the list easily fits in a small to medium size backpack. Having this gear on hand could be the difference between life and death for you or your hiking companions. This hiking gear list covers everything you need and explains why you need these essential items.
1) Durable footwear (hiking shoes or hiking boots)
Invest in hiking footwear that is durable, protective, and comfortable. Proper hiking shoes or hiking boots will make your feet happy. You will have a better time on the trails. I look for footwear that offers a durable soul (Vibram souls) and has a solid tread for grip. Footwear that has waterproof fabric like Gore-Tex is a plus. In the Summer or warm climates you may want to consider hiking sandals.
Avoid regular footwear or running shoes. Your feet will get pummelled by rocks (squishy souls). And you will slip and slide all day long since the treads on regular footwear are not adequate for most hiking trails. Regular footwear will result in bruised feet, blisters, and possibly injury. Don't do it.
Check out the best hiking footwear to get this season:
Pro tip: If you you want super comfortable feet get some aftermarket insoles. These are the best insoles for hiking.
2) Backpack, day pack, or fanny pack
Carry all the items on this hiking gear list in a comfortable, lightweight, durable backpack/daypack.
A 20-35L pack should be sufficient for half day hikes. If you plan on doing all-day hikes than get a daypack that is closer to 35L.
Planning on weekend hikes (1-3 days) or Winter hikes? You should probably get a backpack in the 40-50L range.
3) Food (meals and snacks)
Always be sure to pack enough food. Take a little extra just in case. This is especially important if you are doing long distance hikes or hikes that gain a lot of elevation. You need enough food energy to get the work done. Bring energy food and drinks (bars, gels, chews, trail mix, drink mix) that are compact and effective.
4) Water (and bottles, filter, purification tablets)
Take at least 1L of water for every hour that you expect to be out on the trails. In hot weather, you might need even more water.
If you are planning to be gone longer than a day take a water filter or water purification tablets. Then you can tap into local water sources and avoid getting an infection like Giardia aka beaver fever. Or take a water filter/purifier.
Get lightweight insulated water bottles if you want to keep your water cool. Also consider getting a hydration bladder to put in your backpack so that you can easily sip water as you hike. I like to store water in my backpack using a water bottle, and drink from the hydration reservoir hands free which you can replenish as required.
If you are hiking in the Summer or in hotter climates you might want to add hydration powders or tablets that contain electrolytes to your water.
5) Lightweight waterproof / windproof shell (rain gear)
If there is any threat of bad weather taking a lightweight waterproof and windproof shell in your pack is a good idea. Rain gear will help you to stay dry, warm, and avoid hypothermia.
6) Extra clothing (layers)
If weather conditions are variable you will need to bring extra layers of clothing.
If you are making substantial gains in elevation you may also need to bring extra layers. We recommend carrying a variety of hiking shirts.
My local hikes gain about 3000 feet and the temperature can drop 30F by the time I reach the summit. Thus, I always carry either a long sleeve synthetic material shirt and/or a lightweight merino wool sweater in my pack. Both provide tremendous insulation for their compact size. Synthetic or wool fabrics are best since they keep you warm and dry by wicking away moisture.
Avoid cotton clothing. Cotton it is heavier and doesn't dry quickly (hypothermia risk).
7) First aid kit
Accidents and injuries happen. Hiking is of course particularly hard on the feet. So be prepared.
If you are a regular hiker buy a pre-packaged first aid kit or carry a DIY kit.
At very minimum, bring: moleskin, a variety of band-aids, bandages, sterile dressing pads, a gauze roll, small roll of adhesive tape, knife or scissors, tweezers, antiseptic towelettes, pain relievers (ibuprofen), antihistamines, immodium tablets, and a space bag/blanket (to treat hypothermia victims). All of these items can be easily carried in any size pack.
8) Sun protection (sunglasses, sunblock, hat)
The sun and heat slow you down and can make hiking more difficult.
Sun protection is a must if you are in hot sunny climates.
Sunblock, sunglasses, and hiking hats are even more important when you are hiking in the mountains. I am still surprised at just how powerful the sun is in Colorado compared to lower elevation places that I have done hikes.
9) Navigation devices (GPS mapping device or watch; and compass)
For local, half-day hikes I use hiking apps on my phone to track where I have gone and where I am going.
Both the Hiking Project and AllTrails apps are fantastic. As long as I stay on the trails I am not going to get lost. My iPhone 7 battery lasts about 5-6 hours while using these apps.
For longer, more remote, less traveled hikes taking a navigation device such as a handheld GPS unit, hiking watch, or a compass is a very good idea.
10) Paper (topographic) map
If your digital devices fail or the battery time runs out you should have a paper topographic map available. Combined with a compass you can get yourself from point A to point B. If you can, get a waterproof and tear-proof map.
11) Fire (windproof lighter, waterproof matches, fire starter)
If you get lost you will want fire to stay warm, keep predators away, and to help yourself get found by help.
I recommend bringing a windproof lighter, waterproof matches and fire starter. This is especially important if there is any chance of high winds, rain or snow.
Practice lighting a fire at home so you know how to do it in the outdoors.
Here are some tips to lighting a roaring fire:
Use birch bark or dry pine needles as a natural fire starter
Start with kindling (small twigs and sticks)
Build your fire from small (kindling), to large (tree branches), to larger (logs)
12) Flashlight or headlamp
If you are hiking and camping overnight you will need a source of light.
Flashlights are good if you want a very strong beam.
Headlamps are a good option if you need your hands free to work in the dark. They are ideal for tasks such as setting up camp or cooking.
13) Sewing kit
Rips in tents, sleeping bags, and clothing do occur. Bring small scissors, safety pins, straight pins, a variety of sewing needles and a spool of strong thread. I would also recommend a synthetic patch kit for tents or sleeping bags.
14) Knife or multi-purpose tool
Bring a knife or a multi-purpose tool to enable quick fixes. Hiking knives are good for protection, cutting meat, or to make explosive kindling to start your fire.
15) Whistle
Bring a whistle in case you get lost or for an emergency. The sound will travel way further than your voice and will help you save your energy.
16) Insect repellent
If you are hiking in the Spring, early Summer, or in the tropics insect repellent is a very good idea. If you are particularly sensitive you might want to invest in a bug hat or a bug shirt.
17) Bear deterrent spray or stun gun
I carry both bear spray and a stun gun for my protection against predators.
Attacks on humans are rare but why not be prepared for a small price?
18) Emergency Survival Bag/Blanket
If there is any slight chance of getting lost overnight or in adverse weather conditions carry an emergency survival bag or blanket. They are small and light to carry and could save your life if there is any threat of hypothermia.
19) Small binoculars
A small pair of binoculars is good for navigation and complements your paper map and compass. They can help you find your way to safety if you become lost.
20) Camera
Take photos of your hikes for fun and for memories.
21) Cell phone
Bring your cell phone to take pictures and videos or to use as a navigation and emergency device.
Keep in mind that your connection can become weak or non-existent in many remote hiking destinations. If so, you might want to invest in a satellite communication device.
22) A satellite communication device (if you are beyond cellular range)
If you plan to hike in remote locations investing in a satellite communication device aka satellite communicator device is a very good idea.
These devices allow you to send text messages to regular mobile phones in the event of an emergency. You can instantly send a message with your exact location if you require help.
Check out our Garmin inReach Mini review to learn more.
23) Solar or portable power (to charge your devices)
If you are doing an overnight or longer hiking adventure bring a solar or portable power device. Then you can charge your devices and other batteries.
24) Toilet paper
Always good to have whether you are doing a short day hike or an extended hike.
25) Garbage bag
A simple garbage bag or two has many benefits and doesn't take up much room.
Carry stuff
Store stuff
Waterproof/weatherproof stuff
Use as rain gear
So there you have it, the ultimate hiking gear list to be safe and comfortable.
Bookmark or print this list now so you can refer to it before your hiking adventures.
But what about those special hiking scenarios? If you are bringing your kids, your pets, or are hiking in bad weather, you will want to expand on this essential hiking gear list.
Let's dive in to the bonus section.
Kids Hiking Gear List
Hiking with kids, toddlers or babies is a totally different experience and requires additional equipment and supplies to make your hikes most rewarding.
You want to make sure that kids are comfortable and energetic. Otherwise your hiking adventure might be short lived.
The most important hiking gear for kids:
Comfortable hiking shoes or boots
Sun protection (hat, sun glasses, sunscreen)
Small kids backpack (let them carry their stuff)
Baby or toddler hiking carrier (for when they get tired)
Extra diapers and wipes
Extra clothing in case of accidents
Dog Hiking Gear List
If you hike with a dog than you must prepare for your canine companion.
These are the most important items to consider for your dog.
Dog hiking boots -> great for rugged terrain and long hikes
Dog hiking backpack -> dogs love to help so get them to carry some gear in a pack
Collar or harness -> for visibility and control
Leash -> for on-leash trails
ID tag or microchip
Water -> carry 8 ounces per dog per hour
Collapsable bowl -> make it easy and efficient to give your dog water
Food and treats -> keep your dog energy levels up
Biodegradable bags -> manage and carry out your dog waste
Canine first aid kit -> bring basic supplies for common dog injuries
Clothing or jacket -> be prepared for adverse weather conditions
Dog hiking backpack carrier -> to carry your dog if it doesn't have the energy
Hiking Gear For Rain
Hiking in the rain can be just as pleasant as hiking in dry sunny warm weather.
Preparation is the key to a happy wet weather hike.
If you are planning an extended hiking adventure that could get stormy add these extra items to your hiking gear list.
Appropriate rain gear with vents (pit zips)
Rain hat -> keep the rain off your face and eyewear
Pack rain cover -> essentially a rain jacket for your day pack
Lightweight dry sacks -> pack your stuff in a dry sack and put in your day pack
Waterproof cases -> for phones or gadgets
Waterproof matches or fire starter kits
Ziplock plastic bags
Trash / garbage bags
Gloves or hand warmers
Trekking / hiking poles -> for slippery conditions
Extra blister and foot care supplies
Camping / multi towels / bandana -> to wipe away dampness
Clothing Tips For Wet Weather Hiking
Avoid cotton clothing (it holds water, will chill you and can cause hypothermia)
Wear wool or synthetic materials (nylon or polyester) that wick moisture away
Assess your rain gear and make sure it is in working order
Check your footwear and make sure that it will protect and keep your feet dry
Pack gaiters to keep your socks and the tops of your footwear dry
Bring extra layers of dry clothing, especially hiking socks
Winter Hiking Gear
If you want to hike in snowy or cold Winter conditions you will need to bring additional Winter hiking gear to stay dry and warm.
This is the basic gear you will need for Winter hikes.
Insulated hiking boots (for -20F or colder conditions)
Warm thick socks
High gaiters to keep snow out of your boots
Fleece or wool hats (2 at minimum) -> one lightweight and one heavier weight
Insulated gloves with waterproof shell (2 pairs minimum)
Insulated jacket with hood
Waterproof and windproof hard shell jacket and pants
Mid-layer insulation -> fleece jacket, pullover or vest
Base-layer insulation -> synthetic long sleeve shirt + long underwear
Microspikes for traction
Snowshoes for deep snow
Spare clothing (socks, long sleeve shirt, long underwear)
Face mask
Goggles
Check out our complete guide on Winter hiking gear for more information.
Camping Gear For Longer Backpacking Hikes or Thru-Hikes
Are you planning to head out on multi-day hiking, backpacking or thru-hiking excursions?
Then you will need some camping gear to be completely self-sufficient on your travels.
These are the most important items to consider for longer hikes.
Larger backpack with rain cover
Ground tarp
Sleeping bag and pad
Backcountry kitchen

Stove + fuel
Cooking set + pot grabbers
Eating utensils
Dishes/bowls
Cup/mug
Collapsible water container
Biodegradable soap
Small quick-dry towel
Bear proof canister or sack (and nylon cord to hang)

Proper meals, extra snacks
Hiking Toiletries

Toothbrush + Toothpaste
Lip balm
Sunscreen
Trowel
Toilet paper

Extra clothing (moisture wicking underwear, long underwear, quick dry hiking pants, fleece pants, gloves, warm hat, an insulated jacket or rain gear)
This concludes our ultimate hiking gear list. No matter what kind of hiking trip you have in mind you will now be prepared. Get these hiking gear essentials for beginners (and experts), get outside and have fun.
We use affiliate links and may receive a small commission on purchases. Please read our disclosure.