Hiking in snow and ice can be slow, frustrating, and dangerous without proper winter traction devices.
This is why microspikes, ice cleats, and crampons exist.
The grip of these traction devices on rock-hard ice and in deep snow is phenomenal. They make hiking in Winter super fun.
For most hikers, microspikes and ice cleats are sufficient. Mountaineers use crampons in more extreme deep snow conditions and climbing situations.
Why slip and slide around the trails when you can strap into the best winter traction devices and confidently walk safely?
In this guide, we cover the newest and best microspikes for hiking over ice and snow.
If you hike throughout the year and live where winter is real, you should get some microspikes!
Of all my hiking gear purchases, I have squeezed the most value out of my microspikes. For the past five years, I have used the same pair. They are still sharp and bite into ice and hard-packed snow with ease.
The first step I took into ice and snow wearing my microspikes put a smile on my face. They are so much fun to wear. This is what claws feel like.
Without delay, I will reveal the best microspikes for hiking, running, and backpacking. There is no point in waiting because the number one choice and best brand are obvious.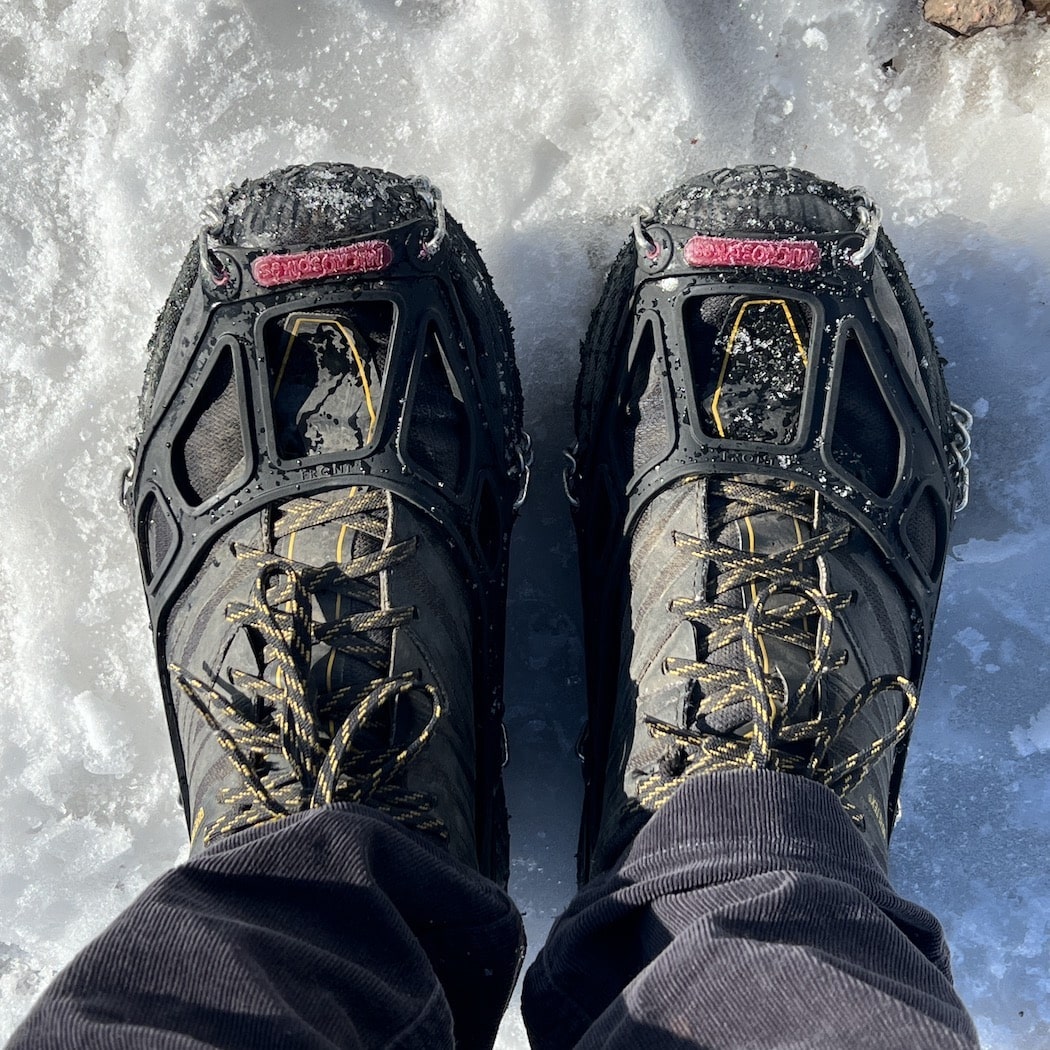 Best overall pick for most hikers: Kahtoola microspikes
The best microspikes that you can buy are the original Kahtoola Microspikes. They are the best winter traction devices for hiking. I have been using mine for five years. They still work as they did when brand new. So dependable.
Kahtoola microspikes are also available in red or black colors.
Okay, so now you know the best option for most hikers.
I do not know any hikers that use a Kahtoola alternative. However, I will cover some background information and review the other options that may suit your needs. Let's get into it.
Kahtoola Microspikes vs Yaktrax vs Black Diamond Traction Devices
The three most popular brands that sell traction devices for winter hiking are Kahtoola Microspikes, Black Diamond Equipment, and Yaktrax.
The Kahtoola product has been much more durable and effective in recent years compared to the competition. I prefer the placement of the 12 total spikes, which are 9.5mm in length and will cut deeper into ice and snow.
The Black Diamond Equipment product is called the Access Spike Traction Device. It has 14 total spikes at 8mm in length. They would be my second choice. I like the brand, and these spikes look okay.
Yaktrax now offers several products, one of which offers equivalent traction. The Yaktrax Ascent is virtually identical to the Kahtoola Microspikes but offers additional spikes in the toe area for extra grip on steep terrain. Yaktrax Ascent has 17 total spikes. This many spikes might be too many.
Okay, let's compare the most popular spikes for hiking.
Best microspikes and traction devices for trail running
The spikes above are too big, heavy, and clunky for trail running. But each brand has spikes for trail running. They fit snugly over your trail running shoes. Grab some gaiters, and you are good to go. These trail running spikes are organized from lightest to heaviest.
Best Overall: Kahtoola NANOspikes Traction System
If you want to move swiftly and feel super light on your feet, the Nanospikes are the best spikes for runners. This set has ten spikes that are 5.3mm in length. Toe bail prevents your shoe from sliding forwards and out of the harness. These will work in temperatures as cold as -22F.
Runner Up: Yaktrax Run Ice Traction Cleats
The Yaktrax spikes for trail running have six spikes up front that are 3mm in length. For grip in the back, these spikes have steel coils that allow your shoe to flex nicely. These spikes will work in temperatures as cold as -41F.
Most Versatile: Kahtoola EXOspikes Traction System
The Exospikes fall in between Microspikes and Nanospikes. This is the best choice if you want versatile spikes (not too big, not too small). The Exospikes have twelve spikes that are 7.4mm in length. They will work in temperatures as cold as -22F.
Most Grip (But Lightweight): Black Diamond Distance Spike Traction System
If you are looking for the most grip and biggest spikes in a lighter weight that is designed for trail running, this is the best choice. The Distance spikes have fourteen 8mm spikes that will let you cruise through deep powder and across icy patches with ease. They weigh 7.8 ounces.
Best microspikes for kids
There are not many options when it comes to getting kids microspikes. None of the companies above make microspikes for kids.
This year I bought these microspikes on Amazon for my child, and so far, they have worked out great.
They do not appear as durable as my Kahtoola microspikes; however, they work just as well.
Microspike frequently asked questions (FAQ)
If you are new to microspikes, these questions and answers should help you better understand everything you need to know.
What are microspikes?
Microspikes are lightweight and flexible ice and snow traction devices that you pull over your winter hiking boots, hiking shoes, hiking boots, trail running shoes, or ordinary winter boots. They work on most footwear.
They are constructed of stretchy rubber harnesses, lightweight chains, and steel spikes on the bottom that provide mind-blowing traction.
The spikes dig into ice and hard snow and will prevent you from slipping and sliding around on the trails. They are very effective on steep icy inclines or declines. Microspikes are highly recommended to help prevent serious injury in Winter conditions.
Microspikes vs. Crampons: What's the difference?
Microspikes are best suited for Winter hikes where you will encounter snow or ice on the trails. They are particularly helpful for hiking up and down steep terrain. The traction devices attach to most footwear options you normally wear in the Winter. The spikes bite into snow and ice with ease.
Crampons are a little more hardcore. Crampons are more durable traction devices that have much larger spikes. They also attach to your footwear differently. Crampons attach by straps, a step-in system, or a hybrid. For the most part, crampons are used for ice climbing. However, they can also be used for crossing glaciers, snowfields, and icefields, ascending hard-packed and deep snow slopes, or scaling ice-covered rock. In these more challenging scenarios, microspikes would not be adequate.
I purchased the C.A.M.P. Ascent Universal Crampons for ascending snowfields in Colorado and love them.
Are microspikes worth it?
Yes. They are worth their weight in gold. Just get them. You will love them, and no doubt recommend them to your friends.
Why do you need microspikes?
Traction for icy, snowy trails
Prevent injury
Hike faster and longer
How to choose microspikes?
You can get microspikes that attach to winter boots, hiking boots, and hiking shoes.
If you are a runner, most brands design spikes to fit trail running shoes.
How should microspikes fit?
Microspikes sizing is straightforward. I just got a pair that fits my shoe size.
See the packaging for details, or check out this sizing chart if you buy Kahtoola microspikes.
The fit should be a touch snug. If they are wrapped too loosely around your footwear, they will fall off, which gets annoying.
When to use microspikes?
Strap into your when you encounter snow or ice.
Avoid hiking for long distances over dirt, mud, or rocks. This will wear out the spikes.
How to use microspikes?
Put them on, and go!
How to put on microspikes?
Find a comfortable and stable spot to sit down. A bench, rock, or log is a good place to put on your microspikes. Or stand near something that can help you balance. Like a tree.
Watch this video by Kahtoola for a quick demonstration.
Where to buy microspikes?
These are the top retailers that sell our top pick Kahtoola microspikes.
This concludes our guide to the best microspikes and winter traction devices for hiking, running, and backpacking.