Are you starting to think about the Winter hiking season? One of the best hiking gear purchases I have made over the years has been microspikes. Microspikes are essential for snow hikes. They allow you to move more quickly, provide tremendous grip and traction, and keep you safe on snowy and icy hiking trails. If you expect to encounter ice and steep terrain on your hikes I highly recommend getting some microspikes. You will definitely ask yourself, "why didn't I get these sooner"? Toss them in your daypack just in case you run into icy, slippery trails.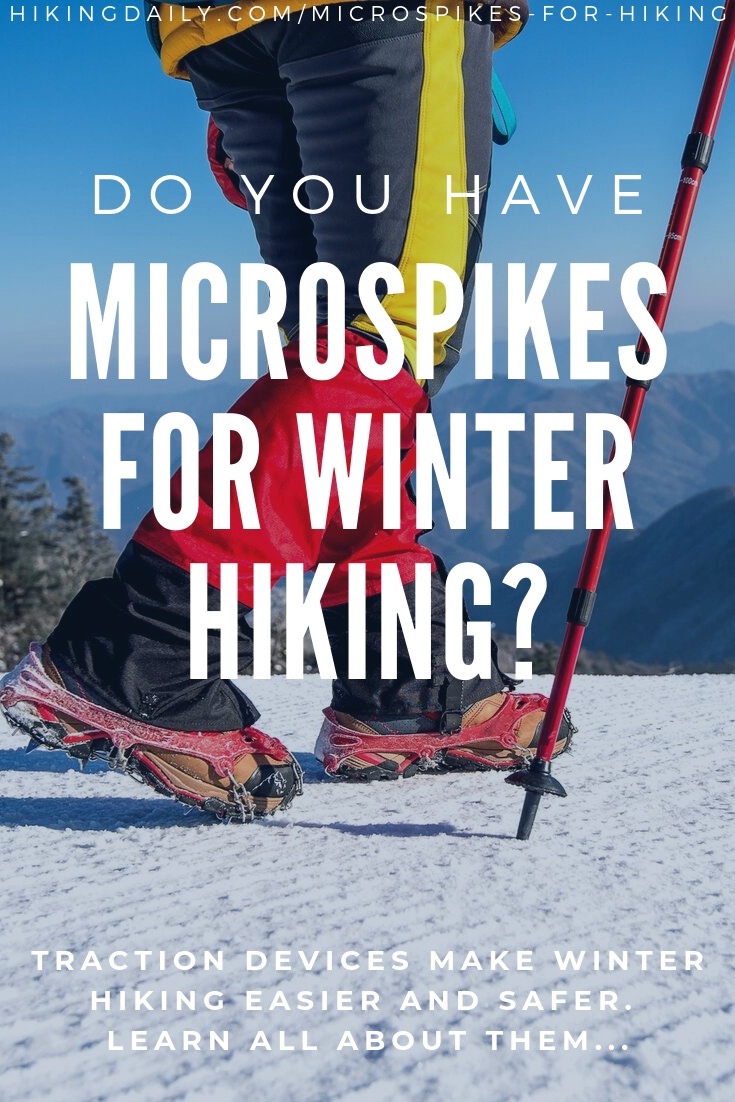 What are microspikes?
Microspikes are a lightweight and flexible traction device that you pull over your hiking boots, hiking shoes, or Winter boots.
They are constructed of stretchy rubber bands, lightweight chains, and steel spikes on the bottom to deliver amazing traction.
The spikes dig into ice and hard snow and will prevent you from slipping and sliding around on the trails, especially on steep inclines. Microspikes are highly recommended to help prevent serious injury on snowy Winter hikes.
Microspikes vs. Crampons
Microspikes are best suited for Winter hikes where you will encounter snow or ice on the trails. They are particularly helpful for hiking up and down steeper terrain. The traction devices attach to most footwear options that you would normally wear in the Winter. The spikes bite into snow and ice with ease.
Crampons are a little more hardcore. A crampon is a more durable traction device that has much larger spikes. They also attach to your footwear differently. Crampons attach by straps, a step-in system, or a hybrid of the two. For the most part, crampons are used for ice climbing. However, they can also be used for crossing glaciers, snowfields and icefields, ascending hard deep snow slopes, or scaling ice-covered rock. In these more challenging scenarios, microspikes would not be adequate.
Kahtoola Microspikes vs Yaktrax
The two most popular brands that sell traction devices for Winter hiking are Kahtoola Microspikes and Yaktrax traction devices.
Kahtoola Microspikes have been the go-to traction device for most hikers. The Kahtoola product had been much more durable, and effective in recent years compared to the competition. However, this seems to have changed for 2020.
Yaktrax now offers a wide range of products some of which offer equivalent or better traction and durability. For example, the newer Yaktrax Ascent is virtually identical to the Kahtoola Microspikes but offers additional spikes in the toe area for extra grip. The Yaktrax Summit traction device is an even more robust heavy-duty traction device compared to the Kahtoola Microspikes.
The best microspikes for hiking in 2020
Kahtoola and Yaktrax are the two big players. Kahtoola has been the front runner for several years. However, Yaktrax is competing hard for the 2020 Winter hiking season. Let's take a closer look at each brand's top products.
Kahtoola Microspikes (best for most hikers)
Last year I bought a brand new pair of Kahtoola Microspikes. This is really their only product suitable for intermediate to challenging Winter hikes.
The performance was unbelievable in deep snow, icy conditions, and steep terrain. With a total of twelve 3/8 inch spikes this traction device is super versatile. They have long been considered the best microspikes and Winter traction device for hiking. For years they proved more durable than any Yaktrax offering.
We rate the Microspikes the best overall option for most hikers.
Yaktrax Traverse (best budget option)
The Yaktrax Traverse is very similar to the Kahtoola Microspikes but nearly 30% cheaper. The Traverse appears as durable and has thirteen 1/4 inch (slightly shorter) spikes.
This is a great option for most hikers that are looking to save money.
Yaktrax Ascent (best for steep mountain terrain)
The Yaktrax Ascent might be considered a step up compared to the Kahtoola Microspikes. They look very impressive.
This product features 8 spikes in the toe area and a total of 16 spikes. This additional bite will prove particularly handy for aggressive hikers that hike up steep icy mountain terrain. Keep in mind they are not a replacement for crampons or to be used for ice climbing.
Yaktrax Summit (most durable)
The Yaktrax Summit is a heavy-duty traction device. The "Boa Closure System" provides the most secure fit and prevents the traction device from slipping around your Winter footwear. The Yaktrax Summit has 12 carbon steel spikes. The outer/upper rubber band is the most durable and substantial of all traction devices further reducing slippage when attached to your hiking footwear.
If you plan on tackling demanding backcountry trails where deep hard-packed snow and ice exist the Yaktrax Summit may be the best option.
Microspikes for trail running
Trail runner? Traction devices are a great idea for running in Winter conditions and are recommended for those super fluffy powder days on the trails.
Check out the Yaktrax Run or Kahtoola Nanospikes for running.
This concludes our review of the best Microspikes for hiking and Winter traction devices. If you are serious about Winter hiking you must get one of these products. Any of these traction devices will make your Winter hikes much more enjoyable. Hey, why not move with ease?