Winter hiking is an incredible experience that all hikers should try. To be comfortable and safe on your Winter hikes, you will need a Winter hiking outfit and some specific Winter hiking gear.
This is our complete Winter hiking gear checklist. Before you head out, make sure that you have what you need.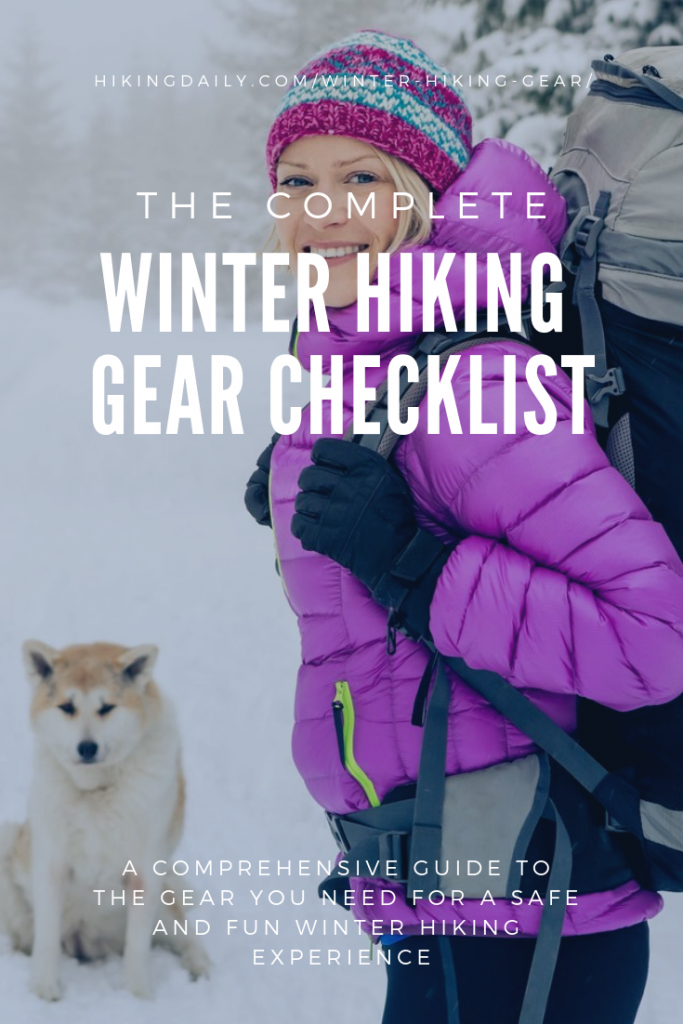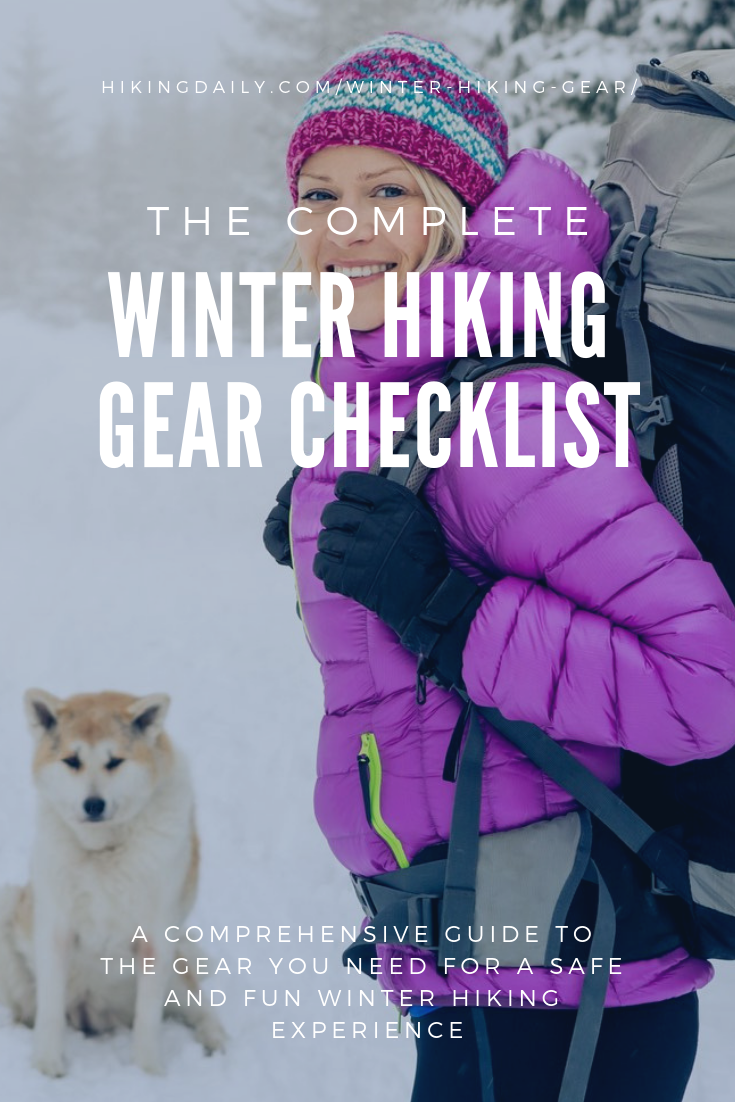 Winter Hiking Boots + Footwear
If trail conditions are relatively clear, your regular hiking boots or hiking shoes may be sufficient.
However, if you plan to hike longer distances in deep snow then you will want to invest in a pair of Winter hiking boots.
Look for Winter hiking boots that have a higher cut (above the ankle), insulation, and sturdy treads. Ideally, go for a winter hiking boot that is made of waterproof and breathable fabric like GORE-TEX. They will be lighter, more maneuverable, and eaiser to care for than your typical leather hiking boots.
Ultimately, it comes down to what is the best fit for your foot size and shape. Every brand fits differently. Nevertheless, these are our top picks for women, men and kids Winter hiking boots.
The Best Men's Winter Hiking Boots
These are our top 3 picks for your Winter hiking adventures. All are high quality boots.
Best for very cold temperatures (400g 3M Thinsulate Ultra)
Great for deep snow (higher cut than most boots)
Durable Nordic Rover sole with ColdHold compound to retain traction in very cold temperatures
Very light in actual weight making it easy to walk and retain energy
D-ring for attaching gaiters
Modern + fashionable
Very protective high cut Winter hiking boot
Salomon's waterproof, breathable Climashield membrane
Ice Grip rubber sole retains traction in subzero temps
Aerogel insulation delivers reliable warmth to a -40F temperature rating
Stand up in the cold with KEEN.Warm insulation (400g)
Stay dry with KEEN.Dry waterproof membrane
Thermal heat shield footbed
Higher cut to keep snow out
A great choice for those that want a lower cut boot (but still high enough for most snow conditions)
Vibram Arctic Grip soles are superb in cold temperatures and icey conditions
400g M Select WARM insulation
M Select Dry waterproof breathable membrane
The Best Women's Winter Hiking Boots
Higher cut (above ankles)
Insulated with 400g KEEN.WARM insulation
Waterproof leather
Textile uppers have KEEN.DRY™ waterproof breathable membranes
Thermoplastic urethane shanks for excellent stability
Dual-compound snow and ice grip rubber outsoles
GORE-TEX Insulated Comfort technology keeps feet warm and dry
Contagrip® W hiking soles provide amazing traction in freezing temperatures
Rugged sole
Extra high cut keeps snow out
Perfect for extreme snow conditions
8 inch tall high cut winter hiking boot keeps snow out
Good to -4F
EVA midsoles cushion your stride
Thermoplastic polyurethane plates provide torsional rigidity
Polar rubber soles grip snow and ice
Waterproof soft-shell construction
For those that want a more stylish look
ClimaSalomon waterproof booties
Fleece lining and Thinsulate insulation for warmth
Waterproof nubuck leather and waterproof synthetic upper
Injected EVA midsole provides cushioning
Kids Winter Hiking Boots
If you are hiking with kids in the Winter it is imperative that they have warm dry feet if you want to have a good time.
Easy lace-up system with bungee laces keeps foot snug
Velcro cuff strap to keep out snow
KEEN.WARM insulation
KEEN.Dry waterproof breathable membrane
-25F temperature rating
Non-marking rubber soles
Easy lace-up with bungee laces
Bungee cuff to keep snow out
Waterproof
-40F temperature rating
Arctic rubber soles to grip snow and ice
Winter Hiking Clothes
Layering Clothing: How To Layer Clothes For Winter Hiking Adventures
The best way to dress for snow hikes is to layer your hiking clothes.
Layering clothing allows you to remove a layer if hot or add a layer if you are feeling cold. This helps to avoid sweating excessively. Even when it is cold outside, the hard work of Winter hiking often leads to perspiration. You want to avoid sweating because wet or damp clothing can chill or freeze when you take breaks or stop moving. If you find that you are sweating take off a layer, open vents, or reduce your hiking pace.
Let's talk about the most common types of layers and hiking shirts that you will need on a Winter hike.
Hiking Socks
I used to hike in thin athletic socks. They never really caused any problems for me on the trails. However, once I got some true hiking socks I never went back to any other type of sock. Why? Pure comfort.
Look for hiking socks that have a blend of merino wool (shrink-treated), nylon (durable), and lycra spandex.
A great hiking sock will stay snug on your foot. This will keep your foot comfortable and help to prevent blisters from forming.
Personally, I prefer thinner socks. They are less likely to cause blisters. I rely on my Winter hiking boots insulation to keep my feet warm
Recommended: Darn Tough Micro Crew Cushion Hiking Socks or Darn Tough Hiker Boot Sock Cushion Socks (if you prefer a thicker sock)
Underwear + Long Underwear
For your bottom base layer get synthetic hiking underwear (EXOFFICIO) and/or synthetic long underwear.
Avoid cotton. If it gets wet it can make you feel very cold and even cause hypothermia.
Long Sleeve Top
Your top base layer in cool temperatures should be a long-sleeve shirt.
The best option is a lightweight polyester or merino wool shirt. Or a blend of these two fibers. Both do a good job at wicking away moisture and are breathable.
Fleece Top
Your second layer should be a fleece top. It will help to keep you warm and reduce the impact of windy conditions.
You can wear this on top of your long-sleeve base layer, and under a soft-shell jacket.
Fleece Jackets And Vests
If temperatures are above zero Celsius (32F), and there is no severe wind or precipitation in the forecast, a fleece jacket or a vest (on top of your base layer and a fleece shirt) may be good enough. Both items will help to keep the core warm and minimize the effect of wind.
However, you should still bring a soft-shell jacket in your backpack just in case the weather gets more extreme. Weather conditions can change very quickly, especially in the mountains.
Winter Hiking Jackets
There are a few options for jackets. What you choose depends on the expected conditions.
In some locations (like here in Colorado), Winter can actually be somewhat mild since the sun is so powerful due to elevation. I have hiked around Boulder in shorts and a T-shirt in January and February. However, most often, a vest, fleece jacket or soft-shell jacket is the ideal choice.
In other hiking destinations (Canada, Alaska, the Arctic, etc.) Winter is absolutely extreme. So, you have to be more prepared for these conditions. You will require insulation.
Soft-Shell Jackets
In non-severe Winter conditions, your best bet is a soft-shell jacket that is waterproof and breathable.
This will go on top of your long-sleeve shirt, and your fleece shirt. It will cut out the wind and keep you dry.
Insulated Jackets
In very cold conditions (below 0C or 32F and colder), and where wind and snow precipitation is expected or guaranteed you will need an insulated Winter hiking jacket.
The two options are down insulation or synthetic insulation.
Down is more expensive but is a superior type of insulation. Go for 800-fill or higher. The drawback to down is that if it gets wet it can feel cold. Some manufacturers are producing water-resistant down that is treated with DWR.
Synthetic insulation is much cheaper. It also feels warmer if wet. However, synthetic insulation is less thermally efficient.
Winter Hiking Pants
In most Winter hiking conditions, you will need Winter hiking pants that have insulation, are waterproof and breathable.
In some climates and conditions, you can get away with wearing fleece pants (with gaiters), soft-shell pants or a combination of these two options. This is often true here in Colorado at lower elevations (6000-8000 feet) where the Winter is not so severe and the sun is super powerful and keeps you warm.
If you hike at higher elevations (8000+ feet) or in very cold temperatures (below 0C or 32F) you will need insulated Winter pants.
Let's review the best options for Winter hiking pants.
Fleece Hiking Pants
Fleece pants are made of polyester. This material breathes well, wicks sweat, dries fast and layers well under soft-shell hiking pants. Fleece pants are perfect for hiking in mild to moderate Winter conditions and when precipitation (rain or snow) and sub-zero temperatures are not expected at all. Look for a pair with zippered pockets.
Recommended: REI Co-op Teton Fleece Pants
Soft-Shell Hiking Pants
If you anticipate wind or precipitation on your Winter hikes you should wear or bring soft-shell pants in your hiking daypack. You can wear them over your base layer or fleece pants.
Look for features like abrasion resistant fabric (cuffs), durable water repellent (DWR) finish, stretch fabric, an ergonomic fit, and zippered pockets in good locations.
Recommended: KUHL Klash Pants or Outdoor Research Cirque Soft-shell Pants
Other Winter Hiking Equipment
Winter Hiking Gloves
Pretty straight forward. On warmer Winter days you could use fleece gloves. On sub-zero days you will need gloves that are insulated and waterproof. Winter hiking gloves made of GORE-TEX material is ideal for those super cold days.
Gaiters For Winter Hiking
Gaiters keep the snow out of your boots and your feet warm and dry.
They are fantastic for hiking, snowshoeing, cross-country skiing or climbing glaciated mountains.
Recommended: Outdoor Research Crocodile Gaiters (GORE-TEX) or REI Co-op Mountain Gaiters (budget pick) or Outdoor Research Rocky Mountain High Gaiters
Microspikes
If you plan on hiking steep rocky inclines in the mountains you will want to get some Microspikes for traction.
This is especially true if you are hiking on popular trails where snow gets packed down and often turns into pure ice with temperature fluctuations.
Microspikes provide unbelievable traction. They are one of the best hiking gear items that I have purchased. The spikes will bite into any ice conditions and keep you firmly on your feet.
Simply pull them over any hiking boots or shoe, Winter hiking boots, or even your regular Winter boots and hike Winter conditions with ease.
A major benefit to microspikes is that they give you the traction you need and conserve a lot of energy. You won't struggle uphill or slide downhill.
Snowshoes
If you plan to hike on trails that have very deep snow, consider getting some snowshoes to make your Winter hiking much easier. With snowshoes, you can stay on top of the deep snow instead of sinking and struggling.
Hiking Poles + Trekking Poles
A singular hiking pole or two trekking poles could prove handy on your Winter hikes. They provide stability and traction (in addition to your Microspikes). They are especially useful for icy conditions or to ease your way down steep sections of the trail.
25 Winter Hiking Tips
Get clothing made out of synthetic materials or merino wool and avoid cotton completely
Layer clothing because you will sweat and need to remove layers, and get cold and need to add layers
Look for clothing that has ventilation zippers
Bring a compass, topographic map, and your digital navigation devices
Take extra snacks (that you can eat while moving), food, and water since Winter hiking can be more difficult and strenuous
Consider warm drinks in a thermos
Stay hydrated even if you don't feel thirsty
Pack a first-aid kit
Take extra hiking socks
Hike in the sun
Understand what causes hypothermia and the symptoms
Bring a sun hat and a snow hat
Keep your skin covered in very cold temperatures
Avoid super tight clothing (can cause poor circulation)
Bring hand and toe warmer packets
Wear sunglasses
Bring goggles if you expect a lot of snow
Keep all batteries and battery operated devices warm (in a bag or pocket)
Apply sunscreen
Refer to and bring the "10 essentials"
Be prepared to turn around if conditions get dangerous
Take a hiking buddy with you
Tell someone where you are going and when you expect to return
Start out on smaller adventures and leave early
Check the weather
There you have it, our complete Winter hiking gear list, tips on layering your clothes, and our top 25 Winter hiking tips.
Be prepared, and have a great time out on the trails!
Also, check out our complete hiking packing list for a general checklist of hiking essentials.
This post may contain affiliate links. Please read our disclosure for more info.