Winter hiking and snow hiking is a magical experience that all hikers should try. A blanket of snow transforms the landscape and views making your go-to hikes seem completely new to your eyes. The crowds dwindle and provide solitude that is often challenging to find in other seasons.
To be comfortable and safe you will need a winter hiking outfit and some specific winter hiking gear for the cold weather and snow you will encounter. In this guide, we cover all the best equipment and clothing that you can get for your winter hikes. Use this guide as a checklist before you head out to make sure you have everything in your backpack.
Don't miss our updated guides to the best hiking gear and what to wear hiking. Combined, these guides cover what you need for all seasons on the trails. Also, check out our complete guide to Fall hiking outfits for colder weather hiking clothes.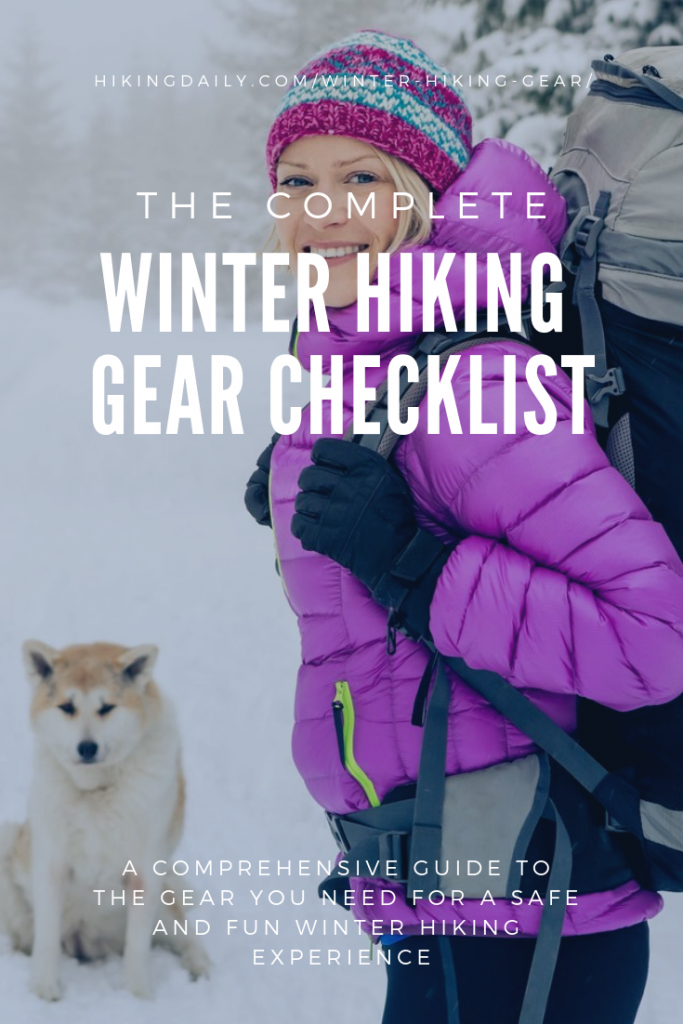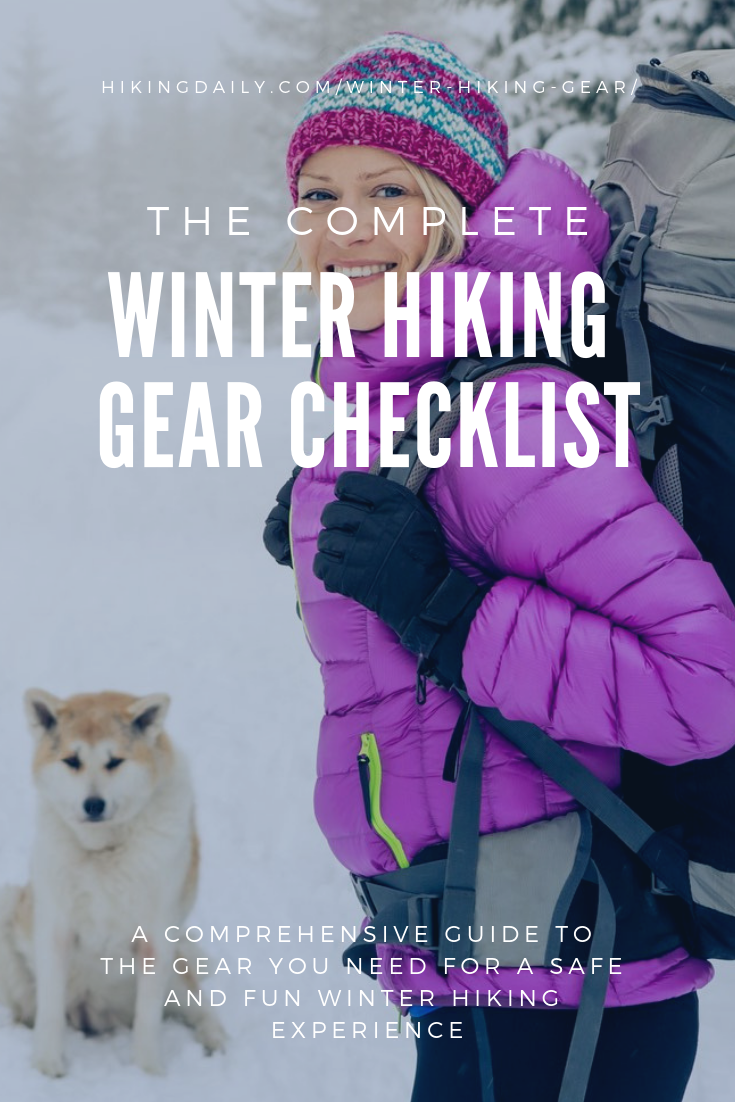 Winter hiking footwear
This guide will help get you cover up from head to toe. Let's start with your feet and build up from there.
Insulated winter hiking boots
The first item you will definitely need is footwear to keep your feet warm and dry for an extended period of time in the snow and cold.
When trail conditions are relatively clear, and temperatures are moderate, your regular hiking boots or hiking shoes may be sufficient.
On the other hand, if you plan to hike long distances in deep snow or cold temperatures then insulated winter hiking boots are the best option. Look for boots that offer a higher cut (above the ankle), insulation, and treads with a multi-directional lug tread pattern. Ideally, go for a boot that has a waterproof and breathable lining such as GORE-TEX to ensure that your feet stay dry and warm.
Ultimately, the best boot is the one that is the best fit for your foot size and shape. Every brand fits differently.
Below, you will find three top picks ordered by boot height and insulation, highest to lowest.
Keen Targhee III Polar Boot (Men)
This boot provides hours of warmth out on the trails in winter and deep snow conditions.
KEEN.WARM insulation is rated to very cold temperatures (-25°F/-32°C)
KEEN.DRY waterproof and breathable membrane
Premium leather upper
EVA midsole provides excellent cushion
Lightweight shank delivers stability

KEEN.FREEZE

rubber

outsole performs on snow or ice

5mm multi-directional lug tread pattern for superb traction
Vasque Breeze WT GTX Hiking Boots (Men | Women)
If you are looking for a mid-weight winter hiking boot this is a great option. They are durable, offer great foot protection, and are warm. I own the hiking shoe version of this boot (Vasque Breeze All-Terrain Low) and love them. Vasque makes top quality footwear.
Waterproof with GORE-TEX
200g Thinsulate insulation to keep your feet warm
Nubuck leather upper
Midsole with EVA Cushioning Pods and TPU shank for stability
Vibram Contact Grip with Megagrip Compound outsole
Salomon X Ultra Mid Winter CS WP Boots (Men | Women)
For those power hikers that want to move quickly and aggressively these lighter weight boots by Salomon are a solid choice.
ClimaSalomon Waterproof bootie
200 gram Thinsulate insulation
PU coated leather upper
High-performance EVA midsole
Advanced chassis and shank offers stability
Contagrip W rubber outsole works in a wide range of temperatures
Protective toe cap
Gaiter hook for deeper snow hikes
Gusseted tongue keeps debris out
Check Salomon.com Price: Men | Women
For more top picks, check out our complete guide to the best winter hiking boots. There are so many excellent options. Winter hiking boots took a huge step forward this year.
Hiking socks
High-performance hiking socks are amazing. You will love them when you try them. I did, and they are all I wear on my feet now. Avoid wearing regular socks that bunch and can cause blisters.
Hiking socks wick sweat away from your skin and help to insulate your feet. The best hiking socks are made of a blend of synthetic materials and merino wool. All of my hiking socks are made by Darn Tough. They are very durable and super comfortable. Darn Tough hiking socks are available in a variety of styles, and weights.
Pro tip: Be sure that your socks are not too thick. This may cause your boots to become too tight and thus hinder circulation which can lead to cold feet. The socks below are ordered lightest to heaviest.
Darn Tough Light Hiker Micro Crew Socks (Men | Women)
A lightweight sock that is good in combination with well insulated boots and a fast pace on the trails.
Darn Tough Micro Crew Cushion Hiking Socks (Men | Women)
I wear these socks on most of my hikes.
Darn Tough Hiker Boot Sock Cushion Socks (Men | Women)
This is a heavier weight sock that is most appropriate for longer excursions and backpacking.
Check out all Darn Tough socks at REI.
---
Best winter hiking clothes
Base layers (wicking)
Base layers keep sweat or precipitation off your skin. It is the first layer that you will wear over your skin. Your base layer generally includes long underwear and a lightweight top (could be short-sleeved or long-sleeved) that is made of either synthetic materials or a blend that also includes merino wool. Regular underwear, glove liners, and sock liners are also base layers.
REI Midweight Base Layer Bottoms (Men | Women)
These bottoms are a great synthetic material option. They are best for wicking away any sweat from your skin.
REI Midweight Base Layer Top (Men | Women)
The REI midweight base layer crew top is also an excellent choice to keep sweat away from your upper body skin surface.
Smartwool Merino 150 Long Underwear (Men | Women)
If you find you generally get cold, you may want some extra insulation that merino wool can provide.
Smartwool Merino 150 Base Layer Top (Men | Women)
Also available as a top, the Smartwool 150 base layer is a great option for those that want the merino wool insulation effect.
For many more base layers options, read our guide to the best base layers for hiking.
Mid-layer insulation (insulation)
The second layer that you can wear on top of your base layer, is a mid-layer that provides the bulk of your insulation. This layer provides additional warmth by trapping your body heat in the fabric of the garment. Types of insulation layers include fleece jackets and pants, wool sweaters, softshell jackets and pants.
Fleece jacket
Fleece jackets provide tremendous insulation for the weight. I own several fleece jackets of various weights and wear them alone on milder winter days or under my hard-shell jacket on colder days.
Patagonia Better Sweater fleece jacket (Men | Women)
The Better Sweater is probably the most popular fleece jacket in the world and is good for casual hikers.
Outdoor Research Vigor Fleece Jacket (Men | Women)
For those power hikers that like to move fast take a look at the Outdoor Research Vigor fleece jacket. It is made of warm and wicking grid fleece fabric that will help to manage your body temperature in fluctuating weather conditions.
Check out our guide to the best fleece jackets for all the top picks for this year.
Soft-shell jacket
If there is no major precipitation in the forecast a soft-shell jacket can be a great to use for a mid-layer or as a top layer.
The main benefit, like a fleece jacket, is that both are super breathable. This is particularly important when you are working hard. Both fleece jackets and soft-shell jackets will wick moisture away from your skin also and allow it to escape. This will keep you feeling much drier and more comfortable when the weather permits usage.
REI Co-op Activator Soft-Shell Jacket (Men | Women)
The REI Activator is an affordable and effective soft-shell jacket that is available for men and women. This jacket blocks wind, repels light rain or snow, is stretchy, and most importantly it breathes so you stay dry and comfortable.
Check out all the bestselling soft-shell jackets at REI.
Vests
Vests are a good option to insulate your core. You can wear them as a standalone top on milder winter days, or wear under a hard-shell jacket for insulation. They are available in fleece or down.
Patagonia Better Sweater Vest (Men | Women)
The Better Sweater is also available as a vest if you would like to keep your arms free of bulk.
Patagonia Down Sweater Vest (Men | Women)
This is likely the most popular down vest in the world. With 800-fill-power goose down, it will keep your core super warm.
Fleece pants
In most cases, fleece pants would be worn as an outer layer while also using gaiters. This is a great setup because the fleece pants are very breathable keeping you comfortable and the gaiters will allow you to move through knee-deep snow. We will discuss the benefits of gaiters more thoroughly below.
Of course, you can totally wear fleece pants as an insulating mid-layer underneath hard-shell pants in very cold weather.
REI Teton Fleece Pants (Men | Women)
A simple, sleek, low-profile, fleece pant to layer underneath hard-shell pants or to wear with your gaiters. Either way, these pants will keep you feeling toasty.
Soft-shell pants
Just like fleece pants, soft-shell pants work very well in combination with gaiters for snow hikes. Soft-shell pants will offer a bit more weather resistance compared to fleece pants. So, if you expect light precipitation, they may be a better choice.
REI Activator 3.0 Soft-Shell Pants (Men | Women)
These new soft-shell pants by REI are durable, weather-resistant (DWR finish), and wind resistant to 35 mph.
Outer shell layer (protection)
When the wind picks up, or if you are facing extremely cold temperatures face protection is important to avoid frostbite. You must cover up your skin.
Neck gaiters
To cover up your cheeks and nose, try a neck gaiter. They will keep your face warm, and help to prevent windburn, sunburn, and frostbite.
Goggles
If it starts to snow heavily, I like to wear my ski goggles to protect my eyes and to help maintain my vision and bearing.
Winter hats
In cold weather, you can lose a lot of your body heat through the top of your head. It is recommended to carry two or more winter hats with you on your snow hikes. Foreheads can be particularly sweaty when working hard so you may want to swap them out. Consider getting a lightweight winter hat for milder weather and a heavyweight hat for colder weather.
Gloves or mittens
When it comes to protecting your hands there are many options.
For cold weather hiking, it is recommended to take two pairs (or more) of hiking gloves.
One pair of lightweight or midweight fleece gloves for milder days. And one pair of windproof/waterproof (GORE-TEX or equivalent) insulated gloves for colder days. For very cold or extreme weather you may want to consider wearing mittens.
A perfect lightweight fleece hiking glove that is wind resistant and water repellant. They have synthetic suede palms to add durability and comfort when using trekking poles.
If conditions are more extreme the Outdoor Research Arete gloves are a great option to keep your hands protected. They are insulated with fleece on the inside and keep your hands dry with a GORE-TEX insert.
Check out our guide to the best hiking gloves for more of our picks and all the details you need to know about gloves.
Finally, we have the shell layer that protects you from wind and precipitation. Your primary shell layer includes a windproof/waterproof jacket and pants. Other examples include hats and gloves.
Okay, those are some key considerations before you hit the trails. Now let's review all the newest winter hiking gear and the best winter hiking clothes.
Insulated jacket
If you happen to live in a climate that has extremely cold weather conditions you may require an insulated jacket. When I lived in Canada, this was often the case since temperatures can get quite low. In Colorado, it is less often that I wear an insulated jacket for extended periods of time since the temperatures are moderate unless I am hiking at high elevations.
For insulated jackets, there are two main types. Synthetic insulation, and down insulation. The main advantage of synthetic insulation is the lower cost and better insulation in very wet conditions. Down insulated puffy jackets provide superior insulation and warmth, however, they do cost more.
Hard-shell jacket (windproof/waterproof)
A hard-shell jacket is one of the most important items to have with you. It should be windproof and waterproof. Its purpose is to keep you dry and warm to avoid hypothermia.
Key features to look for in a hard-shell jacket include 3-layer GORE-TEX (most likely to be waterproof), underarm zippers for ventilation, attached hood, and a streamlined fit so that the jacket is comfortable when wearing a backpack.
This is the hard-shell jacket that I wear or keep in my backpack for sudden shifts in weather and precipitation. It is the most affordable 3-layer GORE-TEX jacket that you can buy today.
REI Co-op XeroDry GTX Jacket (Men | Women)
The XeroDry jacket may work if you live in a drier climate and do not expect much wet precipitation. Keep in mind this jacket is a 2-layer GORE-TEX laminate so it may not stand up to persistent wet weather.
Read our guide to the best hiking jackets for more information on both insulated jackets and hard-shell jackets and all the top picks.
Hard-shell pants (windproof/waterproof)
When precipitation (snow, freezing rain) is heavy you will need to be wearing hard-shell pants over your base layer and/or mid-layer to keep dry and warm. Key features to look for include 3-layer GORE-TEX if possible (more common in jackets), outer thigh zippers for ventilation, ankle zips, and a variety of zippered pockets.
REI Co-op XeroDry GTX Pants (Men | Women)
These are the best most affordable option that are windproof and waterproof with a 2-layer GORE-TEX Paclite laminate.
The Arc'teryx Zeta SL (Men | Women), Outdoor Research Men's Foray GORE-TEX Pants, and Outdoor Research Women's Aspire GORE-TEX Pants are also 2-layer GORE-TEX Paclite pants, but much more expensive.
Check out our guide to the best winter hiking pants for more options.
Hiking gaiters aka snow gaiters
Hiking gaiters aka snow gaiters (when winter hiking) are awesome. Their purpose is to allow you to hike through deep snow while wearing fleece pants or softshell pants. In some climates, you must wear hard-shell pants all the time to stay warm and dry. In other climates or at high elevations such as Colorado, the sun is powerful and so hard-shell pants at times are too hot. So a setup of knee-high gaiters with fleece pants is fantastic.
For more information on both insulated jackets and hard-shell jackets check out our guide to the best hiking gaiters, or check out our top pick below.
Outdoor Research Verglas Gaiters (Men | Women)
These gaiters by Outdoor Research are waterproof, ultralight, durable, have a low profile leg shape to avoid snags, and are open in the front for easy on and off.
---
Best winter hiking accessories
Okay, now you are covered head to toe. Let's move on to some hiking accessories that you may require for your winter hiking adventures.
Microspikes
If you plan on hiking steep rocky inclines in the mountains do get Microspikes for traction. On popular trails, snow gets packed down and often turns into pure ice with temperature fluctuations.
Microspikes provide incredible traction. They are one of the best hiking gear items that I have purchased over the years. The spikes will bite into any ice conditions and keep you firmly on your feet. You will find that your grip becomes even more powerful on ice than on clear dry conditions with normal hiking shoes or boots.
Pull them over any hiking boots or hiking shoes, winter hiking boots, trail runners, or even your regular winter boots and hike winter trail conditions with ease.
A major benefit to microspikes is that they give you the traction you need and conserve a lot of energy. You won't struggle uphill or slide downhill.
Snowshoes
If you plan to hike on trails that have very deep snow, consider getting some snowshoes to make your Winter hiking much easier. With snowshoes, you can stay on top of the deep snow instead of sinking and struggling.
Trekking Poles
Trekking poles could prove handy on your Winter hikes. They provide you extra stability and traction (in addition to your Microspikes). They are especially useful for icy conditions or to ease your way down steep sections of the trail.
Water bottles and hydration reservoirs
In the winter you will find that you feel less thirsty even if you are working very hard. This is an illusion. You must be careful to stay hydrated, perhaps even more so than in other seasons. Especially, if you are hiking at high elevations.
Whenever I am hiking I use both water bottles and a hydration reservoir. They work in very different ways and have different benefits and features. Water bottles are less likely to freeze as quickly but can be more cumbersome. Hydration reservoirs are good because you can sip easily when you wish, but the tubes are prone to freezing. The freezing of tubes can be overcome with an insulation system. This is what I use in conjunction with a 3L Osprey Hydraulics Reservoir.
Take a look at the latest products:
Backpack
A somewhat obvious piece of mandatory gear. I carry all my gear in the Osprey Stratos 24 pack. I have had many backpacks over the years and this one is by far the best. I highly recommend getting an Osprey day pack. The quality and features of their packs are a step above all others.
Satellite communicator
When I am hiking in Colorado, mobile phone service is mostly non-existant. I don't rely on it.
Instead, I carry a Garmin inReach Mini satellite communicator. It allows me to send an SOS, or communicate with friends and family via 2-way texting. Learn more about how this amazing little device works in this complete Garmin inReach Mini review.
---
What to consider before winter hiking
Winter is very different from the other seasons of the year when it comes to gear and planning. Thus, you must prepare in very different ways. This starts with understanding the likely weather conditions and the concept of layering your clothes.
Winter weather conditions
The first step to hiking in the wintertime is to understand the weather and trail conditions that you will face.
Be sure to do your research and assess potential conditions before you head out.
On a winter day hike, you can encounter a wide range of temperatures, precipitation, wind speeds, and surface conditions. Be prepared for:
Air temperature can be 40F/5C to -40F-40C
Wind speeds up to 50mph
Intense sunlight and snow reflection, heavy cloud cover, or shade from trees or obstacles
Precipitation in the form of snow, freezing rain, or rain
Surface conditions consisting of deep powder snow, hardpacked snow, slush, ice, or bare ground
Layering clothes
For winter day hikes you will need a complete winter hiking outfit that includes footwear and a variety of hiking clothes to protect you from the elements.
The best way to dress, regulate your body temperature, and remain comfortable and safe for winter hikes is to layer your hiking clothes.
A layering system can help you avoid sweating too much, and wick any sweat away from your skin. Too much moisture can cause hypothermia which is very dangerous in the backcountry. Layers can also provide the insulation that you need, and protect you providing a barrier from very severe weather.
The three types of layers to wear are:
Base layers to wick moisture away from your skin
Mid-layers for insulation
Outer shell layer for protection
The demands of moving through snow can quickly increase your body temperature. If you get too hot, simply remove a layer or two, open vents, or slow your pace down a notch.
Standing still or hanging out somewhere for a while can decrease your body temperature. If you feel like you are getting cold simply add extra layers. Totally easy.
Clothing fabrics and materials
When putting together your winter hiking outfit, be sure to avoid cotton clothing. Cotton absorbs sweat, freezes when damp or wet, doesn't dry quickly, or wick the moisture away from your skin properly. This can put you at risk for hypothermia.
Look for hiking clothes that are made of either synthetic materials like polyester (wicks, moisture management), spandex (stretchy), nylon (durable), or natural fibers and materials such as bamboo, and merino wool (insulating when dry.
Understand the 10 Essentials (survival gear)
Always be sure to carry the 10 essentials when you head out into the backcountry. Check out our guide to the ten essentials to hiking and make sure you have the emergency gear that you may need. You never know.
---
Top 25 quick winter hiking tips
Get clothing made out of synthetic materials or merino wool and avoid cotton completely
Layer clothing because you will sweat and need to remove layers, and get cold and need to add layers
Look for clothing that has ventilation zippers
Bring a compass, topographic map, and your digital navigation devices
Take extra snacks (that you can eat while moving), food, and water since Winter hiking can be more difficult and strenuous
Consider warm drinks in a thermos
Stay hydrated even if you don't feel thirsty
Pack a first-aid kit
Take extra hiking socks
Hike in the sun
Understand what causes hypothermia and the symptoms
Bring a sun hat and a snow hat
Keep your skin covered in very cold temperatures
Avoid super tight clothing (can cause poor circulation)
Bring hand and toe warmer packets
Wear sunglasses
Bring goggles if you expect a lot of snow
Keep all batteries and battery operated devices warm (in a bag or pocket)
Apply sunscreen
Refer to and bring the "10 essentials"
Be prepared to turn around if conditions get dangerous
Take a hiking buddy with you
Tell someone where you are going and when you expect to return
Start out on smaller adventures and leave early
Check the weather
There you have it, our complete guide to the best winter hiking gear, winter weather considerations, tips on layering your hiking clothes, and our top 25 Winter hiking tips.
Be prepared, and have a great time out on the trails!
Also, check out our complete hiking packing list for a general checklist of hiking essentials.