My hiking shoes died last Fall after about one year of service. They were a pretty decent pair of hiking footwear that took a beating. I would call myself an aggressive power hiker. Living in Colorado, I hike over steep, rocky, mountain terrain almost all the time.
For my next pair of hiking shoes, I was hoping to find something that was more durable and longer-lasting. This time, I was totally willing to pay a bit more in price to gain additional value.
After a few trips to REI, and thoroughly reviewing all hiking footwear manufacturer websites, I decided to go back to my roots and try out some Vasque hiking shoes. More specifically, I got the Vasque Breeze All-Terrain Low Gore-Tex hiking shoes for men. This is a brand new model that was released in Spring this year. These hiking shoes are also available for women.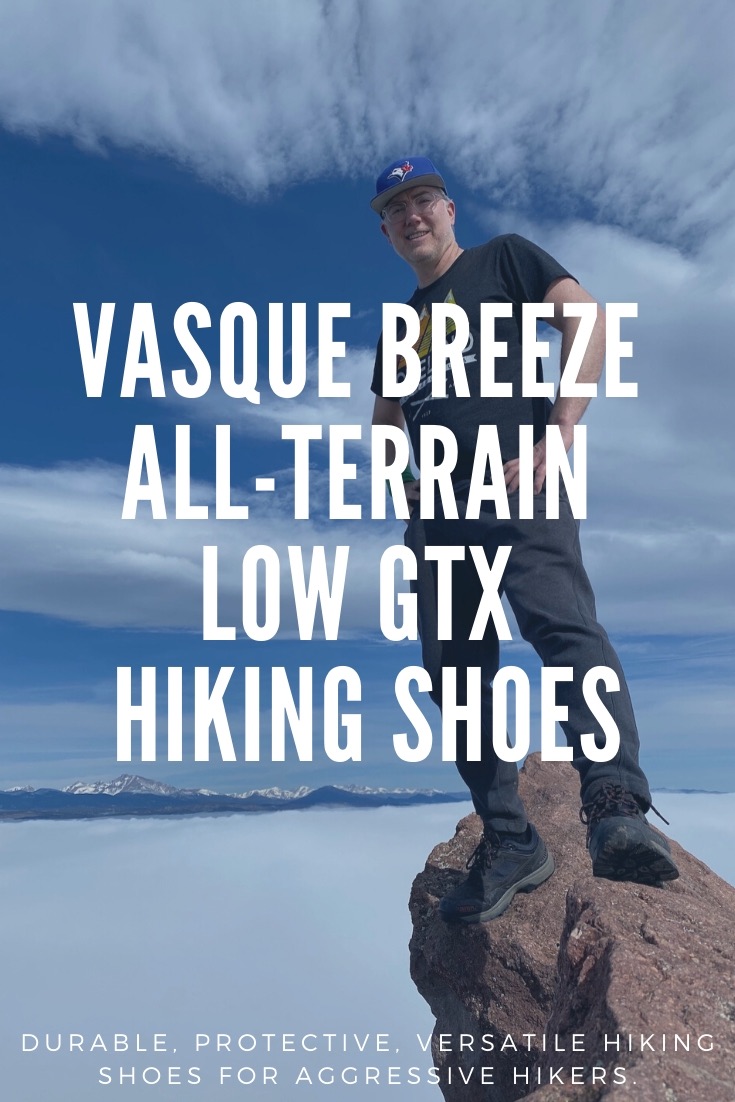 Why did I get Vasque hiking shoes?
After handling and trying on a plethora of options, it was obvious to me that Vasque makes the most durable hiking shoes. Vasque is putting out some of the best hiking shoes for men and women in 2020. I am very impressed by their lineup this year.
Most other brands offer footwear that is geared towards a cushiony, comfort-oriented fit. These are hiking shoes that are suitable for easy-going intermediate level hikes that are less rocky and have fewer ups and downs in vertical. I rarely find myself on these types of hikes.
Vasque Breeze All-Terrain Low GTX hiking shoes -> Top Features
Nubuck leather uppers -> most durable
Air mesh windows in uppers -> maximum breathability
Waterproof -> Gore-Tex lining with extended comfort technology
All-Terrain Compound midsole with EVA cushioning pods
TPU Shank -> for extra stability and foot protection
Vibram Contact Grip With Megagrip rubber compound -> superior traction
Moisture-wicking internal lining
Leather loop (not nylon) lacing system -> added durability and better fit
Available in medium and wide widths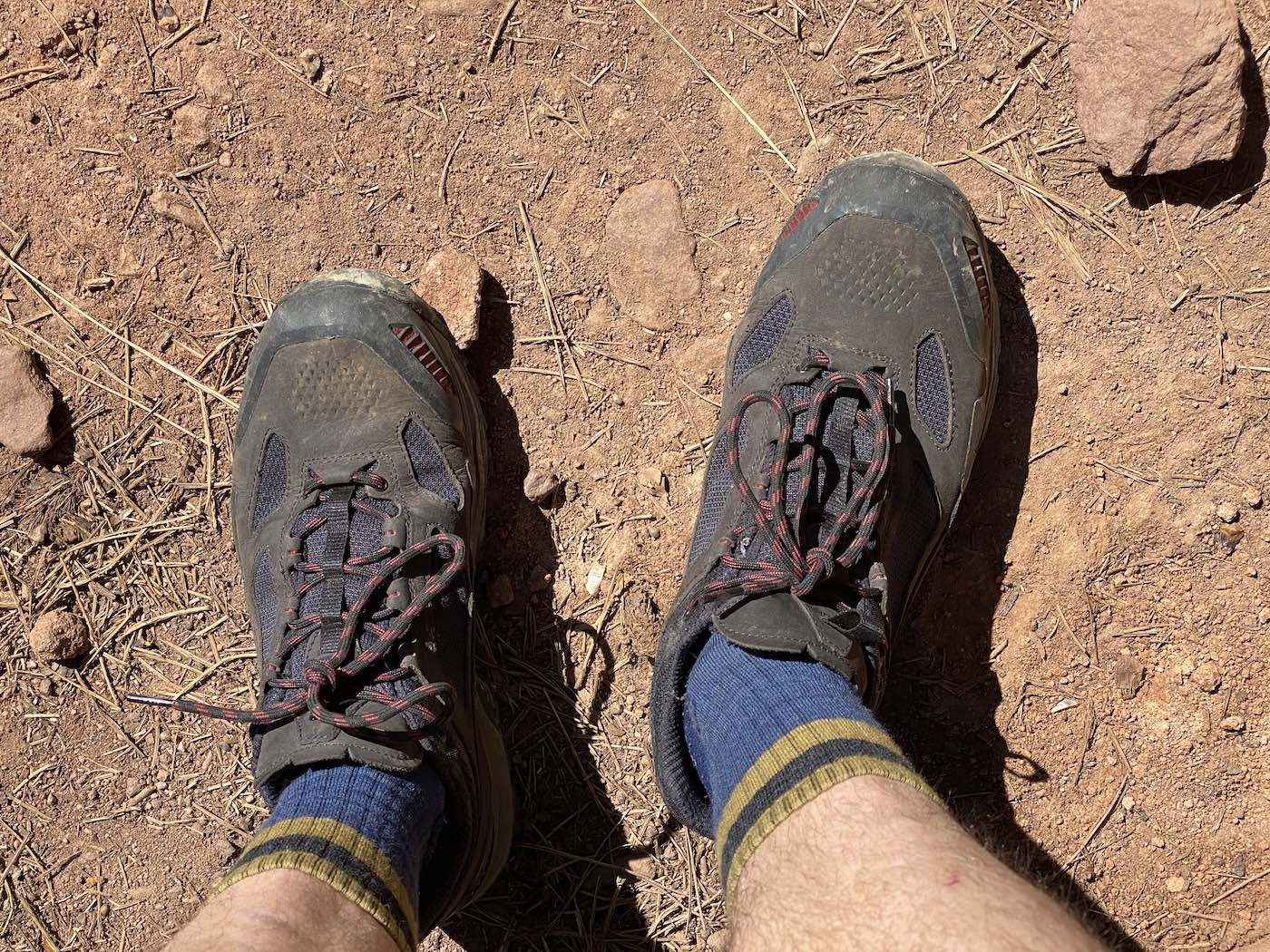 What do I like about the Vasque Breeze All-Terrain Low GTX hiking shoes?
So far, I have hiked about 50 miles and 15,000 feet in elevation gain on these new hiking shoes. I have zero complaints. No visible wear or tear.
Durability -> the uppers, midsoles, and outsoles are all geared towards being super durable
Foot protection -> easily repels the rockiest terrain (no chance of foot bruising)
Toe protection -> nice solid cap protects your toes from rocks
Waterproof -> nobody likes wet feet, right?
Traction -> these Vibram outsoles have incredible grip even on ice and snow
Breathability -> mesh windows seem to do the trick (have not experienced excessive sweating)
Gusseted tongue keeps debris out
Support + stability -> for me, a TPU shank is a must-have feature
Comfort -> no uncomfortable rubbing or blisters
Locked-in feel to the heel area -> no slipping
Fits my wide foot -> most shoes don't fit me, although I did not have to get the wide width
Who should get these Vasque hiking shoes?
The Breeze All-Terrain Low GTX hiking shoes by Vasque are built for the aggressive hiker who hikes a lot of miles across difficult mountain terrain.
It remains to be seen, but I do think these hiking shoes will deliver a longer lifespan and greater value. My goal was to find the highest quality hiking shoe. They did indeed cost more than most hiking shoes. But I think that the durable construction will deliver the value I desire. I am hoping to get more than a full season out of this pair, and thus get what I paid for. So far, these shoes have proven great for someone that wants or needs the most durable hiking shoe available.
Foot protection is top-notch. If you have vulnerable feet, these hiking shoes will keep you happy. There is a significant rubber bumper in the toe area, the front sides, and the heel area. This rubber easily deflects rocks and protects your feet almost like armor. The stiff midsole and TPU shank support the underside of your foot and protect it from bruising caused by rocky terrain.
If you like dry feet, then the Breeze All-Terrain Low GTX hiking shoes are a great pick. They have waterproof nubuck leather uppers and a superior Gore-Tex (extended comfort technology) lining on the inside of the shoe that wraps around your feet. The ultimate protection against moisture. I expect they will hold up nicely when I encounter melting snow or rainfall on my high country hikes here in Colorado.
The grip of these soles aka treads is incredible. I have not experienced any slipping at all in dry, wet, icy, or snowy conditions. If you like to feel grounded, these are great hiking shoes for you.
Finally, these Vasque hiking shoes are a great fit for people that have wide feet! They fit wide (medium width) to very wide (wide width). Take your pick.
I will update this post periodically to report on how they hold up over time and in different hiking conditions.
In conclusion, the Vasque Breeze All-Terrain Low Gore-Tex hiking shoes (for men and women) are high quality, very durable, super protective, and comfortable all at the same time. You will not be disappointed.
Want more footwear ideas? Check out our top picks for the newest and best hiking shoes and boots:
We use affiliate links and may receive a small commission on purchases. Please read our disclosure.