Certain items of hiking gear and hiking clothing are super important to your survival if you become lost or suddenly face extreme weather conditions. A performance hiking jacket (aka shell) is definitely one of these items you may need to wear on your hike when the weather changes. Shells are jackets that will protect you from sudden or prolonged rainy, wet, windy, and sometimes cold weather conditions.
There are several types of hiking jackets that you may need on your hikes. Fleece jackets and softshell jackets are used for insulation or protection against light precipitation. Hardshell jackets are used for protection against severe weather and can be used as both a hiking rain jacket or a winter hiking jacket. The best hiking jackets to keep in your daypack are waterproof and windproof.
In this guide, we cover all the important features of hiking jackets that you should consider when making a purchase. Most importantly, we have done the research to present the Hiking Daily top picks that will keep you safe and comfortable on any hiking or backpacking adventure.
Choosing a hiking jacket
To choose the right hiking jacket for your needs start by thinking about where you will be hiking, the time of day you will be hiking, and the seasons or time of year that you will hike.
This will give you a solid idea of the different types of weather that you may encounter, and thus, the level of protection that you will require.
Most hikers need a jacket for wet, rainy, or windy conditions. Some hikers will also need a jacket for hiking in cold weather or wintery snow hiking conditions.
Top Hiking Jackets By Purpose / Season
To make your decision straightforward, we have organized all the best hiking jackets below by purpose or season. First, we will look at hardshell jackets, then soft-shell jackets.
The very best hiking jackets are expensive and cost between $300-500. When you shop in this price range you are most likely getting a jacket that is truly waterproof and windproof. This price point may not be affordable for some people. However, keep in mind these more expensive jackets are made of better quality materials. This means they will offer better performance and have a longer lifespan.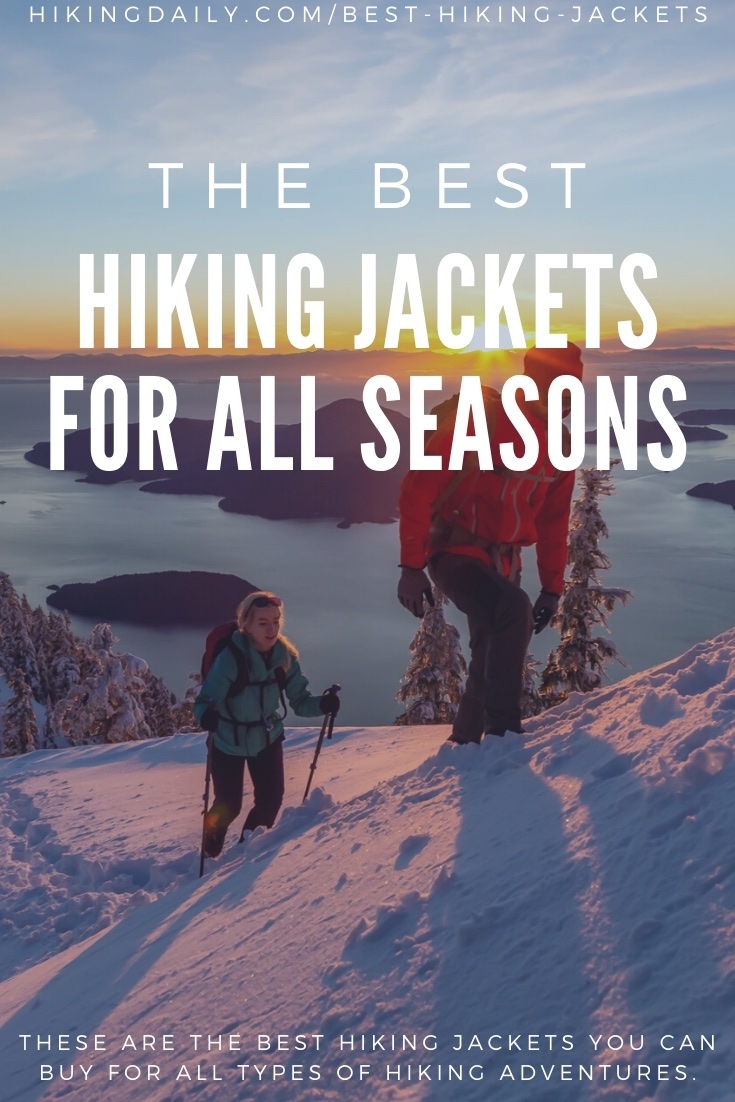 Our Pick
Best Jacket For….
Arc'teryx Zeta AR Jacket (MEN | WOMEN)
Best Overall Hiking Jacket
Arc'teryx Zeta LT (MEN | WOMEN)
Best Rain Jacket For Hiking
Arc'teryx Zeta FL jacket (MEN | WOMEN)
Best Ultralight Hiking Rain Jacket
Outdoor Research Helium Rain Jacket (MEN | WOMEN)
Best Budget Hiking Rain Jacket
Arc'teryx Thorium AR Hoody (MEN | WOMEN)
Best Down Jacket For Winter Hiking
Arc'teryx Atom AR Hoody (MEN | WOMEN)
Best Synthetic Jacket For Winter Hiking
Outdoor Research Furio GTX Jacket (MEN)
Outdoor Research Hemispheres GTX Jacket (WOMEN)
Best Non-Insulated Winter Hiking Jacket
(Requires Clothing Layers)
Patagonia Down Sweater Hoodie (MEN | WOMEN)
Best Stylish Hiking Jacket
Arc'teryx Gamma SL Hoody (MEN | WOMEN)
Best Soft-Shell Jacket
Patagonia Classic Retro-X Fleece Jacket (MEN | WOMEN)
Best Fleece Jacket For Casual Hiking
Outdoor Research Vigor Full Zip Hoodie (MEN | WOMEN)
Best Fleece Jacket For Athletic Hiking
Pro Tip: Hiking Daily encourages our readers to buy the best quality products made by the most trusted brands. Consider it a long-term investment that will save you money over the long run. Better quality products last longer and thus deliver much better value for your money. When you buy cheaper products, they often break down more quickly. This is especially true of waterproof hiking jackets. The cheap options have a way shorter lifespan. I have gone this route before and was surprised by a decayed waterproof coating on my jacket when I really needed it. Not a fun discovery that resulted in a cold day of skiing. The jacket was no longer waterproof or windproof. I have since replaced it with a much better shell. So keep in mind, if you go cheap, you may actually end up spending more money over time because you will have to replace your gear more often. This applies to any gear or product. Ask yourself if you want to end up buying several $100-$200 jackets over the years or just one $300-500 jacket? Something to consider!
The Best Overall Hiking Jacket – Arc'teryx Zeta AR Jacket (MEN | WOMEN)
If you have a big budget, this is the best hiking jacket you should buy. The quality and thought put into the design is simply unmatched. The pros are endless and really the only con (for some people) is going to be the higher price tag.
After hundreds of hours of research looking at all the brands, we rate the Arc'teryx Zeta AR as the best overall jacket for hiking and backpacking. This jacket is available for both men and women.
Arc'teryx is known for its superior quality and design. When you take a look at the features and materials used it is quite obvious that Arc'teryx is the best hiking jacket brand that you can fully trust.
This jacket is exactly that and provides high-performance weather protection. If a severe storm pops up you can feel super confident that you will be protected when you zip up this jacket. It can be used in most weather conditions provided you have adequate layers for colder weather. To learn more about layering options check out our article about the best hiking shirts.
Okay, let's get into the details of why this is the best hiking jacket money can buy!
Waterproof -> Durable and weatherproof N70p 3L Gore-Tex fabric keeps you dry
Windproof -> Cut out wind and stay warm
Comfortable, lightweight design -> GORE C-KNIT Backer Technology is soft to the touch, quiet, yet just as durable as 3-layer Gore-Tex fabric
Breathable -> Trim fit helps to keep the jacket closer to your body and improve breathability
Incredible freedom of movement due to articulation of sleeves and gusseted underarms
Just below the hips fit allows the jacket to work perfectly under your backpack hip belt
Watertight pit zippers allow for superb ventilation when required
Low storm hood keeps you well covered in rain
The internal laminated pocket keeps important gear like smartphones and wallets dry
Two hand pockets with Watertight zippers
Near lightweight at 425 grams
The Best Rain Jackets For Hiking (Hardshell Jackets)
These are the best jackets for Spring, Summer, or Fall hiking that you can pull out of your pack when a storm hits. These jackets can be used in emergencies and will protect you from getting soaked and can battle the threat of hypothermia. A waterproof shell or jacket is really a mandatory item to have in your backpack.
The best rain jackets for hiking are essentially shells that are made of 3-layer Gore-Tex fabric (or equivalent). Three layers of Gore-Tex fabric are necessary if you want to remain dry in very wet conditions.
Most jackets by other brands are not 3-layer, but rather are 2-layer Gore-Tex fabric and may not keep you dry in heavy rain or prolonged exposure to moisture.
Jackets that are treated only with durable water repellent (DWR) and no Gore-Tex break down with each use. This can leave you feeling wet when you expect to be dry. While it is possible to regain performance with proper cleaning and reapplication of DWR, this continuous maintenance may not be desirable. We really do not recommend DWR jackets.
When it comes to jacket styles (poncho vs rain jacket for hiking) we recommend an athletic style fitted jacket. Anything else is going to feel bulky, uncomfortable, and potentially unwieldy (hazardous!) especially when carrying a backpack or if you are on narrow trails.
These are the best waterproof Gore-Tex rain jackets that you can get right now.
The best hiking rain jacket – Arc'teryx Zeta LT (MEN | WOMEN)
The Arc'teryx Zeta LT is our top pick as the best shell for hiking in the rain. This is a lightweight packable hiking jacket. It is perfect for stuffing into your hiking daypack and just leaving it there for a rainy day. Haha. Another awesome hiking jacket by Arc'teryx that will keep you dry in the wettest conditions. It is a 3-layer Gore-Tex fabric jacket that also features GORE C-KNIT Backer Technology that is super comfortable to wear. This jacket is great for day hikes, weekend hikes, and extended trekking or backpacking trips.
Waterproof and windproof -> N40p-X 3L GORE-TEX fabric
High performance, super durable
Lightweight at 335 grams
Packable and compressible
Soft, comfortable (not bulky), breathable, and quiet fabric -> GORE C-KNIT backer technology
Full protection hood keeps you dry
WaterTight zippers are all very accessible even when wearing a pack
Internal laminated pocket to keep valuables dry
Trim fit is comfortable under your backpack hip belt
Best hiking rain jacket for women – Arc'teryx Zeta LT
Looking for something that is more packable and even lighter in weight? Read on!
The best ultralight hiking rain jacket – Arc'teryx Zeta FL jacket (MEN | WOMEN)
Some hikers and backpackers must travel light (or simply feel compelled to do so) in order to move quickly over terrain for many days at a time. If this is you, we recommend the Arc'teryx Zeta FL jacket that is available for both men and women. If you are also wanting the best windbreaker jacket for hiking, this is the one to get.
Are you starting to see a pattern? Despite the many popular brands that make jackets for hiking and backpacking, Arc'teryx really stands out when it comes to design and quality. This company is a classic disruptor in the hiking and backpacking world. Let's check out the details of this amazing lightweight emergency jacket.
Super fast and light minimalist design
Very compressible and packable
Waterproof, windproof and breathable – Gore-Tex with Paclite Plus
Articulating pattern design for great fit and ease of movement
WaterTight front zipper
Non-helmet compatible StormHood with halo adjuster
Extra lightweight at only 205 grams!
Gusseted underarms for maximum mobility and comfort
Drop back hem to keep you covered
Two hand pockets with WaterTight zippers
DWR (Durable Water Repellent) finish for extra protection against moisture
Best ultralight hiking rain jacket for men – Arc'teryx Zeta FL
Best ultralight hiking rain jacket for women – Arc'teryx Zeta FL
Okay, so we presented a number of Arc'teryx jackets. They truly are in a league of their own. And we know they are too pricey for some people. Now, we will take a look at the best budget hiking jacket option.
Best budget rain jackets for hiking
REI Co-op Stormbolt GTX Jacket (MEN | WOMEN)
Be aware, it is nearly impossible to find a rain jacket for hiking that costs less than $200 that will protect you from persistent or heavy rain on rainy wet weather hikes.
If you are not overly concerned about the color of your jacket, the REI Co-op Stormbolt GTX Jacket can be had at a significant discount.
This is our pick for the best budget hiking rain jacket. You can get this $300 jacket for $150 if you are okay with certain colors (men's) and all colors (women's). I actually purchased this product myself at this 50% discount and will do a complete review in the near future. For now, let's check out the great features this jacket offers.
Waterproof and windproof -> 3-layer Gore-Tex nylon ripstop fabric
Fully taped seams for complete protection
Pit zips for ventilation
add durability when carrying a
Backpack friendly design -> Abrasion-resistant side and back micro ripstop panels, and high set zipper hand pockets
3-way adjustable hood fits over a helmet and has a built-in visor to keep you covered
Close to lightweight at 413 grams
Pro Tip: If getting a low price is important or mandatory, buy a performance jacket on sale or during the offseason. For example, REI has great sales around Memorial Day and Labour Day. During these times you might be able to score a great deal on a higher quality jacket.
Outdoor Research Helium Rain Jacket (MEN | WOMEN)
The Outdoor Research Helium rain jacket is known for its super durable, lightweight, storm protection that uses Diamond Fuse technology. This is a great jacket at a good price point. The one feature we would have liked to see that was missing is pit zips. However, being very windproof and waterproof is great for this price.
Waterproof – Pertex Shield Diamond Fuse 2.5 layer, 100% nylon, 30D ripstop
Windproof
Breathable
Taped seams
Chest pocket doubles as a stuff sack for easy carry
YKK AquaGuard Zippers
Adjustable hood and hem
Carabiner loop and key clip
The Best Winter Hiking Jackets (Also Hardshell Jackets)
There are two types of jackets that you can use in wintertime. Hardshell jackets and insulated hardshell jackets. It depends on the local weather.
If you layer your hiking clothes effectively, a light hardshell jacket such as the Arc'teryx Zeta AR, or the REI Co-op Stormbolt GTX can work with an insulating layer underneath such as a fleece jacket or down vest. It really depends on the severity of the cold and wintery conditions you will encounter and the insulating layers you currently own.
For example, the winter conditions in Colorado greatly differ from the winter conditions in Northern Canada. This is due to a great difference in temperature and altitude. In Colorado, winter temperatures most often hover around 0C/32F. The strong sun and elevation keep the temperatures in a more moderate range. Whereas, in Canada and other countries winter can be severe. The elevation is lower, the sun is weaker, and temperatures fall into a much colder range of 0C/32F to -40C/-40F. Add in some wind and it is super cold!
Thus, in some conditions, you are going to need a warm insulated hiking jacket to keep you safe and comfortable.
There are two types of insulation. Down insulation and synthetic insulation.
The primary advantage of down insulation is superior insulation that will keep you warmer in very cold conditions. Want the warmest hiking jacket, then opt for a down-filled jacket.
Synthetic insulation can be less effective in very cold weather but has the advantage of being less costly.
Think about where you will be hiking and the conditions in order to make a good decision.
| | | |
| --- | --- | --- |
| Factor to consider | Down insulation | Synthetic insulation |
| Warmth for weight | Best | Good |
| Packable/compressible? | Best | Good |
| Life span | Excellent – can last for years | Fair – limited with use |
| Cost | More expensive | Less expensive |
Down vs. synthetic insulation or hiking jackets
Note: Down may become less effective and efficient when wet. However, an insulated winter hiking jacket should never become wet or used in rainy conditions. It is intended for use in dry, wintery, snowy conditions.
Let's take a look at the best hiking jackets for cold weather, winter, and snow hikes that have insulation.
Best down jacket for winter hiking in very cold weather – Arc'teryx Thorium AR Hoody (MEN | WOMEN)
The Arc'teryx Thorium AR Hoody is a high-performance versatile down insulated jacket that is lightweight and durable. This awesome jacket can be used as a mid-layer (under a hardshell) in very cold weather or as a standalone outer layer.
Streamlined comfortable fit
750 fill European grey goose down
Lightweight and packable
Durable abrasion-resistant outer layer of Arato 30 nylon
DWR finish repels moisture
Coreloft synthetic insulated Stormhood
2 outer zippered pockets, 1 internal zipper pocket
5 colors to choose
Best synthetic jacket for winter hiking – Arc'teryx Atom AR Hoody (MEN | Women)
The Arc'teryx Atom AR Hoody is the best all-around synthetic winter jacket that you can wear for your winter hikes. It can be worn as a standalone jacket or as a layer under a hardshell in extreme cold. Since it is made of synthetic fabrics it is very breathable, better retain heat when damp, and dries quickly.
Wind and weather resistant
Packable jacket
Durable Tyono 30 treated outer shell
Hood is large enough for helmets
Coreloft synthetic insulation keeps you warm
Permeair underarm panels improves breathability
Weighs only 475 grams
Best non-insulated winter hiking jackets (hardshell jackets)
If you want to focus on layering your clothes (see soft-shell jackets and fleece jackets below) and simply want a hardshell that will work for winter in the backcountry there are some great options.
As we mentioned, our best overall hiking jacket, the Arc'teryx Zeta AR Jacket (MEN | WOMEN) can accomplish the task.
We also recommend a couple of Outdoor Research jackets that come very close to providing the same level of protection in very cold weather. They are the Outdoor Research Furio Gore-Tex Jacket (For Men) and the Outdoor Research Hemispheres Gore-Tex Jacket (For Women). These two jackets by Outdoor Research have different names but identical technical specifications. Let's check out what they have to offer.
Waterproof protection with Gore-Tex Paclite technology and C-Knit technology

2-layer Gore-Tex (100% nylon 70D plain weave) for body and underarms
3-layer Gore-Tex (100% nylon 70D plain weave) for hood, shoulders, and lower side panel

Windproof
Super breathable
Fully taped seams
Hood fits helmets
Wire-brimmed Halo-Hood with Hood Lock
YKK AquaGuard Zippers
Above harness pocket placement
Articulated elbows for easy movement
Pit zips – TorsoFlo venting from hem to bicep
Best stylish hiking jacket for moderate winter temperatures – Patagonia Down Sweater Hoodie (MEN | Women)
If you live in a climate that has less intense moderate winters, the Patagonia Down Sweater Hoodie could be a perfect hiking jacket for you. Here in Colorado, the sun is super intense in the Winter due to the higher elevation. Thus, the temperatures feel much warmer than the reported air temperatures.
Lightweight down jacket
Ethically sourced traceable down (800-fill-power goose down)
The quilted design keeps down in the right spots
Windproof water-resistant outer shell

Made of recycled ripstop polyester

Two outer zipper pockets, one inner pocket
Single pull adjustable hood keeps you warm
---
The Best Soft Shell Jackets + Fleece Jackets For Hiking
Soft-shell or fleece jackets are the best options for dry climates when you know for certain that you will not encounter very wet or windy weather. They can protect you from light rain or snow. Often, these types of jackets are perfect for Spring, Summer, or Fall hiking when temperatures are not too cold but not too warm. They can be worn as an outer layer or a mid-layer under a shell. These jackets help you maintain a comfortable body temperature while hiking since they are very breathable. However, we still recommend that you bring a shell in case of unexpected rain or storms. Soft-shell jackets are constructed of soft, stretchy fabric. They may be water-resistant or wind-resistant due to the tight weave of the fabric. Some softshells are available in a waterproof breathable fabric. Essentially, these articles of clothing are designed for active movement and work better than a regular sweater or sweatshirt. The performance of soft-shell jackets does not require as much scrutiny as hardshell jackets because they are not as technical or high performance.
Best Soft-Shell Hiking Jackets
Most soft-shell jackets are very similar in terms of the materials and fabrics used. The most important thing is to find a good athletic fit that feels comfortable. Because these hiking jackets are not as technical, we are not going to get into the nitty-gritty details. Rather, we will present our top picks with some quick points about what we like.
Arc'teryx Gamma SL Hoody (MEN | WOMEN)
Sleek athletic fit
Superlight and packable
Air-permeable 4-way stretch fabric
Durable, abrasion resistant fabric
StormHood keeps your head warm
Outdoor Research Ferrosi Hooded Jacket (MEN | WOMEN)
Modern slim fit
Highly breathable
Hybrid soft-shell is made of ripstop fabric (durable) and spandex (athletic)
Zippered pockets and key clip
Elastic cuffs with thumb holes
Zippers coated with a durable water repellent (DWR) finish
Wind and rain resistant
REI Co-op Activator Soft-Shell Jacket (MEN | WOMEN)
Smooth durable nylon exterior
Soft fleecy interior is warm and comfortable
Water-resistant fabric with durable water repellent (DWR)
Windproof up to 35MPH winds
Cord-adjustable attached hood
Hem draw cord keeps cool air out
Zippered chest and hand pockets to carry your essentials
Best Fleece Jackets For Hiking
Patagonia has perhaps been the most well-known brand that makes the best fleece jackets for hiking. The fleece jacket has definitely been one of their top-selling product categories over the years. They stand out in style and quality. This is why you see mostly Patagonia fleece jackets below. North Face fleece jackets and Columbia fleece jackets are some of the most searched on Google. But we just could not find any that we thought deserved a spot on this list.
Patagonia Classic Retro-X Fleece Jacket (MEN | WOMEN)
To stay super cozy on your hikes, we are putting one of Patagonia's most classic fleece jackets at the top of our list. This fleece jacket is best for the casual easy-going hiker that wants to stay warm.
¼ inch pile polyester bonded sherpa fleece (50% recycled)
Windproof protection keeps you warm
Y-joint sleeves for superb mobility
Full-length front zipper with internal wind flap
Vertical-zippered chest pocket
2 zippered hand warming pockets
Stand-up collar provides extra protection from the elements
More of a true jacket at 774 grams
Fair Trade Certified construction
Patagonia Better Sweater Fleece Jacket (MEN | WOMEN)
Want a less bulky warm fleece jacket? The Patagonia Better Sweater is exactly what it sounds like. A warm, low-bulk full-zip jacket that will perform much better on the hiking trails than any sweater.
100% Recycled polyester fleece
Full zip design is ideal for hiking to make layering a breeze
Stand up collar keeps the wind from penetrating
One piece raglan sleeves improve mobility and pack-wearing comfort
Flat seem construction reduces bulk
Two welted side hand warming pockets, one left chest security pocket
Cuff and hem design retains shape
Heavier fleece weight at 638 grams
Outdoor Research Vigor Full Zip Hoodie (MEN | WOMEN)
If you are looking for a fleece jacket that is designed for the athletic hiker, then check out the Vigor full zip hoodie by Outdoor Research. This jacket is perfect to wear on its own or as a mid-layer underneath a shell.
Thermo-regulating ActiveTemp wicks sweat
Super breathable
Grid-back fleece: 94% polyester, 6% spandex
More of a lightweight jacket at 340 grams
Patagonia R1 TechFace Hoody (MEN | WOMEN)
Looking for that Patagonia quality and style in a more athletic fleece jacket? Then consider the Patagonia R1 TechFace hoody available for men and women. This is another great option for power hikers.
Warm, stretchy, and very breathable
Articulated pattern for efficient fast movement
Abrasion-resistant
Weather-resistant – treated with a durable water repellent (DWR) finish
Hood fits under a helmet
Laminated visor
Adjustable hem keeps cold air out
Two high handwarmer pockets (works well if you are carrying a backpack)
Interior left chest pocket for stashing of personal items
Lightweight jacket at 391 grams
Be sure to check out our complete guides to the best base layers and the best fleece jackets for hiking and backpacking for some layering options.
Also, be sure to get a top-quality pair of winter hiking pants for your snow hikes.
And, check out our ultimate guide to the best winter hiking boots.