The Owyhee Backpacking Tarp is as Cozy as a Tent and as Lightweight as a Tarp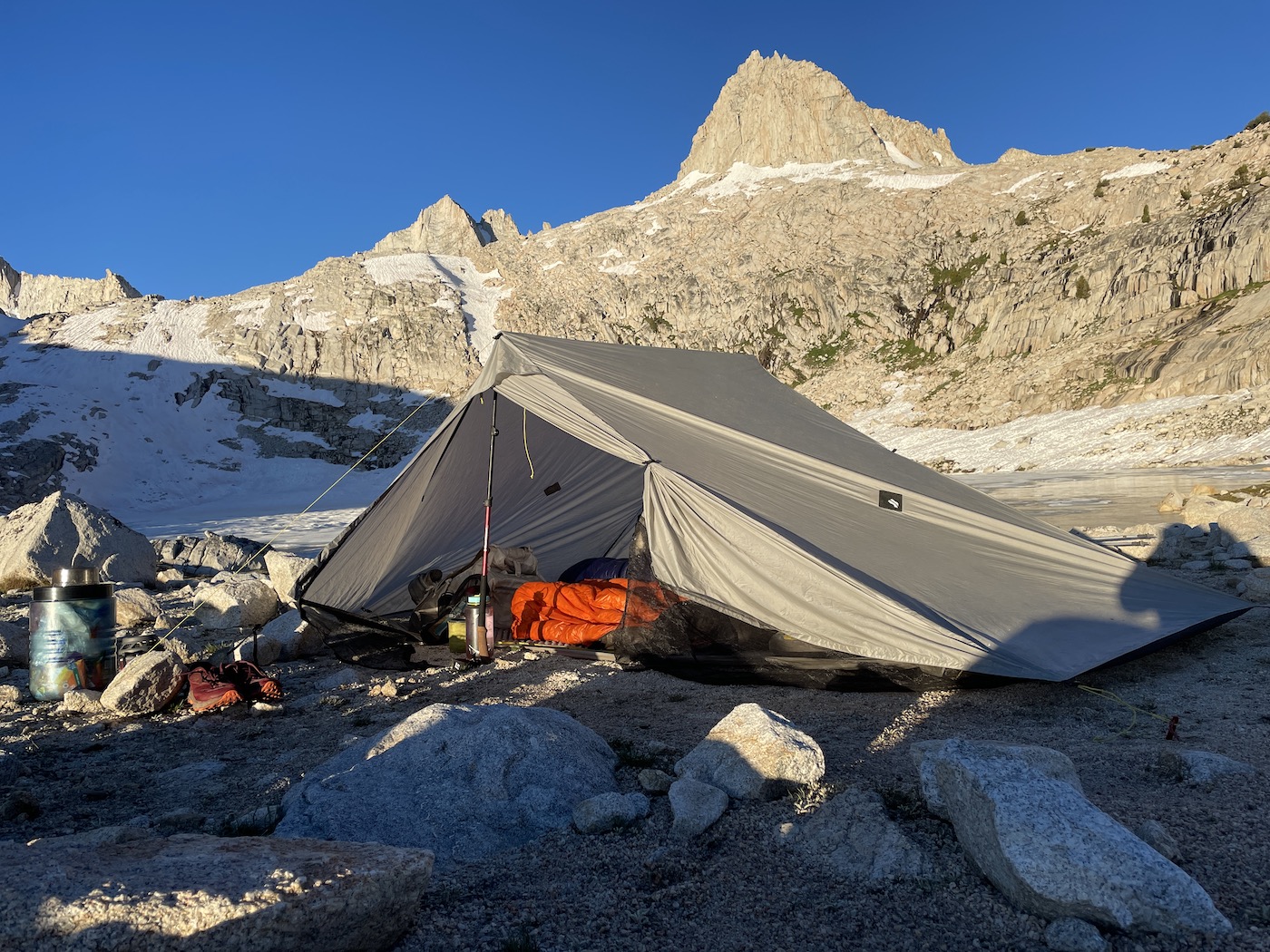 Nestled beneath my Six Moon Designs Owyhee backpacking tarp, thunder and lightning unleash in the high Sierra. Rain and hail batter my shelter in the limestone cirque below Red and White mountain, deep in the range. Inside, dry and warm, I curl up with my Kindle to read. Here at 12,000 feet on this remote section of the Sierra High Route, protection from the elements in a spacious setting is essential to my wellbeing during the afternoon thunderstorm cycle.
After months of field testing while guiding backpacking trips in Yosemite National Park and a week-long off-trail backpacking trip on the Sierra High Route, the Owyhee backpacking tarp has stolen my heart as the best shelter for going light and spacious out on the trail. Boasting an impressive space-to-weight ratio, extreme weather protection, and respite on the buggiest of nights, the Owhyee has become my go-to choice for backpacking in the Sierra.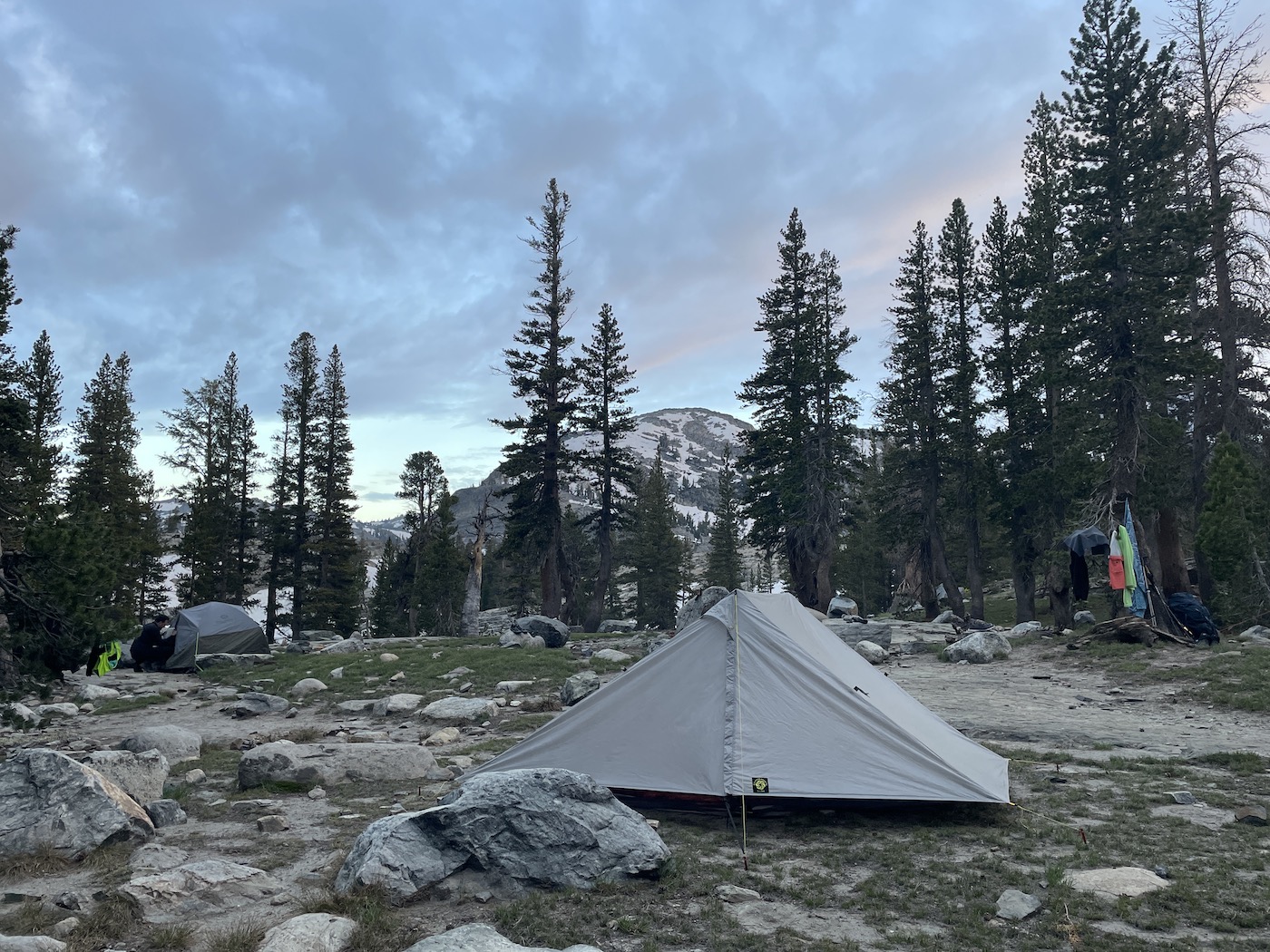 MSRP: $310
Where To Buy
Moosejaw
Product Summary
The Owyhee backpacking tarp is a spacious and lightweight two-person shelter made for those who want to go light and fast on trail without sacrificing space or comfort. Designed to provide a massive amount of space at a competitively low weight for a two-person tarp shelter, the Owyhee is a dream-come-true for weight-saving backpackers who crave the features of a traditional tent without the bulk or weight of one. The tarp and removable bathtub floor are made of 30D Silicone Nylon (SilNylon), providing great weatherproofing at a low weight, rated for 3-season use. The Owhyee is designed to be set up with trekking poles, allowing the user to leave their tent poles behind. It features two doors, an internal gear loft and clothesline, full perimeter bug netting, and an easy-to-use tension adjustment system.
Notable Features
Two-person tarp shelter
24.6 ounces without stakes or trekking poles (1.54 pounds)
Full perimeter No-See-Um netting
Trekking pole compatible set up
Removable bathtub floor
Internal gear loft with clothesline and pockets
Single wall construction (30D Silicone Nylon)
Dual door entry
Modifiable tension adjustment system
Pros
Massive sleeping and living area
Great bug protection for a lightweight tarp shelter
Excellent weather protection in stormy conditions
Highly competitive space-to-weight ratio and low-bulk packability
Adjustable tensioning system
Cons
More condensation drip than a traditional tent and rainfly
More time-consuming set-up than a traditional tent
Bathtub floor durability issues
Where To Buy
Moosejaw
Analysis of the Six Moon Designs Owyhee Backpacking Tarp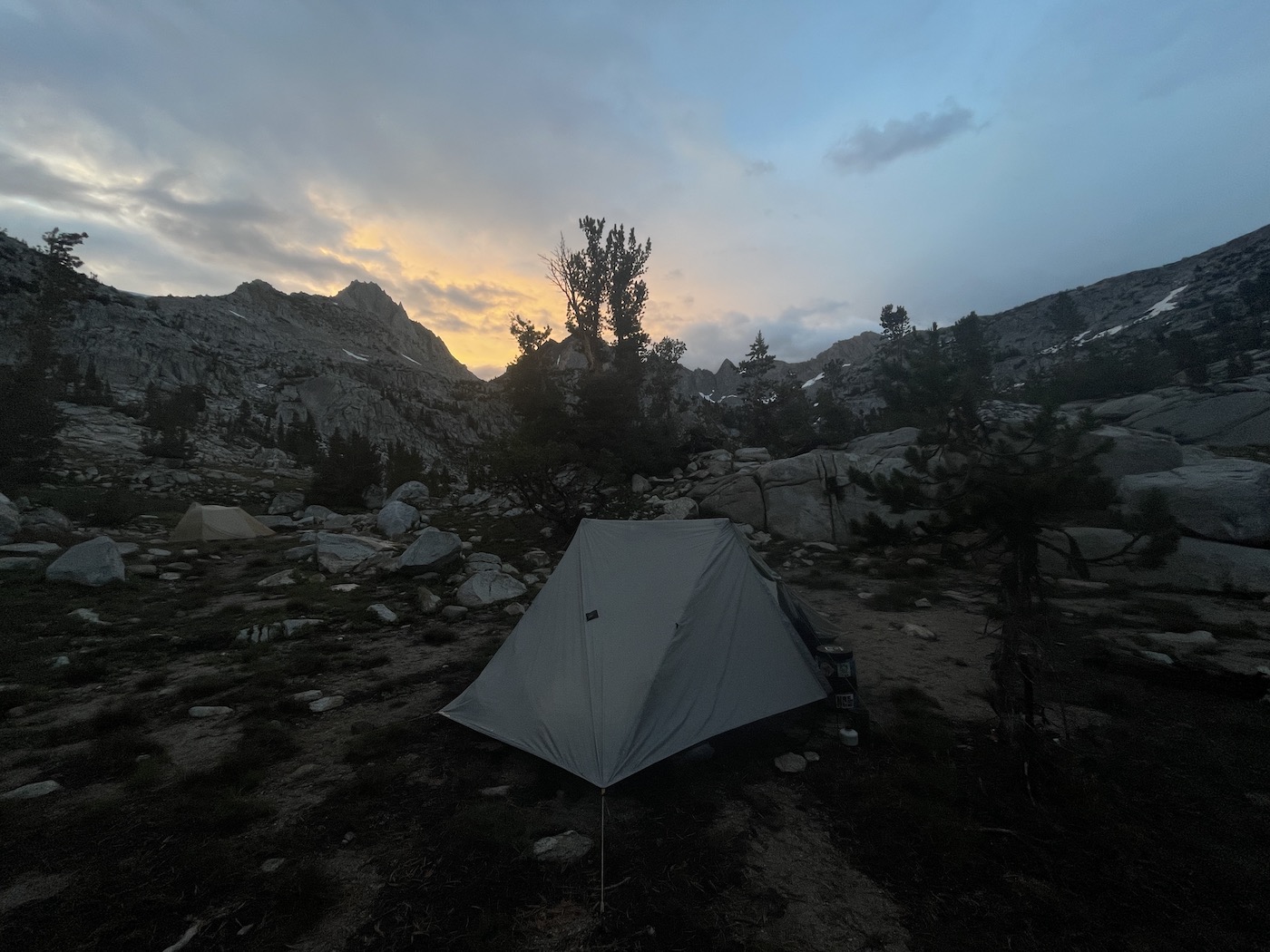 Weight
While the Owhyee backpacking tarp is not the lightest-weight tarp on the market, its space to weight ratio is incredibly impressive. With the combined bathtub floor and tarp weighing in at 1.54 lbs (without stakes), this shelter is competitively light, with excellent weather and bug protection and massive space. This is comparable to the best-rated, lightest-weight tents on the market, especially if you purchase lightweight stakes to come with it.
Space, Comfort, and Livability
When I think of backpacking tarps, my biggest gripe is sacrificing comfort for weight savings. The Owhyee tarp — while not the most lightweight on the market — does an excellent job of balancing comfort and weight-saving in a sleek, beautiful package.
The peak height of the Owhyee is approximately four feet high, providing ample headroom for sitting up during a storm or when the bugs are out in full-force. Because the equivalent of a vestibule and tent body space are encompassed by one piece, this tarp provides ample space in comparison to a traditional tent. It's seriously massive inside, and I don't plan to go back to using a traditional two-person tent anytime soon.
The No-See-Um bug netting on this tarp is an absolute game-changer. This season in the Sierra, the mosquitos have been out in full-force for the entirety of the season. While I normally love cowboy camping in good weather, this season, sleeping without bug protection has been unbearable. Enter: the Owyhee tarp. For its weight, this shelter provided the best bug protection I could ask for while simultaneously providing great weatherproofing. While a few flies were able to get in, the netting kept nearly all of the mosquitos out.
My only critique in this category is condensation buildup and drip in wet conditions. As with any single-wall tent or tarp, I noticed that I woke up to some condensation drip whenever the relative humidity increased. While condensation buildup was by no means a deal-breaker on this tarp, it was noticeable in comparison to a double-wall tent.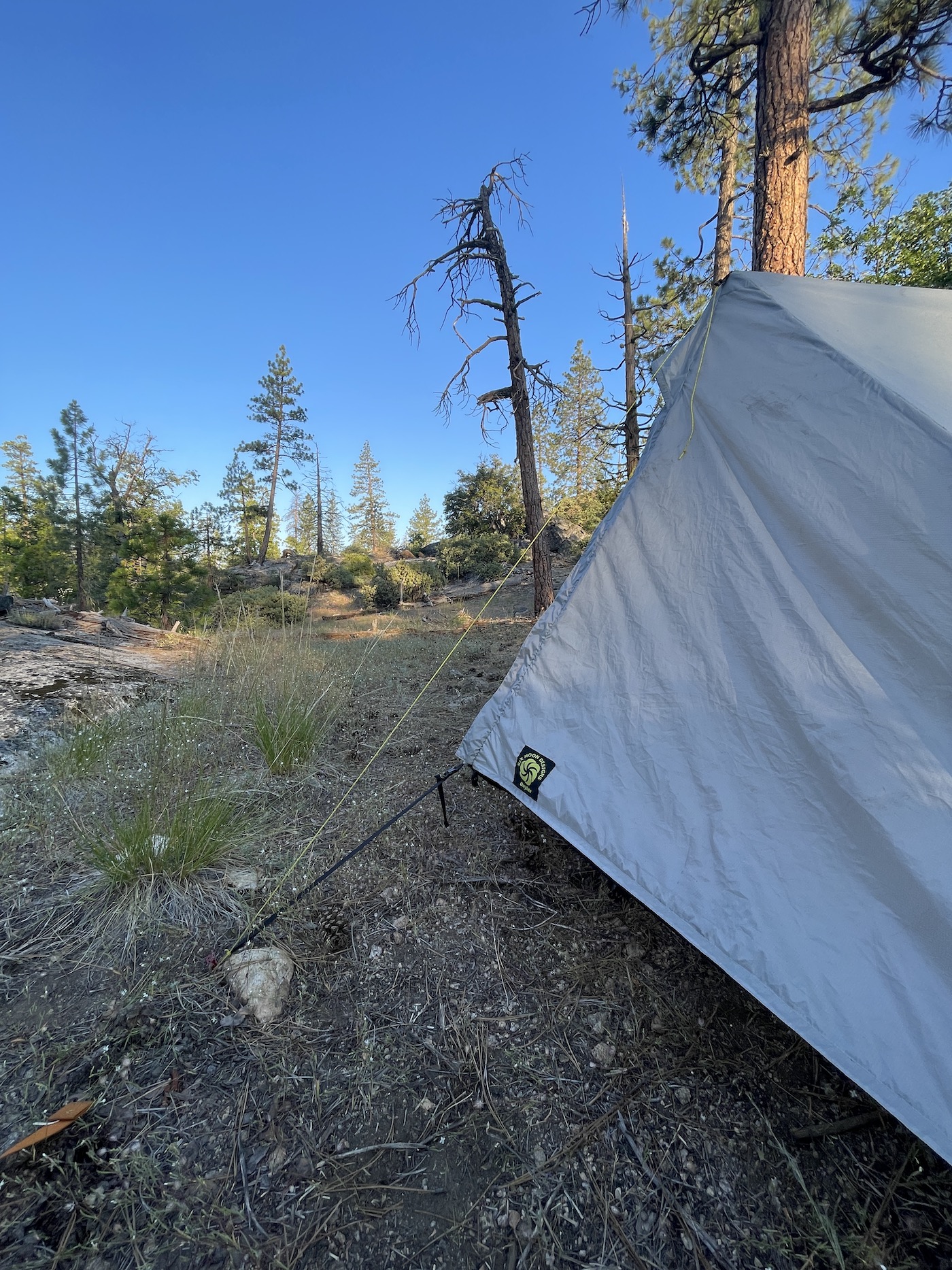 Weather Resistance
I was incredibly impressed with the weather resistance of the Owhyee backpacking tarp. I put this shelter to the test in torrential rain storms in Yosemite's Hetch-Hetchy zone to hail and lightning in the eastern Sierra high country. That said, I had my Owyhee shelter seam-sealed by Six Moon Designs, which comes at an additional cost. Without seam-sealing this tarp, it is not fully waterproof – so make sure to factor this step in before use, or consider letting Six Moon Designs do it for you.
The shape of the tarp sheds water well without pooling, so long as it is staked out and tensioned well. The bathtub floor, with corners slightly raised off of the ground, allowing for peace of mind during stormy nights. In comparison to other tarp-style shelters, I found that set-up for bomb-proof weatherproofing was much easier than with a traditional rectangular tarp.
Ease of Set-Up
I'll be honest: there is a bit of a learning curve when it comes to setting up the Owyhee tarp. After repeated use, however, my set-up has gotten faster and faster – especially with good dirt to stake it out with. There are ample adjustments on the tarp for simple tensioning, but it does take a few minutes to get the tension right in every adjustment location.
In alpine locations where I could not get stakes into the ground, I found that the best way to get the Owyhee standing upright and secure was to wrap the guyline around a stake and place a large rock over each guyline-wrapped stake. This worked significantly better than wrapping the guyline around rocks alone. Staking the Owyhee out securely is seriously essential because the shelter lacks the same type of free-standing frame that tents have. Without properly staking it out, it will certainly collapse in bad weather.
The bug netting on the Owyhee forms a sharp angle with the tarp body. As a result, if the vestibule is staked out or tensioned too tight, it can be difficult to push the zipper from the tent body to the zipper section around the mesh netting. This is not a major concern, but something to be aware of.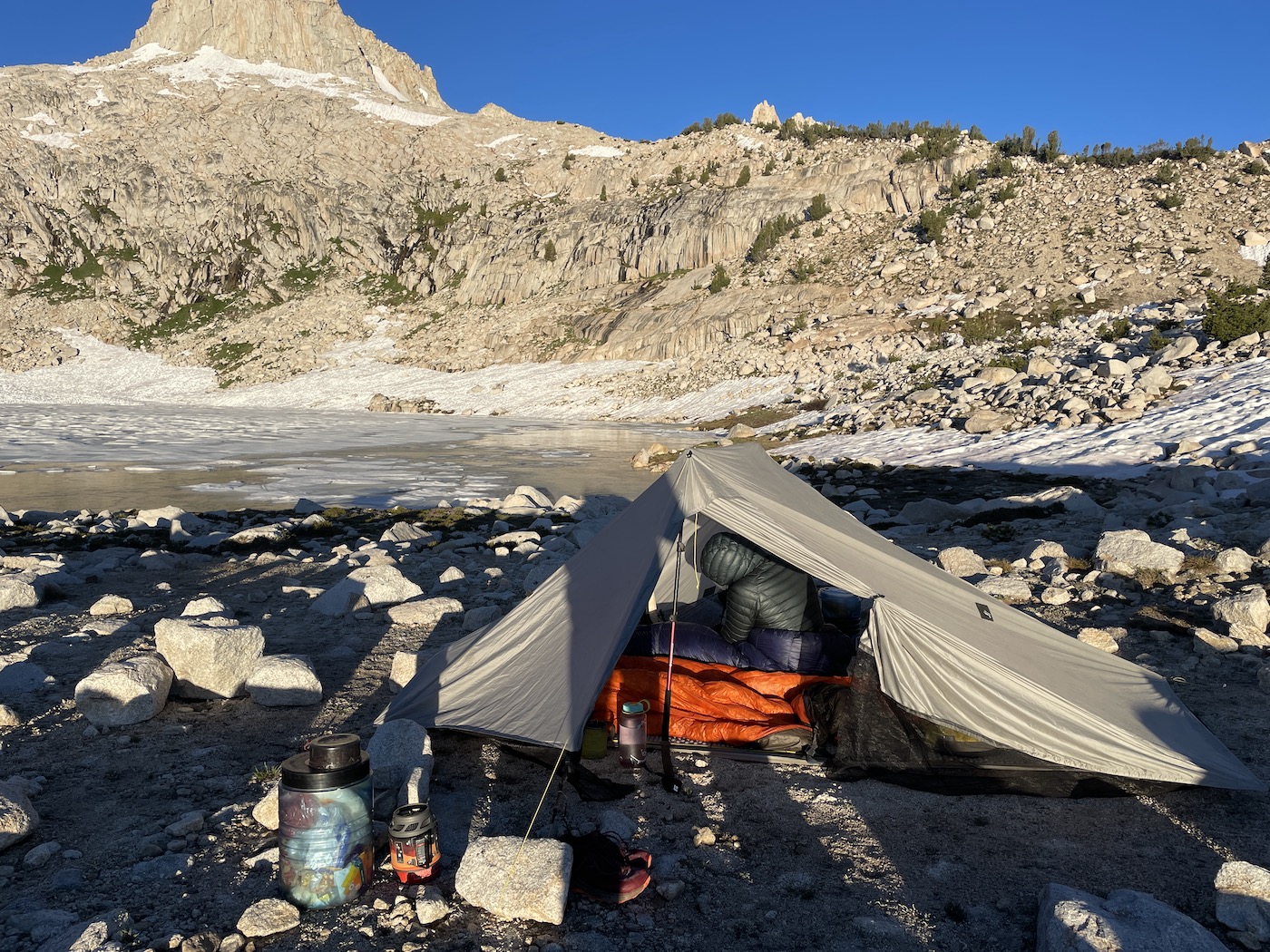 Durability and Versatility
The 30D SilNylon construction is entirely adequate in terms of durability for the tarp body, but I wished that the bathtub floor was made of beefier material. Thus far, after 3 months of consistent use, I have only ripped one small hole in the bathtub floor groundsheet.
This is a highly versatile tarp for any three-season adventure. It does well in wind, rain, hail, and sun. It makes for an excellent two-person shelter, or a roomy one-person shelter. I would feel comfortable using this tarp in nearly any location or conditions.
Why Buy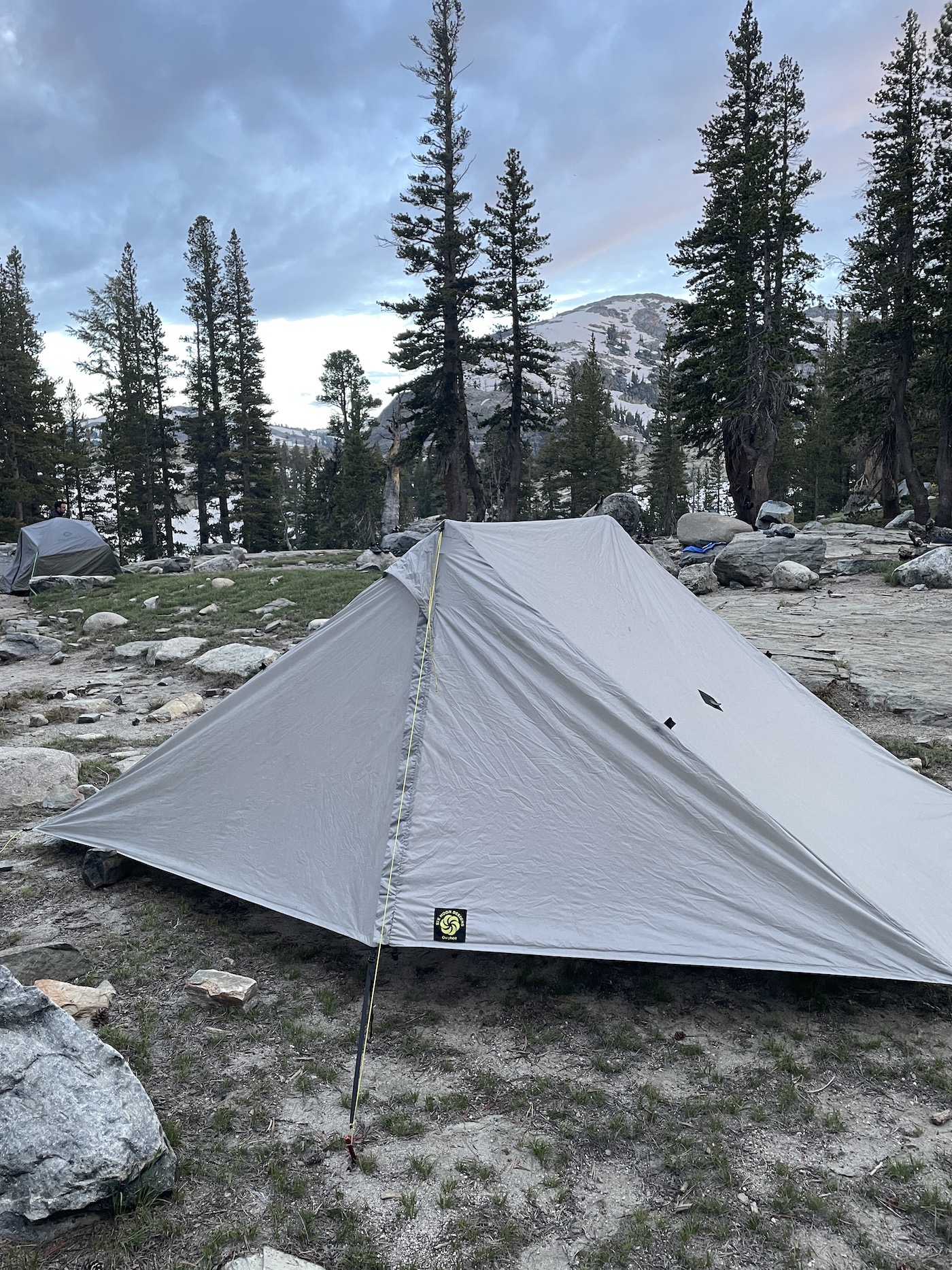 This is the shelter to purchase if you prefer backpacking with a friend or partner, want to go ultralight, but don't want to sacrifice space, comfort, or bug protection. The Owhyee tarp is a high-quality shelter that showcases Six Moon Designs' design prowess in ultralight backpacking equipment.
Where To Buy
Moosejaw
My Testing Process
I tested the Six Moon Designs Owyhee Shelter over the course of three months of intensive use in the Sierra Nevada mountain range in California. This included six weeks of guiding backpacking trips in Yosemite and the eastern Sierra, as well as a personal, week-long off-trail backpacking trip on the Sierra High Route.
Temperatures ranged from 25F to 105F while using this tarp shelter. During my testing process, I encountered torrential rain, thunderstorms, hail, and high winds. This range of temperature, weather, and relative humidity accounted for optimal testing conditions.
The Bottom Line
The Owhyee is a spacious, two-person weather-proof shelter that balances the ultralight weight with spacious comfort and bug protection out on the trail. I would highly recommend it to the ultralight-intrigued who want a spacious, high-quality shelter.